Get the truth about GMOs and dangerous chemicals -- and how carbs, gluten, fat, and sugar affect your weight, energy, sleep and the planet.
2014 Food Revolution Summit Speakers
(roll mouse over picture for bio — if bios don't pop up, you can turn off ad blocker to see them)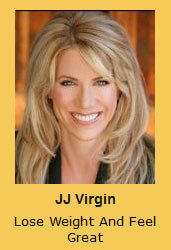 JJ Virgin Lose Weight And Feel Great
JJ Virgin is a celebrity nutritionist, fitness expert, and author of the New York Times bestseller, The Virgin Diet: Drop 7 Foods, Lose 7 Pounds, Just 7 Days. She's an expert in helping people overcome years of weight loss struggles by eliminating foods that are causing them to gain weight.Learn how to clear up your skin, have better energy and mental focus, eliminate joint pain and drop unwanted fat off your waist.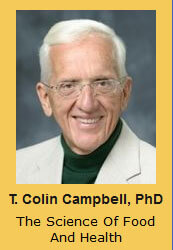 T. Colin Campbell, PhD The Science Of Food And Health
Dr. T. Colin Campbell has been at the forefront of nutrition research for more than 40 years. He served as director of the China Project, which is widely considered the most comprehensive study of health and nutrition ever conducted, and is a Professor Emeritus of Nutritional Biochemistry at Cornell University. Colin has seventy grant-years of peer-reviewed research funding and has authored 300 research papers. He is coauthor of the bestselling books,
The China Study and Whole
, and he starred in the hit film
Forks Over Knives
. Find out what research is telling us about animal protein, carbs, supplements, and nutritional science.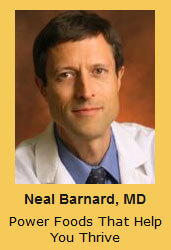 Neal Barnard, MD Power Foods That Help You Thrive
Dr. Neal Barnard is one of America's leading advocates for health and plant-strong nutrition. He is president of the Physicians Committee for Responsible Medicine, and an Adjunct Associate Professor of Medicine at the George Washington University School of Medicine. Neal is the author of more than 60 published research papers on nutrition and its impact on human health, and of 15 books, including Power Foods for the Brain and The 21-Day Weight Loss Kickstart. He will show you how a healthy diet can give you a stronger immune system, more energy, and better memory and sleep.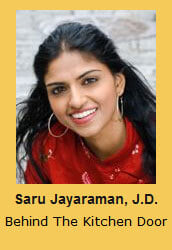 Saru Jayaraman, J.D. Behind The Kitchen Door
Saru Jayaraman is the Co-Founder and Co-Director of the Restaurant Opportunities Centers United and Director of the Food Labor Research Center at University of California, Berkeley. She was recently chosen by CNN as one of ten visionary women who are helping other women find success, self esteem, and sometimes a safe haven. In her new book, 
Behind the Kitchen Door: What Every Diner Should Know About the People Who Feed Us
, Saru blows the cover on the political, economic, and social impact of eating out. It turns out that ethical food is about a lot more than just locally-sourced, fair trade, organic or free-range. Find out why a truly sustainable and humane food system must include fair conditions for restaurant workers.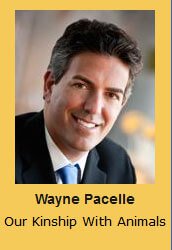 Wayne Pacelle Our Kinship With Animals
Wayne Pacelle is the President and CEO of The Humane Society of the United States. Under his leadership, the Humane Society and their millions of members have led successful campaigns to pass more than 25 federal statutes and 800 state laws to protect animals, as well as worked with more than 100 major corporations to change their food, fashion, and animal testing policies. Wayne is author of the New York Times bestseller
The Bond: Our Kinship with Animals, Our Call to Defend Them
. His work has been profiled in many of the major newspapers, magazines and television programs of our times. Whether you're a vegetarian or not, learn how your food choices can say no to cruelty and contribute to compassion.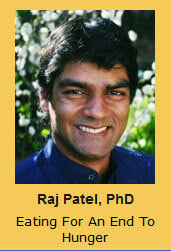 Raj Patel, PhD Eating For An End To Hunger
Dr. Raj Patel is a writer, academic and activist. He has degrees from Oxford University, the London School of Economics, and Cornell University. Raj currently co-teaches the Edible Education course at UC Berkeley with Michael Pollan, and is an Honorary Research Fellow at the University of KwaZulu-Natal, in Durban, South Africa. He is the author of Stuffed and Starved: The Hidden Battle for the
World Food System
, and the international bestseller,
The Value of Nothing
. He's currently working on a film about solutions to end hunger worldwide. Find out what's really fueling hunger, and how your food choices drive change for people and communities all over the planet.
Caldwell Esselstyn, MD How To Be Heart-Attack Proof
Dr. Caldwell Esselstyn is a surgeon and author of the bestselling book,
Prevent and Reverse Heart Disease
. He has produced more than 150 scientific publications, and conducted a series of groundbreaking studies that have rocked the nutritional world. Caldwell has served as President of the American Association of Endocrine Surgeons, and as President of the Staff and as a member of the Board of Governors at the Cleveland Clinic. He explains, with irrefutable scientific evidence, how you can become "bullet-proof" to heart disease by changing what you eat.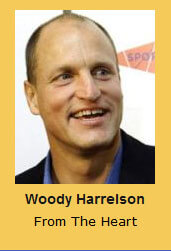 Woody Harrelson From The Heart
Woody Harrelson is an activist, environmentalist and actor. He won an Emmy for his role as Woody the bartender in the television series,
Cheers
. Since then he's played starring roles in dozens of hit films including
The Hunger Games
series, and been nominated for two Academy Awards and two Golden Globe Awards. As a passionate animal advocate and environmentalist, Woody is a co-owner of Sage, the world's first vegan beer garden in Culver City, CA, and co-founder of Prairie Paper Ventures, a tree-free paper company that manufactures paper from agricultural waste. You'll get Woody's candid reflections on The Hunger Games, food, health, compassion and sustainability.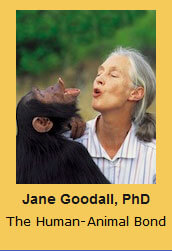 Jane Goodall, PhD The Human-Animal Bond
Dr. Jane Goodall may have had greater impact on humanity's understanding of animals than any other person who has ever lived. Her groundbreaking work studying the behavior of primates has brought her global acclaim and generated lasting impact in the fields of habitat preservation, animal welfare, and scientific understanding. Jane is author of more than 20 books and has starred in countless films and globally broadcast television programs. She has received dozens of awards, and has been named the Messenger of Peace by the United Nations. Jane is founder of the Jane Goodall Institute and the Roots & Shoots program. She'll warm your heart, inspire you with hope, and empower you to greater compassion.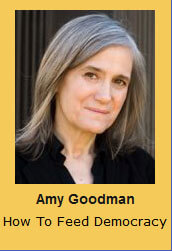 Amy Goodman How To Feed Democracy
Amy Goodman is executive producer and host of Democracy Now! — a syndicated and hugely popular radio and television program that reaches millions of people every weekday. Amy and her team investigate urgent and vital issues that mainstream media outlets often fail to address. Her food coverage has brought important insights to issues like food security, animal rights, GMO labeling laws, and the plight of small-scale family farms in America. Find out how your food choices impact democracy, freedom, and opportunity on a global scale – and how you can be a force for good.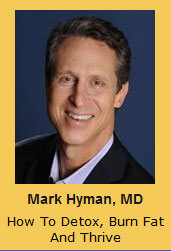 Mark Hyman, MD How To Detox, Burn Fat And Thrive
Dr. Mark Hyman is a family physician, a seven-time #1 New York Times bestselling author, founder and medical director of The UltraWellness Center, and chairman of the Institute for Functional Medicine. He also serves as medical editor for The Huffington Post and on the Medical Advisory Board of The Dr. Oz Show. Mark's Blood Sugar Solution Program has inspired millions and been promoted by President Clinton and Dr. Mehmet Oz. Working with Pastor Rick Warren, Mark helped the congregation of Saddleback Church collectively lose 250,000 pounds. He will show you exactly how to detox for optimal weight and vibrant health.
Alicia Silverstone How To Live A Kind Life
Alicia Silverstone is the #1 New York Times bestselling author of The Kind Diet and founder of TheKindLife.com. Best known for her generation-defining turn in Clueless, she continues to work steadily in film, television, and theater. Alicia's brand new book, THE KIND MAMA, is a comprehensive and practical guide empowering women to take charge of their fertility, pregnancy, and first 6 months with baby. Get her loving and inspiring insights on how to lean into a life that is kind to your body, your conscience, and your planet.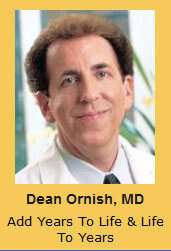 Dean Ornish, MD Add Years To Life & Life To Years
Dr. Dean Ornish is founder of the Preventative Medicine Research Institute and author of six bestselling books. The Ornish program was rated #1 for heart health by U.S. News & World Report in 2011, 2012, 2013 and 2014, and is the first program based in lifestyle change to ever be covered by Medicare. Dean has been appointed by two U.S. Presidents to White House health advisory boards. He was chosen by Forbes as one of the seven most powerful teachers in the world. Dean will explain the scientifically proven strategies that use diet, exercise, stress reduction, and love to extend and transform your life.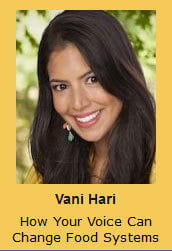 Vani Hari How Your Voice Can Change Food Systems
Vani Hari, also known as Food Babe, has led a series of successful campaigns that have changed the face of the corporate food industry. Chik-Fil-A has committed to stop serving chicken raised with antibiotics, Subway has agreed to stop using the chemical Azodicarbonamide in their breads, and Kraft has removed harmful petroleum-based artificial food dyes from all products aimed at children. Other major food companies that have responded to Vani's work include Whole Foods, Lean Cuisine, McDonalds, General Mills, Coca-Cola, and Chipotle. She'll give you insights into how the food industry really works, and how you can change it for the better.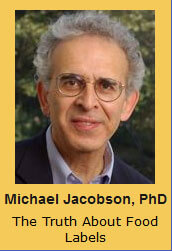 Michael Jacobson, PhD The Truth About Food Labels
Dr. Michael Jacobson, who holds a Ph.D. in microbiology from Massachusetts Institute of Technology, is co-founder and executive director of the 800,000 member Center for Science in the Public Interest (CSPI), a nonprofit health advocacy organization. Through education, legislation, and litigation, CSPI is on the leading edge of battles against obesity, cardiovascular disease, and many other health problems. Michael has written dozens of books and reports, including
Six Arguments for a Greener Diet
, and 
Liquid Candy: How Soft Drinks are Harming Americans' Health
. Find out how the junk food industry may be endangering the lives of you and people you love, and how you can fight back.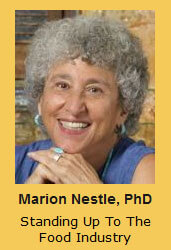 Marion Nestle, PhD Standing Up To The Food Industry
Dr. Marion Nestle is the Paulette Goddard Professor of Nutrition, Food Studies, and Public Health at New York University and the author of many books, including
Food Politics
and
Eat, Drink, Vote
. She has served as senior nutrition policy advisor in the Department of Health and Human Services, as managing editor of the Surgeon General's Report on Nutrition and Health, and as a member of the FDA Food Advisory Committee and Science Board. Marion will expose how mega corporations are dominating food systems, government, and even research studies to fit their marketplace agendas — and, most importantly, what you can do about it.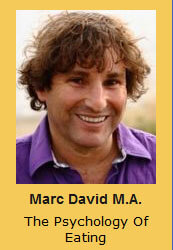 Marc David M.A. The Psychology Of Eating
Marc David is the founder of the Institute for the Psychology of Eating, and the author of two bestselling books:
The Slow Down Diet — Eating for Pleasure, Energy, and Weight Loss; and Nourishing Wisdom: A Mind-Body Approach to Nutrition and Well Being. 
Marc's humorous, engaging, and informative style appeals to a wide audience of eaters who are looking for positive, inspiring, and innovative messages about food and metabolism. In his insightful and non-dogmatic style, Marc will show you how to employ the psychology of eating to support your physical, emotional and spiritual health.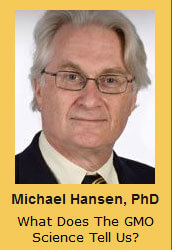 Michael Hansen, PhD What Does The GMO Science Tell Us?
Dr. Michael Hansen is a Senior Scientist with Consumers Union, the publisher of Consumer Reports. Dr. Hansen has served on the USDA Advisory Committee on Agricultural Biotechnology, and on the California Department of Food and Agriculture Food Biotechnology Advisory Committee. He represents Consumers International, a federation of more than 250 organizations in 110 countries, at Codex Alimentarius and other international forums, and he has testified in dozens of hearings. As a globally recognized scientist who values peer reviewed published data, and with a responsibility to stand independent of special interest agendas, Dr. Hansen will give you fact-based insights and GMO scientific information you can trust.
Brenda Davis, R.D. How To Truly Thrive On A Plant-Strong Diet
Brenda Davis is a registered dietitian, a respected researcher, and an internationally acclaimed speaker. She is the bestselling co-author of 9 books, including
Defeating Diabetes
and the 2013 Canada Book Award Winner,
Becoming Vegan: Express Edition
. For the last 7 years Brenda has been the lead dietitian in a heavily studied diabetes intervention project in the Marshall Islands. Her findings present evidence that with support, healthy changes can take root in any community. Get Brenda's take on the latest breakthroughs in nutrition and on the compelling advantages and special challenges of a plant-strong diet.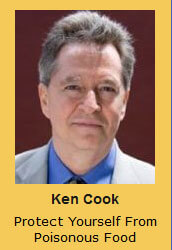 Ken Cook Protect Yourself From Poisonous Food
Ken Cook is co-founder and president of the 1.3 million-member Environmental Working Group (EWG). With a focus on toxic chemicals, air and water pollution, and industrialized agriculture, EWG's research and analysis have ruffled feathers and changed policy at the USDA, the FDA, in the halls of Congress, and even in the White House. They have blown the cover on who's really benefitting from hundreds of billions of farm subsidy dollars funded by U.S. taxpayers – and it's not your local organic kale farmer. But there's good news, too! You'll learn the truth about pesticides, organic food, and how to protect yourself from the "dirty dozen."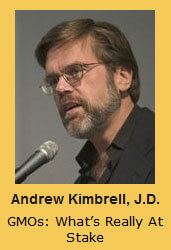 Andrew Kimbrell, J.D. GMOs: What's Really At Stake
Andrew Kimbrell is a leading public interest attorney and the founder and director of the 400,000 member Center for Food Safety. He fights to protect people and the environment from the threats of chemical-dependent industrialized agriculture. Andrew has often been called upon to testify before Congress, and his work has been featured in numerous published works and documentaries. His most recent book is
Your Right to Know: Genetic Engineering and the Secret Changes in Your Food
. Learn the alarming truth about genetically engineered foods, and how you can protect yourself and your loved ones.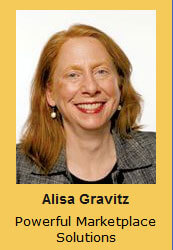 Alisa Gravitz Powerful Marketplace Solutions
Alisa Gravitz is CEO and President of Green America, an organization she has led for nearly 30 years. Green America operates the largest green business and green consumer network in the United States. Alisa is the author of Green America's million-copy
Guide to Social Investing
, and has helped move more than $2 billion into community-based social investments. She is also one of the founders of GMO Inside, which has run several successful campaigns including one that drove General Mills to make Cheerios GMO-free. Alisa will give potent insights into how you can help drive consumer pressure that changes the way businesses operate.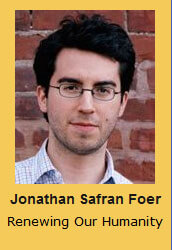 Jonathan Safran Foer Renewing Our Humanity
Jonathan Safran Foer is one of the influential figures in modern literature. He is author of the wildly popular novels,
Everything Is Illuminated
, and
Extremely Loud
and
Incredibly Close
. His 2009 landmark book, Eating Animals, took a refreshing and compelling look at the impact of our food choices on our lives and on the human-animal relationship. Jonathan's work has inspired hundreds of thousands of people to rethink their food choices in light of the realities of modern meat production. You'll get his eloquent and penetrating insights on parenting, empathy, and the reparation of the human bond with other humans and with all of life.
Robert Lustig, MD Sugar: The Sweet Killer
Dr. Robert Lustig is Professor of Pediatrics in the Division of Endocrinology at University of California, San Francisco, and Director of Weight Assessment for the Teen and Child Health (WATCH) Program at UCSF. His provocative Youtube video, "Sugar – the bitter truth" has become an Internet sensation, garnering more than 4 million views. Dr. Lustig is a globally recognized leader in the quest to understand the scientific underpinnings of sugar addiction, and its profoundly under-recognized role in driving many of the health crises of our times. He has authored 85 peer-reviewed articles, and trained dozens of other health professionals. You'll get the urgent truth about the real impact of sugar, and what it means to your life.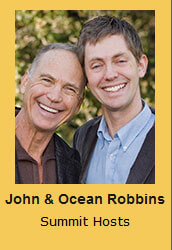 John & Ocean Robbins Summit Hosts
Each interview is hosted by Ocean Robbins and personally conducted by bestselling author and food movement leader John Robbins. John's bestselling books about food and health have sold more than 3 million copies, and he knows how to engage each presenter in a totally unique and special way
.
"The planet is under pressure and our choices have never been more important. The Food Revolution Summit is an informative and empowering platform which highlights ways to set a new pattern for the future of the planet." – Paul McCartney
This is URGENT. Did you know…
Get crucial truths like:
Your Hosts and Founders of the Food Revolution Network:
Over the last 25 years, his books about healthy eating and healthy living (including bestsellers Diet for a New America and The Food Revolution) have sold millions of copies and been translated into more than 30 languages.
Ocean Robbins
Ocean Robbins was born in a log cabin built by his parents, and grew up eating food they grew on the land together. He is co-author of Voices of the Food Revolution, and CEO of the 125,000+ member Food Revolution Network.
Ocean has spoken in person to more than 250,000 people in 65+ nations. He is an adjunct professor at Chapman University and was selected by Time and Audubon as among the heroes of the new millennium.
JOIN US FOR THE 2014 FOOD REVOLUTION SUMMIT. THIS NINE DAY EVENT IS FREE AND YOU WON'T WANT TO MISS IT.
Get insights about food policy you won't hear on cable news! Dare to know the TRUTH about what you're eating, where it comes from, and how it impacts your life. Join the world's most respected visionaries, authors and experts and RECLAIM YOUR HEALTH with the FOOD YOU EAT!
AN IMPORTANT MESSAGE FROM AUTHOR JOHN ROBBINS:
Dear Food-Loving Friend,
When it comes to food and our health, the stakes are rising exponentially. If there's ever been a time when we need to stay informed and take a stand, it's right now.
We keep hearing how rates of obesity and diabetes are on the rise, and not just in the U.S. but worldwide. For the first time in U.S. history, we are spending three-quarters of our healthcare dollars on managing disease instead of preventing it. We hear that climate change is causing increasing weather chaos. Yet, there's a kind of paralysis among government and corporations about solutions, even though industrial agriculture contributes more toward greenhouse gasses than all forms of transportation combined.
Incredible, isn't it? To make matters worse, the average doctor isn't educated on the connection between food and health; billions of dollars in ads try to hook our kids on eating crap; and dangerous fad diets are keeping people frustrated, overweight and unhealthy.
It's time to rise up and demand change! This is why we've created this virtual summit. We want to bring the most up-to-date research and information to you about food, nutrition, disease prevention and environmental stewardship. So you can get involved and do your part to be the change.
I've hand-picked every expert we've invited to be a part of this summit. I've read their books and articles, checked out their research, and decided the exact questions I want to ask in order to get to the heart of their specific expertise.
How does the Summit work? You'll have direct access to 3 highly focused half-hour interviews – personally conducted by me – every day for a week. You can listen via phone (conference call), or over the Internet.
What if you miss a presentation? No problem. There are recordings, transcripts, CDs, and many other resources that are available as part of an optional upgrade package.
So please join us in demanding access to healthy food and a healthy environment for everyone! Invite your friends and family to the 2014 Food Revolution Summit.
I promise you'll feel inspired, empowered and informed!