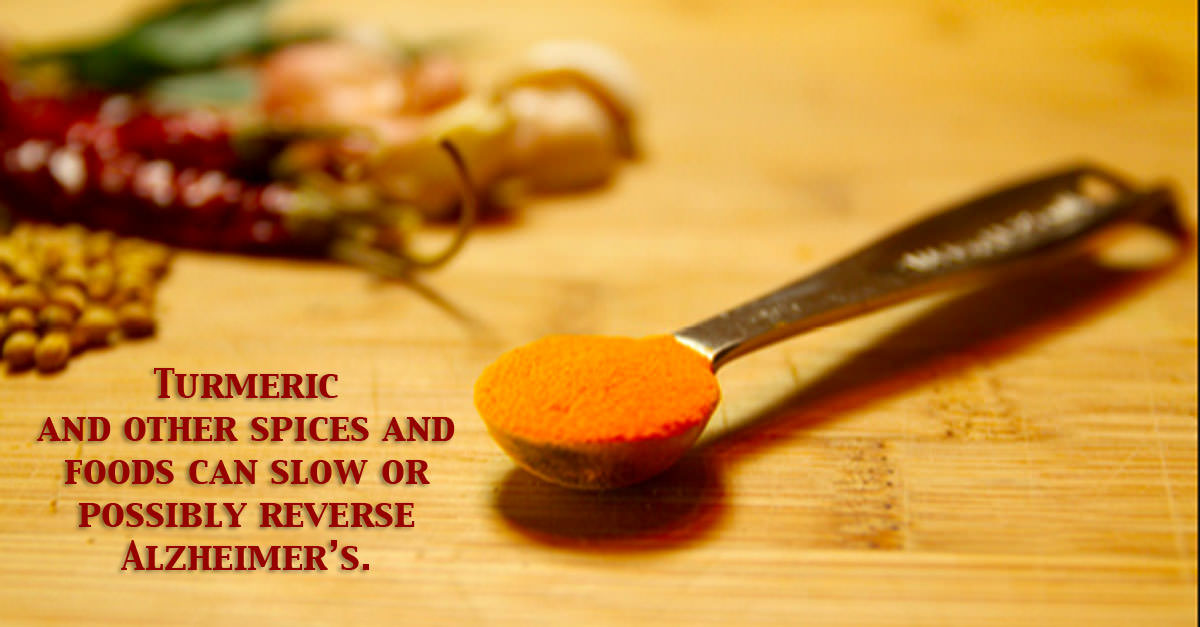 Like this article on Facebook:
By Sayer Ji • Originally published on Greenmedinfo
Did you know that so-called "incurable" neurodegenerative conditions, such as Alzheimer's disease, can be slowed, if not also partially reversed?
Regeneration, after all, is the default state of the human body.
This may sound all the more surprising when you consider that over 1,000 clinical trials have been performed, and billions of dollars expended, in order find an effective solution, without any significant progress in reversing the underlying trajectory of the condition. [i]
In fact, some of the very same patented chemicals approved by the FDA to "treat" the symptoms of Alzheimer's disease, e.g. donepizl (trade name Aricept), are chemically related to insecticides, chemical weapons and venom, and are notorious for greatly increasing the risk of seizures in those to whom they are prescribed.
Back in 2006, a study published in the Journal of Alzheimer's Disease (AD) found that a class of compounds found within turmeric known as curcuminoids enhance the amyloid-beta uptake of macrophages within Alzheimer's disease patients.
Amyloid-beta (Abeta) plaque is found in unnaturally elevated levels in neurodegenerative disorders such as AD, and is believed to contribute to the underlying disease process.[ii]
In the study, researchers treated the macrophages of six AD patients and 3 controls by curcuminoids and measured the Abeta uptake.  The results were as follows:
"After treatment of macrophages with curcuminoids, Abeta uptake by macrophages of three of the six AD patients was significantly (P<0.001 to 0.081) increased."
They concluded:
"Immunomodulation of the innate immune system by curcuminoids might be a safe approach to immune clearance of amyloidosis in AD brain."
Another study published in the same journal in 2009 found that vitamin D3 increased the efficacy of curcuminoids in enhancing the clearance of the amyloid-beta plaque.
While these two studies are amazing, they are not novel. In fact, we have identified 30 studies in total which show the potential value of curcuminoids in Alzheimer's disease prevention and treatment. These study abstracts can be viewed in full on our Alzheimer's disease page.
Curcumin is, in fact, only one of several natural compounds and/or therapeutic modalities with promising anti-Alzheimer's activity. Others include:
Coconut Oil (MCTs): Alzheimer's disease is associated with a pathological decrease in brain glucose, the brain's principal source of energy.  In 2006, a study was published in the journal of Neurobiology of Aging, involving subjects with mild cognitive impairment who were given an oral dose of medium chain triglycerides. When tested 90 minutes later, subjects showed increased cognitive performance, believed to be associated with increased ketone bodies and their brain-metabolism enhancing effects.[iii]
Alpha-Lipoic Acid: A 2007 study published in the Journal  of Neural Transmission found alpha-lipoic acid "dramatically lowers" disease progression in Alzheimer's disease patients who received 600 mg a day for 12 months.[iv]
B-Complex: A 2011 study published in the International Journal of Geriatric Psychiatry found B-complex to slow cognitive and clinical decline in people with mild cognitive impairment.  The researchers noted that homocysteine is a risk factor for AD and that B vitamins may slow brain atrophy by suppressing homocysteine accumulation. [v]
Alpha-GPC: A 2003 study published in the journal Clinical Therapeutics found that the cholinergic precursors choline and lecithin (phosphatidylcholine) in the form of choline alfoscerate (Alpha-GPC), and naturally found in neuronal membranes, was tolerable and effective in the treatment of the cognitive symptoms of dementia disorders of the Alzheimer type. [vi]
Gingko Biloba: In 2006 the European Journal of Neurology published the results of a 24-week randomized, placebo-controlled, double-blind study showing an extract of this plant was as effective as Aricept (donepezil) for mild-to-moderate Alzheimer's disease. [vii] Another study published in 2009 found that it was as effective as Aricept in improving symptoms of Alzheimer's disease, but with less side effects. [viii]
Saffron: A 2009 study published in the journal Psychopharmacology found that 22-weeks of saffron supplementation compared favorably to Aricept in the treatment of mild-to-moderate Alzheimer's disease. [ix]
Click to View Sources
Note: Image from Flickr under a Creative Commons license with modifications.
---
From Ocean Robbins, Food Revolution Network CEO:
Many of our members have been asking how much curcumin to take, how to take it in a bioavailable form, and where to get curcumin from a source they can trust. The challenge with taking full advantage of the curcumin in turmeric is low bioavailability. Personally, I love mixing fresh and dried turmeric into all sorts of foods – and I always try to include black pepper with it, because studies show that piperine (found in black pepper) helps to increase absorbability.
But now PuraTHRIVE has developed a curcumin supplement that utilizes a cutting-edge micelle liposomal delivery mechanism that's been found to increase bioavailability by up to 185 times. Their formula also contains ginger oil, vegan DHA fatty acids from algae, and beneficial phospholipids. The product is 100% vegan, organic, soy-free, and non-GMO. And if you get it from this link, they'll contribute a portion of the proceeds to the work of the Food Revolution Network. Click here to find out more about the curcumin supplement we recommend.
Important Note About Lead in Turmeric:
Investigators believe that in some countries, turmeric may be intentionally contaminated with lead to enhance its weight, color, or both. Lead-contaminated turmeric has repeatedly been found in India and Bangladesh, and it may be a concern in the United States, as well.
The FDA has not set maximum permissible levels of lead in spices. As a result, the agency does not regulate lead levels in turmeric. If you want to protect yourself and your family from possible lead contamination, the best option is to buy fresh turmeric root or to buy organic turmeric and curcumin products. You can also contact manufacturers to ask if they test for lead and other metals.
We asked PuraTHRIVE about their products and lead, and they told us they run ICPMS (the highest standard for heavy metal testing) on every batch of Curcumin Gold. They test internally and also hire a third party for independent verification. The test results show there is no lead in their products. They report that they are also fully compliant with California's Prop 65. See more about Curcumin Gold here.
Like this article on Facebook: