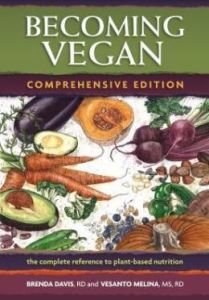 Like this article on Facebook:
by Brenda Davis and Vesanto Melina
This is a meticulous, fully referenced, 611 page guide to plant-based nutrition. This book explores the association between vegan diets, longevity and disease risk, and provides must-have information on macronutrients (protein, fat and carbohydrates), micronutrients (vitamins and minerals), pregnancy, lactation, childhood, adolescence and the prime of life. With detailed sections on overweight, underweight, eating disorders and athletes, no stone is left unturned. Controversial topics such as the safety of soy, paleo diets and essential fatty acids are thoughtfully examined. With hundreds of practical tips, easy-to-use charts and tables, and a foolproof food guide, this is an indispensable resource for health professionals, teachers, professors and nutrition enthusiasts.

Like this article on Facebook: