Are you frustrated by toxic food and ready for a breakthrough in your life and in your world?
Important message from Ocean Robbins
By joining the Food Revolution Network, you have taken a powerful step towards maximizing your health and vitality.  
As a member, you get breaking news and cutting edge insights from some of the top food experts on the planet, resources you can share with people you love, and tools to help you make a difference in the world.
The 2013 Food Revolution Summit featured 24 inspiring, practical, and life-changing interviews with some of the top food experts on the planet – including leading edge doctors, dietitians, environmentalists, researchers, politicians, celebrities, and activists.
On this page, we want to give you some highlights from the Food Revolution Summit, and let you in on a very special limited time offer.
Now you can hear four of these presentations for free on this page. And there's more.
You can get the entire Food Revolution Summit Empowerment Package, including digital downloads of everything, and if you like, the complete CD and transcript binder set, plus more than $1,000 worth of bonuses.
WITH A 30 DAY 100% GUARANTEE!

These are the speakers that are about to change your life:
They share why the Food Revolution is so important - now more than ever!
Special encore broadcast: Day one of the 2013 Food Revolution Summit
Mark Hyman, M.D. – Your Blood Sugar Solution
Dr. Mark Hyman is a family physician, a six- time #1 New York Times bestselling author, founder and medical director of The UltraWellness Center, and chairman of the Institute for Functional Medicine. He also serves as medical editor for The Huffington Post and on the Medical Advisory Board of The Dr. Oz Show. Mark's Blood Sugar Solution Program has inspired millions and been promoted by President Clinton and Mehmet Oz.
Working with Pastor Rick Warren (who lost 60 pounds), he helped the congregation of Saddleback Church collectively lose 250,000 pounds. Mark will empower you to treat the underlying causes of illness with good nutrition, and to have stronger immunity and more vitality.
Kris Carr – Crazy Sexy Kitchen
On Valentine's Day in 2003, Kris Carr was diagnosed with a very rare and incurable stage 4 cancer. Instead of giving up on life, she set out on a journey to understand the real sources of health and vitality, and she wound up igniting a global wellness revolution.
Millions of people, from soccer moms to Oprah Winfrey, look to Kris to help them find out how to look and feel better, lose weight, reduce stress and suffering, have more energy, and nourish their spirits. Kris' NY Times bestselling books and film include the groundbreaking Crazy Sexy Cancer series, Crazy Sexy Diet, and Crazy Sexy Kitchen. Her motto: Make juice not war!
JDean Ornish, M.D. – Preventing Disease, Promoting Health
Dr. Dean Ornish is founder of the Preventive Medicine Research Institute. For over 35 years, he has been directing clinical research demonstrating that lifestyle changes can reverse heart disease, diabetes, obesity, and many forms of cancer. Dean's program is the first based in lifestyle change to ever be covered by Medicare.
The author of 6 bestselling books, Dean has been a physician consultant to presidents and to bipartisan members of Congress. He was chosen by Life Magazine as "One of the 50 most influential members of his generation," and by Forbes as "One of the 7 most powerful teachers in the world." Dean's research proves that better diet can lead not only to better health, but also to more energy, more happiness, and even better sex!
"I was on a path leading to disease and premature death. My parents both died with cancer; Mom at 52 years old, Dad at 63. You have opened my eyes and brought back hope that I haven't felt in a long time. All of the Summit speakers were amazing, and it was incredible to hear the Robbins' story. You have changed my life and I am just getting started. Thank you!"
— Kari Zimmerman
And Two More Encore Bonuses
Special Bonus #1 John and Ocean Robbins – Igniting a Food Revolution
John and Ocean Robbins – Igniting a Food Revolution
John Robbins is an award-winning bestselling author of nine books, the founder of EarthSave International, and one of the world's leading spokespeople for healthy food for a sustainable world. John's son Ocean is CEO of the Food Revolution Network and co-author of Voices of the Food Revolution.
Ocean has led hundreds of workshops for leaders in 65+ nations, and serves as a professor and an internationally acclaimed speaker and facilitator.
Join this father-son team for a dynamic and galvanizing call to action and a boost to support you in living your dreams.
"I was on a path leading to disease and premature death. My parents both died with cancer; Mom at 52 years old, Dad at 63. You have opened my eyes and brought back hope that I haven't felt in a long time. All of the Summit speakers were amazing, and it was incredible to hear the Robbins' story. You have changed my life and I am just getting started. Thank you!"
— Kari Zimmerman
Special Bonus #2 Robyn O'Brien – Fighting Food Allergies
Robyn O'Brien – Fighting Food Allergies
Robyn O'Brien was a financial and food industry analyst whose life was turned upside down by her daughters' sudden allergy-induced illness. Robyn's love of her kids led her to take an honest look at our food system. What she discovered changed her life forever. She went on to found AllergyKids, and to become one of the most formidable forces in the food movement today.
With her wildly popular TED talks, books, magazine columns, and her online advocacy, Robyn has become what the New York Times called "food's Erin Brockovich". What she's uncovered about food allergies – and GMOs – will rock your world!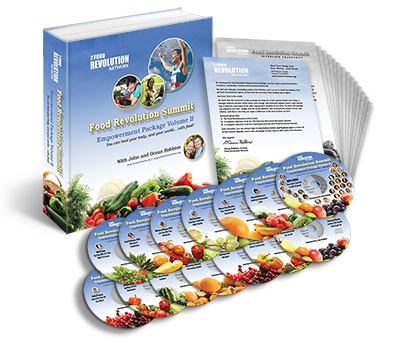 And here are the rest of the 2013 Food Revolution Summit speakers.
What Should You Eat, Really?
Joel Fuhrman, M.D. – Why Be A Nutritarian
Dr. Joel Fuhrman is a board-certified family physician and nutritional researcher who specializes in preventing and reversing disease through nutritional and natural methods. He has written 7 books on human nutrition, including the #1 NY Times bestseller, Eat To Live. Joel's hugely successful PBS television show, 3 Steps to Incredible Health, brought nutritional science to millions of homes.
He is research director of the Nutritional Research Foundation, and one of the world's leading experts on optimal nutrition for excellent health. If you want better immunity and circulation, increased strength and libido, improved digestion and sleep, or to lose weight the healthy way, then you'll LOVE Joel's message.
Neal Barnard, M.D. – Power Food For Your Brain
Clinical researcher and author Dr. Neal Barnard is one of America's leading advocates for health, nutrition, and higher standards in research. An Adjunct Associate Professor of Medicine at the George Washington University School of Medicine in Washington, DC, he is the president of the Physicians Committee for Responsible Medicine, whose membership includes 150,000 health care professionals and concerned citizens.
Neal has authored dozens of scientific publications as well as 15 books, including the bestsellers 21-Day Weight Loss Kickstart and Power Foods For The Brain. He'll give you tips on the top foods to help prevent Alzheimer's, improve mental function, and maximize your chances for a long and healthy life.
Michael Klaper, M.D. – Let Food Be Thy Medicine
40 years ago, Dr. Michael Klaper was giving patients anesthesia for surgeries when he started wondering why they were getting sick in the first place. He discovered that much illness and premature death could be prevented with good nutrition. For 4 decades since, Michael has had the joy of helping patients thrive.
He serves as the Director of the non-profit Institute of Nutrition Education & Research, as a member of the Nutrition Task Force of the American Medical Student Association, and on the medical staff for True North Health Center. Author of several books and a popular speaker, Michael's passion and insight will inspire, touch, and galvanize you on the path to good nutrition and vibrant health.
Mike Adams – Keys To Health Freedom
Mike Adams, also known as The Health Ranger, is a passionate advocate for personal and planetary wellness, whole foods nutrition, and health freedom. Mike is the founder and editor-in-chief for NaturalNews.com, which attracts more than 5 million unique visitors every month and is one of the 2,000 most popular websites in the world.
Natural News offers a free daily email newsletter that reaches 400,000 active subscribers, as well as online radio and television channels to bring you the latest in natural health. Mike will share his top insights to help you lose extra pounds, protect your family from junky and toxic food, and take advantage of the latest breakthroughs in natural living.
Rip Esselstyn – Goodbye Sickness, Hello Health
In 2003, when a co-worker in his Texas fire team was diagnosed with high cholesterol, Rip Esselstyn led the members of Engine 2 on a plant-strong diet and watched them get extraordinary results. Now Rip is teaching millions of people how to align what they put in their mouths with what they want for their weight and health.
Rip is author of the NY Times bestseller, The Engine 2 Diet: The Texas Firefighter's 28-Day Save-Your-Life Plan that Lowers Cholesterol and Burns Away the Pounds. He also starred in the hit documentary, Forks Over Knives. As a firefighter, Rip says: "We're here to save lives, in whatever ways we can."
Brenda Davis, R.D. – Does Plant-Strong Nutrition Work?
Brenda Davis is a registered dietitian, a respected researcher, and an internationally acclaimed speaker. She is the bestselling co-author of 8 books, including Becoming Vegetarian and Defeating Diabetes. For the last 7 years Brenda has been the lead dietitian in a heavily studied diabetes intervention project in the Marshall Islands.
Her findings present evidence that Type 2 diabetes can be prevented by changes in diet, and that with support, healthy changes can take root in any community. Get her take on the latest breakthroughs in nutrition, the compelling advantages and special needs of a plant-strong diet, and how they can help you and your community to thrive.
You deserve to know the truth about what you eat, where it comes from, and what its impact is on your life and on the world. The more you know, the more power you have to take meaningful action. The more you know, the better able you are to bring your food choices into alignment with your purpose and your passion. Your mind will be clearer, your heart will be more at peace, and your body will thank you for the rest of your life.
Transforming Our Food Culture
Senator Cory Booker – Your Healthy Food Community
Cory Booker is United States Senator, and was at the time of this interview the popular mayor of Newark, New Jersey. Senator Booker is a dedicated advocate for healthier lunches and better nutritional education in schools, for community gardens and farmer's markets, and for increasing access to healthy food in low income communities. For his 2012 "Supplemental Nutrition Assistance Program (SNAP) Challenge", Senator Booker tried to feed himself healthfully for a week on the $33 allocation given to SNAP (food stamp) recipients.
He Tweeted prolifically throughout the week, and his experiment made him an even more passionate advocate for healthier food in poor communities. Widely regarded as one of the most popular political leaders in the United States, Cory will give you his top tips for building a healthy food community.
Thom Hartmann – Changing Your Food Culture
Thom Hartmann is one of the ten most popular talk show hosts in the United States, with more than 3 million daily radio listeners and a television program that is syndicated to over 600 million homes on Free Speech TV, RTTV, and over 200 public television stations. Thom is the bestselling author of 23 books on a vast array of topics including climate change, the connection between food and the environment, and the collapse of the middle-class.
Listen to one of the most brilliant minds of our times. You'll learn how the toxic modern food culture came to be, and what you can do to build a more healthy and loving world starting with what you feed yourself and your loved ones.
Russell Simmons – Making Compassion Cool
Hip-hop visionary Russell Simmons is cofounder of the billion-dollar Def Jam Records, the Rush Philanthropic Organization, and the Foundation for Ethnic Understanding. USA Today named him one of the "Top 25 Most Influential People of the Past 25 Years" for his impact on music, fashion, finance, television, film, and philanthropy. Russell launched the Hip-Hop Summit Action Network to harness hip-hop on behalf of at-risk youth, and is the author of several NY Times bestsellers.
A passionate voice for humane and healthy food, Russell led negotiations with KFC that caused them to demand more humane practices from their suppliers, and has been named a Goodwill Ambassador by the United Nations.
Dolores Huerta – Loving The Hands That Feed Us
Dolores Huerta joined with Cesar Chavez in founding United Farm Workers, which she helped guide for 37 years. She has been arrested 22 times for nonviolent social protest, and her legacy places her alongside Mahatma Gandhi and Dr. King as a hero of nonviolent social change. Dolores' work has led to breakthroughs in the treatment of farmworkers, including passage of the Agricultural Labor Relations Act, Spanish-language ballots for voters, public assistance for immigrants, toilets in the fields, drinking water protection from pesticides, and legal status for over a million farmworkers.
She is a recipient of 9 Honorary University Doctorates, and of prestigious awards from 2 U.S. presidents. After 83 years working for healthier and more just food systems, what torch will she pass on to you?
Will Potter – Ag-Gag Bills Vs. Your Right To Know
Will Potter is an award-winning journalist who focuses on the animal rights and environmental movements, and civil liberties in a post-9/11 world. His reporting and commentary have appeared in media outlets including The Washington Post, NPR, Vice, and Rolling Stone. He has testified before the U.S. Congress, and has lectured at more than 100 universities and public forums.
Will's book, Green Is The New Red: An Insider's Account of a Social Movement Under Siege, was awarded a Kirkus Star for 'remarkable merit.' His message will alarm you with disturbing truths, and galvanize you to make a difference.
Zoe Weil – Humane Education
Zoe Weil believes compassion and respect can be nurtured, and she's taught hundreds of thousands of people how to honor the relationship between human beings and animals, the Earth, and one another. As cofounder of the Institute for Humane Education, Zoe created the first Master of Education and Certificate programs in Humane Education, and she's trained thousands of people to incorporate her principles into families, classrooms and communities.
Zoe is author of several award-winning books including Most Good, Least Harm, and Above All, Be Kind. Discover how meaningful and joyful it can be to advocate for a more compassionate world and to deepen your sense of connection to the world and its creatures.
Jeffrey Smith – Protecting Your Family from GMOs
Jeffrey Smith's meticulous research has made him a world authority on the dangers of genetically modified organisms (GMOs). He documents how biotech companies continue to mislead legislators and safety officials to put our health at risk, and the environment in peril.
Jeffrey is founder of Institute for Responsible Technology, author of the bestselling book, Seeds of Deception, and producer of the award-winning film, Genetic Roulette – The Gamble of Our Lives. Behind all the politics and special interest dollars, what's the real scoop on GMOs? Find out what's at stake, and how to protect yourself and your family.
Andrew Kimbrell – Standing For Food Safety
Andrew Kimbrell is a leading public interest attorney and the founder and director of The Center for Food Safety. He fights to protect people and the environment from the threats of chemical-dependent industrialized agriculture. Andrew has often been called upon to testify before Congress, and his work has been featured in numerous published works and documentaries.
His most recent book is Your Right to Know: Genetic Engineering and the Secret Changes in Your Food. The Guardian recognized Andrew as one of the 50 people who could change the planet. His insights will help you protect your family from toxic food.
These are people who have collectively spent centuries at the cutting edge of research into food, health, and social change. They have inspired tens of millions of people to reclaim their health and to transform food systems. They know what they're talking about, and they know how to help you.
Healthy Plate, Happy Planet
Vandana Shiva, Ph.D. – Food Security In A Global Community
Dr. Vandana Shiva is a world-renowned environmental leader and thinker. She is director of the Research Foundation on Science, Technology, and Ecology, and the author of many bestselling books, including Soil Not Oil: Environmental Justice in an Age of Climate Crisis. Vandana is the founder of Navdanya (nine seeds), a movement promoting diversity and use of native seeds, and a recipient of the Right Livelihood Award, often called "The Alternative Nobel Prize."
Forbes named her "one of the 7 most influential feminists in the world," and Time selected her as an "environmental hero." Vandana will show you like never before the global impact of your food choices.
Mark Bittman – The Power Of Your Plate
Mark Bittman has been a popular New York Times columnist for more than 13 years. His blockbuster 1998 bestseller How To Cook Everything helped make cooking more accessible and delicious for millions of people.
After turning his attention to the impact of our food choices – not just on our palates, but also on our health and world – Mark became one of the leading advocates for a transformation in our global food systems. His bestselling book, Food Matters, broke new ground in exploring the links between food, health, and the environment. Tune in for his top tip for the conscious consumer who wants to make a difference!
Ken Cook – Sustainable Food For Us All
Ken Cook is co-founder and president of the 1.3 million-member Environmental Working Group (EWG). With a focus on toxic chemicals, air and water pollution, and industrialized agriculture, EWG's research and analysis have ruffled feathers and changed policy at the USDA, the FDA, in the halls of Congress, and even in the White House.
They have blown the cover on who's really benefitting from hundreds of billions of farm subsidy dollars funded by U.S. taxpayers – and it's not your local organic broccoli farmer. But there's good news, too! Ken will teach you how to take action on the issues that matter to you, and in the process to with more meaning, purpose, and contribution.
"My husband ordered me the "whole enchilada"…he's a smart man. He knows I have been glued to each and every interview. Now I can relax and I will not miss a thing. I will be enjoying the whole program! Thank you so much and thank you for all you do for the greater good!"
— Mary Snyder
The Spiritual Buffet and the Soul Gourmet
Seane Corn – Feeding Your Body, Heart & Soul
Seane Corn is an internationally renowned yoga teacher and spiritual activist. She co-founded the organization Off the Mat, Into the World in 2007, and went on to create a ground-breaking fund and awareness raising effort called the Global Seva Challenge Humanitarian Tours, which have raised millions of dollars for international communities in need.
Seane's teachings focus on the mind-body-spirit connection as in her Detox Flow Yoga program, and understanding the shadow aspect of self for deep healing. In her sparkling yet down-to-earth manner, Seane will show you how to be an effective agent of change without ever coming across as a nag.
Kathy Freston – Lean Into The Life You Want
Kathy Freston is one of the world's most prominent health and wellness activists. She is the New York Times bestselling author of multiple books including The Lean: A Revolutionary 30 Day Plan for Healthy Lasting Weight Loss.
A media favorite, Kathy has appeared frequently on national television, including Ellen, The Dr. Oz Show, Charlie Rose, Good Morning America, The Talk, The Martha Stewart Show, Extra and Oprah. With clarity and kindness, Kathy will help you lovingly lean into natural weight loss, decreased stress, more stamina, and greater vitality.
Michael Bernard Beckwith – Soul Feast
Michael Bernard Beckwith is the founder of the Agape International Spiritual Center in Los Angeles. He is a sought after speaker, meditation teacher, and retreat facilitator.
Michael is the author of Life Visioning, Spiritual Liberation~Fulfilling Your Soul's Potential, The Answer Is You, Forty Day Mind Fast Soul Feast, and TranscenDance Expanded. He has appeared on The Oprah Show, Larry King Live, Tavis Smiley, and his own PBS special, The Answer Is You. Michael will help you restore reverence, beauty, and delight to your relationship with food and the earth community to which we all belong.
"My husband ordered me the "whole enchilada"…he's a smart man. He knows I have been glued to each and every interview. Now I can relax and I will not miss a thing. I will be enjoying the whole program! Thank you so much and thank you for all you do for the greater good!"
— Mary Snyder
The 2013 Food Revolution Summit is complete, which means you can get all of these brilliant presentations instantly.
The fact that you are reading this means you care not only about your own health but the health of those around you and the world in general.
We lined up an amazing panel of the world's leading experts to help educate, guide and entertain you on your journey to a healthier you and a healthier world. And we want to make sure you get the MAXIMUM benefit from this unique opportunity.
That's why we've prepared The Empowerment Package to help you get the most out of this brilliant team.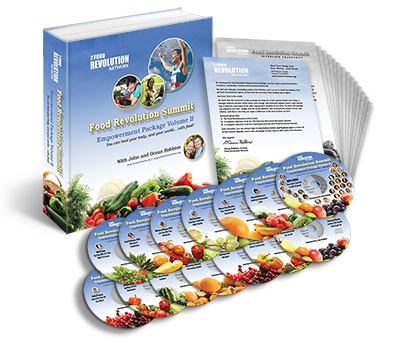 During the 2013 Food Revolution summit there was such a buzz that more than 2,507 people requested and ordered:
The Food Revolution Summit Can Change Your Life
You'll get the latest, cutting-edge information from some of the top food experts on the planet, and valuable insights and ideas you can implement right away!
You'll learn from people who have spent lifetimes on the cutting edge of research and inspiration, as they distill the best of what they know.
You don't have to be a scientist to get the benefits of what the experts have found out. Now you can have brilliant wisdom brought straight to you.
PLUS
You'll also be able to share all these goodies as GIFTS!
Perhaps you have a loved one who is passionate about food, or perhaps a family member who just won't listen to your ideas about healthy eating. No problem! You'll be able to share these important messages with them.
And as our way of saying thank-you for supporting the global Food Revolution:
We're giving you three exciting ways to stay empowered.
This is an Extraordinary Opportunity

We will assume all risk with our 100% 30-day, no questions asked Total Satisfaction Guarantee.
Order this program, download everything, grab all the bonuses, and listen to your heart's content. If you're not satisfied with what you've received for any reason, simply ask for a refund and we'll take care of you.
No muss, no fuss.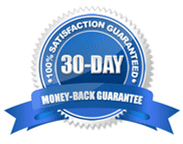 You Have a Choice To Make
1) You can continue as things are, and keep getting the same results.
2) OR…you can download the guidance of these 24 extraordinary souls and accelerate your path to vibrant health.
Yes, John and Ocean, Please Give me TOTAL ACCESS TO The Food Revolution Summit Empowerment Package
I understand I'll be receiving the entire program of interviews, transcripts, and bonus offerings for a small one-time investment.
I also realize I risk nothing, since you're offering a 30-day money-back guarantee if I am not happy with the program.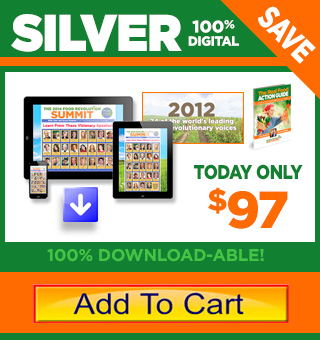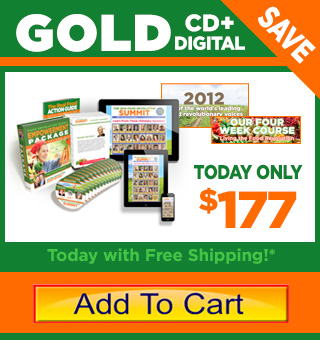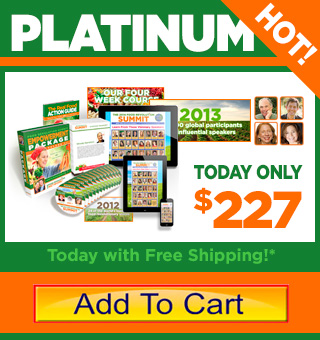 To your health and a healthy world!
Meet the hosts of The Food Revolution Network:
John Robbins is author of the 1987 landmark international bestseller Diet for a New America which helped to bring the natural foods industry into the mainstream. His eight best-sellers have sold more than 2 million copies.
John is also co-author, with his son and colleague Ocean Robbins, of the newly released Voices of the Food Revolution. He is founder of EarthSave international, and one of the most popular bloggers on the Huffington Post.
John is a recipient of the Rachel Carson Award, Green America's Lifetime Achievement Award, the Albert Schweitzer Humanitarian Award, and dozens of other honors. He has been joyously married to Deo Robbins since 1967.
Ocean Robbins completed his first marathon at age 10, and opened a door-to-door natural foods bakery at age 11. In 1990, at age 16, he was founder of Youth for Environmental Sanity (YES!), which he directed for 20 years.
Ocean has spoken in person to 200,000 people and facilitated hundreds of gatherings for leaders from 65+ nations. He is co-author with his father John Robbins of Voices of the Food Revolution, and an adjunct professor for Chapman University.
Ocean is a recipient of the national Jefferson Award for Outstanding Public Service and (with his beloved partner of 18 years, Michele) of the 'Couple of the Movement' Freedom's Flame Award. He is a popular blogger and serves as CEO of the 100,000+ member Food Revolution Network.
Each Empowerment Package comes with more than $1,000 worth of bonuses. Here's what you'll be getting:
1) PCRM Kickstart Plus Program
From Neal Barnard, M.D. – Value $60
Kickstart Plus is Physicians Committee for Responsible Medicine (PCRM)'s special 12-month online program. Each month you will receive a message that includes recipes that are delicious, nutritious and easy to prepare, nutritional information, videos and other tips to help you adopt and thrive on a healthy, plant-based diet.
This program, led by Dr. Neal Barnard and his team of nutrition experts, includes: Informative nutrition videos; Step-by-step cooking demonstrations from award-winning chefs; Helpful kitchen tips; and resources for nutrition information, recipes, classes, and more. Sleep better, feel better, happy and strong!
2) Three Months Gold Membership in Dr. Fuhrman's Member Center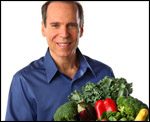 From Joel Fuhrman, M.D. – Value $30
Are you are ready to slim down, reverse your diabetes, lower your cholesterol without drugs, drop your blood pressure, get rid of aches and pains, or just have Dr. Fuhrman's input for your health challenges?
Dr. Fuhrman's Gold Membership includes: Recipes delivered to you daily via email; Over 900 recipes and menus rated and reviewed by other members; Searchable Ask the Doctor forum archives; A library of Healthy Times Newsletters; Archived member teleconferences; The Health Tracker (to help you track your progress); Webinars to help you get started; Active participation in the Member Discussion Forums; participation in teleconferences; Call-in support groups; and more!
3) Crazy Sexy Kitchen Toolkit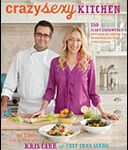 From Kris Carr – Value: $50
Kris' latest book, Crazy Sexy Kitchen, is a jaw dropping-ly delicious veggie manifesto for gourmands and novices alike – filled with inspiration, education and cooking tips – plus more than 150 nourishing, plant-passionate recipes to help you lose weight, feel great, and get your sexy on!
Wanna take a tour of Crazy Sexy Kitchen? Kris created this gorgeous, digital overview of some of her favorite sections and 13 recipes from the book PLUS you'll get access to 6 special online videos to guide you in shopping for healthy food, juicing, quick and easy salad dressings, how to make a delicious recipe from the book, and more!
4) The Blood Sugar Solution Movie
From Mark Hyman, M.D. – Value: $50
Right now, one in two Americans suffers from "diabesity", which is the single largest contributor to heart disease, dementia, cancer, and a host of other chronic illnesses. Here is a scientifically-proven solution to help protect you and your loved ones from the greatest health catastrophe of our times.
In this special film, you will go behind the scenes and learn as Mark Hyman, M.D. gives you his 4-step plan for overcoming diabesity. The video sells for $50, but Dr. Hyman wants you to have this information so much that he is making it available online for free – specially for Empowerment Package customers.
5) The Metamorphosis of a Pig Farmer, Audio Edition
From John Robbins Value: $10
When he was researching Diet for a New America, and visiting farms and ranches across the U.S., John Robbins met a pig farmer that changed his life. This story has inspired millions, and now, by popular demand, John has recorded it.
Inspiring, engaging, and touching on some of the core issues of our humanity, it will make you laugh, make you cry, and inspire you to make a difference. In MP3 format for easy listening.
6) 7-Day Booster Cleanse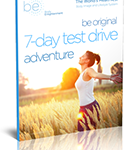 From Tera Warner Value: $97
Ready to transform your relationship with your body image, your food AND yourself? You don't need to pinch inches or count calories to achieve your ideal weight! Find out how a hot bath, a long walk and 15 minutes of de-cluttering your desk are a whole lot better than a low-calorie chocolate brownie!
This 7-day cleanse comes complete with a simple plant-based menu (doctor and nutritionist approved!), a fitness planner to get you movin' and groovin', AND an Adventure Guide stuffed with inspiration to support your journey on the "World's Healthiest Body Image and Lifestyle System!"
7) Social Entrepreneur Empowerment Package

From Ryan Eliason – Value: $197 + $600 in Bonuses
Do you want to make a living AND make a difference? This popular program includes downloadable interviews with 41 of the world's top social change leaders and conscious entrepreneurs.
These leaders share the inside story on how they grew organizations that combined people, planet, and profits. You will gain the mindset shifts and tangible business skills needed to grow your income and make a real positive impact. This package also includes its own HUGE collection of bonus gifts worth more than $600!
8) Special Report on "Foods You Eat That Are Aging You"

From Vegetarian Health Institute and Dr. Michael Klaper – Value $197
In this special report, you'll discover 3 harmful ingredients that show up in many breads, cookies, crackers, muffins, breakfast cereals, pies, cakes, fries, potato chips, soy cheeses, soy ice creams, and vegetarian 'meats'. The report explains that these ingredients stiffen your arteries, damage your chromosomes, injure your nerve cells, increase oxidative damage in your tissues, raise your levels of 'bad' LDL cholesterol, and lower your levels of 'good' HDL cholesterol.
Discover healthy substitutions that will help slow down the aging process. Includes a written report, plus a 48 minute recorded interview with Dr. Klaper (as a downloadable MP3 and a transcript).
9) Viewing of Genetic Roulette Movie, and GMO-Free Shopping Tips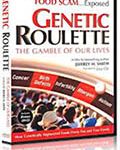 From Jeffrey Smith – Value $10
This eye-opening film may help you protect your family, and accelerate the consumer tipping point towards rejection of genetically modified organisms (GMOs). Never-before-seen-evidence points to genetically engineered foods as a contributor to rising disease rates in the U.S. population, especially among children.
Don't miss this award-winning film that has already galvanized millions! Then take the next step, empowering yourself with a complimentary copy of the revised Non-GMO Shopping Guide.
10) Cooking Healthy Lessons eBook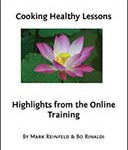 From Chef Mark Reinfeld – Value $10
The Cooking Healthy Lessons ebook is a comprehensive introduction to the highly acclaimed online vegan culinary course offered by award-winning chef and author Mark Reinfeld.
Prepare the sumptuous and healthful recipes in the ebook and you will begin to experience the incredible power of satisfying, nutritious and delicious plant-based cuisine. It will transform your body and your energy!
11) Special interview with Sandra Steingraber
Value: $5
Value: $5
Sandra Steingraber, Ph.D., is a cancer survivor, a mother, a scholar, and an environmental leader. She is the author of several books including Living Downstream: An Ecologist's Personal Investigation of Cancer and the Environment, and Raising Elijah: Protecting Our Children in an Age of Environmental Crisis.
In this special transcribed interview conducted personally by John Robbins, Dr. Steingraber brings penetrating insights to the real causes, and impact, of environmental pollution – and how you can take action to protect yourself and your community.
12) The Power of Partnership: Building Healing Bridges Across Historic Divides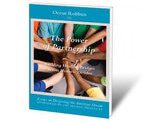 From Ocean Robbins
Learning to build effective and healthy partnerships with those who are different from you is key to advocacy and effectiveness. This e-book shares real life stories and learning journeys in the work to collaborate across historic divides like race, class, religion and nationality.
It will expand your awareness, make you a better leader, and help you feel connected to people in your global community.
17) Real Food Action Guide: Restore Your Health and Save the Planet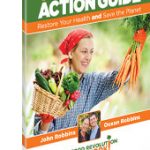 From the Food Revolution Network
This Action Guide includes: Jeffrey Smith showing you how to protect your family from dangerous genetically engineered foods; Dr. Joel Fuhrman revealing recent discoveries in medical science that the junk food industry hopes you'll never discover; and a potent collection of resources and action steps to help you take action for healthy, sustainable, humane and conscious food for all.
Total value of bonuses: $1,144
But they're completely COMPLIMENTARY when you order now!