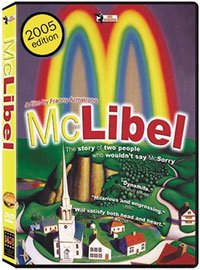 Like this article on Facebook:
McDonald's sued gardener Helen Steel and postman Dave Morris for speaking out. In the longest trial in English legal history, the "McLibel Two" represented themselves against McDonald's £10 million legal team.
Every aspect of the corporation's business was cross-examined: from junk food and McJobs, to animal cruelty, environmental damage and advertising to children. The verdict took everyone by surprise – especially the British Government.
McLibel is not just about hamburgers. It is about the importance of freedom of speech now that multinational corporations are more powerful than many countries. Filmed over ten years, McLibel is the David and Goliath story of two people who refused to say sorry. (81 minutes)
Like this article on Facebook: