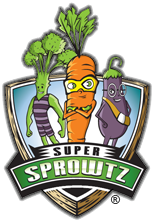 Like this article on Facebook: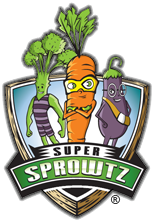 The Super Sprowts website bridges the gap for parents and educators who are looking for tools and ways to engage their families and students to eat more vegetables and make healthier food choices.
All of their programs are informed by a comprehensive nutrition education curriculum that they've developed with educators, nutritionists, parents and entertainers and have been tested and retested on children.
Their focus in on pre-school and elementary school children as research suggests eating habits are developed early on in a child's life – often times before the age of 6. One-third of the children in the United States don't get adequate nutrition- The Super Sprowtz are here to save the day! Their motto is Good Food Made Fun.
Super Sprowts offers books, puppets, posters, apparel, DVDs, television shows, educational curriculum for classrooms, and similar materials, which help educate children about the importance of proper nutrition. The website offers Sprowts TV, a Kids Corner, Parents and Teachers page, a newsletter, and the ability to book a show.
Like this article on Facebook: