Here's a sample of the great content our customers rave about. Normally, this inspiring Alicia Silverstone interview is only available to our paying customers. But for a limited time, you can download it with no cost or obligation.
Alicia Silverstone – How To Live A Kind Life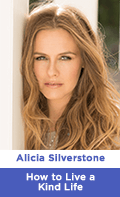 Alicia Silverstone is an actress who rose to stardom with her leading role in the 1995 sleeper hit, Clueless. Her many other acting credits include leading roles in Batman films, God Behaving Badly, and Excess Baggage. In 2011, Men's Health voted Alicia one of the 100 hottest women of all time.
A long-time food and animal rights activist, and a passionate environmentalist, Alicia is author of the #1 NY Times bestseller, The Kind Diet, and founder of TheKindLife.com.
Get her loving and inspiring insights on how to lean into a life that is kind to your body, your conscience, and your planet. Find out more about Alicia's work by clicking here.
Interview Details
Duration: 28 minutes
Interviewed by: John Robbins
Topics: Animal treatment, "happy" farm animals, spreading the word, vegan food in Hollywood, feeding a loving life, The Kind Momma