Special Live Members-Only Call
With John Robbins, Ocean Robbins, and Jeffrey Smith
November 16, 2013 • 10-11:30 AM Pacific Time (and available afterwards on MP3 and replay)
Help us prepare for this call by asking your questions at the bottom of this page!
Join us for your special members-only LIVE 90 minute webinar with John Robbins, Ocean Robbins, and Jeffrey Smith. On our interactive Q&A, you'll get direct answers to your burning questions, and inspirational and personalized support where you need it most. You can participate via teleconference or webcast.
To help you and all the other participants get the most out of this call, we're gathering your questions in advance – on this page (see below!). For the first hour of the call we'll do our best to respond to as many of the most popular questions that we can, and for the last half-hour we'll engage in live questions and answers with the callers on the line.
After the call, you will be sent an MP3 file of the call recording, and also given a link for online listening any time you like.
About the Speakers
John Robbins is the author of nine bestsellers that have collectively sold more than 3 million copies and been translated into 31 languages. These include Diet for a New America, The Food Revolution, Healthy at 100, and (with Ocean Robbins) Voices of the Food Revolution. John is Founder and Board Chair Emeritus of EarthSave International, and co-founder and co-host of the 100,000+ member Food Revolution Network. He is recipient of the Rachel Carson Award, the Albert Schweitzer Humanitarian Award, the Peace Abbey's Courage of Conscience Award, Green America's Lifetime Achievement Award, and many other accolades. He lives with his wife of 47 years, Deo, in California.
Ocean Robbins founded Youth for Environmental Sanity (YES!) at age 16, and directed it for the next 20 years. He has spoken in person to more than 200,000 people in live events, and he has organized 100+ seminars and gatherings for leaders from 65+ nations. Ocean serves as adjunct professor for Chapman University, and is a recipient of the national Jefferson Award for Outstanding Public Service, the Freedom's Flame Award, and many other honors. He is author of The Power of Partnership, and co-author, with his dad and colleague John Robbins, of Voices of the Food Revolution. He serves as co-host and CEO of the Food Revolution Network.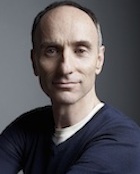 Jeffrey Smith's meticulous research has made him a world authority on the dangers of genetically modified organisms (GMOs). He documents how biotech companies continue to mislead legislators and safety officials to put our health at risk, and the environment in peril. Jeffrey is founder of Institute for Responsible Technology, author of the bestselling book, Seeds of Deception, and producer of the award-winning film, Genetic Roulette – The Gamble of Our Lives.
Call-In Details
Participate live by calling in at the time of the call, to: 206-402-0100 (or for a list of other local numbers in assorted countries around the world, click here). And entering access code: 171496#
Or click here for the webcast, which will be available live and then on replay for the rest of 2013. (Note: You may need to download the latest version of Flash Player).
What do you want to ask John, Ocean and Jeffrey? Submit your questions below, by November 12 at 11:59 pm Pacific Time, for inclusion in call preparation.
Using the Comments fields below, you can submit your questions, comment on other people's questions, and vote for your favorite questions. Priority will be given to those questions that generate the greatest enthusiasm and interest.