By Sayer Ji • Originally published on GreenMedInfo.com
Thirty years of research reveals 10 of the best food phytonutrients to ingest to protect against and even treat the root cause of most cancers.
A new medical model is fast emerging in line with ancient wisdom: one that aims to strike to the root cause of disease and resolve it permanently, and which some call "functional medicine." In cancer treatment, this highly rational approach involves targeting the cancer stem cells (CSCs) at the root of cancer malignancy. Because we now know that CSCs are resistant to chemotherapy and radiation treatment, and may even increase in number and invasveness when exposed to these outdated therapies, it is no longer ethical to continue with the conventional oncologist's "standard of care." Clearly, unless a cancer treatment is capable of selectively killing and/or inducing suicide programs (apoptosis) within cancer cells without harming non-cancerous cells, it is not going to produce a cure.
In light of this, we are excited to report on a new review published in the International Journal of Molecular Sciences titled, "Phytochemicals as Innovative Therapeutic Tools against Cancer Stem Cells," which evaluated the evidence for what natural compounds within various foods and spices make for the most compelling treatments for targeting CSCs.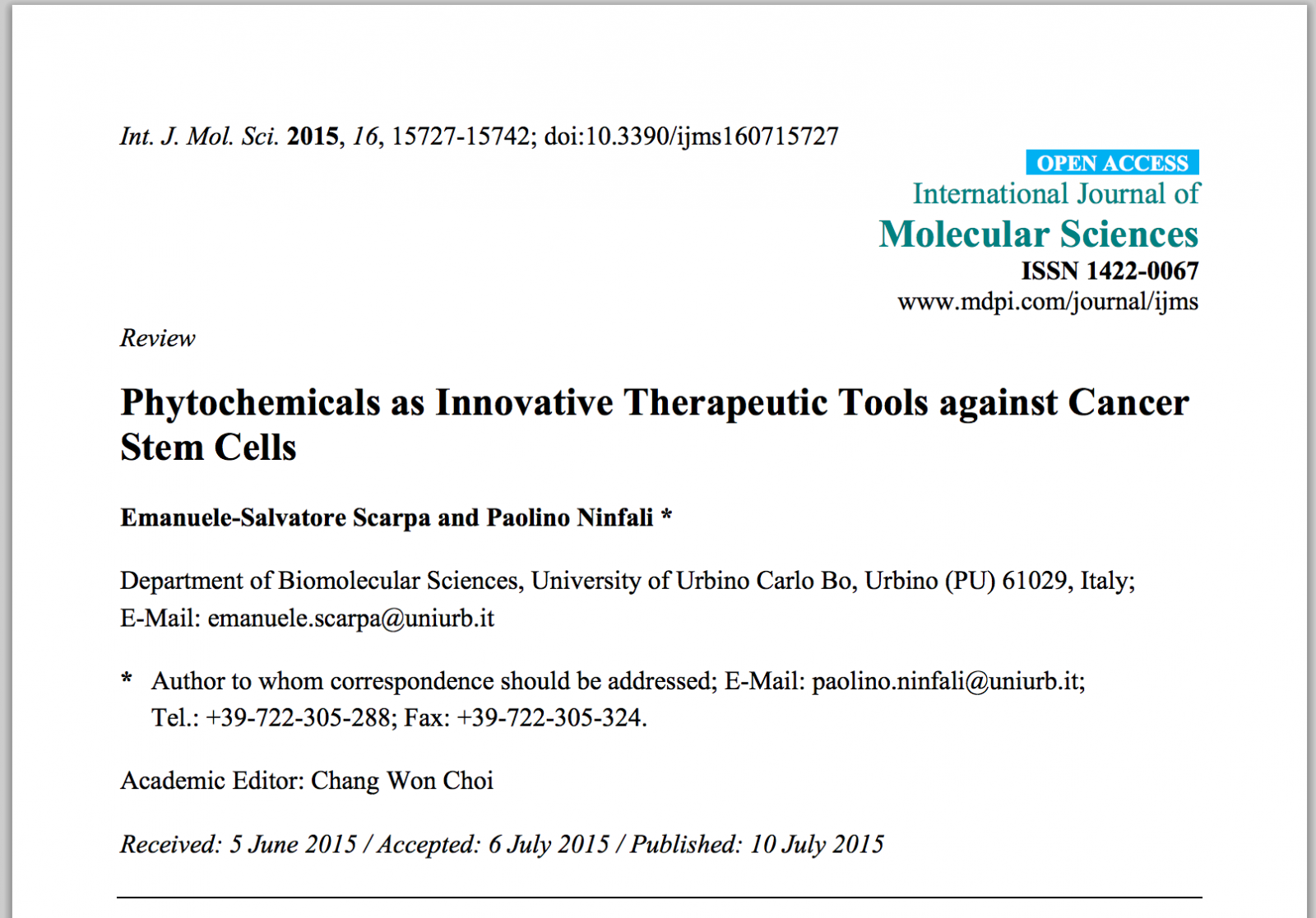 According to the review of 30 years worth of literature on the topic, the following 10 natural substances have been demonstrated to be the most effective chemopreventive dietary agents against CSCs:
The researchers described the discovery that phytochemicals can selectively target CSCs as "a milestone in the improvement of cancer treatment because the synthetic anticancer drugs that are currently used are often highly toxic for healthy organs and weakens the patient's immune system."
They also pointed out that the phytochemicals or extracts identified above, due to their "low levels of toxicity for normal cells," can be used in combination with other phytochemicals, "yielding powerful synergistic effects."
They identified several key areas of focus for the future:
Finding a way to combine these compounds into "very active cocktails of phytochemicals" to address the multiple areas of treatment resistance often found in CSCs.

Compare the effects of natural phytochemicals with synthetic drugs, the latter of which they anticipate will be found to be less efficient.

Further research should be performed on CSCs to better understand the signaling pathways that govern their self-renewal and survival.
The authors concluded, "[T]he use of phytochemicals may be a true therapeutic strategy for eradicating cancer through the elimination of CSCs."
A couple follow-up resources from Ocean Robbins, Food Revolution Network CEO

1) The Truth About Cancer has produced a 9-part 60-Minutes-style docu-series in which Ty Bollinger interviews more than 100 doctors, scientists, leaders and survivors in a global quest to understand the truth about cancer prevention and treatment. Click here to join in and watch it now.
2) Many of our members have been asking how much curcumin to take, how to take it in a bioavailable form, and where to get curcumin from a source they can trust. The challenge with taking full advantage of the curcumin in turmeric is low bioavailability. Personally, I love mixing fresh and dried turmeric into all sorts of foods – and I always try to include black pepper with it, because studies show that piperine (found in black pepper) helps to increase absorbability. But now PuraTHRIVE has developed a curcumin supplement that utilizes a cutting-edge micelle liposomal delivery mechanism that's been found to increase bioavailability by up to 185 times. Their formula also contains ginger oil, vegan DHA fatty acids from algae, and beneficial phospholipids. The product is 100% vegan, organic, soy-free, and non-GMO. And if you get it from this link, they'll contribute a portion of the proceeds to the work of the Food Revolution Network. Click here if you'd like to find out more.
Important Note About Lead in Turmeric:
Investigators believe that in some countries, turmeric may be intentionally contaminated with lead to enhance its weight, color, or both. Lead-contaminated turmeric has repeatedly been found in India and Bangladesh, and it may be a concern in the United States, as well.
The FDA has not set maximum permissible levels of lead in spices. As a result, the agency does not regulate lead levels in turmeric. If you want to protect yourself and your family from possible lead contamination, the best option is to buy fresh turmeric root or to buy organic turmeric and curcumin products. You can also contact manufacturers to ask if they test for lead and other metals.
We asked PuraTHRIVE about their products and lead, and they told us they run ICPMS (the highest standard for heavy metal testing) on every batch of Curcumin Gold. They test internally and also hire a third party for independent verification. The test results show there is no lead in their products. They report that they are also fully compliant with California's Prop 65. See more about Curcumin Gold here.