One of the best things about the World Wide Web is its instant access to a wide array of delicious (and nutritious!) plant-based recipes. But for some, that might not be as convenient as you might think. Most recipes are scaled for a family of four or more, which means couples and singles need to convert ingredient amounts every time they make a recipe. Even if you love leftovers, it's nice to have some
plant-based dinner ideas
in your rotation that are designed for fewer people. Plus, it's always exciting to spice things up and add new recipes to the mix.
In this article, we'll look at how you can scale recipes, grocery shop, and cook delicious, whole food plant-based (WFPB) recipes for two. Whether you're cooking for a simple weeknight dinner, date night at home, or just because, these seven healthy dinner recipes for two will make great additions to your weekly meal rotation.
What to Keep in Mind When Grocery Shopping for Two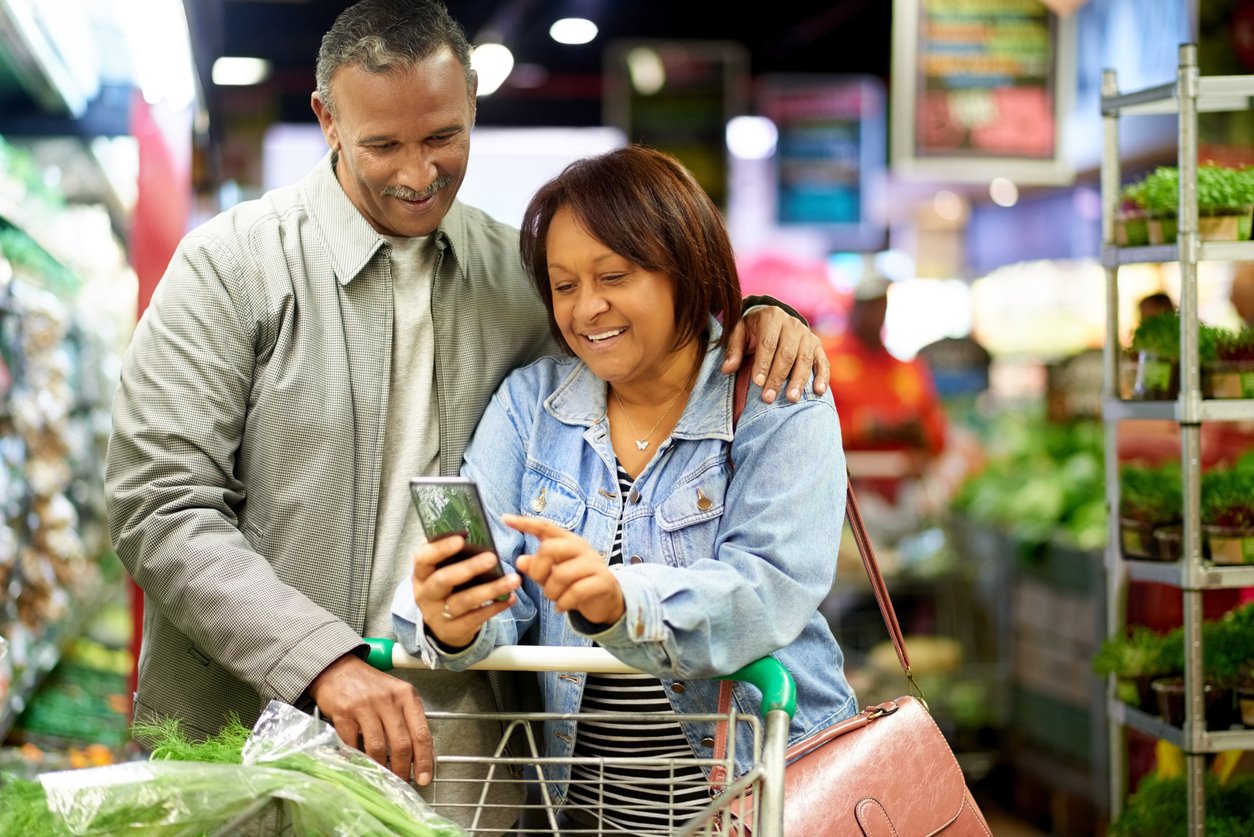 Meal planning is the ultimate time saver. Sitting down with your partner and picking out your weekly recipes will not only save you time and money, but also reduce food waste, take the stress out of last-minute cooking, and help with portion control and avoiding unhealthy options.
With that said, planning your week's meals is often easier said than done. You might think it's more convenient to grab takeout or swing by the grocery store on the way home from work. But when it comes to grocery shopping, flying by the seat of your pants can lead to unhealthy food choices and loss of precious time.
In preparation for your grocery trip, you'll want to figure out which meals (and how many) you'll eat together during the week. Then, refer to your selected recipes and make a list of ingredients you'll need, paying special attention to serving sizes to ensure you're only buying enough for two people. Though most online recipes list ingredient amounts for families, many of them allow you to select a scaled-down version that will provide the amounts required for two people.
A good idea is to choose recipes that share some of the same ingredients so you can purchase and cook them in bulk and then divide them between meals. For example, if two or more meals contain quinoa or beans, you can batch cook these and keep them refrigerated in a food storage container for the week. This trick works even if you're eating solo. You can batch cook and have leftovers to enjoy for lunch or a repeat dinner.
How to Scale a Recipe for Two
Whether cooking an intimate dinner for two or modifying a recipe for yourself, knowing how to adjust the number of servings a recipe yields can save you time and energy in the kitchen. Scaling a recipe involves multiplying or dividing ingredient quantities to yield the number of servings required for your dinner.
When creating recipes for two (or one), you'll likely need to scale down the ingredients of your favorite recipes. This can be done by dividing the original serving size by two to decrease the ingredient amounts. For example, if you're making a vegan stir-fry for two, but the recipe is designed for four, you'd scale down the recipe by simply dividing each ingredient quantity by a conversion factor of two. However, if the amounts aren't divisible by two, you may need to use an online conversion factor calculator or a recipe converter app like Whisk.
Note that dividing the original serving size by two doesn't work for all ingredients. Exceptions to this rule include the amounts of broth, water, or oil used for sautéing, so the amounts for these ingredients won't require scaling in most cases. Also, adding herbs and spices for flavoring may not be a direct conversion. For these, add slightly less than what the recipe calls for, then adjust to taste.
Note: Cooking times may also be less, so be sure to check for doneness about 75% of the way through.
Recipes for Two People
Cooking for two can be an exciting culinary adventure that transports you to new places while introducing you to new flavors, textures, foods, and cuisines. These recipes are ideal for when you need to prepare a simple weeknight dinner for two, want to enjoy a dinner date night at home, or split a delicious meal with a loved one. Plus, these healthy dinner recipes come together in less than an hour but taste like they've taken loads of time to prepare. So with a little preparation and plenty of enthusiasm, you can have wholesome, restaurant-worthy meals as part of your recipe repertoire when you're looking to create a meal for two!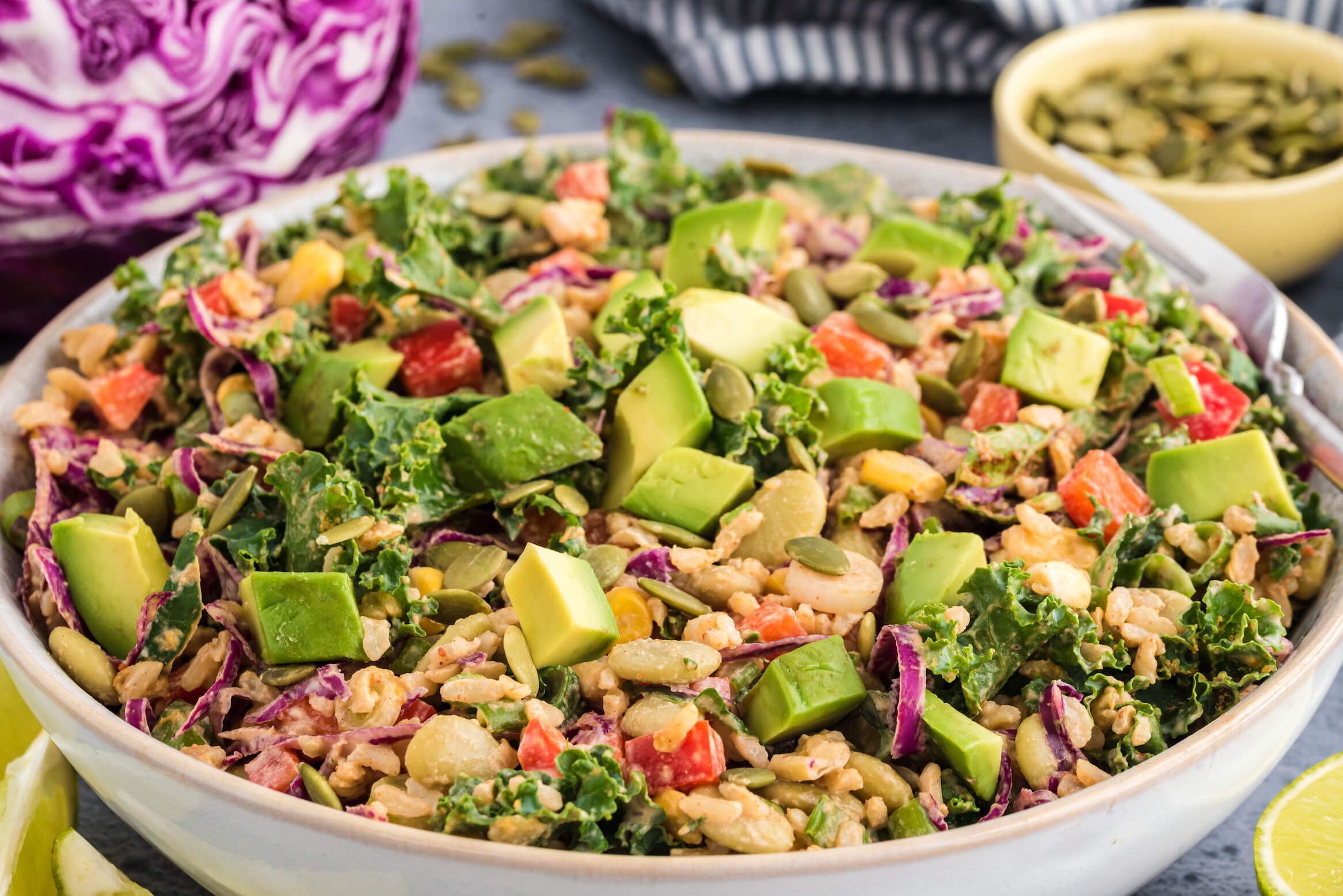 Warm Fiesta Salad Bowl, as the name suggests, is a party in a bowl! Purple cabbage, sweet corn, red bell peppers, kale, lima beans, and creamy avocado create an exciting confetti of color and flavors that encourages lots of sharing (because sharing is caring). We highly recommend making the accompanying Lime Vinaigrette to drizzle on top (only five minutes to prepare!) as it adds an irresistible layer of bold, zesty, and bright flavor that takes this salad to the next level. Packed with wholesome fiber, plenty of plant-based protein, and a spectrum of phytonutrients, this salad bowl is a celebration of health and wellness that is great to enjoy as a solo meal (leftovers are even better!) or share with a loved one!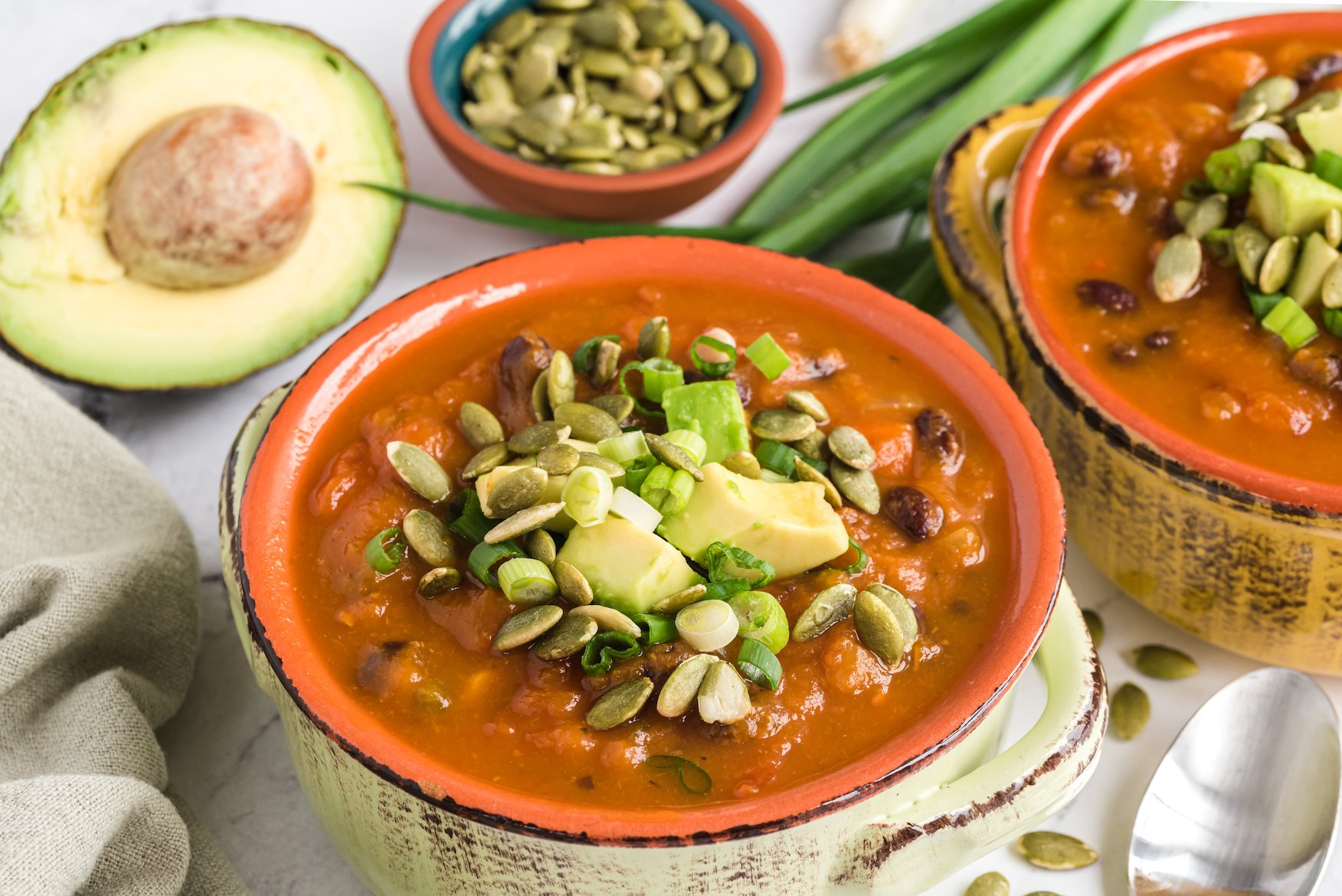 Grab your loved one and cozy up to a warm bowl of smoky and savory Hearty Pumpkin Chili. Designed to serve four, we're including it here because it's a great example of cooking for the future — whether that's leftovers later in the week or freezing for later — and practicing your recipe conversions!
Sweet pumpkin, robust tomatoes, protein-rich beans, and fragrant spices create a melting pot of comforting flavors, rich texture, and, of course, a surplus of plant-powered nutrients! Savor every wholesome, nourishing, delicious, and satisfying bite to create an out-of-this-world plant-based meal experience. For an extra special touch, serve it alongside your favorite hearty, organic whole grain bread for even more warmth and comfort.
The Banh Mi Bowl is a mouthwatering meal for two that has all the makings of a scrumptious restaurant meal created in the comfort of your own home. Inspired by classic Vietnamese street food, this Banh Mi Bowl has no shortage of flavor or nutrition. Crispy marinated tofu, zingy and crunchy pickled veggies, and fresh arugula and cilantro are piled high on top of brown rice (or your favorite grain) and drizzled with mouthwatering homemade sriracha mayo for a meal that is simple, refreshing, and absolutely delicious!
As you may have guessed, this nourishing grain bowl is bursting with plenty of hearty plant-based protein, beneficial fiber, and a rainbow of veggies that make for some seriously delicious and nutritious eats. The other best part is that this meal comes together in just 30 minutes!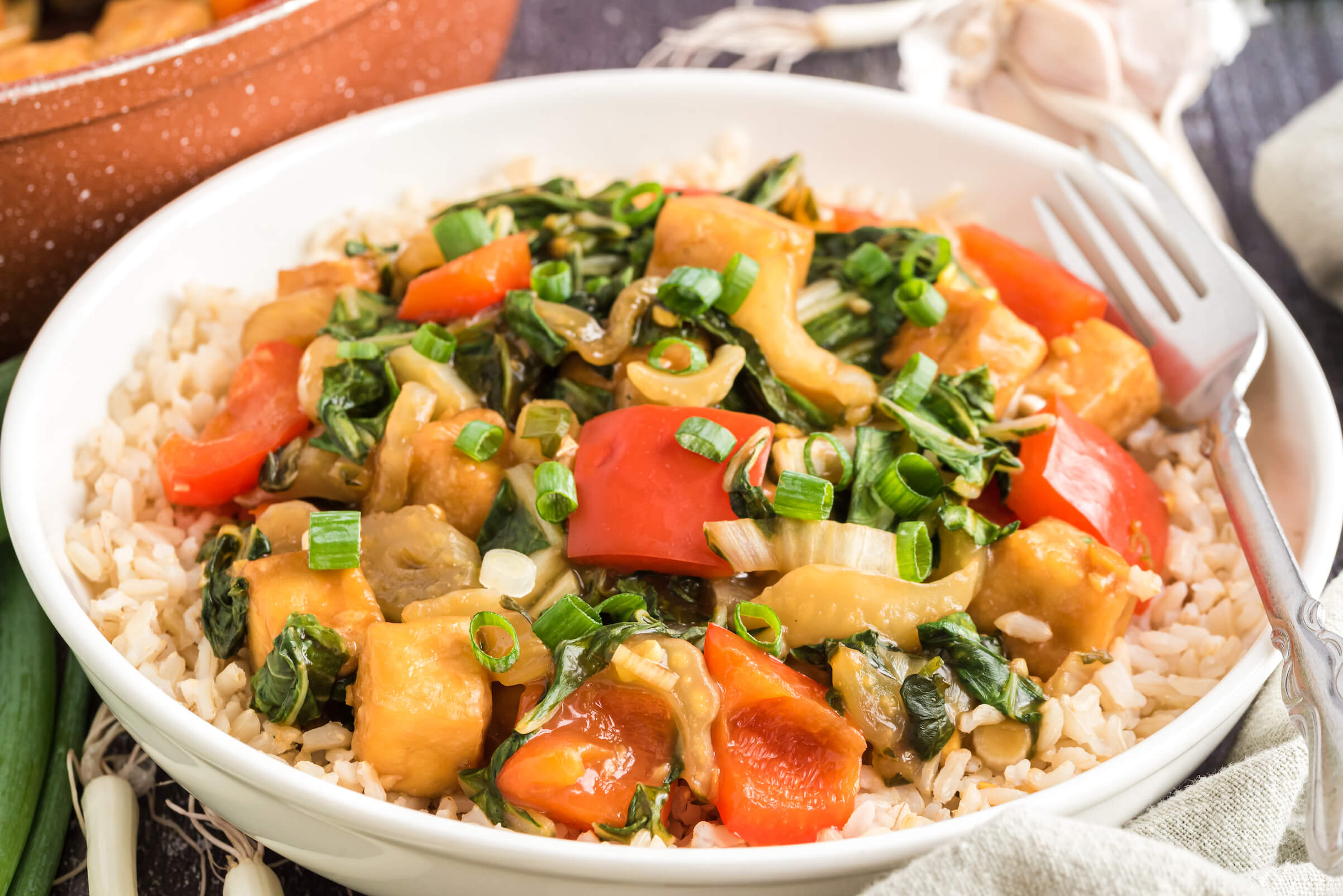 You can have date night for two ready in 35 minutes when you make Sticky Tofu with Bok Choy and Red Pepper. That's less time than it would take to place an online order and receive a delivery! Inspired by classic stir-fry takeout, this restaurant-worthy meal is filled with wholesome phytonutrients and loads of sweet and savory flavors.
Crispy tofu is tossed in a sweet and rich sauce, then sautéed with vibrant and crunchy veggies for a fiber-rich and protein-packed meal that is delicious and satisfying. Plate it with your favorite grains or noodles; then set the table, dim the lights, and enjoy a delicious and healthy date night meal for two in the comfort of your own home!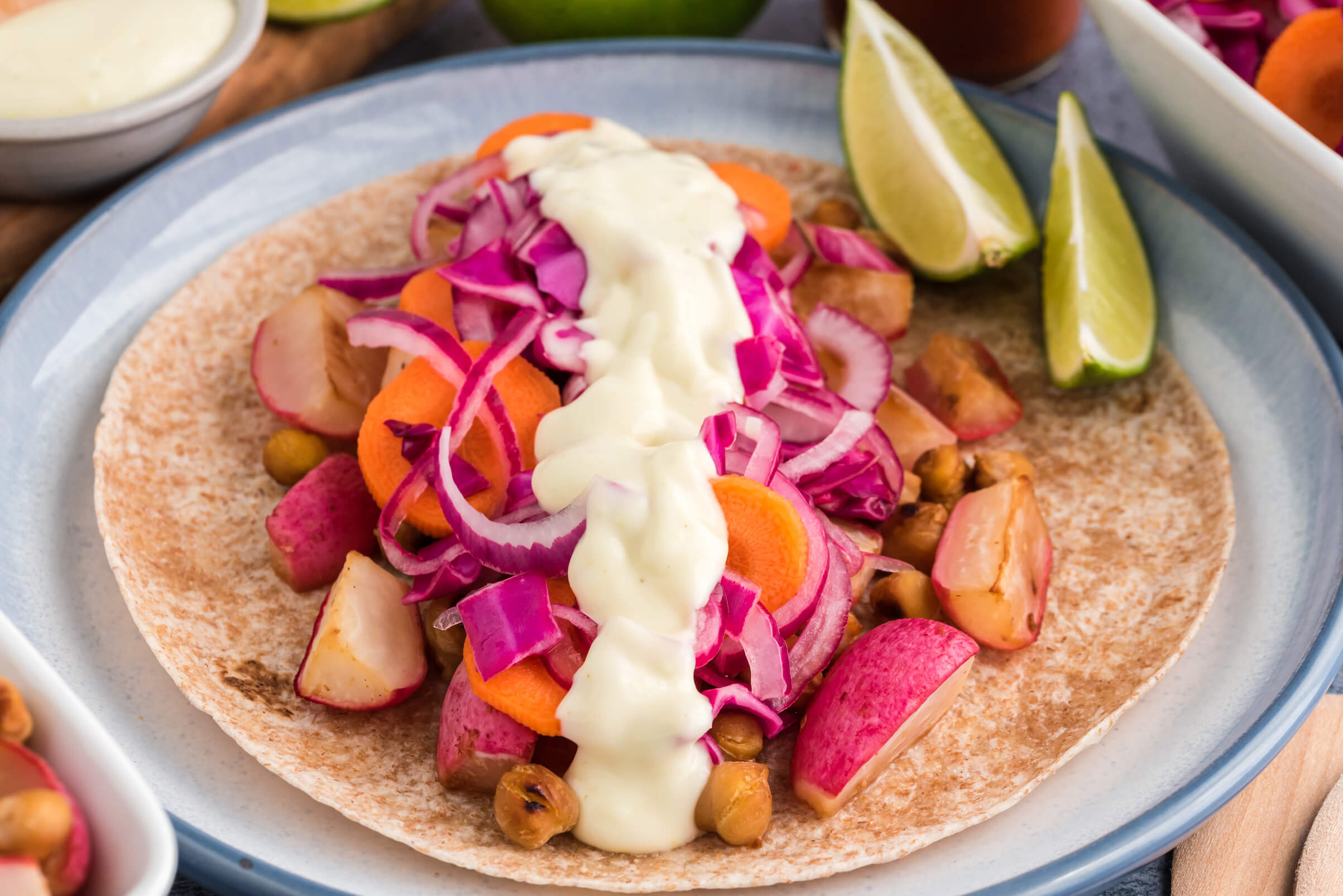 If we're being honest here (and we are), tacos can do no wrong. They're versatile and hit the spot no matter the occasion or type of meal you're craving. Plus, they can easily portion out so you can have as few or as many as you want!
Miso Radish Chickpea Tacos are perfect for evenings when your body is longing for wholesome and nutrient-rich tacos. Tangy pickled vegetables, peppery baked radishes, savory crunchy chickpeas, and umami miso create a taco filling that is bursting with wonderful textures and flavors. If you are looking for an impressive (yet simple and quick) date night meal, then this is it! Share these sophisticated and tasty morsels with a loved one, or keep them for yourself for a meal that keeps on giving!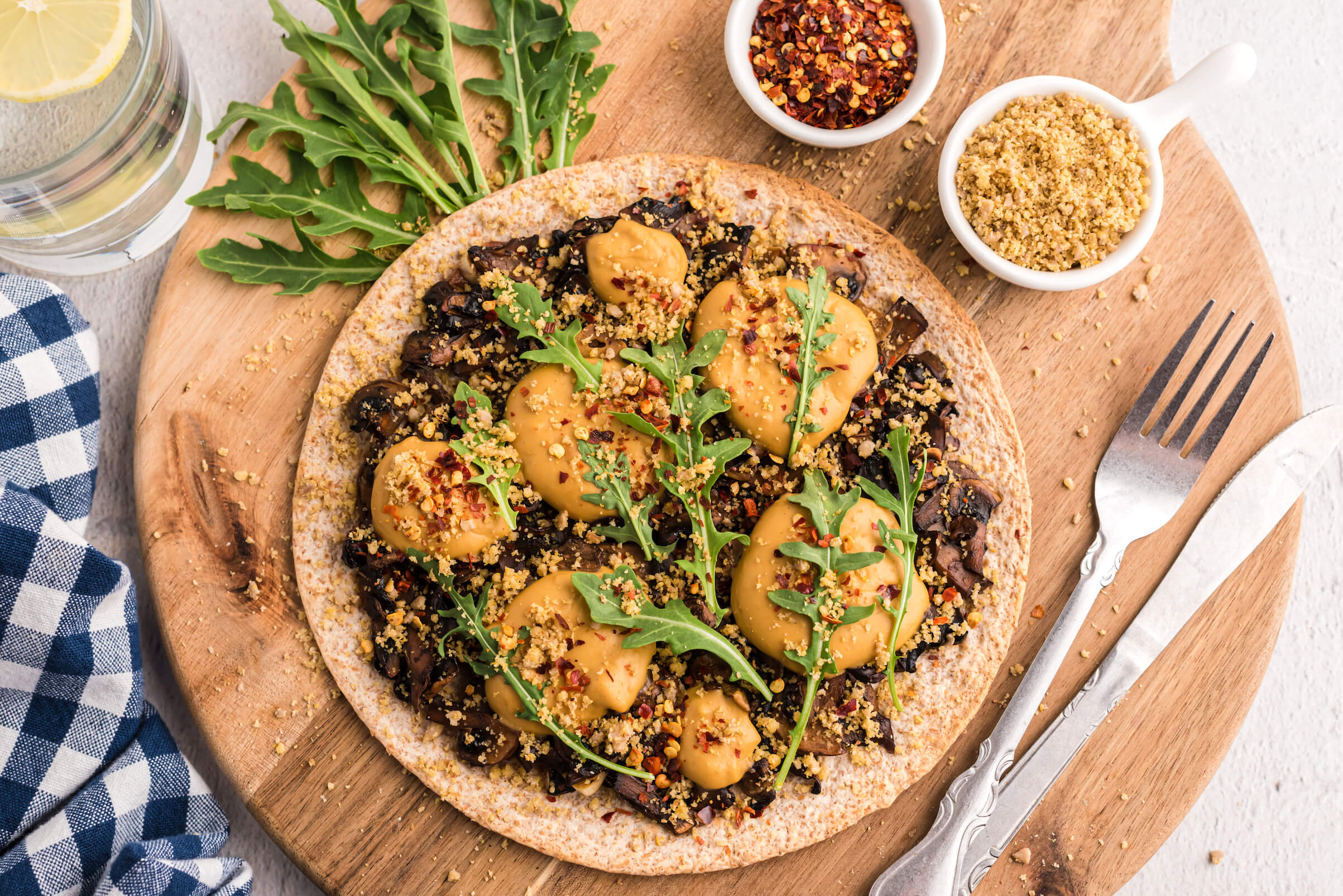 Clear off your kitchen counter, grab your best pal, tie on an apron, pour a glass of your favorite sparkling water, and get ready for a fun evening in the kitchen! There is nothing better than sharing in the joy of great company, stimulating conversation, and, of course, delicious food.
Mushroom Mozzarella Pizza is the perfect recipe to share with those you cherish most. The savory flavor, chewy texture, and oodles of plant-rich nutrients make this umami mushroom pizza a great conversation starter and an enjoyable way to create wonderful memories. Bonus: it's sure to satisfy the cheesiest of cravings at the same time!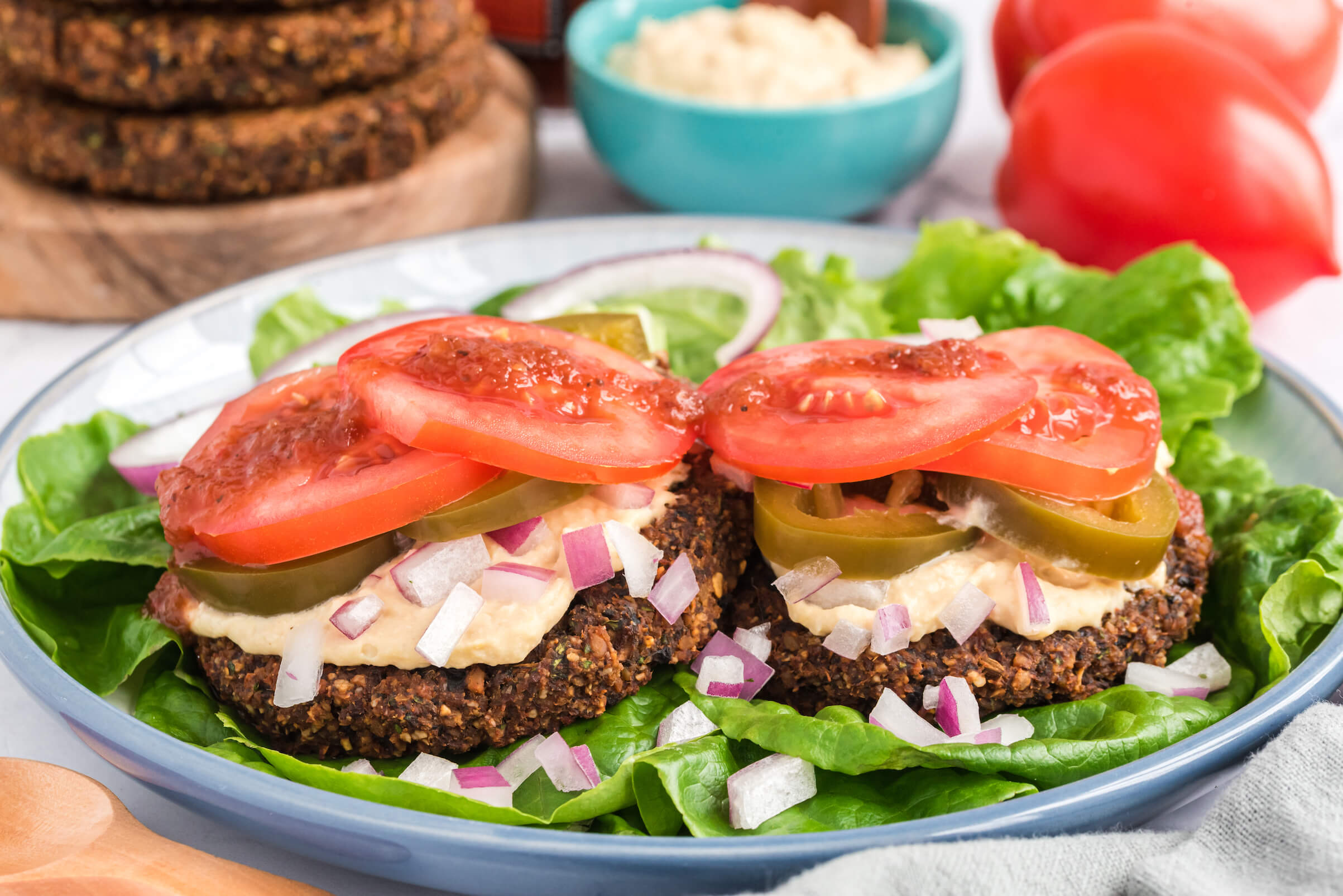 There's nothing like having a good ol' plant-based burger on hand that is packed with lots of fiber, plenty of plant protein, and a variety of essential micronutrients. One great thing about homemade plant burgers is that they store well in the refrigerator or freezer, making it easy to assemble a healthy and balanced meal quickly and effortlessly. With that idea in mind, make it a fun evening by creating a BYOBS (build your own burger station) for you and a partner or friend. Because this recipe serves six, we recommend freezing the extra patties so they're ready for thawing and cooking whenever you're craving a hearty and satisfyingly nutrient-rich meal!
Have Fun Cooking for Two (or Just You!)
When you need or want to cook for one or two people, knowing how to convert ingredient amounts quickly and efficiently to plan your weekly meals will save you time, money, and energy. When selecting meals for the week, you can gain even more time by choosing WFPB recipes already designed for two people, or choosing recipes that you can portion out and freeze to enjoy later. We hope you're feeling inspired by these healthy dinner ideas for two and relish connecting over them with your favorite dinner date.
Tell us in the comments:
Which recipe for two will you try first?
What's one new thing you learned about scaling recipes that you're excited to try?
Do you like to do batch cooking and eat leftovers or prepare your meals fresh every time?
Featured Image: iStock.com/Xsandra
Read Next: