Like this article on Facebook: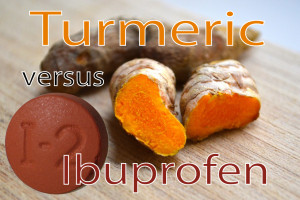 By Sayer Ji • Originally published on Greenmedinfo
An exciting new clinical trial published in The Journal of Alternative and Complementary Medicine has revealed that an effective natural alternative to the exceedingly popular pharmaceutical painkiller ibuprofen exists for the treatment of knee osteoarthritis (OA), and it is a familiar kitchen spice known to be far superior both in safety and the number of side benefits it confers to any drug in the non-steroidal anti-inflammatory (NSAID) drug class.
Last year, in a Lancet review on the topic, ibuprofen was identified to be as toxic to the heartas the banned anti-inflammatory drug Vioxx, likely contributing to tens of thousands of deaths from cardiovascular disease each year. This is one of the reasons why evidence-based natural alternatives are extremely important, especially when they involve culinary spices that are already known to be safe, affordable, accessible and time-tested.
Titled, "Efficacy and Safety of Curcuma domestica Extracts in Patients with Knee Osteoarthritis,"[i] themulti-center trial was conducted with 109 patients with primary knee osteoarthritis who were randomized to receive either ibuprofen 800 mg day ibuprofen (55 patients) or 2,000 mg turmeric (Curcuma domestica) per day (52 patients), for 6 weeks.  The ibuprofen was divided into 2 doses of 400mg daily, and the turmeric into 4 doses of 500 mg daily.
The researchers measured pain on level walking, pain on stairs, and functions of knee assessed by time spent during 100-m walk and going up and down a flight of stairs, as the primary outcomes.
After six weeks, significant improvements were observed in both groups, with all primary outcomes similar, except the turmeric group showed slightly better performance on the 100-m walk and less self-reported pain going up and down a flight of stairs.  Also, the turmeric group showed less adverse events.  Also, the subjects rated themselves to have higher satisfaction with the treatment results in the turmeric group (91.1%) versus the ibuprofen group (80.4%).
While the researchers acknowledged the limitations of their study – no double-blind protocol, the need for a higher dose in the placebo group, and the need for a larger patient sample size – they concluded that "C. domestica extracts seem to be efficacious and safe for the treatment of knee OA similarly to ibuprofen."
They also pointed out that while some patients in the ibuprofen group rated themselves as having little satisfaction or no satisfaction (10.9% and 2.2%, respectively), not a single patient in the turmeric group reported being unsatisfied.
Finally, they observed a distinct trend towards a greater effect in patients receiving turmeric an ibuprofen.
The form of turmeric used in the study was manufactured by the Thai Government Pharmaceutical Organization. Its preparation was described as follows:
"The preparations were made under the Good Manufacturing Procedures Standard. Dried rhizomes of C. domestica were grounded into powder. The turmeric powder was extracted with ethanol andthen evaporated at low pressure to obtain ethanolic extracts containing oil and curcuminoids. The oil part was then removed in order to have curcuminoids extracts. Each capsule of C. domestica extracts contained 250 mg of curcuminoids."
The primary curcuminoid known to science is curcumin, and is the polyphenol in turmeric that gives the spice its radiant golden hue. Turmeric powder contains approximately 2-4% curcumin by weight. Curcumin has been studied to have over 600 health benefits. To view the first-hand research establishing its value, view our biomedical database on the topic: Curcumin Health Benefits.
For additional research on natural interventions for knee osteoarthritis view our database on the topic: Natural Knee Osteoarthritis Interventions

From Ocean Robbins, Food Revolution Network CEO: 
Many of our members have been asking how much curcumin to take, how to take it in a bioavailable form, and where to get curcumin from a source they can trust. The challenge with taking full advantage of the curcumin in turmeric is low bioavailability. Personally, I love mixing fresh and dried turmeric into all sorts of foods – and I always try to include black pepper with it, because studies show that piperine (found in black pepper) helps to increase absorbability. But now PuraTHRIVE has developed a curcumin supplement that utilizes a cutting-edge micelle liposomal delivery mechanism that's been found to increase bioavailability by up to 185 times. Their formula also contains ginger oil, vegan DHA fatty acids from algae, and beneficial phospholipids. The product is 100% vegan, organic, soy-free, and non-GMO. And if you get it from this link, they'll contribute a portion of the proceeds to the work of the Food Revolution Network. Click here if you'd like to find out more.
Important Note About Lead in Turmeric:
Investigators believe that in some countries, turmeric may be intentionally contaminated with lead to enhance its weight, color, or both. Lead-contaminated turmeric has repeatedly been found in India and Bangladesh, and it may be a concern in the United States, as well.
The FDA has not set maximum permissible levels of lead in spices. As a result, the agency does not regulate lead levels in turmeric. If you want to protect yourself and your family from possible lead contamination, the best option is to buy fresh turmeric root or to buy organic turmeric and curcumin products. You can also contact manufacturers to ask if they test for lead and other metals.
We asked PuraTHRIVE about their products and lead, and they told us they run ICPMS (the highest standard for heavy metal testing) on every batch of Curcumin Gold. They test internally and also hire a third party for independent verification. The test results show there is no lead in their products. They report that they are also fully compliant with California's Prop 65. See more about Curcumin Gold here.
Like this article on Facebook: