We continue to learn that food really is medicine. And that growing your own food may be one of the most powerful steps you can take for the health of yourself, your family, and your planet.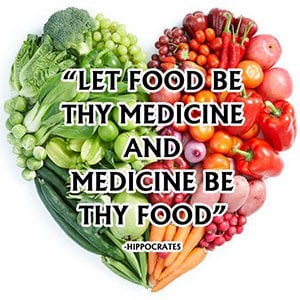 Many Americans spend lots of time and money on lawn maintenance, but more and more people are choosing to grow food, not grass. The 2015 National Gardening Survey reports that spending on gardening is up, with food gardening more popular than flower gardening.
Lawns present many problems for people, animals, and the environment. So it makes a lot of sense for many people to instead consider growing a food garden that is beautiful, productive, and that provides your family with healthy food.
Edible gardening for beginners: Tips to get you started growing your own food
Start by observing.

Greg Peterson, founder of

Urban Farm U

(a site that helps people grow their own food) says the first step to help ensure the success of your garden is to get outside and observe. He suggests looking for where the sun and shade fall each day, thinking about where your water comes from, and investigating your soil. Fertile soil needs plenty of organic material, and your garden needs 4 to 8 hours of morning to midafternoon sun.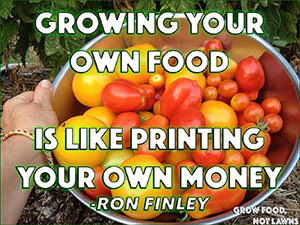 Make a plan.

Before you start, do some research and decide what fruits, veggies, and herbs grow best in your area. Plus, do a search for your local planting calendar to make sure you plant the right plants at the right time.
Then start small.

Begin with a small area, raised beds, or a few pots — and just a handful of crops, and then expand as you have success. Even if your goal is an entire edible yard, starting small will help you learn how to garden and, this way, you won't get overwhelmed.
Grow a beautiful garden.

Particularly if you decide to garden in your front yard, other people will see your garden, so you want to be sure to make it appealing, thus building community interaction and reducing the possibility of complaints. It really is simple to mix edible plants with flowering plants to make your space more beautiful and to attract bees and butterflies.
Get creative.

Think outside fences and rows. Don't be afraid to experiment as that is how we learn best. If something doesn't work, try something else. Gardening is a process, so have fun with it.
Also, there are many organizations in the U.S. and around the world that help to inspire people to turn yards into gardens. Here are a few you might be interested in:
Food Not Lawns

has been around since 1999, with more than 50 local chapters, which you can get involved in or you can start your own near you. These gardeners and activists share food, seeds, tools, land, skills, and other resources with each other in neighborhood-based, friendship-driven communities.
Fleet Farming

is a project that converts unused lawns, donated by homeowners, to grow food crops. The goal is to reduce the environmental impact of food production through a pedal-powered, hyperlocal urban farming model that creates a culture of health and vibrant ecosystems. People travel on bicycles to seed, harvest, and keep up the crops, and then the food is sold at a local market. Homeowners can also keep a percentage of the vegetable crops. The group has also constructed raised cedar beds for people who want to grow and maintain gardens themselves, including at schools and communities in the Orlando area.
Watch this inspiring short video to see how Fleet Farming works:
Farm My Yard

is a movement to create easy ways for homeowners to offer their yards for people who want to farm them or grow gardens on them. This could be a good idea if you have land, but you don't want to grow food yourself. You can print signs from the website, put them up in a visible place in your yard, sign an agreement with the people who want to farm your yard, and then your yard becomes a source of delicious and healthy food.
The

Food Is Free Project

is a community building and gardening project that launched in 2012. The nonprofit teaches people how to connect with their neighbors and line their street with front yard community gardens, which provide free harvests to anyone. Gardens are built using resources that would otherwise go to landfills, and they are built to be low-maintenance. More than 300 cities around the world have started Food Is Free Projects. They have also installed gardens at elementary schools, community arts spaces, churches, and small businesses. You can find or start one in your own community. Here's a

free project guide

, if you want to join the #foodisfree movement.
And here's another great resource to check out: A free collection of top 10 gardening podcasts from Urban Farm U called Master Gardening Made Easy. These are powerful presentations with gardening experts, including Jason Mraz! — all personally conducted by Urban Farm U founder Greg Peterson. You'll get healthy, sustainable, eco-friendly ways to cut down on your food costs, pointers on every step of your home garden, and much more useful, actionable information. Click here to get access to this offer now.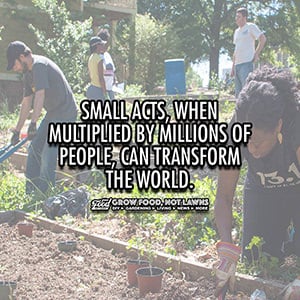 Finally, the most important thing you need to know about growing your own food is this: Begin.
You don't have to grow all your own food, or even 10% of it, to plant a tomato or a zucchini or a kale plant, and to reap the benefits of your harvest. The simple act of growing food can be revolutionary for you, and can make a powerful difference for your family's health, and for our planet.
---
If this article has inspired you, we hope you'll share it with your friends and your network. And if you have any inspiring projects, ideas, or tips for growing your own food, please share them in the comments, so we can all learn from each other and work to create better food systems.
You can also check out our Pinterest board for gardening tips and ideas.
Do you have any tips or resources about edible gardening for beginners to add to this list?