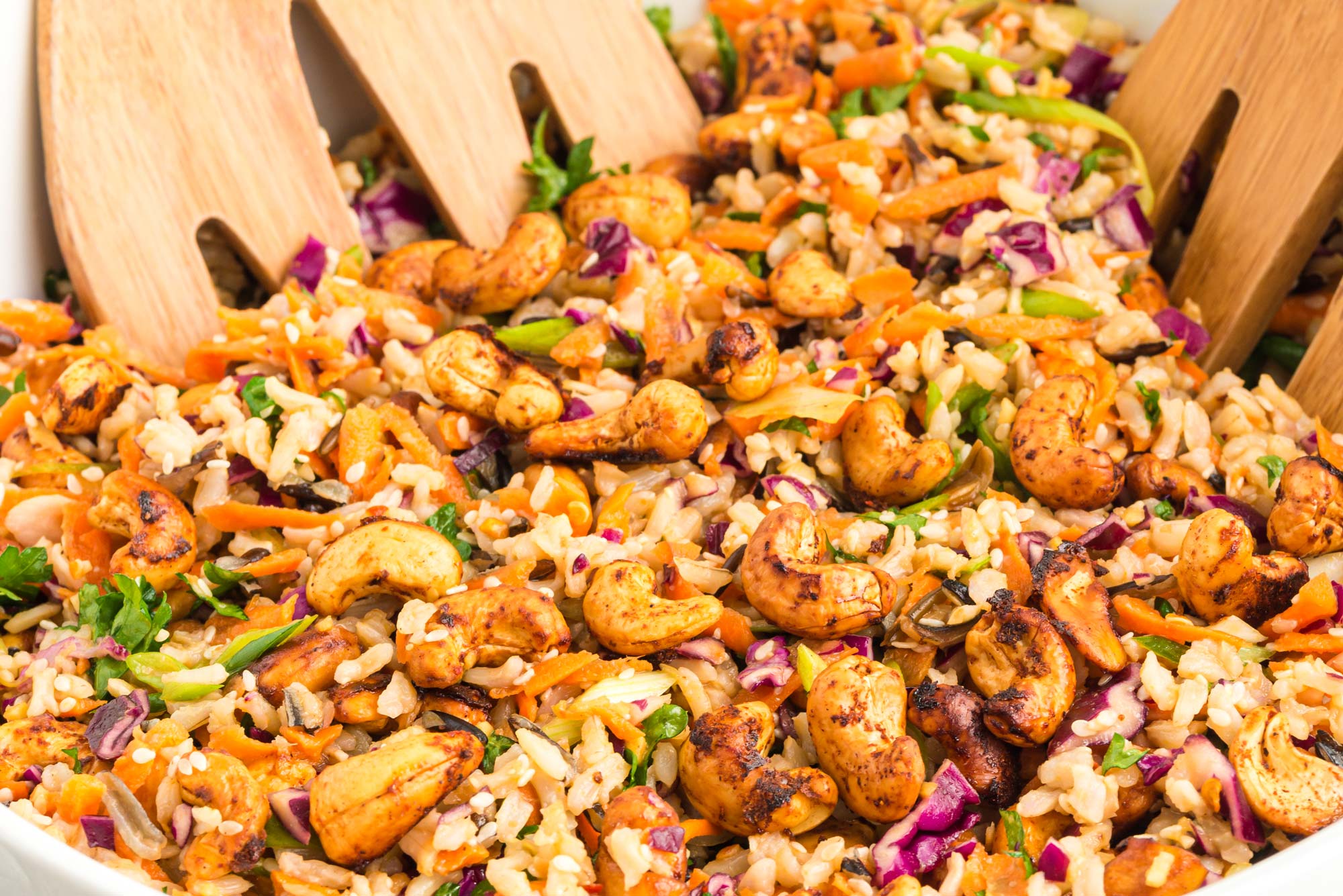 Ingredients
Dressing
3
tbsp
organic rice vinegar
1
tbsp
organic miso (mellow white or chickpea)
1
tbsp
pure maple syrup (optional)
2
tbsp
organic tamari (reduced-sodium, or coconut aminos)
1
tsp
red pepper chili flakes (optional)
1
tsp
sesame oil (optional)
Salad
3
cups
organic black rice (cooked, cooled)
¼
cup
green onions (sliced)
1
cup
purple cabbage (shredded)
2
tbsp
sesame seeds (white or black)
Chili-Spiced Roasted Cashews (link in Chef's Notes)
Directions
1
To prepare the dressing whisk together vinegar, miso, maple syrup, tamari, lime, ginger, garlic, red pepper chili flakes and sesame oil, if using.
2
In a large bowl, add the cooked black rice, green onions, carrots, cabbage, cilantro, and sesame seeds.
3
Next, add the dressing and gently toss to combine.
4
When it's time to serve the salad, garnish it with a bit of extra cilantro and a squeeze of fresh lime juice if desired.
Chef's Notes
Substitutions
Instead of black rice, use wild, brown, or red rice.

Use another whole grain of choice, such as quinoa, millet, or Kamut.

Instead of cashews, top with pistachios, almonds, or sunflower seeds.

Instead of cabbage or carrots, try sliced radish, chopped broccoli, or cauliflower.

Don't love cilantro? Use chopped basil or parsley instead!
Prep Ahead
Make the Chili-Spiced Roasted Cashews and store them in an airtight container at room temperature for 14 days or in the refrigerator or freezer for up to three months.
Storage
Store leftovers in an airtight container in the refrigerator for up to 5 days or freeze for up to 30 days.