Republished with permission by RiseOfTheVegan.com
Elmhurst Dairy, a dairy company in Queens, New York, has ceased its dairy operation after 90 years citing decreased customer demand.
Since its beginning, in the 1920's, Elmhurst had grown to be one of the largest dairy manufacturers on the US East Coast. It supplies a metropolitan area of seven million people.
CEO Henry Schwartz said the dairy company has been operating at a high cost in recent years. He also revealed that "Pasteurized fluid milk has sort of gone out of style." And "We are unable to continue to go on without ongoing losses. There isn't much room for our kind of business. I tried to keep this open because it was my father's plant. And he asked me to do so."
The shutdown reflects ongoing trends in the dairy milk business. Increased consumer awareness of the treatment of cows in the milk industry, as well as consumer concern about saturated fat, cholesterol, and hormones is causing year-on-year declining sales.
Andrew Novakovic, a professor of agricultural economics at Cornell University, said milk consumption peaked in the late 1940s and has declined sharply in the last few years. Milk consumption went from about 240 pounds per person in 2010 to about 120 pounds per person in 2015.
From Cow's Milk to Plant-Based Milk
However the declining demand for cow milk has lead to a growth explosion for plant-based milks. So Elmhurst Dairy have dropped the dairy and renamed to simply 'Elmhurst.' And they will instead produce their own range of healthy plant-based milks.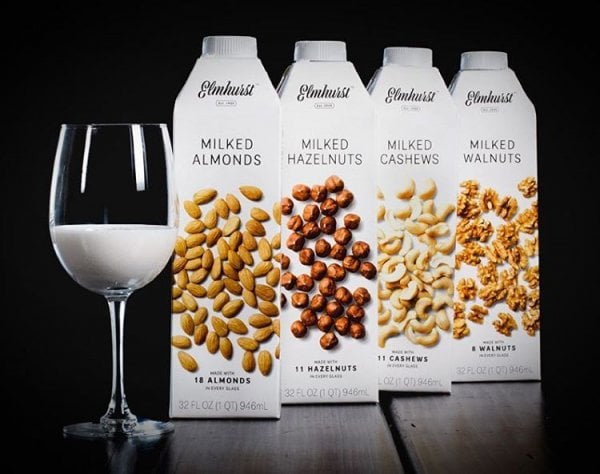 The Elmhurst dairy company debuted their new range of products named 'Milked' at the 2017 trade show Natural Foods Expo West in Anaheim, California.
The whole range is suitable for vegans and has very minimal ingredients.
Schwartz says their new range has "up to 4 times more nuts per serving than the other leading brands."And they will be available in four varieties: Almond, Hazelnut, Cashew and Walnut. Each contains only raw, cold-milled nuts and simple ingredients. And "No emulsifiers, thickeners, whiteners or frankenfood proteins" are used.
What's in Your Milk?
Turning cows into milk machines has led to epidemics of "production-related diseases", such as lameness and mastitis (udder infections), the two leading causes of dairy cow mortality in the U.S. This weakness is due to the extreme genetic manipulation and supplemented hormones which cause unnaturally high milk yields.
According to the USDA, 1 in 6 dairy cows in the U.S. suffers from clinical mastitis. This level of disease shows up in the concentration of somatic cells in the milk. When a cow is infected, more than 90% of the somatic cells in her milk are neutrophils, the inflammatory cells that form pus. The average somatic cell count in U.S. milk per spoonful is 1,120,000, however, the dairy industry says this pus doesn't matter because the milk is pasteurized (the pus gets 'cooked').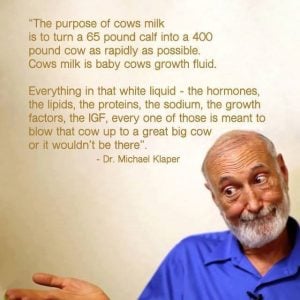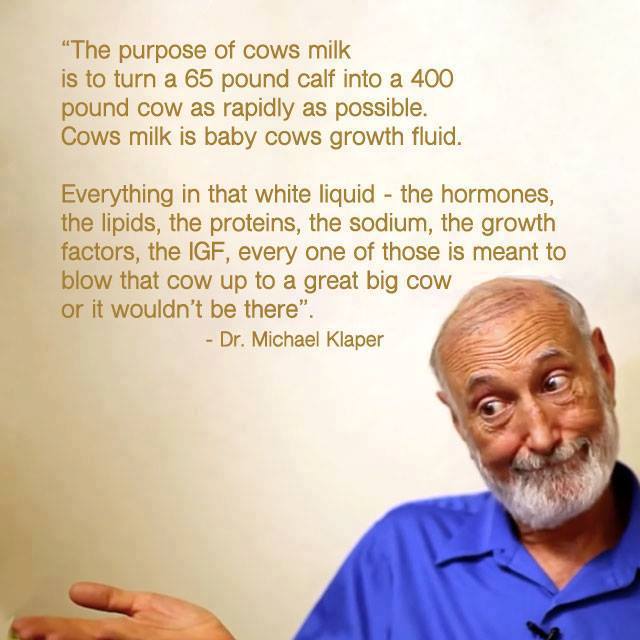 Dairy milk also contains an alarming cocktail of hormones including: progesterone, oestrogen, cortisone and other adrenal steroids, IGF-1 growth hormone, leptin, oxytocin, prolactin, thyroxine and triiodothyronine. This makes sense since it's supposed to rapidly grow a baby calf. But these aren't components humans should be consuming.
What We Can Learn from This Dairy Company
These days it's so easy to avoid all this by drinking plant-based milks instead. If you're not vegan yet, switching your milk might be the best and easiest place to start.
In fact, over the last few years, so many people have been switching away from cow milk that the dairy industry is in serious decline. In the UK, more than a thousand farms have closed in the last three years. And research conducted by Mintel shows that half (49%) of Americans now regularly consume non-dairy milk.
This article is another example of the plant-based revolution that Google CEO Eric Schmidt predicted last year. Meanwhile, people are also ditching whey protein powders in favor of plant-based protein powders, which have seen a significant increase in sales. And new research helped conclude that plant-based protein was best for building muscle.
Tell us in the comments: What do you think of this news? Is this a sign of a plant-based food revolution?