Special guest post from Trevor Justice
So many people today have dietary restrictions — ranging from gluten intolerance to lactose intolerance to veganism. Special diets are so common, in fact, that restaurants have gotten used to making custom meals on the fly.
So if a restaurant doesn't have an entrée you're willing to eat, don't be shy about asking for a custom meal.
Here's a time-tested approach. Look at the menu for the ingredients in other entrees. Then ask if the chef could create a plate with just those ingredients.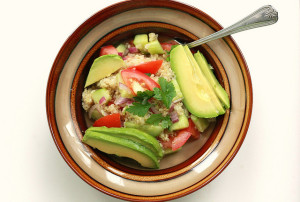 For example, at Mexican restaurants, I regularly ask for a plate of romaine lettuce, whole beans, and a "double side" of guacamole — with NO rice or tortilla shell. I'll also request grilled vegetables if available.
Some sandwich shops will let you add grilled mushrooms to any sandwich. Keep it simple so it's not too difficult or time consuming for the chef.
For many more specific tips for eating well at restaurants, airports, hotels, and on road trips, check out the whole article from Trevor Justice here.