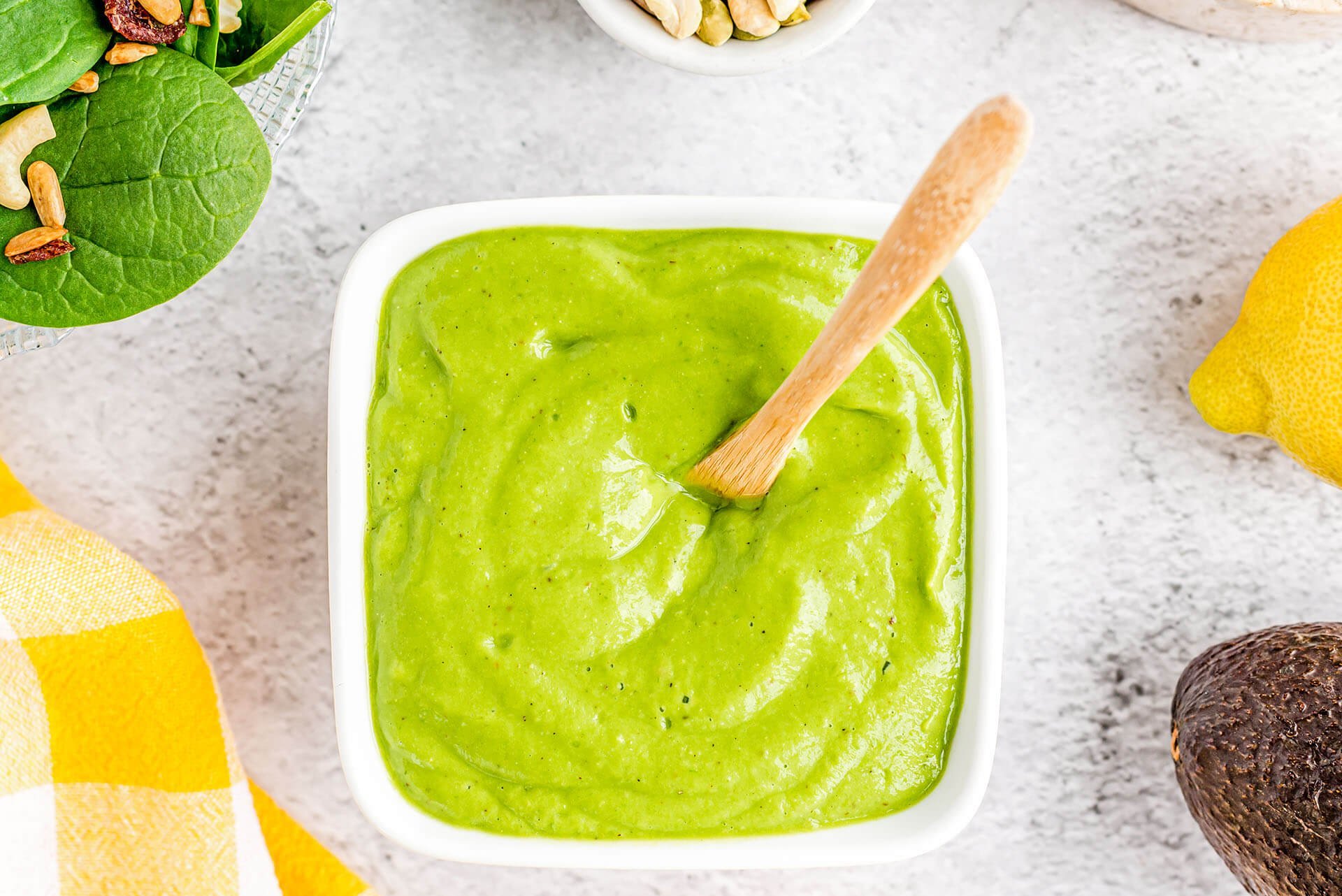 Ingredients
½
cup
organic spinach leaves (packed)
¾
cup
avocado (ripe, chopped)
½
tbsp
chickpea miso (or other mild miso)
½
tsp
salt (optional, scant if using)
½
cup
water (or more to thin as desired)
1 ½
tbsp
lemon juice (or red wine vinegar)
1
tsp
pure maple syrup (or date syrup — optional)
black pepper (freshly ground to taste)
Directions
1
Puree the spinach, avocado, miso, mustard, salt if using, 1/3 cup of water, 1 tablespoon of the lemon juice (or vinegar), maple syrup, and black pepper until smooth.
2
Add more lemon juice or other seasonings to taste. If using the extra amount of avocado, use extra water to thin.
3
Toss into a favorite salad right away, such as the Spinach Jewelled Salad, or refrigerate in a covered jar for a day or two.
Chef's Notes
Avocado
I love avocado in this because it makes the dressing very creamy and luscious. It does oxidize a little, however, so the dressing doesn't keep well after a day.
Fresh Herb Idea
If you enjoy fresh basil, try adding a little—up to 1/4 cup of leaves. Do not add dry basil, the flavor is quite different for a dressing.
Serving Suggestions
This dressing is so good you can use it for more than salads. Toss into pasta or cooked grains, drizzle over pizza or burritos, or use a little less water and make it more of a dip!
Salad Pairing
Serve over Spinach Jewelled Salad, recipe follows.
Recipe from Plant-Powered Families by Dreena Burton adapted for WHOLE Life Club (WLC).