Yields
2 Servings
Prep Time10 mins
Cook Time30 mins
Total Time40 mins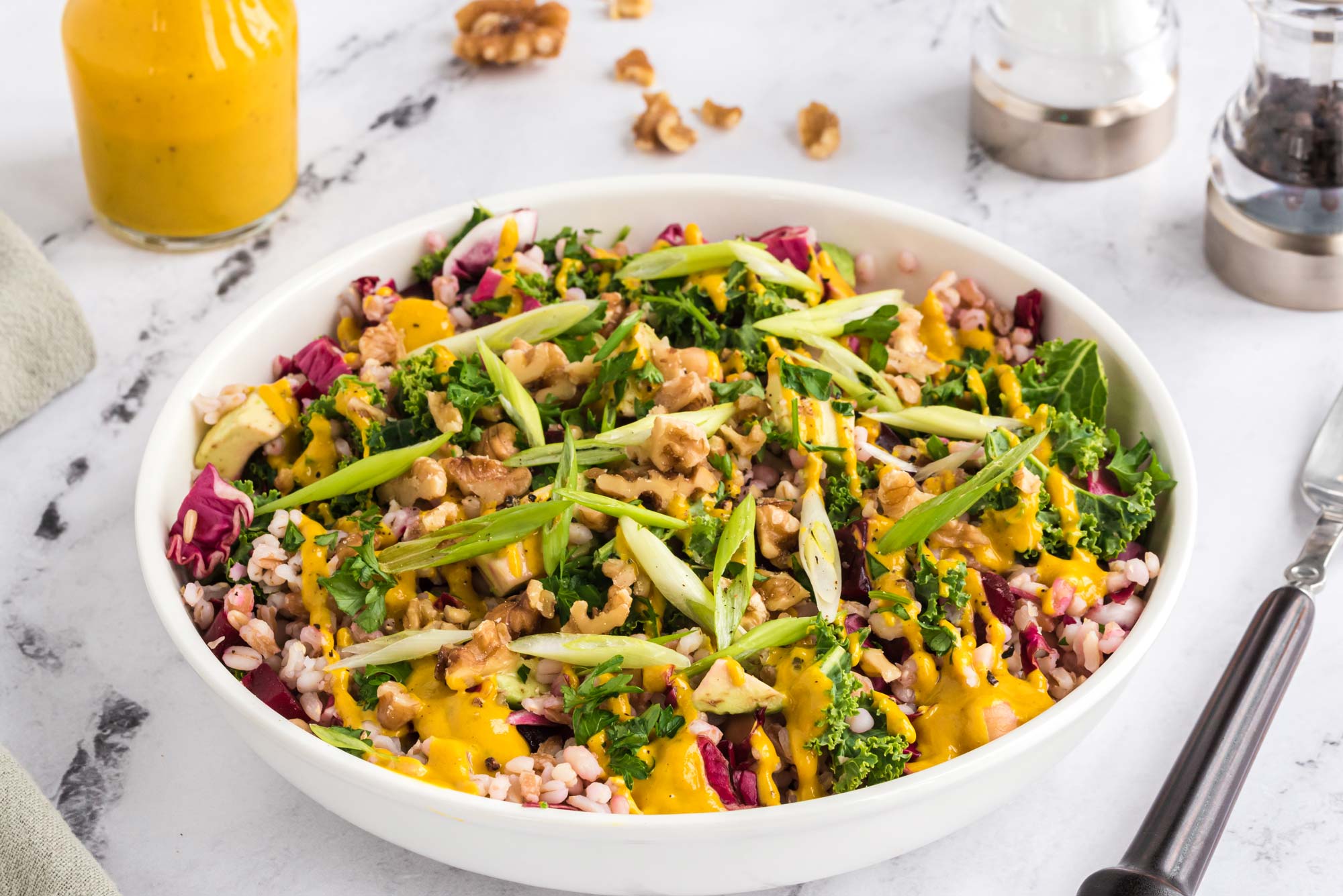 Ingredients
1
cup
organic Einkorn or organic wheat berries, uncooked, soaked in water overnight (8–12 hours)
1
cup
radicchio (chopped into small pieces)
1
cup
organic kale (chopped into small pieces)
½
cup
cooked beets (cut into cubes)
½
cup
chickpeas (home-cooked or BPA-free canned)
½
large avocado (seed removed, cut into cubes)
2
tbsp
walnuts (chopped, +2 tbsp as desired)
2
tbsp
cilantro (optional) or parsley, chopped
1
stalk green onion (green and white portion, chopped)
1
batch Ginger Turmeric Dressing (optional) link in directions
Directions
1
Make the Einkorn: After the Einkorn is drained, add 2 cups of water and the Einkorn berries to a medium stovetop pot. Bring to a boil then reduce heat to simmer, cover, and cook for 30 minutes or until they're tender.
2
When the Einkorn is finished cooking, drain any excess water and divide between two bowls. Divide the radicchio, kale, chickpeas, and avocado between the two bowls. Mix well.
3
Divide the Ginger Turmeric Dressing (or dressing of choice) between the two bowls. (Suggestion: Start with ¼ cup dressing for each and add more as desired.)
4
Top with walnuts, cilantro or parsley, if using, and chopped green onion.
5
Season with salt and pepper as desired.
Chef's Notes
Substitutions
Instead of kale, use your favorite leafy green.

Instead of radicchio, use sliced red cabbage.

Use your favorite legume, like lentils or white beans, in place of chickpeas.

Try pickled beets in place of roasted or boiled beets.
What's Einkorn?
While generally thought of as the most ancient wheat variety, Einkorn is certainly not the most common. However, it should be! Studies show that this ancient wheat is higher in protein, potassium, and beta carotene compared to popular modern wheat varieties. Today, Einkorn is grown in Austria, Germany, France, Italy, and Washington state. When you see Einkorn in your grocery store, it's almost always in its whole form with all nutrients and fiber intact. Because of this, it does require soaking in water, which lessens the cooking time and increases nutrient absorption. Find this wheat variety in the bulk section of your grocery store, prepackaged by other whole grains, or online.
Gluten-free
Substitute quinoa, brown rice, amaranth, or buckwheat for the Einkorn (note that the cooking times and amount of water to add may vary depending on the grain).
Nut-free
Instead of walnuts, use pumpkin seeds, hemp seeds, or sunflower seeds.
Prep Ahead
Make the Einkorn or wheat berries ahead of time and store in the refrigerator in an airtight container for up to 5 days. To warm, heat them in a stovetop pan on low-medium heat with 2–4 tablespoons of water or vegetable broth to prevent sticking, stirring occasionally.

Make the Ginger Turmeric Dressing ahead of time and store in an airtight container in the refrigerator for up to 7 days.
Storage
Store the salad in an airtight container for 3–5 days. It's okay for the dressing to be on this salad when storing since the kale and radicchio are hardy vegetables.