By Yeun Byun, Founder, Soaps of 7 Flowers
Can my family and I get safe cleaning products and other essentials we'll need to weather this storm? We've seen scarcity and panic buying before, but typically just for a day or two before a predicted storm. During these unprecedented times, scarcity drives many of our purchasing and consuming behaviors.
Take, for example, common household cleaning products such as detergent, dish soap, and sanitizers. They're being purchased faster than retailers can restock them. All the while, public health officials across the globe are urging people to use these products.
The good news is there are more than a few ways to break our reliance on store-bought cleaning products in favor of cleaner, safer, and, in some cases, less expensive DIY cleaning products you can make at home. That's right. You can create your very own safe cleaning products and rest assured knowing that your hands, body, and household surfaces are clean and safe to use.
In this article, you'll learn how to make DIY cleaning products including bar soap, all-purpose spray cleaner, and laundry detergent powder. With the exception of the soap base for the bar soap, all other ingredients are easy to find at your local hardware or grocery store.
DIY Bar Soap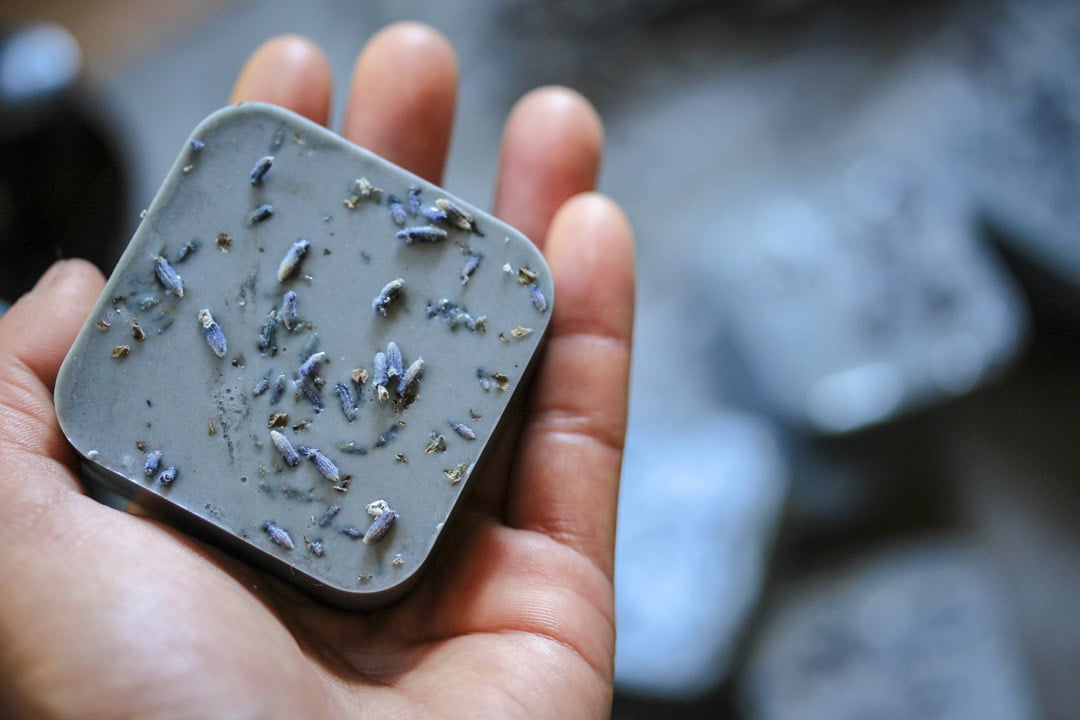 Soap is particularly effective in getting rid of viruses. This is because the soap molecules are drawn to the fatty outer layer of the virus, prying it open, so it essentially spills its guts into the soapy water and gets destroyed. And for the best odds of thwarting the virus, rinse thoroughly to eliminate any lingering viruses that survived the action of the soap.
For first-time soapmakers, I recommend starting with the melt & pour technique. Unlike other advanced soapmaking processes that require corrosives like lye, along with long curing times, melt & pour soapmaking is quick, safe to do with kids, and ready to use right away!
For this soap recipe, we're using lavender and tea tree essential oils for their antibacterial properties and calming scents. The activated bamboo charcoal not only gives the bar its appealing gray hue but is also effective at eliminating dirt and grease from your skin's surface.
Lavender & Tea Tree Bar Soap
Makes 7 – 2.5-ounce bars
Ingredients:
1 lb. Shea Butter soap base (like this)
50 drops or 1/2 tsp of lavender essential oil
50 drops or 1/2 tsp of tea tree essential oil
1/2 tsp activated bamboo charcoal powder (like this)
(optional) dried lavender buds to decorate
Other Materials you'll need:
heat resistant silicone mold (like this)
microwave-safe glass bowl
spoon for mixing
knife
microwave (or double-boiler if using a stovetop)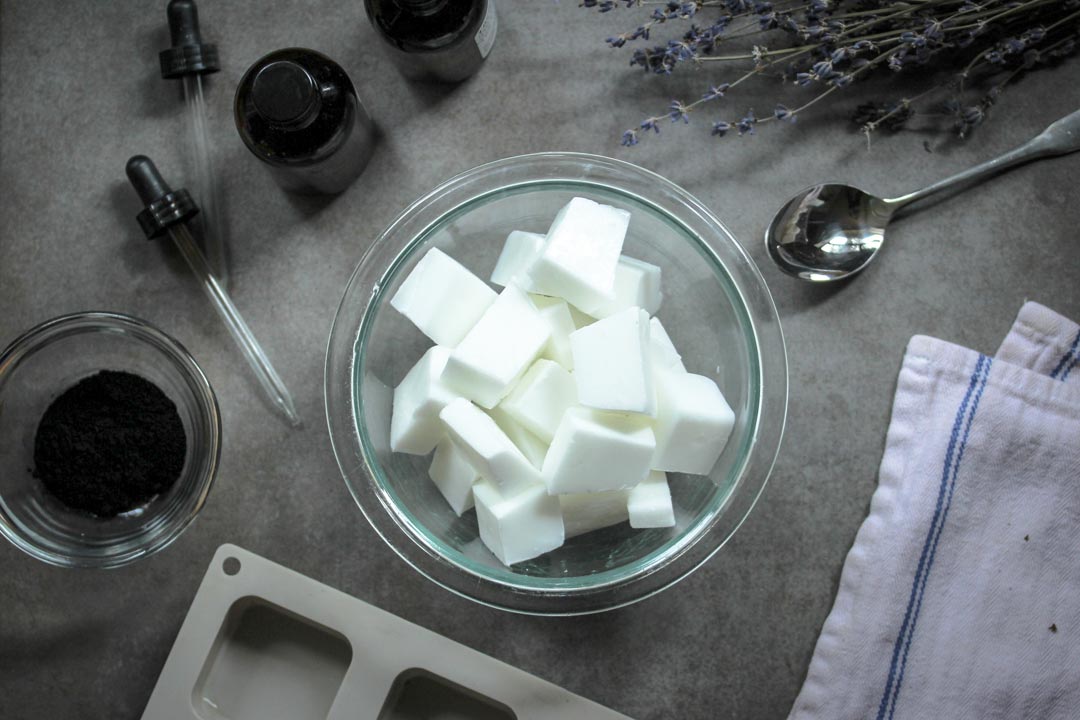 Directions:
Cut your Shea Butter soap base into small 1" cubes and place in a double-boiler or a microwave-safe bowl.
Heat the soap base in the double-boiler on the stovetop until melted and remove from heat. Or, microwave it on high for two to three minutes. Microwave times may vary based on the type of microwave you have, so it's good to keep an eye on your soap and pull it out as soon as it's all melted down.
Once your soap melts, add your 1/2 tsp of activated bamboo charcoal to your soap and mix with a spoon.
Mix thoroughly until all the charcoal has dissolved. For those pesky tiny clumps, try pressing them into the sides of the bowl with your spoon.
Then, add your essential oils and mix until the essential oils are evenly distributed throughout the soap.
Pour the soap evenly and slowly into each mold. Pouring slowly will prevent bubbles from building up at the top.
If you like, you can decorate by dropping lavender buds on top while the soap is still fluid.
Wait at least 25 minutes for your soap to harden before popping the finished soap out of the mold.
All-Purpose Spray Cleaner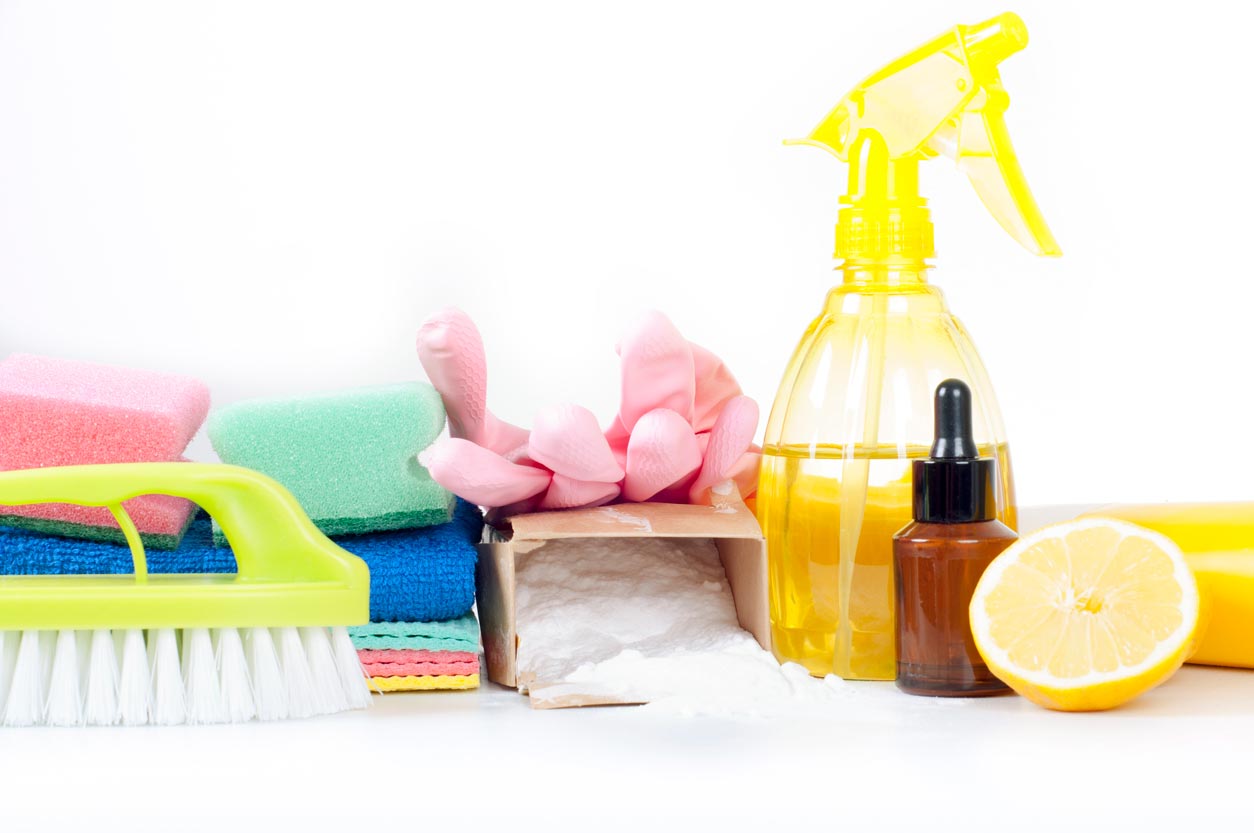 The key ingredient that makes this all-purpose DIY spray cleaner an essential safe cleaning product is the washing soda, also known as soda ash. It is a sodium carbonate decahydrate, a mineral that cuts stubborn grease on grills, broiler pans, and ovens. Not to be confused with baking soda, washing soda is available at your local drugstore or hardware store, or in the laundry section at the grocery store.
Washing soda originally came from the ashes of plants grown in sodium-rich soils, which were somehow discovered to have detergent properties. (I can only imagine the epic moment: "Hey Oona, you got barley ash on my loincloth. Wait, the stains are gone.") These days, washing soda manufacturing involves salt and limestone.
In addition to being powerful and all-natural, this cleaner will also give your painted wooden floors a polished finish!
Ingredients:
1/2 teaspoon washing soda (available here)
1/2 cup of liquid soap (castille or Sal's Suds)
2 cups very hot tap water
*Optional: 50 drops of lemon essential oil
Other Materials Needed:
reusable spray bottle (preferably glass if you're using essential oils) – like this
Directions:
Combine all the ingredients in a spray bottle and shake until the washing soda has dissolved. Apply to dirty surfaces, and wipe dry with a clean sponge or cloth. For tough dirt, leave the cleaner on the sprayed surface for a few minutes before wiping it off.
Lemon Lavender Laundry Detergent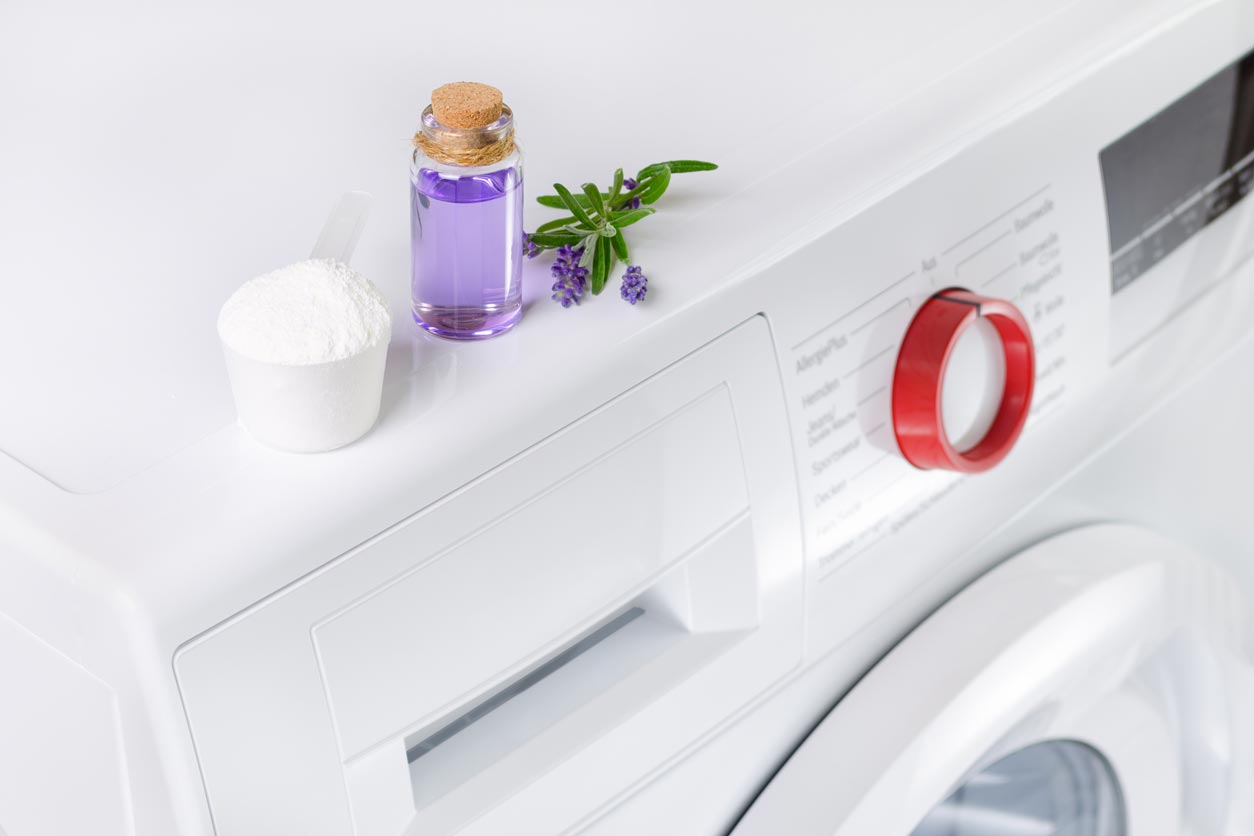 With only three main ingredients, this DIY laundry detergent recipe stays clear of harsh chemicals like sulfates, fragrances, and phenols that are harmful to your health. If you prefer unscented laundry detergent, then leave out the essential oils. However, the subtle scent of lemon and lavender essential oils will make doing laundry something to look forward to! If you'd like to know more about the main ingredients, and why they are safer to use than conventional laundry detergents, check out Katie Well's article on her blog, Wellness Mama.
Ingredients:
2 cups grated bar soap (you can also use the Shea Butter soap base used in the bar soap recipe)
4 cups washing soda (available here)
4 cups borax
1/4 teaspoon or 50 drops lemon essential oil
1/4 teaspoon or 50 drops lavender essential oil
Other materials you will need:
Large mason jar (approx. 32 oz) or container for storage
Large spoon or whisk for mixing
Directions:
In a large bowl, mix the grated soap, washing soda, and borax.
As you mix, slowly add the lemon and lavender essential oil so that the oils are distributed evenly throughout the whole mixture.
Pour your mixture into a large mason jar or storage container.
Use 1/4-1/2 cup per load of laundry, depending on load size.
Why Not Give These Safe, DIY Cleaning Products a Try?
We hope these DIY cleaning recipes are useful in giving you easy and healthy ways to turn scarcity into abundance and safety during these unprecedented times. Let's change the way we clean – for good. Why not take this time to learn how to make something functional, safe, and essential for your home?
Editor's Note — Resources
DIY not your thing? Here's how you can get free hand and laundry soap, as well as an organic hand sanitizer, delivered safely to your door. (If you make purchases from the links below, a share of proceeds will go to support the work of Food Revolution Network.)
MyGreenFills, a small eco-company in Northern Michigan, is giving away 1000 free, non-toxic aloe soaps and 50 free loads of laundry soap (with purchase) on their website. All MyGreenFills soaps are made with natural plant-based ingredients and use essential oils for fragrance. They also come with recycled and reusable plastic jugs, so you can simply refill your soap bottles whenever you need to. But with such a generous offering, and since the demand for soap is so high right now, their supply won't last forever.
Learn more about MyGreenFills' non-toxic aloe soaps and get yours free (+ free shipping!), by clicking here.
And to find out about their laundry soap, and to get your 50 free loads, click here.
And… There's also Organic Hand Sanitizer. One thing a lot of people are struggling to find is hand sanitizer. It seems to be out of stock in many places, and most of what's commercially available, if you're lucky enough to find it at all, is loaded with chemicals. But our friends at Purity Woods make a certified organic hand sanitizer that's free of synthetic chemicals, GMOs, and pesticides. As of this writing, they're in stock, and they're not price gouging, either. Click here to find out more.
Tell us in the comments:
What are some of your favorite DIY and safe cleaning products to use?
What are some home cleaning regimens that ease your mind?
Featured Image: iStock.com/didecs
Read Next: