Americans are eating more and more meals prepared outside the home. In fact, a third of Americans eat fast food daily.
I get it. Healthy eating can be one of the first casualties of a super-busy life. When faced with too much to do and too little time to do it, that industrially-prepared meal full of fat, sugar, and salt seems like just the thing to fill our bellies without having to think, work, or slow down. And yeah, we know it isn't healthy, but we'll eat better after all this current craziness calms down. You know, next month.
And of course, next month is even busier and more hectic, and our bad habits persist despite our desire to eat healthier.
It's no surprise that eating food you prepare at home is almost always better for you than eating out or grabbing "ready-to-eat" products off the supermarket shelf. But home cooking is also far less expensive. In fact, in many schools, cooking classes were traditionally called "home economics."
But here's the kicker: If you have the right kitchen tools, skills, and mindset, home cooking doesn't have to take a lot more time than the drive-thru. If you include driving, ordering, waiting in line, waiting for delivery, paying, reheating, microwaving, and disposing of vast amounts of non-recyclable packaging, you can probably throw together a delicious and healthy home-cooked meal in about the same time as it takes to outsource your nourishment.
Cooking for Your Health
When you can take the time to cook at home, you're in control of the ingredients. You're not playing Russian roulette with a food culture that's often toxic — putting you on the fast track to disease. You may not include doctor visits and picking up prescription meds in your time accounting, but ask anyone with a chronic disease: being sick takes up a lot of time and energy.
And make no mistake, home cooking can improve your health. As reported in a 2015 study, the more meals eaten outside the home, the fewer fruits, vegetables, and whole grains in your diet — and the more fat and sodium. Fruits, vegetables, and other plant foods are high in essential vitamins, minerals, and nutrients like fiber — a lack of which is a precursor to chronic disease.
Conversely, a 2017 study in The International Journal of Behavioral Nutrition and Physical Activity found that participants who ate an average of five home-cooked meals a week or more enjoyed a healthier diet with lower risks of obesity, heart disease, and type 2 diabetes.
So what's one way you can ensure you'll cook at home more, resulting in better health for you and your family?
Stocking Your Kitchen With the Right Tools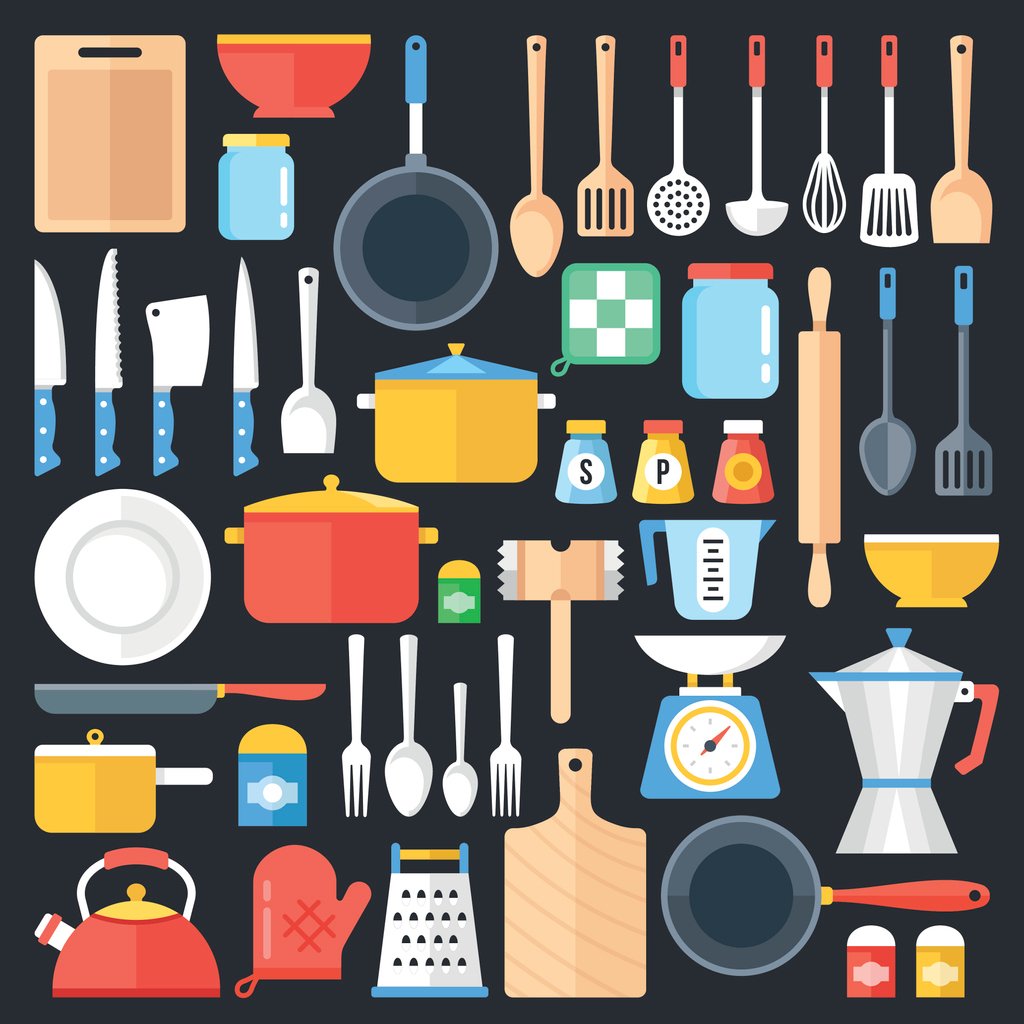 Even with knowing that eating at home is healthier, there's some degree of preparation necessary to set yourself up for success in the kitchen.
Having the right kitchen tools on hand is necessary for a successful cooking experience. They can save you time and money. And, as a result, they can mean the difference between enjoying a healthy and delicious home-cooked meal or foregoing nutrition for convenience with a packaged frozen dinner or fast food meal from the drive-thru.
That's why a well-stocked kitchen is a happy (and healthy) kitchen. And a happy kitchen is one that gets used frequently.
Recommended Kitchen Tools
Certain kitchen tools are essential for prepping, cooking, baking, storing, and serving food. If you want to set up your kitchen for efficiency and ease, making it more likely you'll eat at home, we recommend investing in these kitchen tools. Let's look at each category, in turn, starting with the tools we use for preparing food. (All prices were current at the time of writing. Links are generally to Amazon in the U.S., but many of these products are available via an online search engine.)
Prep Tools
These kitchen tools will make cooking, baking, and preparing food quicker, easier, and more precise. As with anything in life, higher quality items can get pricey, but in many cases, you "get what you pay for." In the long run, investing in gaudy brand names doesn't make much financial sense, but investing in quality does. However, there are often mid-range options to choose from that perform well, too.
Cutting Board
Investing in a nice, wood cutting board will save you money in the long run as you won't have to keep replacing it. Wood cuttings boards are better for kitchen knives as the material is porous and gives a little with use. They're also more hygienic (and sustainable) than plastic.
Mevell makes a beautiful wooden cutting board at a reasonable price point. It's made from maple, which is sustainably grown in the U.S., handcrafted in Canada, and approved by the National Sanitation Foundation for use in commercial kitchens. Best of all Mevell plants a tree for every cutting board they sell.
Colander
Every home cook needs at least one high-quality colander for washing vegetables and draining pasta. Stainless steel holds up better to heat than plastic and won't expose you to toxins.
This particular colander has soft, non-slip handles for a firm, comfortable grip that won't burn your hands when straining very hot food. It also has feet so you can easily set it down on the counter or in the sink. Dishwasher safe. For an all-metal alternative, check out this one, but be sure to use pot-holders if draining hot water or foods.
Knives
There's nothing more frustrating in the kitchen than trying to use a dull knife for chopping. And although it's counter-intuitive, dull knives are far more dangerous than sharp ones. Here's a video that shows how to sharpen knives.
https://www.youtube.com/watch?v=Wk3scs5FqCY
It's also important to have a few, well-made knives to make your food preparation flow smoothly. The essential ones to have are the chef's knife, the paring knife, and a serrated knife. You can buy knives individually or in sets with a block for holding them safely with easy access.
This high quality, 7-piece cutlery set makes paring, cutting, chopping, and slicing a breeze for everyday meals, parties, and family gatherings. It features a 3 1/2-inch parer, 4 1/2-inch utility, 8-inch bread knife, 8-inch chef's knife, and 9-inch steel, and kitchen shears in a 9-slot block. Wusthof knives are known for their outstanding sharpness. And this set will give you the tools you need with a lifetime guarantee, so you'll never have to worry about replacing them.
For a solid chef knife made from carbon and stainless steel, you can't go wrong with this knife. It has an HRC (Rockwell hardness scale) of 56-58, making it a very tough and sharp blade. Use it for cutting, dicing, slicing, and chopping fruits and veggies in record speed.
Measuring Spoons
Many recipes require precise measurements, especially when it comes to baking. Measure out both dry and liquid ingredients, including things like herbs, spices, nutritional yeast, vinegar, and more.
Made of food-grade stainless steel, these measuring spoons won't corrode and are dishwasher safe. The six-piece set includes ⅛ tsp, ¼ tsp, ½ tsp, one tsp, ½ tbsp, and one tbsp spoons for exact measurements every time.
Measuring Cup(s)
Like measuring spoons, having a set of measuring cups, or a single cup with marked measurements, will make following recipes much easier. Use them to measure flour, water, broth, grains, and other wet and dry ingredients.
Amazon's choice for a measuring cup set includes six, stainless steel cups that nest inside each other. You'll get one each of a ¼ cup, ⅓ cup, ½ cup, ⅔ cup, ¾ cup, and one cup size. Get everything you need for food prep with this dishwasher safe, food-grade stainless steel set.
With this glass, 2-cup measuring cup, you can easily see ingredients as you measure them. The glass has both metric and imperial measurements — one side in milliliters and the other in cups. And with the cup's handle and spout, it makes pouring ingredients less messy than with round measuring cups.
Peeler
Peelers are extremely handy to have in a plant-based kitchen.
Easily peel the skin off fruits and vegetables with this Y-peeler from OXO. It features a stainless steel blade and a comfortable, non-slip, rubber handle.
Masher
Don't struggle with a fork; get a masher. With a quality masher, you can not only make mashed potatoes but guacamole, carrot mash, or turn other soft cooked foods into mashes.
This masher doubles as a mixer, making for a creamier consistency. Completely made of stainless steel, you won't have to worry about any plastic parts breaking and ending up in the landfill (or the ocean). Easy to clean, and it comes highly rated on Amazon.
Box grater
Box graters aren't just for cheese. Even if you don't eat dairy, they're a helpful tool for any kitchen. You can zest citrus, shred carrots and cucumbers, or grate garlic, ginger, and turmeric root.
This four-sided, stainless steel grater allows you to choose between a coarse, medium, and fine shred along with a slicer for larger pieces. This particular brand has a non-slip plastic base, so the grater will stay put on any surface when you use it. If you prefer to go 100% plastic-free, here's a stainless steel option.
Whisk
Whisks are generally used in baking, but they're useful for blending and mixing all kinds of ingredients. Handheld whisks are best for ingredients that don't need a lot of air incorporated into the mixture, like most sauces. If you want to fluff up some liquid or batter, you will need a hand mixer or electric whisk.
This model is completely stainless steel and small enough for whisking together homemade salad dressings, flax "eggs," and sauces. Dishwasher and food-safe.
Cooking & Serving Utensils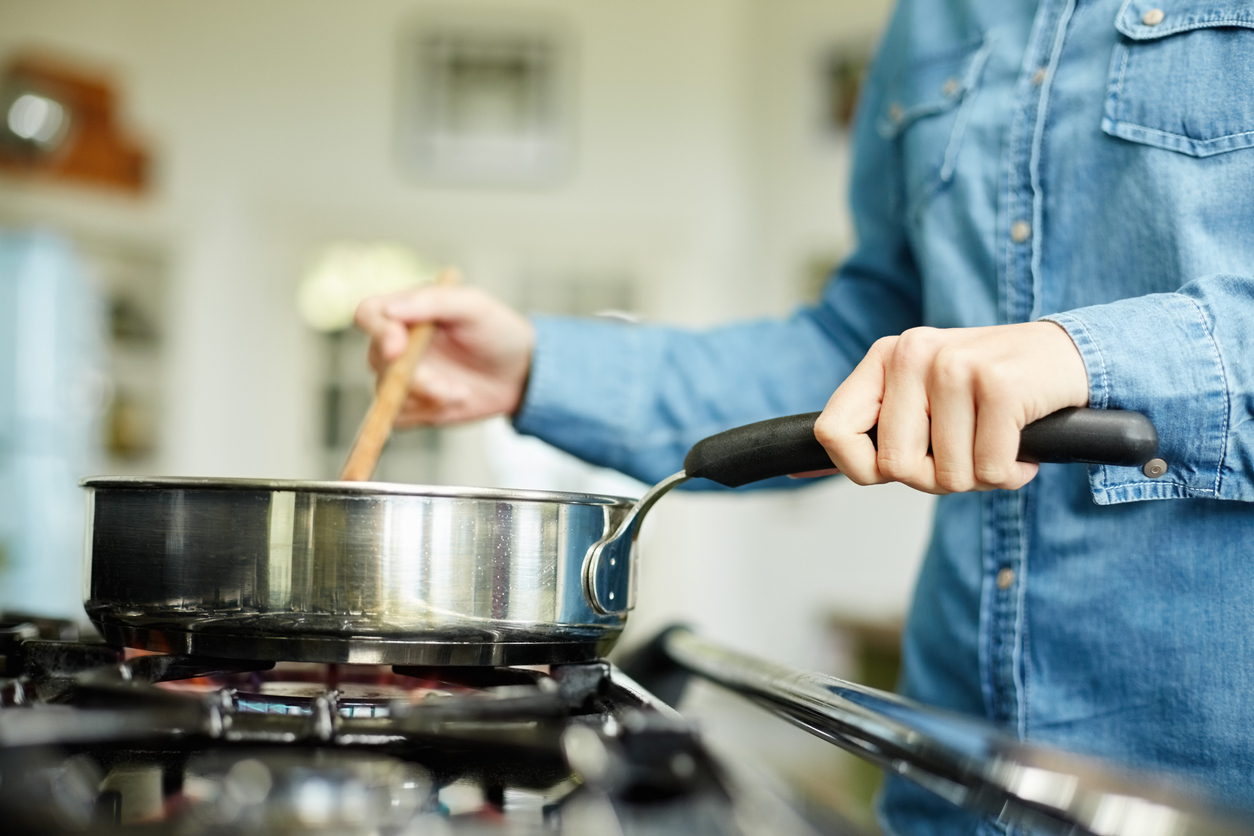 Certain kitchen tools enable you to cook and serve food. Having these utensils on hand will allow you to flip, mix, and pour foods quickly and with minimum mess.
Spatula
Flip almond flour pancakes and veggie burgers or move around stir-fried veggies in the pan for even cooking.
Many spatulas are made from plastic. Avoid the possibility of harmful, petroleum-based chemicals leaching into your food when you opt for this completely stainless steel spatula that you won't have to worry about when it touches your food. (Make sure your cookware can handle the stainless steel, however: some non-stick pans will peel if scraped with an uncoated steel utensil. If your cookware isn't suited to metal, you may want to get a silicone spatula like this one.)
Tongs
Tongs are great for serving food, particularly pasta dishes and salads. You can also use them for turning food over in a pan when baking or pan-frying.
These stainless steel tongs are safe to use in the dishwasher and lock in a closed position so that you can save on space. They come with non-slip handles made from rubber, which never comes in contact with food — unlike some other models.
Spoons
There are many different kinds of cooking spoons: slotted, spaghetti, mixing, ladles, etc. Ultimately, you should choose spoons based on your needs, but buying them in a set can also cut down on cost. Cooking spoons also come in different materials like wood, stainless steel, and plastic. While we don't recommend plastic since it's coming in contact with food and may be exposed to heat, choosing between the other two materials is a matter of preference.
In this wooden spoon set, you'll get six different spoons including slotted and mixing spoons. This is a great, multipurpose starter set and would also make a nice gift for the holidays. As the spoons are made from beech, they're considered a sustainable and accepted alternative to wood from endangered forests.
This solid, stainless steel ladle is a must for pouring soups and stews. It comes in different sizes, but we like this one because it has a larger capacity and a hooked rim for easy pouring. Plus, if it breaks or gets damaged, Rösle offers a lifetime warranty for all its products.
Pots & Pans
There are so many options now when it comes to cookware. You can choose from glass, ceramic, stainless steel, cast iron, and titanium, just to name a few. However, not all of these materials are created equally. In fact, some may be harmful to your health. However, the pots and pans we've chosen are made of what is generally considered safe materials and come highly recommended.
Note: To find out what the best and worst cookware types are, check out our article on safe and healthy cookware, here.
This set of stainless steel cookware includes twelve pieces, including fry pans, saute pans, saucepans, and stockpots. The pots and pans are a combination of 18/10 stainless steel with a multi-element aluminum core. These cookware pieces can be used on any type of stovetop, including gas, electric, induction, and ceramic glass. They are oven-safe up to 500 degrees Fahrenheit and dishwasher safe as well. While stainless steel isn't non-stick, it's long-lasting and non-toxic, making it a solid all-around cookware choice.
Enameled cast iron has pretty much all the benefits of regular cast iron, except it's lighter weight, you don't need to season it, and the iron won't leach into food. This casserole dish from Lodge can go in the oven or on the stovetop. Saute veggies on the stove, make a hearty chili, or bake a one-pot meal in the oven. Naturally non-stick and rustproof, you can also put the pan in the dishwasher, which you can't do with regular cast iron.
This set of two Pyrex baking dishes comes with a three-quart oblong size and two-quart square size. The non-porous glass won't absorb odors or permanently stain. And they are both dishwasher, freezer, microwave, and oven safe for versatile use. (Note that while Pyrex is fairly sturdy, glass CAN shatter, so handle it with care.)
This porcelain-enameled cast iron frying pan is resistant to rust, chipping, and cracking. And the coating requires no additional seasoning like some other cast-iron pieces.
The specially formulated black matte interior enamel of each piece gives it additional heat resistance and a rougher surface resulting in better browning. The smooth enameled base is compatible with all cooktops, including induction, and is dishwasher safe.
The Ozeri frying pan comes in three sizes: 8″, 10″. and 12″. And, it utilizes STONEHENGE, a stone-derived coating from Germany, which is 100% PFOA- and APEO-free.
It features a scratch-resistant coating that is super easy to clean and a base of durable, die-cast aluminum, with no heavy metals or harmful chemicals. It also boasts a comfortable, heat-resistant, silicon-coated handle, and a magnetized induction stove safe base for rapid heat transfer.
Food Storage Containers
Many food storage containers are made from plastic, which may leach chemicals into food. Acidic and hot foods, in particular, aren't safe to store in plastic. Glass or stainless steel are better and safer options that don't release toxic chemicals.
Note: For more plastic-free food storage recommendations, check out this article.
In this 18-piece glass storage set from Pyrex, you'll get a variety of round and rectangular containers ranging in size from one to seven cups each. The airtight lids are BPA-free, and the glass is non-porous. The bowls are safe for use in the oven, microwave, refrigerator, freezer, and dishwasher. And their seal-tight lids have a stackable design, making them ideal for secure food storage. This is a great set to start with and find out which sizes you like the best. Then you can always get more according to your needs.
Life Without Plastic makes long-lasting, watertight food storage containers that are stainless steel with snap-on lids that feature silicone seals. These are perfect for packing lunch (or even a stew!) on-the-go. This is one of the larger sizes (6.25" diameter), but they offer many other sizes, as well, depending on your needs. (Even though you can put the lids in the dishwasher, it's not recommended as it can loosen the silicone seal in the lid.)
This set of 3 stainless-steel containers are made from food-grade stainless steel with lids that are LDPE #4 plastic. They have been tested by a CPSIA accredited testing laboratory and found to be free from BPA, lead, and phthalate. The containers are ideal in lunch boxes, purses, or backpacks as the lids are leak-proof. You'll get a 16-ounce, 8-ounce, and a 5-ounce container. They are the perfect size for toting little sandwiches, cut veggies, nuts, berries, crackers, cookies, hummus, and more.
Appliances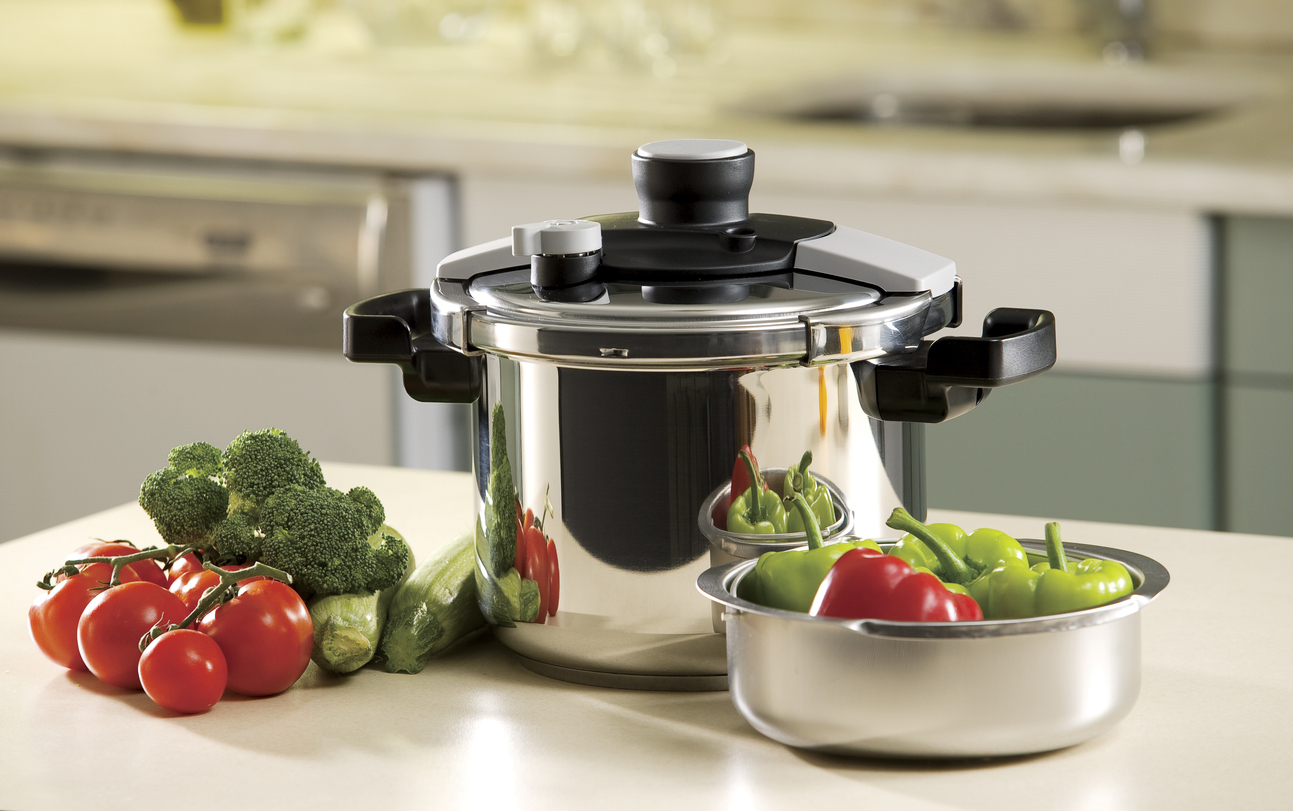 Almost every kitchen can benefit from these appliances. Both pressure cookers and blenders will cut down on food prep and cooking times. They can represent a significant upfront investment. But because you can also easily make one-pot meals, smoothies, and soups, in the long run, you'll save money you might otherwise spend on eating out.
Pressure Cooker
Pressure cooking allows food to be cooked about 70% faster, using less energy than standard pots. Since less water is used compared to conventional cooking, more vitamins and minerals are retained. The food is tastier because the sealed environment prevents the loss of flavor and moisture via evaporation.
One of the most popular and best-selling pressure cookers, this Instant Pot model has over 35,000 reviews and a 4.6-star rating on Amazon. It's an electric model with seven functions: pressure cooker, saute and sear, slow cooker, rice cooker, steamer, yogurt maker, and warmer. Make one-pot meals or batch cook with its pre-programmed settings for soups, chilis, porridge, rice, and more. This six-quart model serves up to six people, but larger and smaller versions are available. It uses a 3-ply bottom stainless steel inner pot which is durable and doesn't bring the health concerns associated with non-stick coatings.
This stove-top pressure cooker is made with stainless steel and has a pre-marked capacity limit inside the pot. Two pressure settings allow you to cook things quickly or at a slower pace for more flavor. Simply drop in your ingredients, lock lid in place, select your pressure setting, and turn on the heat — turning it down or off when it reaches pressure. No oil necessary, and it comes with a 10-year warranty.
Blender
Blenders are great kitchen aids for making smoothies, sauces, hummus, soups, and desserts. While they come in different price points, these are two of the best.
The Vitamix is a truly outstanding piece of kitchen equipment. It can quickly and easily make smoothies, shakes, and frozen drinks. But it can also handle turning whole foods, such as fruits and vegetables, into juice with the soluble fiber still left in. The Vitamix also grinds nuts and seeds well and makes a very smooth hummus thanks to its 790-watt motor. It's an outstanding product made by a company with an excellent reputation. And it will save you a lot of time. It's not cheap, but its versatility and 5-year full warranty make it a smart purchase.
What about the plastic jar? At this time, Vitamix tells us that there is no glass jar for any high-speed blender. A motor as powerful as the Vitamix's could too easily cause a glass jar to shatter (say if someone accidentally drops a metal spoon into it when it's running). They use Tritan plastic, which is generally considered safer as far as plastics go. Still, we don't suggest EVER putting it in the dishwasher, or exposing it to boiling water or leaving it in the sun for extended periods of time.
For a powerful yet smaller blender, at a lower price point, check out this Ninja model. It comes with a 48 oz. pitcher, 16 oz. chopper bowl, and 40 oz. processor bowl to make your blending & pureeing even easier. And the 75-page included recipe book will give you lots of ideas for useful ways to use your Ninja blender. Like Vitamix, Ninja blenders are made of BPA-free plastic, although we couldn't find any online statements from the company about the type of plastic they use.
Optional Appliances
While these kitchen tools aren't necessary for every home chef, they'll certainly make food prep a lot easier in the long run.
Food Processor
These amazing kitchen helpers can chop, grate, shred, slice, mix, knead, and blend. As with the blenders, a wide range of prices and types are available. One of the main differences between food processors and blenders is the capacity of the work bowls. If you have more than two people in your home, or if you frequently have friends or family over, we recommend a processor with a bowl of at least an 11-cup capacity.
This is Consumer Reports' top-ranked food processor. And it currently has 80% five-star reviews on Amazon. The Breville Sous Chef Food Processor comes with two BPA-free bowls: A large 16-cup bowl and a small 2.5-cup mini bowl. Inside, a variable slicing disc has 24 settings, allowing you to slice food from .3 mm to 8 mm. Its feed chute also has three options and is superb at chopping, slicing, shredding, and grating.
For a moderately priced food processor with five-star reviews, this Braun model is a solid choice. The 12-cup work bowl efficiently handles large amounts of food. And with its 15 different speeds, you can do everything from kneading dough to chopping vegetables in seconds. Its removable parts are also dishwasher safe, and it comes with seven blades for various forms of food prep. Note: The manufacturer's website does say the plastic bowl is BPA-free, but we're not sure of the type of plastic used or the reliability of the claim at this time.
Yogurt Maker
Yogurts, whether plant-based or otherwise, may have added sugars when buying brands from the store. And in many cases are limited as to the type and amount of probiotic strains they include. Yogurt usually comes in a plastic container as well, contributing to the overwhelming amount of single-use plastic waste in the world. With a yogurt maker, you can eliminate plastic waste and get the taste and nutrients you want and need.
Note: While you can use the Instant Pot mentioned above to make yogurt, if you always want a fresh supply, you may want to consider buying a dedicated unit. You don't want to skip making a healthy soup or stew just because your Instant Pot will be busy making yogurt for the next twelve hours.
Make delicious plant-based nut yogurts with this two-quart slow cooker and yogurt maker from VitaClay. Yogurt has its own setting for temperature-controlled fermentation that will maintain maximum probiotics. You'll have fresh homemade yogurt in eight to twelve hours. The included clay pot is lead- and chemical-free — and is removable for easy cleaning.
Plant-Milk Maker
Store-bought plant-based milks often contain additives to preserve freshness and flavor. But when you make your own at home, you get to control what goes into your milk — and in turn, your body.
Make your own almond, cashew, or oat milk with just the touch of the button. The Almond Cow will turn any nut, seed, or grain into delicious, homemade, plant-based milk in just minutes. One batch makes between five to six cups of milk. And there are no straining or nut milk bags necessary! You don't even need to soak the nuts beforehand. That's how powerful this machine is. (Use the code FOODREVOLUTION20 for a special discount.)
Tell us in the comments:
What tools do you swear by in the kitchen?
What do you think of these kitchen tools?
Featured Image: iStock.com/RapidEye
Read Next: