Whole Foods Market, the grocery story chain, has made the stunning announcement that labeling of genetically engineered foods will be required on all products sold in the company's 339 stores within five years.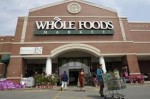 Making the historic declaration, Whole Foods Co-Chief Executive Walter Robb stated: "This is an issue whose time has come… With cases like horse meat discovered in the U.K., plastic in milk in China, the recalls of almond and peanut butter in the U.S., customers have a fundamental right to know what's in their food."
Will this be a smart business move? Company president A.C. Gallo thinks so, commenting that products that get a "Non-GMO" verification label see a sales spike of between 15 percent and 30 percent.
The number of products certified as GMO-free by the Non-GMO project has been growing exponentially, and Non-GMO certified products now represent more than $2.4 billion in annual sales. Support for GMO labeling in the general public continues to build. In fact a 2012 poll of likely voters found that 91% of respondents supported GMO labeling – including 93 percent of Democrats, 90 percent of Independents, and 89% of Republicans.
While 5 years doesn't exactly sound like Usain Bolt's version of speedy action, the New York Times reports that the Whole Foods announcement could "radically alter the food industry." And indeed, the economic landscape is clearly changing in response to growing public alarm at the current state of affairs. So far in 2013, leaders from companies like Wal-Mart, Pepsico, and Con Agra, have been meeting with leaders in the GMO-labeling movement to explore development of a national labeling program.
It looks increasingly likely that the United States will soon be joining the entire European Union and dozens of other nations in mandating labeling of genetically engineered foods.
The question may soon become, what kind of labeling will we get? Food Revolution Summit speaker and Institute for Responsible Technology founder Jeffrey Smith explains:
"The biotech industry is working hard to keep consumers in the dark. They have managed to get loopholes in some countries that, for example, exempt GM soybean oil. Or in Japan, they lobbied to get a rejection threshold of 5% for a GM ingredient. For consumers who want the option to avoid GMOs, only labels that cover the entire product and all of its ingredients will suffice."
As Food Revolution Summit speaker Michele Simon recently wrote, many activists are increasingly worried about the possibility that a weak federal law, backed by companies like Wal-Mart, could "preempt" more meaningful legislation that would emerge at the state level – rendering any higher state-level consumer protection invalid.
State-level efforts that take effect before any such federal legislation may therefore present the best opportunity to "raise the bar" to what most consumers expect from GMO labeling legislation — the right to know if a food contains GMOs.
Efforts to pass a GMO labeling initiative in Washington State have become a new front line the GMO battle. Like California's barely failed Proposition 37, Washington's I-522 would have national implications, and is already beginning to attract national resources. Voters will head to the polls November 5. And efforts are also underway to pass labeling legislation in Vermont, New Mexico, and Connecticut.
Want to take action for your right to know? Here are some steps you can take:
1) Support Washington State's I-522 (they need volunteers, donations, and public exposure).
2) Sign the JustLabelIt petition to the FDA.
3) Tell Whole Foods how you feel about their announcement by commenting on their Facebook page or on their blog page.
4) If who want to know what is and is not GMO-free, a list of which foods are likely to contain GMOs is posted by Institute for Responsible Technology here, and you can download the non-GMO shopping guide here.
5) For the passionate activist, there's always more you can do, like taking advantage of the educational resources offered for free by the Institute for Responsible Technology, and sharing them with friends. Or lobbying your member of Congress, your mayor, your governor, your local media outlets, or your relatives.
Ocean Robbins is founder and co-host (with best-selling author John Robbins) of the 85,000+ member Food Revolution Network, an initiative to help you heal your body, and your world… with food. Find out more and sign up here.