Farmers markets have been a part of human history for thousands of years. After all, our modern food system has only really existed for the past 100 years or so with the advent of industrialized agriculture.
One of the oldest farmers markets still in existence — running since the year 1014 — is the Borough Market in London, which has sold everything from corn to cattle to bread and alcohol.
And in the Peruvian town of Chinchero, high in the Andes, I once visited a farmers market that operates entirely on the barter system. Locals, most of them indigenous, don't have much money. So they bring their wares to the market and trade back and forth. I don't know when this market began, but I suspect that it was a very long time ago.
Although they're nothing new, the popularity of farmers markets has recently exploded in the U.S. Their numbers have increased 76% since 2008, skyrocketing to over 8,700 registered markets in the USDA's National Farmers Market Directory.
Whether they're due to the increasing movement toward healthy, local, and organic food, or by trendy, "foodie" culture, it looks like farmers markets are here to stay.
And I'm so glad!
There's nothing like walking down the aisles of a farmers market and meeting the people who grew the food in front of you. You can ask questions about their growing practices, about how the weather is affecting their harvest, and about which variety of peach is the most flavorful that week. You can also enjoy the feeling of community that emerges as locals gather to support and be nourished by local farmers.
But whatever your reason is for wanting to visit a farmers market, whether it's your first time or your 100th, what can you expect, and how can you make the most of a visit?
What You Might Find at a Farmers Market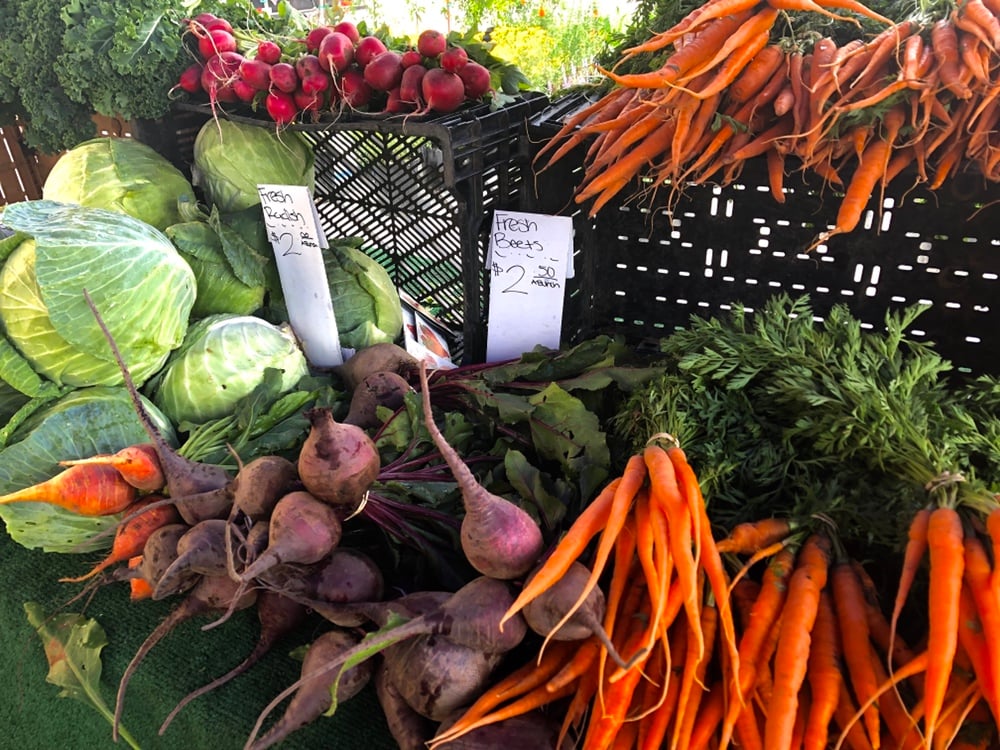 Although traditionally what you might find at a farmers market was self-explanatory — anything grown or produced by a farm or farmers — that definition has changed.
These days, farmers markets have expanded to include a variety of items from small, local businesses.
At a farmers market, you might find:
Seasonal fruits and vegetables
Dried fruit and nuts
Dips and sauces
Meat, fish, and eggs
Prepared foods
Hot and cold meals
Freshly squeezed juices, coffee, and tea
Fresh bread
Fresh flowers and potted plants
Honeys, preserves, and jams
Artisan crafts
Original art
And sometimes local musicians, clowns, or even theater troupes!
In some cities, farmers markets are so large they've become highly anticipated events like the Holland Farmers Market in Holland, Michigan. Or the Original Farmers Market in Los Angeles, California which is a tourist attraction.
And although they usually occur during the warmer months of the year, operating on a seasonal basis from spring to late fall, there are also year-round markets. These take place in warmer U.S. states like California, Florida, and Hawaii and across the southeast and the southwest U.S.
Why Shop at a Farmers Market?
Benefits to the Local Economy
Every time you shop at a farmers market, you benefit the local economy. Locally owned farms and businesses typically retain twice as much money in the area they're produced when compared to large chain grocery stores.
When money stays within a community, everyone in that community benefits, creating more opportunity for growth — including jobs.
Preserves Valuable Soil
Nearly 33% of the world's fertile land has been lost, as unsustainable farming practices outpace the natural processes which are vital to replacing eroded soil.
Much of that loss comes from pollution and soil erosion due to large, industrial farms. In this type of agriculture, a single type of fruit or vegetable gets continuously harvested from the same field, depleting the soil of nutrients necessary for continuous use. Conventional farms also use chemical fertilizers, pesticides, and herbicide-dependent GMO crops, which further pollute the land and destroy valuable soil.
Smaller scale farms are more likely to practice composting and other sustainable methods that reduce soil erosion and in some cases, even sequester carbon into the ground.
As farmers markets thrive around the world, demand for fresh, local produce has allowed many small, non-industrialized farms to thrive. Their popularity allows small farmers to continue making a living while also preserving their soil and increasing productive farmland.
5 Ways Shopping at a Farmers Market is Different Than a Supermarket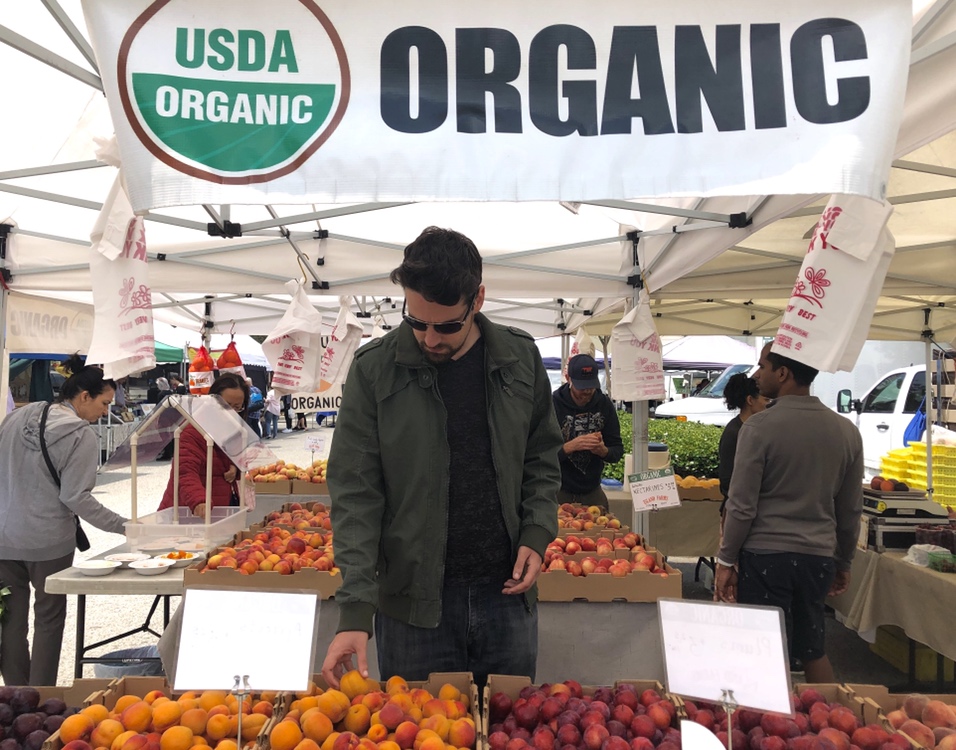 But is shopping at a farmers market really that different than shopping at a grocery store or supermarket? Actually, yes, and here's why:
1. You're Buying Direct from Farmers
When shopping at a farmers market, you're buying from the farmers themselves instead of going through a middle-person like a grocery store or supermarket chain (or a string of packing plants and distributors). That means once you hand over your money for a basket of strawberries, it goes directly to the farmer who grew the food. Farmers markets represent a way you can invest in your local farmers and help them to make a living.
2. You May Encounter "Ugly" Produce
While supermarket produce tends to look pretty uniform, that's often not the case at a farmers market.
Produce sold at the grocery store typically gets purchased on looks alone. You'll never find a siamese-twin potato. And shiny, waxy apples always win out over bruised, dull ones.
That's because the USDA provides grades for produce based on size and other cosmetic standards. Although optional, they're used by large scale farms when trying to sell to a buyer, like a supermarket (which usually has its own aesthetic standards on top of those set by the USDA).
Since small farmers are selling direct to consumers at farmers markets, it's actually a good sign to find so-called "ugly" produce. It means the food is actually local, and likely not a product of large-scale industrial agriculture. It also means more food is getting picked and not left to rot because it doesn't conform to mainstream standards of beauty. These standards have nothing to do with taste or nutrition, but they dictate what's sold in most conventional supermarkets and grocery stores.
3. You Can Typically Only Buy Local, Seasonal Produce
Have you ever looked for bananas at an American farmers market? Unless it's in Hawaii, Florida, Puerto Rico, Louisiana, southern Texas, or southern California, you likely won't find any. And that's actually a good thing!
Most bananas you find at the grocery store are imported from Central or Latin America. And it's not just bananas. If you look around the produce section in a typical store, chances are a large portion of the fruits and vegetables are imported.
Farmers markets provide an opportunity to eat seasonally grown produce that's produced locally. As a result, fruits and veggies are fresher, picked at the peak of ripeness, and contain more nutrients.
They also had less distance to travel in order to get to you, meaning reduced food miles and a smaller carbon footprint.
To find out what's in season near you, check out the USDA's Seasonal Produce Guide.
4. It Can Save You Money
But farmers markets are expensive, right? Wrong!
Although that's a common assumption, research has proven otherwise.
An independent study conducted by North Carolina organization Sequestering Carbon, Accelerating Local Economies (SCALE), found that in 74% of the communities studied, farmers market produce was cheaper than supermarkets, by an average of 22%.
And the Northeast Organic Farming Association of Vermont's 2016 Direct Market Pricing Study found that farmers market prices were competitive with grocery stores and supermarkets — especially when it came to organic produce.
Prices are even more competitive at the end of summer, with the best prices occurring in August and September.
Some markets also are now accepting SNAP (Supplemental Nutrition Assistance Program) or other nutritional program benefits to increase access to fresh, healthy food for low-income individuals.
5. There May be Organic Produce That's Not Certified
One of the many benefits of shopping at a farmers market is the availability of organic produce. But while any item labeled "organic" at a grocery store has to come with a USDA certification, not all organic produce at a farmer's market will.
However, that doesn't mean the farm hasn't met organic specifications. Farms with sales less than $5,000 do not need to get certified in order to call their products "organic."
In most cases, small organic farms simply opt-out because it's not required and because they can't afford the cost of the USDA organic certification process.
Costs for USDA organic certification range anywhere from a few hundred dollars to a few thousand. It all depends on the agent doing the certifying, the size and type of the farm, and how complex it is.
So, if you see a vendor with produce that says "organic" without the USDA organic logo, the best way to know if it's truly organic is to ask the farmer how it was grown. Some markets may also require farmers to fill out a form or checklist that allows them to call their products "organic" without certification, so you may be able to ask to see that too if you want to do so.
7 Tips for Shopping a Farmers Market
So what do you need to know to get the most out of a farmers market shopping expedition?
1. Bring Cash
As the size and popularity of farmers markets continue to grow, more vendors are beginning to take credit and debit cards — but a lot are still cash-only.
Larger markets might have an ATM on hand, but it's best to bring cash with you. If possible, bring smaller bills as well, or provide exact change. Some vendors might not have the ability to break larger bills.
2. Talk to Farmers
Part of the benefit of shopping at a farmers market is knowing where your food comes from. Farmers and other vendors know their products intimately. And they're usually more than happy to answer any questions you might have about growing practices, product recommendations, or keeping items fresh.
This can also come in particularly handy with unusual foods and produce. If you're unsure how to prepare an exotic fruit or vegetable, ask the farmer. If they're growing it, chances are they're eating it too and can give you their suggestions.
3. Know When to Go
They say "the early bird gets the worm," but that's not always the case at a farmers market.
Getting to a farmers market first thing in the morning does have its benefits. For one thing, you'll encounter fewer crowds and more inventory. If a particular farmer or vendor is popular, you're more likely to snag your favorites the earlier you arrive. You'll also see less wilting for produce items like leafy greens and fresh cut flowers.
However, if you arrive near the end of the market, there's a chance you might get a good bargain. Vendors, especially farmers, are eager to move inventory at closing time, so they don't have to take it home with them. If you have love haggling, this is the best time to employ your skills.
4. Get a Free Sample
One of the benefits of shopping at a farmers market is the free samples. Farmers and other vendors often use samples to entice buyers with their product, which in turn can boost sales.
It's also a great way to try before you buy, especially if you're unfamiliar with the product or type of produce. If multiple farmers are selling your favorite type of fruit, you might be able to get a sample of each and decide which one you like best.
5. Bring Your Own Bags and Containers
Some farmers will have some kind of bag or container to put your purchases in, but not all. It's best to bring your own bags, especially if the market is large or you know you're going to buy multiple items. (Here's a popular reusable produce bag option.)
If you're buying a beverage or pre-cooked meal, you can also bring glass or stainless steel food storage containers, bottles, and straws in addition to your own, washable (or compostable) silverware to avoid plastic and cut down on landfill waste.
And many farmers will let you bring back empty berry containers, produce boxes, or olive oil, honey or preserves jars, for reuse.
6. Shop Around for Deals
Don't just buy from the first booth you see — shop around.
Prices and quality vary from farmer to farmer. If you don't take a little time to compare and sample products, you might miss out on a deal (or the sweetest apple you've ever tasted!).
Get the lay of the land first, noting booths that spark your interest. Then, once you have an idea of who has the best items or deals, go back and make your purchases.
7. Savor The Experience
Farmers markets are best enjoyed with a leisurely attitude. Food is, after all, not just a commodity. It's also a community. And farmers markets can be a delightful way to deepen your connection to your bioregion and your community. So, while you can make a quick pit stop to grab a few things, it can be more enjoyable, and more satisfying, to take some time to meander around, chat with farmers, savor the smells, and try a few new things.
You never know — you just might even make a new friend.
Tell us in the comments below:
Do you shop at farmers markets?

What do you like about them?

What are some of your top tips for shopping at a farmers market?
Featured Image: iStock.com/Rawpixel
Read next: