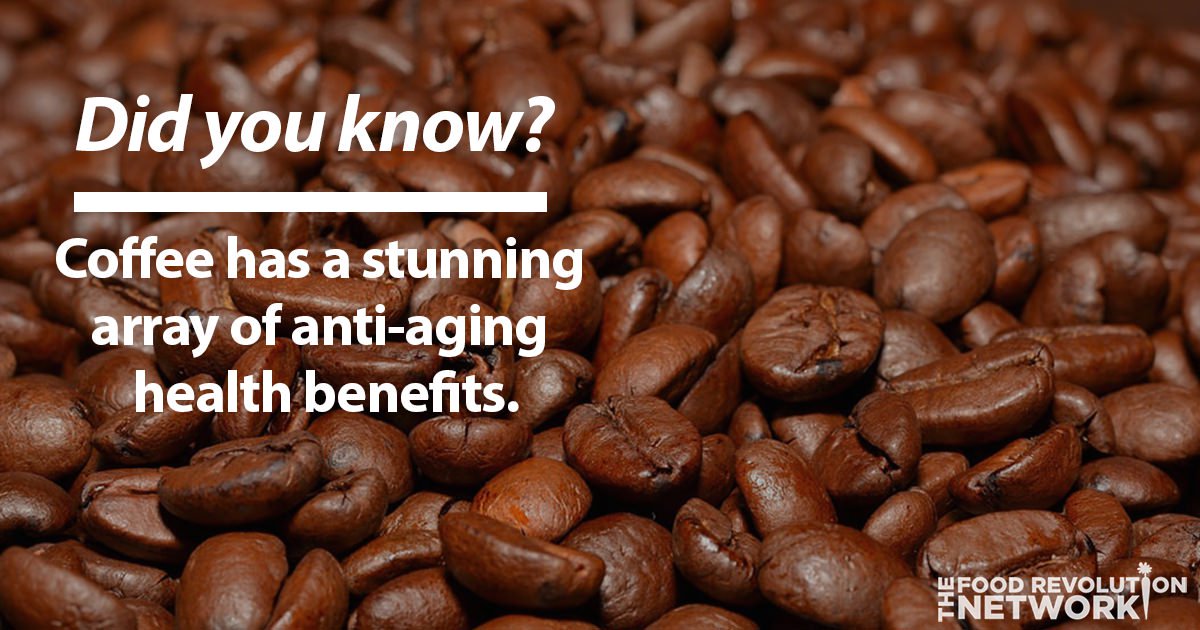 Like this article on Facebook:
Until recently, you wouldn't have expected to see coffee listed as a health food. For decades, we've been advised to drink less of it.
But now, it turns out, that advice may have been wrong.
In fact, coffee brings a stunning array of anti-aging health benefits.
Health benefits of coffee
The Cardiovascular Risk Factors, Aging and Dementia (CAIDE) study tracked more than 1,400 individuals over the course of 21 years to look at a broad range of diet and lifestyle choices and health outcomes. In the study, people who drank 3-5 cups of coffee per day at midlife were found to have a 65% decreased risk of dementia in later life.
And in another study, 34,670 women in Sweden were tracked for more than 10 years. Those who drank no coffee were at elevated risk of stroke, while the women who drank at least a cup per day reduced their risk of stroke by 22 to 25%.
Also, abundant studies exist on the relationship between coffee and cancer. On this topic, the data is overwhelming.
Consumption of caffeinated coffee could cut mouth and throat cancer risk by 50%, according to one study.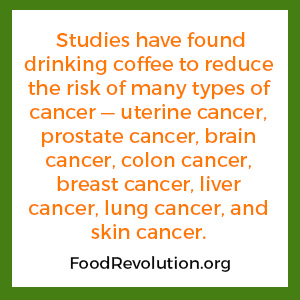 Other studies found drinking coffee to reduce the risk of many types of cancer — uterine cancer, prostate cancer, brain cancer, colon cancer, breast cancer, liver cancer, lung cancer, and skin cancer.
In some cases, coffee drinkers seemed to do best with 3-5 cups per day. In other cases, only one cup per day appeared optimal.
Coffee consumption has also been found to lead to decreased risk of type 2 diabetes. And even for people who have it – coffee can prolong life expectancy. In fact, one 20-year study of 3,837 type 2 diabetics found coffee consumption to be correlated with a 30% decreased risk of death from any cause.
Coffee turns out to be loaded with antioxidants (which help to prevent the damaging effects of oxidation on cells throughout your body). In fact, coffee is the #1 source of antioxidants in the American diet – by a wide margin.
When you hear all this, and you add in the facts that coffee consumption is also tied to weight loss and reduced rates of Parkinson's disease, and that it's been shown to be good for your mood, reaction time, memory, vigilance, and general cognitive function, the question might naturally emerge – why didn't I know all this before?
Reasons to be concerned about coffee consumption
Of course, there's more to the story. The caffeine in coffee makes some people feel jittery, anxious, and restless. And for many people, it can become addictive – leading to headaches and withdrawal symptoms when they miss a day. Also, pregnant women are advised to drink less coffee because fetuses are highly sensitive to it. And coffee that comes packed with sugar, artificial flavorings, factory farmed milk, and high fructose corn syrup may not be a net benefit to anyone's health.
So, just because coffee is linked to a broad range of health benefits, doesn't mean that everyone should drink it by the gallon, or guzzle the Salted Caramel Mocha at Starbucks. But the data is pretty clear that a freshly brewed cup of unadulterated coffee offers a great many health benefits.
Unfortunately, few studies exist on the health effects of decaffeinated coffee. But we do have studies telling us that decaffeinated coffee has about 75% of the antioxidants of the caffeinated version. And while many decaffeination methods involve use of solvents like methylene chloride or ethyl acetate, the Swiss Water Process is a more environmentally friendly and chemical-free method.
Why you should enjoy coffee consciously 
Because coffee accounts for almost half of the total exports from tropical countries, coffee production has a massive impact on the lives and livelihoods of hundreds of millions of families and farmers. Regrettably, many of them are living in poverty.
Therefore, the kinds of coffee we choose have a profound impact on the kind of world we shape for future generations. Fair trade, shade grown, and organic coffee are the types to reach for to help to shape a fairer and healthier world.
If that's something you want, your choice of coffee can make a powerful impact on the lives of many, including your own.
What do you think? Do you drink coffee? Why or why not?
And if you enjoy drinking caffeinated coffee or tea, here's a new reason why this could be a healthy, anti-aging habit for you.
Like this article on Facebook: