Want to enjoy Fat Tuesday food you won't regret? Mardi Gras celebrations have a reputation for excess and indulgence, but that doesn't have to extend to the menu. Channel the New Orleans carnival with these healthy Mardi Gras recipes that are packed with plants — and with flavor!
---
Mardi Gras originated as a Christian tradition. But these days, Mardi Gras is famous for its colorful parades, beads, and decadent parties.
Food has also played an essential role as Shrove Tuesday, or Fat Tuesday as it's often referred to, was traditionally a day of feasting before the start of Lent.
Instead of indulging in traditional dishes, you can join in the celebration with healthy Mardi Gras recipes.
So don your mask, decorate with green, purple and gold, and let the good times roll with these Cajun and Creole-inspired, Mardi Gras recipes.
Host Your Own Carnival Party With These 7 Festive, Plant-Powered, Healthy, Mardi Gras Recipes
No need to head to Bourbon St. for a taste of the Big Easy. Enjoy the zing and zest from your own home with our picks for a healthy and flavorful Mardi Gras celebration.
Gluten- and Fat-free Gumbo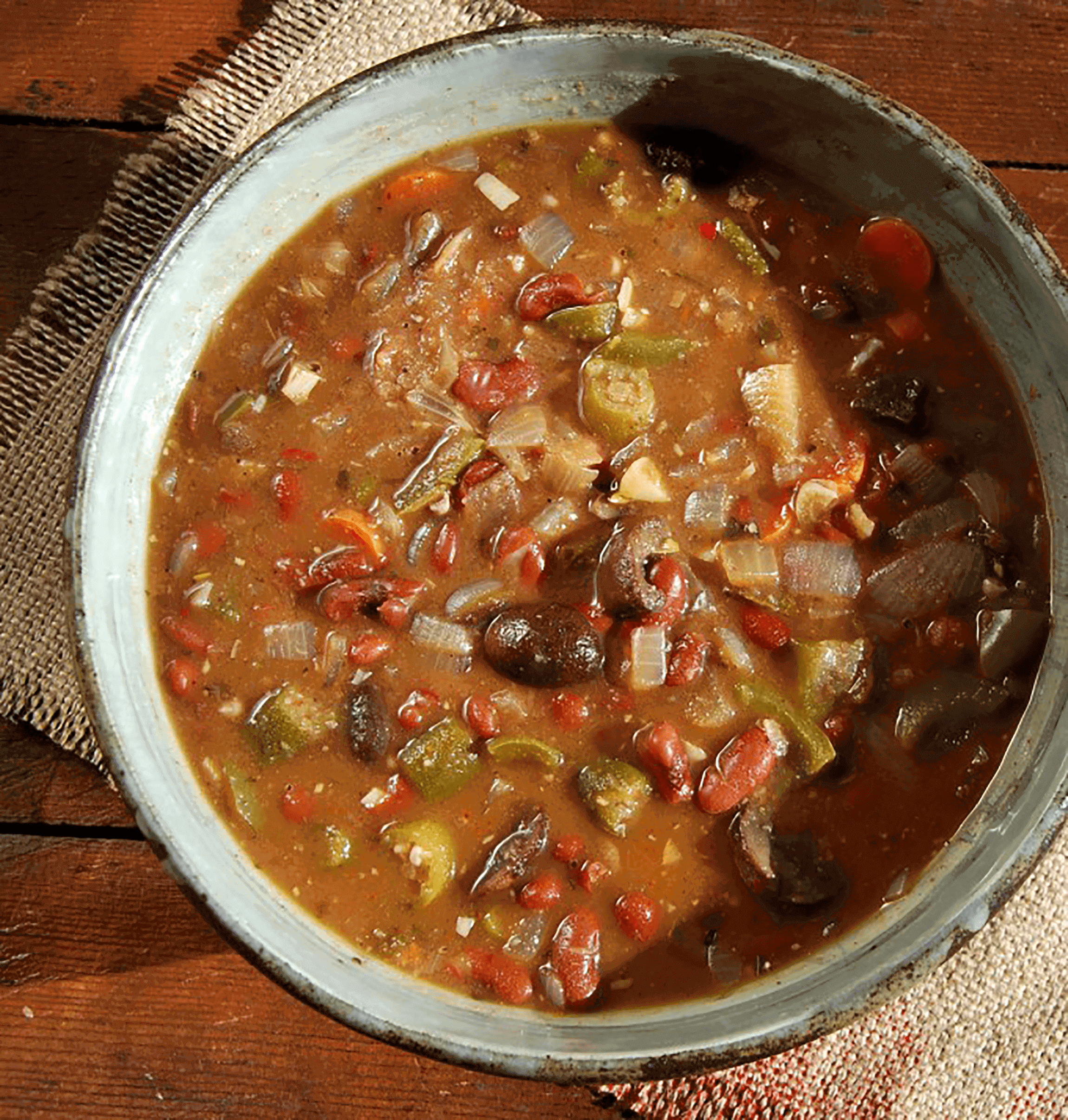 Historically, no dish screams Mardi Gras more than gumbo. With origins in Medieval France, a ceremonial run called the "Courir de Mardi Gras" takes place in many Cajun towns, including New Orleans, as part of the Fat Tuesday tradition. During the run, participants attempt to collect ingredients, which then become part of a communal gumbo or Creole stew.
Most gumbos include sausage or seafood as the main ingredient, but this savory Gluten- and Fat-free Gumbo from Holy Cow! Vegan Recipes features beans and mushrooms instead for a cruelty-free, plant-powered version.
Slow Cooker Pulled Jackfruit Jambalaya
Another traditional Mardi Gras recipe, gumbo's first cousin, jambalaya, is cooked with rice and spices for a Spanish, paella-style dish.
The Tofu Diaries created a Slow Cooker Pulled Jackfruit Jambalaya that stays true to the "meaty" texture of this classic Cajun dish due to the addition of nature's miracle fruit.
For a rice-less version, use more cauliflower as a base, or try riced-cauliflower instead.
Oyster Mushroom Po'Boys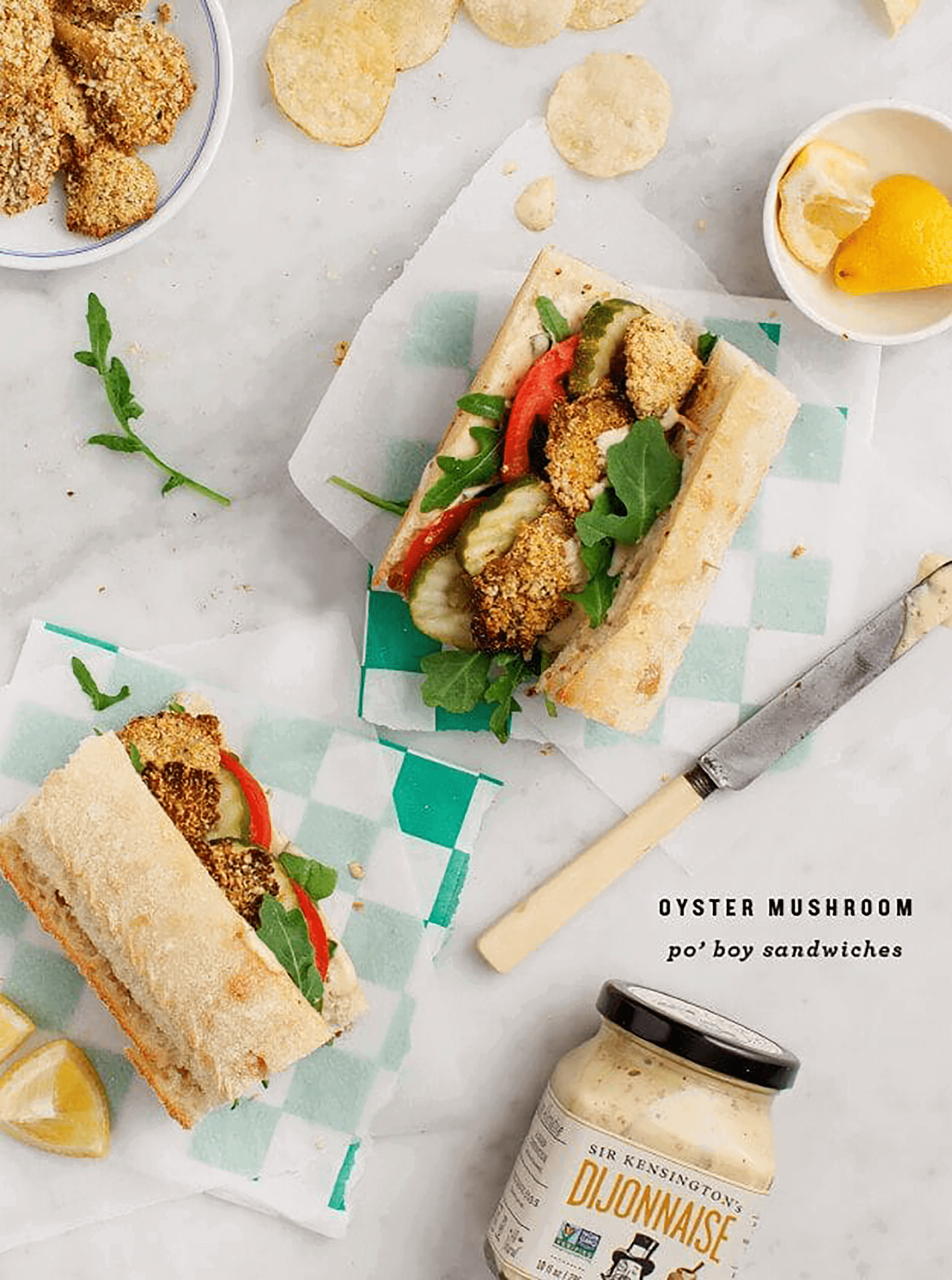 While the exact origins of the po'boy remain a bit hazy, there's no doubt this culinary creation has been a New Orleans (and Mardi Gras) staple for nearly a century.
Most modern po'boys stick meat or deep-fried seafood between two slices of bread and slather it in gravy or remoulade. But you can still enjoy this famous Southern comfort food without clogging your arteries.
Love and Lemons created an Oyster Mushroom Po'Boy that uses baked oyster mushrooms breaded with a cornmeal, panko, and hemp seeds mixture. (For those with a gluten allergy or sensitivity, Ian's Natural Foods makes a gluten-free panko.)
Serve these po'boys pre-made or family-style, so everyone can add their own veggie fixings — perfect for taking along to your local parade route. You could also wrap these in lettuce instead of bread.
Cajun Red Beans and Rice Veggie Burgers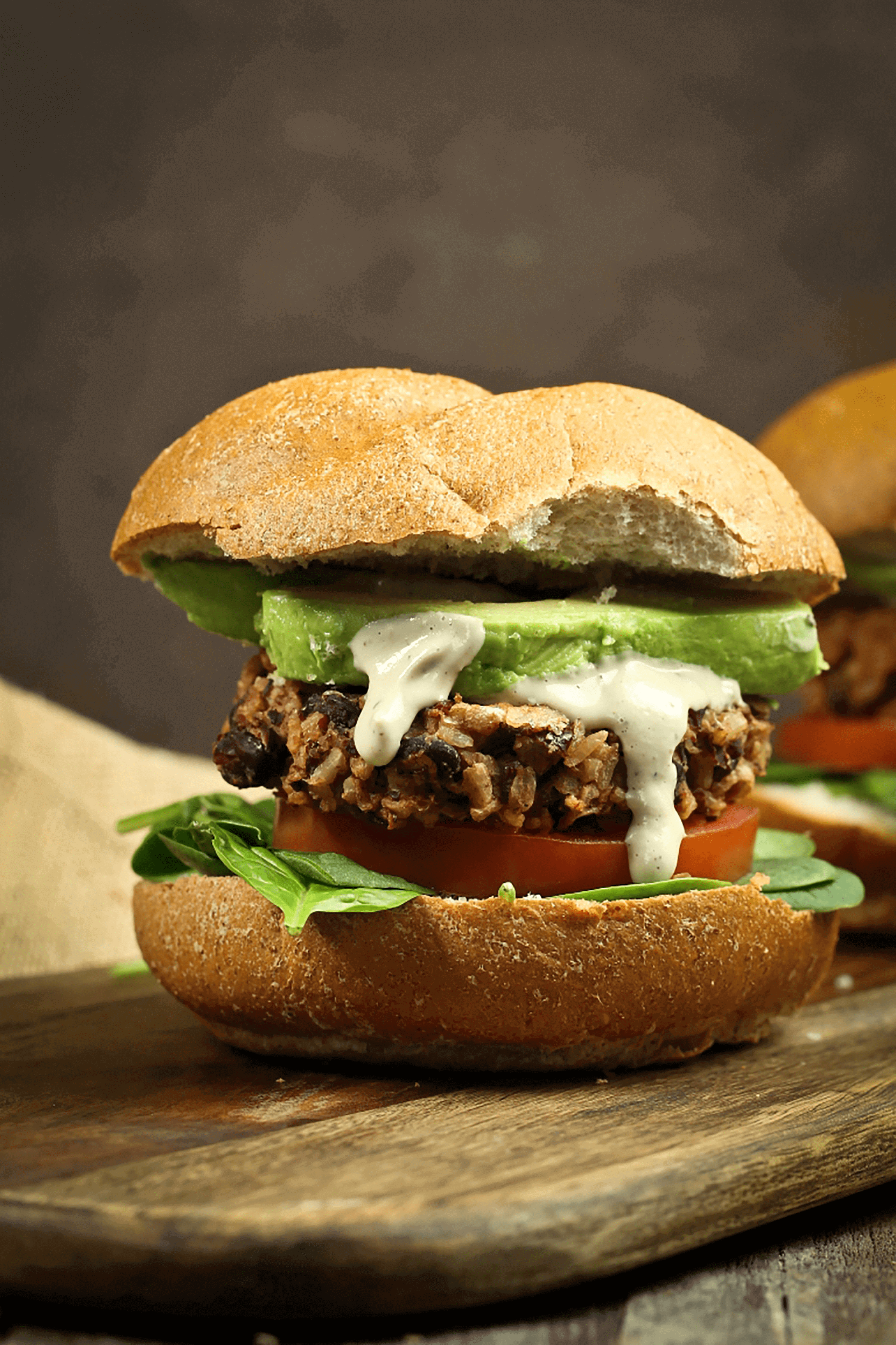 For a new, meat-free spin on a classic New Orleans favorite, try these Cajun Red Beans and Rice Veggie Burgers from The Vegan 8.
With only seven ingredients needed for the burgers, they're super easy to make en masse for a Mardi Gras-inspired cookout. Just don't forget the Cajun Cream Sauce, a spicy alternative to ketchup or BBQ sauce that's made with cashews and is sugar-free.
Mardi Gras Buddha Bowl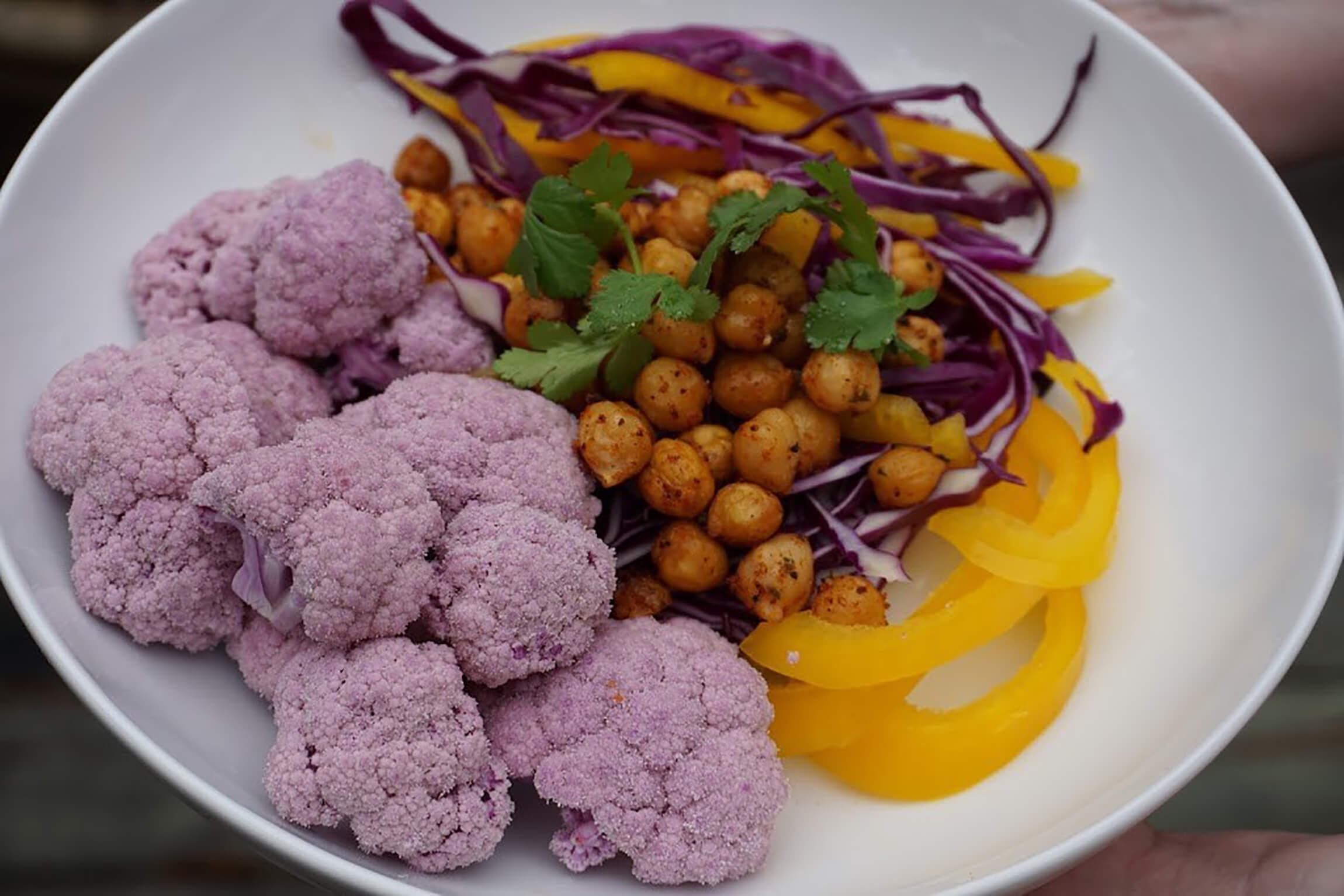 You may have heard you should "eat the rainbow," so why not eat the Mardi Gras colors of purple, green, and gold?
Featuring cajun-spiced chickpeas, yellow peppers, and purple cauliflower and cabbage, this Mardi Gras Buddha Bowl from Vegetarian South is like a party in your mouth and a powerhouse for your cells. Win-win!
(If you want, you can make this recipe oil-free by using some water instead of olive oil.)
Quick & Easy Collard Greens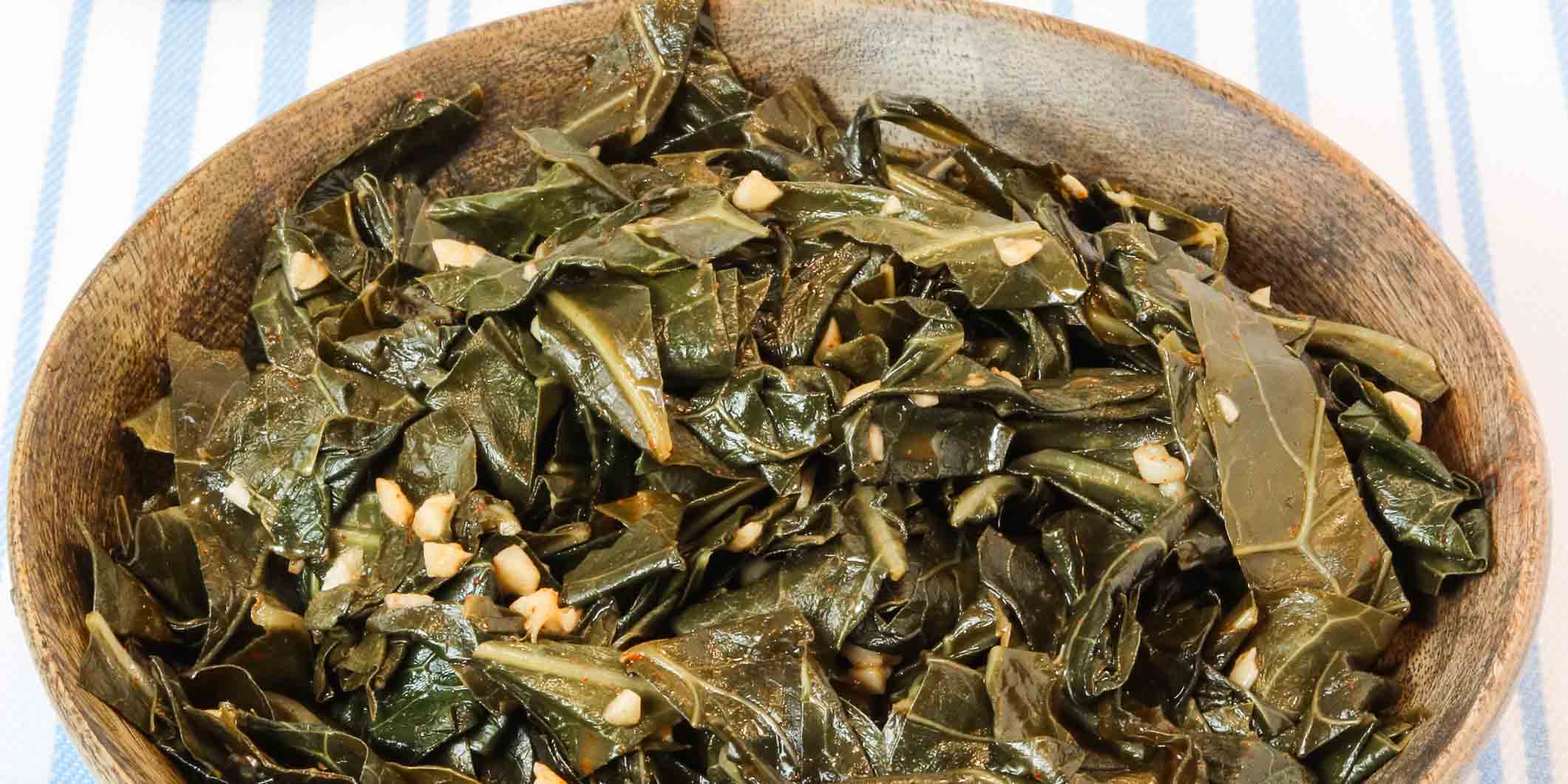 Louisiana collards typically get their flavor from ham, turkey, and/or bacon. But you can still enjoy their traditional, smoky, spicy flavor without the addition of meat.
Healthy Midwestern Girl seasons her Quick & Easy Collard Greens with garlic, apple cider vinegar, smoked paprika, sea salt, and freshly ground black pepper. Ready in just 20 minutes, these leafy greens are perfect as a side dish for your Fat Tuesday feast.
Mardi Gras Smoothie
A Whisk and Two Wands' whole foods, plant-based Mardi Gras Smoothie is as healthy as it is pretty.
Each layer of this colorful, fruit-infused smoothie is blended separately before combining in a glass for a picture-perfect Mardi Gras breakfast, dessert, or anytime snack.
Tell us in the comments below:
What do you think of these healthy Mardi Gras recipes?

What are your favorite ways to celebrate Mardi Gras with food?

Do you have any favorite, plant-based Mardi Gras recipes to share?
Featured Image: iStock.com/jaflippo