Consider this fact: In 1995, 81 independent organic processing companies existed in the United States. Ten years later, Big Food had gobbled up all but 15 of them.
The newly updated "Who Owns Organic?" infographic, originally published in 2003, provides a snapshot of the structure of the organic industry, showing the acquisitions and alliances of the top 100 food processors in North America.
According to The Cornucopia Institute, this chart — authored by Dr. Phil Howard, an Associate Professor in the Department of Community Sustainability at Michigan State — empowers consumers to see at a glance which companies dominate the organic marketplace.
See the updated version below. (Click on the image to view a larger version,
and then click on it again for even larger detail.) Or see a PDF version here.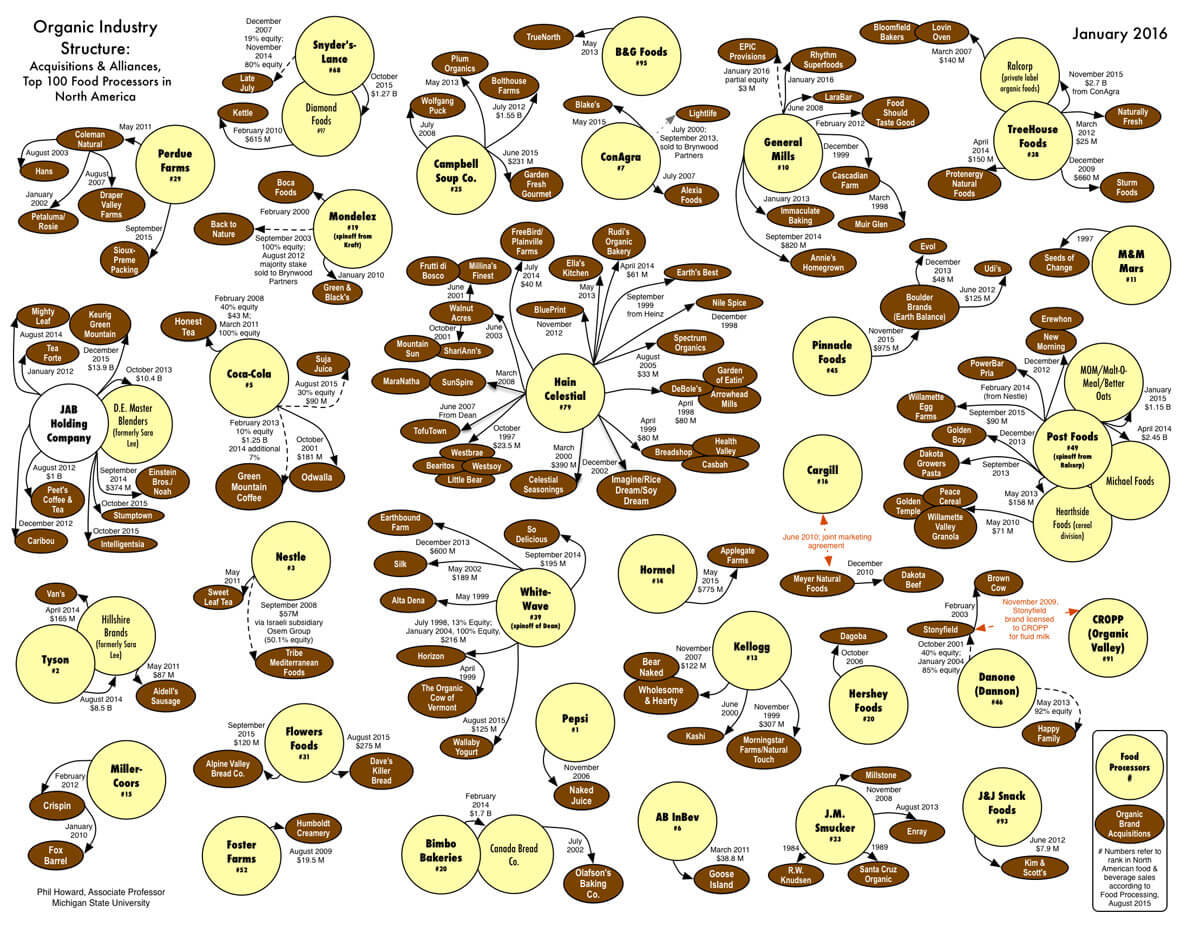 If you find the graphic hard to read, you might also wish to check out this graphic created by The Washington Post, which was published in May 2015 and shows 92 organic food brands who are owned by some of the nation's largest food processors.
Major changes since the last version in May 2013
WhiteWave's December 2013 acquisition of Earthbound Farm, the nation's largest organic produce supplier, for $600 million.
Coca-Cola acquired a 10% stake in Green Mountain Coffee for $1.25 billion.
Bimbo Bakeries (Mexico) purchased Canada Bread from Maple Leaf Foods (Canada) for $1.7 billion.
The corporate takeover of organic food
According to a press release from The Cornucopia Institute,
"The chart shows that many iconic organic brands are owned by the titans of junk food, processed food, and sugary beverages—the same corporations that spent millions to defeat GMO labeling initiatives in California and Washington. General Mills (which owns Muir Glen, Cascadian Farm, and LaraBar), Coca-Cola (Honest Tea, Odwalla), J.M. Smucker (R.W. Knudsen, Santa Cruz Organic), and many other corporate owners of organic brands contributed big bucks to deny citizens' right to know what is in their food.
"Consumers who want food companies that embody more of the original organic ideals would do well to seek out products from independent organic firms," Dr. Howard advises. "Given the very uneven playing field they are competing in, independent organic processors are unlikely to survive without such support."
15 Organic brands that are still independent
Dr. Howard also created the chart, Organic Industry Structure: Major Independents and Their Subsidiary Brands. The independent brands include:
Alvarado Street Bakery

Amy's Kitchen

Bob's Red Mill

Cedarlane

Cliff Bar: Luna

Eden Foods

Equal Exchange

Frontier Natural Products: Simply Organic

Lundberg Family Farms

Nature's Path: Country Choice Organic, Enviro-Kidz

Organic Valley: Organic Prairie

Pacific Natural Foods

Sno Pac

Springfield Creamery: Nancy's

Traditional Medicinals

Yogi Tea
Dr. Howard observes, "I expect more deals to occur, since organic foods sales continue to increase faster than sales of conventional foods, and corporations are flush with cash and/or access to cheap credit."
What do you think about the corporate takeover of natural food brands?