Recipe from Garden Fresh Foodie
Editor's note: This plant-based recipe makes a great and healthy 1-dish meal. This dish is full of flavor and is made with cauliflower rice — for an extra cruciferous health boost. Enjoy.
Revolutionary Recipe: Indian Cauliflower Rice Bowl
Prep Time: 20 minutes
Cook Time: 10 minutes
Per Serving 504 calories
Fat 6 g
Carbs 89 g
Protein 29 g
Ingredients
Cauliflower rice base (below)
1 cup diced bell pepper, we used red and yellow
2 cup of beans (we used a mix of chick peas and black beans-use whatever you have on hand)
1 lime, zest and juice
1 tbsp cumin
2 tsp turmeric
2 tbsp fresh minced ginger
a few dashes or 1/8 tsp cayenne (depends on your heat preference)
Additional broth if needed to help wilt greens
3 cups of greens (it can be any kind, I used spinach, but have used kale and collards)
1/2 cup fresh cilantro (if you don't like it, use parsley)
Additional salt/pepper as desired
Nuts for serving: pistachios, slivered almonds, or pumpkin seeds
Instructions
After making the cauliflower rice pilaf (recipe below,) add in remaining ingredients listed above, except greens, cilantro, and nuts.
When finished, add greens, cilantro, and stir until greens are wilted (adding more water/broth if needed).
Serve and top with slivered almonds, pistachios (what we used), toasted pine nuts, or pumpkin seeds & enjoy!
Notes
Nutritional Benefits:

• Low in calories and no refined carbohydrates-great for those on a gluten free diet and diabetic friendly

• No added oils or fats, cholesterol free-great for heart health

• Great source of plant-based protein from beans and greens, important for repairing & rebuilding tissues

• High in anti-oxidants (vitamin C)

• High in Fiber-great for regulating blood pressure and blood sugar, as well as improving digestive health

• High in Calcium

• High In Vitamin C-168%; from cauliflower and peppers, great antioxidant that boosts immunity and decreases inflammation in the body

• Very high in potassium (beans are excellent source); 1076 mg, great for regulating blood pressure, kidney and nervous system function

• Good source of 46% Vitamin A, important for blood pressure regulation, eye, hair, skin, nail, and dental health

• Good source of plant-based iron, 20%, important for oxygenation of blood

• Good source of Calcium-10%, plant-based sources are better absorbed by the body, important for bone and dental health/strength
Cauliflower Rice Pilaf Recipe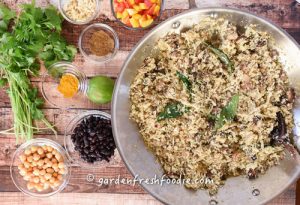 Ingredients:
2 cups of red onions – about 1 large (could use regular onions too)
3 cups (or more) of mushrooms, sliced
3 cups of cubed eggplant (could omit if you don't have any)
7 cups of shredded cauliflower (this is about half of a head of cauliflower-use the leftovers to roast up for salads!)
1 1/2 tbsp, about 3 garlic cloves, minced
1-2 cups of water or broth
1 1/2 tsp salt
1 stalk curry leaves (about 10 leaves)-alternatively, can use 1 large or 2 small bay leaves, remove before eating
fresh pepper to taste
Instructions:
Shred the cauliflower in a food processor using the shredding attachment.
Add onions to a hot pan, along with a little broth to help sauté (not too much, as you want the onions to caramelize slightly). Sauté onions until translucent, then add eggplant and mushrooms.
Add in cauliflower.
Saute until cauliflower softens, adding in broth/water as needed to prevent sticking, but just enough to soften the rice without getting too watery.
Add salt/pepper to taste.
Top with slivered almonds or toasted pine nuts.
Tell us in the comments what you think of this plant-based recipe because we'd love to know.