What are the best vegan cookbooks? These are some new favorites to help you create delicious, beautiful, nourishing meals everyone will enjoy.
When shopping for a new cookbook, how do you know which one to choose? When browsing online, at your local bookstore, or at the library, the variety of choices can be overwhelming.
Will the recipes be any good? If you spend your hard-earned money on this cookbook, will you really use it?
I understand. I've been following a whole-foods, plant-based diet for over 15 years. And I've been a nutrition and cooking instructor and food writer for over a decade.
I've read hundreds of cookbooks over the years, and I've watched plant-powered cooking develop into its own unique cuisine. I love cookbooks — but I'm very choosy.
Here are a few features I look for in a cookbook:
Foolproof, well-tested recipes that work (no crumbling veggie burgers, please)
Tasty, flavorful recipes (no bland sauces or weird flavors)
Easy-to-make recipes (not too many or hard to find ingredients)
Professional, full-color photos (I like to see what I'm going to end up with)
Health-promoting recipes that focus on whole plant foods
Nutrition information for each recipe including calories, fat, protein, carbohydrates, sugar, and other information per serving is a bonus
To help you create healthy meals you and your family will actually eat, I've put together a short list of my favorite new cookbooks that will help support your healthy lifestyle.
3 New Cookbooks to Help You Cook More Healthy, Delicious, Plant-Based Meals
1. The How Not to Die Cookbook: 100+ Recipes to Help Prevent and Reverse Disease by Dr. Michael Greger, MD, with Gene Stone, Recipes by Robin Robertson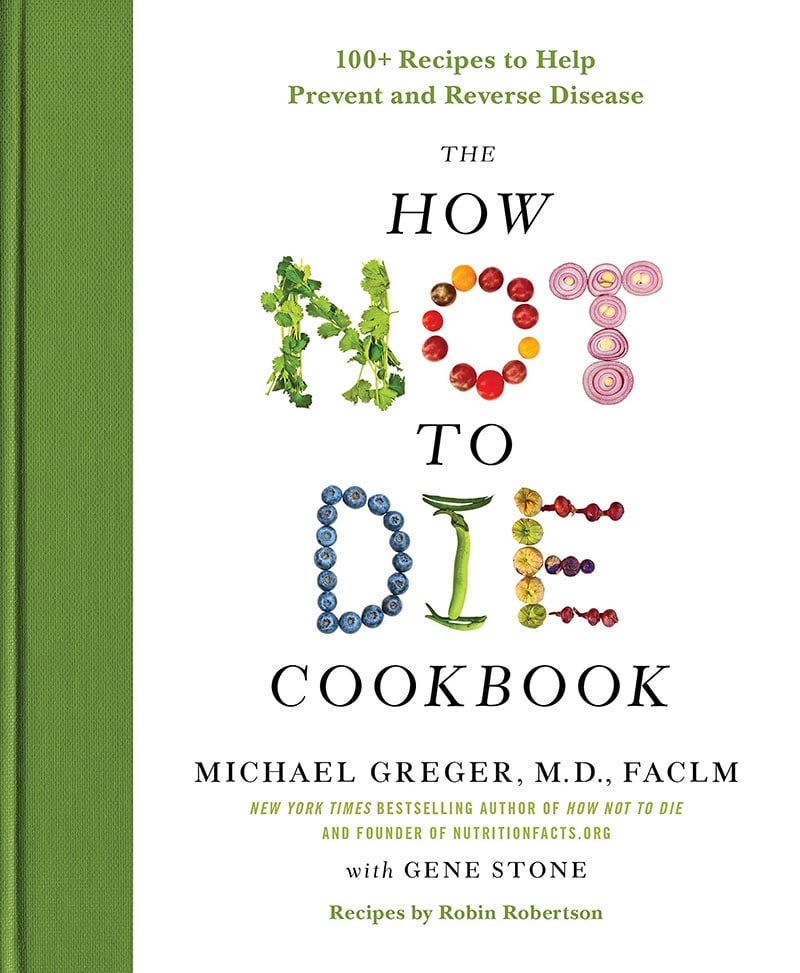 This is the cookbook I've been most excited about. I'm a big fan of Dr. Greger, and his nutrition hub, NutritionFacts.org. And this book did not disappoint.
I was delighted to learn that Robin Robertson wrote the recipes for this book. She is the author of more than 20 successful plant-based cookbooks, so I knew the recipes in Dr. Greger's cookbook would be excellent.
This new cookbook is a follow-up to Dr. Greger's first book, How Not to Die — a wildly popular and impeccably researched guide for anyone wanting to leverage a thriving life.
The recipes, with gorgeous, full-color photos, focus on Dr. Greger's daily dozen — the 12 foods he recommends eating every day, including beans, greens, berries, nuts and seeds, and more.
The recipes in this cookbook are free of meat, dairy, eggs, sugar, oil, and salt.
Recipes in the cookbook include healthy, easy-to-make versions of dishes you and your family will enjoy, including:
Mac & Cheese
Vegetable Unfried Rice
Stuffed Portobellos with Herbed Mushroom Gravy
Beet Burgers (that actually hold together)
See more and get The How Not to Die Cookbook here.
And here's a sneak peak of the cookbook:
2. The First Mess Cookbook: Vibrant Plant-Based Recipes to Eat Well Through the Seasons by Laura Wright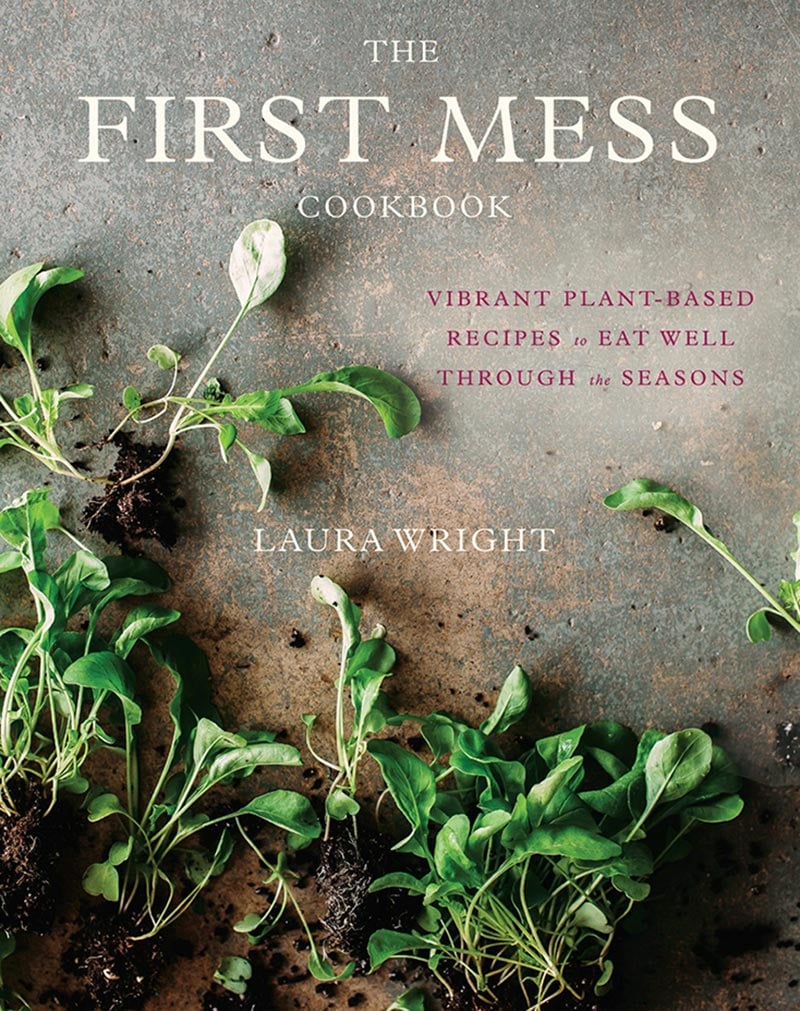 The debut cookbook from the creator of The First Mess blog features seasonal, plant-based recipes and stunning photography.
Laura Wright grew up working at her family's local food market. And then she went to culinary school before starting her popular food blog.
Her recipes are produce-centered, creative, and full of flavor. Recipes include the following and more:
Protein Pancakes (that don't call for protein powder)
Thai-ish Cabbage Salad
Roasted Eggplant and Olive Bolognese
Earl Grey and Vanilla Bean Tiramisu
All the recipes are packed with both nutrients and flavor.
See more and get the The First Mess Cookbook here.
3. Vegan Richa's Everyday Kitchen: Epic Anytime Recipes with a World of Flavor by Richa Hingle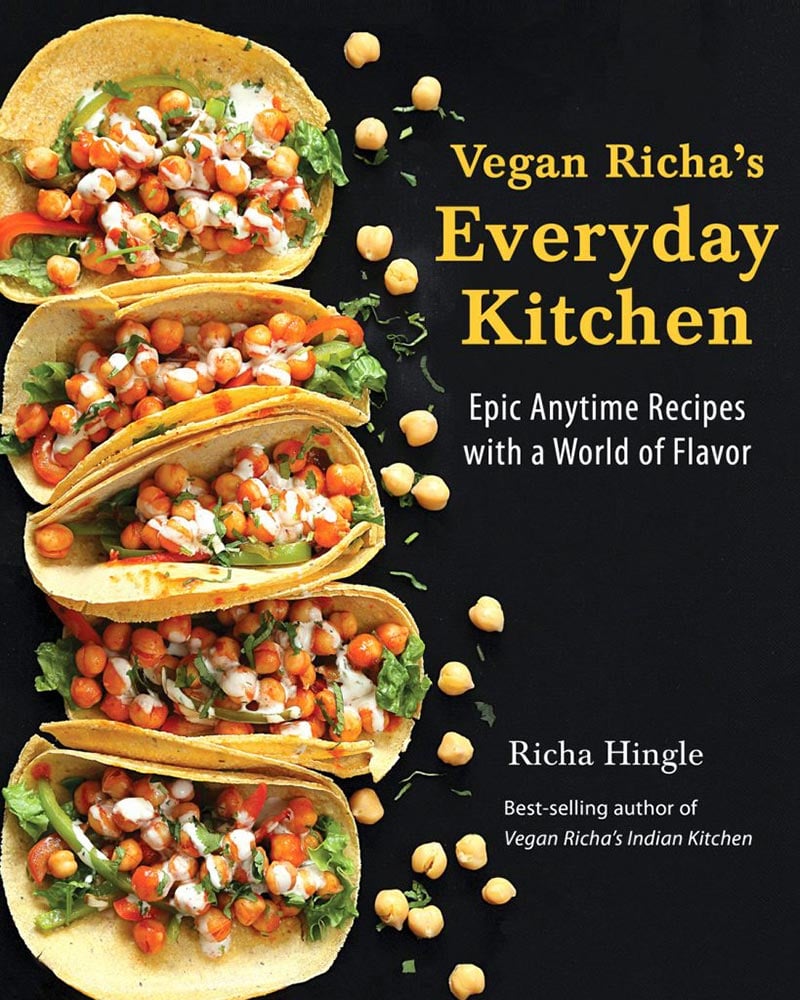 This is the second cookbook from the popular blogger known as Vegan Richa, and it's a keeper.
Though Richa specializes in Indian cuisine, you'll find easy-to-make favorites from around the world, including those listed below, in this everyday cookbook.
One-Pot Peanut Butter Noodles
Chickpea Jackfruit Burgers
Alfredo Spinach Pizza
Tiramisu Fudge Bars
If you're concerned that plant-based food might lack flavor — think of Vegan Richa. Her recipes will change your mind and your menu in the best possible way.
See more and get Vegan Richa's Everyday Kitchen cookbook here.
Now, we want to hear from you.
What are your favorite health-supportive, plant-based cookbooks?
How do you choose the best vegan cookbooks?
Tell us what cookbooks you use to create healthy, plant-based meals.
And if you're inspired, please LIKE and SHARE this article. Together, we can work for healthy, ethical, sustainable food for all!