These healthy vegan winter soup recipes are delicious, nutritious, easy to make, and can be enjoyed by everyone. Whether you're looking for immune-boosting soup ideas, detox soup recipes, or something to comfort and nourish you, these plant-based soups are sure to please.
Mmm, soup — the perfect nourishing meal for chilly days. Soup can be a soothing and comforting way to get through the long winter months. But finding healthy soup ideas that you and your family enjoy can be challenging.
The healthy vegan winter soup recipes listed below will warm you up on a blustery day, and they'll also boost your immune system during cold and flu season.
Each recipe is made from whole plant foods and features a rainbow of vegetables, which is important for optimal health. These recipes can be enjoyed by everyone, whether they're vegan or not — and they won't miss the animal products!
Some of these soup ideas contain protein and fiber-rich beans, while others feature antioxidant-rich spices. Each one is full of flavor. Which one will you try first?
1) An Alkalizing Green Soup to Help You Detox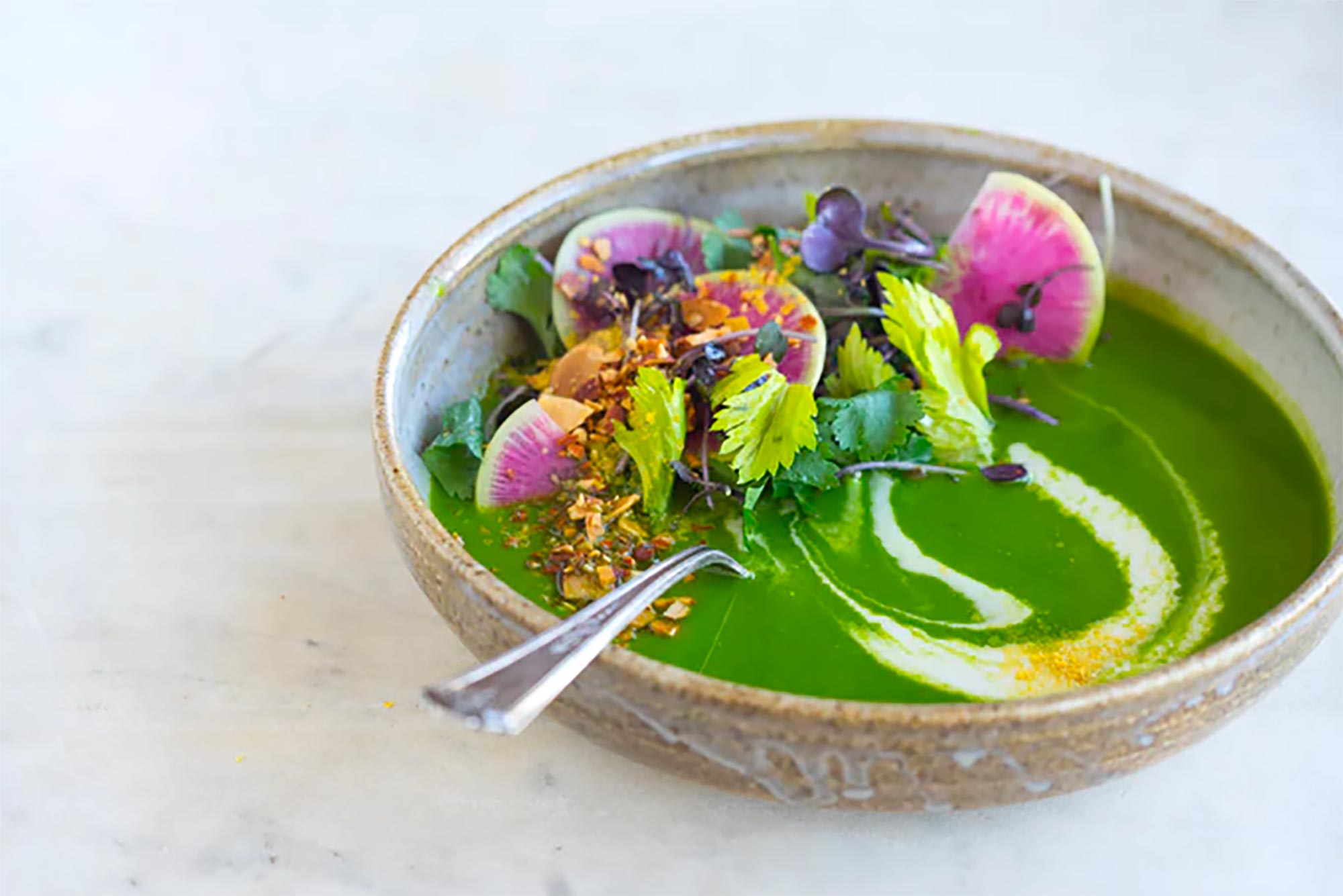 Green soup is the perfect cleansing food for January after a holiday season of indulgences.
This gorgeous, healing detox soup recipe comes from the brilliant recipe creator and photographer Heidi Swanson.
Anna Thomas, the author of Love Soup, is the creator of the original green soup — a basic, flavorful green elixir you can use as a template to create your own version, using kale, collard greens, chard, spinach, or whatever leafy greens you have on hand.
Get the recipe for this Ten Ingredient Alkalizing Green Soup here. (via Heidi Swanson at 101 Cookbooks)
2) A Comforting Meatless "Chicken Noodle Soup" with A Surprising Ingredient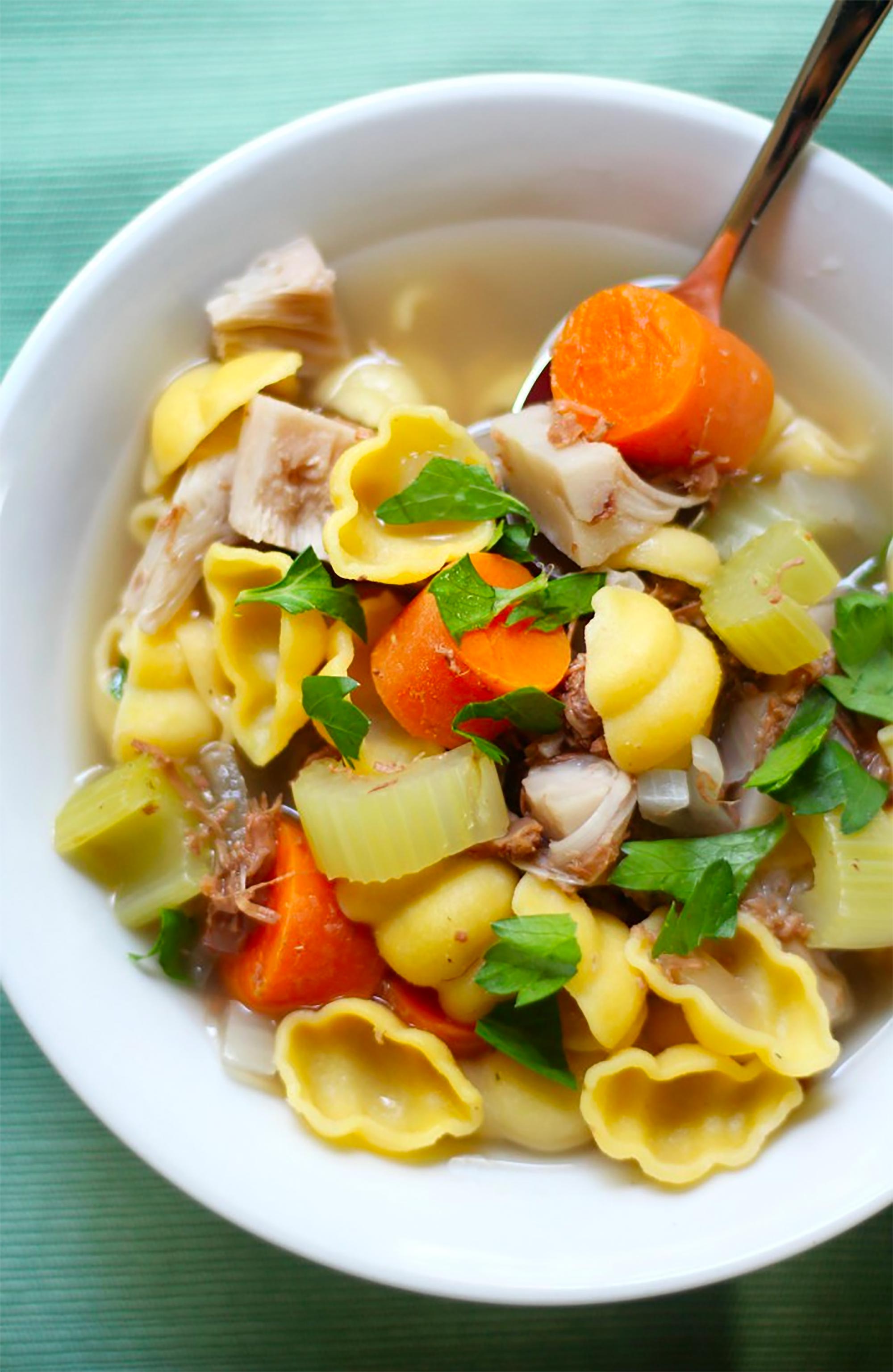 This genius recipe is full of familiar flavors and uses a surprising ingredient to stand in for the chicken. Can you guess what it is?
Get the recipe for Vegan + Gluten-Free Chicken Noodle Soup (Allergy-Free, No Beans) here. (via Rebecca at Strength & Sunshine)
3) An Anti-Inflammatory Detox Soup You Can Enjoy Many Ways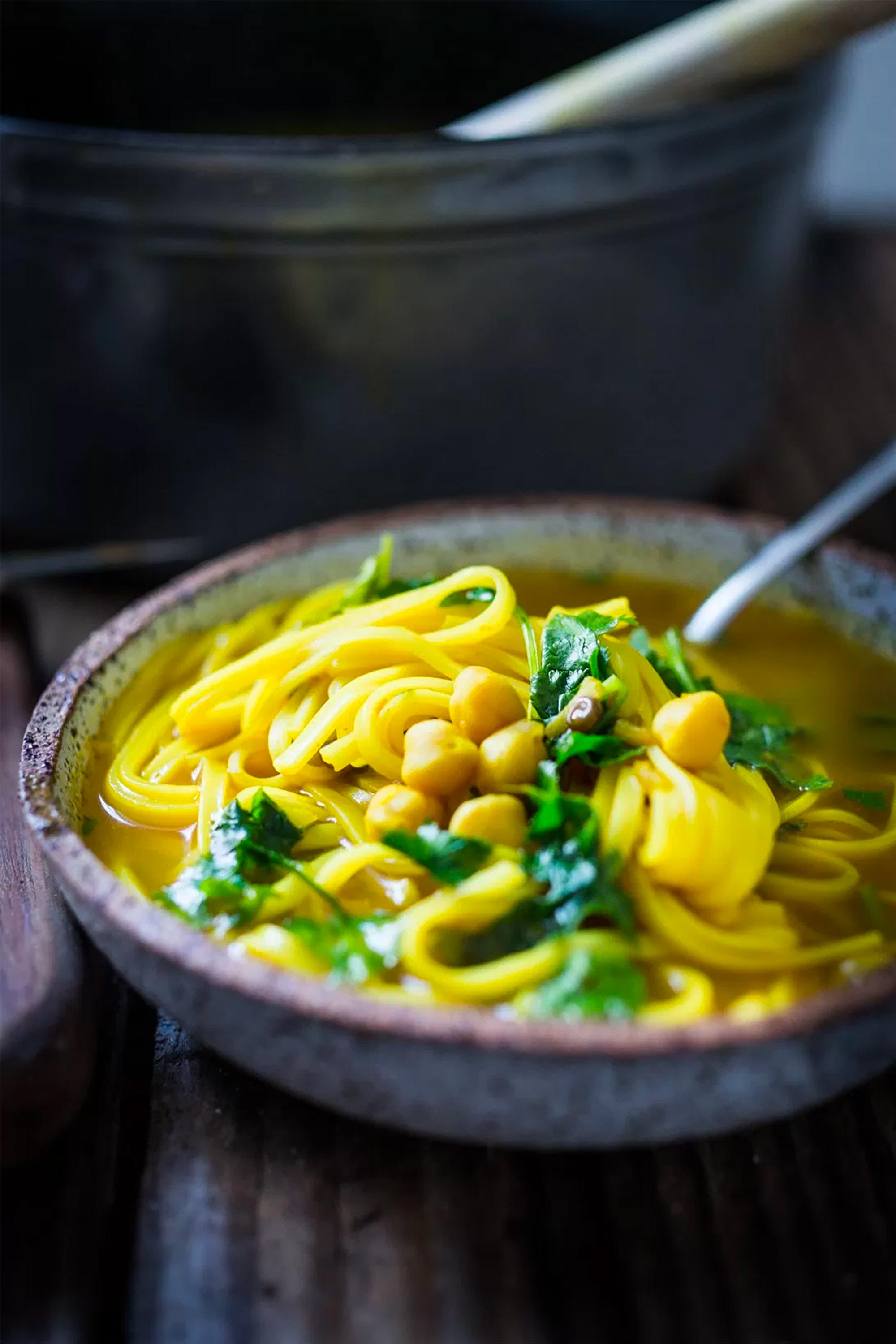 This healing soup is filled with the anti-inflammatory spice turmeric, and the recipe is a template you can make a myriad of ways.
You get two distinct variations for this turmeric-based broth — Chickpea Cauliflower Kale Noodle and Middle Eastern Minestrone. It's hard to choose which one to make first!
Get the recipe for Turmeric Broth Detox Soup here. (via Sylvia at Feasting at Home)
4) A Flavorful, Filling Winter Soup That Makes a Full Meal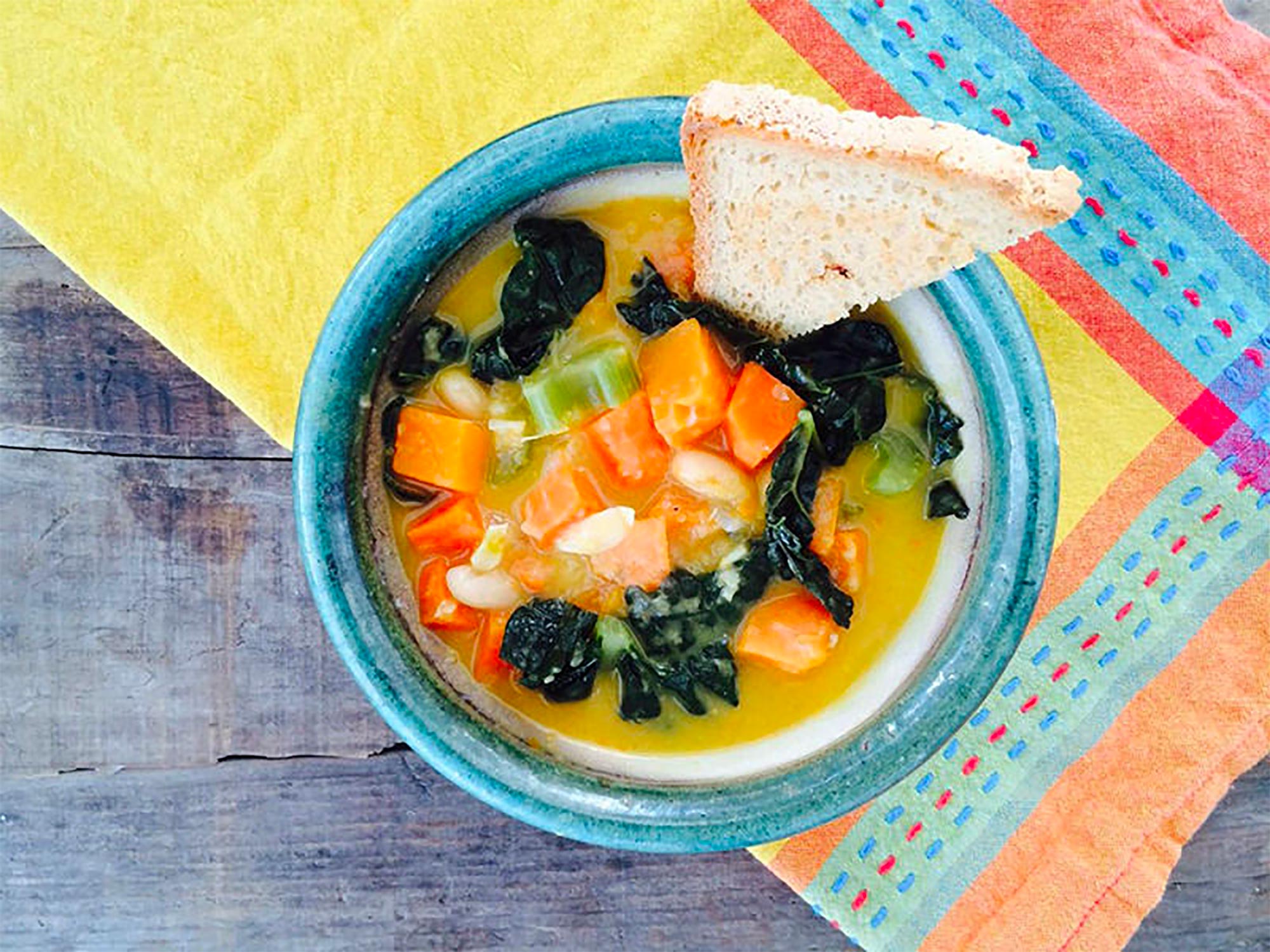 This chunky, nutrient-rich soup combines three wintertime superfoods — beans, greens, and sweet potatoes — into a hearty and easy to make meal. Serve with a crusty bread for a satisfying wintertime meal that won't weigh you down.
If you want, you can easily leave out the oil and use water or vegetable broth to cook the veggies instead.
Get the recipe for Tuscan Kale & Cannellini Soup here. (via Maria Marlowe)
5) A Vegan Soup Recipe for Beefless Stew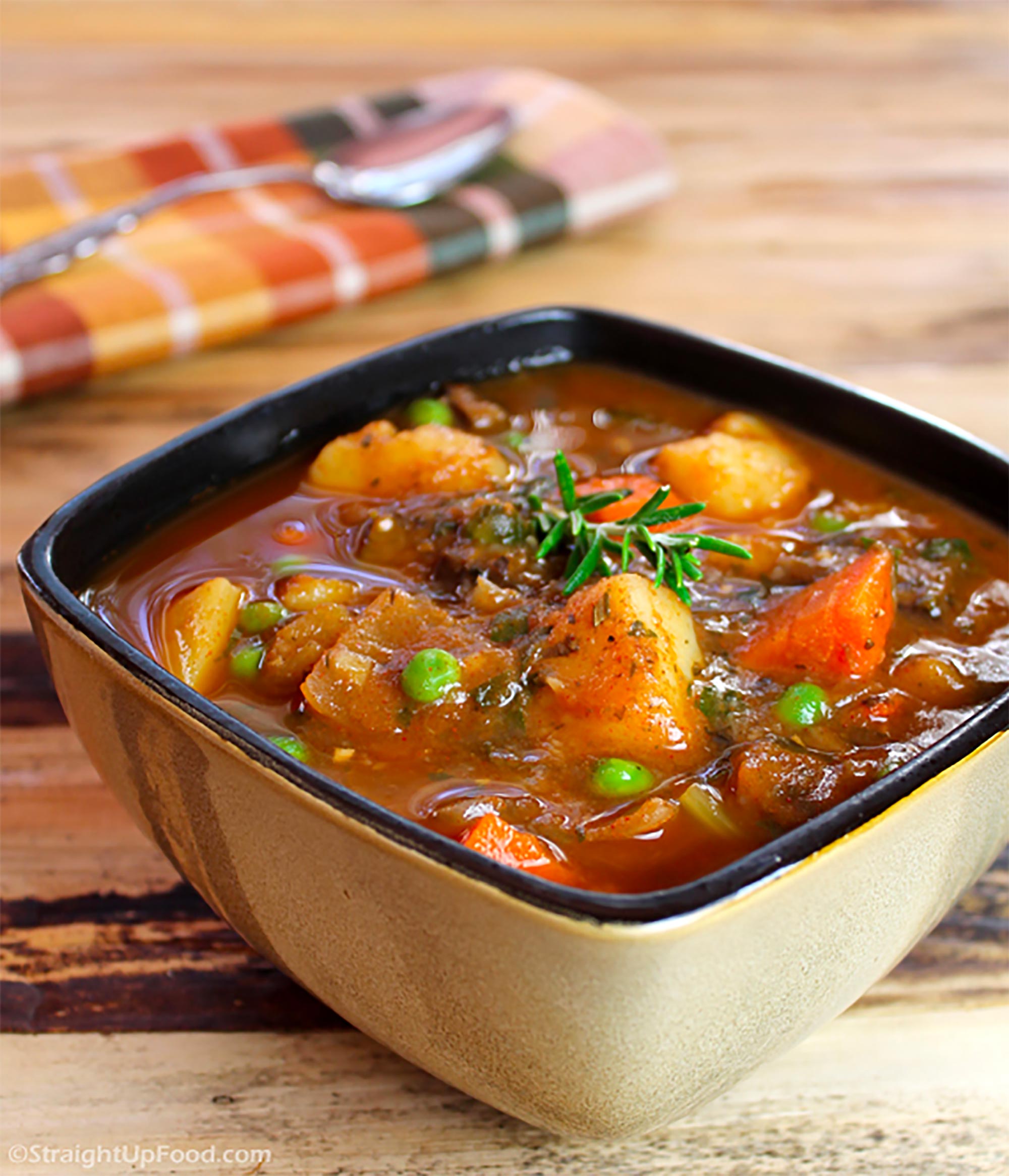 This super-healthy stew is rich and hearty, yet light and healthy. With substantial soups like this, it's easy to go meatless on Monday or any day.
Get the recipe for Beefless Stew here. (via Cathy Fisher at Straight Up Food)
6) An Indian-Spiced Cauliflower Lentil Stew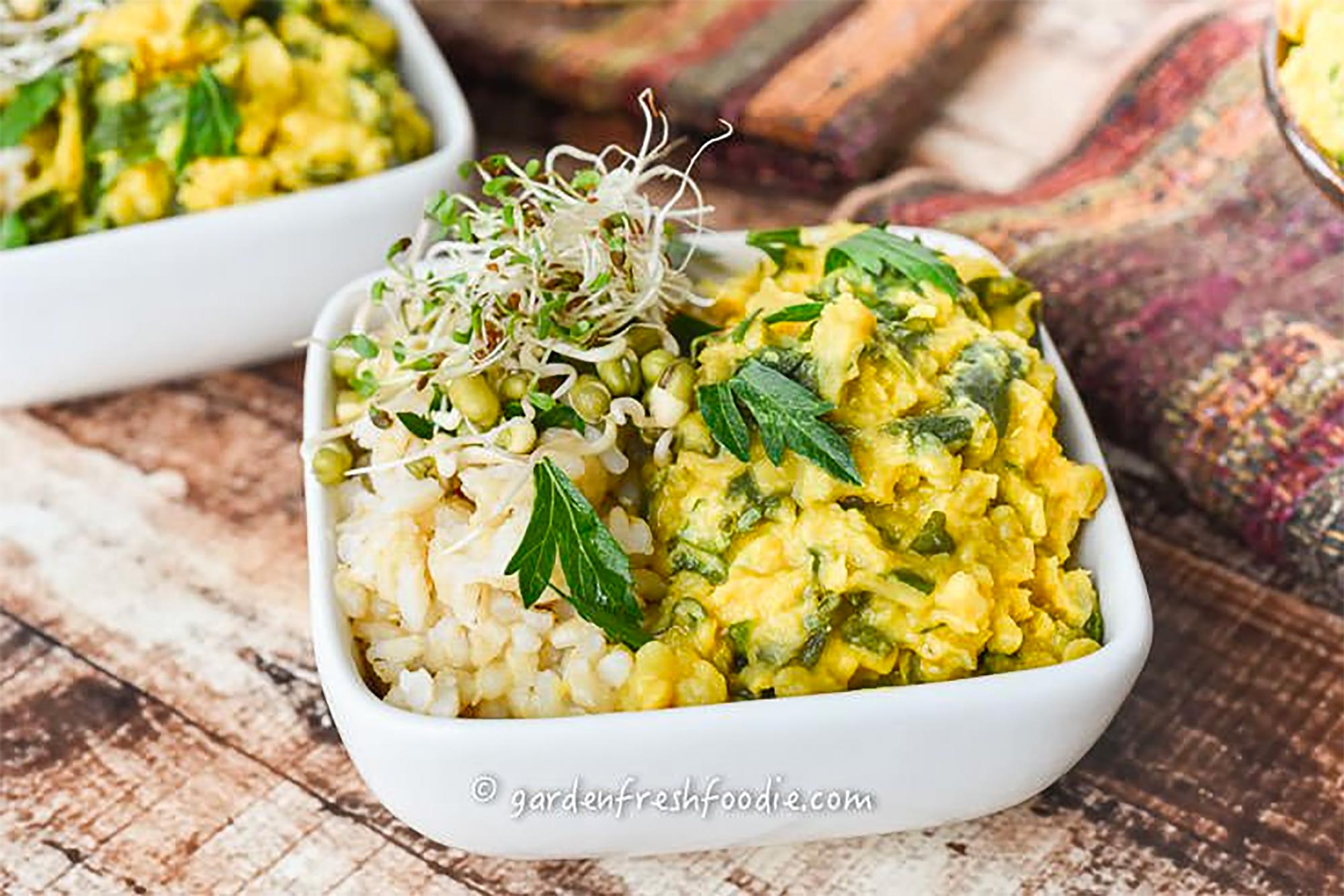 This hearty and aromatic stew is a one-bowl meal. Flavored with garlic, ginger, coriander, and turmeric, and laced with rich, fragrant coconut milk — this nourishing bowl of lentils, kale, and tender cauliflower will help you feel your best.
Get the recipe for Indian Cauliflower Lentil Stew here. (via Jessica at Garden Fresh Foodie)
7) A Beautiful and Easy Black Bean Soup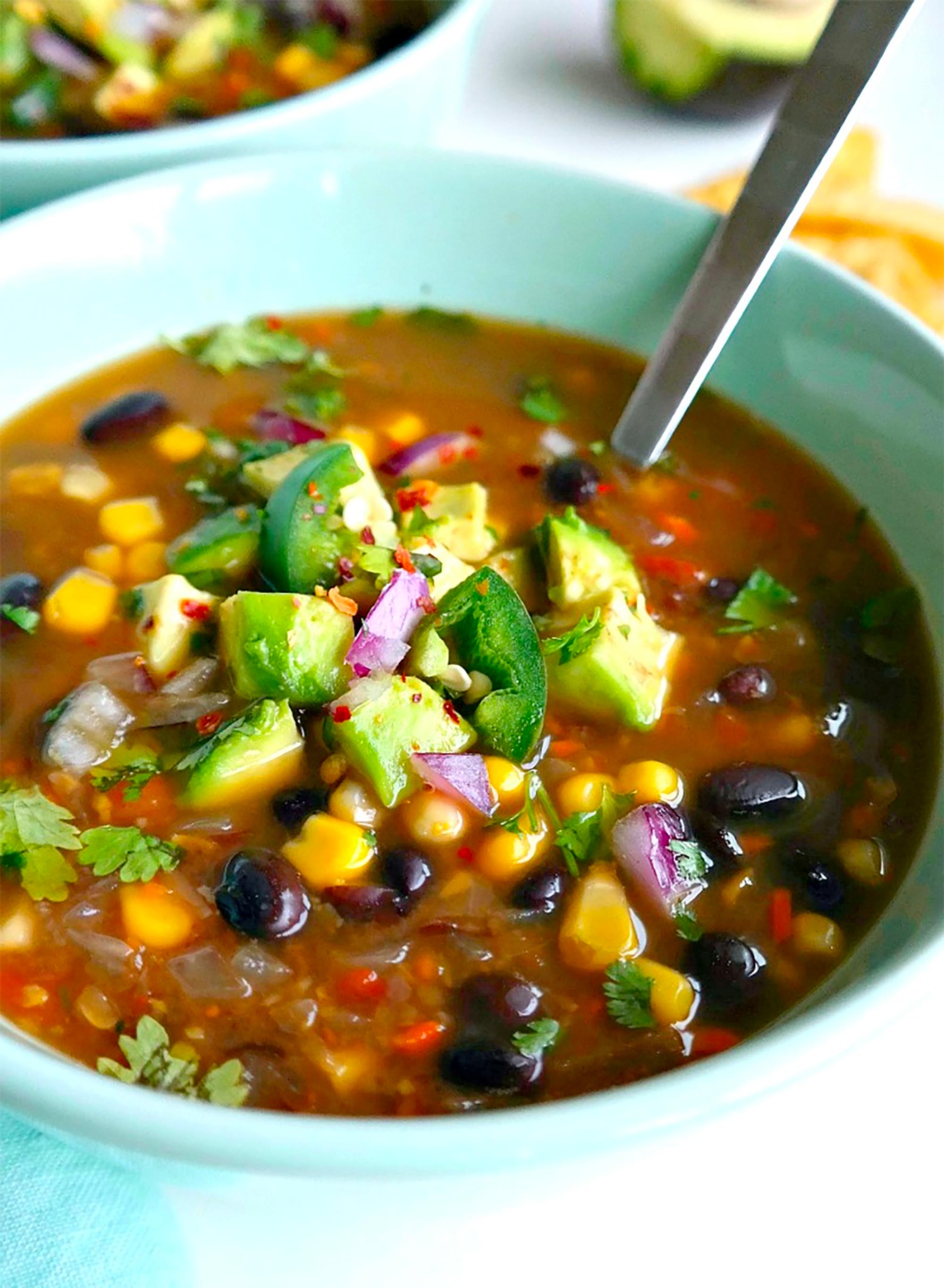 Everyone needs a recipe for a quick and easy black bean soup — and this one is great.
Get the recipe for Spicy Vegan Black Bean soup here. (via Shannon at The Glowing Fridge)
8) A Decadent Plant-Based Broccoli "Cheese" Soup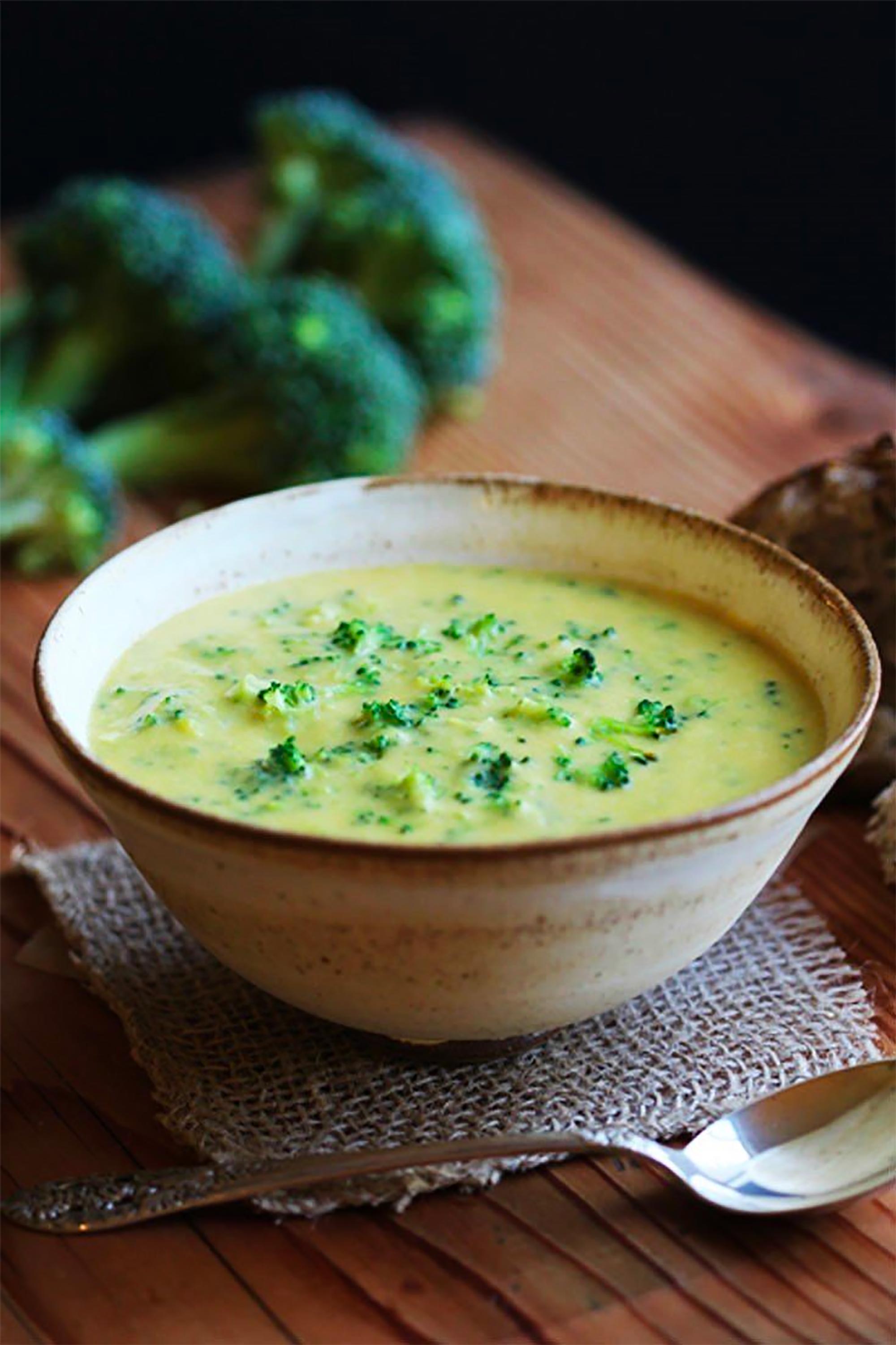 This rich, creamy soup is so decadent you'd never know it's made from whole plant foods. The base of vegetables and raw cashews creates a depth of flavor, as well as a luxurious, silky, smooth texture.
This soup might even convert broccoli haters to broccoli lovers!
Get the recipe for Vegan Broccoli Cheese Soup here. (via Emily Honeycutt at Deliciously Green)
9) A Colorful Indian Soup You Can Make in 30 Minutes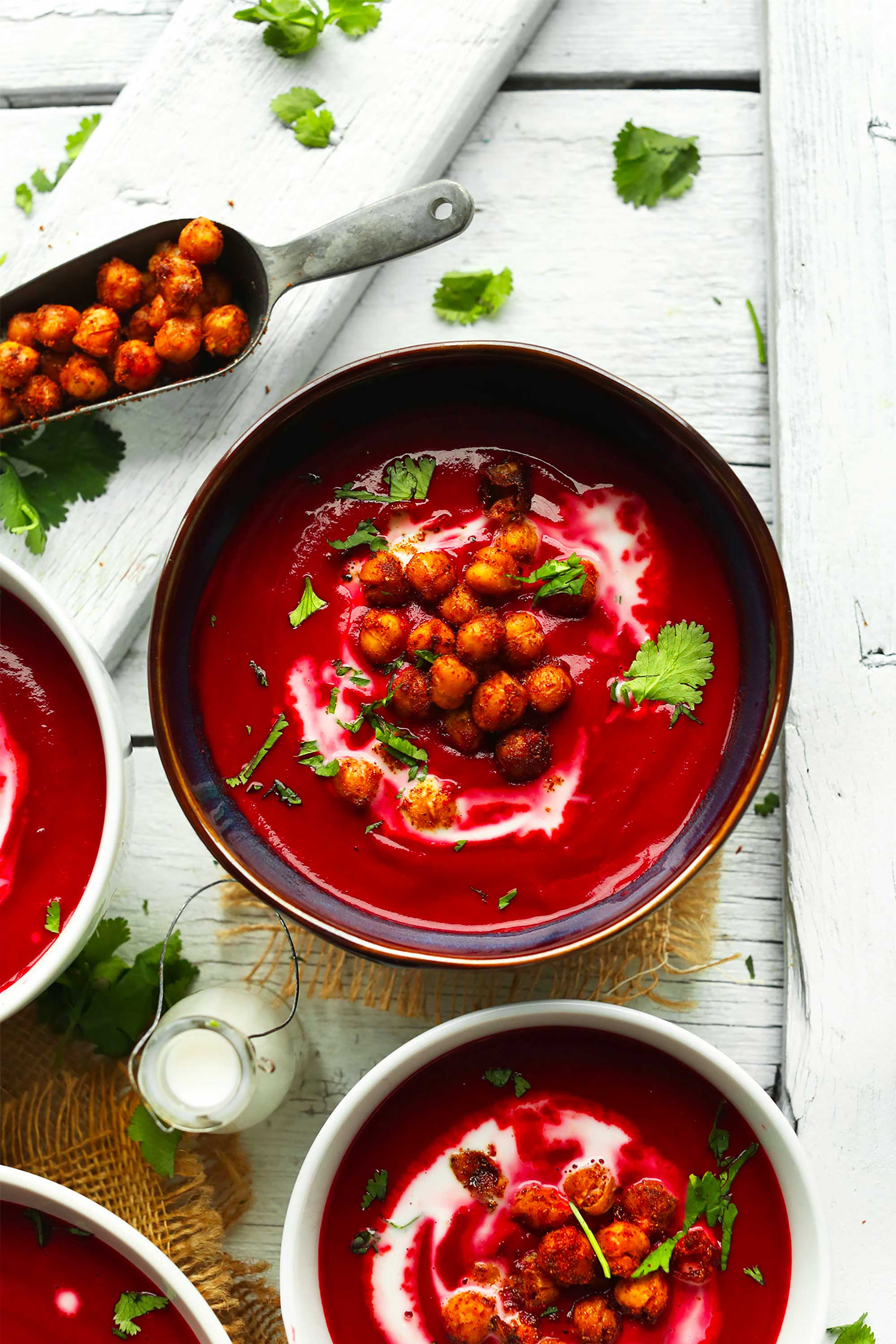 This brilliant-hued and Indian-inspired creamy soup is packed with both flavor and nutrients. Beets have numerous health benefits, from lowering blood pressure and enhancing virility to improving exercise performance and reducing the risk of infections.
When you enjoy a bowl of this ruby-red soup, you don't have to choose between flavor and health — you get both in one delicious bowl.
The recipe contains coconut oil and coconut sugar, but you can leave these ingredients out. If you're oil-free, in order to help the spices stick to the chickpeas and brown, you can drain the beans without rinsing them — allowing the bean cooking liquid (also known as aquafaba) to cling to the beans.
Get the recipe for Curried Beet Soup with Tandoori Chickpeas here. (via Dana at Minimalist Baker)
10) A Filling, Immune-Boosting Soup Bowl Made with Buckwheat Soba Noodles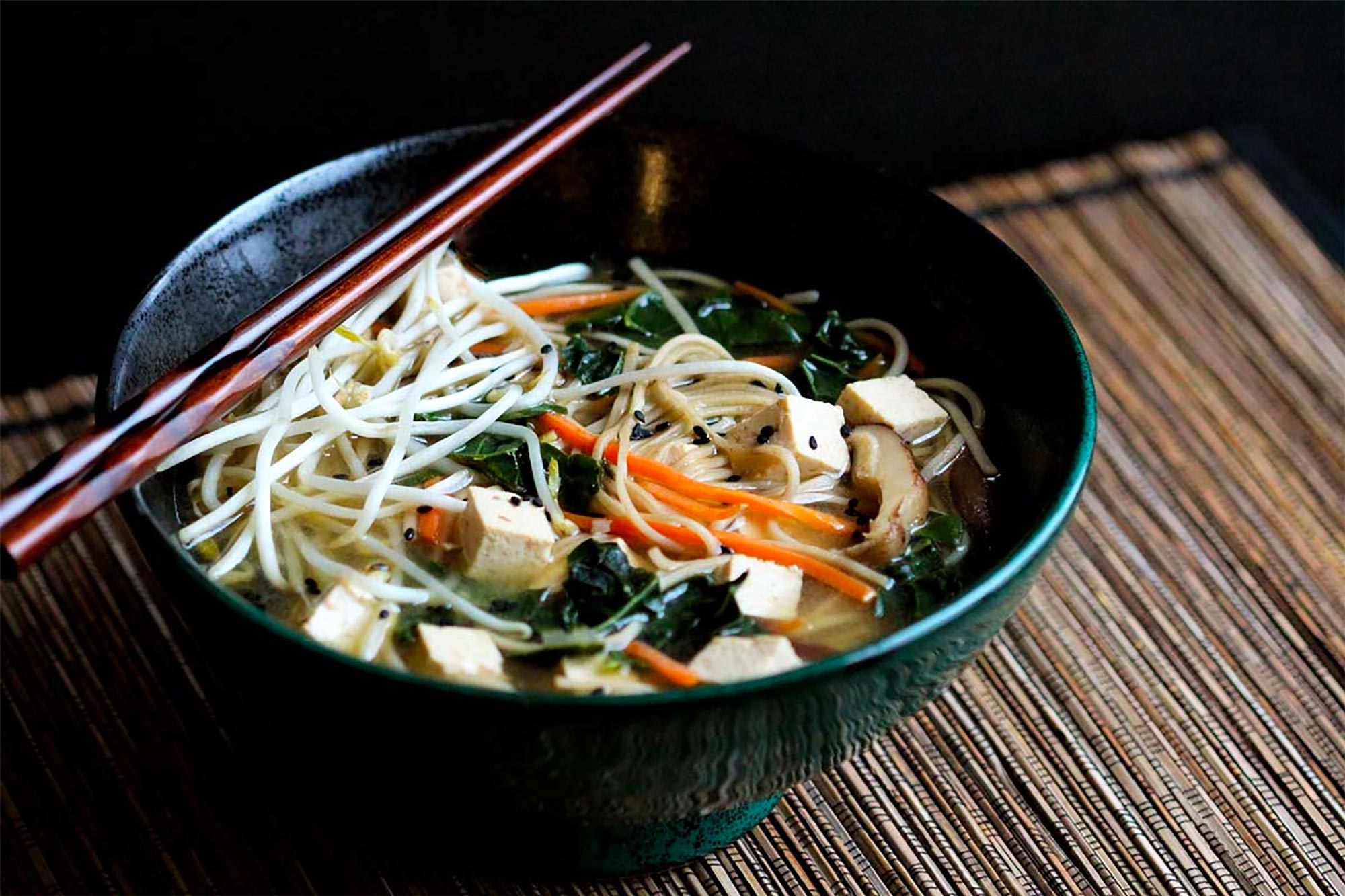 This rich, savory noodle bowl is full of flavor, texture, and color, and takes less than 30 minutes to make. A base of ginger and sesame-scented miso broth is filled with buckwheat noodles, tofu, kale, and carrots, and is topped with fresh sprouts for a little crunch.
It's the perfect nourishing meal to make when you're feeling run down.
Get the recipe for Miso Soba Bowl here. (via Emily Honeycutt at Deliciously Green!)
11) A Quick and Hearty Minestrone Soup That May Become One of Your Staple Winter Meals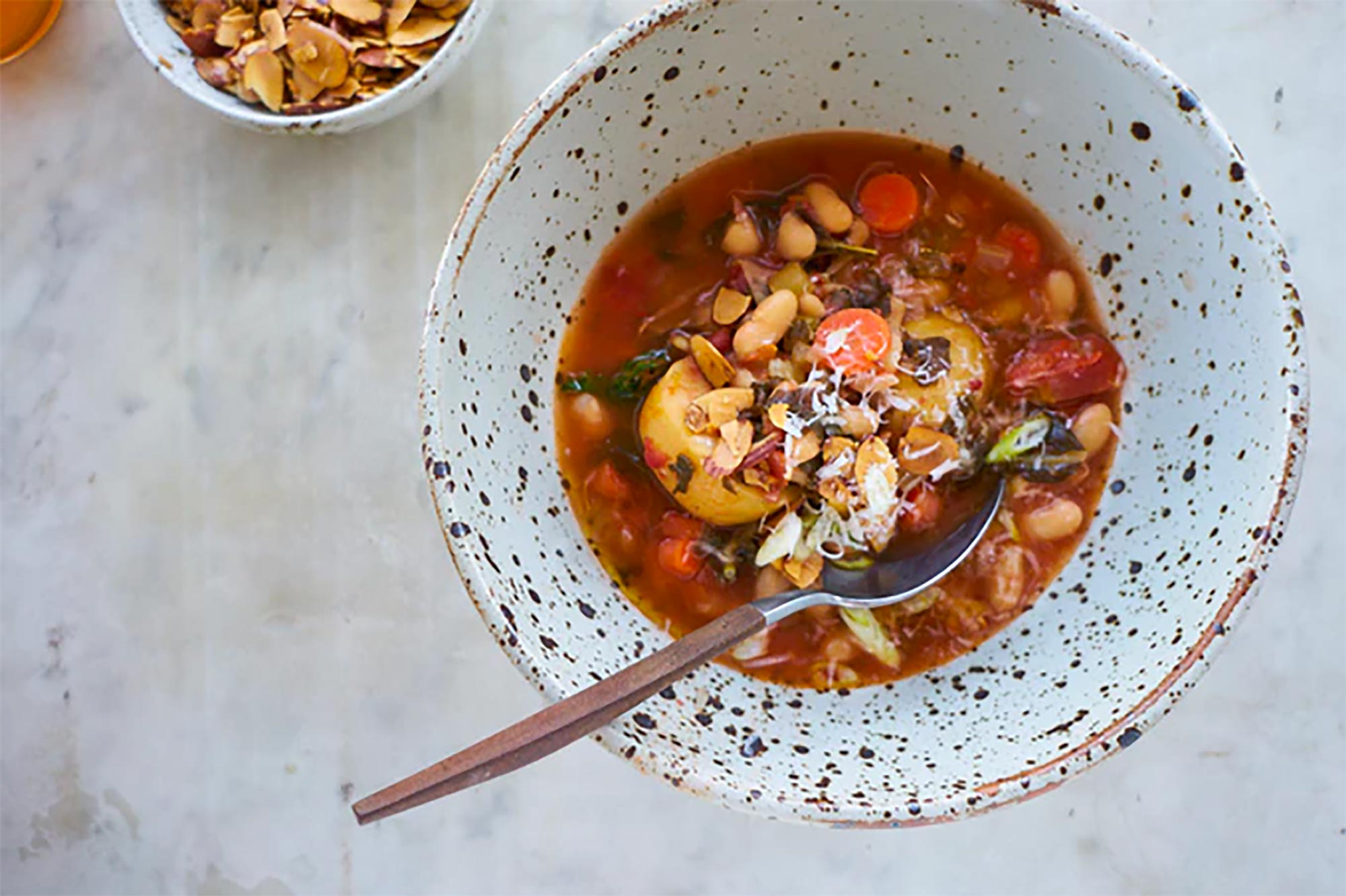 Instant Pots are popular right now and for good reason. The multi-function appliance is a pressure cooker, slower, and rice cooker in one.
This minestrone soup has a slow-cooked flavor, but you can make it in less than an hour, using dried beans.
This recipe contains parmesan as an optional garnish, but you can also use this nut-based version to keep it plant-based. Or you may be able to find a good plant-based cheese in your local store, such as Violife's Just Like Parmesan. You can also substitute the oil in the recipe with water or broth if you want to keep the recipe oil-free.
Get the recipe for Instant Pot Minestrone Soup here. (via Heidi Swanson at 101 Cookbooks)
What are your favorite healthy vegan winter soup recipes?
We want to hear from you in the comments!
Which of these soups will you try first?
What are your favorite healthy vegan winter soup recipes?
What soups do you eat to detox and boost your immune system?
And if you're inspired, please LIKE and SHARE this article. Together, we can work for healthy, ethical, sustainable food for all!