These healthy holiday recipes and meal-planning tips will bring all your friends and family together — whether they're vegetarian, flexitarian, or none of the above! They're perfect for all kinds of holidays, including Christmas and other celebratory gatherings.
Ahh, the holidays — a time for fun, festivities, and… stress? The holidays can, and should, be a time to focus on what we have in common and what we want to celebrate together. But what happens when our friends and family members have different diets and food preferences?
What if you're vegan? Or if you eat a whole food, plant-based diet free of processed food, oil, and sugar, and your friend is gluten-free, your sister is paleo, your nephew is allergic to nuts, and your in-laws eat the standard American diet?
It's enough to make you want to skip the holidays entirely. But, don't despair.
You can bring people together over a shared meal and shared values — whether you practice Christmas, Hanukkah, Kwanzaa, or just want to share time with friends and family.
6 Holiday Meal-Planning Tips for Creating A Holiday Meal That Brings Everyone Together
Spending time planning your holiday meal is critical if you want your gathering to be a success. And if even the thought of hosting a meal scares you, planning well in advance will ease your stress and create a better experience for everyone.
1) When planning your holiday menu, consider who will be attending.
Above all, always consider your guests' tastes, lifestyles, and allergies. And if you don't know, ask before the gathering so you can prepare.
2) You don't have to please everyone, especially if hosting a large crowd of differing diets.
Most importantly, you should take care of yourself and your health and wellbeing. If you are on a specific diet or weight-loss program for a health condition, share this information and ask your friends and family for support.
And remember, it's always easier to add something to a dish than to take it out. So, if someone is allergic to nuts or gluten, try to make a meal that is nut or gluten-free and also create a dish with the missing ingredient on the side.
3) Consider hosting a potluck — after soliciting and sharing everyone's dietary needs in advance.
Making your gathering a potluck can be an excellent choice if you're hosting a large crowd with diverse diets. This way, everyone can have options they can eat and enjoy.
You can gather everyone's dietary needs and preferences, and include those in the invitation. Ask attendees to add what they plan to make to a shared list. And then, ask your invitees to post a note on the dish they bring listing the ingredients and also noting if the recipe doesn't meet the dietary needs of someone who will be attending.
4) Remember, you don't have to eat everything on the menu.
For example, if you're vegan, and your host serves turkey, you don't need to eat it. If you're allergic to gluten, don't eat the stuffing. And importantly, if you're the person who made the turkey or the stuffing, don't allow your feelings to get hurt if your vegan or gluten-free friend or relative doesn't eat the food you made. Each person needs to be concerned about their health and wellness, so it's not an insult to your cooking.
5) Building bonds with family by sharing a meal can be as health-promoting as eating a kale salad.
The holidays may be a good time to relax your strict adherence to your diet slightly — without compromising your ethics or risking your health. For example, if you typically avoid oil or certain processed foods, a holiday meal with family may be a time when you want to relax your rules a little if you can do so without undermining your well-being or your integrity.
Overall, think about how you can be flexible and accommodating to your friends and family, rather than how they can be accommodating to you. This doesn't mean you have to compromise your values or your health. It just means that holidays are an excellent time to be particularly thoughtful and generous.
6) Think about topics you can discuss that may unite, rather than divide.
Here are some ideas you can use for your holiday event:
Ask questions about people's personal lives.
Talk about hobbies and interests.
Ask about the best things that have happened in the last year, or about hopes and dreams for the year to come.
Invite everyone to join in a gratitude circle.
Ask for recommendations for favorite TV shows, movies, music, and books.
It might be better to stay away from topics, like politics and religion, which tend to be divisive.
Avoid criticizing or preaching.
When possible, focus on gratitude, humility, and being thankful for having food to share, as well as things like family, friends, and a home.
Ideas to Consider for Easy, Stress-Free Holiday Meal Planning
Send invitations early. People can get very busy around the holidays.
Prepare the menu at least a week in advance.
Plan a schedule for when to serve food.
Do your grocery shopping a few days before the gathering. Be sure you have all the ingredients you need, so you're not rushing at the last minute.
Clean the house before the gathering.
Set the table early — perhaps even the day before.
If you don't have anyone wanting support in recovery, you may want to serve both alcohol and alcohol-free beverages. A glass of wine with dinner can help the meal pass more smoothly for those who are used to it. But if you do offer it, be sure to include festive alcohol-free drinks for kids, drivers, and those who prefer not to imbibe.
Choose festive and relaxing background music ahead of time.
Delegate tasks, including grocery shopping, chopping and prepping food, dishes, and clean-up, and setting the table, to willing friends and family members. Make it part of the experience that everyone shares.
Healthy Holiday Recipes That Will Please Everyone from Beginning to End
Whether you're looking for healthy holiday recipes to create a memorable and successful healthy Christmas dinner or you practice any other holiday, these ideas will help you create a gathering everyone can enjoy.
Planning a variety of dishes for any holiday gathering with a lot of people is a great idea. But if you're trying out new recipes, like the ones below, it's best to make them at least once before the event, so you can be sure you like the dish and can make any tweaks.
Festive Beverages Ideas
Pear Cranberry Sparklers from Zoe Singer at Epicurious
This recipe is pretty and has both an alcoholic and an alcohol-free version. One of the ingredients is pear nectar, which sometimes contains refined sugar. Look for pear nectars sweetened with fruit juices and fruit purées.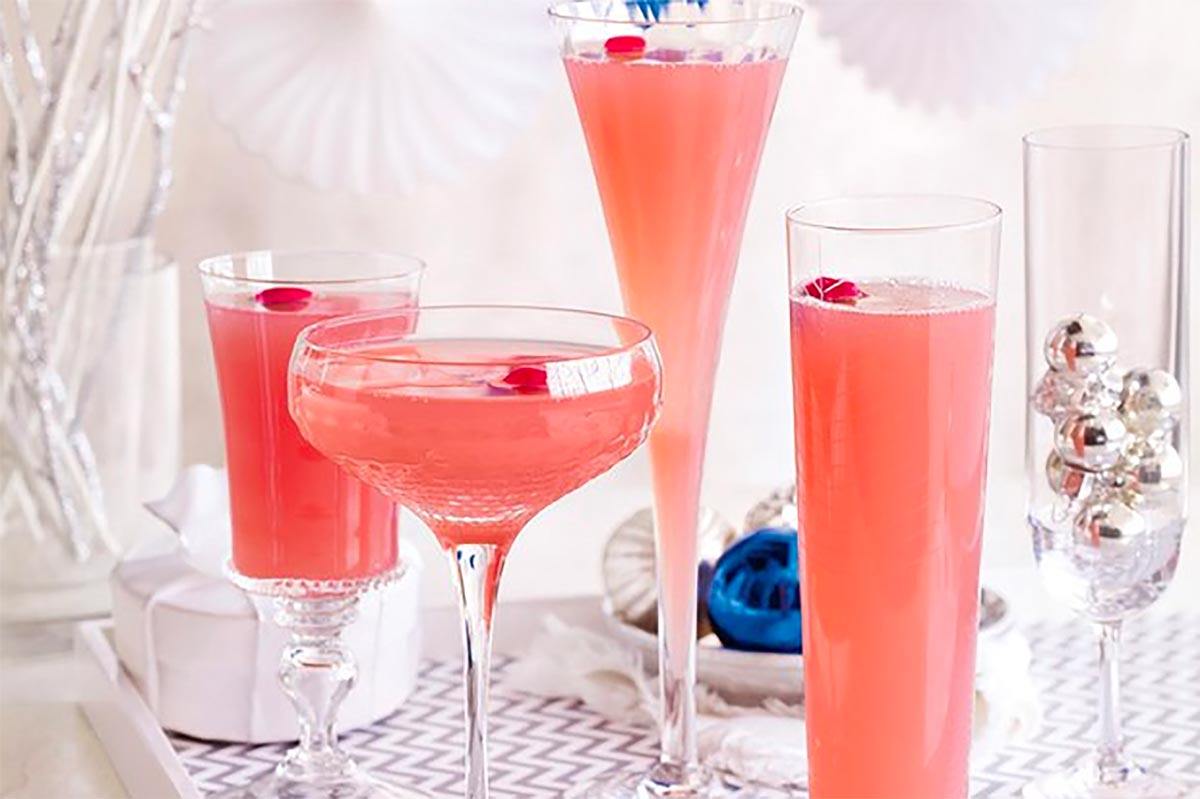 Vegan Turmeric Eggnog from Abra at Abra's Kitchen (Vegan, Gluten-free, Naturally-sweetened, Paleo)
This lovely golden holiday beverage is alcohol-free, is perfumed with turmeric and spices, and naturally sweetened with dates. If you want, you can make it oil-free by omitting the coconut oil.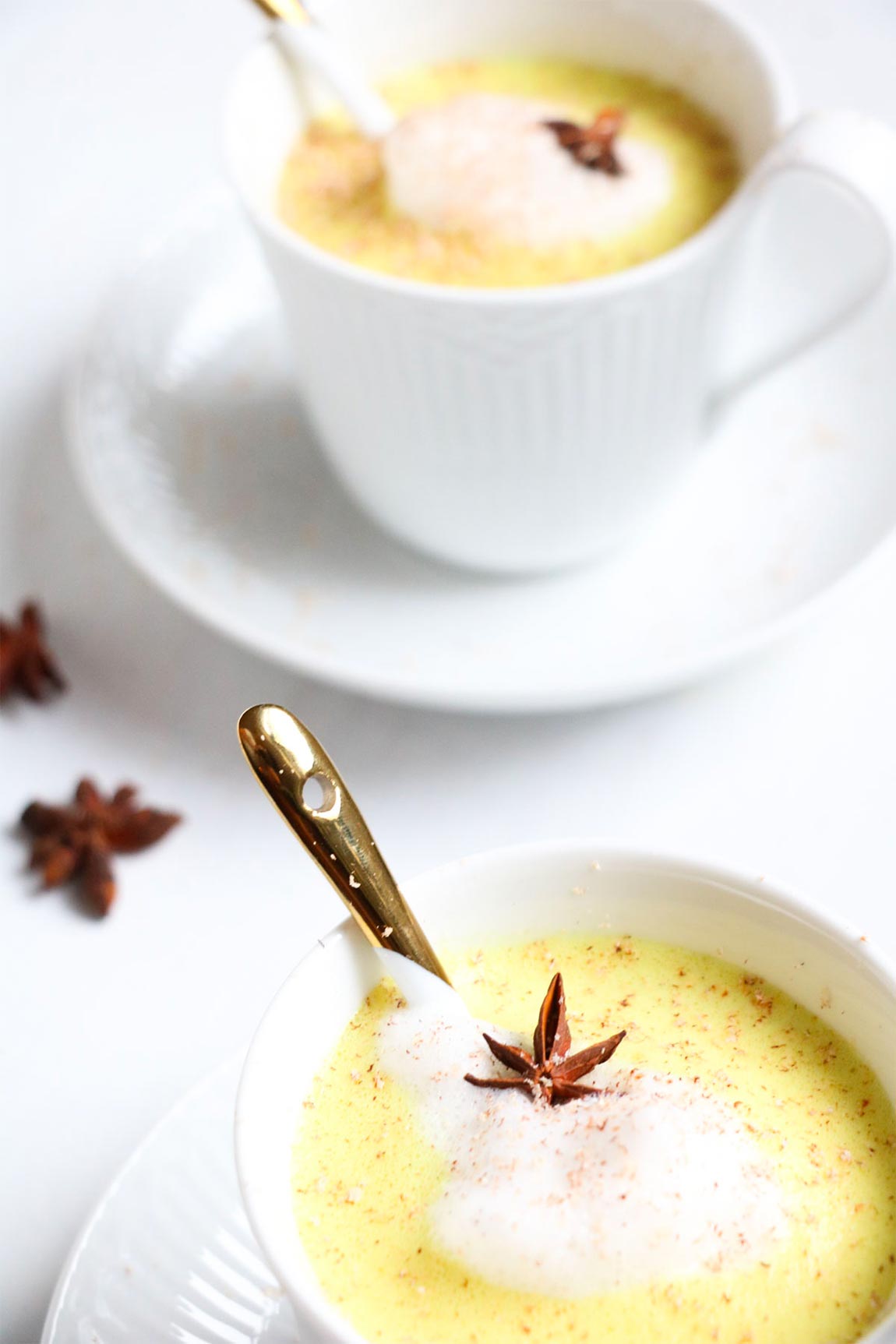 Seasonal Starter Ideas
These healthy holiday recipes for appetizers are easy to make and great to serve as your guests arrive.
Olive Tapenade from Sarah at Fried Dandelions (Vegan, Gluten-free, Nut-free, Sugar-free, Paleo)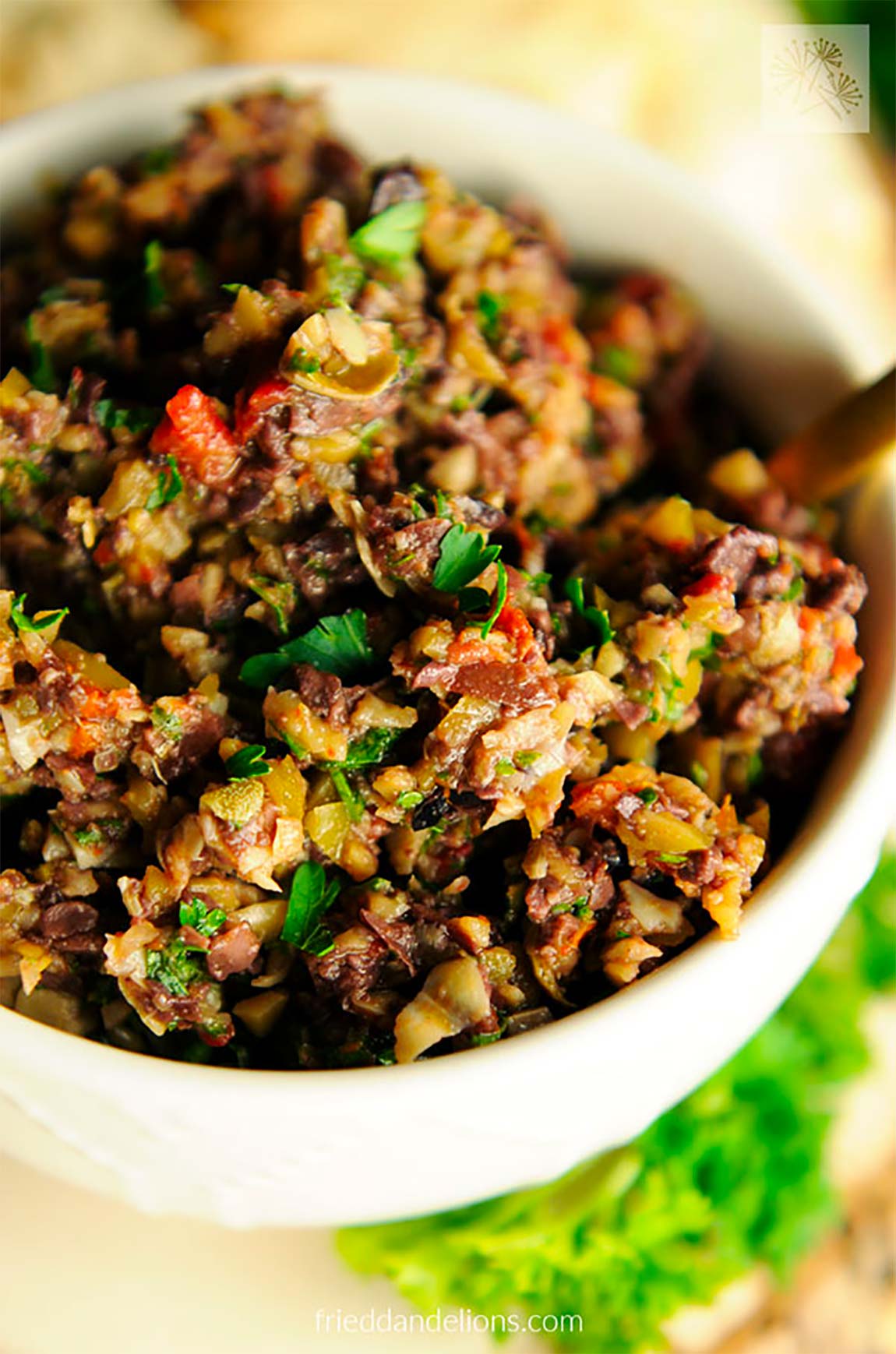 Vegan Pesto Stuffed Mushrooms from Megan at Detoxinista (Vegan, Gluten-free, Sugar-free, Oil-free, Paleo)
These flavor-packed, savory little bites are a delicious way to begin the holiday season. They do contain nuts, so those with allergies should avoid eating them.
Healthy Spinach Artichoke Dip from SIXyKids (Vegan, Gluten-free, Sugar-free, Oil-free, Paleo)
This healthier version of traditional spinach artichoke dip is sure to please. Serve with whole-grain pretzels, raw vegetables or both.
Wintry Soup and Salad Ideas
Shredded Brussels Sprouts Salad with Dried Cranberries and Cashews from Susan at Fat-Free Vegan Kitchen (Vegan, Gluten-free, Oil-free)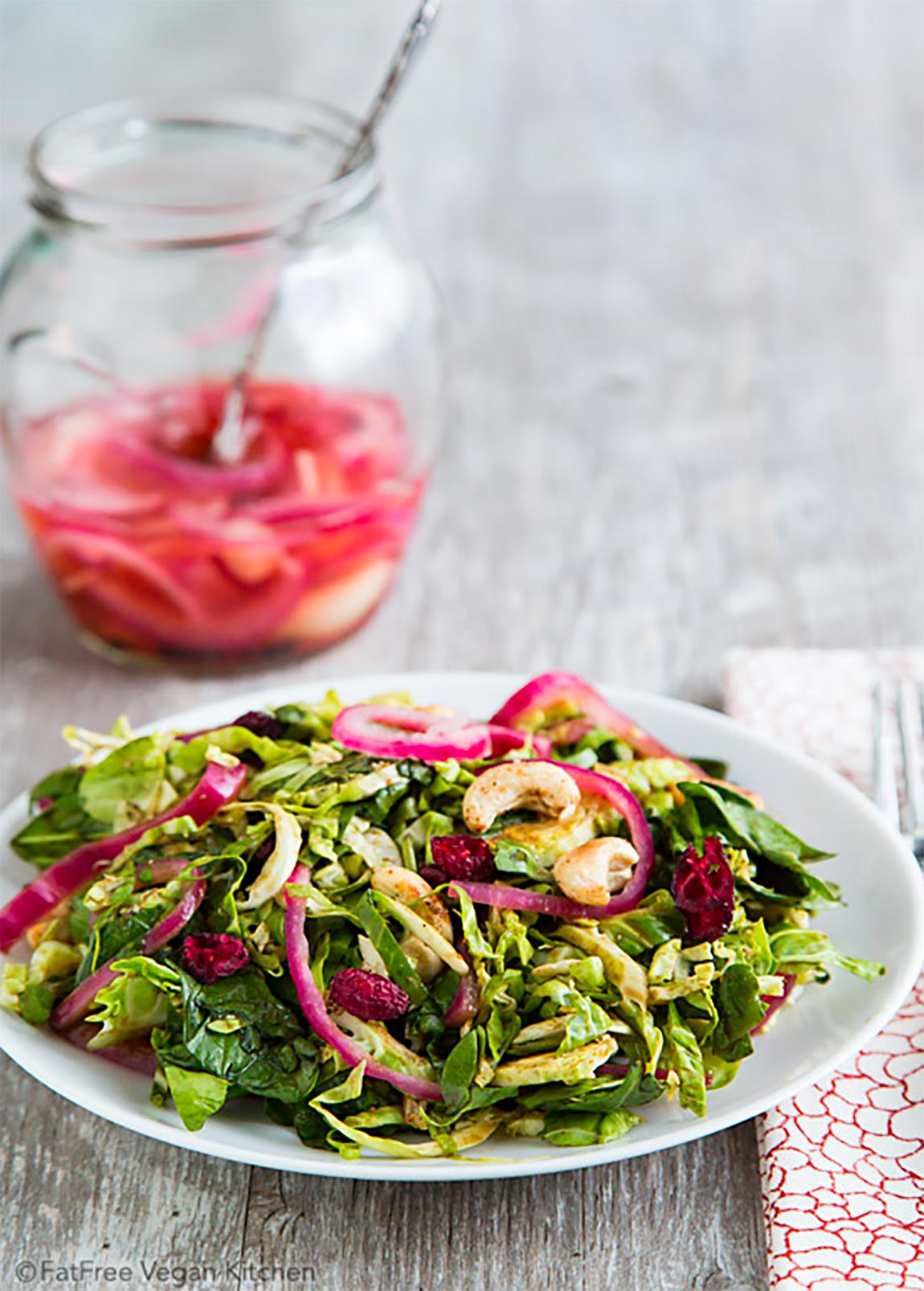 No list of healthy holiday recipes would be complete without a delicious salad. This beautiful salad allows for endless variations. Once you learn Susan's techniques, you can create your version of this healthy holiday salad, adding different fresh or dried fruits, and adding or omitting nuts. This recipe does use maple syrup, so people avoiding sweeteners can leave it out or use date syrup instead.
Spiced Butternut Squash & Coconut Milk Soup by Emily at Deliciously Green! (Vegan, Gluten-Free, Nut-free, Sugar-Free, Paleo)
This soup is perfect for colder weather, as it makes you feel cozy and warm as you eat it. And it's surprisingly quick and easy to make.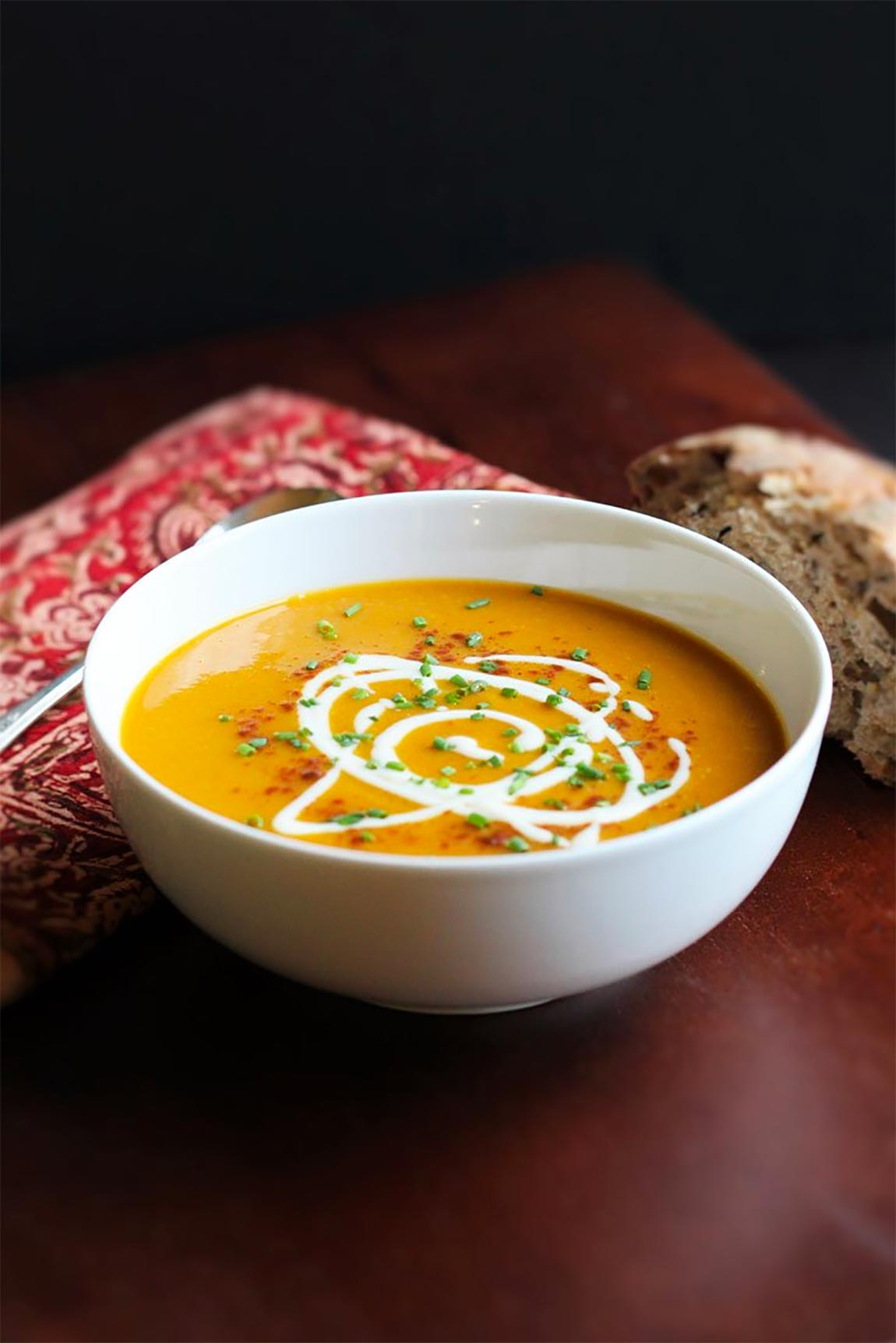 Healthy Holiday Recipes for Enjoyable Entrees
Seed and Carrot Roast Loaf from Trinity at Trinity's Conscious Kitchen (Vegan, Gluten-free, Nut-free, Sugar-free, and Paleo)
This is one entrée that checks all the boxes and is sure to please everyone at your holiday table. It's made from whole plant foods and is also gluten-free, nut-free, and paleo! It's a holiday miracle!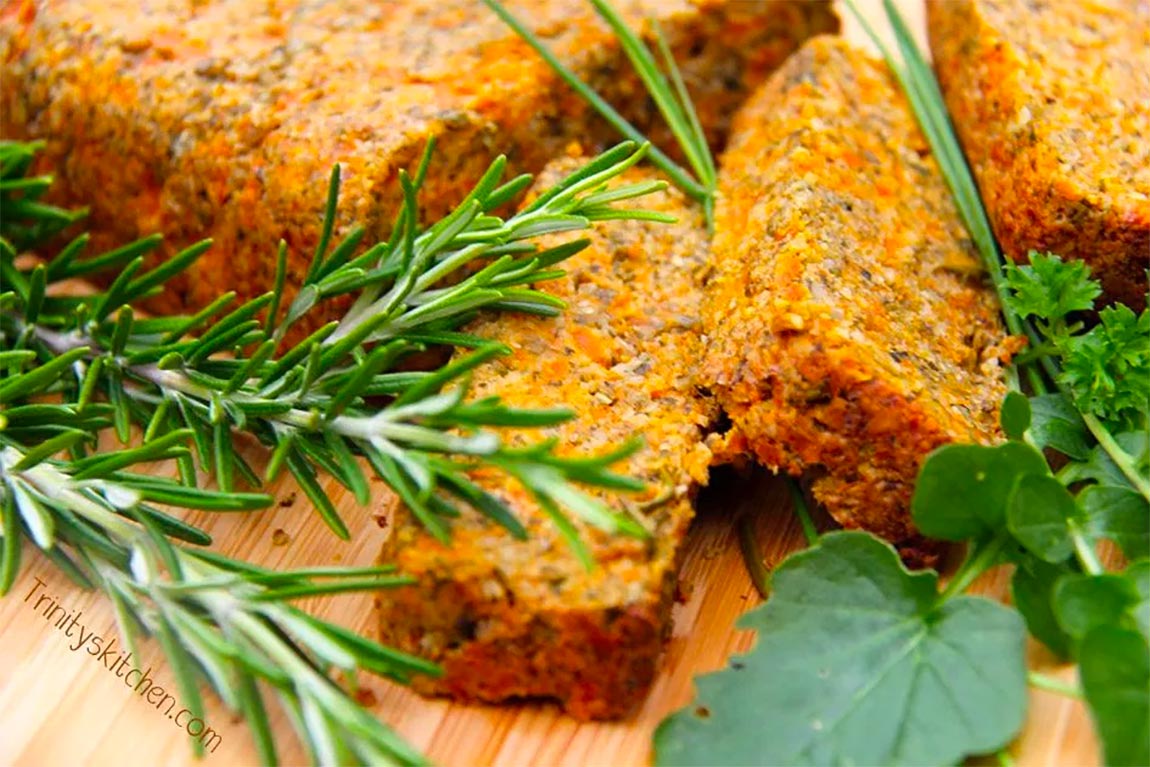 Lentil & Sweet Potato Shepherd's Pie from Dana at Minimalist Baker (Vegan, Gluten-free, Nut-free, Sugar-free)
This gorgeous, healthy entrée is full of holiday flavors and is sure to please everyone, from meat-eaters to vegans alike. The recipe calls for a couple of tablespoons of oil, but it can easily be modified to be oil-free, as noted in the recipe.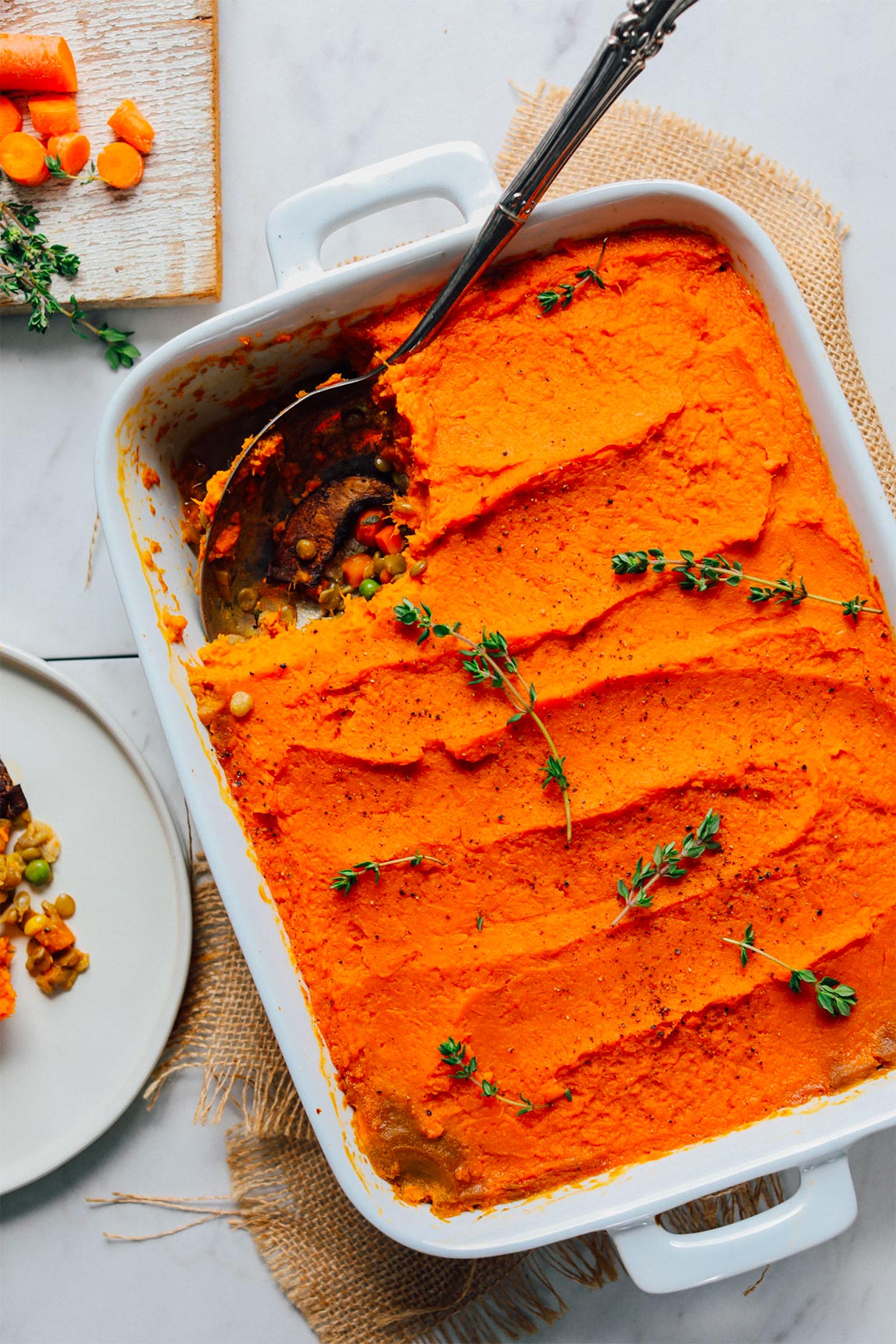 Sweet & Smoky Glazed Tofu Ham by Isa Chandra (Vegan, Gluten-free, Nut-free)
This dish is a bit more indulgent than some of the others on the list (it contains some oil, brown sugar, soy, and maple syrup). But if those ingredients aren't a problem for your family, you may find it delicious!
Healthy Holiday Recipes for Side Dishes
Baked Potato Latkes from Katie at Plants Rule (Vegan, Gluten-free, Sugar-free, Oil-free)
This Jewish classic, traditionally served at Hanukkah, gets a healthier spin by baking, rather than frying. This tasty recipe is also gluten-free, using potato flour or garbanzo bean flour as a binder, rather than the usual wheat-based all-purpose flour.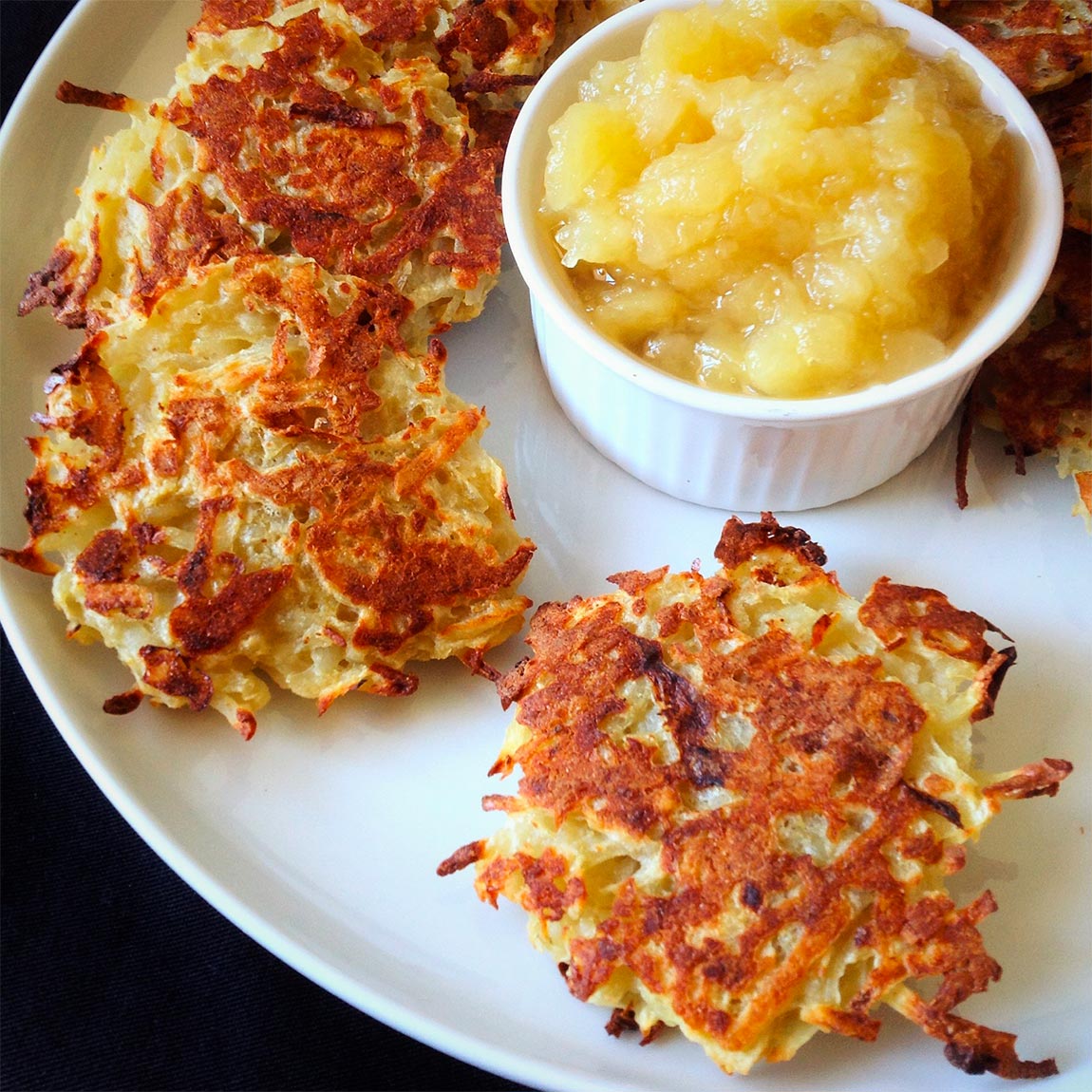 Stuffed Delicata Squash with Holiday Rice from Emily at Deliciously Green (Vegan, Gluten-free, Sugar-free, Oil-free)
This festive holiday dish may be a main dish or a side. The nuts are sprinkled on top at the end just before serving and are easy to omit for anyone with allergies.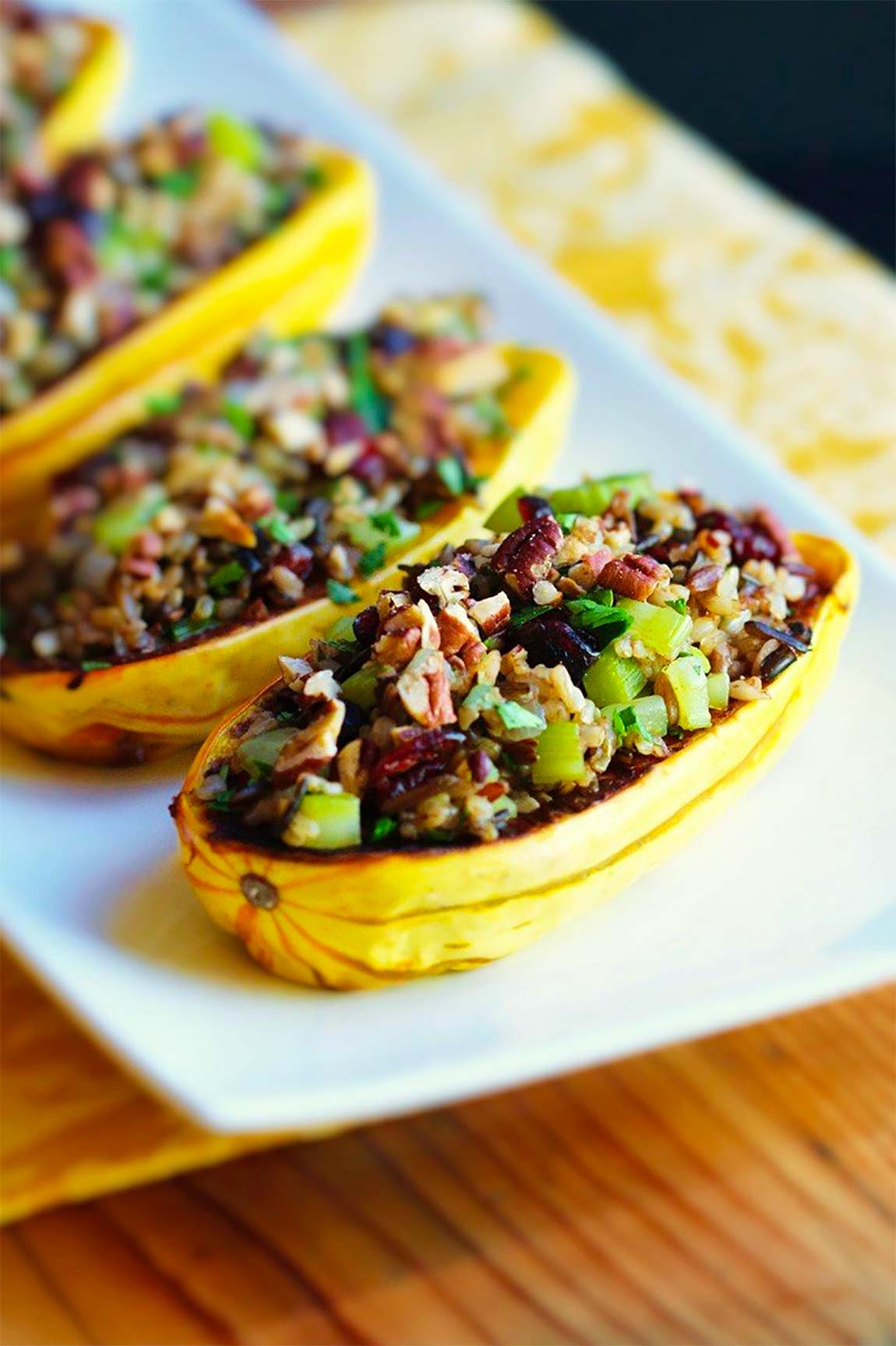 Cauliflower Low Carb Paleo Vegan Stuffing from Taylor at Food Faith Fitness (Vegan, Sugar-Free, Gluten-Free, Nut-Free, Paleo)
This scrumptious-looking side is for everyone. The recipe calls for 1 ½ tablespoons of olive oil, which may be substituted with water or broth to make the recipe oil-free. The recipe also calls for chicken broth or vegetable broth. I suggest using No-Chicken Broth from Imagine Foods to create a rich, savory flavor.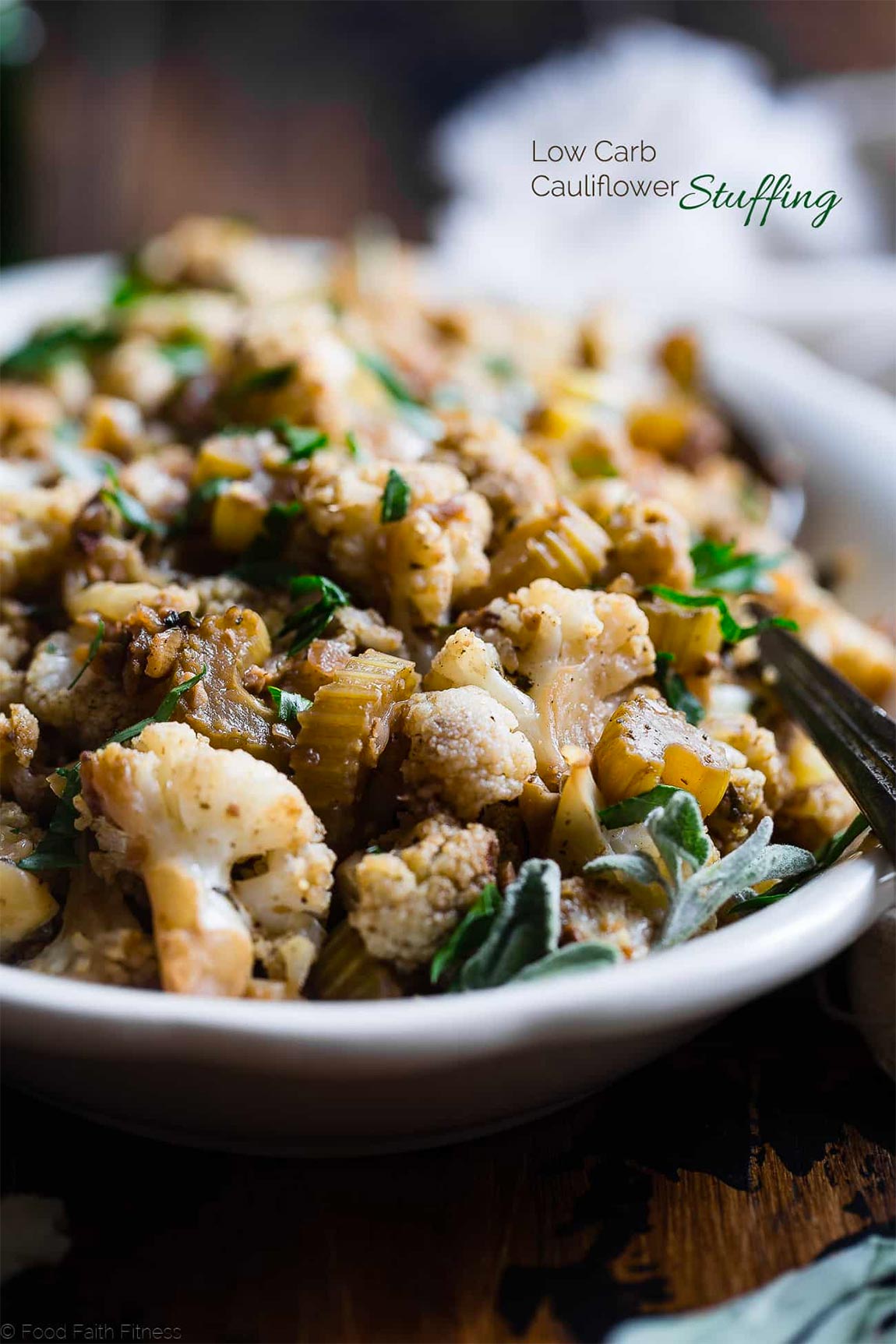 Gluten-free Quinoa Stuffing from Sonnet at In Sonnet's Kitchen (Vegan, Sugar-Free, Gluten-Free)
This traditionally flavored stuffing is perfect for both gluten-free and vegan guests at your holiday table. If diners are allergic, omit the nuts, and this dish will still be delicious. The recipe calls for one tablespoon of oil for sautéing, but you can easily replace the oil with broth to make the dish oil-free if preferred.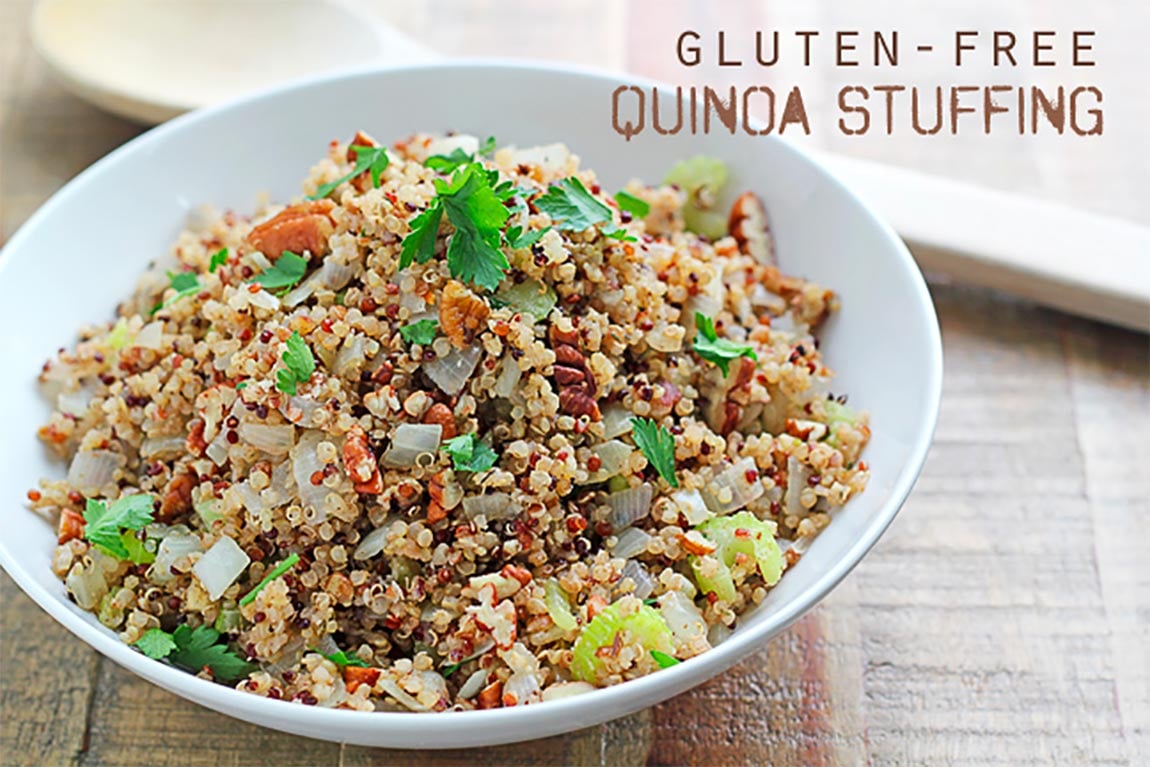 Date Sweetened Spiced Orange Cranberry Sauce from Lauren at Wicked Spatula (Vegan, Naturally Sweetened, Gluten-Free, Nut-Free, Oil-Free, and Paleo)
This gorgeous sauce is naturally sweetened with only dates and an orange and is super-easy to make.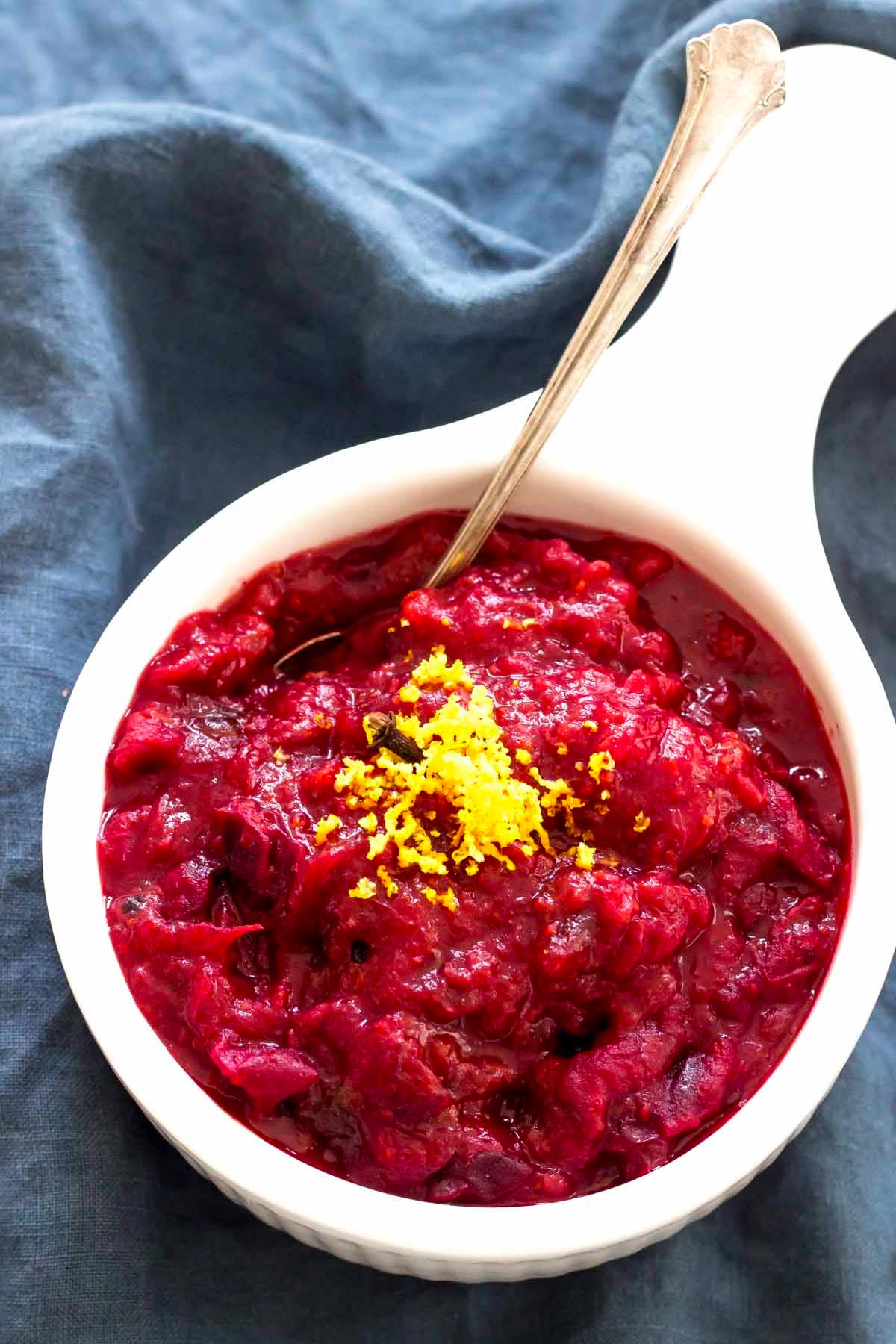 Delicious, Healthier Dessert Ideas
For any holiday gathering, dessert is a must. We found healthy holiday recipes for desserts, too! These healthy holiday desserts are delicious and fun. But they aren't as indulgent as many holiday treats.
Healthy Vegan Sugar Cookies by Emily at Deliciously Green! (Vegan, Whole Grain, Oil-Free)
These cookies are everything you want in a traditional sugar cookie — sweet, crisp, and tender.
Instead of being made from white flour, butter, and artificially colored sprinkles, these consist of organic whole grain flour, raw cashew butter, and naturally colored sprinkles. Yes, they contain organic sugar, but if you're looking for a healthier alternative to sugar cookies to decorate with kids or to take to a party or cookie swap, these may be a great option.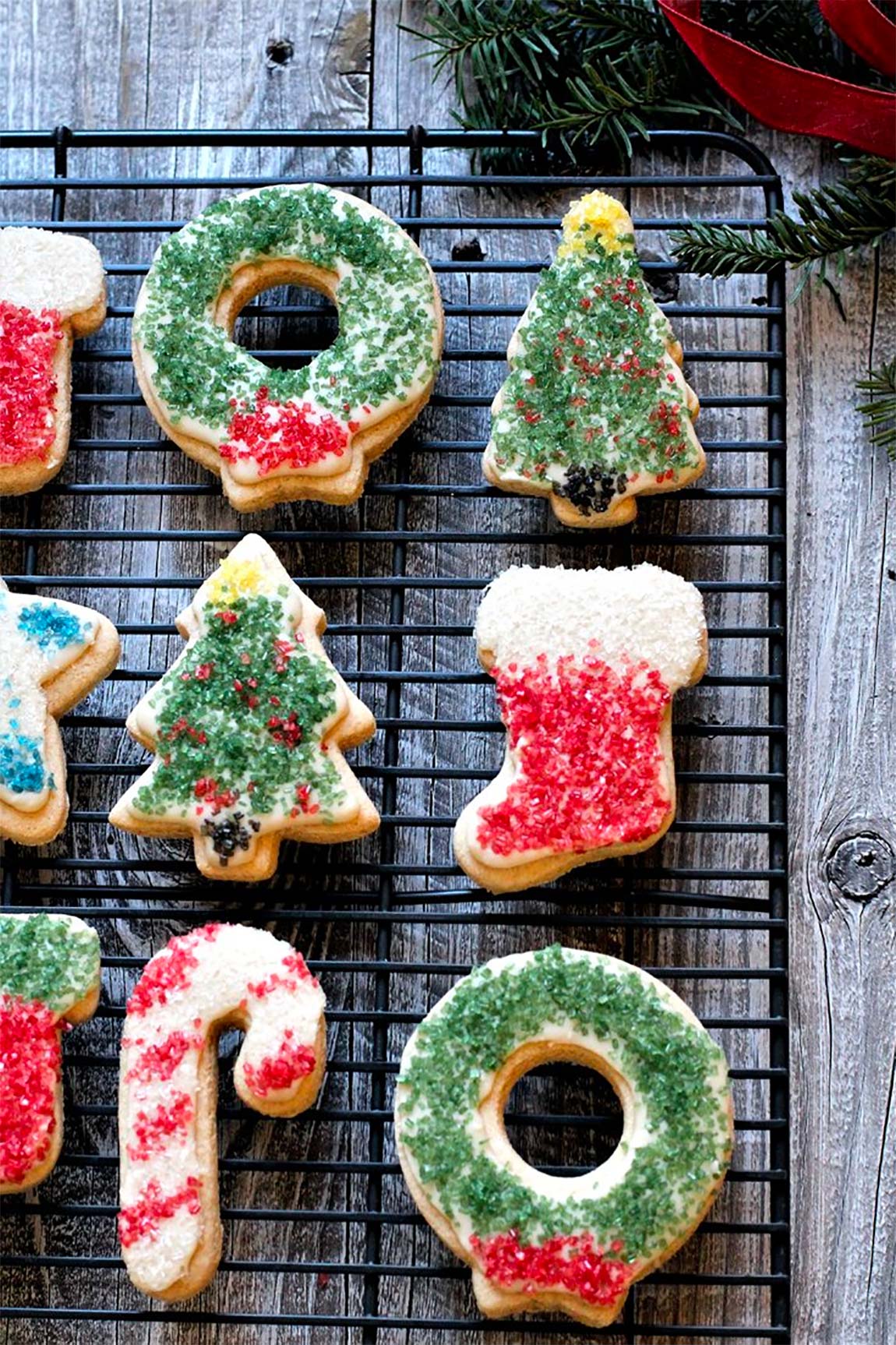 Christmas Fruit and Nut Truffles from Trinity at Trinity's Conscious Kitchen (Vegan, Naturally Sweetened, Gluten-free and Paleo)
These lovely, holiday-spiced truffles are sweetened only with raisins and orange juice. They do contain nuts and one tablespoon of oil, but as the oil is optional, you may omit it.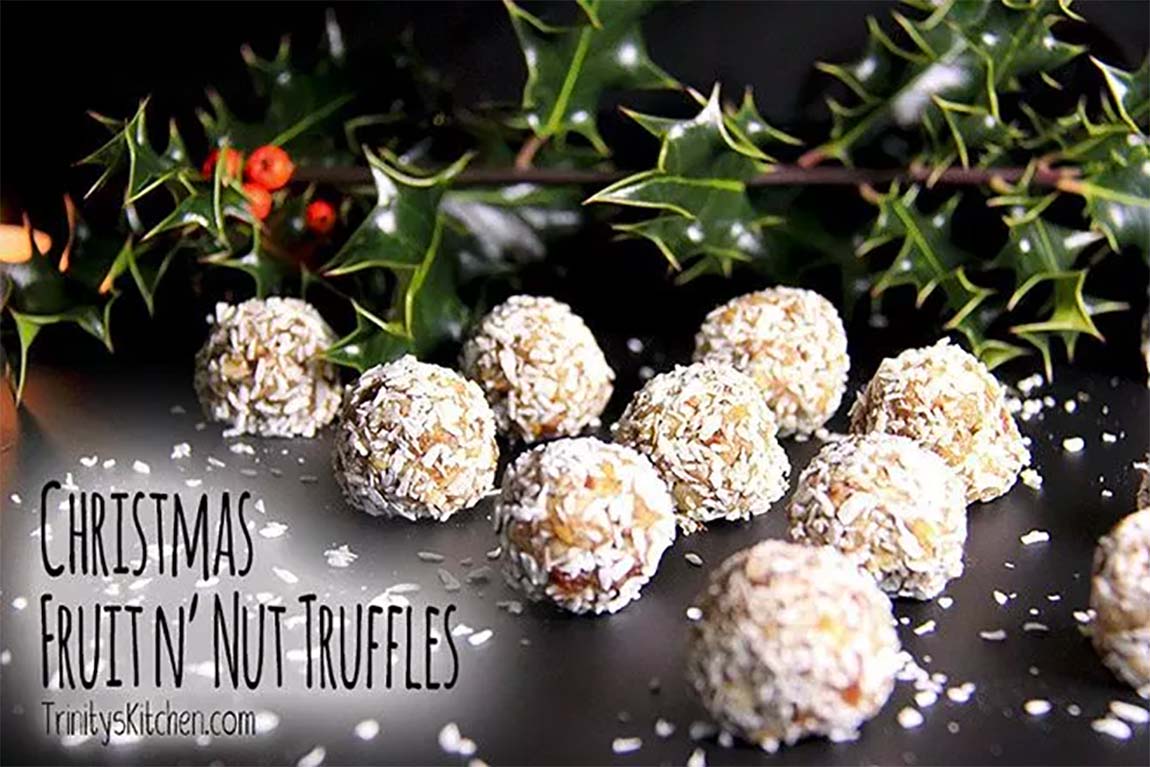 Chocolate Candy Balls (Forbidden Chocolate Truffles) by Emily at Deliciously Green! (Vegan, Naturally Sweetened, Gluten-free, and Oil-free)
These delicious, chocolatey treats are low in fat and made from only whole plant foods — including dates and forbidden black rice.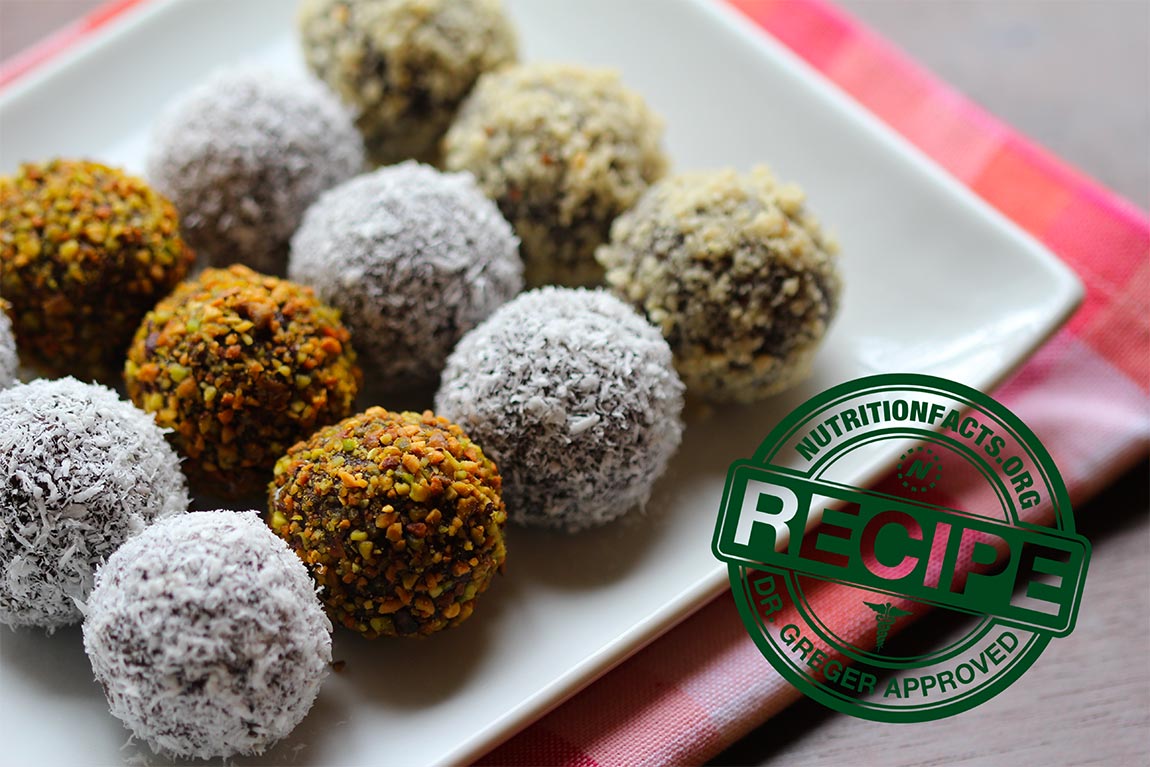 DIY Graham Crackers from Plant-Based Katie Mae (Vegan, Naturally Sweetened, Gluten-free Option)
These incredible homemade graham crackers are a delicious treat. They're sweetened with only dates and are fun to make.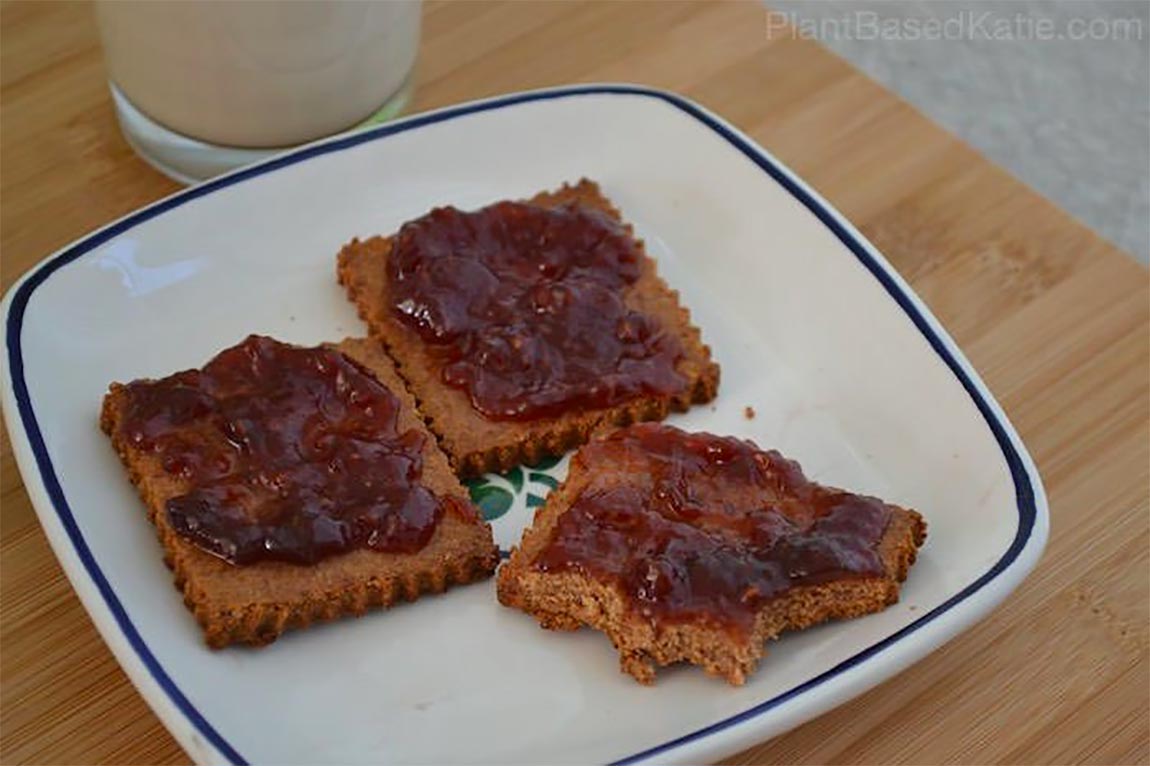 What Are Your Favorite Healthy Holiday Recipes?
We want to hear from you!
What techniques do you use to unite your friends and family at the holidays?

What are your favorite healthy holiday recipes and dishes?
Please leave a comment below and share your tips for a healthy, happy, holiday season!