Most of our meat, dairy, and eggs come from Concentrated Animal Feeding Operations (or CAFOs) that don't have a reputation for treating animals especially well.
In the United States, the Animal Welfare Act is intended to protect animals from cruelty. However, it specifically excludes "farm animals used for food, fiber, or production purposes." Unlike dogs, cats, and hamsters, the law treats farm animals as unprotected commodities. The fact that they are, like all animals (including humans), capable of a broad spectrum of emotions, including affection for other beings, is considered essentially irrelevant.
But just outside Los Angeles, there exists an oasis of compassion and hope for farm animals. Founded by Ellie Laks in 1999, The Gentle Barn stands as a resolute response to the way society tends to treat animals in the modern industrialized food system.
The Gentle Barn is a nonprofit organization dedicated to the rescue and rehabilitation of abused and neglected animals, especially farm animals. The organization is based in Santa Clarita, California, and they have two additional locations in Nashville, Tennessee, and St. Louis, Missouri.
In addition to giving animals a safe and loving home, The Gentle Barn offers educational programs and therapy to help children and adults heal from trauma. Individuals can participate in cow therapy, horse therapy, or barnyard therapy (with pigs, sheep, and other smaller farm animals). And The Gentle Barn also offers private tours for groups of up to 30 people, as well as field trips for schools.
Open to the public every Sunday, The Gentle Barn welcomes nearly 750,000 visitors per year.
We sat down with founder Ellie Laks to find out what makes The Gentle Barn such a draw for so many, and how they're working towards a more healthy, ethical, and sustainable world for all (farm animals included!).
How The Gentle Barn Got Started
View this post on Instagram
FRN: Could you tell me a little bit about how The Gentle Barn got started and what kind of work you do here?
Ellie Laks: The Gentle Barn was a dream of mine since I was seven. I loved animals and noticed that the people around me didn't see them the same way that I did. And so I kept saying, "When I grow up, I'm going to have a big place full of animals, and I'm going to show the world how beautiful they are. And all the hurting people of the world can come and heal with us."
So I procrastinated for a really long time because I had no idea how to do it. And then, 25 years ago, I lived in a little house with a half-acre backyard, and I discovered a petting zoo I'd never seen before. And to make a long story short, the animals were suffering terribly. I tried to leave, and blocking the exit was a very old goat who looked me in the eyes, stopped me in my tracks, and asked me for help.
So they wouldn't let me have her. I stayed there for 12 days. Finally, they let me have her; and I brought her home, fixed her, and realized how rewarding that was. I went back for more animals. And then, one day, I looked out my little picture window to a backyard that was full of animals and said, "Holy crap. I just started my dream."
We're now home to horses, cows, pigs, sheep, goats, chickens, turkeys, peacocks, llamas, emus, and dogs. And we've specifically taken animals that have nowhere else to go because they're too old, too sick, too lame, or too scared. They're just not adoptable. We bring them in and take them through a very extensive recovery program.
And then once they're happy and healthy, if we can find them a home and family of their own, we do. If not, then they stay here for the rest of their lives. And then, when they're ready, we partner with them to heal people with the same stories of trauma, and connect to the love and magic of animals.
Rescuing Animals from the Jaws of Death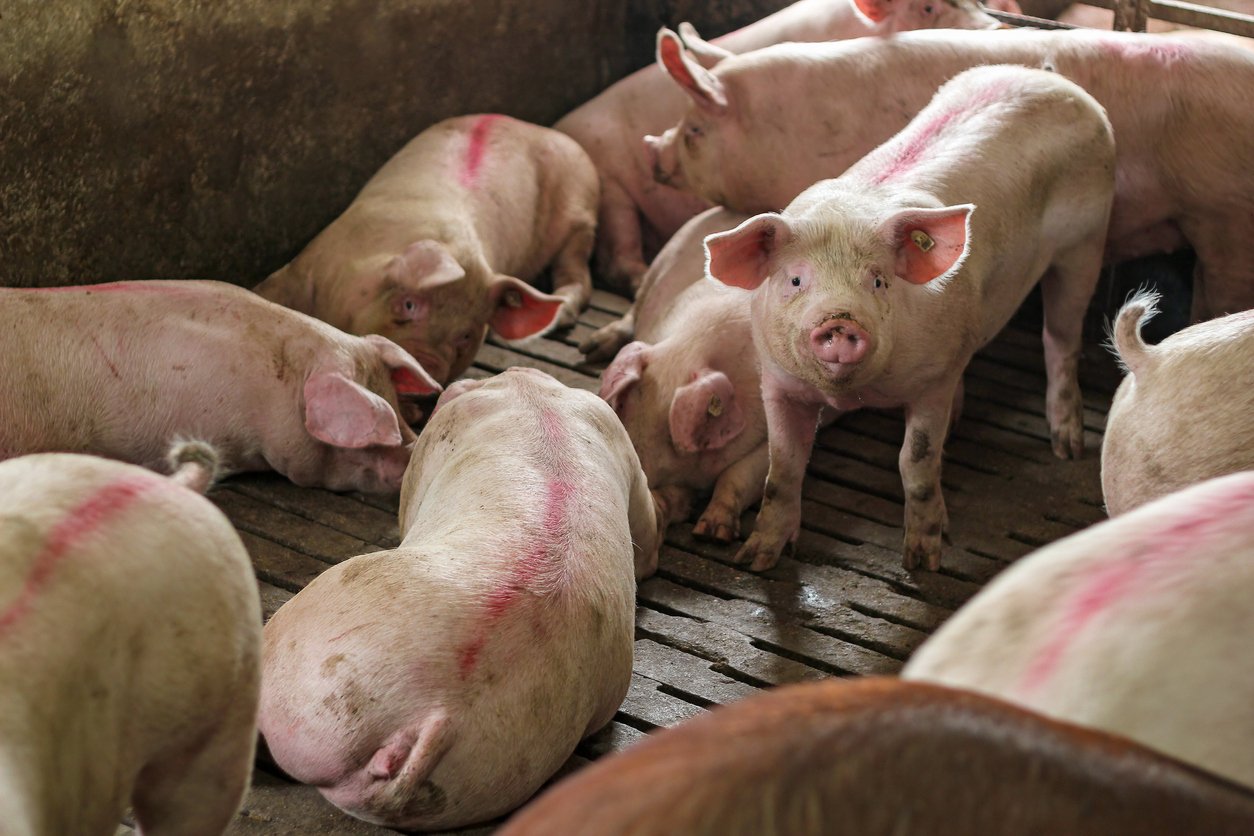 FRN: Do you rescue specifically from factory farms? What kind of state are they in when you get them?
Ellie Laks: Yeah, absolutely. So one of the brilliant things that my partner and cofounder of The Gentle Barn, Jay, does, is he strikes up really good relationships with owners of slaughterhouses, stockyards, and auction houses. And so when they have a downed animal that they can't produce into a profit, or when they have an animal born on the kill floor, instead of doing away with it, they call us and give us an opportunity to save them.
So Jay has gone around the country going into the darkest places on this earth, pulling animals out of the jaws of death, bringing them home to me to heal. He's rescued cows from veal crates, every kind of animal from the slaughterhouse, gone into auction houses and been able to prevent the slaughter trucks from buying those animals.
When they come in, they're all very sick, and they're all very scared — that's a given. They've seen the worst of humanity. They know what was about to happen to them, and they're in shock. And so we have to go to great lengths to really show them that people can be kind and the world can be good.
Sometimes we can prove that to them in a few months. Sometimes it takes years. And still other times, the only time I touch or embrace these animals is on their deathbeds. And I can finally show them love. We've rescued so many animals in that way.
John Lewis the Cow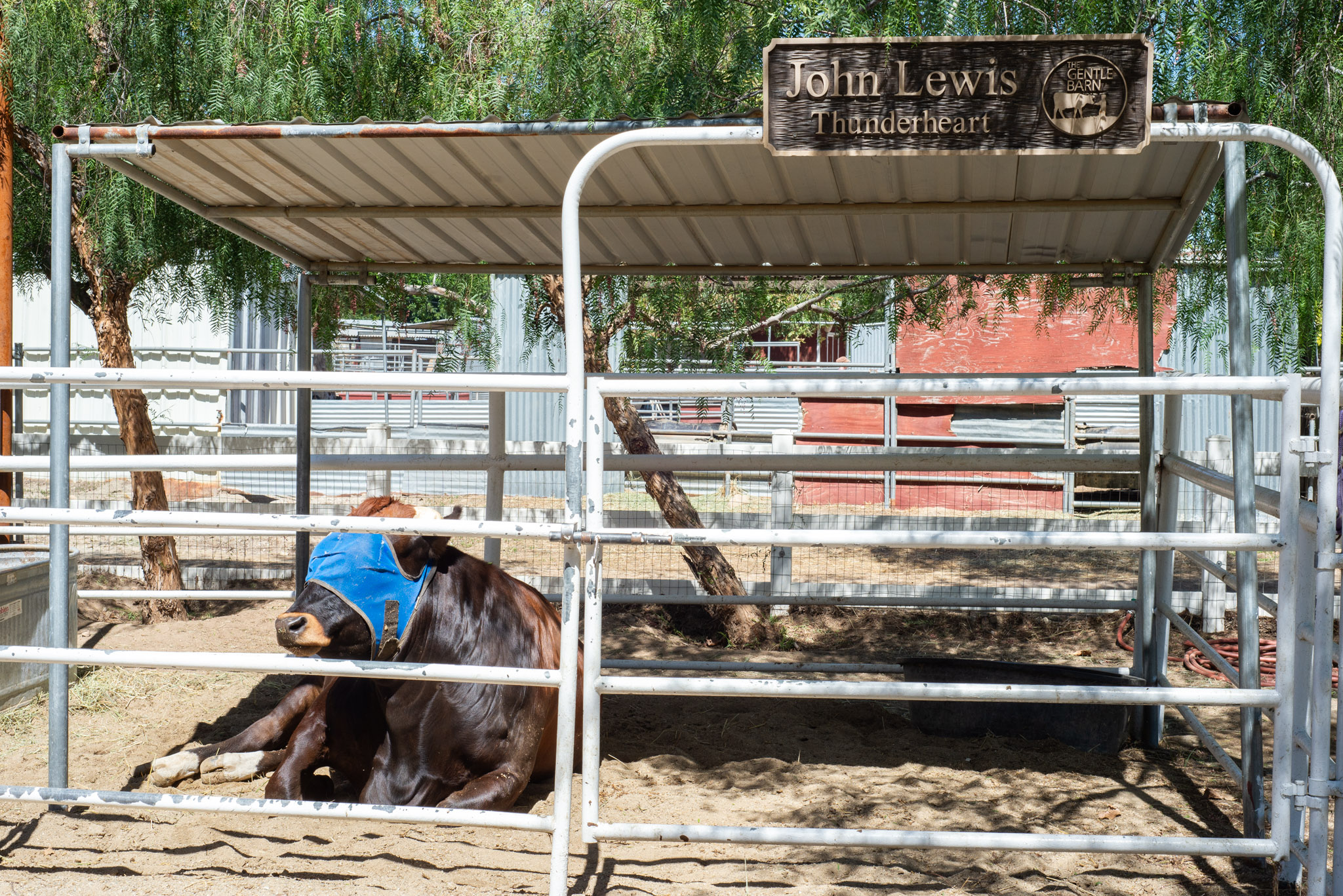 Ellie Laks: My favorite story is about the cow I got to raise in my house. He was born inside the slaughterhouse. And we have an arrangement with the owner of the slaughterhouse that when someone's born there, he'll allow us to have the baby and the mom because the chance of a baby's survival without the mom is very bleak.
But in this scenario, there was a logistical reason and a health reason why they wouldn't let us have the mom. And even though she was on death's door, they processed her anyway, which really should tell people who they're eating.
There is no difference between any of the species other than our perspective of them.
So he was left orphaned and extremely sick with pneumonia at a week old. And we brought him into The Gentle Barn and brought him into our healing center, where we started the recovery process with great vet care, medication — the whole nine yards.
And we realized that it was so hot outside that we couldn't lower his temperature in order to save his life. And so Jay and I looked at each other and said, "We got to bring him in the house into the air conditioning."
So we brought him into the house. I was with him 24/7 for the first six months until he was finally cleared to start interacting with the other cows and having playdates with them.
And then, at nine months old, I came to pick him up after a playdate, and he said, "No, I don't want to go. I want to stay with the cows." So he moved in with the cows, and I cried all the way back up to the house.
I think the reason this is my favorite story is, number one, I had a cow in my house. I'm the luckiest person in the world.
Number two, it's really easy to go, "Oh, well, but it's a cow; it's not a dog." Or, "It's a pig, not a cat." And there are all these boxes that people like to put animals in: These are animals worthy of love, affection, and protection. These are animals that we eat; these are animals that we wear. These are wild animals that we don't understand and that are dangerous. We have all these boxes, and it's just not true.
And so what I love about the time I got to spend with John Lewis [the cow] in our house is it really once and for all proved there is no difference between any of the species other than our perspective of them. We're judging them as different, so they show up differently.
But the minute you see a cow like a dog, he's a dog. John Lewis, to this day… He's now three years old. I still give him a bottle of warm water and some chlorella algae superfood in the morning to boost his immune system. And I sing him his morning songs. And I kiss him all over, and we spend time together.
But he comes to me when I call his name. He walks on a leash like a dog. We've even taken him to hiking trails. He slept on a dog bed. He had toys. It really broke those barriers once and for all. And so I love sharing John Lewis and his story with people — because if we could just erase those lines and just accept that we're all the same, we just look different, what a world this could be.
The Recovery Process at The Gentle Barn
View this post on Instagram
FRN: Wow. So what do some of the recovery processes look like? Is it the same for every animal?
Ellie Laks: More or less. The general protocol is that animals come in and do a 30-day quarantine with us, during which time we're making sure that they're not sick, so they don't bring in a disease to our existing family. But we're also reading to them, meditating with them, singing to them, playing musical instruments for them, coming and going so that they can get used to us and start to trust us.
At the same time, we're collecting fecal samples, making sure they don't have parasites, and putting nutritional supplements in their water to boost their immune systems.
And most of the time, for the first time in their lives, they have a soft bed; they have shelter; they have fresh food, clean water, kind humans; and they start recovering physically and emotionally — slowly.
When their quarantine is over in 30 days, the next step is to introduce them to other animals of their kind. And with some animals like horses, pigs, chickens, and goats, the process is very slow because the animals' first instinct is to reject newcomers. But slowly they get used to each other, and they become family.
With cows, that process is very quick. Because we can put a new cow in anywhere, anytime, at any of our locations, and the other cows are like, "Oh, hi. Come on in."
But once they're acclimated to other animals of their kind, then we need to see what is left over. So they might still be sick or lame or old. They might still have trust issues with people. And so we continue their recovery, their rehabilitation, and their treatments until they don't need it anymore. Some animals that come in need ongoing care for the rest of their lives.
Adopting Out Animals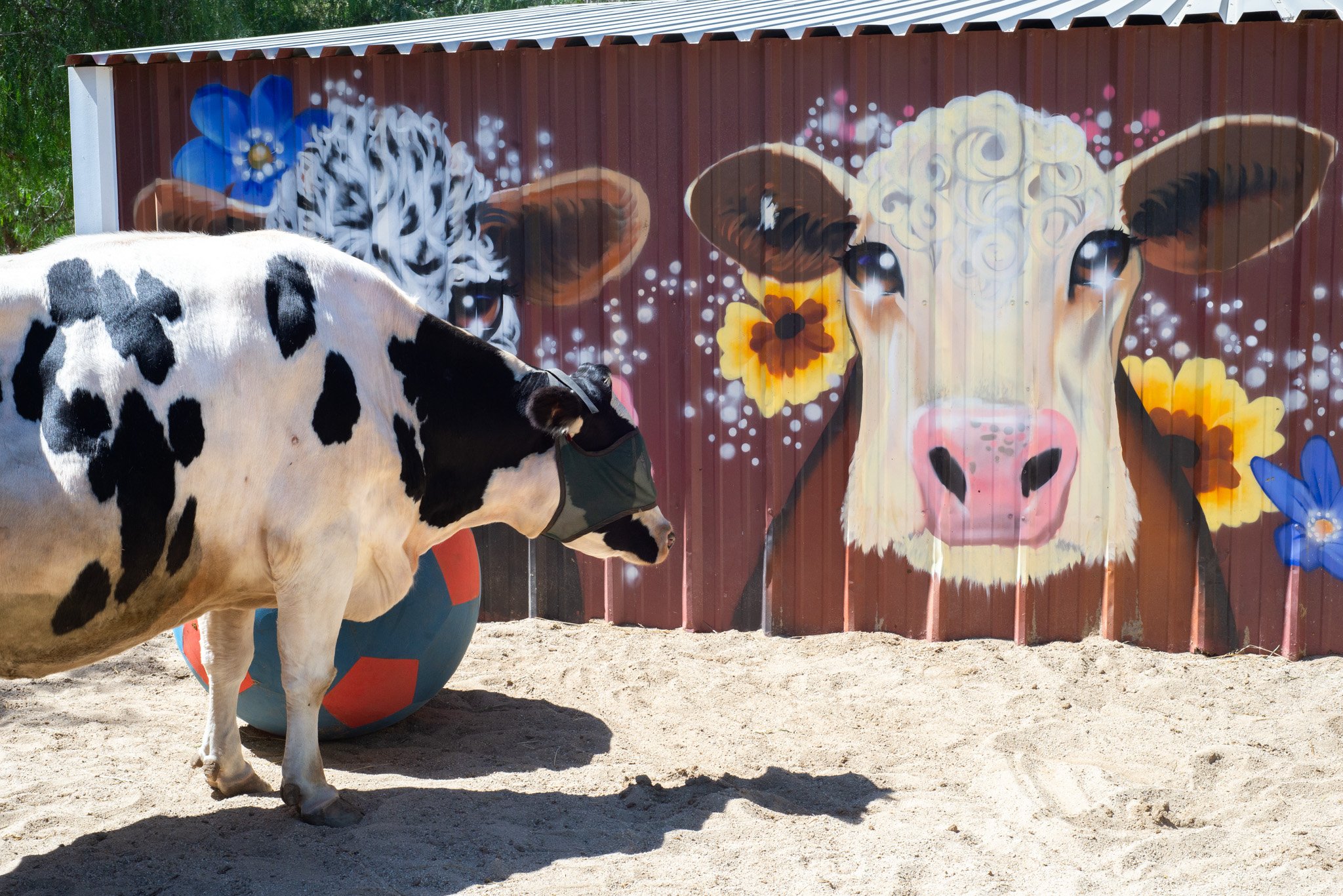 FRN: So the ones that are adopted out, where do they go? Do they go to other sanctuaries or individual people, or what does that look like?
Ellie Laks: Yeah. Every once in a while there'll be somebody who has a ranch or a farm or a giant backyard, and they'll invite a farm animal to live with them. And we've adopted out turkeys, chickens, goats, sheep, horses, and dogs. The only animal that we've never adopted out is a cow. I've never had a person say, "Can I please have a cow?" Which is weird because I think everyone should have a cow. They're the most misunderstood and the most magical animal.
[The animals] all have healing for us. They all have life lessons for us. Like practicing confidence and leadership skills with a horse is unparalleled. Practicing empathy and compassion with smaller animals that we're cradling in our arms is unparalleled.
But I think, as a tribe, cows are everything that we're supposed to be. They're matriarchal; they're vegan. They meditate every single day. Family and connection is the most important thing. So they really lift each other up and support each other. They celebrate life. They celebrate death. They face their challenges head-on, and they're 100% inclusive.
They're a beautiful community, and they're very, very gentle on Mother Earth. They harm no one. They're that feminine, beautiful, nurturing energy. They're everything that we will be one day. I have to hope.
Saving Buddha the Cow
View this post on Instagram
FRN: Yeah. How did you discover that the cows were able to give that to you, and how did the cow therapy evolve?
Ellie Laks: So when I started The Gentle Barn, I found out that there was a miniature cow breeding program up in Washington State. I called the guy, and he explained, "Oh, miniature cows are easy to raise and easy to kill, and you can have household food for a year or take their milk."
So half of me was sorry I asked. But then he started talking about how gentle and kind they are. And he had a beautiful cow, and his grandkids raised her, and she was so sweet. But, unfortunately, she couldn't get pregnant and earn her keep, so she was going to slaughter.
By the time I had hung up with him, I knew that this cow was coming home to me. So I asked him, "Can I have her?" He was like, "Well, you're going to have to pay what I would get for her." And I was like, "Hold off on her slaughter. Give me time."
And this was very early on at The Gentle Barn, where I really didn't know how to raise money. So I literally put my son on my hip, my year-old son, and I went door-to-door to my neighbors. And I told them what was happening and how I wanted to save her, and asked if they would chip in. And I thought for sure they were going to slam the door in my face, but they didn't. And they wrote checks. And I raised the money to save her.
FRN: That's amazing.
Ellie Laks: I know. It's crazy. And I knew she [Buddha] was special right off the bat; because that very first open-to-the-public Sunday, she immersed herself right into the center of a big crowd of people, lay down, and invited them to hug her, brush her, and pet her. And I watched with my jaw dropped.
The Evolution of Cow Hug Therapy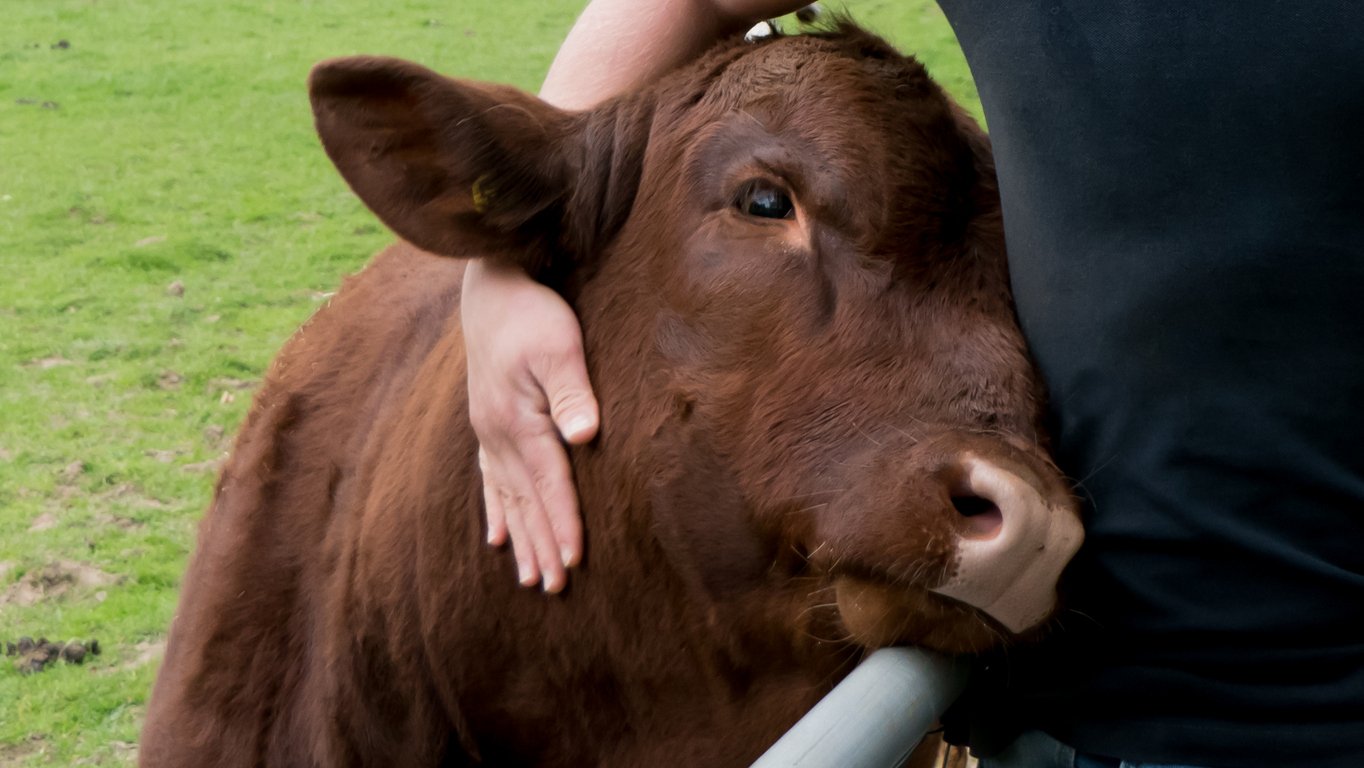 Ellie Laks: So then my ritual, then and still now, is every single night before I go to bed, I go out to the barnyard. I make sure all the chickens and turkeys are safely on their roosts. I tuck the pigs in with blankets. I give treats to the goats, sheep, horses, and cows. And I make sure everyone's safe and feeling good before I go to bed.
So on this particular night, I think it was the day after that Sunday, I went out to do my barnyard check. And I said goodnight to everybody. And everybody was in the barn, all roosted and stuff. And I was walking back through the yard, back to the house. She was lying down in the yard, the last animal that I went to say goodnight to. And I was going to pat her on the head and tell her that I love her, but something made me stop. There was something about the way she shifted her body. She was like, "Sit with me."
So I sat down at her shoulder; I leaned against her body because she's giant and cuddly and fuzzy. And the next thing she did changed my life. She wrapped her neck around me and held me, and she didn't let go.
And I was so astounded by her love of me, by her nurturing of me, by that gesture of kindness and connection, that I started weeping into her shoulder. It's one of those things where you don't know you're stressed out, but then all of a sudden you realize how stressed out you are.
And so those nightly hugs became a must, and she would help me wash away the day. She would help me have strength and hope for the next day. She would help me get out of my head and my to-do list and be more centered and grounded.
And early on in those hugs, I remember thinking, "I have got to find a way to give the world these hugs." So part of the original design was that we would rescue animals and then partner with them when they're ready to heal hurting people.
So I opened the phone book, and I started calling probation camps, drug and alcohol rehab centers, domestic violence shelters, foster agencies, homeless shelters, war veteran centers, and said, "Look, I know that you have people who are hurting. I know that some of those people are not responding to traditional therapy. Bring them to me." And they did.
And we would always start with Buddha by putting their faces down on her side and closing their eyes and just breathing in and out and feeling her energy — and she would crack them wide open.
They came cold, defensive, and hardened by life, and she melted them into little kids. And she helped them become vulnerable. And it's only in vulnerability that you can heal. And then they would go back to their therapy sessions; and all of a sudden they're talking, and they're relating, and they're healing. And during her lifetime, Buddha gave out 300,000 hugs.
She taught me everything I know. She taught me to meditate. She taught me to be grounded and centered. She taught me what these animals are capable of — the healing that they're capable of. She showed me how to connect these hurting humans with these hurting animals, and I owe her everything.
And so she is the creator of Cow Hug Therapy, and she's the reason why we do Cow Hug Therapy for people now.
Becoming Vegan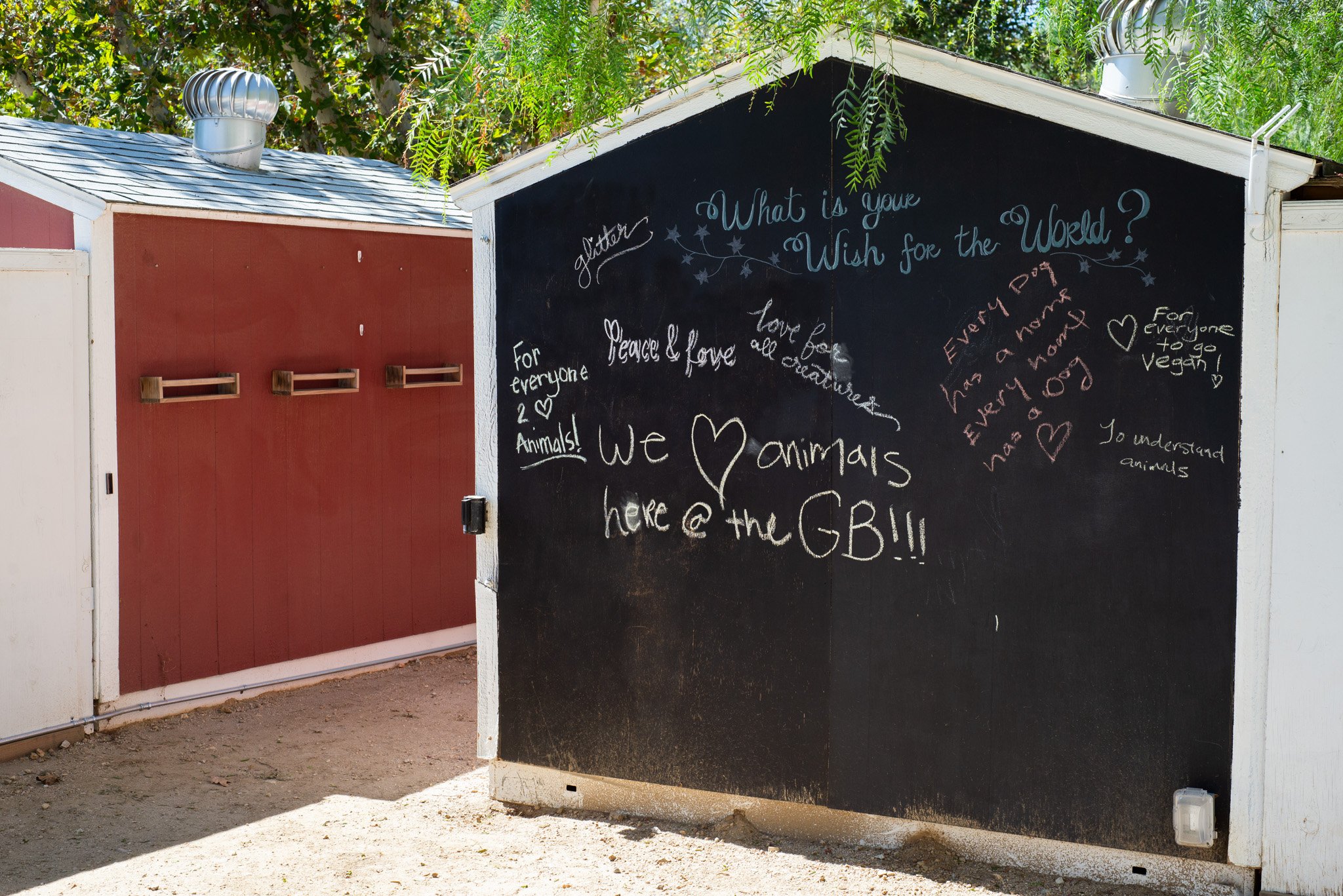 FRN: Wow. So our site mostly deals with plant-based eating, nutrition, and health. So I was just curious — because plant-based eating is becoming more popular and more mainstream — have you seen any change in the support of what you do or the number of visitors because people are more interested in where their food comes from, or the impact of factory farming on animals, or just plant-based eating in general?
Ellie Laks: Yes. I have a lot to say about that.
I became a vegetarian when I was 11. I met a chicken. I realized that was chicken and rice. And I was done.
Volunteers were coming to check The Gentle Barn out, and somebody said, "Are you vegan?" And I said, "No, I'm American." And he said, "No, I mean, do you eat animals?" And I was like, "Oh, no. I went vegetarian when I was 11." He said, "Yeah, but what about dairy and eggs?" And I said, "Well, it doesn't hurt anybody." He told me the truth. I went vegan on the spot. That was 24 years ago. I've been vegan ever since.
I became a vegetarian when I was 11. I met a chicken. I realized that was chicken and rice. And I was done.
But it's funny because, in the beginning of The Gentle Barn, I didn't really know the word vegan, which is so silly to think of now. The word vegan was not mainstream, and the word vegan was almost a dirty word. And so we grappled with how we present it. How do we talk about it? How do we make sure that we're not threatening to people? Because The Gentle Barn is not just gentle to animals. It's gentle to people.
So we wanted people to come in and look these animals in the eyes, hug them, hold them, cuddle with them, hear their stories of resilience, and realize that we're just basically all the same. But we didn't want to offend anybody. We want it to be a gentle experience. So we were like, "God, can we even say the word vegan without upsetting people?"
Now, 24 years later, vegan is mainstream. Do you even realize how many vegan options there are at Disneyland? All stores, all major chains, most fast-food restaurants… You can go anywhere. Nowadays, small town, big town, it doesn't matter. You literally can go anywhere and say, "What's vegan on your menu?" And the waiter will have some modicum of awareness of how to guide you. It's incredible.
Plus, 24 years ago, when I opened The Gentle Barn, plant-based eaters were 0.5% of the population. We are now at 7%. Huge progress.
Facing Grief as an Animal Sanctuary

FRN: Have you faced any challenges or obstacles with your rescue efforts?
Ellie Laks: Huge. Nobody does anything good unless you have a lot of challenges. So I started The Gentle Barn, like I told you, in my little half-acre backyard using my first husband's paychecks. My first husband was not amused and soon left.
In came Jay as a volunteer, and later we fell in love and joined forces. But during those early years, moving from that half-acre to where we are now and growing into a national organization, there were a lot of financial challenges.
The other challenge for a sanctuary is dealing with the level of loss. Obviously, humans tend to have a longer lifespan than animals. So those of us who love animals tend to have to say goodbye at some point. At The Gentle Barn, with 200 animals — and over the last 24 years, we've rescued thousands — we have loved so many, and we have said goodbye more times than I could possibly calculate.
And so there was a time early on in The Gentle Barn when I was so brought down to the ground with my grief that I said, "I made a mistake. I can't do this. I'm not strong enough. This is going to destroy me." And I had to figure out how to stay with it and how to survive and have me not go down with the ship.
And so I had to really examine compassion fatigue, grief, and loss. And that's a very large part of what I talk about in my [next] book, Cow Hug Therapy, about what the animals taught me about death, how they grieve, and how life and love are eternal.
And so that process from grief to gratitude, I had to work out.
How You Can Support The Gentle Barn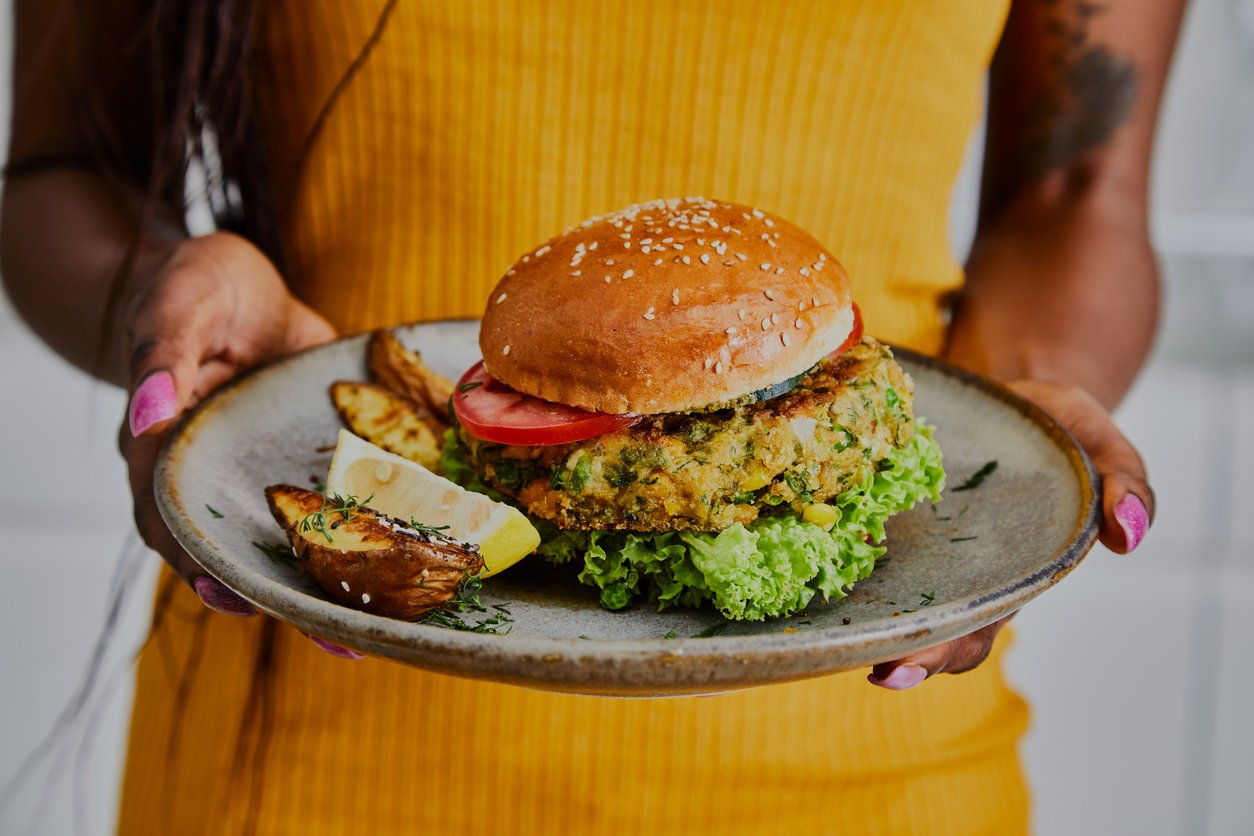 FRN: I think when I first heard about you guys, you were doing a fundraiser. I am just curious: Besides the visits and the fundraising, how else can people support you?
Ellie Laks: There is so much more that goes into taking care of farm animals other than hay, water, and shelter. There's preparing for fire season every year and having the trailers and the trucks be able to evacuate. In this changing climate, we're much hotter than we used to be: How do we keep them cool? We're much colder than we used to be: How do we keep them warm?
I think the first thing that I would say in answer to your question is there are so many people who love animals, but very few of us can open our own sanctuaries. We need people to partner with us. We need people to fund our endeavors and to become our partners so that we're rescuing animals together. Because they can't do it without us, but we can't do it without them.
The other thing that I would invite people to do is to follow us on social media. We're on all social media platforms: The Gentle Barn on Instagram, Facebook, TikTok, YouTube, and Twitter/X. See these beautiful videos and stories of the animals and their recovery and what they teach us, and learn about being connected to animals. It's beautiful.
And if you live close enough, find a Gentle Barn either in St. Louis, Nashville, or Los Angeles; and come and visit and hug a cow, hold a chicken, cuddle a turkey, and give a pig a tummy rub. And look in the eyes of these magical animals, and realize that we're here to protect them, defend them, love them, and listen to them.
And then the last thing that I want to mention is the biggest way you can help is by adopting a plant-based diet.
Every single person who goes plant-based saves 200 animals a year. So in effect, by going vegan, they are opening a sanctuary; because they're saving 200 animals just with their knife and fork. Modeling that for others, being part of the solution, being part of gentleness and nonviolence.
https://www.youtube.com/watch?v=xyCyvU2qD50
—–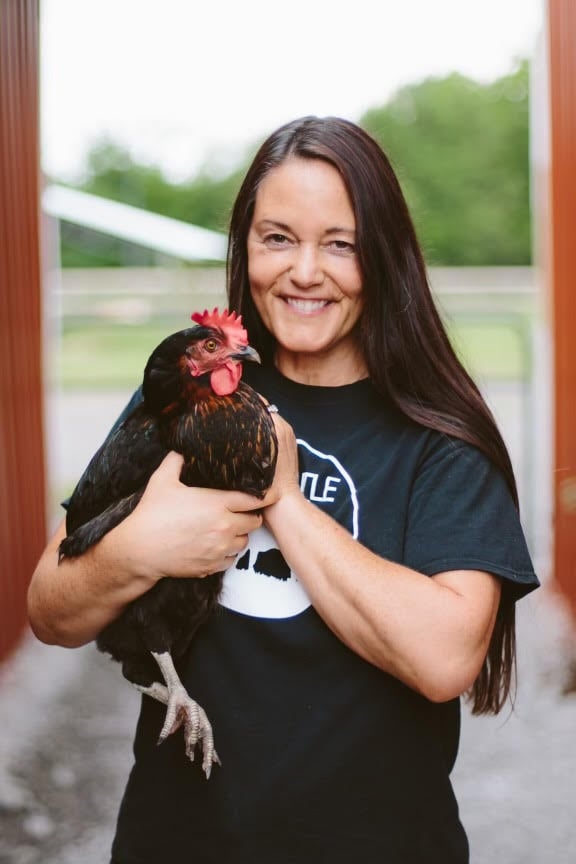 Ellie Laks is the founder of The Gentle Barn Foundation, a national organization that rescues and rehabilitates unwanted animals and heals people with the same stories of abuse and neglect. She invented her own "Gentle Healing" method that allows old, sick, injured, and terrified animals to fully recover. She is the creator of Cow Hug Therapy and has hosted hundreds of thousands of people who have come to The Gentle Barn seeking healing and hope.
Ellie is a powerful speaker, celebrated animal welfare advocate, humane educator, animal communicator, and the author of My Gentle Barn: Creating a Sanctuary Where Animals Heal and Children Learn to Hope and the upcoming Cow Hug Therapy: How the Animals at The Gentle Barn Taught Me about Life, Death, and Everything in Between.
Tell us in the comments:
Has an animal ever taught you something about life or yourself?
Were you aware of The Gentle Barn before reading this interview?
What other animal sanctuaries or animal welfare organizations should we know about?
Read Next: