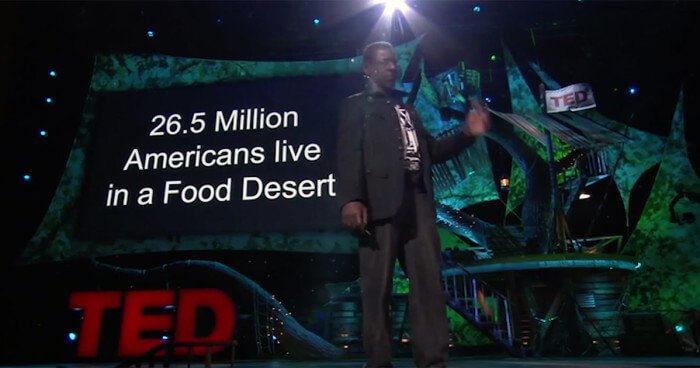 Like this article on Facebook:
South Central Los Angeles is notorious for its drive-by shootings, where shooters kill their victims without ever leaving their cars. And it's also the home of drive-through restaurants where people eat fast food without ever leaving their cars.
Why does Ron Finley, the "gangsta' gardener," say that the drive-throughs are killing more people than the drive-bys?
Inner city communities often have little or no access to healthy food. As a result, people who live in these "food deserts" have extremely high rates of cancer, diabetes, heart disease, obesity, and many other diet-fueled chronic ailments.
But now, here is a bright beacon of hope. Ron Finley feeds the hungry and brings real food to the people that need it most. He grows not just vegetables, but also the very fabric of community itself.
When you watch this powerful video, you will, I am certain, be deeply inspired.
Prepare, frankly, to get your socks knocked off.
We were honored to host Ron Finley as a speaker in the 2016 Food Revolution Summit. Catch his powerful and inspiring interview with bestselling author John Robbins, now on replay with other summit interviews, here.
Connect with Ron and support his work here.
And if Ron's message has inspired you to want to grow food… check this out! Are you ready to start growing your own healthy and organic food? It is truly simple if you know the rules! Urban Farm U is holding a special training on Wednesday, June 1st at 11am or 6pm PDT (your choice) where urban growing experts Kari Spencer & Greg Peterson will walk you through the 3 Simple Steps to Grow Fruits and Veggies for a Healthier Life.
In this training, you will learn: How to select the perfect spot for your garden, how to know what to plant when, why soil is your most important garden asset and, as an added bonus, tried-and-true gardening hacks to help you grow food with ease and success. Join the grow-your-own food revolution now! Click here to attend this free training.
Like this article on Facebook: