Americans buy nearly a billion bottles of water each week. In fact, bottled water consumption is expected to pass soda consumption in the U.S. this year. Plastic bottles can make drinking water on-the-go more convenient. And we all know that drinking more water is a good thing.
But buyer beware: There's a very dark side to bottled water.
Here are the top 10 things everyone should know about bottled water:
1. It's often just bottled tap water
Plastic water bottle labels often depict blue mountain springs and fresh, clear water. But is the water in plastic bottles "pure" and "pristine" as described?
Not necessarily. In fact, it's often not any better than the water from your own sink. Between 25 to 45% of bottled water actually IS tap water.
Remarkably, the bottled water that is just tap water may be the safer than the bottled water that isn't.
That's because the EPA regulates tap water and requires utility companies to test municipal water hundreds of times per month. Yet, the FDA, which regulates bottled water, requires only one test per week.
Independent tests of bottled water have found toxic chemicals, like arsenic (a known human carcinogen) and other pollutants, in many brands of bottled water.
2. It's wasteful
The cost of plastic water bottles is about 2,000 times higher than the cost of a gallon of tap water. So, why does water in a bottle cost more?
First of all, about 90% of the manufacturer's cost goes to making the bottle, label, and cap
— expenses that have nothing to do with the water itself.
Then there's the production, distribution, transportation, and store shelf space — each of which add to the retail price.
And think about this: For bottled water that reaches the consumer, the equivalent of 3 bottles of water are wasted in the bottled water production process.
3. It's harming communities and the environment
For more and more people in the world, access to affordable water is limited. But this doesn't stop beverage companies from taking water from people who need it. When this happens, the companies producing bottled water profit, and the people suffer.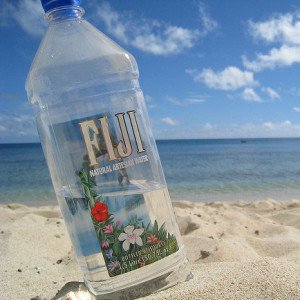 Consider America's leading imported bottled water, Fiji Water. With its blue bottles featuring a beautiful flower, many consumers think Fiji water is the cleanest, purest water on the planet.
But there's something the Fiji Water corporation would rather you not find out.
They have a 99-year lease and almost exclusive access to a major 17-mile aquifer on the island of Fiji. Fiji's people are deprived of access to this critical aquifer, and they're suffering from drought, crumbling pipes, and dysfunctional water treatment plants — all problems that could be greatly reduced or avoided if only the people could access the aquifer that should be theirs.
Despite all this, Fiji Water maintains its positive, environmentally friendly image — thanks, in part, to a multi-million dollar "Fiji Green" marketing campaign.
Even worse, when the Cleveland Water Department conducted tests on Fiji Water, they determined that it contained much more arsenic and other contaminants than Cleveland tap water.
4. It releases harmful chemicals
Bottled water is usually sold in flexible plastic bottles, and this generates a host of problems. Both the creation and destruction by incineration of plastic pollute our air, land, and water with harmful chemicals.
And research suggests that plastics may leach chemicals when they are scratched or heated.
You're probably familiar with the most well-known of these chemicals: BPA. BPA is a hormone disrupter. A 2012 literature review concluded that hormone-altering chemicals are damaging, even in very small doses. Scientific studies have linked BPA to asthma, cancer, infertility, low sperm count, heart disease, liver problems, early-onset diabetes, early puberty, and ADHD.

Thousands of chemical additives are added to plastics. One common type, known as "plasticizers," is used to soften plastic. PVC, one of the "plasticizers," contains phthalates, which are known to disrupt the endocrine system.
Phthalate chemicals have also been found to be carcinogenic – meaning they cause cancer. Others may actually make you fat, by making it more likely for you to store calories, rather than using them for energy.
Heating plastics, including washing them in hot water or leaving them in a hot car, has been found to increase the leaching of chemicals. Bottled water often travels many miles and through many climates, so the chance of it getting heated up at some point in its journey is very real.
5. It's polluting our oceans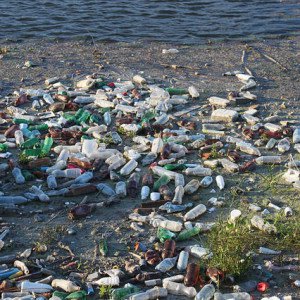 The extent of plastic pollution in the world's oceans isn't entirely known by scientists. But it's a problem of massive proportions — and one that shouldn't be ignored.
One recent study predicts that by 2050, there will be more plastic than fish in the world's oceans.
In what is called the North Pacific Gyre, plastic debris spans an area that according to some estimates is about two times greater than the size of the U.S.
Bottled water contributes to this plastic pollution significantly — 38 billion water bottles are wasted each year from the U.S. alone.
6. Fish and other sea life ingest plastic
More than a million marine species are killed every year due to plastic pollution. Seabirds, sea turtles, seals and other marine mammals all suffer. Even endangered wildlife, like Hawaiian monk seals and Pacific loggerhead sea turtles, eat and get caught in the plastic litter.
People who eat fish that ingested plastic can take in trace amounts of the plastic, including cancer-causing and endocrine-disrupting chemicals.
7. It wastes energy
Plastic manufacturing, using petroleum or natural gas, requires a huge amount of energy and resources.
The Pacific Institute calculates that producing the water bottles that Americans buy requires the equivalent of more than 17 million barrels of oil. And don't forget about the energy required to transport them — which adds to greenhouse gas emissions.
8. It pollutes our air
Water bottles are manufactured in petrochemical plants, and these plants release harmful air contaminants. Citizens who live near these plants have reported numerous health problems, including respiratory issues.
Phthalates, the chemicals used to make some plastics soft and flexible, can easily migrate and off-gas into the air we breathe. Have you ever noticed that "new shower curtain smell" or "new car" smell? That's the scent of phthalates off-gassing and it's toxic.
9. Most of the bottles are not recycled
Most people don't recycle the plastic water bottles they use. It's estimated that more than 80% of all single-use water bottles in the U.S. become litter.
Hundreds of millions end up on roads and beaches or in streams and other waterways. In the U.S., taxpayers pay hundreds of millions of dollars each year in disposal and litter cleanup costs.
10. Plastics never disappear
As the U.S. EPA reports, "every bit of plastic ever made still exists."
But we need water!!
Water gives us life, and is absolutely fundamental to long-term health. Your body is made up of approximately 70% water. Every single cell, tissue, and organ in your body need water to work properly.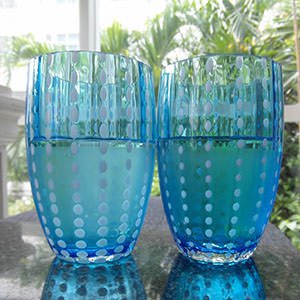 Every day, water:
Delivers oxygen to your body;

Nourishes your body's cells, which perform a wide range of necessary duties;

Helps flush out toxins

;

Aids in a healthy digestive system;

Breaks down your food for nutrition; and

Protects your vital organs.
Some researchers also believe that water may also be the most important "nutrient" for cancer prevention.
In fact, research published in the Journals of Clinical Oncology found that the more water someone drinks, the less likely they are to develop bladder, colon, and breast cancers.
So if you want to continue to drink water, but you don't want to use plastic water bottles, what do you do?
Tap water may be the most environmentally responsible option, but it is often contaminated with chlorine, arsenic, nitrate, and many other pollutants – not to mention added fluoride.
That's where water filtration comes in. There are many options for home water filters, ranging from carbon to reverse osmosis to home distillers. By sharing the truth about plastic water bottles and by finding a more sustainable solution that works for your home, you can make a world of difference for your health and for your planet.
_______________________
A note from Ocean Robbins, Food Revolution Network CEO:
For years, I've been researching the best home water filtration system, and to be honest, I've been frustrated. Most of the options available have significant downsides. Carbon filters need their cartridges changed regularly, or else they can actually begin to stockpile contaminants. Plus, they are unable to remove fluoride. Reverse osmosis (RO) units deliver high-quality water, but they can cost hundreds of dollars, plus hundreds more in maintenance and installation costs.
Fortunately, I've just learned of a fascinating new development, which is a countertop RO unit that slashes the cost of purchase, requires no installation fees, and that has extremely minimal maintenance costs.
I've tested it, and I think it's fantastic – and it's available now for order at $100 off of an already extraordinary price. Find out more about the water filtration system I recommend here.
—
Note: Fiji water image from Flickr user M Sundstrom under a Creative Commons license.