Thanksgiving can be about more than putting up with annoying relatives, gorging on a dead bird, and passing out in a stupor of television football. It can be an opportunity to bring family and loved ones together, to celebrate the many blessings in our lives, and to share healthy food with people you cherish.
It's also possible to have an abundant and deeply satisfying holiday meal without skyrocketing your blood pressure, expanding your waistline, or becoming alienated from family members who may eat very differently from how you do.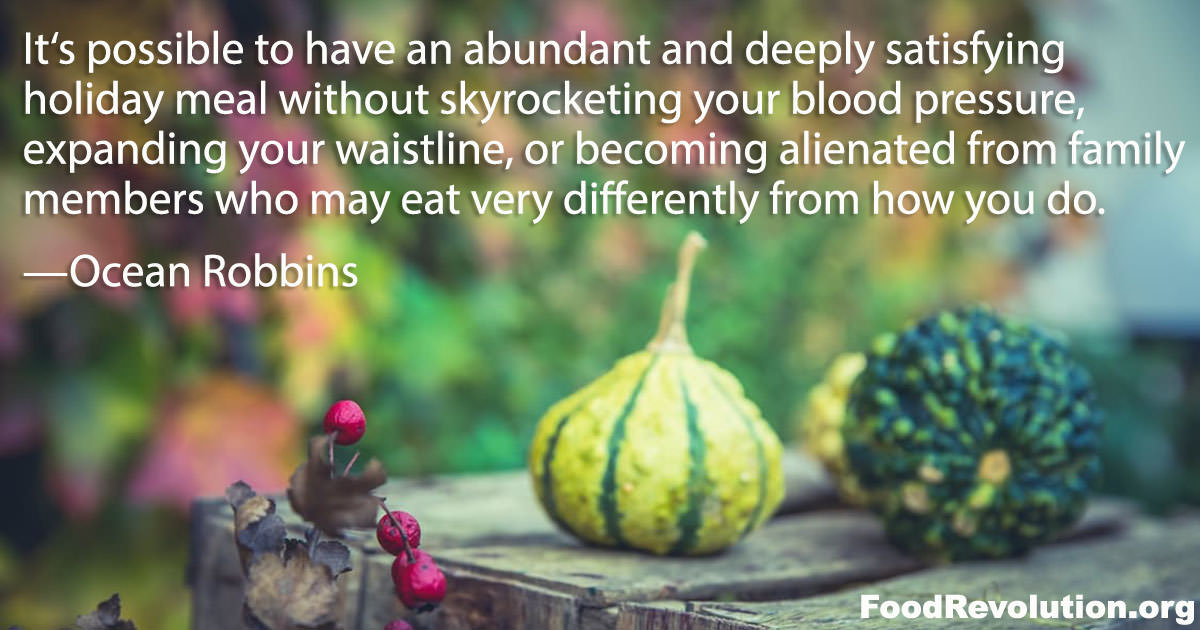 5 Tips for Healthy and Happy Holiday Meals
• Find and prepare wholesome recipes (like the ones below!) that give you options for holiday party appetizers, the main meal, and the day after.
• When going to a social event involving food, bring a truly healthy dish that you'll look forward to and can enjoy. And bring enough to share. This way you'll be sure to have good food to eat, and you can introduce loved ones to food that may be outside their normal dietary pattern.
• If a host or guests plan to bring foods that aren't in keeping with your dietary values, you can talk with them in advance about any dishes they plan to bring. Even people who don't eat like you do may be open to making something you can enjoy, which could entail a single ingredient switch, or serving something on the side so it can be optional. For example, some people may opt to leave turkey stock or gluten out of stuffing, to hold the sugary cranberry sauce on the side, to make mashed potatoes with soy milk and coconut oil instead of milk and butter, or to make other adaptations that enable shared dishes to work for more people's dietary needs.
• Before going to a holiday gathering, plan key pieces of your menu in advance. This could be very general or more specific, but more clarity and intention you have, the better. Making these decisions ahead of time will make it easier to follow through with them when you're in the moment.
• Be compassionate with yourself. You may choose to have a bite, a serving, or even a few servings of something that doesn't match up with what you normally would eat. And you may not. At a family gathering, you're likely to be balancing emotional and social dynamics with your own food ethics and values. If you do make an exception to your normal dietary pattern during the holidays, then hold yourself with love, and get back on track afterward.
(These tips were written with the help of Katie Mae of Plantz St.)
Here's a video with more advice from Food Revolution Summit speaker Neal Barnard, MD, along with other doctors and dieticians talking about how to have a healthy holiday and avoid weight gain.
You can find the plant-based recipes mentioned in the video
here
. And keep reading for more delicious, beautiful, healthy dishes you can make this holiday season.
10 Recipes to Help You Enjoy A Healthy Plant-Powered Holiday Meal
If you want your guests (and you!) to feel satisfied and happy after eating, here are some recipes you can try to create a beautiful and delicious meal.
Hummus served with raw vegetables makes a terrific appetizer. This recipe is packed with healthy protein and made without oil.
A big salad can be easy to create. Add avocado or walnuts or seeds for healthy fat. One recipe to enjoy is this Balsamic Beet Salad with Walnuts.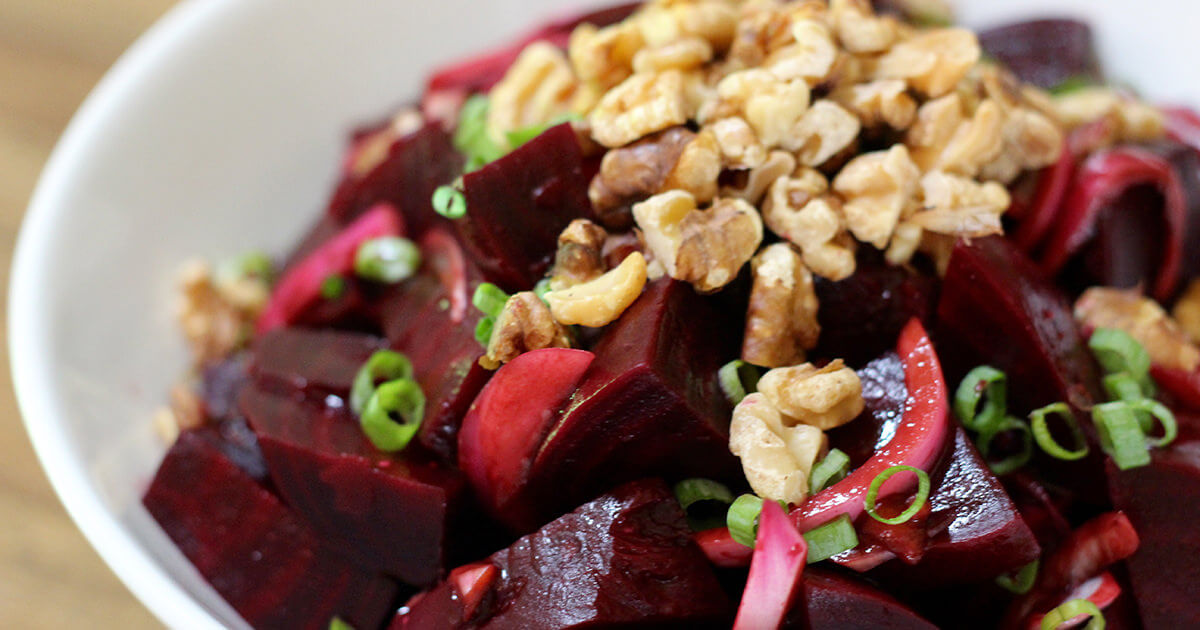 You may also want to highlight vegetables and serve them in delicious and appealing ways. How about Sweet & Sour Pumpkin, Sesame Roasted Roots with Peanut Sauce, or Eggplant "Parmesan" Made with Pecans.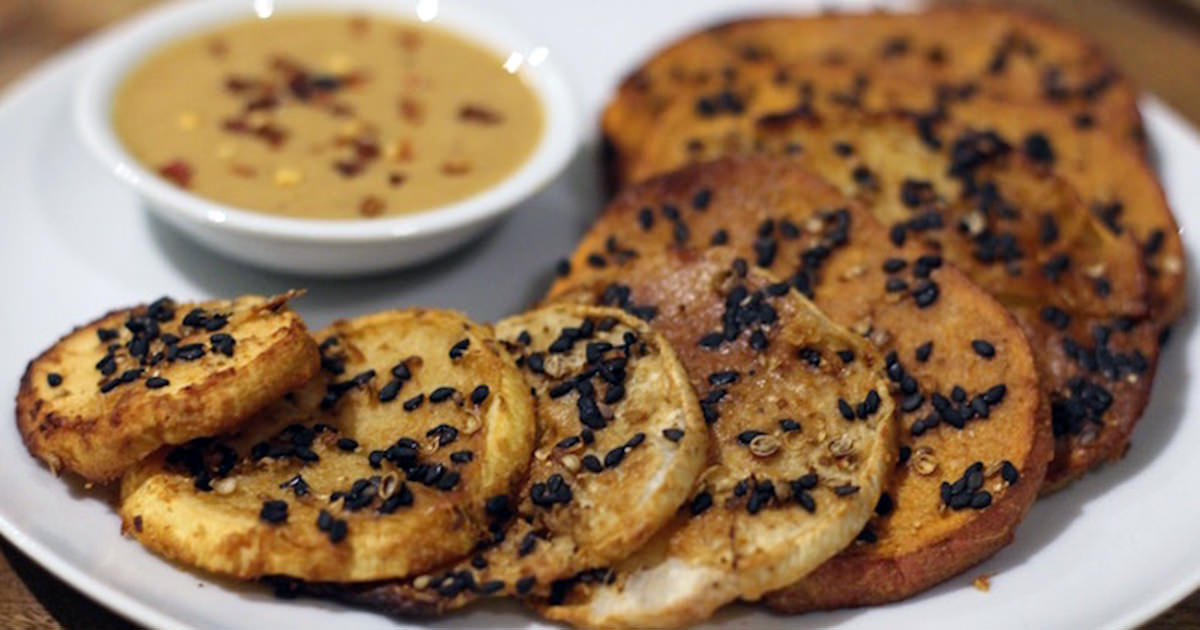 For a beautiful main dish, this Red Kuri Squash with Polenta Stuffing is a holiday favorite of plant-powered chef extraordinaire Caryn Hartglass. Another filling option is this French Lentil Shepherd's Pie.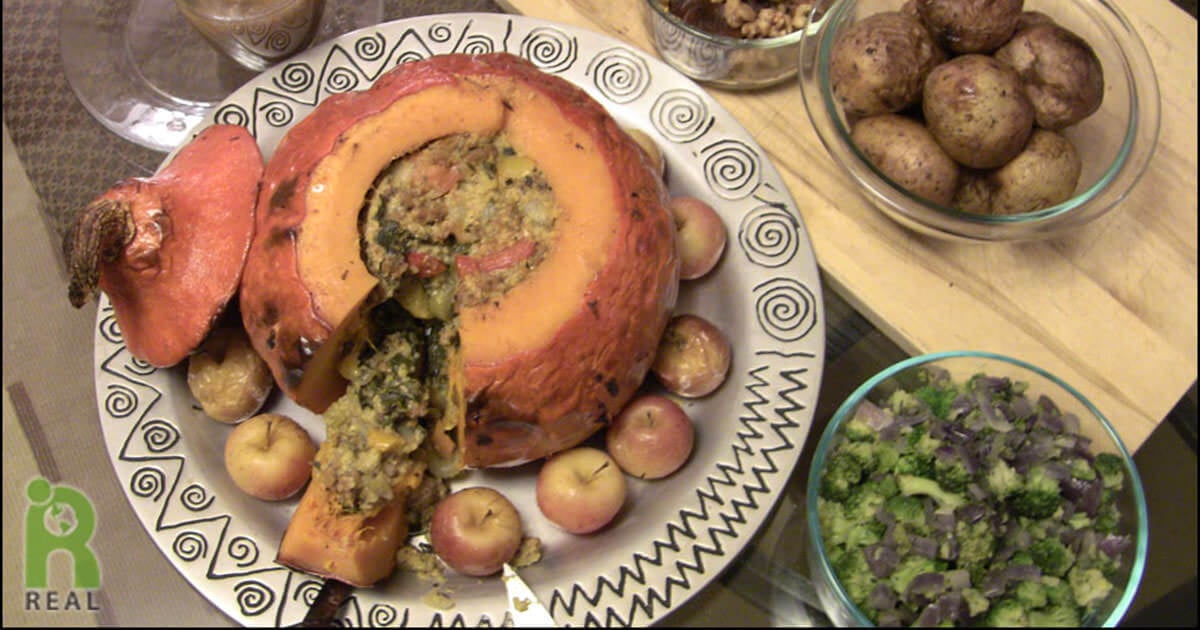 And you don't have to leave out dessert! For a healthy option, this Perfect Pumpkin Pudding is made without added sugar. And this raw, whole foods Hazelnut Cream Pie can be enjoyed guilt free. For a richer treat made with sugar, here's a classic Pumpkin Pie.
Remember To Be Thankful
According to recent research, gratitude is good for your physical, emotional, and mental health. People who express more gratitude have fewer aches and pains, better sleep, and stronger mental clarity. Gratitude doesn't just make things feel better – it also makes them get better.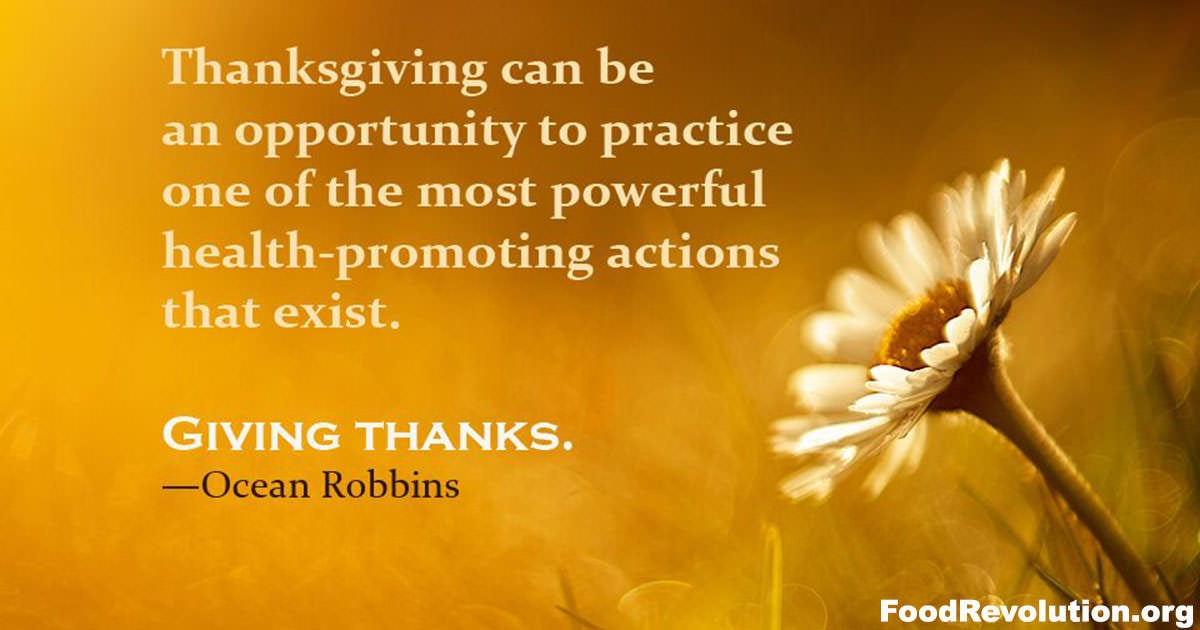 Before everyone takes a bit, you can make space for each person to share something they're grateful for. This will build positive social connection, and also help to anchor the gathering around the real spirit of Thanksgiving.
At the Food Revolution Network, we're grateful for the soil, sun, and water, and for all of the farmers and farmworkers who make our healthy food possible. And we're grateful for you, and for your partnership in standing, with us, for healthy people and a healthy planet.
We hope you have a wonderful and healthy holiday season that is filled with love and healthy, tasty, and nourishing food!
Tell us in the comments. What healthy Thanksgiving traditions do you have or want to have this year?