Soul food is a variety of cuisine originating in the Southeastern United States. It has been a cultural staple among the African American community for centuries — starting as a means of survival during the many decades of slavery and evolving into many modern-day variations.
Writing for the blog, Black Foodie, Vanessa Hayford tells us: "During the Transatlantic Slave Trade, enslaved African people were given meager food rations that were low in quality… With these rations, enslaved people preserved African food traditions and adapted traditional recipes with the resources available. Over time, these recipes and techniques have become the soul food dishes we are familiar with today. This food genre… was born out of struggle and survival."
Soul Food's Unhealthy Reputation
At its healthiest, soul food was based around inexpensive staples such as collard greens, sweet potatoes, black-eyed peas, mustard greens, okra, and turnip greens (all of which have quite compelling health benefits!). But sadly, it has developed a less-than-healthy reputation as animal-based and processed foods have taken center stage on the plate. Once cheap and long-lasting trans-fats became commercially available, many soul food cooks began relying on hydrogenated vegetable oils such as Crisco to create hyper-palatable taste and texture profiles. They added more and more sugar to desserts, like the Christmas classic Red Velvet Cake. (I actually found a recipe on a modern soul food blog that contains 2 ½ cups of sugar, as well as an entire bottle of red food coloring, for a double-decker 10" cake!)
But is it possible to honor, celebrate, and enjoy the cultural heritage of soul food in a healthy way? Absolutely!
7 Delicious and Healthy Vegan Soul Food Recipes
Enjoy the comforts of healthy soul food with these seven vegan versions. Each one is full of flavor despite the absence of animal products, refined sugars, and hydrogenated oils.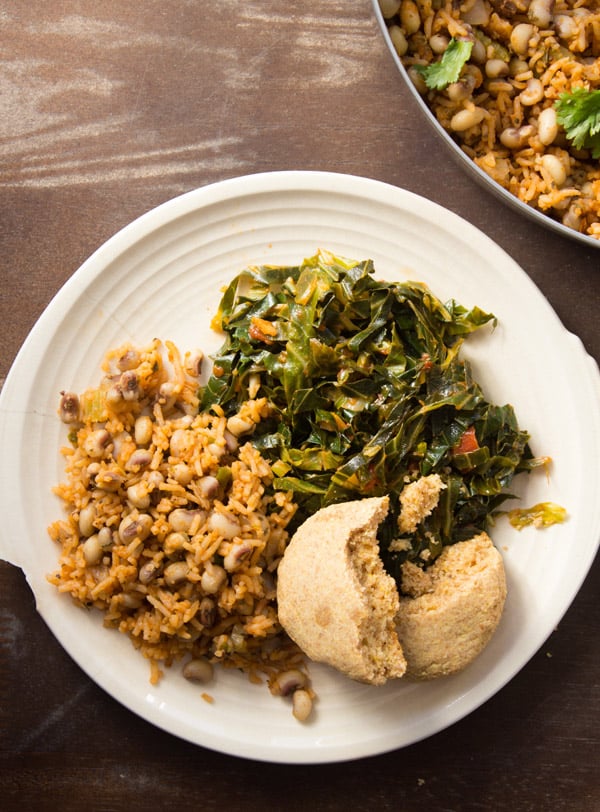 Hoppin' John is a southern beans and rice dish, traditionally flavored with bacon or fatback or smoked turkey. In this vegan soul food version, Jenné Claiborne uses smoked paprika to recreate the rich, smokey taste of the original.
While the black-eyed peas (sometimes called cowpeas) are southern to the core, the addition of rice is a West African influence. Hoppin' John is a great example of the melding of multiple culinary traditions to create modern soul food.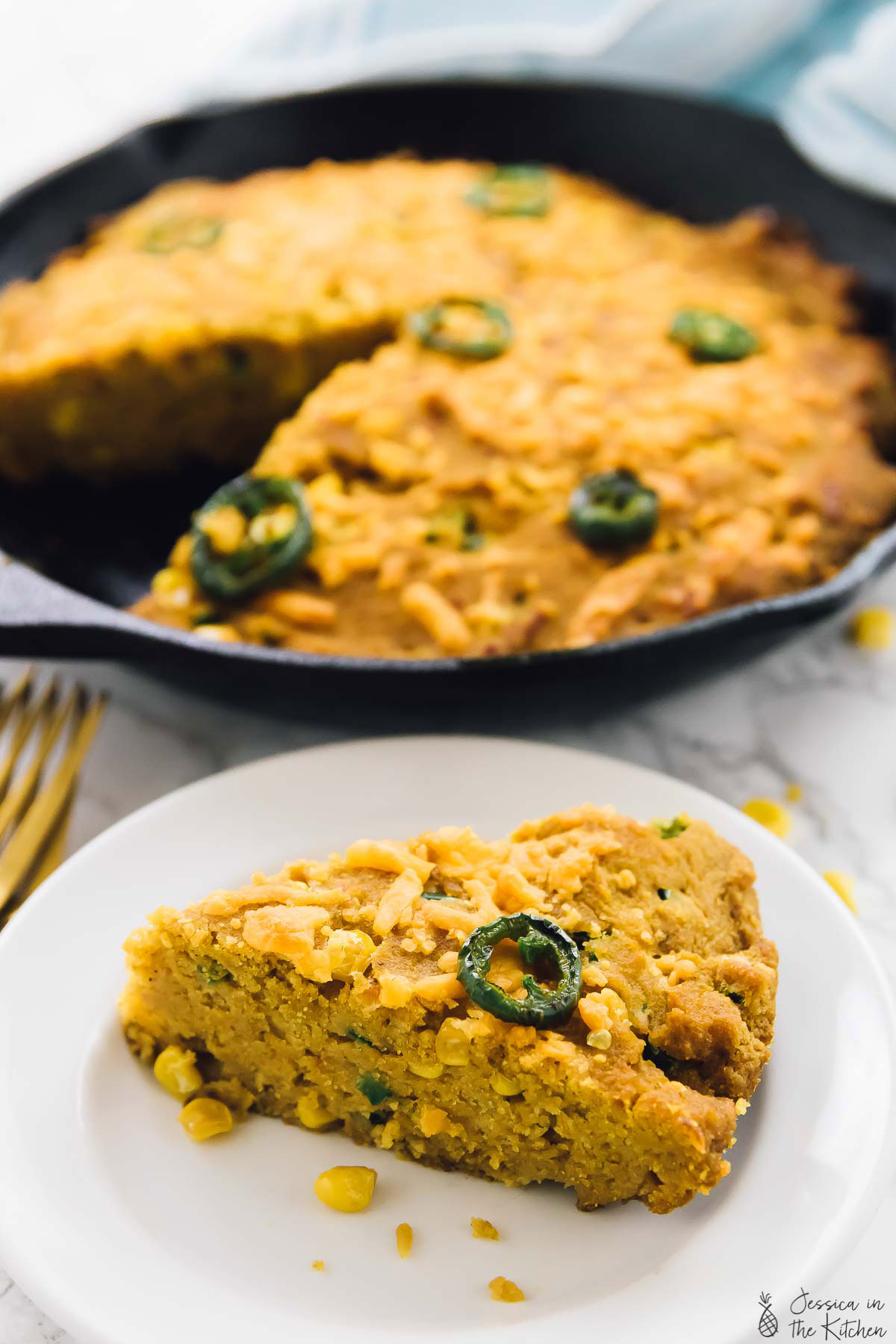 Jessica Hylton-Leckie lightens up this traditionally fat and sugar-laden soul food essential by substituting pumpkin puree for some of the oil and using a combination of coconut sugar and maple syrup in place of white sugar. The result? De-licious.
Look for organic cornmeal and flour to steer clear of GMOs and glyphosate. And if you want to go completely oil-free, try applesauce in place of the vegan butter. And skip the vegan mozzarella (or try a nut cheese instead). The combination of sweet corn and somewhat spicy jalapenos will still make your mouth sing.
Collard greens are a southern staple, and one of the reasons soul food can actually hold its own as one of the world's healthiest cuisines. While many southern collard green dishes are cooked in chicken broth and flavored with smoked meat, this recipe holds the meat and uses smoked salt and red pepper flakes to get those greens to pop.
Divas Can Cook is decidedly not a plant-based cooking blog. So big kudos to the site for publishing (and to Monique for coming up with) an animal-free, healthy version that holds its own.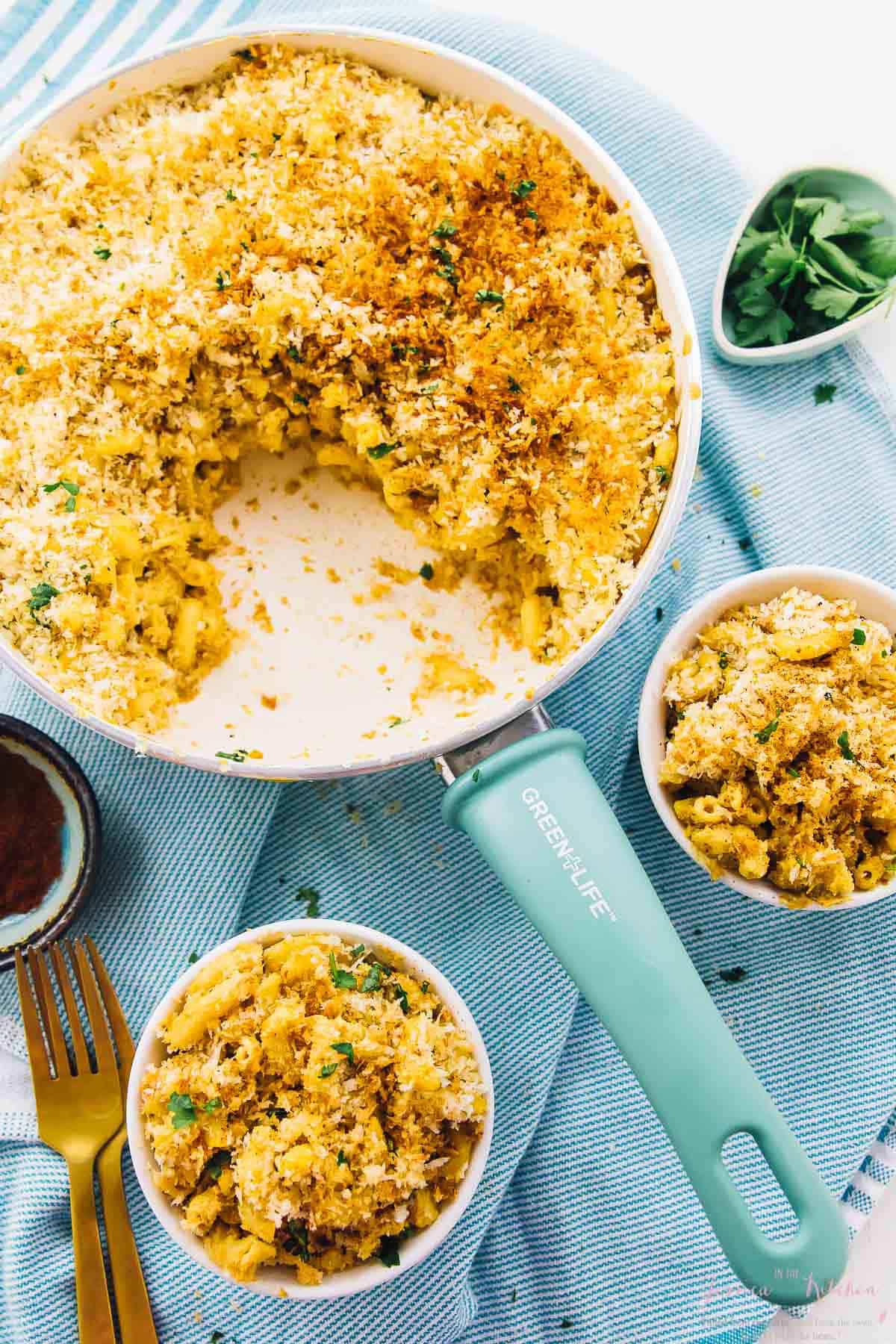 Macaroni and cheese appears to originate in English cooking, but quickly became a soul food staple at church lunches and family celebrations. The southern version gets baked in a casserole and usually involves way more Velveeta than you'd want to know about.
Jessica in the Kitchen veganizes and healthifies this dish with cashews, veggies, and nutritional yeast forming the basis of the "cheese" sauce. And if you want to go oil-free, simply omit the oil from this recipe.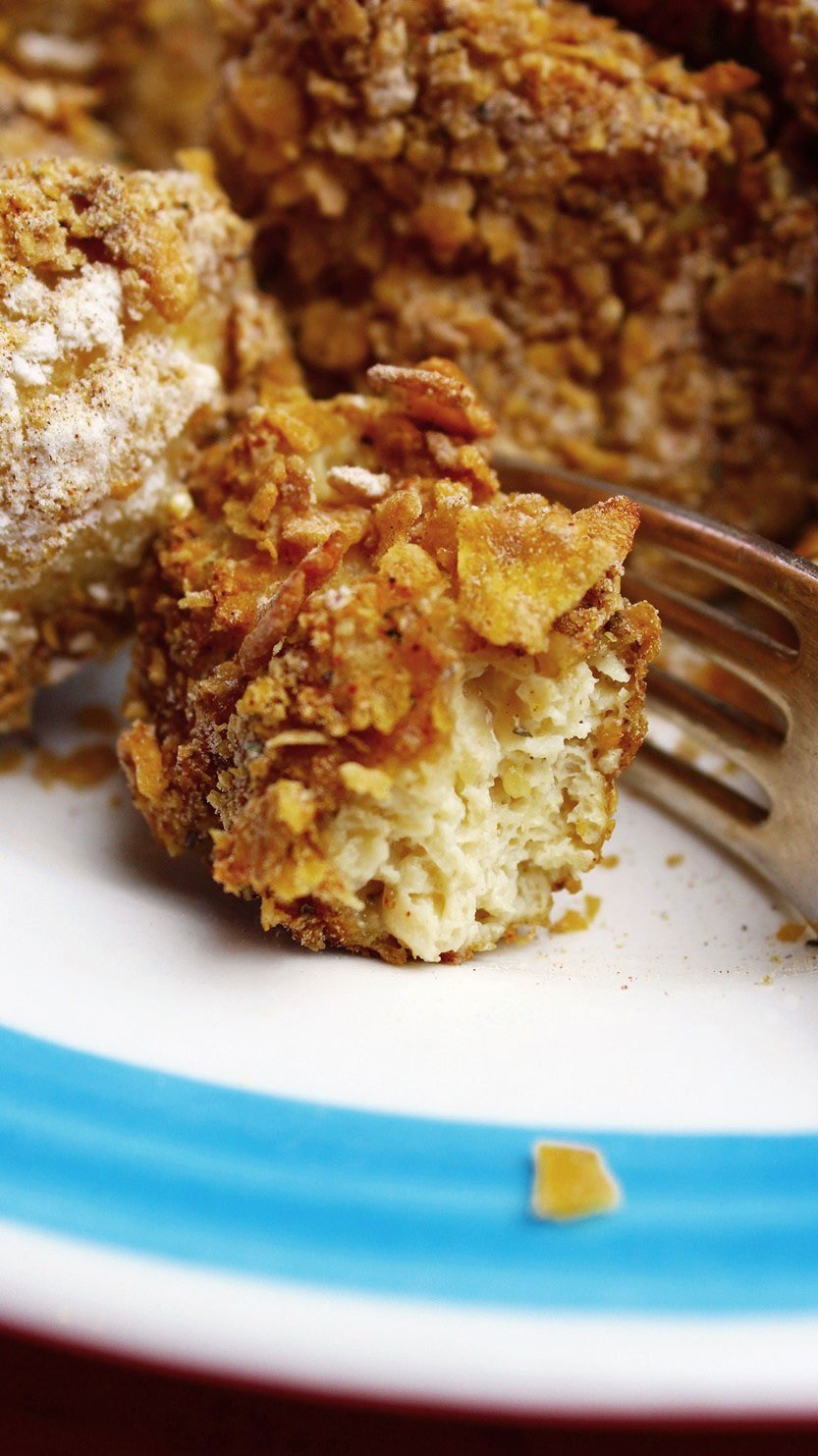 It's not fried, and it's not chicken, but "Vegan Fried Chicken" is a lot catchier than Lisa's truth-in-advertising alternate name, "Southern Style Not Fried Boneless Tofu." Two tricks turn ordinary tofu into a credible (and far healthier and kinder) challenge to KFC: freezing and thawing the tofu and using corn flakes to make the batter. Use organic tofu, cornflakes, and flour (which can be made from wheat, or gluten-free) to avoid GMOs and glyphosate.
If you plan ahead with the freezing, you can have this impressive vegan soul food dish on the table in less than an hour. It pairs well with rice and beans, salads, and biscuits.
Sweet potato pie is delicious, no doubt about it. And most soul food recipes include lots of butter, sugar, and evaporated milk. But Esosa, at Raw Girl in a Toxic World, understands that when you use really high-quality ingredients, you can omit the processed stuff and still get a delicious result.
This vegan soul food version of sweet potato pie uses just five ingredients: sweet potatoes and dates for the filling; and raisins, walnuts, and pecans for the crust. Another advantage of this simplicity — once the sweet potatoes are baked, you can make the pie in about 20 minutes.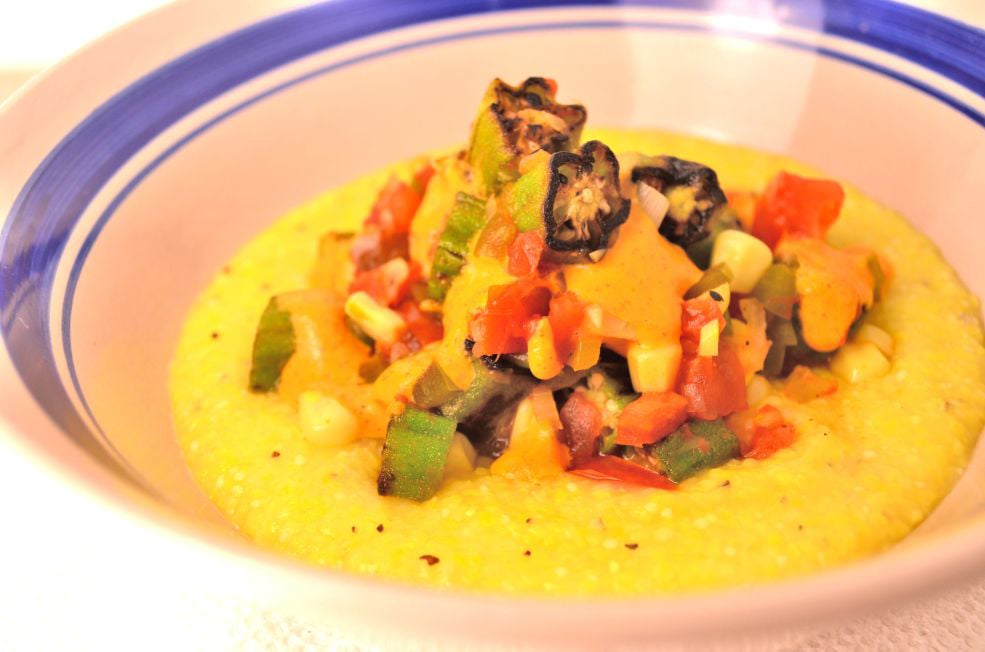 This recipe is a whole foods, plant-based version of the southern classic of grits and shrimp. It substitutes charred okra for shrimp and uses onions, garlic, and tomato instead of cheese to provide a depth of flavor. If you want to eliminate the oil used to char the okra, you can substitute aquafaba (the water in a can of chickpeas), or just air fry the okra and keep a close eye on it.
This is a great breakfast or brunch offering. The vibrant colors of the corn, tomatoes, okra, green pepper, and green onion really pop on top of the creamy yellow grits.
Tell us in the comments:
Have you made any of these classic soul food dishes? What do you think?
What are your favorite vegan soul food recipes?
Feature image: iStock.com/sbossert
Read Next: