American and European schools have been serving lunch to students since the end of the 19th century. The original reason for providing school lunches was eradicating hunger by providing plentiful calories to finicky youngsters. A second consideration was to support the meat and dairy industries by favoring their products. Back then, these were considered "protective foods." Although we now know that both meat and dairy are high in saturated fat — a leading contributor to childhood obesity, type 2 diabetes, and a host of other health challenges.
In fact, the earliest United States Department of Agriculture (USDA) food guidelines, in 1916, included five food groups — milk and meat, cereals, vegetables and fruits, fats and fatty foods, and sugars and sugary foods. Not exactly the pinnacle of what we now know equals good nutrition. Aside from the vegetables and fruits, most of these recommendations would put you on the fast track to chronic diseases like cancer, heart disease, type 2 diabetes, and autoimmune conditions.
Given the state of nutritional knowledge at the beginning of the 20th century, these school menus were excusable for that time. But despite our vastly improved understanding of diet and nutrition, many schools continue to serve unhealthy lunches to children, staff, and teachers.
For example, consider the Kansas State Department of Education's "Healthier Kansas Menus." Choices include pigs in a blanket or peanut butter and jelly sandwiches one day, and sausage, biscuits, and gravy or pepperoni pizza on another. While fruits and vegetables are required, students, who have received little or no education about nutrition, often toss these food items in the trash.
Improvements in Healthy School Lunches
Luckily, many schools, and even the USDA, are actively participating in school lunch reform. And they're finding new ways to provide healthy school lunches. Currently, California is leading the charge in incentivizing schools to offer, healthier, plant-based, and climate-friendly school lunches.
Introduced in February 2019, in the California State Assembly, a bill, nicknamed the California School Plant-Based Food and Beverage Program, would require California schools to provide plant-based food and milk options.
Although it has passed and been amended several times, as of this writing, it still awaits approval from the Committee on Appropriations and the addition of adequate funding.
Homemade School (or Work) Lunches Can Have Issues Too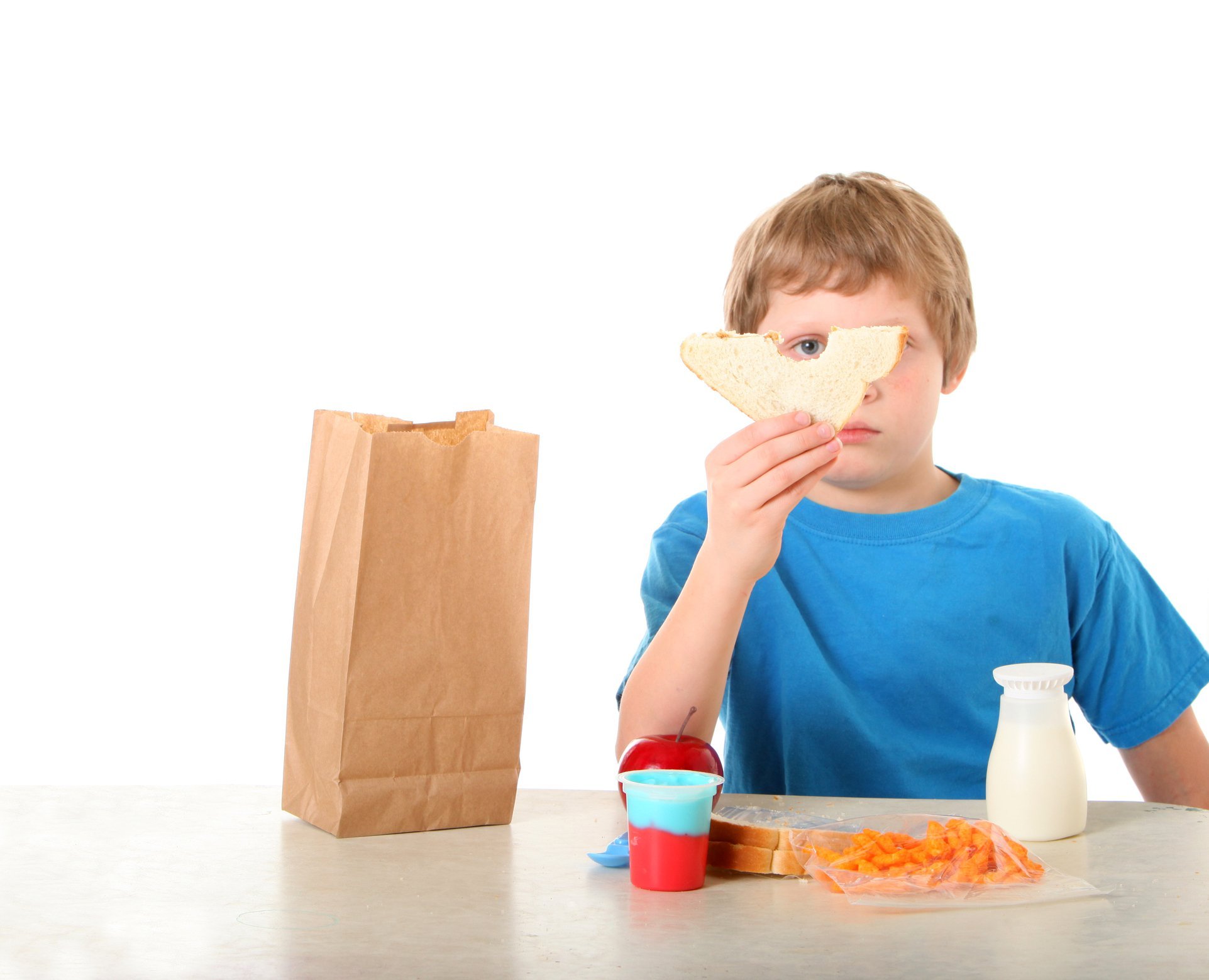 Of course, just because a lunch was prepared at home doesn't make it healthy. A homemade lunch consisting of the wide variety of processed snack foods, can be just as bad or even worse than some school-provided lunches. All of that salt, sugar, fat, food additives, dyes, and preservatives can put you on the fast track to poor health.
And time-stressed adults don't always fare any better with homemade lunches, whether eaten at work or home. It can be all too tempting to reach for what's quickest and easiest. Meals all too often consist of white bread sandwiches piled high with processed meats and cheeses, cold pizza, or fast food.
But here's the good news: Homemade lunches can be much healthier if you use the right ingredients. And they can be convenient and delicious, too!
So, what are some healthy lunch recipes that are quick, easy, and that you can look forward to enjoying?
6 Healthy Lunch Recipes to Nourish Every Cell
No longer do quick and easy lunches have to equate to unhealthy. With these seven healthy lunch recipes, you can have (or provide) something nutritious at school or work, even when you're in a hurry.
Cauliflower Mac n' Cheese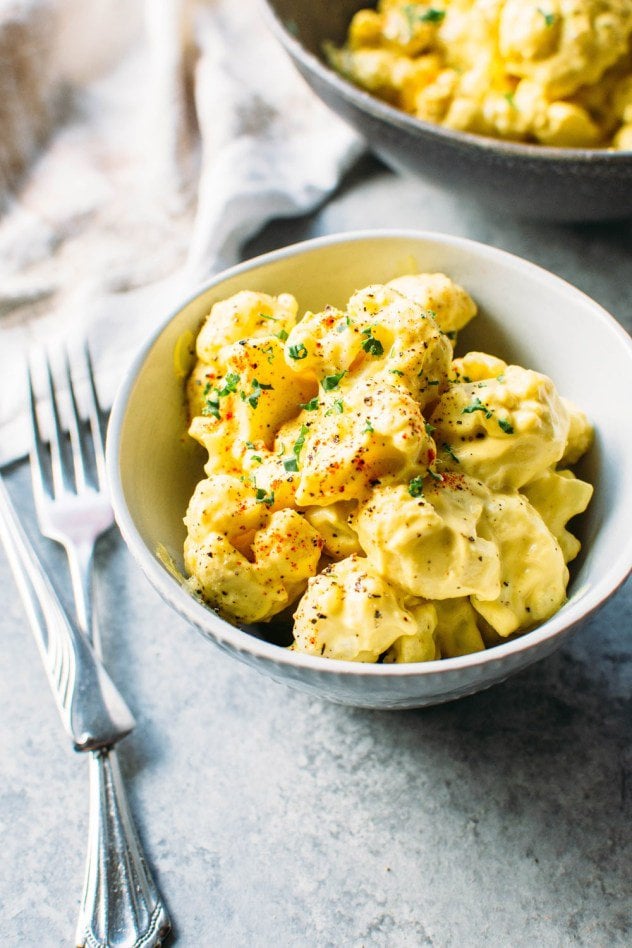 For a healthy, plant-powered lunch that's delicious hot or cold, this Cauliflower Mac n' Cheese by Nyssa's Kitchen will satisfy kids and adults alike. Gluten- and dairy-free, cauliflower stands in for macaroni noodles. And they're smothered in a super creamy, cauliflower cashew cheese sauce. Great on its own, you can also include some mix-ins like peas, chilis, or beans for a much healthier option than those processed, boxed mac n' cheeses.
Tip: If nut-free, you can substitute the cashews with silken tofu, or even sunflower seeds, to make the cheese sauce.
Vegan "Egg" Salad
Although it's an old lunchbox standby, egg salad isn't exactly a healthy school lunch for adults or kids. Eggs may have some health benefits, but they also have a potentially concerning influence on chronic disease. Not to mention they pose ethical concerns about the treatment of caged hens.
Egg salad is also typically mixed with a boat-load of mayonnaise, which can contain more eggs, preservatives, flavorings, and of course, plenty of oil and other unhealthy fat.
But if you want to recreate the taste and texture of egg salad for a school or office lunch, without the potentially harmful ingredients, give this Vegan "Egg" Salad by From My Bowl a try.
Tofu stands in for eggs in this recipe, but you could also use mashed chickpeas. And instead of mayo, you can use a cashew-based condiment with nutritional yeast, lemon, and turmeric amongst other good-for-you ingredients.
Tip: Serve on gluten-free or sprouted bread for a sandwich, or a bed of greens or salad. Choose organic tofu to avoid GMOs. You can also use tofu in the mayo to go nut-free.
Smashed White Bean, Basil, & Avocado Sandwich
Pumpkin and Peanut Butter's Smashed White Bean, Basil, & Avocado Sandwich combines the flavors of hummus, guacamole, and pesto all in one. The only additional ingredients are salt and pepper, lemon, and dijon mustard. And you can also add whatever veggie sandwich fixings your heart desires. You could easily spoon the filling over a salad or in a veggie bowl. You could even mix with the vegan egg salad for an adventurous but healthy lunch.
Rice Paper Rolls with Mango & Mint
Roll-ups and wraps make great work lunches. And their portable, easy-to-eat shape makes them ideal for a child's back to school lunch as well. But instead of rolling up a bunch of processed meats and cheese, why not try these healthy and refreshing, Rice Paper Rolls with Mango & Mint from Vegan Heaven.
All you need are a variety of fresh, raw, crisp veggies, Vietnamese rice paper, and cooked glass noodles. You can also include sauteed or baked tofu if you eat soy products. Just make sure it's organic if you want to avoid GMOs. Best of all is the five-ingredient, homemade peanut sauce perfect for dipping or drizzling on top. Eat your way to health!
Tip: If your school doesn't allow any nuts or nut products (or you or your child are allergic), omit the peanut sauce and replace with soy sauce, tamari, or coconut aminos.
Sesame Garlic Stir Fry Noodles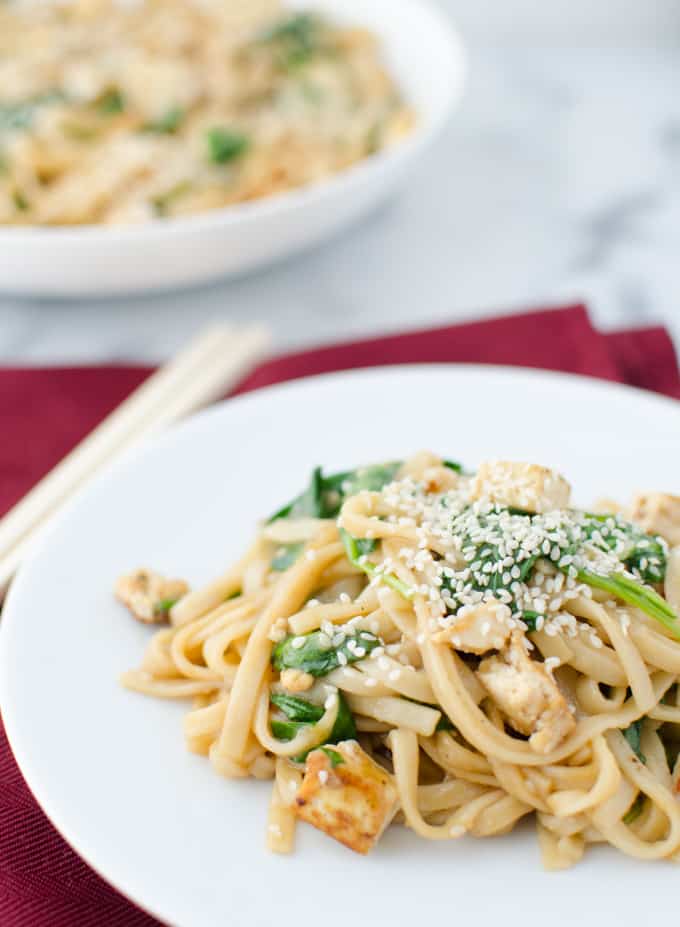 Once your coworkers (or your child's friends) get a whiff of these Sesame Garlic Stir Fry Noodles by Delish Knowledge, they'll be begging for a taste.
Kids love noodles. And what better way to get in some greens, healthy spices, and plenty of plant-based protein than with a recipe that's fun for them to eat. While most Asian noodle dishes you'd find at a restaurant might include added sugars and MSG, you can rest assured this version won't.
Tip: Choose organic soy products to avoid GMO exposure. You can also replace the soy sauce with tamari, or, if gluten-free, choose coconut aminos. To reduce the oil in this recipe, bake the tofu and then add to the sauce.
Lunchbox Black Bean Quinoa Salad
Looking for a quick and easy back to school lunch that's high in protein, fiber, and antioxidants? Fork and Beans' Lunchbox Black Bean Quinoa Salad is a healthy and highly nutritious school lunch recipe. It requires only six ingredients — quinoa, black beans, corn, tomatoes, red onion, and cilantro — plus a simple lime-based dressing. Cooking, chopping, and combining all the ingredients should take no more than 25 minutes. Even if you can't manage that on a busy morning, you should be able to the night before.
Tip: Omit the oil in the dressing to go oil-free. If you have a cilantro taste aversion, omit it completely or substitute parsley.
Tell us in the comments:
What do you think of these healthy lunch recipes?
What are your favorite ways to make healthy school (or work) lunches?
Featured Image: iStock.com/fotostorm
Read Next:
Editor's Note: This article was edited on August 7, 2019. On account of peanut allergy concerns and nut-free school policies, a couple of recipes were changed to eliminate use of peanuts and tree nuts, or other alternatives were suggested.