The appetizer is making a comeback! For a long time, appetizers were mainly for fancy, multi-course sit-down dinners — and as finger foods at cocktail parties. For most of us, they weren't part of our everyday life. But just as many of us are consuming media in smaller and smaller chunks — and getting our news in "soundbites" — many people are taking a liking to the sampling of lighter and more convenient food fare. And while decreased attention spans might not be anything to celebrate, the move toward lighter and more varied meals can be good for our enjoyment of life and our health — if we make those appetizers healthy.
In fact, eating a bunch of healthy starters and appetizers can be a fun way to sample a lot of dishes without getting uncomfortably full.
Types of Starters and Appetizers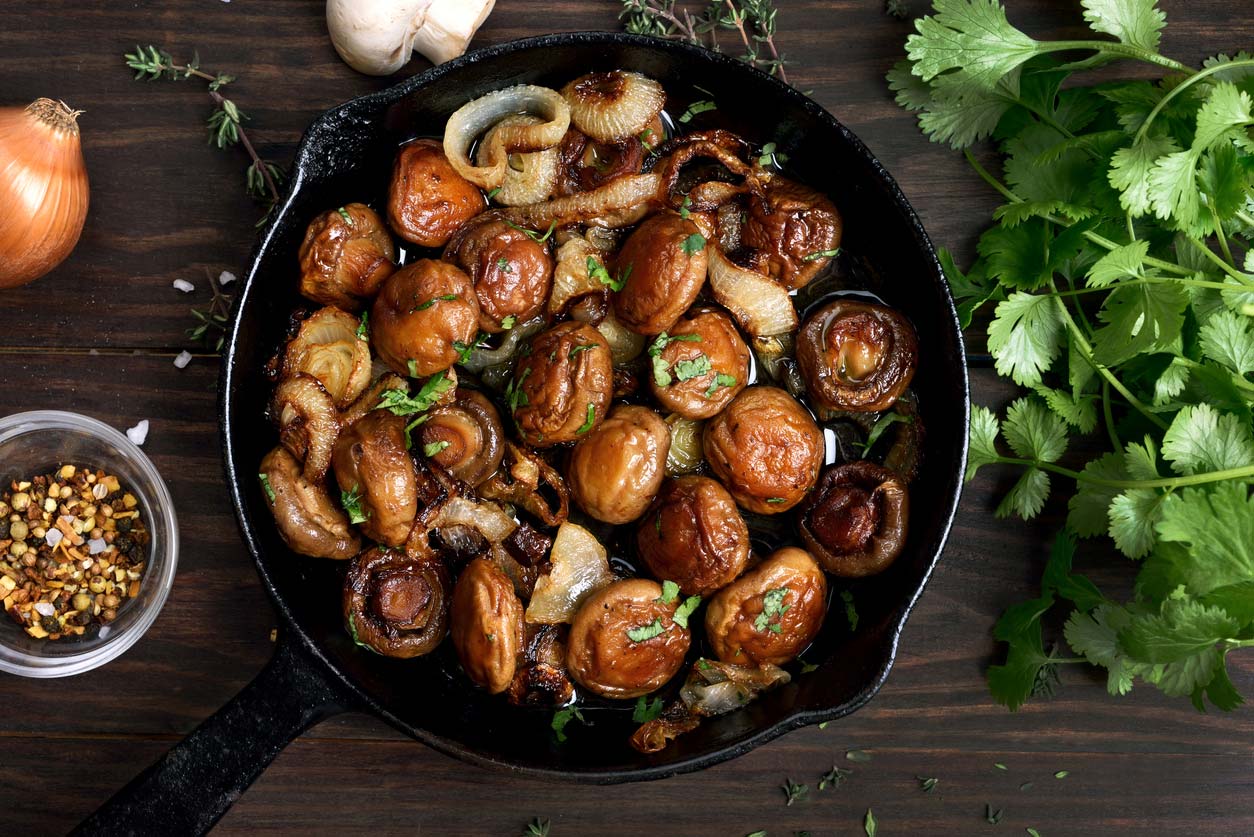 Many different cultures have long-standing traditions of appetizers and starters. The word appetizer itself comes from the French word appétissant or "appetizing," meaning to make hungry, to increase desire for food. One of the most unfavorite spelling bee words, hors d'oeuvre, means "outside of work," or "out of the ordinary," which may refer to the serving of these dishes outside of the regular meal.
My favorite French word for an appetizer is canapé, referring to a cracker or slice of bread with something else sitting on top. It means — wait for it — "couch" or "sofa," as the topping rests on the base the way a person might lounge on a sofa. So watching the game while eating Ritz crackers topped with peanut butter and cream cheese could really turn you into a couch potato!
France isn't the only Mediterranean country with its own appetizer traditions and nomenclature. Spanish tapas are bite-sized appetizers served hot or cold. And their Mexican counterparts are called botanas, which could refer both to starters and snacks. The Portuguese call these little treats petiscos, while Italians eat antipasto, meaning "before the meal." Or they might include crostini, or "little crusts": toasted bread or crackers with a topping. And in Greece, you're often offered some meze, which means a taste or a snack.
The concept of small dishes and finger foods is global, of course. Think of Chinese dim sum — small plates often served off a trolly in restaurants — and Japanese sushi and sashimi. Russian zakuski are finger foods typically served outside of the dining area. And for the Swahili people of Kenya and Tanzania, mandazi — made from small bites of fried flour and coconut — is one of the most popular finger foods. The famous Swedish smorgasbord also features an impressive variety of small bites served on a common table.
When Appetizers Aren't Healthy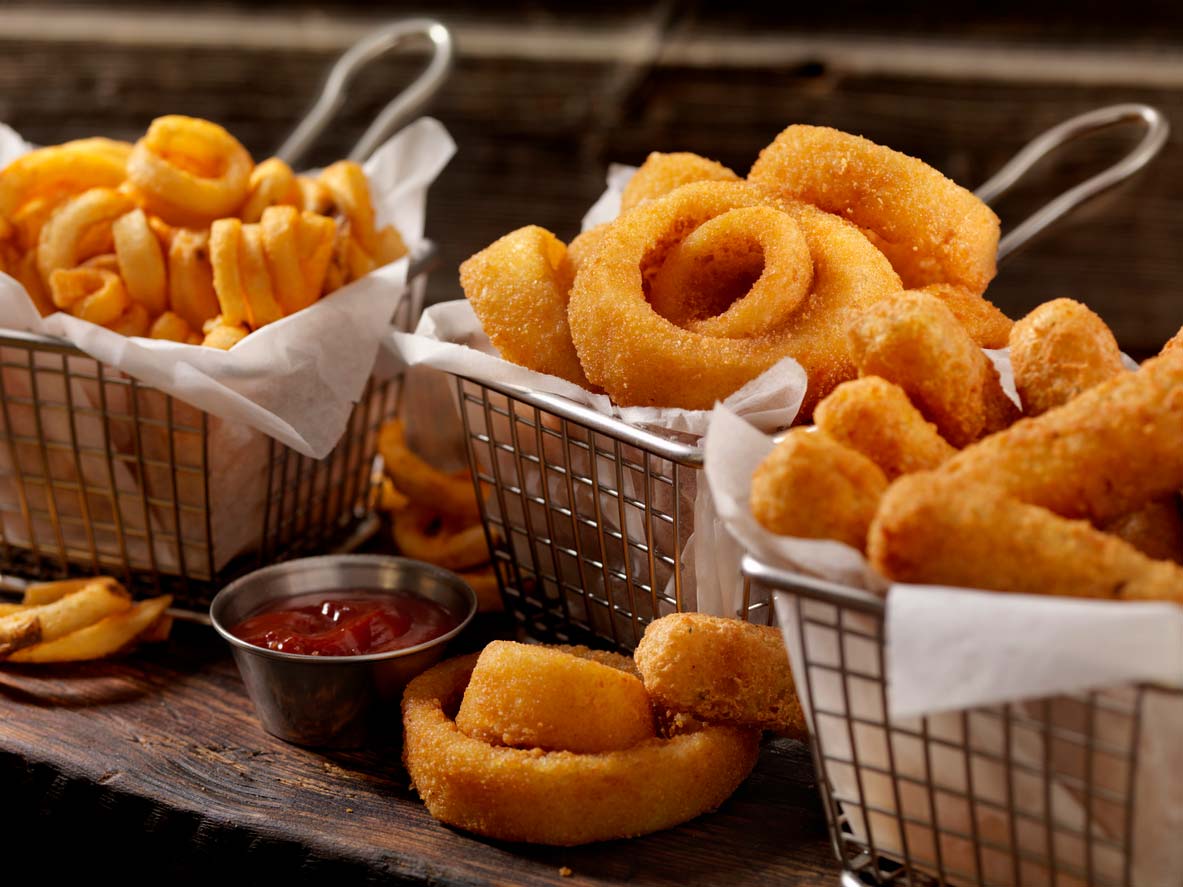 The great thing about traditional appetizers is that they are small and light since their purpose is to enhance the appetite, rather than satisfy it. Unfortunately, in our modern culture, we've turned appetizers into high calorie, heavy, greasy, salty foods that are high in unhealthy fats and low in nutrition.
The most popular lunch starters at limited-service restaurants, meaning places without wait staff, are onion rings and French fries. Other favorites include breaded and fried mozzarella sticks, chicken wings and tenders, and even vegan appetizers like Outback Steakhouse's "Bloomin' Onion," a deep-fried breaded onion that delivers 1,950 calories and more than a full day's ration of sodium — and that's before you add the dipping sauce.
Other appetizers that are also not about to win any healthy eating awards include charcuterie boards full of processed meats and cheese, deep-fried chips and dips, nacho plates, deviled eggs, and shrimp cocktails. Beyond just the huge number of empty calories, problematic ingredients can include genetically engineered oils, saturated fat from meat and cheese, lots of sodium, processed meat, and unregulated if not downright dangerous flavorings.
To make things worse, now, many of these foods are available in the frozen food cases of grocery stores for convenience. While eating a greasy appetizer in a restaurant once every few weeks won't necessarily derail your health goals, having fries and onion rings available on-demand, right out of the freezer, can lead to levels of consumption that cause serious health problems.
Make Your Own Healthy Starters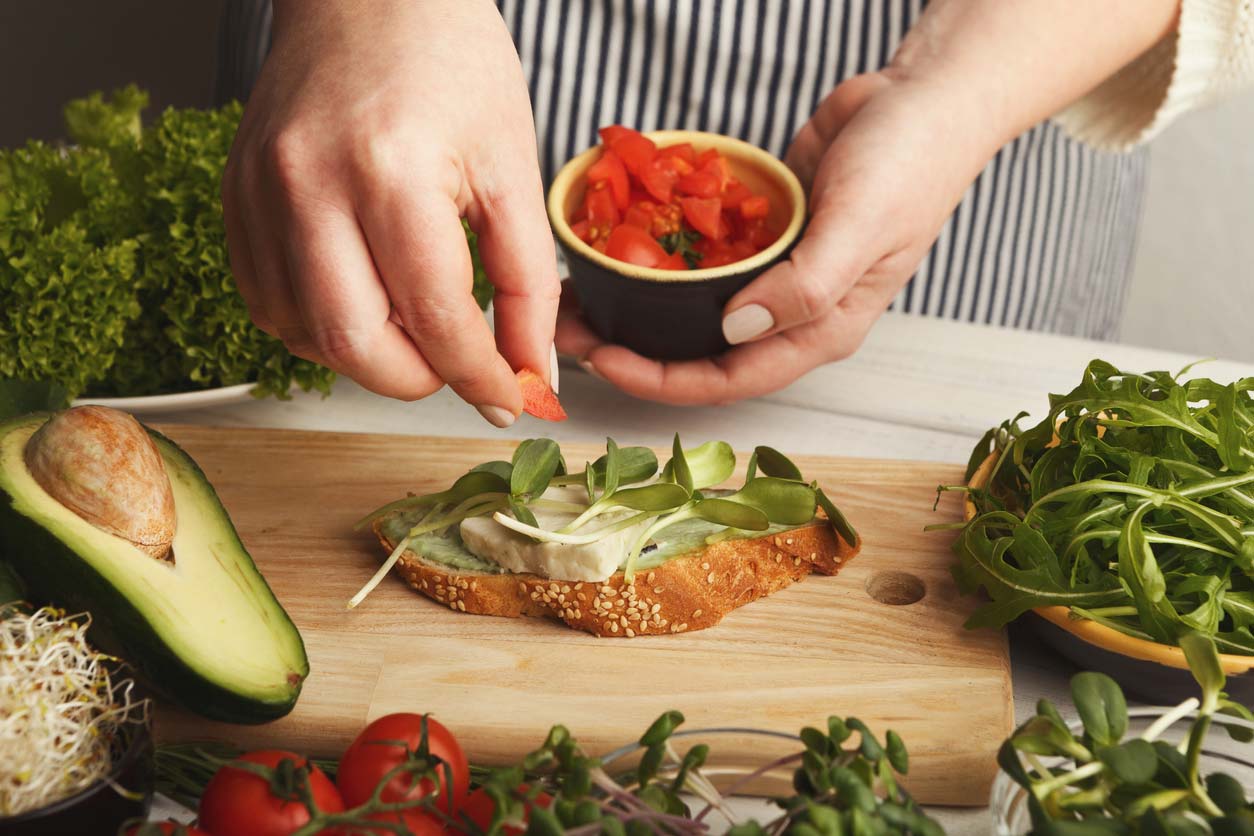 Today, most high-fat commercial and popular appetizers are contributing to obesity and disease. But that doesn't mean we can't enjoy healthy starters. With our busy and sometimes chaotic lives, many of us want to save time, enjoy snacks that don't require a sit-down place setting, and whet our appetites with a first course.
Fortunately, there are many healthy, plant-based alternatives to mozzarella sticks, Buffalo wings, and nacho bowls that don't require lots of time — or expensive and hard-to-find ingredients. You can create delicious and light plant-based appetizers and small-plate meals with just whole food ingredients. Spanish tapas, in particular, can provide great inspiration for veggie appetizers like sauteed mushrooms in garlic, olives with roasted red peppers, and sweet potato bites with guacamole.
Focus your appetizer creativity on ingredients like vegetables, legumes, and nuts and seeds. And include classic spice blends from different cultures. You can avoid excess oil by water sauteing or using an air fryer. And to save time and money, you can also buy in bulk and prep ahead of time, especially if you're planning an outdoor gathering with healthy finger foods and small starters.
7 Healthy Small Plate Appetizer Recipes
Fun fact: Appetizers can be tasty and fun, as well as healthy! Substitute baked chickpea "fries" for fried potatoes, buffalo cauliflower for chicken, and much, much more. There are so many ways to get creative in a plant-based kitchen and watch your friends and family be astonished by your vegan appetizer creations. To get you started, here are seven classic appetizers recreated for health as well as deliciousness.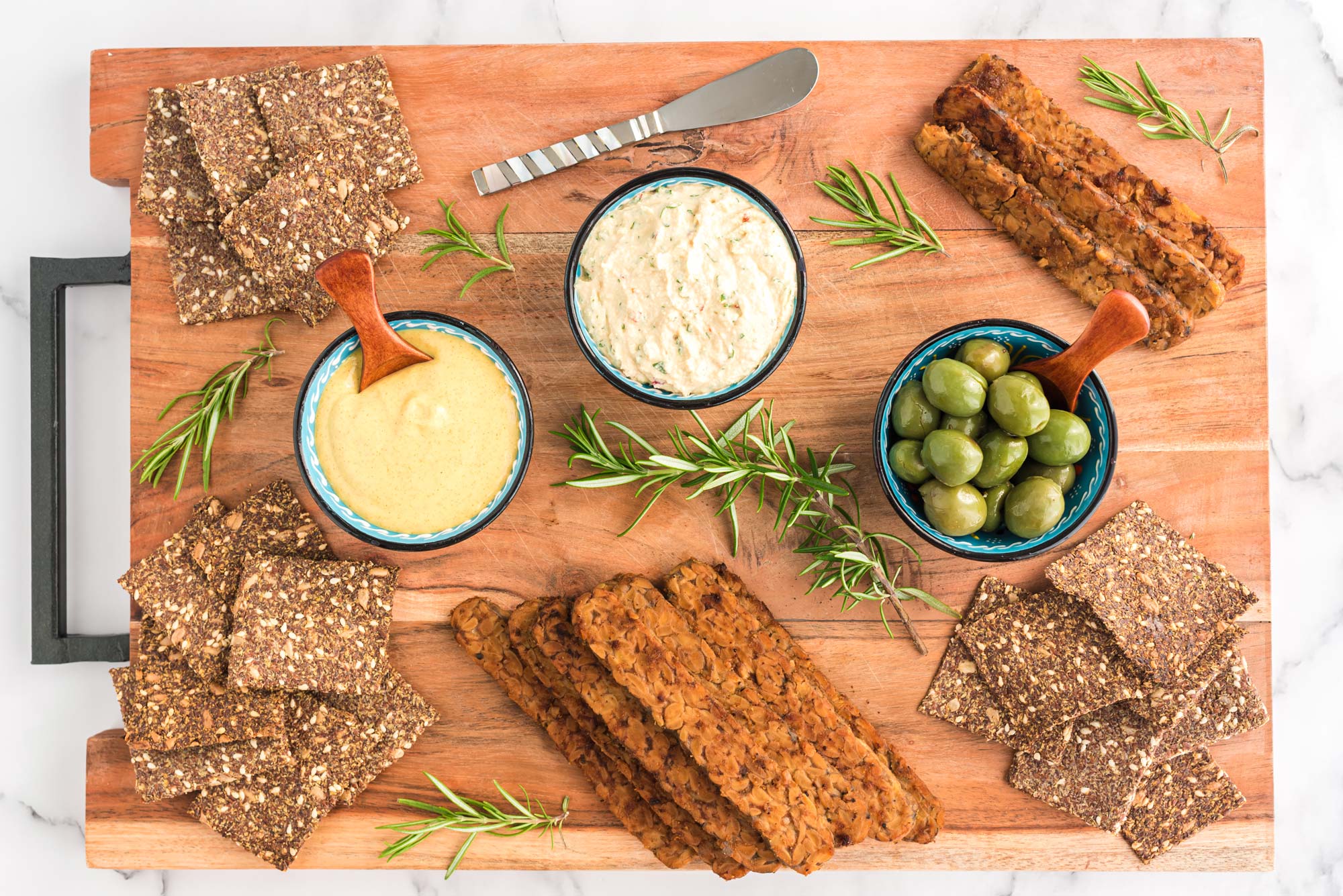 This environmentally friendly, cruelty-free, and healthy whole-food version of a charcuterie board is everything you'd ever want in a plant-based appetizer: crunchy crackers, creamy cashew cheese, savory tempeh bacon, and sour, pungent, sweet, and bitter olives. It's a party for all your taste buds!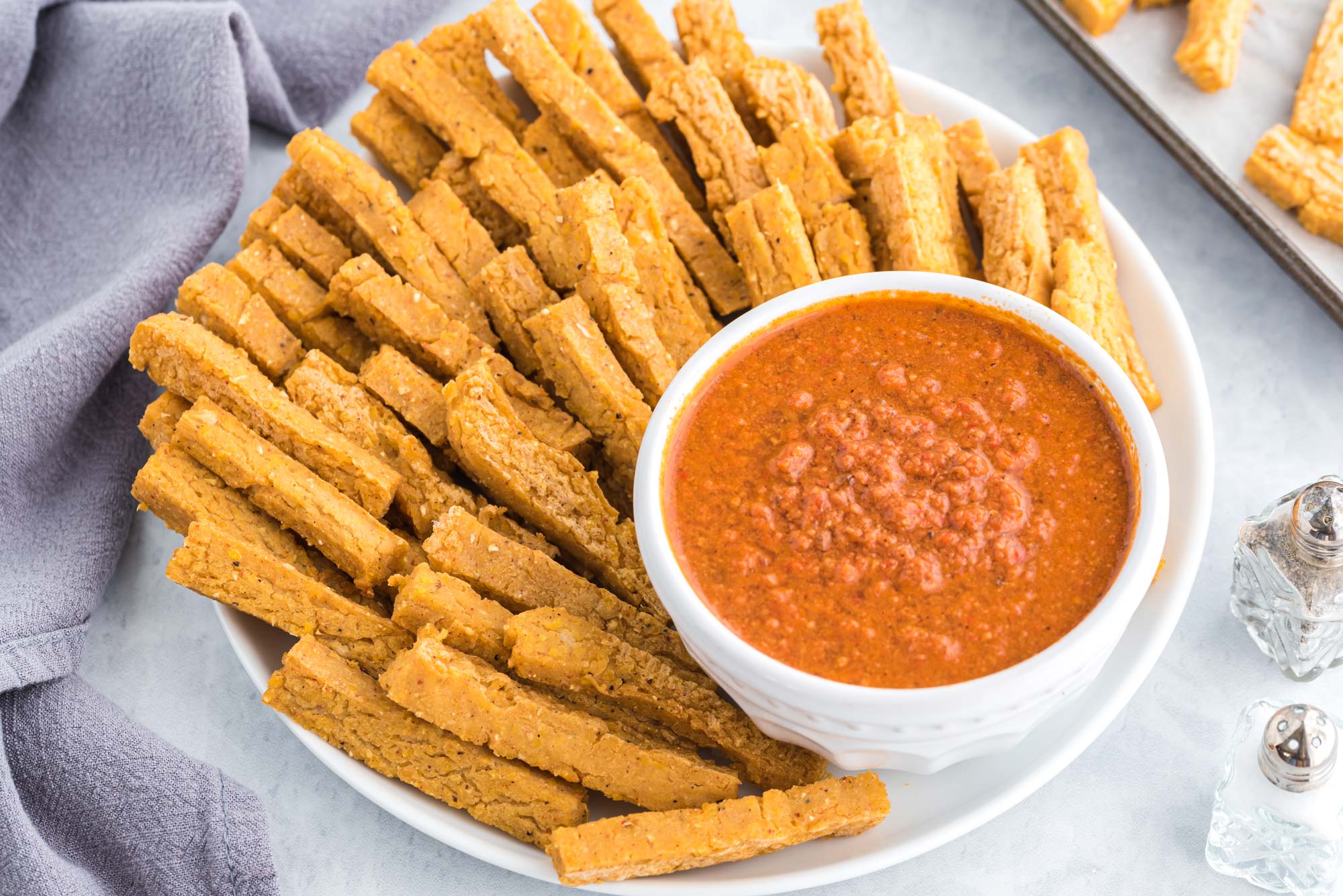 Bake instead of fry to make these nibbles healthy. And swap chickpeas for potatoes for a protein boost. These chickpea fries get super crispy in the oven and pair well with almost any kind of sauce or dressing. But the creamy, nutty, and smoky romesco sauce pairs perfectly with them.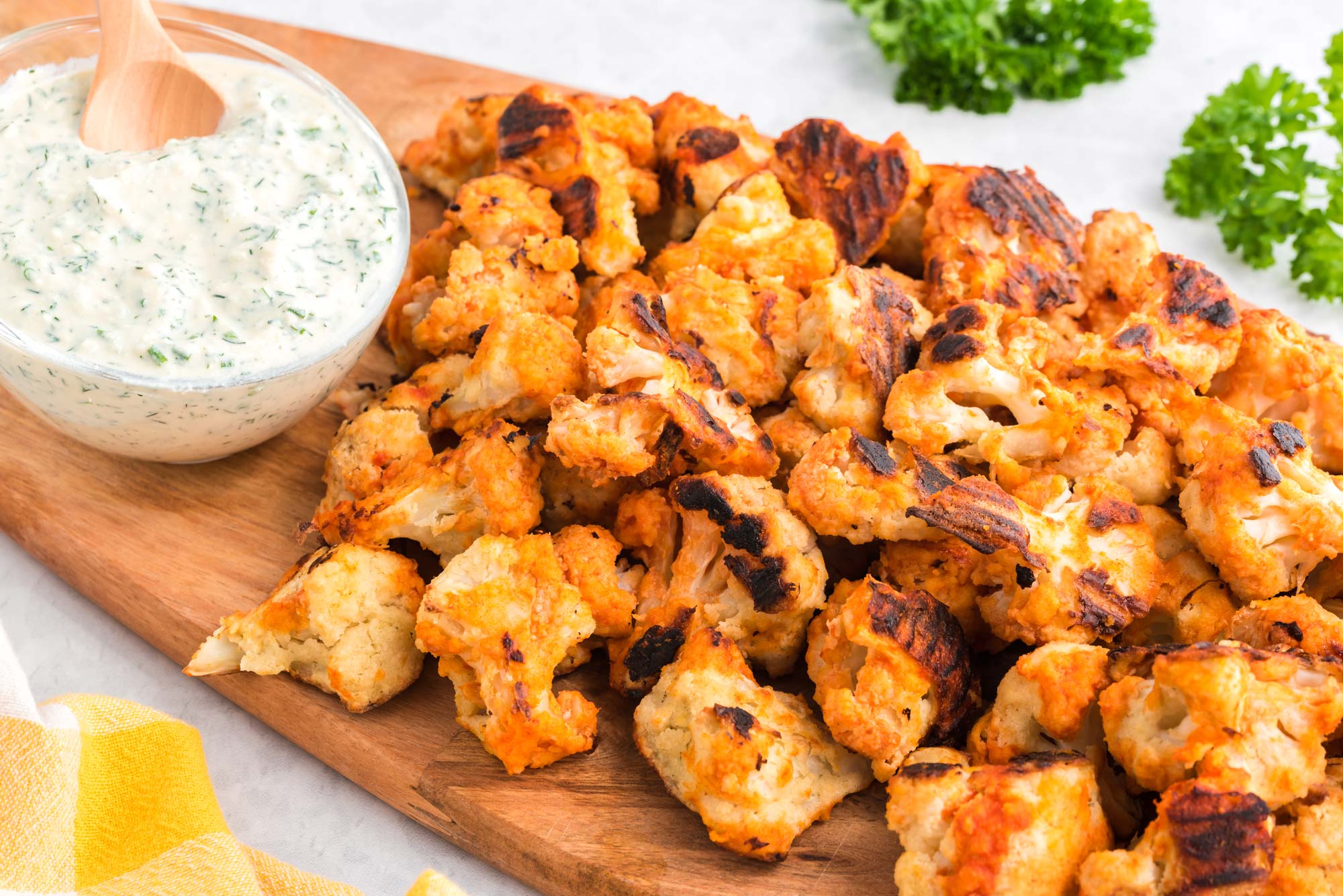 If your taste buds love the contrasts of spicy vs. cool and crispy vs. creamy, then this starter is for you. You could also make mini vegan taco appetizers by stuffing organic corn tortillas with the cauliflower and vegan ranch along with some lettuce, tomato, avocado, and cilantro!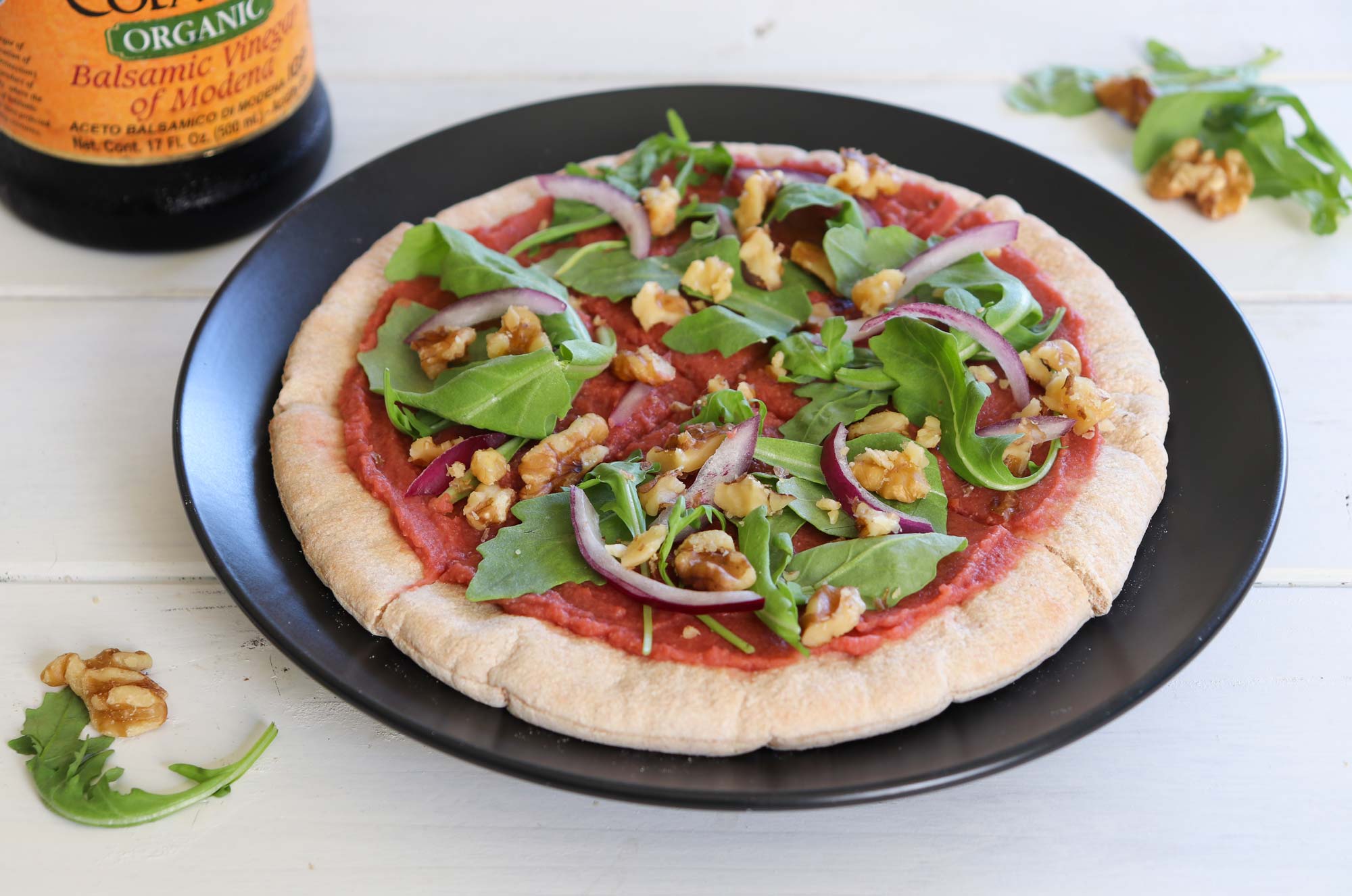 A simple and fun Friday night nosh, these flatbreads are also super nourishing and tasty. Homemade beet hummus topped with arugula, walnuts, and red onion will have everyone around the table clamoring for your recipe!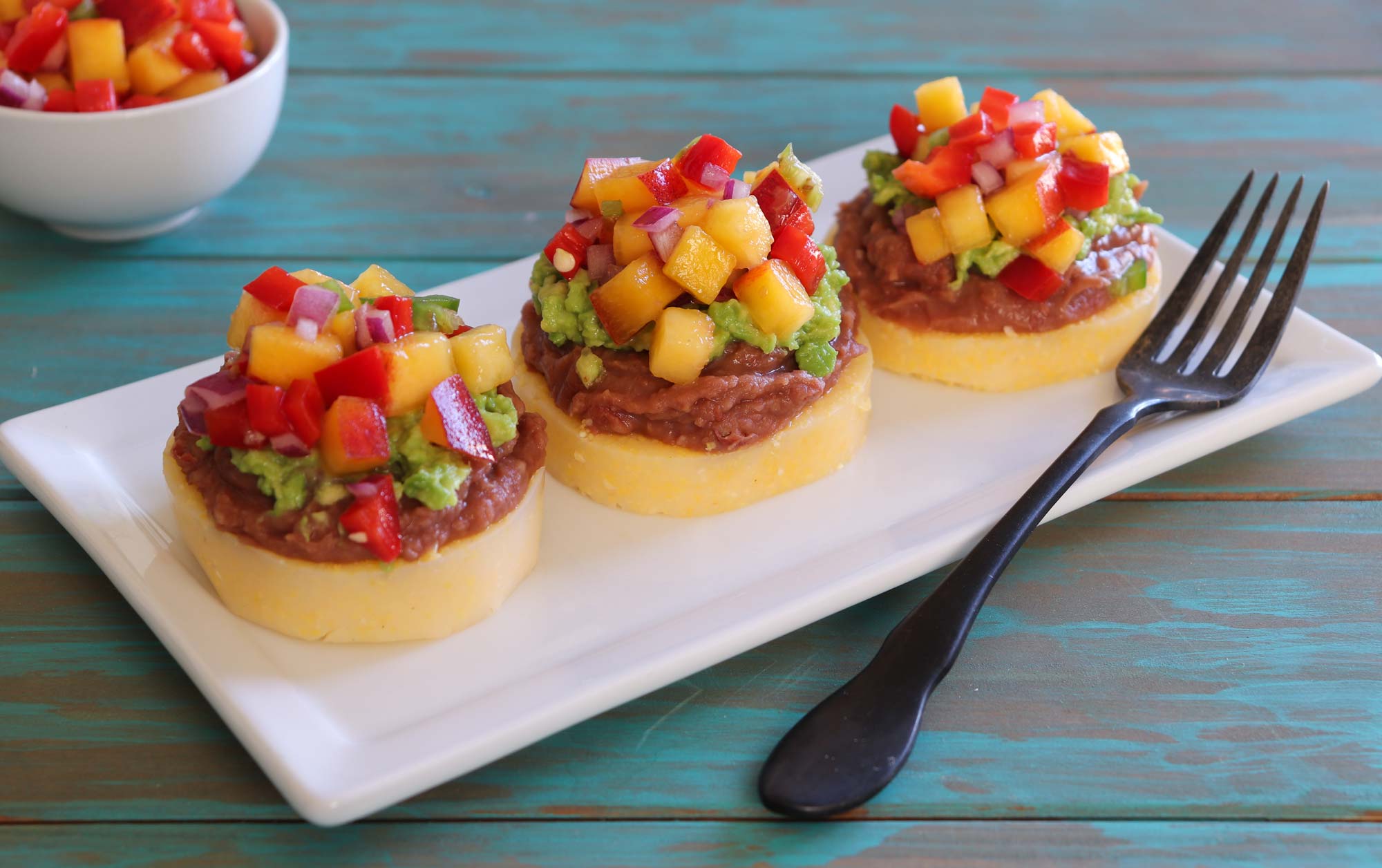 Did someone say peaches? This healthy starter is a fun and different way to enjoy your favorite summer fruits. Use fresh fruit when they're in season or frozen when you want to call in the memory of summer suppers. They're delightful any time of year!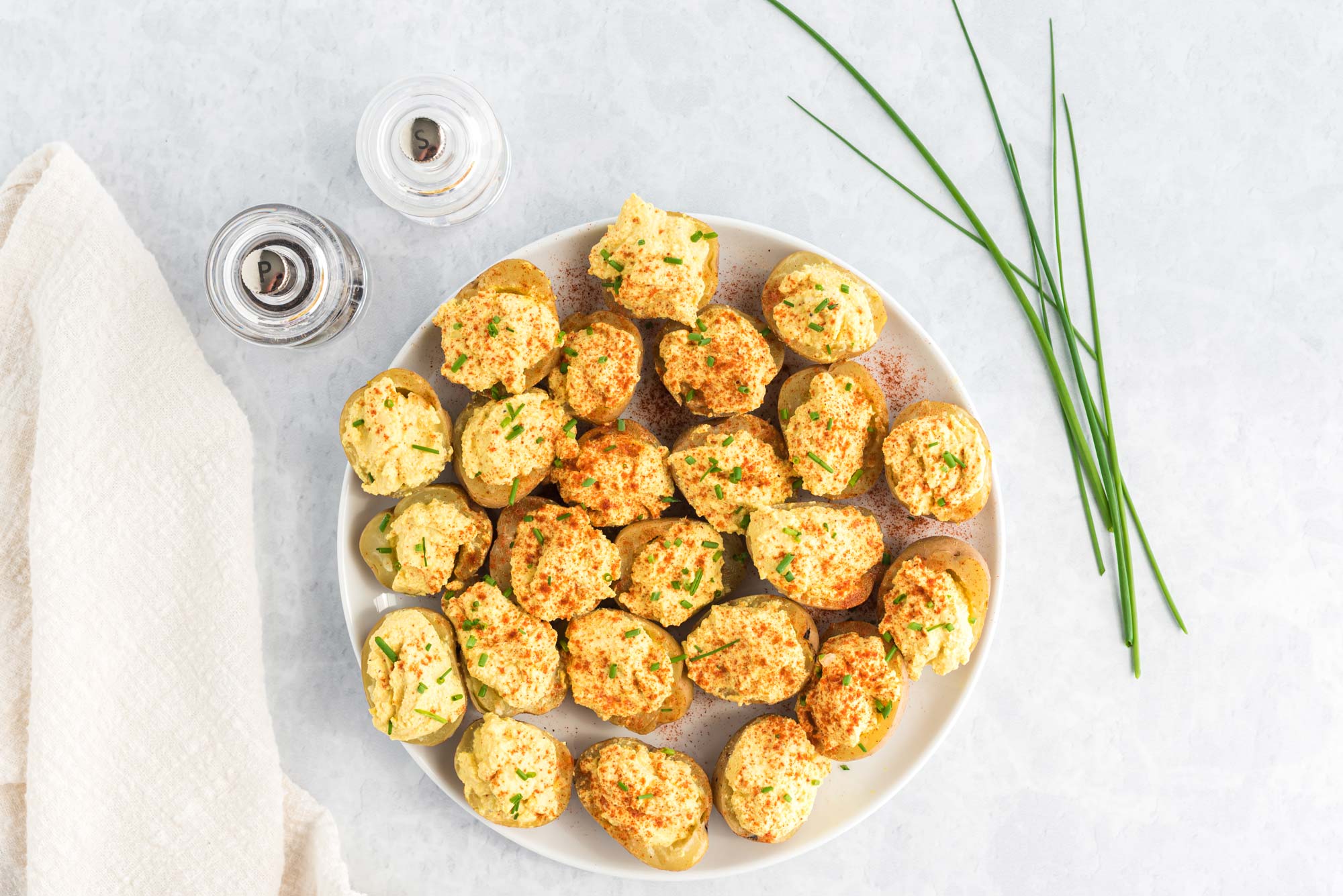 How did you make that? How did you get them to taste like deviled eggs? Is that magic? These are just a few of the questions you'll hear from friends and family as they enjoy these up-leveled and healthy appetizers. Just don't forget to hide a few in the fridge for yourself so they don't all disappear!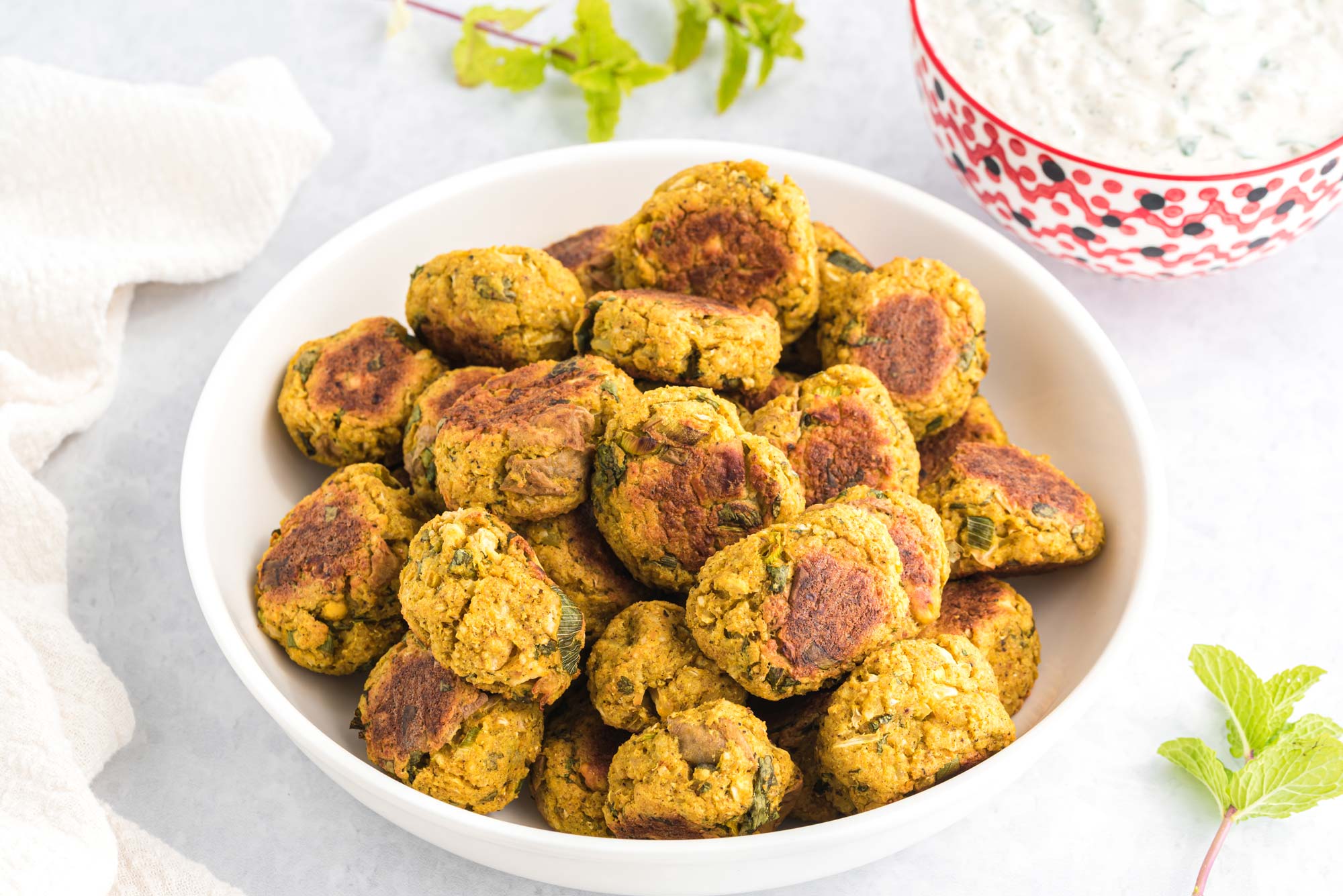 These vegan bites are yummy on their own as an on-the-patio or porch appetizer. When paired with the cooling and refreshing Cucumber Raita — made with crisp cucumbers and creamy cashews — it all comes together. And they positively pop with flavor!
The Verdict on Appetizers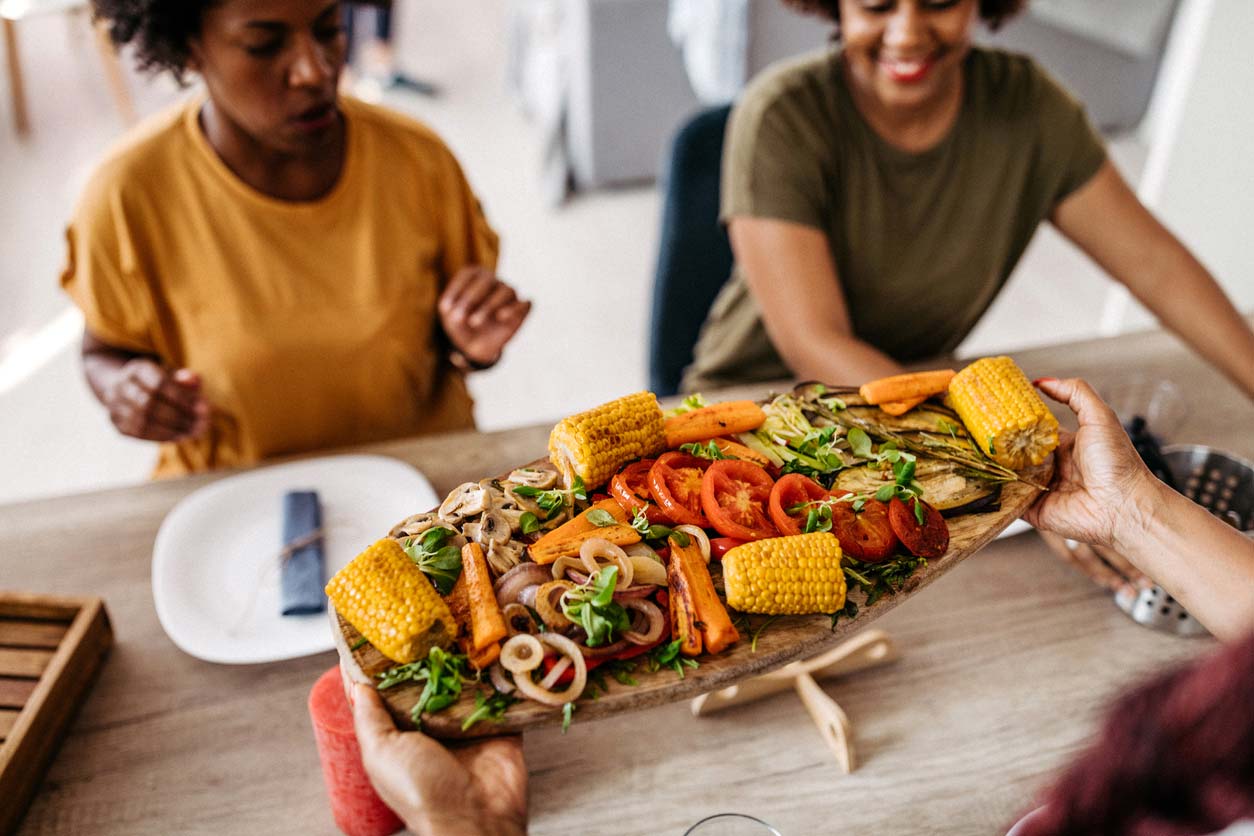 Appetizers, starters, and small plates are increasingly popular, but they're not always healthy. However, they can be when you make them at home. Because they're easy to share, they're a great way to connect with the people in your life. You can use a few healthy starters to whet your appetite for the main meal or combine a few different appetizers to make a fun and interesting family-style meal.
Tell us in the comments:
What's your favorite appetizer? Do you have a healthy plant-based version of it?
What vegetables can you imagine as the main ingredients for "small plates"?
Which healthy starters will you try next?
Feature image: iStock.com/OksanaKiian