A confession: Sometimes I get home after a long day at work, look in the fridge, see all this delicious produce, and think, "Oh man, there's nothing to eat."
No, I haven't turned into a junk-food-a-tarian. I just can't imagine spending time and energy deciding what to prepare, and gathering all the ingredients. Not to mention all the chopping, mixing, steaming, stirring, or baking that I'll need to do to get it from thought to table. Sometimes I'm so beat, all I want to do is heat up a prepared meal and sit down to dinner.
And while I have more energy in the morning, I also have more demands on my time and attention. The day's responsibilities, kids' needs, and coordination of schedules can all rush me out the door without taking time to prepare a healthy lunch.
I don't think I'm alone in this. In this fast-paced world, we're busy and on the go a lot — with lots of places to be and things to do. Sometimes we just don't have the time to prepare a meal, or we end up having to eat at a desk. Other than relying on restaurants or prepared foods, which can be expensive, not exactly to our taste, and full of unhealthy ingredients, how can we feed ourselves and our families with quick, easy, delicious, and healthy lunches and dinners?
Introducing… the freezer meal!
Freezer meals are make-ahead meals that are easily freezable and keep for long periods of time. They can be a healthy alternative to store-bought freezer meals because you control the ingredients. And they're fast and easy because all you have to do is reheat them and you're good to go.
When you have a collection of delicious freezer meals on hand, it's like sitting on a horde of treasure. Tired and stressed after a rough day? Pop a couple of juicy Chipotle Pumpkin burgers on the griddle, heat a few whole grain buns, and enjoy a taste of July 4th in November. On the go in the morning? Grab a couple of frozen burritos and brown-bag it to make your office mates jealous.
What makes a good freezer meal?
Plenty of dishes make good freezer meals: Soups, stews, chilis, curries, burritos, veggie burgers, casseroles, and pizzas, just to name a few. Most ingredients freeze well; just avoid ingredients that contain a lot of water, like cucumbers, jicama, and lettuce, because they tend to swell up when frozen and get limp and soggy when defrosted. (Frozen and thawed lettuce is particularly miserable — I know this from personal experience!)
Once you've prepared your freezer meal, you have several storage options. Here's one I don't recommend: wrap it in aluminum foil and forget to label it. That would be a great strategy for never wanting to look in your freezer, ever.
Instead, you can use freezer-safe glass containers with lids, like Pyrex and other similar brands. You definitely want to label your freezer creations, including both the contents and the date. (You can get removable food labeling stickers like these.) Wedding cake may be acceptable on the one-year anniversary, but black bean chili possibly from the second Bush administration is far less romantic.
If space is tight but you've got some extra cash, there are fancy silicon bags that are pricey, but reusable, which makes them an environmentally friendly alternative to plastic freezer bags. They are also dishwasher safe, and their locking zippers look formidable – and are highly unlikely to leak brown gravy all over your ice cube tray.
How long do freezer meals last?
It depends on the ingredients, how you prepared them, the temperature of your freezer, and whether you have frequent power outages. Some recipes indicate the maximum time you can keep them (three months is a popular length).
One trick, which can be hard to pull off in a typical top- or bottom-freezer is FIFO (first in, first out). That is, use up the oldest stuff soonest. This can be accomplished, albeit awkwardly, by moving the new freezer meals to the rear and rotating the older meals to the front.
Another way to make sure you're not missing anything is to not overstuff your freezer. Having some space to see labels and maneuver frozen foods can save you a lot of grief. Also, if you deploy freezer meals on a regular basis and you have the space in a garage or basement, you might consider buying a dedicated chest or upright freezer. They've come down in price over the years, and if you keep them clean and defrosted, they're not overly expensive to run. And they can save you money by reducing the number of shopping trips you need (and allow you to take advantage of sales and volume cooking).
Defrosting and Getting Ready to Eat Your Freezer Meal
Once your meal is frozen, you have several options for defrosting your food and getting it ready to eat. Depending on the meal, you can leave it out overnight (either at room temperature or in the fridge), steam it, heat it in a toaster oven, bake it, or, if it's your thing, use a microwave. I recommend using one of these methods rather than trying to hack away at a frozen shepherd's pie with a fork and knife.
You can find gazillions of freezer meals online. Add the words "vegan" or "plant-based" to your search and you'll still have more recipes than you can make in five lifetimes. To get you started, we've collected some of our favorite healthy, plant-based freezer meals that can turn your kitchen from "now what?" to "dinner's ready" in a hot minute. Enjoy!
7 Plant-Based Freezer Meals to Have Onhand in a Pinch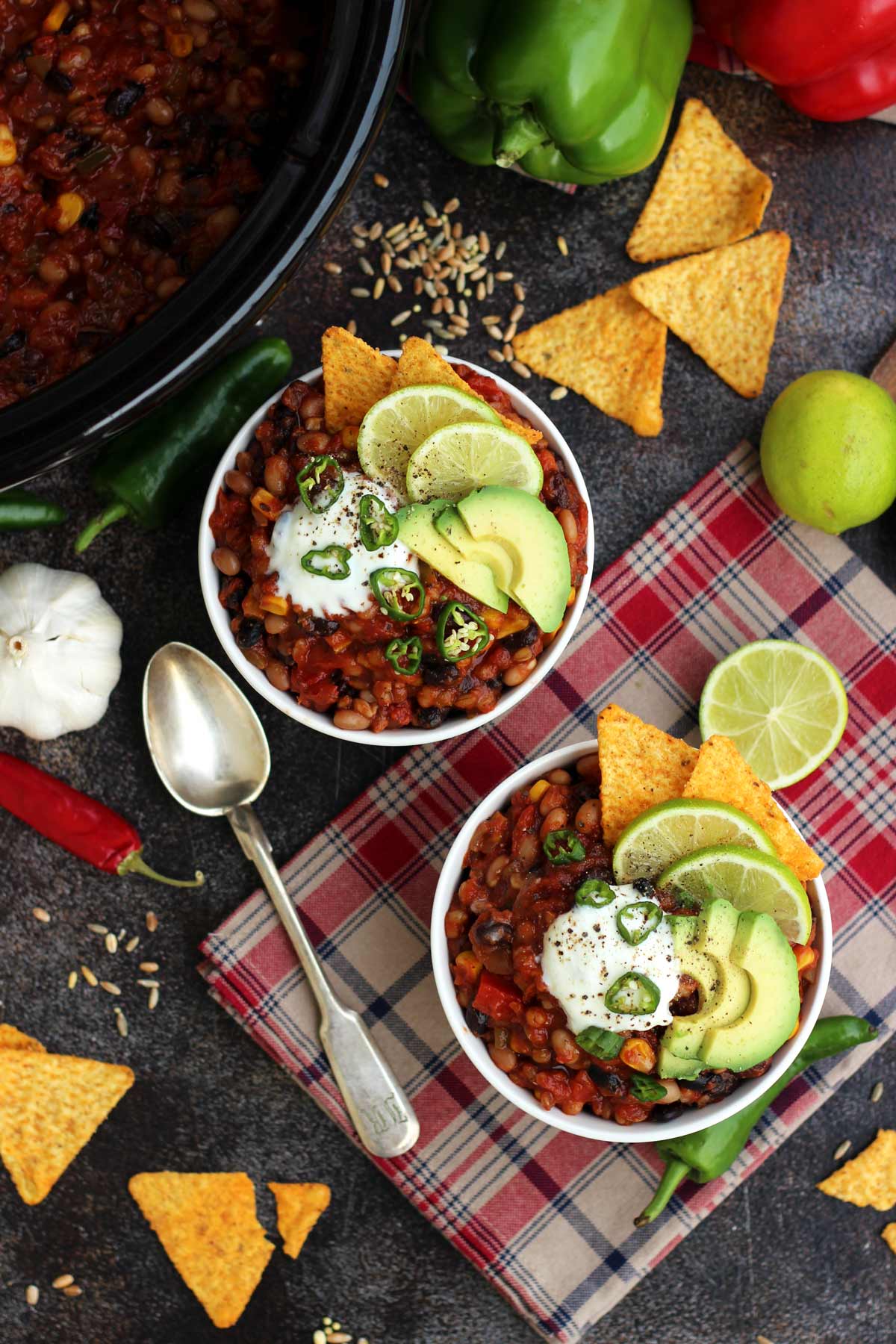 Chili is one of the easiest dishes to make, especially when you have a slow cooker. But if you don't have a lot of time (and you've already cooked your beans) it can be done in as little as twenty minutes. The spiciness level can be adjusted to your taste (or that of your family). And you can add a variety of veggies to it depending on preference or what you have available.
This Slow Cooker Vegan Chili from Happy Kitchen includes corn, bell peppers, garlic, and onion. It makes for a tasty lunch or dinner you can freeze and then eat whenever you like. Simply reheat and add toppings such as vegan yogurt or sour cream, avocado, organic corn chips, or whatever your heart desires.
Who doesn't love a juicy burger? You can find plant-based patties of all kinds in the freezer section of your supermarket or natural foods store, but a lot of them are full of oil, tons of salt, and highly processed ingredients that can only be made in a factory. Why not make your own, control the quality and taste, and get the added benefit of squishing the patty mixture in your hands and patty-caking it into lovely round burgers? Here's one recipe that kids will love to help with!
This Chipotle Pumpkin Veggie Burger from Peas and Crayons uses pumpkin puree for its bright orange hue, and includes lots of healthy stuff like cannellini beans, chopped veggies, and rolled oats. If you make these for freezing, you'd better double or triple the recipe – otherwise you're liable to eat all the burgers as soon as you finish cooking them, which would totally defeat the purpose of this article!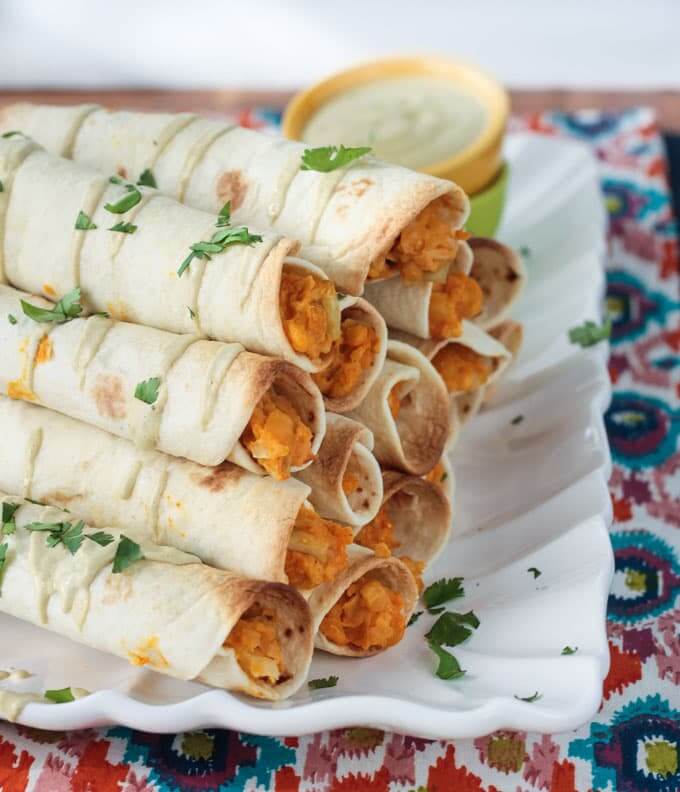 Take a small tortilla, fill it with deliciousness, roll it up tight, and bake it – and you've got yourself a taquito. This taquito recipe from Veggie Inspired has two things to commend it. First, the main ingredients are canned staples (chickpeas and artichoke hearts), so you don't have to depend on having the right fresh produce on hand. Second, it freezes really well.
The only other ingredients are buffalo hot sauce and what they tout as their "life changing vegan cheese sauce," which does take a bit of prep time. On the upside, it's very versatile. Make a big batch of the stuff and serve it over rice, pasta, veggies, or potatoes for a bunch of other healthy and yummy plant-based meals.
Traditionally, shepherd's pies were made from leftover meat. The innovative Nora Cooks reimagines the recipe with cauliflower mushroom walnut "meat," which is topped with a colorful layer of corn and peas, then topped with creamy dairy-free mashed potatoes.
Because it's so hearty and filling, you can easily feed 8 people from a large (13"x9") casserole. If you have a family of 4, cut the remaining half of the pie into individual servings, and freeze them in pyrex containers for brown bag lunches or "home late and too bushed to cook" dinners.
You can buy frozen vegan burritos at the grocery store for about $3 each, or make these from Yup It's Vegan for about one-quarter of the cost. After all, rice and beans are among the most economical staples you can buy!
You can save time by pre-cooking the rice and beans (an electric pressure cooker like an Instant Pot does this easily, with no babysitting required). Just place the filling on a soft taco size tortilla, add the optional vegan cauliflower queso and salsa of your choice, and roll it up. To freeze, just lay them out on a baking sheet covered with parchment paper in the freezer, then transfer them to a bag or container once they're fully frozen (that way they don't stick together when you remove them).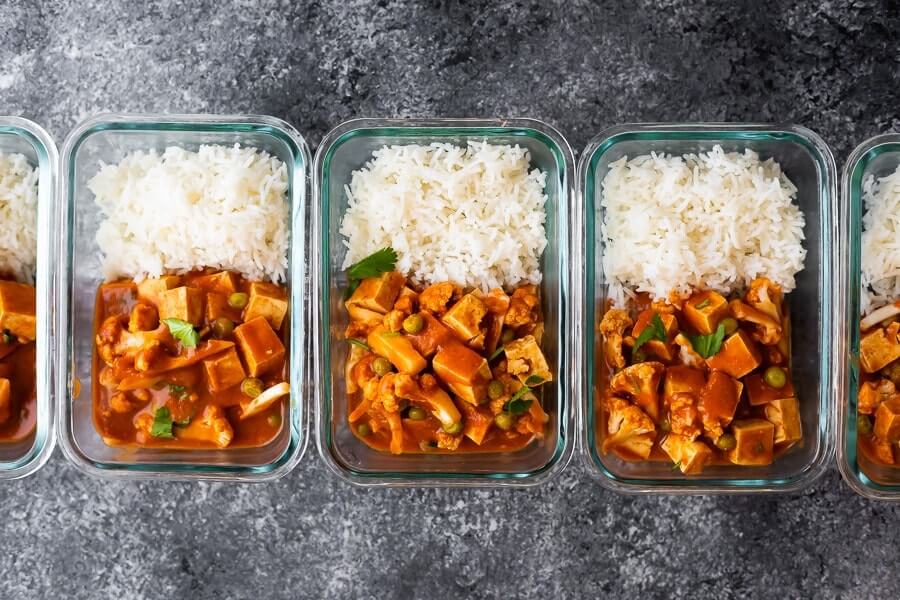 If Indian food is your jam, then you'll love this tikka masala recipe from Sweet Peas and Saffron. Instead of dairy-based yogurt, this recipe calls for coconut yogurt. Cubed tofu fills in for cheese cubes, and you can add whatever veggies you like (and omit the ones you're not yet crazy about).
The secrets of this recipe are a wonderful combination of Indian spices, including cumin, garam masala, coriander, ginger, and cinnamon, and slow cooking for a minimum of six hours to really let the flavors mature and develop. You can freeze leftovers for up to three months. Single serving silicon bags or pyrex containers with lids make reheating individual lunch portions a breeze.
Pinch of Yum has created a freezer lentil soup that is actually a DIY meal kit rather than a prepared meal. You simply add all the uncooked ingredients to a freezer container, then dump them into an Instant Pot, add broth, and cook on high pressure for 15 minutes. Then add oil (optional – Pinch of Yum goes a bit overboard with a quarter cup of olive oil; a tablespoon is fine and the soup tastes great with none) and chopped kale, stir, and serve.
One of the ingredients might be unfamiliar to you (I had to look it up): mirepoix (pronounced, I believe, mirra-pwah, and not mire-poiks), which is just a mixture of 2 parts onions, 1 part carrots, and 1 part celery. Butternut squash and potatoes, along with brown lentils, round out this healthy and delicious "insta meal."
Tell us in the comments:
What do you think of these plant-based freezer meal recipes?
What are some of your favorite freezer meals?
Featured Image: iStock.com/sveta_zarzamora
Read Next: