As more and more people are becoming aware of the dangers of fast food, they're looking for healthier options that still fit with their busy lifestyles. That's where power bowls come in.
Also known as grain bowls or "buddha bowls," these all-in-one meals can be not only convenient to transport and consume, but also health-promoting and Instagram-worthy.
But don't get fooled when you see the name "power bowl" on an item in the freezer section or on a restaurant menu. Healthy Choice (which is not actually healthy at all) makes frozen power bowls that you can pick up at your local supermarket. Taco Bell sells their Power Menu Bowl; Chipotle their Burrito Bowls; and Sweet Green their Harvest Bowl. Unless you order very carefully (and even then), you'll probably end up with bowls that go heavy on the animal products for their protein source or include added flavorings, refined oils, and other less than desirable ingredients.
The good news is, you can avoid the undesirable ingredients when you make your own power bowls at home, replacing animal products with plant-based proteins, and ensuring only wholesome, nutritious food passes your lips. And given a little planning and prep, you can whip these bowls up in a jiffy and enjoy them in the office or on the go.
What Is a Power Bowl?
If you're unfamiliar with the term, a power bowl is, simply, an all-in-one meal in a bowl that tastes great and provides abundant nutrition. The essential ingredients for a power bowl are:
The Base – Usually whole grains, but you can also use noodles, potatoes, greens, or other veggies.
Vegetables – Take your pick of raw, cooked, or both! The more colorful, the better. These should make up at least half of your bowl.
Protein – If you like, you can choose plant-based protein sources like beans, lentils, tempeh, and tofu. They should make up a quarter of your bowl.
Dressing – Every good power bowl has a tasty dressing or sauce to top it off. Keep it simple. Some examples are tahini, avocado and lime, or a homemade vegan ranch.
Crunchy topping (optional) – And finally, many power bowls include toppings, which often have a little crunch to them. Try foods like nuts, seeds, or roasted chickpeas.
Why You Should Try One
Power bowls are a fun way to get a range of nutrients and are easy to make at home. You can prep ingredients in bulk ahead of time so that you can make multiple bowls throughout the week. Or you can just throw together what you already have in the fridge, using up leftovers and decreasing food waste.
And because there are so many different ways to make a power bowl, you can customize them to your heart's desire. Sometimes they can end up looking really artful and beautiful depending on how you arrange the ingredients. Look to Instagram or Pinterest for inspiration and get creative! As long as you're using whole, plant foods to form the basis of your power bowl, you can end up with a healthy and nutrient-dense meal.
10 Delicious Plant-Based Power Bowls to Make Meal Time a Breeze
Have these plant-powered power bowls for lunch, dinner, or any time of the day! They'll fill you up and provide you with the essential vitamins and minerals you need for your health and well-being.
Green Goddess Glow Bowl
Glow from the inside out with this Green Goddess Glow Bowl from The Glowing Fridge. Quinoa does double duty as a base and protein source and pairs up with three different green, calcium-containing plant foods — kale, edamame, and zucchini. Drizzle the yummy lemon tahini dressing on top for a healthy dose of plant-based fat and flavor. And with the addition of garlic and onion, you have a powerful bowl that's rich in disease-fighting antioxidants.
Tip: Omit the maple syrup from the dressing to eliminate any added sweeteners. You can substitute orange for lemon to add a sweeter citrus flavor.
Vegan Turmeric Quinoa Power Bowl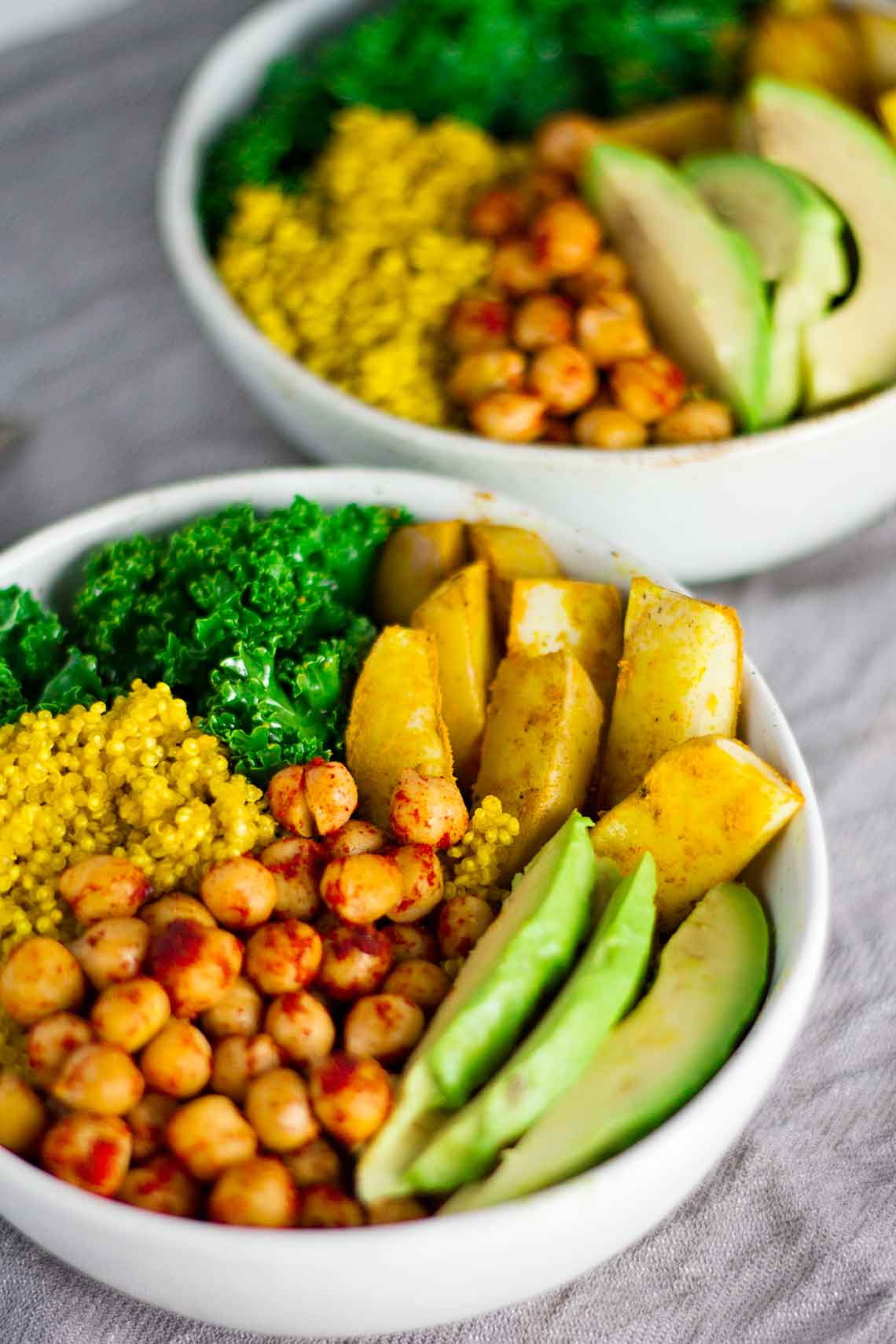 Both the potatoes and quinoa are warmed and curried with turmeric in this Vegan Turmeric Quinoa Power Bowl from Jar of Lemons. And the crunchy topping comes from chickpeas toasted in the oven with paprika. In addition to its anti-inflammatory spices, this bowl also uses crunchy raw kale and creamy avocado slices for a variety of tasty textures.
Tip: Omit the oil to go oil-free and add a little lemon or some coconut aminos for a dressing.
Cajun Roasted Vegetable Bowl with Creamy Garlic Dressing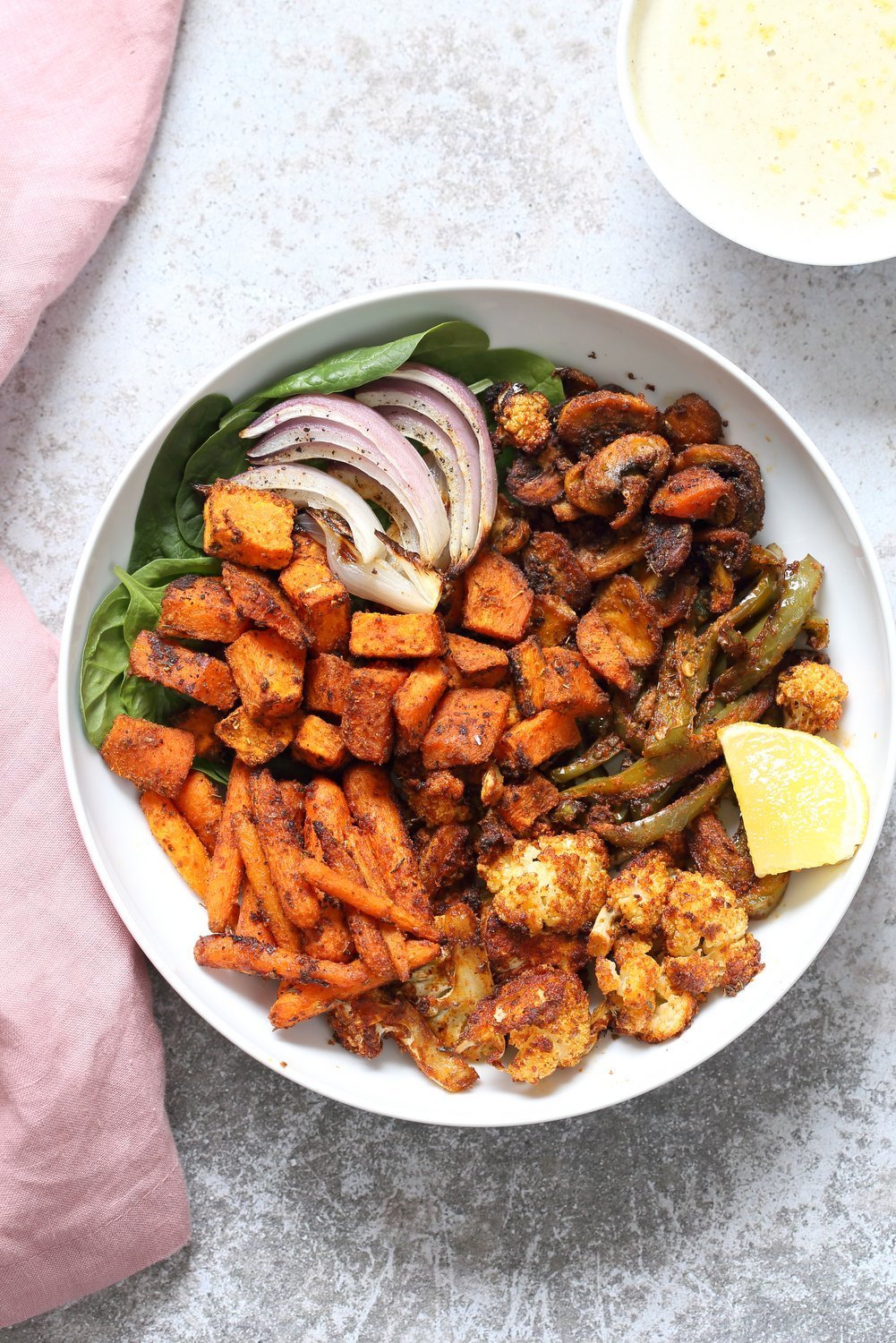 Enjoy your veggies Cajun-style with this Cajun Roasted Vegetable Bowl with Creamy Garlic Dressing from Vegan Richa. Cauliflower, sweet potato, bell peppers, and a veggie of your choice get tossed with cajun spice and then baked. The heat gets balanced out by the cashew and herb-based garlic dressing and a squeeze of lemon. You can use more of the cauliflower or potatoes to make up the bowl base or add all the ingredients over some steamed greens or a salad.
Tip: Omit the oil to go oil-free. For a nut-free garlic sauce, use tahini instead.
Israeli Vegan Power Bowl
Eating a combination of raw and cooked veggies is good for your health. And this bowl from Jamie Gellar has both! Like an Israeli salad, this power bowl has veggies such as onions, peppers, cucumbers, and tomatoes. But instead of using couscous or another grain, more veggies round out the meal. It also includes some protein a la Mediterranean with chickpeas, almonds, and tahini.
Tip: Omit the oil to go oil-free. If you can't find a pre-made Ras el Hanout spice mix, make your own via this recipe (minus the sugar).
Thai Peanut Power Bowl
Get your noodle on with Savour and Shine's Thai Peanut Power Bowl. You can use the spaghetti or noodle of your choice as the base. Then all you need to do is blend the sauce and add the raw veggies. This is a quick and easy weeknight dinner to whip up when you're pressed for time. And it's probably even better the next day as the sauce has a chance to seep in and highlight all the veggie-tastic flavors. Bring on the leftovers!
Tip: Omit the oil to go oil-free. Use organic peanut butter free from added oils to avoid GMOs and pesticides. You can top your bowl with sesame seeds to keep the sesame taste.
Veggie-Filled Greek Hummus Power Bowl
To get all the nutrients your body needs, it's important to eat the rainbow. And you'll get plenty of colorful, protective phytochemicals with this Veggie-Filled Greek Hummus Power Bowl from Peaceful Dumpling. Between the tofu, hummus, and kale, you could reach over one-quarter of your total protein needs for the day in just this one bowl!
Cauliflower Rice Burrito Bowl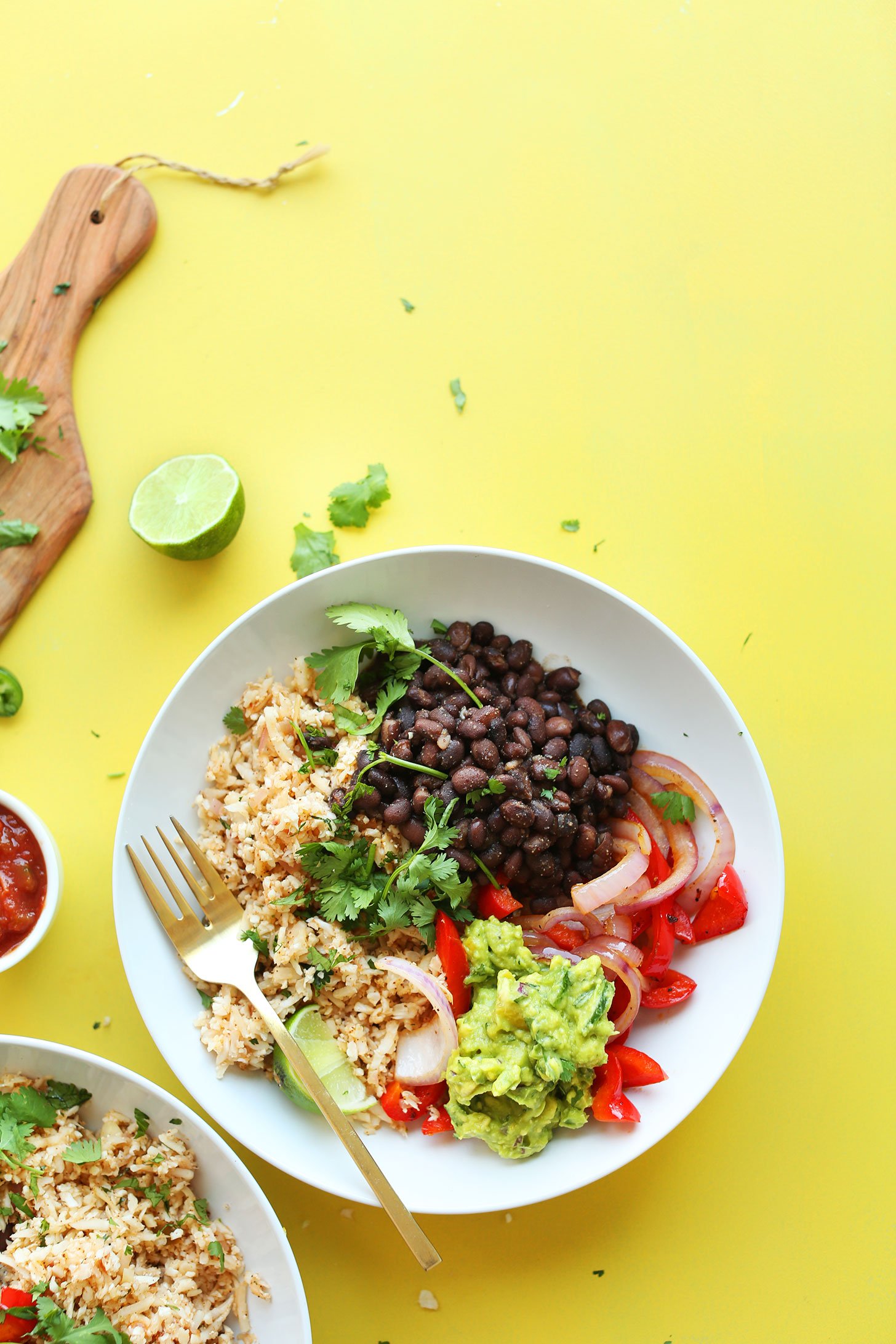 For a healthier version of the burrito bowls you can find at fast food restaurants, try this Cauliflower Rice Burrito Bowl from Minimalist Baker. Since rice may contain arsenic, cauliflower takes its place as the bowl's base. And beans act as the bowl's main plant-powered protein source. Plus, spices and herbs like cumin, garlic, chili powder, and cilantro give this bowl that authentic Mexican food taste without all the added flavors and preservatives found in fast food versions.
Rainbow Nourishment Bowl with Maple Tahini Dressing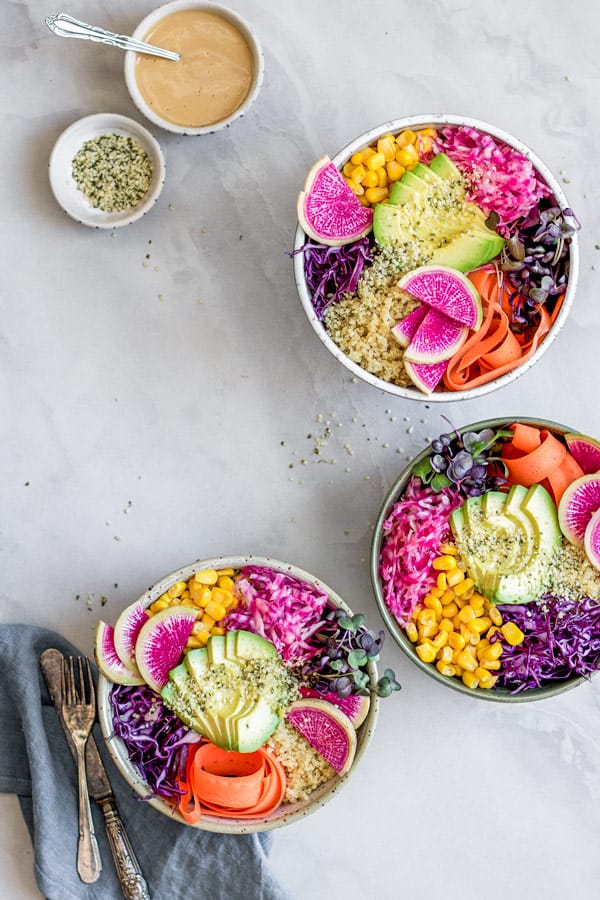 Choosing Chia created one of the most rainbow-rific power bowls we have ever seen! Her Rainbow Nourishment Bowl with Maple Tahini Dressing is a feast for your eyes — and tummy! It includes some of the healthiest foods around like beets, leafy greens, sprouts, and radishes. You'll get all your macros in this bowl — protein, carbs, and healthy fats — for an all-in-one, nutrient-dense meal.
Tip: Omit the oil in the dressing to go oil-free. You can also substitute coconut aminos for the tamari and maple syrup for a different kind of umami and sweet flavor.
Cozy Millet Bowl with Mushroom Gravy and Kale
Looking for comfort food that's healthy? Settle in and have a taste of this Cozy Millet Bowl with Mushroom Gravy and Kale from Oh She Glows. Millet, a lesser-known yet delicious gluten-free grain, has its time to shine and is nicely complemented with a mushroom-based gravy. No flour necessary here; just vegetable broth, corn starch, tamari, and nutritional yeast. Rosemary, onions, and garlic add a fragrant taste. And with the kale mixed in, you've got a savory, veggie power bowl that's full of vitamins and minerals.
Garden Tempeh Macro Bowls with Hemp Heart Ranch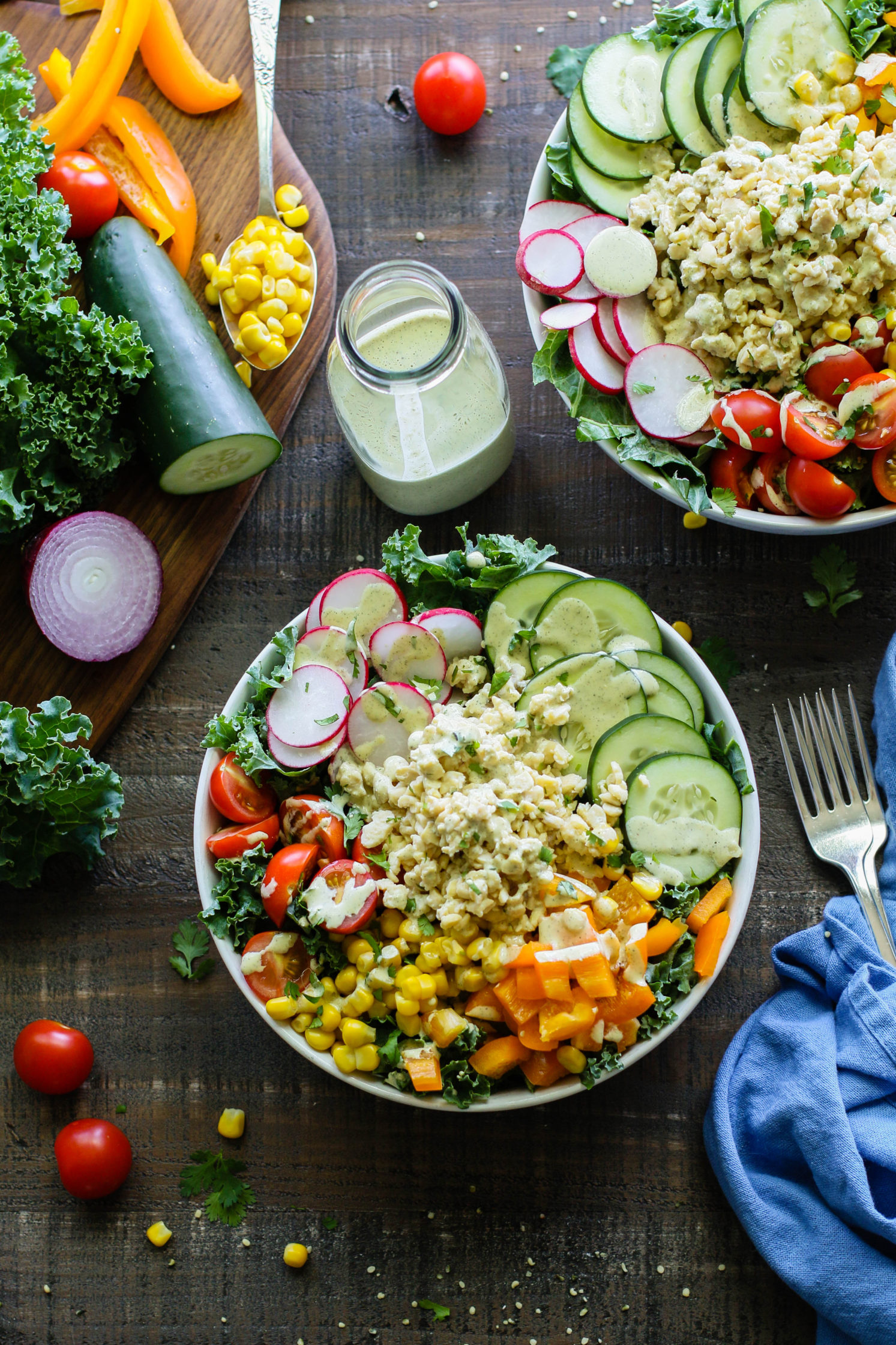 What's great about the Garden Tempeh Macro Bowl with Hemp Heart Ranch from Flora & Vino is that most of the ingredients could come straight from your garden — or a local farmers market. The only exceptions are tempeh (a good source of probiotics and protein), hemp hearts, nutritional yeast, and garlic powder (but you could always use fresh garlic!). Best of all, the ranch dressing is oil-free and doesn't contain MSG, unlike most commercial, store-bought brands.
A Note About Fruit
Most power bowl recipes don't include fruit, but that doesn't mean you can't add some in. Some people's digestion can't tolerate mixing fruits and other foods during a single meal. But if it works for you, try adding foods like berries, baked apples, or sliced mango to add some more color, nutrition, and antioxidant strength to your power bowls.
Tell us in the comments:
What do you think of these plant-based power bowl recipes?
What are some of your favorite power bowl ingredients?
What other kinds of all-in-one meals do you like to make?
Featured Image: iStock.com/OlgaMiltsova
Read Next: