In the early 1930s, at the height of the Great Depression, a brand-new product began popping up at grocery stores across the United States: P. Duff and Son's Cake Mix. It was inexpensive, really simple to make (buyers could just add water, stir, and bake), and it produced a delicious cake. Home chefs could now provide their loved ones with a little taste of luxury on a regular basis.
Incredibly, the product flopped in the marketplace. So the manufacturer went back to the drawing board, ran a bunch of focus groups with their target market (housewives), and in 1933 received a patent for a different kind of cake mix. This new formulation was identical to the old one, with one exception: the powdered egg was removed from the mix. Now the baker had to add an egg, along with water.
The new product was an immediate success.
But why? It didn't taste any better. It required more effort. And the egg was an additional cost to the consumer. At face value, this made no sense.
A clue to the success of the 1933 product can be found in the patent application itself. John D. Duff wrote, "The housewife and the purchasing public, in general, seem to prefer fresh eggs and hence the use of dried or powdered eggs is somewhat of a handicap from a psychological standpoint."
This same logic explains the booming popularity of meal kits today.
Meal Delivery Services & Meal Kits Are Growing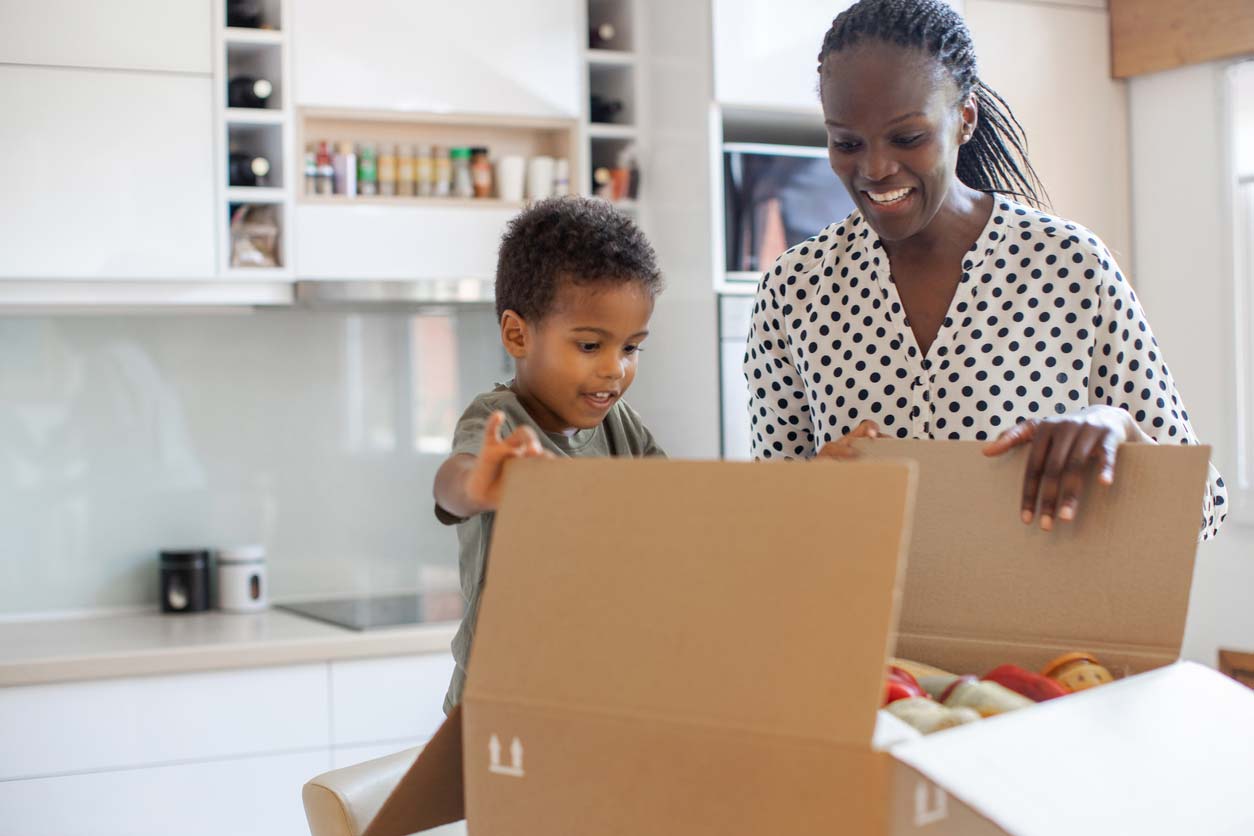 The meal kit industry has been growing steadily since the business model was first introduced in Sweden in 2007. The initial entrants into the US market, Blue Apron, Hello Fresh, and Plated, made their appearance in 2012. And as of 2017, there were over 150 meal kit companies vying for your dollars and your chopping and stirring efforts. From humble origins just a few years ago, the US market is now predicted to grow to over $7.6 billion by 2024.
So what exactly is a meal kit, and why are these services becoming so popular? I'm glad you asked.
Think of a meal kit as the result of a culinary education, in a box (minus the learning part). You typically get several recipes that make up a number of hearty and delicious meals, along with all or most of the ingredients you'll need, in precise amounts and ratios. Simply follow the directions, and you can put together meals much more complicated, exotic, or expert than you might be able to do on your own. While also having a higher degree of confidence that the outcome will turn out how the meal kit service intended.
Soon after meal kits hit the mainstream, companies started appealing to specialty diets, including vegan, Paleo, and gluten-free. The big providers often offer plant-based menus, and a number of fully vegan companies have popped up as well. Which is to say, you've got a lot of plant-based meal delivery choices — an overwhelming number, to be honest.
And the industry has only grown due to the pandemic, as people who could afford to get their food delivered started doing so in greater numbers to avoid supermarkets.
Are Plant-Based Meal Kits and Delivery Services Worth the Hype?
But before we get too excited about these meal kits and delivery services, are they all they're cracked up to be? Are they for the masses, or a luxury for the well-to-do only? How does the food taste? How easy is it to deal with the weekly shipments? Are they wasteful, or do they reduce food waste and lower the carbon footprint of shopping and eating?
The brave and resourceful team members here at Food Revolution Network all agreed that they would roll up their sleeves and do the hard work of testing out (and eating!) some of the most popular plant-based meal delivery offerings. They ordered, prepped, and ate these meals, and took extensive notes on everything from cost to convenience to taste to waste to customer service. And in the interest of comprehensive usefulness, they also tested a few companies that provide ready-to-heat-and-eat plant-based meals and a couple of hybrid models.
In this article, I collate and share their experiences, so you can decide if meal kits and meal delivery services make sense for you, and which ones you might like to try.
How Do Meal Kit and Meal Delivery Services Work?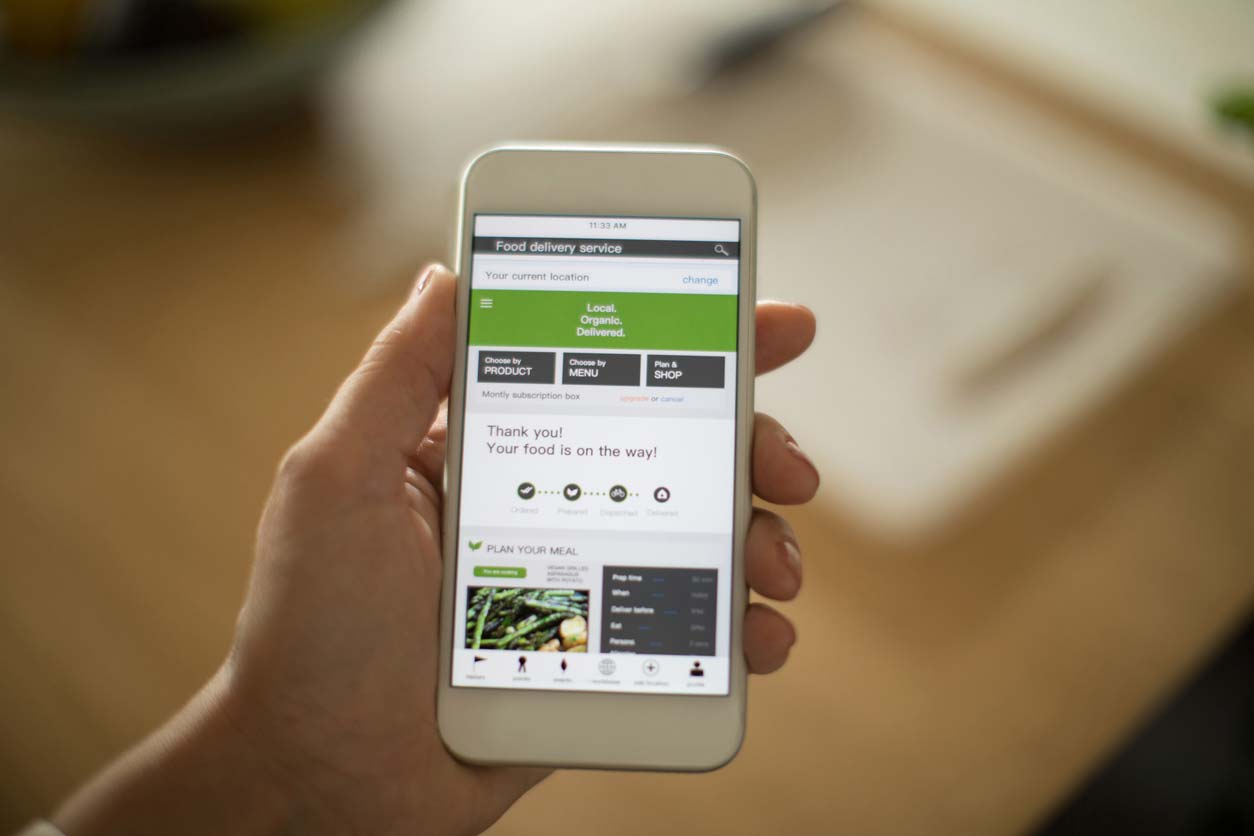 Meal delivery services and meals kits are often subscription-based. Like other subscription services, you can typically cancel any time, pause shipments (if you go on vacation, or just want to take a break), and schedule them as frequently or sparsely as you like. Some companies deliver nationwide, while others are local, delivering just within a region or even a single city. Each country may also have its own options. With apologies to our readers around the world, this article is based on what is currently available in the United States.
What to Expect in Your Box
Meal kits typically provide most or all of the ingredients you need to make a meal. Sometimes fresh ingredients are pre-chopped, and there may also be premade sauces and spice blends, along with recipes to prepare home-cooked meals. Most kits also assume you have access to staples such as salt, pepper, water, and cooking oil (if you use it).
Companies vary in how they handle the most challenging part of their supply chain — highly perishable components like fresh produce, dairy, and meat. (Since we're talking plant-based here, we don't have to worry about rancid cream and spoiled meat, which I really don't want to think about festering on my doorstep following delivery.) Some brands leave out the fresh produce, in which case you'll have to supplement with fruits and veggies from your garden, CSA, supermarket, or farmers market.
Other meal kit companies include everything, which makes their boxes costlier and less eco-friendly to produce and ship, thanks to refrigerated transportation and storage, insulated packaging, and heavy ice packs.
Meal & Delivery Options
In contrast to pure meal kits, meal delivery services ship you fully or mostly premade meals, with just assembly or heating required. Both meal kits and meal deliveries are designed as an alternative to dining out, especially for people with limited time, cooking knowledge, or (in some cases) budget.
Many of these services have meal plans designed around a particular dietary pattern, to help their patrons avoid specific allergens, like gluten or dairy.
Typically, you get to pick a specified number of meals per week, for the number of people you'll be cooking for. Most companies offer a menu of weekly recipe or meal options, complete with descriptions, color photos, and recipe cards.
Some even allow you to pick your delivery date and time, so you can make sure you're home to receive the box and hustle the ingredients onto your kitchen counter or into your refrigerator.
But before choosing the service that's right for you, you'll want to consider the benefits and downsides of both meal kits and meal delivery services.
Benefits of Meal Kits and Delivery Services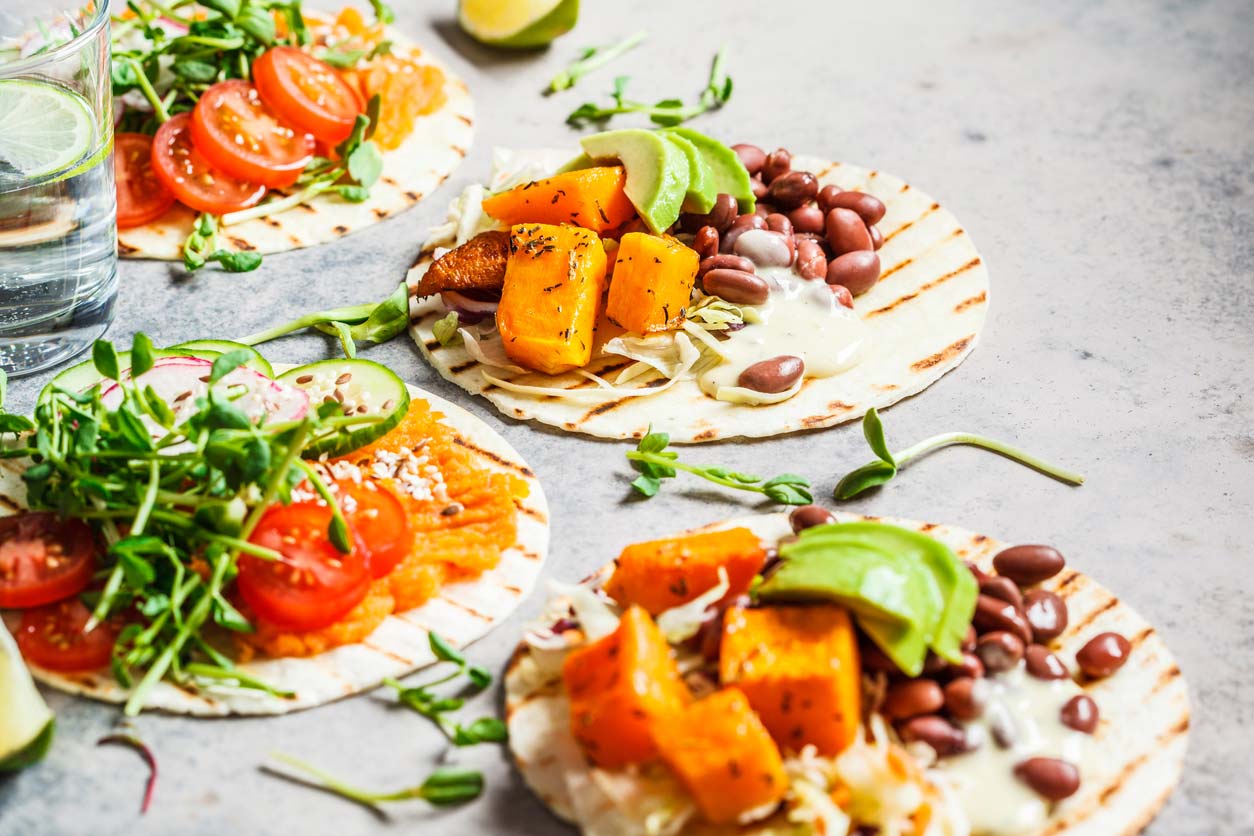 Let's start by comparing meal kit and meal delivery services to the traditional approach to not cooking from scratch: restaurant food.
Healthier & More Cost-Effective Than Restaurants
Delivered meals often cost less than restaurant meals, and can be healthier overall. You can also specify vegan or whole food, plant-based meals, whereas many restaurants won't have these options, or they are much more limited. Additionally, you have more control of the ingredients and how food is prepared. You can choose to cook oil-free and eliminate or minimize sodium and white flour. Some companies also offer organic produce.
Save You Time
Meal kits, and full meal deliveries, in particular, can save time compared to cooking from scratch. Because everything is pre-measured, you can open your box and prepare the dish quite efficiently. Most meal kit companies tout box-to-table within 30 minutes. And some have created meals that take only 15-20 minutes to serve.
You can also save time by not having to drive to and from a restaurant or grocery store and looking for parking. You don't have to hunt down a long list of ingredients. Plus, meal delivery is contactless, which means less potential exposure to viruses and other pathogens.
Easy to Make
A delivery service takes the stress out of deciding what to make for dinner: simply open the box and follow the instructions. Even if you burn spaghetti and are mystified by vegetable peelers and can openers, you can assemble and warm premade meals and still feel like a proud 1930s housewife with her "add egg and water" cake.
And even if that's you, meal kits are an easy and fun way to develop your kitchen skills. You have the benefit of working with a proven recipe, the right ingredients, and a lot of handholding. Even if you're a kitchen newbie, you can feel proud of the high-quality meals you're providing to your family.
Variety of Meal Choices
Plus, you can try new cuisines and flavor profiles without having to buy tons of condiments, sauces, and unfamiliar ingredients. Because the meal options change weekly, you can have a lot of variety in your diet knowing that someone else is doing the research and coming up with the plan on your behalf.
And since the kits and meals include only what you need, and you rarely end up with leftovers, they also cut down on food waste.
Downsides of Meal Kits and Delivery Services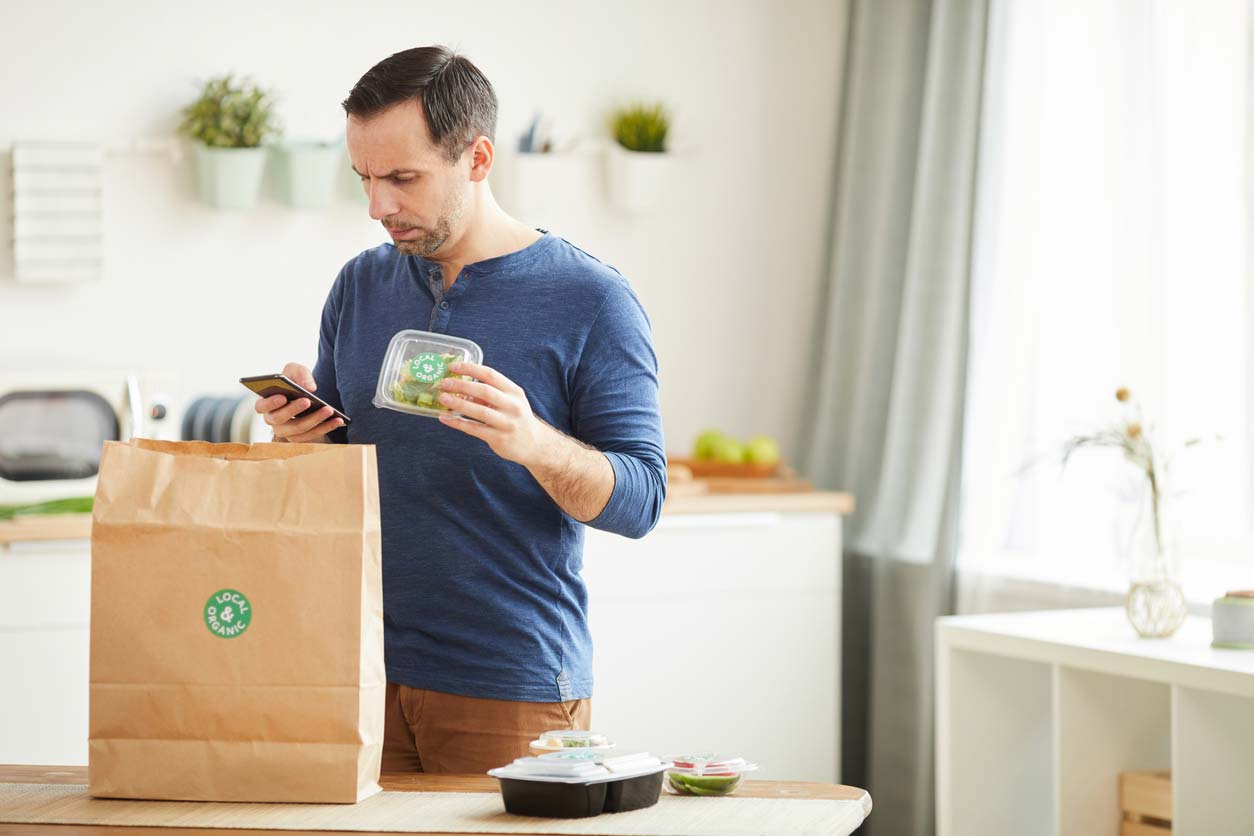 However, there are some downsides to meal kits and delivery services as well.
More Expensive Overall
Although they may cost less than ordering from a restaurant, meal kits and delivery services are typically more expensive than cooking at home from scratch. Meals can range from around $4-$25 per serving depending on the company. And as for who might be able to afford these prices, as of late 2019, the average meal kit buyer made over $80K/year, putting them in the middle to upper-middle-class income group.
One and Done
While precise portions can keep food from getting thrown out, meal kits tend to not encourage batch cooking and meal planning. When you're getting a meal delivered in a tidy package, there's less incentive to, for example, cook a big pot of beans and use it in burritos today, baked bean casserole tomorrow, and rice and beans the day after that.
Not having leftovers has a big downside, too. In my family, leftovers are a big part of dinner. But if the portions are precise, and there aren't any leftovers, I have to come up with a new plan for lunch (or breakfast for that matter!) the next day.
Logistical Issues
Because meal kit delivery is a logistics-heavy business, things can go wrong. Sometimes ingredients aren't that fresh, or key ones are left out (like when you're almost done with that IKEA bookshelf, and they've included one too few lock nuts). If you're not home to receive your delivery, the box could sit outside in the scorching sun for half a day, leaving you with puddles of melted food in a soggy cardboard box.
Environmental Impact
Meal kits and delivery services can also be extremely wasteful in terms of packaging. Although some of them try to make use of recycled materials, many of them add to the burden of plastic and packaging materials that are filling up our landfills and polluting our oceans.
Most meal kit companies package each ingredient separately, and they often use plastic packaging or ice packs that can't be easily recycled. All companies, but especially the ones that ship nationally, also face the complex supply chain logistics of transporting food from farms and manufacturing plants to locations that could be thousands of miles away, while still keeping everything at the right temperature. This is a hugely energy-intensive process.
However, in at least one study, meal kits were found to have a smaller carbon footprint compared to shopping from grocery stores, mainly due to more efficient transportation (one delivery truck vs hundreds of car trips) and less food waste.
Unhealthy Ingredients May Be Included
And since there's so much competition for your food dollars, many of the meal kit brands are preferencing taste over nutrition. So you could be eating delicious food that's also high in calories, sugar, sodium, and highly processed grains. Some of the most popular companies, I'm sorry to say, will ship you beautiful, delicious, fancy, and expensive junk food.
6 Plant-Based Meal Delivery Services and Kits to Consider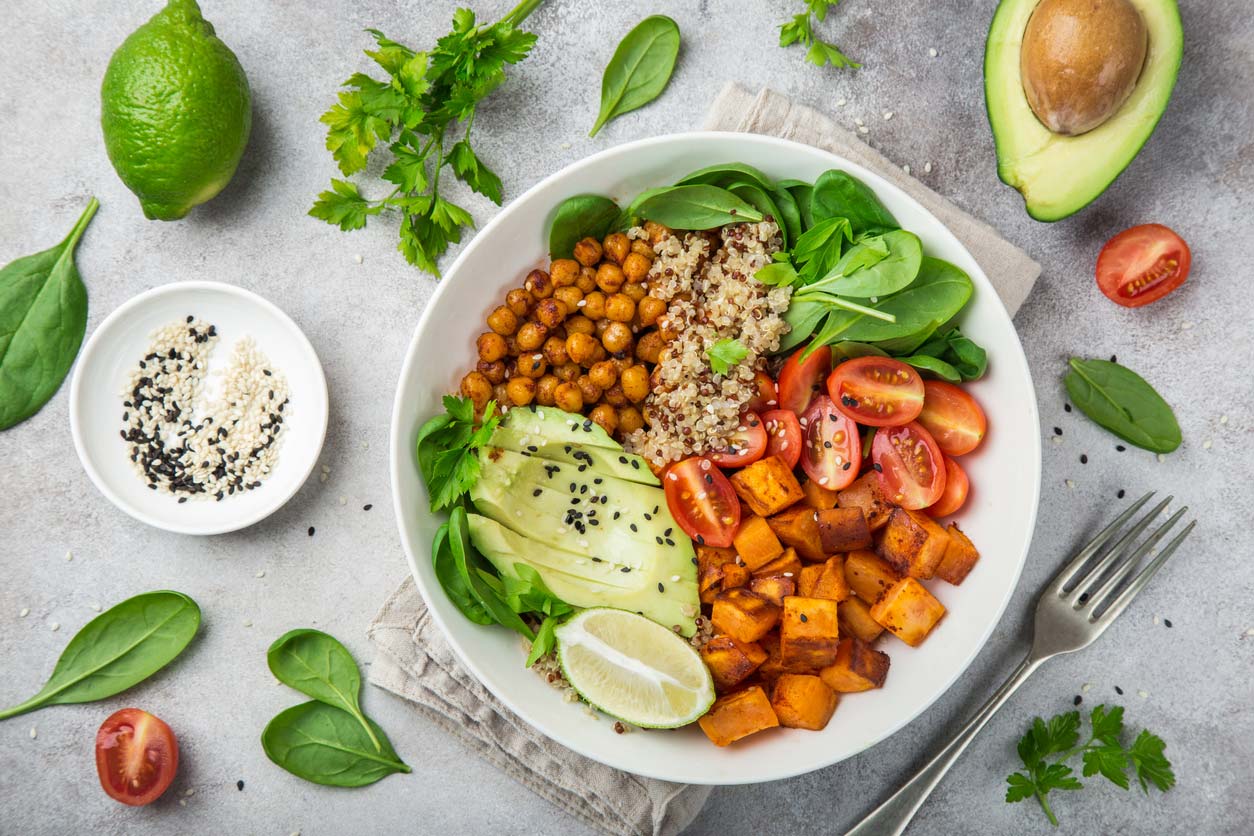 As we've seen, there are many local and national meal delivery services out there. FRN's team tested out many of the most popular ones that specifically cater to a plant-based diet. Below, we share our top picks for companies that deliver nationwide in the United States.
To identify more meal delivery options in the US, Canada, or Australia, you can also use MealFinds, which allows you to search for and compare meal services based on dietary requirements and where you live. If you live in any other country, meal kits and subscription boxes may also be available to you, and you may be able to find them through a search engine.
Editor's Note: If you make a purchase from some of the links below, the respective companies may make a contribution to support the mission of Food Revolution Network. Thank you!
1. Green Chef
Green Chef provides meal kits, complete with ingredients and recipes that you cook yourself. It's available throughout the continental US, except for (oddly enough) parts of Louisiana. Prices range from $10-12 per serving, depending on how many weekly meals you order, and how many people are in your household.
Each meal in the box comes in its own paper bag, so you don't get confused about whether the almonds go with the Morrocan carrots and rice or the cauliflower with mango salsa. Unlike many other companies, they don't include the recipes on their website — you have to subscribe to get them.
They're a certified organic company, so all the produce you get from Green Chef is organic. However, they're not an exclusively vegan or plant-based company. In addition to "regular" and Paleo options, they have a separate plant-powered menu. However, some meals are labeled vegetarian and include dairy and eggs, so if you want to go completely vegan, you'll need to pay attention when choosing meals. Some of their plant-based meals are also gluten-free.
Green Chef could be good for people who like to cook and want to put together an organic meal in 30 minutes or less. Many of the ingredients are pre-prepped and ready to use, but there is some prep work involved. Cooking skills that will come in handy include dicing, chopping, peeling, and grating. Detailed step-by-step instructions are included on recipe cards with timing and visual cues.
Green Chef Pros & Cons
Pros: The recipes our tester made were all delicious according to her standards. And each meal was ready in half an hour or less. She also noted that some of Green Chef's packaging was recyclable. The price was about average for a meal kit, and somewhat comparable to a fast-casual restaurant meal. And all the produce included was organic ("unless otherwise labeled," according to their website).
Cons: It was somewhat confusing to order from their plant-powered menu because some of the meals were vegetarian and not fully plant-based. If you're not paying attention to the "vegan" and "vegetarian" labels when choosing a meal, you may end up with eggs or dairy in your recipe. Many ingredients were also packaged in single-use plastic, which did create a lot of waste. And the serving sizes were on the small side, leaving our tester (and especially her spouse) still hungry after eating.
If you're interested in trying out Green Chef, click here.
2. Purple Carrot
Purple Carrot was one of the first exclusively plant-based meal delivery companies, inspired by its founder's journey to health on a plant-based diet. They now have both meal kits and prepared meal box options, and recipes for their kit meals are publicly available on their website. Purple Carrot delivers to the entire continental US (sorry, Alaska and Hawaii), with a price per serving of between $10-12 for meal kits and $13 for prepared meals. They also provide snack options and offer breakfast ($4.50) and lunch ($9+) options as well.
All of their meal options are fully plant-based, with no meat, dairy, or eggs. Some meals are gluten-free and soy-free as well. Purple Carrot strives to be as environmentally friendly as possible and includes recycling and upcycling suggestions for their packaging on their website.
As meal subscription boxes go, Purple Carrot is good for people who like to mix it up with pre-cooked, ready-to-eat meals and pre-prepped, ready-to-cook meals (say that five times fast!). Their focus is on the health benefits of eating more plants, so their meals tend to be quite clean.
Purple Carrot Pros & Cons
Pros: Purple Carrot's pros include the "yumminess factor," which both our testers agreed upon. They also liked that you can choose between ready-to-heat and pre-prepped options, depending on how much time and energy you have.
Cons: On the cons side, Purple Carrot uses a lot of packaging, and their meal kits were more time- and labor-intensive than most of the others.
If you're interested in trying out Purple Carrot, click here.
3. PlantPure
PlantPure offers meal starters with a unique twist on the model, providing only the dry or non-perishable components of a meal. This cuts down dramatically on costs, especially the ones related to packaging and shipping. You just add fruits, vegetables, and liquids to create a full meal that is quite economical.
PlantPure ships their meal starters to the continental US, and their prices range from $6.50 and up, which works out to around $2-3 per serving (not including the produce and liquids you provide).
PlantPure isn't organic, but claims to be non-GMO, and is in the process of receiving non-GMO certification. Right now, their tofu is certified non-GMO. All their meals are vegan, and largely whole food, plant-based. And some are nut-free or soy-free, but they don't guarantee gluten-free.
PlantPure Pros & Cons
Pros: PlantPure has a good environmental footprint, with 95% of their packaging coming from post-consumer recycling. They use cotton batting instead of styrofoam for insulation, and almost all their packaging is recyclable. Because their meal starters don't need to ship cold, they also save on a lot of packaging and other environmental impacts.
Our team felt that PlantPure's meals were delicious, and offered a great balance of "done for you" and DIY. Since you have to procure the heavy stuff (produce and liquids) for the starter kits, they keep costs way down compared to other options. They make it a lot easier for people to eat delicious and enjoyable food without stressing or overspending.
Cons: They do include small amounts of salt, sugar, white flour, and "natural flavors," and some of the starters include processed grains like pasta.
If you're interested in trying out PlantPure, click here.
4. MamaSezz
MamaSezz offers 100% plant-based meals that are oil-free, non-GMO, and gluten-free. They offer a la carte meals, meal bundles, or meal staples. All meals are made and delivered fresh and fully prepared. You can heat and enjoy them in an oven, on a stovetop, or in a microwave. You can also freeze meals (except their cornbread) for up to two months.
MamaSezz meals are priced in the $4-6 range per serving, with a minimum order of $129 per box. MamaSezz ships to all 50 states, so you folks in Alaska and Hawaii are included for a change!
They use organic ingredients "as much as possible," according to their website, and work with local farmers who have earned organic certification. They substitute conventional produce only when they can't source organic versions.
MamaSezz Pros & Cons
Pros: MamaSezz has innovated a recycling program for its packaging that doesn't require a trip to the recycling center. They provide prepaid Fedex labels to ship all empty materials (container, inserts, ice packs, and packaging) back to them. You just have to wash them out before sending them back.
Cons: Overall, they provide healthy and clean food at a good price. But I have some concerns about which of their ingredients aren't organic. For example, I'm not clear if their soy and oats are organic in addition to non-GMO, which is important if you want to minimize glyphosate exposure.
If you're interested in trying out MamaSezz, click here.
5. LeafSide
LeafSide provides freeze-dried a la carte meals. All you have to do is add water to end up with a savory or sweet bowl, soup, or even a smoothie. All their meals are 100% vegan, and are based on Dr Michael Greger's Daily Dozen recommendations from his book How Not to Die. Each meal pack delivers 20-30 whole, plant-based ingredients — more than any other meal service on the market. Their goal appears to be to flood the body with plant-based nutrients associated with health, disease reversal, and a healthy weight.
LeafSide meals cost $8 each, with a minimum order of 12 meals in a box. They are all free of sugar, oil, and salt, and some are gluten-free, too. They are currently about 85-95% organic, and they offer organic only for ingredients on the Environmental Working Group's Dirty Dozen (with the single exception of skinned white potatoes).
LeafSide Pros & Cons
Pros: As plant-based meal delivery services go, LeafSide has a lot in its favor. Every meal delivers a minimum of nine Daily Dozen units (a la Dr. Greger, who is an advisor and consumer, but not financially involved in the company). Because they are freeze-dried, they don't take up freezer space or require electricity to store.
The meals are good value for money. Depending on how you use them, each one can turn into eight servings. They have some great ideas for how to incorporate their packets into bigger meals on their website. And their food is very tasty, especially if you already eat a sugar- and/or oil-free diet. The sweet meals don't have added sugar, and the others follow Dr. Greger's low-sodium rule (fewer milligrams of sodium than calories)
LeafSide's meals are also remarkably easy to use. Lightweight, portable, great for travel, and ready to eat with just the addition of cold or boiling water (depending on the meal). And LeafSide takes the gold medal for quick and easy.
Cons: The main downsides are for people who aren't used to whole food, plant-based eating. If your taste buds haven't adjusted yet, the lack of sugar, salt, and oil can seem less than exciting. Also, because they are all bowls (sweet and savory), soups, and smoothies, you aren't going to have an "entree" experience, like a slice of lasagna, quiche, or a veggie burger. For me it's probably a fair trade-off — I can make all those other things myself. And LeafSide's approach really does allow for nutrient density a la Dr. Greger's guidelines. I wouldn't necessarily put nine Daily Dozen units in every bowl, soup, or smoothie, but they do, and make it tasty too.
If you're interested in trying out LeafSide, click here.
6. Sprinly
Sprinly offers ready-to-eat fresh meals with no prep required. Each meal comes in a microwave-safe container with instructions on how to serve it. Some dishes may be eaten cold, others may require some quick heating on the stovetop, in the microwave, or in the oven, and many include a sauce and some garnishes. All Sprinly meals are plant-based, gluten-free, and free of added sugar and artificial ingredients.
Sprinly's plant-based meal delivery services much of the US, including the East coast, Midwest, and South. However, their meals range in price from $16-18 each, which is the most expensive of any of the companies we checked out. They claim that each meal is the equivalent of one to one and a half servings, so if you're a light eater you might get more bang for your buck.
Sprinly Pros & Cons
Pros: Sprinly's packaging is either recyclable or compostable, and they have ideas about where you can donate the ice packs (Girl Scouts, local food banks, Meals on Wheels, etc). They also source all USDA-certified organic ingredients, with exceptions to this practice only in "extreme cases," according to their website.
Cons: Sprinly offers three different plans, consisting of 6, 12, or 18 meals. However, you can only choose from among six different meals each week, which is a little less variety than the other meal delivery services on this list. Because their meals are fresh, not frozen, you also have to be willing to eat them all within a week. But they do tell you which meals to eat first. And, as I mentioned above, the cost may be prohibitive for some.
If you're interested in trying out Sprinly, click here.
In Conclusion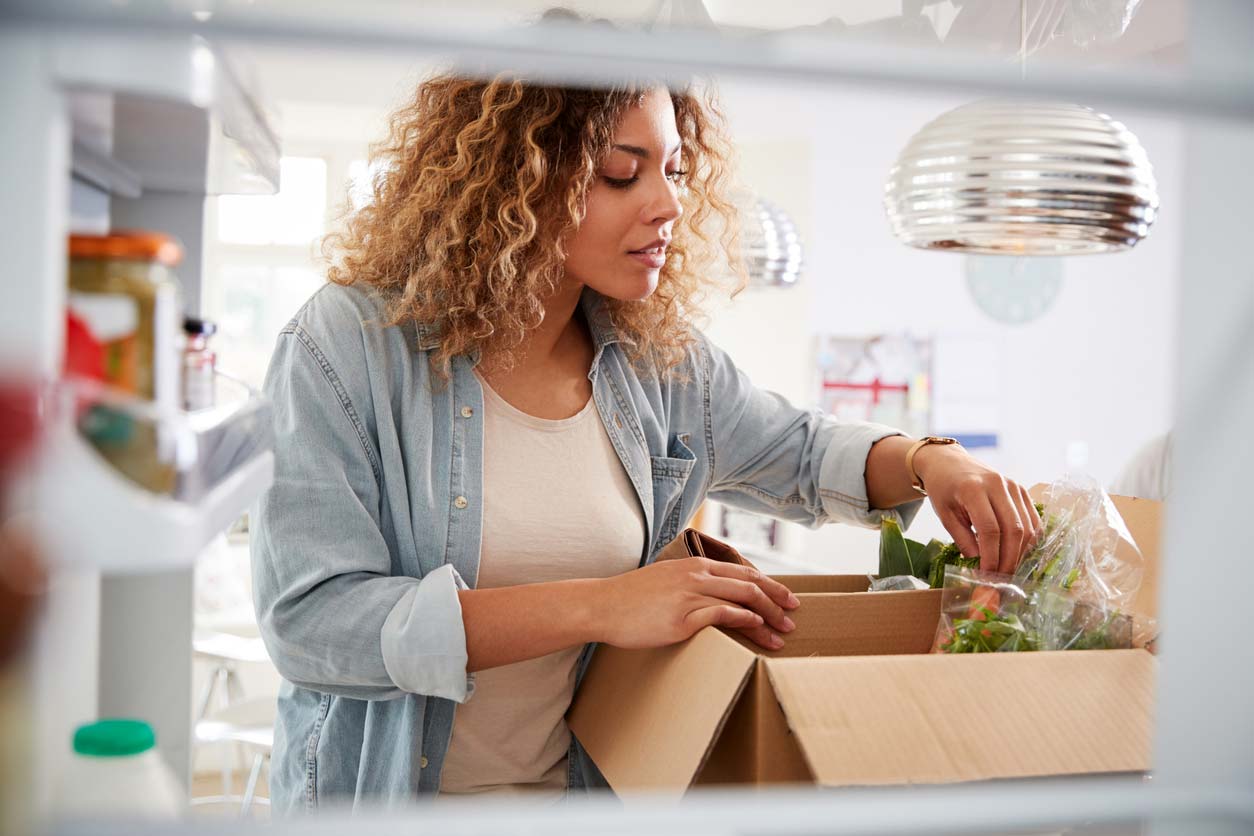 There are a lot of meal delivery services out there, including many with plant-based options. Plant-based meal delivery services, whether complete meals, meal kits, or a hybrid, offer a number of benefits, as well as downsides to consider. They're not for everyone but can be useful in certain situations. As the industry matures, look for more innovation and more competitors to drive prices down, and quality and environmental stewardship up.
Tell us in the comments:
Have you tried a plant-based meal delivery service? How did you like it?
Which would you prefer, premade meals or a meal kit?
What would you love to learn how to cook?
Feature image: iStock.com/svetikd
Read Next: