Bats, pumpkins, and spine-tingling thrills? That's right! Halloween season is creeping up on us, and it's time for some spooky fun!
The October 31st holiday has a storied history, with its roots in the ancient Celtic tradition of Samhain, a pagan festival marking the end of the fall harvest season. Today, it's a globally celebrated occasion where costumes, decorations, and, of course, delicious treats take center stage.
While Halloween often conjures up visions of sugary confections, we're here to prove that you can have a ghoulishly good time while keeping things healthy, too.
In this article, we'll explore a range of vegan Halloween recipes you can whip up for kids and adults alike. So ready your cauldron of creativity for a culinary adventure exploring seven nutritious and delicious Halloween treats.
Halloween's Relationship with Candy
Believe it or not, candy has not always been synonymous with Halloween. Trick or treating is a relatively recent phenomenon that didn't become commonplace in the US until the 1940s. And early treats received by trick-or-treaters actually included much healthier fare like fruit and nuts, along with baked goods, money, and small trinkets.
It wasn't until the 1970s that candy became the preferred "treat" associated with Halloween and trick or treating. Amid fears of potential poisonings, and urban legends like razor blades hidden in candy apples, parents began to turn to commercially packaged candy.
Nowadays, Halloween is a major profit driver for candy companies, raking in billions of dollars every year. But with that comes the consumption of "monster-ous" amounts of sugar. On average, Americans celebrating Halloween consume 3.4 pounds of candy during the holiday season. And most of that is added sugar.
Aside from rotting your teeth and scaring your dentist, eating that much sugar isn't good for your overall health. Added sugar has been implicated in contributing to a number of chronic conditions including obesity, heart disease, type 2 diabetes, and neurodegenerative diseases. Not to mention it's also addictive. So how can you still enjoy the Halloween holiday without damaging your health — especially if you (or your family members) have a sweet tooth?
Healthier Alternatives for a Sweet Halloween
If you want to keep the sweetness in Halloween, you can swap out the refined sugar with natural sweeteners. Date paste or date sugar can be used to create confectionaries at home or to sweeten homemade baked goods.
Of course, the best natural sweetener is fruit. If you're craving something sweet and chewy like gummy candies, opt for treats using dried fruits like apricots, raisins, or dates. These natural alternatives provide that delightful sweetness without the added sugars.
Another trick is to create your own "candy" by dipping fruit in dark chocolate. Try using bananas, strawberries, orange slices, or pineapple chunks. Dark chocolate is not only decadently delicious but also offers some health benefits (just watch for added sugar!).
As many Halloween candies and sweets use nuts, if no one in your household is allergic, you can make your own nutty creations with whole or crushed nuts and seeds, as well as nut and seed butters.
And in keeping with a more salty, savory flavor profile, you can also make Halloween treats — or even whole meals — out of veggies and veggie dips. Try crafting foods and meals in the shape of creepy creatures like ghosts, bats, jack-o-lanterns, and characters like Frankenstein. You could even try your hand at a "char-spook-erie" board!
And don't forget to incorporate well-loved flavors and spices associated with Halloween and the fall season. Using nutmeg, cinnamon, allspice, ginger, cloves, pumpkin, and apple in your treats will keep your culinary creations both seasonal and nutritious.
7 Healthy Halloween Recipes to Trick or Treat Yourself!
Indulge in a bewitching array of homemade Halloween treats that are not only scrumptious but made with plant-powered goodness! Make your Halloween kooky and spooky with these creative, holiday-themed recipes. From Mini Mummy Pizza Toasts that are perfect for Halloween parties to a Char-Spook-Erie Board brimming with spooky delights, there's something for everyone to enjoy.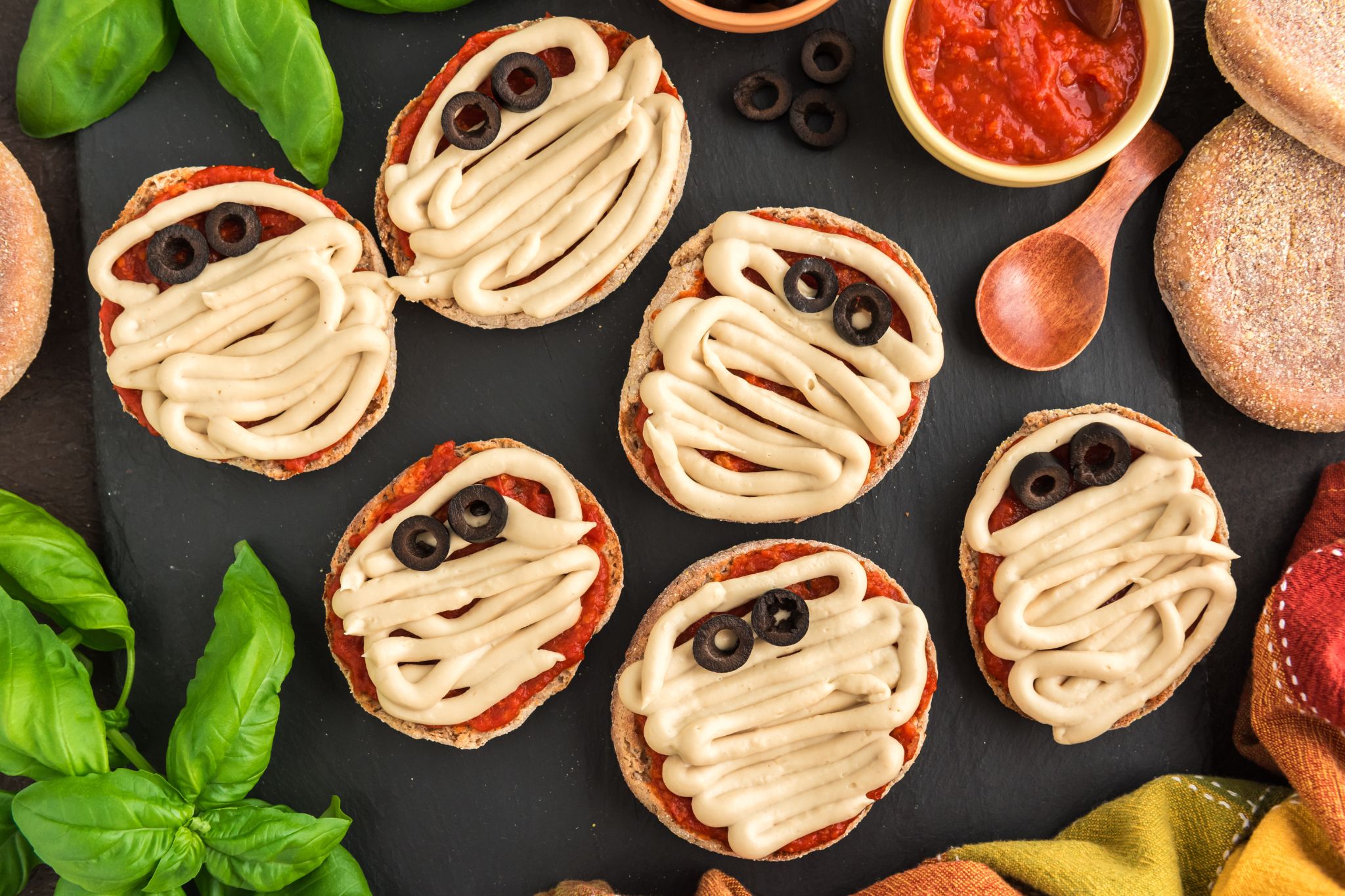 Mini Mummy Pizza Toast is a fun and spooky treat that's perfect for a Halloween get-together or any time you want to add a little whimsy to your day. These adorable mini pizzas are designed to look like mummies, complete with "bandages" made from creamy Cashew Mozzarella Cheese and eyes made from green olives. What's more, this is a fun recipe to create with your kids or grandkids as you get into the Halloween spirit. You may even hear the kiddos say "Mummy dearest, you're the best!"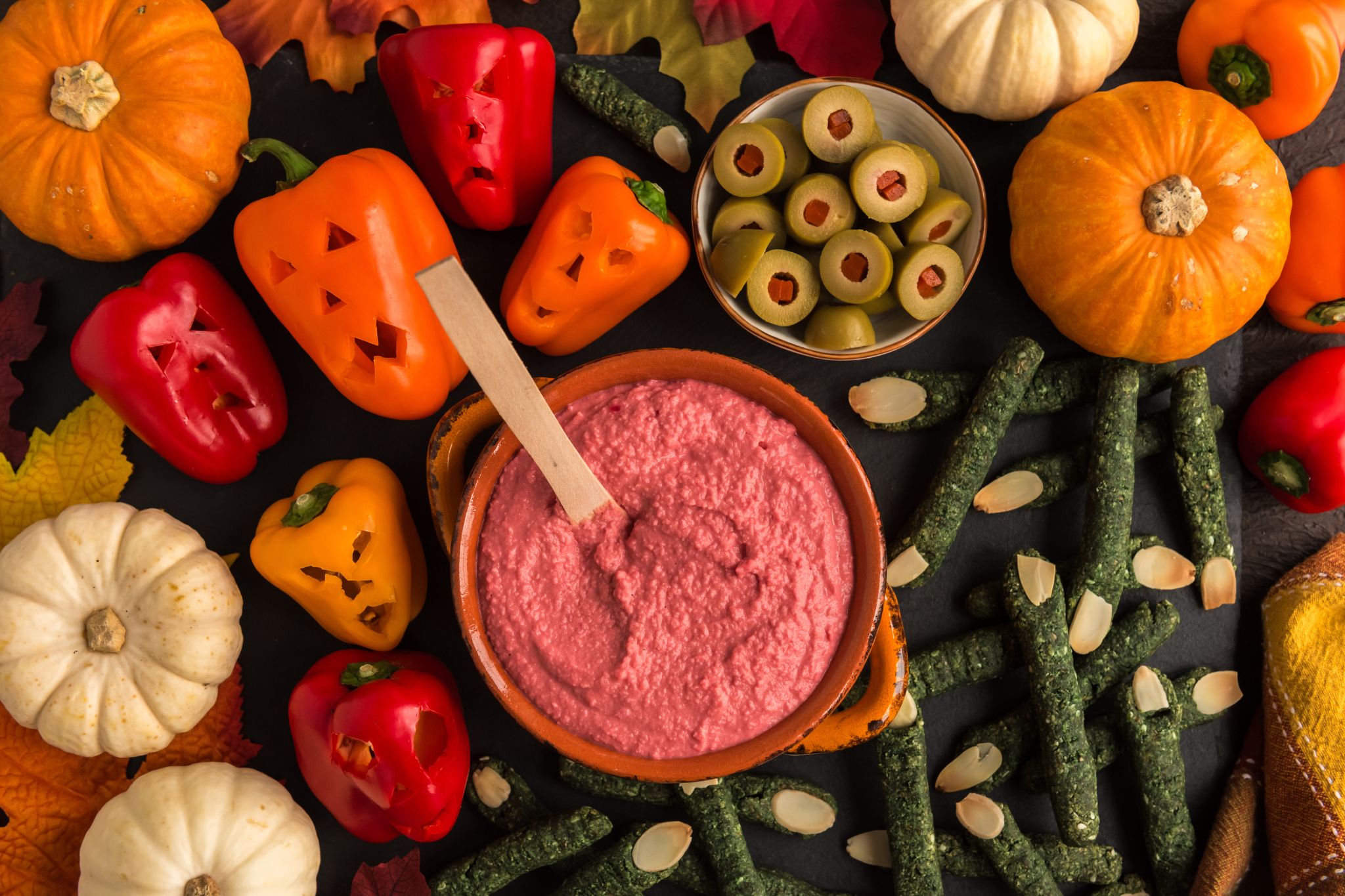 Bat's Blood, Witch Fingers, and Mummy Eyes — oh my! Healthfully celebrate all that spooky season has to offer with our veggie-riffic Char-Spook-Erie Board! The creamy bat's blood hummus, nutty green witch almond fingers, colorful mini jack-o-lanterns, and savory green olive mummy eyes are a sight to behold. Make this dish the centerpiece of your Halloween party tablescape, and get ready to enjoy some wholesome spooky fun!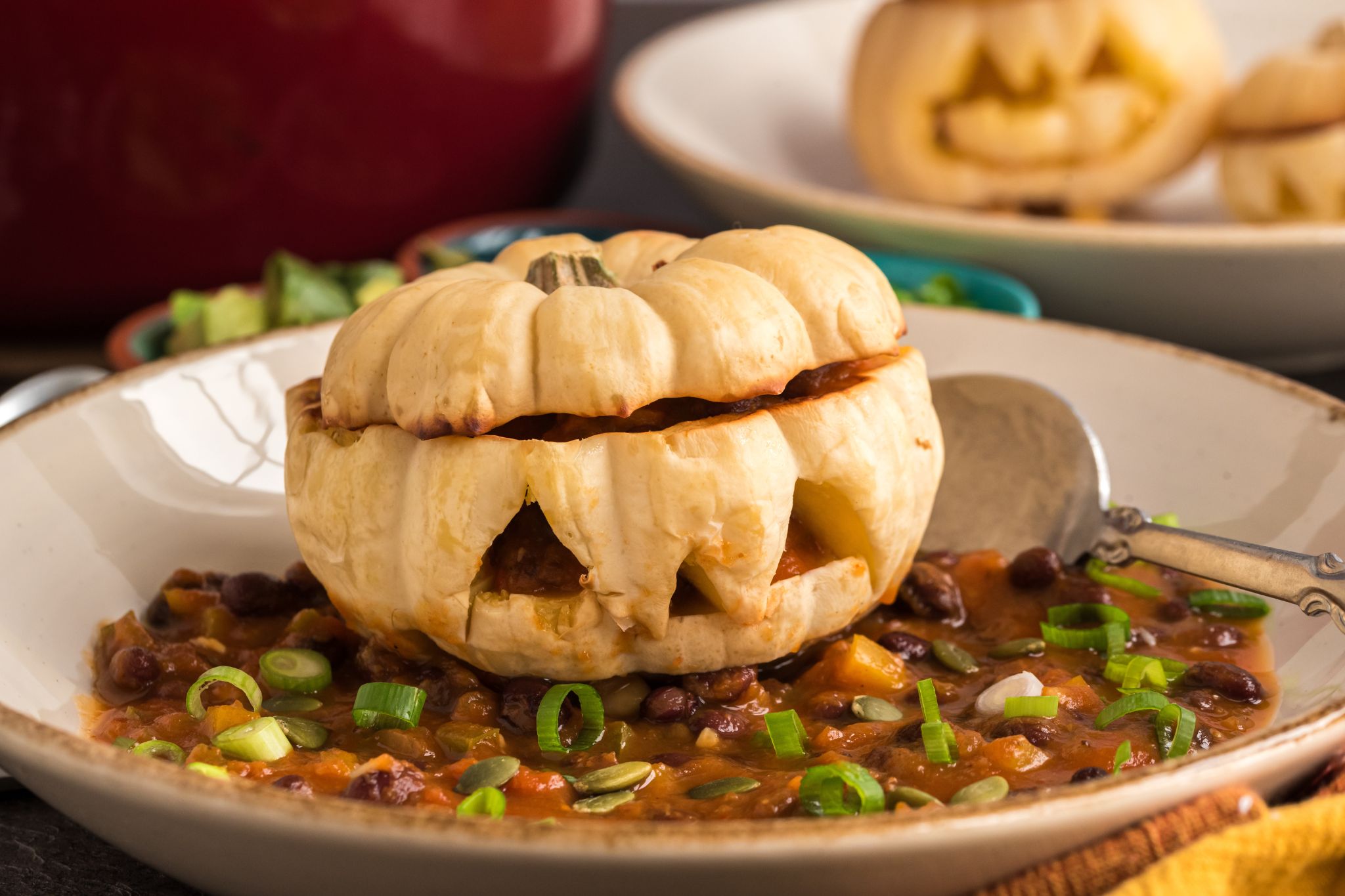 Savory treats are just as magical as sweet ones, and we think you'll agree when you serve up this delicious pumpkin chili inside a pumpkin jack-o-lantern! Sweet pumpkin, robust tomatoes, protein-rich beans, and fragrant spices create a melting pot of comforting flavors, rich texture, and, of course, a surplus of plant-powered nutrients. Whether you are having a Halloween-themed dinner party or just want to serve up a cozy fall meal to your family, this festive and nourishing Jack-O-Lantern Pumpkin Chili might just be the talk of the town this spooky season.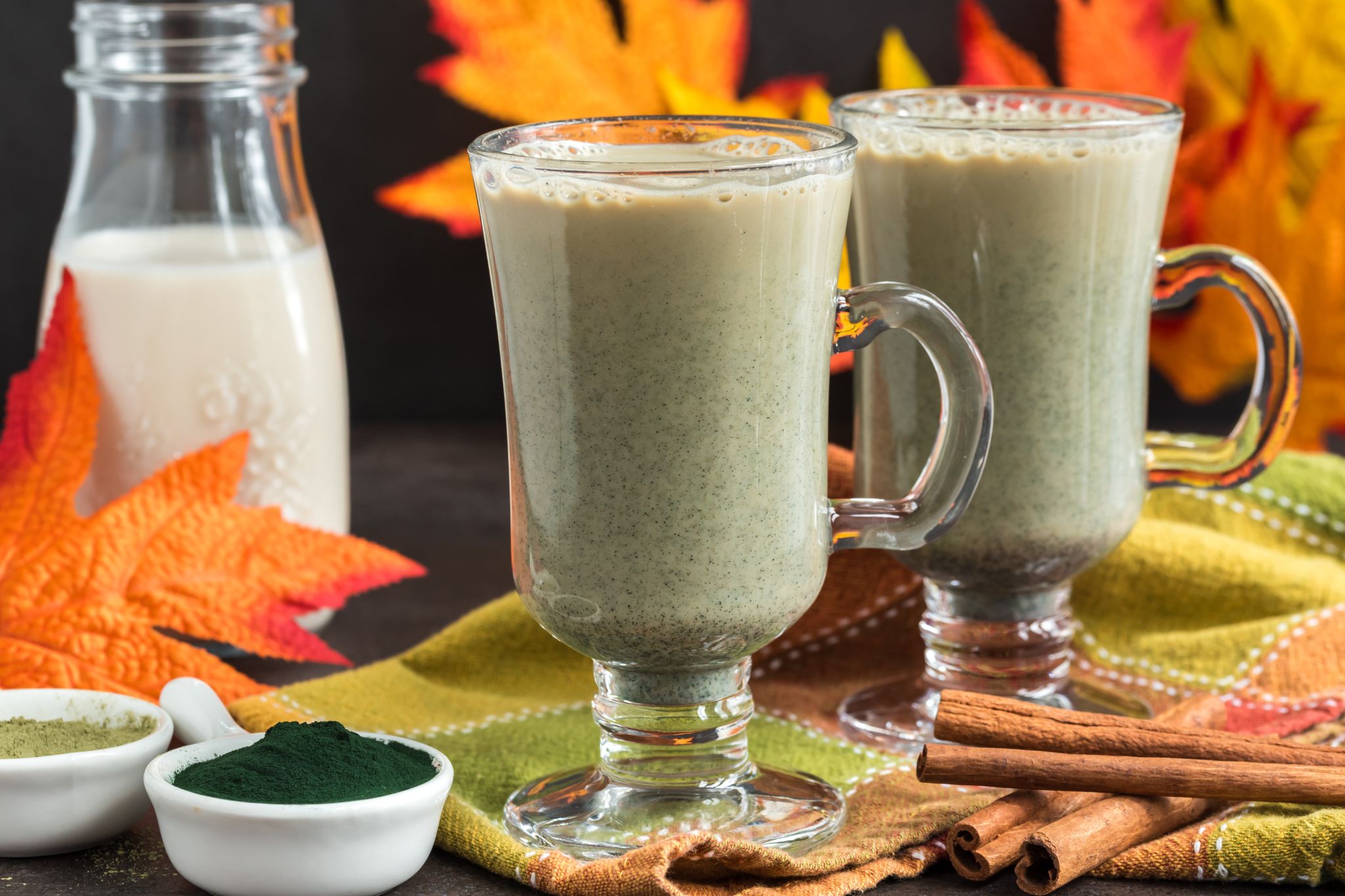 "Eye of newt and toe of frog, Wool of bat and tongue of dog." Just kidding! No cuddly animals were harmed in the making of this fantastical witch's brew. Let's try this again: "A dash of Chaga and a pinch of spirulina, A sprinkle of cinnamon, and a splash of" — well, you get the point to make this incantation complete. Serve up a warm and frothy cup of our homemade Witch's Brew on a chilly Halloween night, and enjoy the magical flavors and benefits of this wholesome plant-based potion.

These festive Mini White Pumpkin Pops are the perfect sweet treat to celebrate the season's transition into fall. Juicy mandarin oranges are coated in creamy plant-based yogurt icing and dipped in white sesame seeds to create a cool and creamy pop that is out of this world! Not to mention, they are a lovely (adult- and kid-friendly) addition to a Halloween party menu.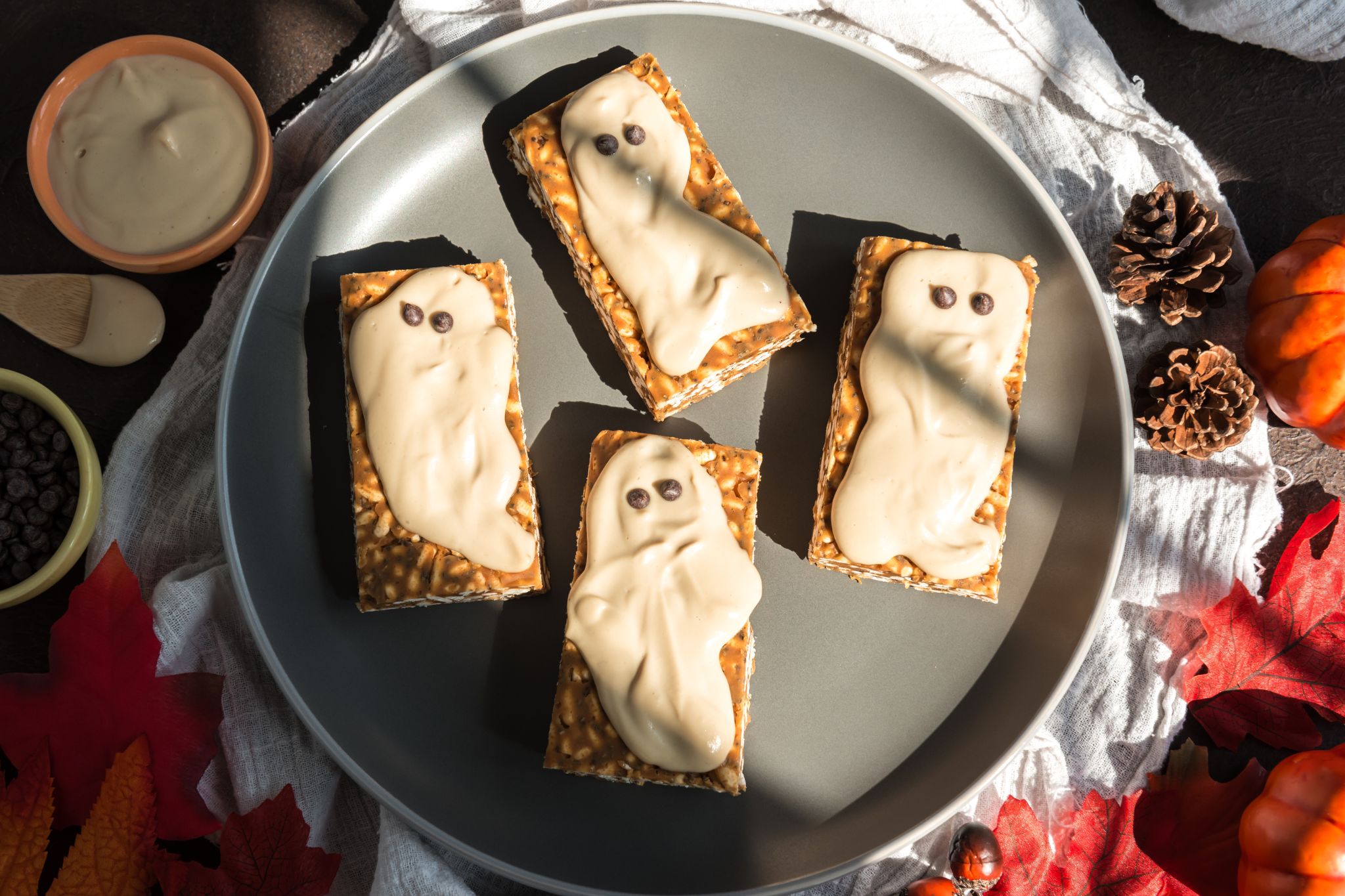 Have a ghoulishly good time while keeping things healthy, too, with these Ghostly Puffed Millet and Amaranth Peanut Butter Treats. Crunchy puffed whole grain cereal, nutty peanut butter, and creamy vanilla icing create a fiber-packed, mineral-rich, and naturally sweet peanut butter treat that is to un-die for! These treats are easy to make, fun, and frighteningly delicious — the way Halloween treats ought to be!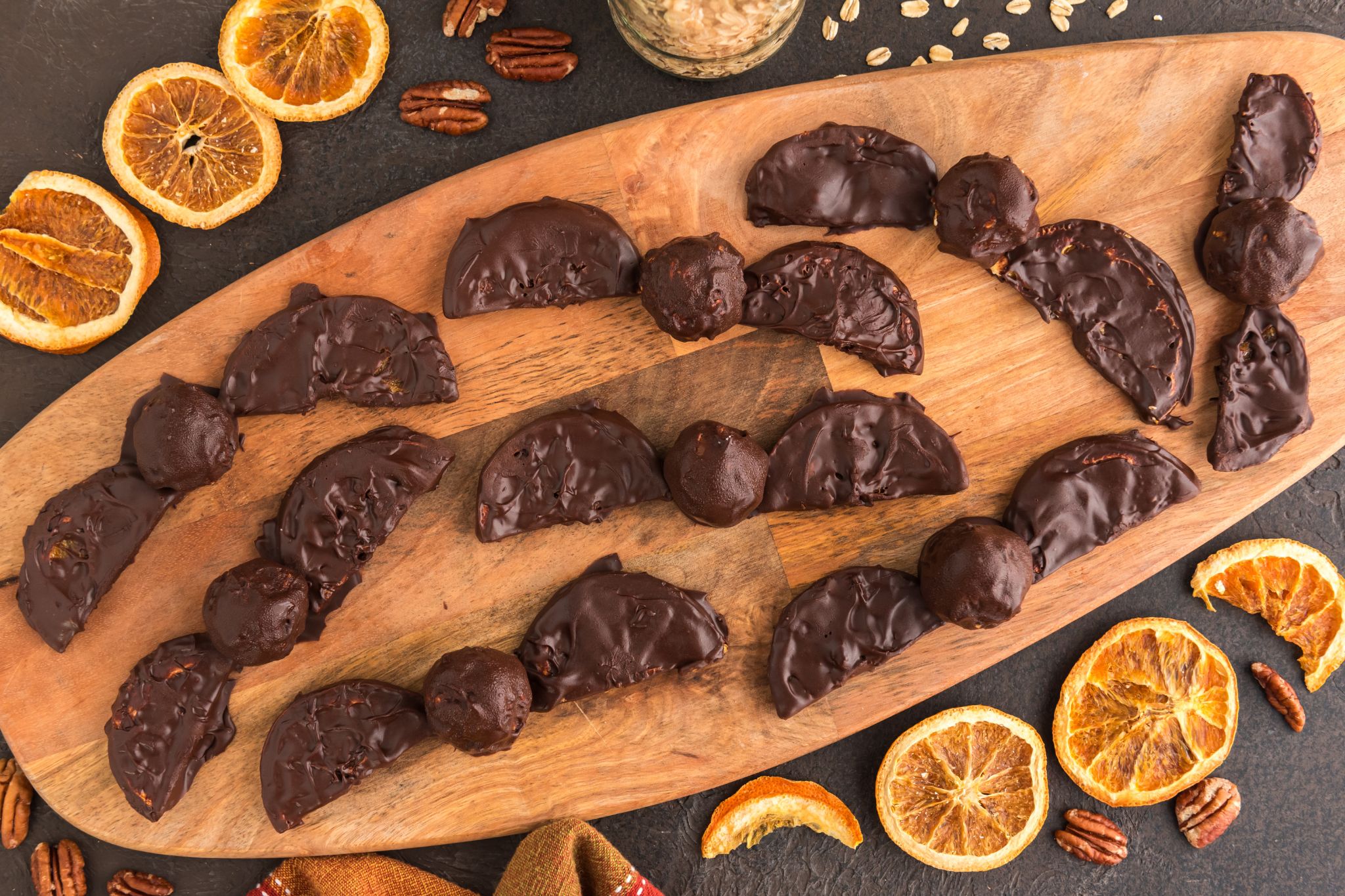 These bat-shaped bites are perfect for any festive occasion when you want to enjoy chocolaty treats with the magic of wholesome plant-based nourishment. Low in sugar and high in fiber and flavor, these Chocolate Pumpkin Oat Bats are naturally sweet and a treat to eat! What makes them even more special is the dark chocolate-dipped dried orange slices (I mean, wings!) that make these energizing bites the perfect treat to celebrate all things Halloween!
It's Sweet to Have a Healthy Halloween
Halloween is the perfect opportunity to reimagine traditional sugary indulgences with healthier plant-based alternatives. From fruit-filled delights and nutty creations to savory veggie-based snacks, there's a wide array of options to satisfy the spirit of Halloween without compromising on flavor or nutrition. So this Samhain, let your creativity run wild in the kitchen and discover the magic of crafting wholesome, vegan treats that are sure to bewitch your taste buds and leave you with a hauntingly delightful Halloween smorgasbord.
Tell us in the comments:
Do you celebrate Halloween?

What are your favorite healthy Halloween snacks or treats?

If you try these recipes above, we'd love to know what you think!
Featured Image: iStock.com/Azurita
Read Next: