Pretend you're an entrepreneur with magical powers and a mandate to design a food crop that can save the world. You'd probably start by identifying the problems such a food would address.
The list would almost certainly include persistent droughts in many heavily populated parts of the globe, depleted soils, global hunger, nutritional deficiencies, overuse of pesticides, and climate chaos caused by the carbon footprint of burning fossil fuels.
The bad news is you probably don't have actual magical powers that allow you to create such a food. (If you do, please apply for a job at Food Revolution Network!)
The good news is, that crop already exists. It's called fonio (pronounced "fone-yo"), and it's the oldest known cultivated grain in Africa.
While many Indigenous West Africans revere the grain and incorporate it not only into their diets but also into their healing and spiritual practices, its cultivation was discouraged by decades of agricultural and economic policy that sought to "modernize" the region and grow monocropped grains for food and export.
But fonio is making a comeback, growing in popularity around the world. And for good reason. It's highly nutritious, exceptionally delicious, and environmentally resilient, making it an important crop for arid regions. Those include its home, West Africa, but also many other places around the world prone to prolonged heat and drought: southern Europe, the Middle East, North Africa, much of the US (including California, Texas, the Midwest, Sunbelt, and Southeast), Southeast Asia, and Australia, among others.
In this article, we'll explore all things fonio. We'll look at where and how it grows, its nutritional profile and health benefits, its environmental impacts, and why you might want to add fonio to your diet even if you don't live in West Africa.
We'll also cover its versatile culinary uses, and share some fonio-filled recipes.
What Is Fonio?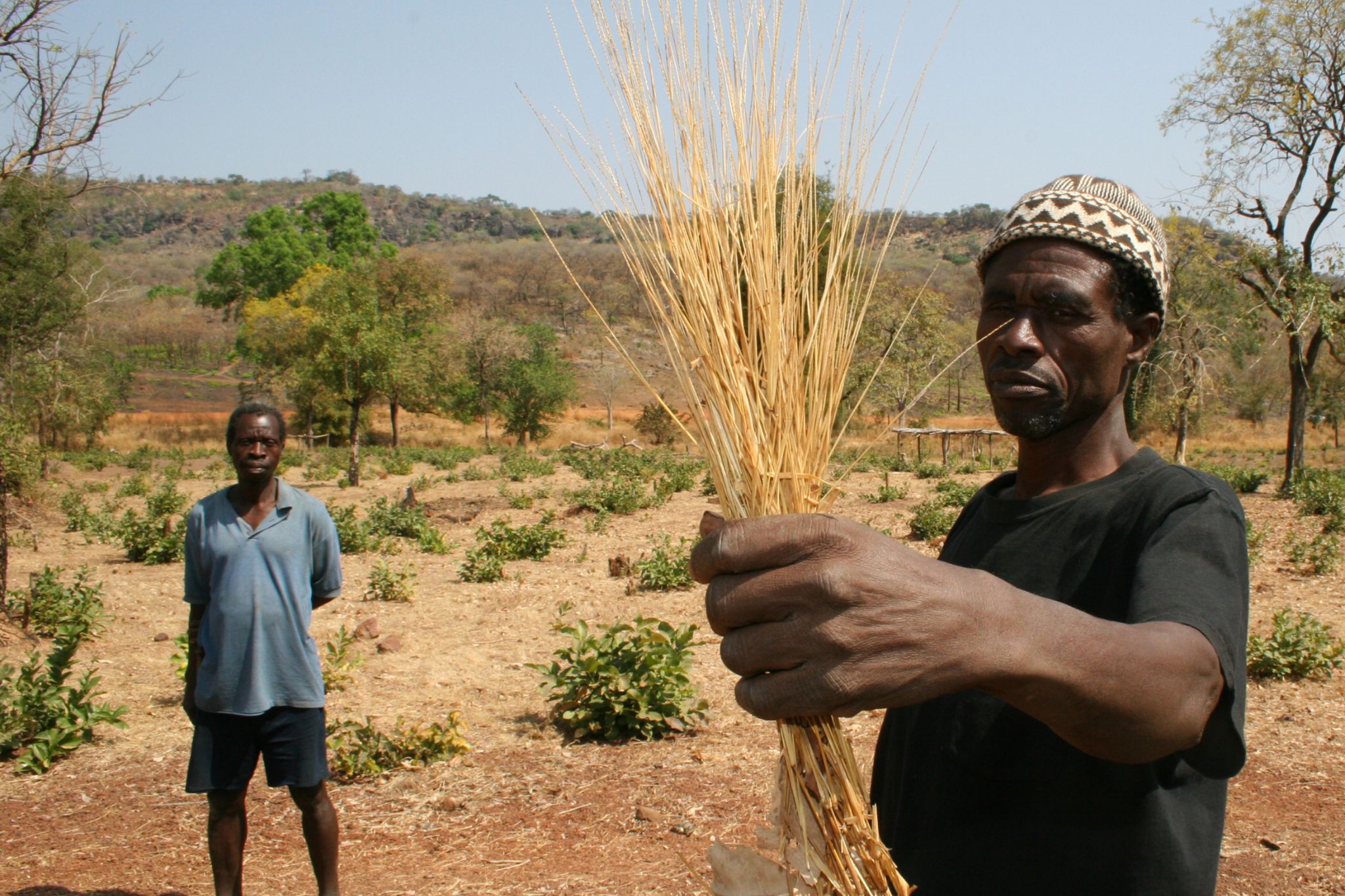 Fonio, aka Digitaria exilis (Latin for "slender fingers"), has been cultivated in parts of Africa for about 7,000 years. In the Dogon language of Mali, one of the names for the plant means "seed of the universe." In a narrative strikingly similar to the Big Bang, Dogon mythology describes the Creator bringing the universe into existence by exploding a single fonio grain.
Fonio is a member of the millet family and is related to other grains important in African agriculture, including pearl millet and sorghum. Technically, fonio is a very tiny pseudocereal, like quinoa and buckwheat — which basically means it's a seed that's eaten like a grain.
You may have also heard of fonio by one of its other names. These include acha, fundi, findi, iburu, Asian millet, fonio millet, pearl millet, and hungry rice. (That last name is something of a smear, implying that fonio is a lesser food that's eaten only when there's not enough rice.)
Fonio is native to West Africa with roughly 70% of the world's fonio grown in Guinea. Additional production occurs in Nigeria, Mali, Senegal, and several neighboring countries.
Fonio has played a critical role in food security in these countries, especially in rural areas. For reasons that we'll soon discover, fonio is a reliable staple crop even when other food sources are scarce.
The plant is prized for its resilience, able not just to grow, but to positively thrive in poor soil conditions. As a significant bonus, fonio is also the speed champion of grains. It's the world's fastest maturing cereal, going from seed to harvest in as little as 60 days. And it's drought tolerant. In fact, the less rain the plant receives, the faster it matures.
Types of Fonio
There are two main types of fonio:
white fonio, called acha (the more common of the two, and quicker cooking)
black fonio, called iburu (less common, and higher in fiber)
Both types of fonio have a similar taste that's been described as rich and nutty — similar to couscous (but unlike couscous, fonio is a whole grain, and it's gluten-free!).
Fonio Nutrition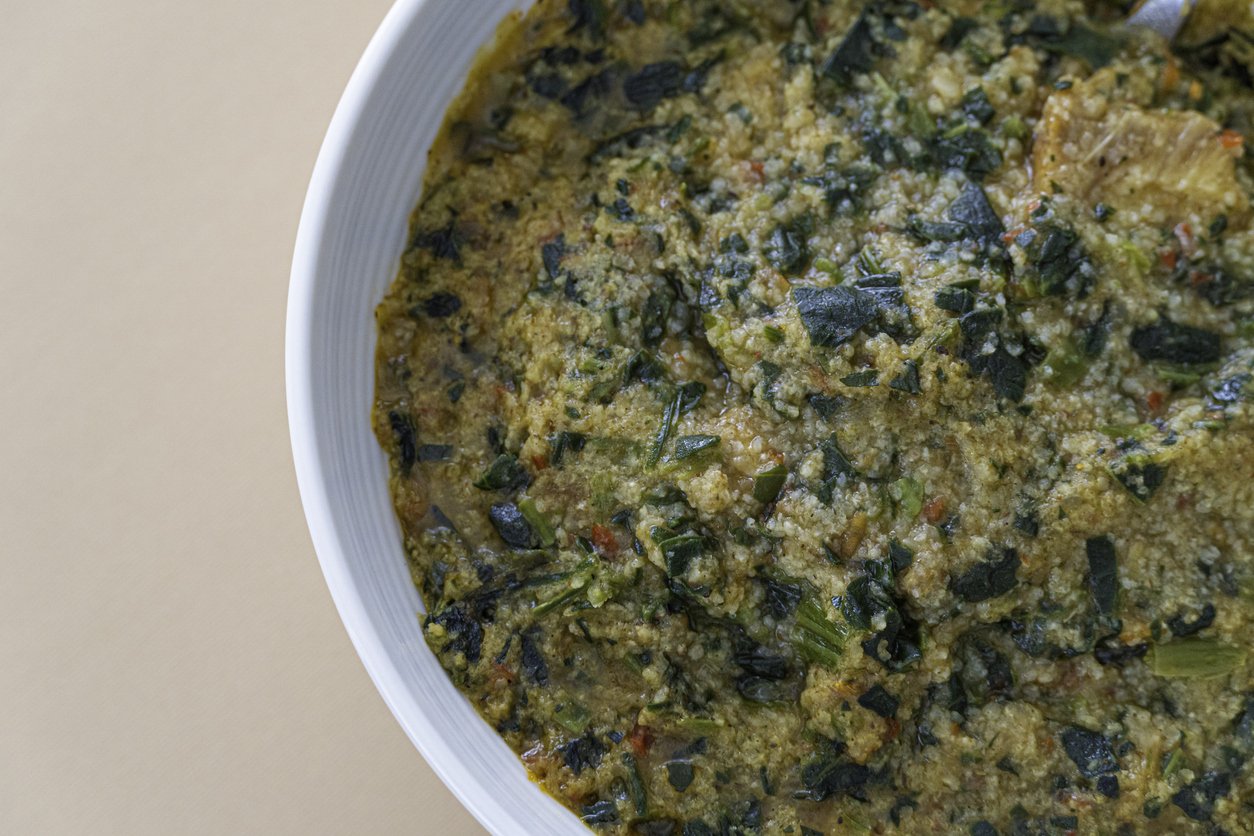 On a nutrient-by-nutrient basis, fonio appears to be one of the most nutritious of all African cereals, as well as one of the tastiest. A cup of cooked fonio (which requires a quarter cup of dry grain) provides about 170 calories, largely from carbohydrates, and a small amount of protein.
It's also a rich source of gut-healthy fiber, providing as much as five times as much fiber as a serving of white rice. (I don't know about you, but I sometimes opt for white rice over brown rice when I'm in a hurry since it cooks much more quickly. Well… fonio cooks even faster yet! So it is a winner by many measures of comparison.)
What about the essential amino acids that make up protein? The acha variety of fonio is particularly rich in sulfur-containing amino acids, like methionine, which is an amino acid that is typically low in legumes. However, similar to whole grains, acha is low in lysine (where legumes excel!). While we love fonio, we don't recommend that you only eat fonio all day. Variety, including beans and other legumes, is important to ensure you're receiving a variety of nutrients, including plenty of all the different essential amino acids.
Fonio is also a solid source of several minerals, including calcium, iron, zinc, magnesium, and copper. Since fonio is gluten-free, it can substitute for gluten-containing grains such as wheat, barley, and rye for people with Celiac disease and gluten sensitivity.
Fonio Health Benefits
Just as fonio has been systematically neglected and marginalized by industrialized agriculture, it's also largely ignored by nutrition researchers. While its powerful nutrient profile is well-documented by modern science, the same is not true of its potential for supporting human health.
To give you a sense of the gap, when I did a search for "fonio nutrition" in the database of the US National Institutes of Health National Library of Medicine, I got 17 hits (only one of which even looked at the relationship between fonio and human health). By comparison, "corn nutrition" generated over 12,000 articles, and "sorghum nutrition" almost 1,200.
So in order to make useful statements about how fonio might help you prevent and heal from disease, we have to consider both its nutritional properties and Indigenous healing practices.
In West Africa, fonio is considered to have medicinal properties for several health conditions. In Senegal, fonio has been traditionally used to alleviate conditions such as meteorism (or bloating and abdominal distension caused by an accumulation of gas in the digestive system), constipation, and as a diuretic. Also, the Senegalese use fonio to treat blood clots, diarrhea, loss of appetite, dysentery, stomachache, chicken pox, and asthma.
In Burkina Faso, fonio is known for its slimming properties. Roasted, it's used for wound healing. And fonio dough is given for relief of symptoms in people with type 2 diabetes.
Based on its nutritional profile and similarity to other pseudocereals, it's probable that fonio may reduce the risk of developing both type 2 diabetes and some cancers. And with a low glycemic index (in the low 40s, to be imprecise) and favorable amounts of both resistant and nonresistant starch, fonio may help improve blood glucose management in diabetic and prediabetic patients.
Challenges Facing Fonio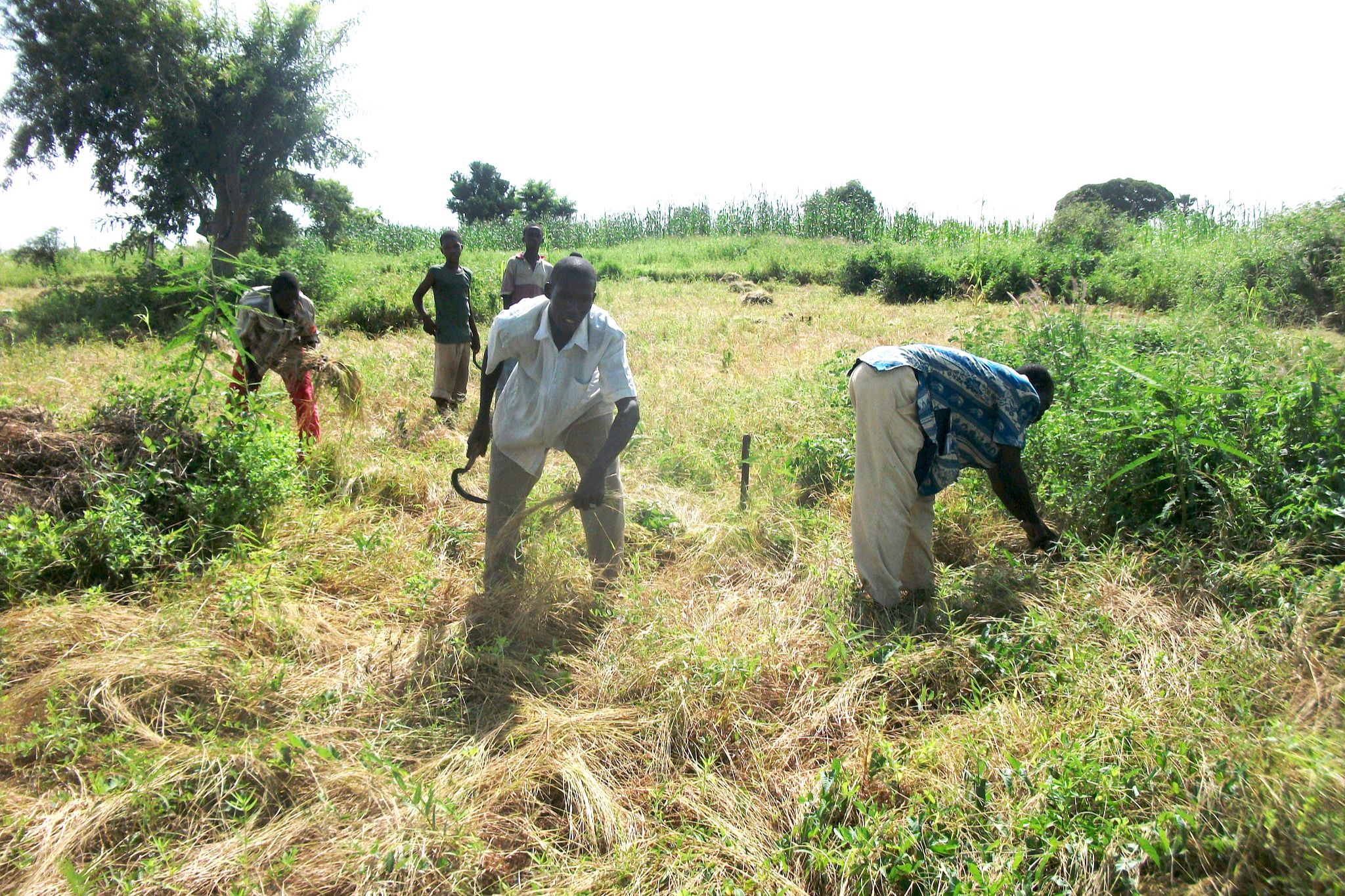 We've seen that, in many respects, fonio is a near-perfect crop to address hunger on a planet that's growing increasingly hot and dry. But now it's time to address the one drawback to fonio: It takes a huge amount of hard human labor to produce.
Labor
In West Africa, where fonio is still a staple food for millions of people, all stages of its growth cycle are very labor-intensive.
Men harvest the grain by uprooting the plant or cutting off the grain head with a homemade knife or sickle. Threshing the grain — separating the edible from inedible parts of the plant — is just as labor-intensive. It's done by either beating or trampling over the dry straw.
In West African countries, women perform the lion's share of the work. Women typically do the weeding, collecting seed heads, dehusking the grain, cleaning, drying, and processing as well as selling the fonio. On average, a woman must pound fonio for an hour to dehusk just two pounds of the grain.
Although this unfairly puts a large burden on women to process the fonio and get it ready for market, from a climate perspective, the hard work does pay off. Its impact in terms of greenhouse gas emissions, as well as soil and water contamination, is minimal to nonexistent. There's also no need for fuel to run giant harvesters and other agricultural machines, or to power running water for irrigation.
And in a region with chronically high rates of unemployment, some would argue that providing more jobs for people (as opposed to having the work done by machines produced overseas) makes good economic sense, too. Plus, there's the fact that farmers don't have to spend money on fertilizers or pesticides since fonio thrives in poor soil and has few natural enemies.
But in terms of growing enough fonio to feed the world, the fact that the crop hasn't, at least so far, been able to benefit from economies of scale has been a very real stumbling block.
In the 1990s, a Senegalese mechanical engineer named Sanoussi Diakite invented a fonio husking machine that could process eleven pounds of grain in just eight minutes. However, there are very few machines in use, even today, because the $3,000 price tag renders them too expensive for the vast majority of West African farmers.
Low Demand and Rural Depopulation
Capitalizing on fonio's status as a highly nutritious and easy-to-grow whole grain is a serious challenge facing West African farmers. In addition to the difficulties of production and postharvest processing, there are two other stumbling blocks: low market demand and rural depopulation.
Because demand from the wealthier nations is low (at least before this article was published!), farmers fear not receiving a return on their investments of money and effort. It's more secure to grow maize, which has a predictable market, or some of the higher-margin cash crops like coffee, bananas, cashews, or cacao, which can be exported to wealthier countries.
Another obstacle is a lack of younger farmers willing to do the work of fonio farming. Many move away from rural areas to seek employment in the cities, sparking a depopulation crisis that continues to spiral as more and more people view farm life as an economic dead end.
Garnering Interest in Fonio
Some people are trying to encourage increased fonio production by creating demand for it in the US and Europe. Making fonio more fashionable, somewhat akin to what's happened to quinoa, can mean higher profits and more stable income for farmers.
For example, Senegalese chef Pierre Thiam has been instrumental in bringing fonio to US markets. He cofounded Yolélé Foods in order to, quoting from their website, "create economic opportunity for smallholder farming communities; to support their biodiverse, regenerative, and climate-resilient farming systems."
Yolélé Foods is also building processing facilities and collaborating with governments, intergovernmental agencies, and NGOs to train and equip smallholders for increased productivity through conservation farming.
If you're feeling adventurous and want to try fonio for yourself, check out some of Yolélé's fonio products online. If they're out of stock (as seems to happen from time to time), Aduna makes an organic variety, linked here. The cost tends to be a bit higher than rice or quinoa but is lower than wild rice.
How to Cook Fonio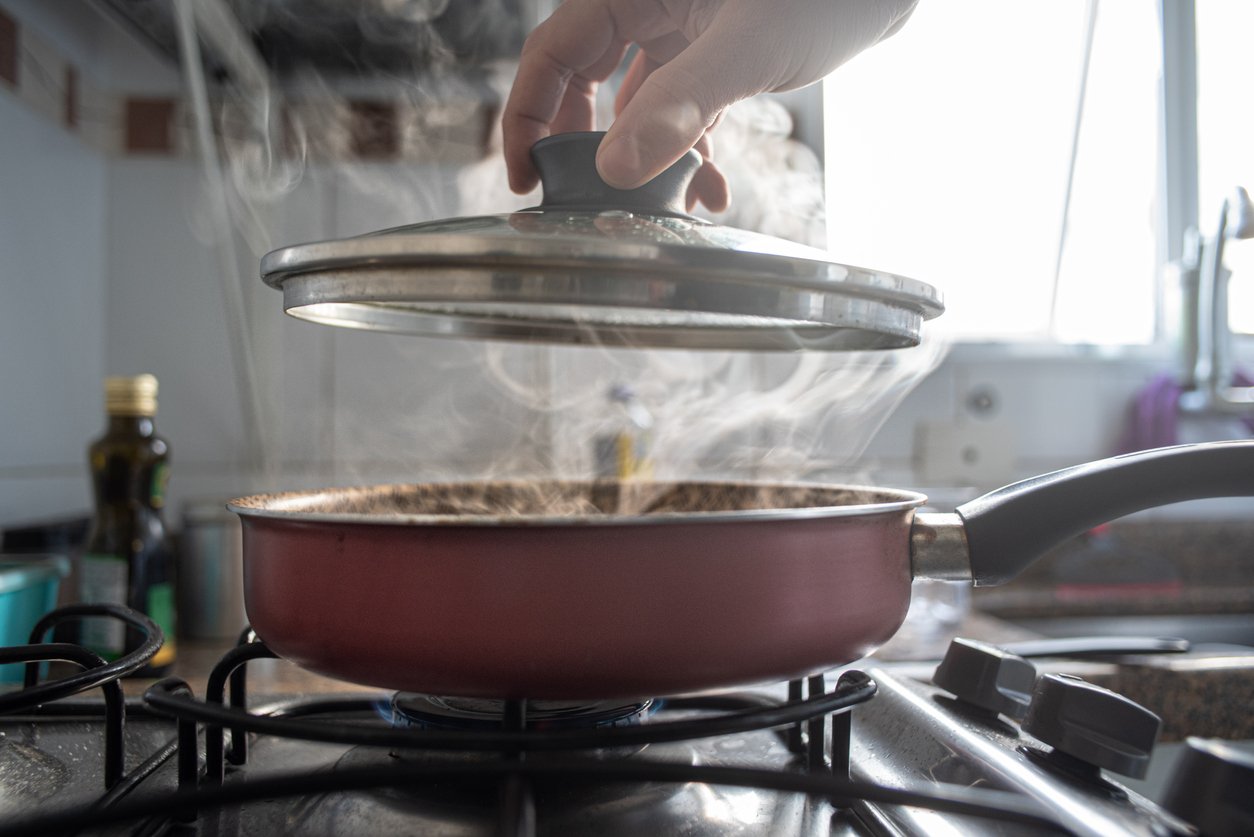 If you do decide to try fonio (and create more demand for it), you're in luck. Not only is it super delicious (at least in my opinion), but it cooks super fast (just a few minutes!). This speedy quality also makes it a great option when you want to eat a whole grain but don't have a long time to wait for one to cook fully.
One cup of fonio cooks in two cups of water and yields four cups of grain!
You can use fonio in any recipe that calls for other types of grains. Examples include grain bowls, porridge, side dishes (like couscous or pilaf), stuffed vegetable recipes, and so on.
Fonio flour has been used to make biscuits, bread, and dumplings. Some researchers have experimented with making sourdough bread using fonio. It's also possible to make delicious cakes, cookies, and other snack foods and desserts from fonio. And you can use whole meal fonio flour to create gluten-free biscuits and other baked goods.
Fonio Recipes
This ancient West African grain deserves to be making some serious culinary waves because it offers a delightful canvas for kitchen creativity. From savory to slightly sweet, get to know this delightful ancient grain that can add wonderful texture and substantial nutritional value to your meals.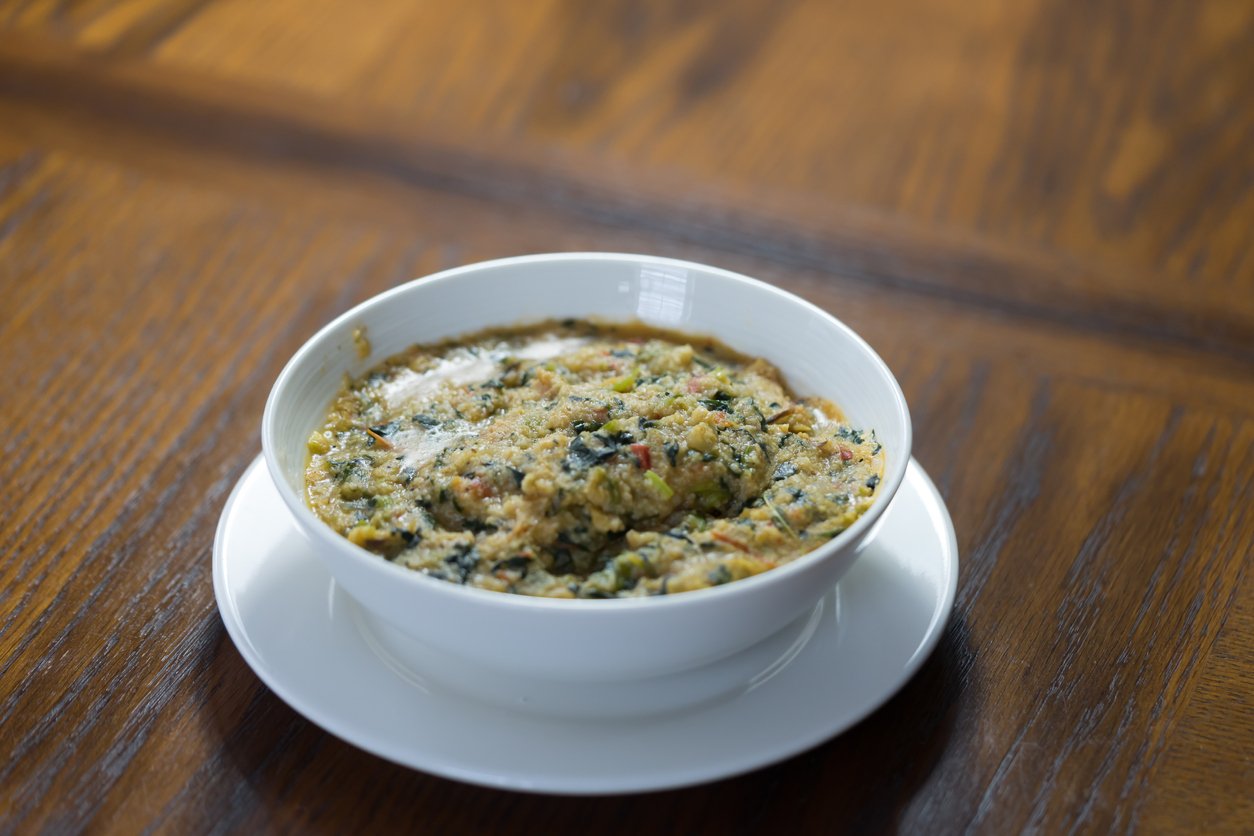 Savory Turmeric Fonio Porridge feels like a warm and comforting hug for your belly. Full of antioxidant- and anti-inflammatory-rich ingredients, it's a wonderful breakfast to begin your day on a nourishing note. What's more, thanks to fonio's nuttiness, the cashews (or your favorite nut or seed of choice) really bring out its flavor, rounding out the taste profile of this hearty breakfast porridge.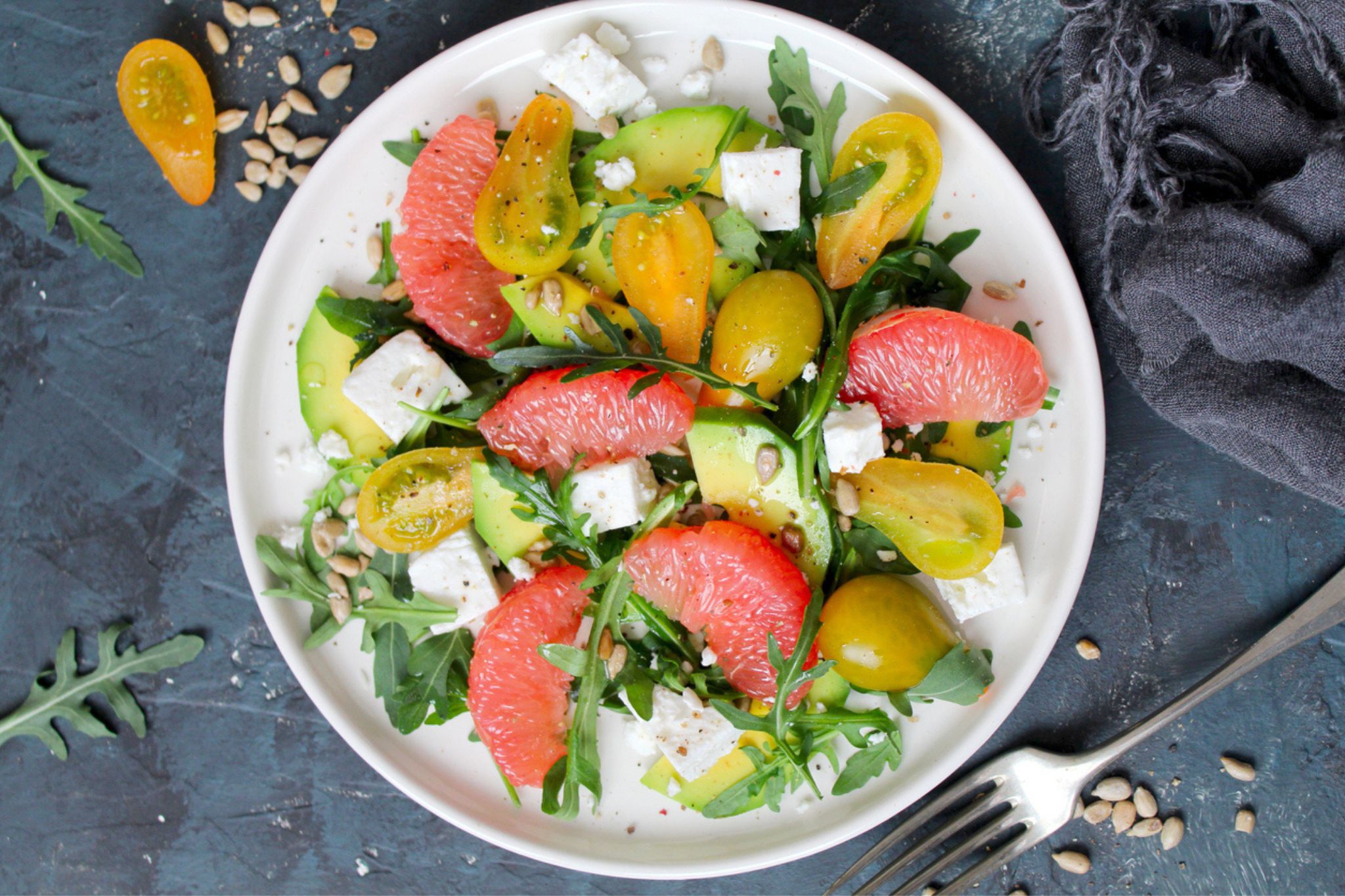 Since fonio is a mild grain, you can use it the same way you would quinoa, brown rice, or millet. In this salad, it's truly a hit! Fonio, Fennel, and Fruit Salad is bursting with juicy and aromatic citrus fruit and berries, lively fennel, and creamy Macadamia Nut Ricotta. The cherry, or should we say the grain on top, is the subtly sweet fonio that ties it all together. If you are new to working with this grain, we highly recommend you give it a try in this refreshing and vibrant salad!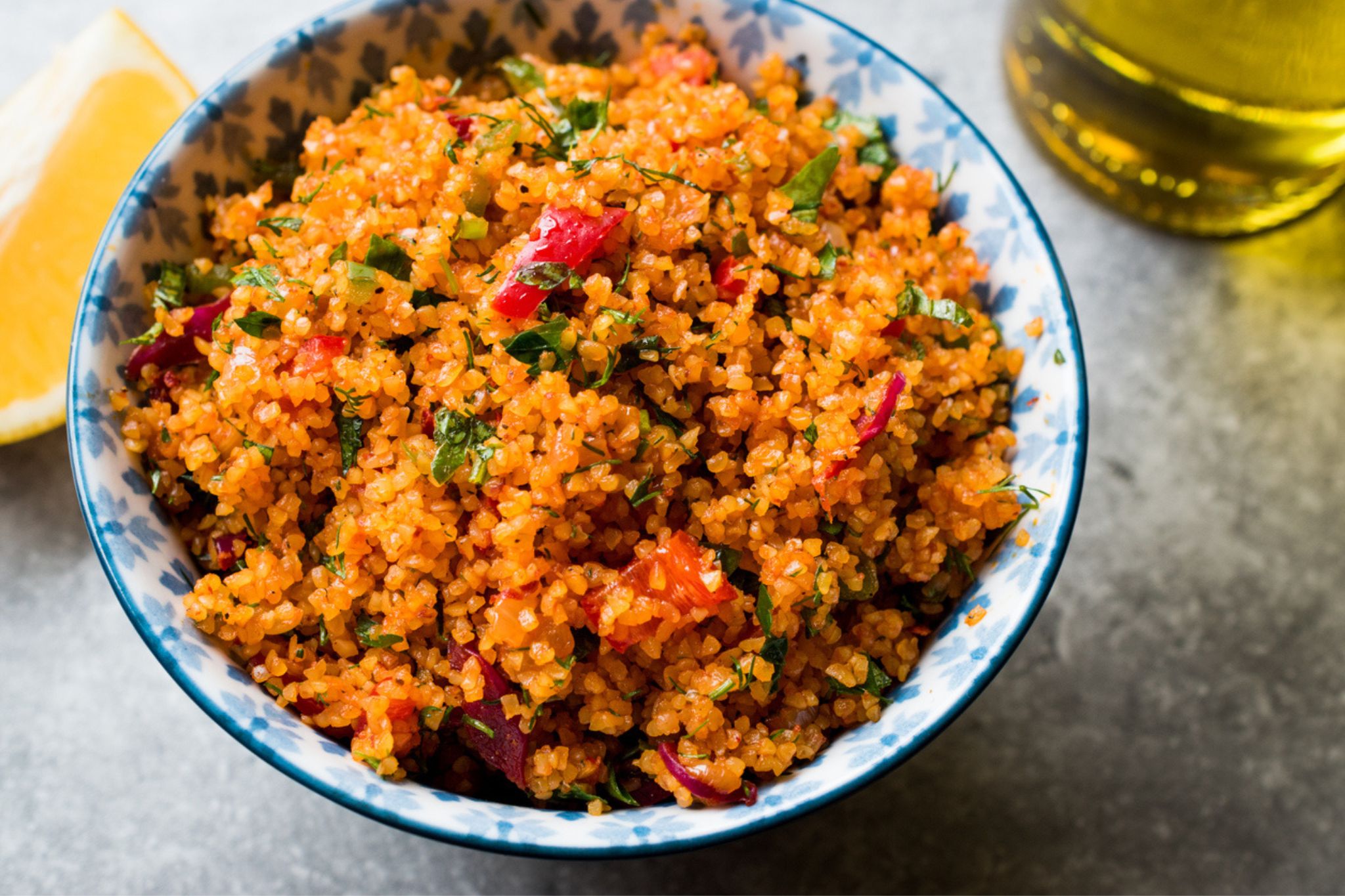 Fonio is highly versatile. There are so many ways to enjoy its taste, texture, and nutrients — and this Moroccan-inspired Fonio Pilaf will not disappoint! With savory vegetables, cooling mint, nutty pistachios, and healing spices, this is a highly nourishing all-in-one meal that is simple to prepare and a delight to enjoy as a tasty side dish or a delectable main!
The Bottom Line on Fonio
Fonio is a nutritious and versatile whole grain that has a low environmental impact. It also tastes delicious, cooks quickly, and provides many nutrients that are crucial to human health. Plus, it's gluten-free and so is suitable for those with Celiac disease or gluten sensitivity.
Unfortunately, farmers face many challenges growing fonio because demand is unpredictable, and it's labor-intensive to harvest and thresh. While some technology is now available to lessen that burden, until demand grows, few farmers will be able to afford to use these machines to increase production.
Increasing awareness of and demand for fonio in industrialized countries can be a win-win. Not only does the crop have the potential to improve the nutritional status of those populations, but increased demand may translate into funding to make harvesting and processing more efficient. If done in an environmentally low-impact way, this could pave the way for greater economic opportunities for farmers in West Africa.
If being a part of that solution sounds good to you, check out the recipes included above and consider making fonio a part of your life.
Tell us in the comments:
Had you heard of fonio before reading this? If so, where did you first come across it?

What is the most interesting thing about fonio that you discovered in this article?

Which fonio recipe will you try?
Featured Image: iStock.com/Karisssa
Read Next: