Want to have a summer party that is both festive and healthy? These tips, foods, and healthy July 4th recipes will help you enjoy get-togethers that nourish your body and support your health deliciously.
---
Sitting in the sunshine all day, burgers and hot dogs sizzling on the grill, plates piled high with mayo-drenched potato salad, fireworks shooting across the sky, and red, white, and blue everywhere you look.
For many Americans, this is an annual tradition. And like most holidays, the 4th of July — U.S. Independence Day — is known for some unhealthy practices. You probably don't expect to find healthful foods at most parties. But what if you want to host a summer get-together, or attend one, without sacrificing your health?
The following tips and recipes will help you create (or participate in) a 4th of July celebration or another summer party that won't disrupt your healthy lifestyle.
How to Experience Healthy BBQ and Grilling
Getting outside and grilling and barbecuing is common for summer parties, including the 4th of July. But there are downsides to grilling many people don't know.
When meat — with its high fat and protein content — is cooked using high temperatures for long periods of time, it develops chemicals (also found in cigarette smoke) that may lead to cancer.
Consuming (and even just smelling) barbecued meat has been found to be hazardous to fetal development, leading to smaller birth weights and heads for newborns.
Another concern with meat and high-heat cooking is AGEs (advanced glycation end products).
Excess dietary AGEs:
Are linked to increased inflammation and accelerated aging
Are linked to many chronic diseases, such as kidney disease, cardiovascular disease, cancer, and Alzheimer's disease
Animal foods are abundant in AGEs, as are sugary and processed foods. And new AGEs form when these foods are cooked using high-heat methods including grilling.
Most vegetables and fruits contain relatively few AGEs, even after cooking.
But here's the good news: Most vegetables and fruits contain relatively few AGEs, even after cooking.
However, plant foods that are high in protein and fat do produce AGEs when cooked using high-heat methods. So grilling tofu, tempeh, and other soy products may not be the healthiest idea.
And what about using oil when grilling? Refined oils are also high in AGEs.
Getting rid of all your exposures to carcinogens and harmful toxins isn't possible. But you can eliminate or minimize a risk when you know about it. And now you know!
Grilling fresh vegetables and fruits without oil is the healthiest way to enjoy a healthy BBQ. It's also an easy way to add natural, mouthwatering flavor to foods without risking your health.
Tips for Successful Grilling That Won't Harm Your Health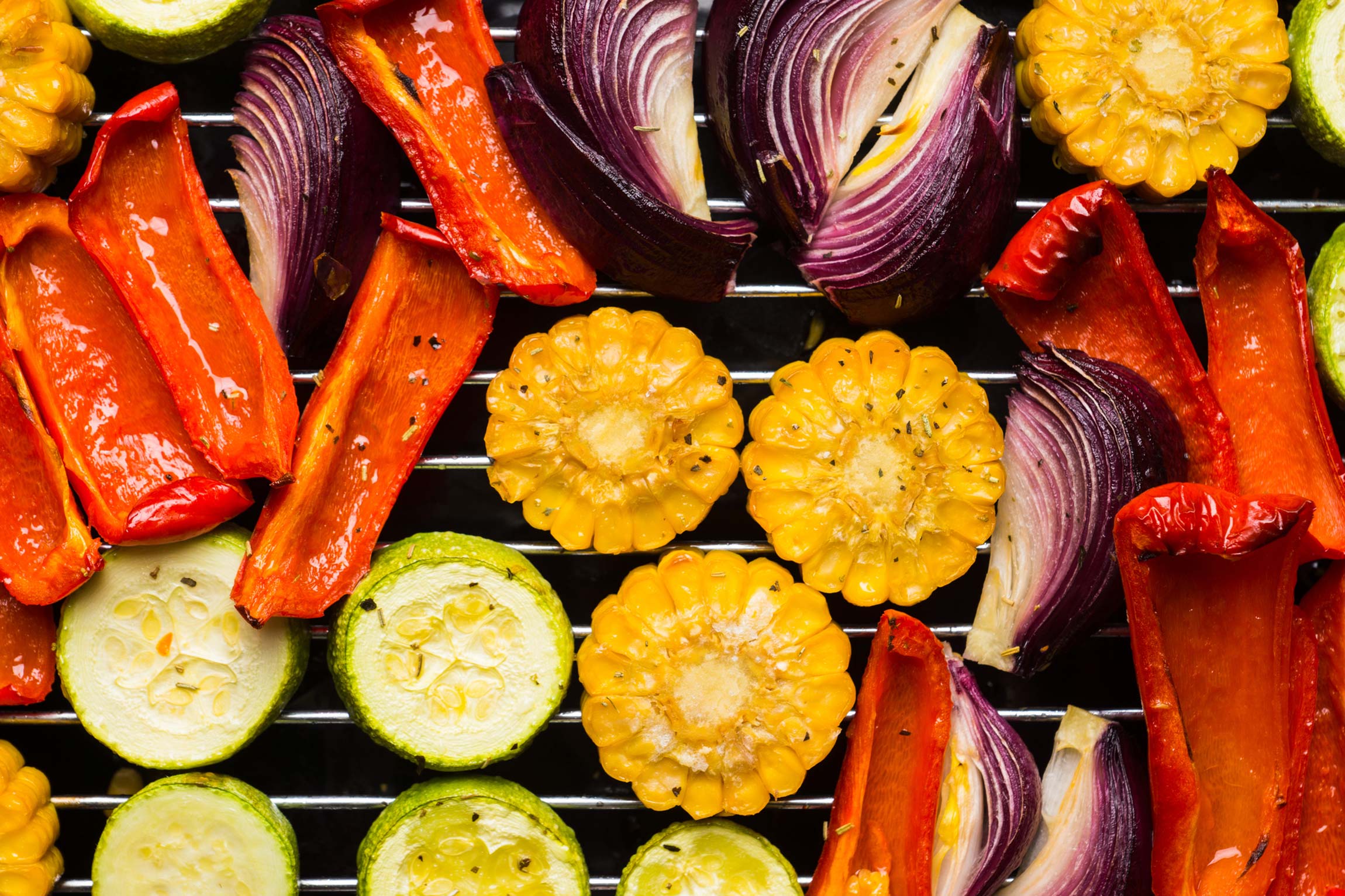 Vegetables don't need oil to prevent them from sticking to the grill. You can use lemon or lime juice or other marinades instead.
You can also use a grill basket or kabob skewers to prevent veggies from falling through grill grates. Grill pans or plates are another way of grilling foods on the grill or in your kitchen.
If it rains or you don't have an outdoor grill, you can use an oven broiler. Like a grill, the broiler uses intense heat that comes from one side. The main difference is a grill's flame is below, and a broiler's heat comes from above.
Preheating the grill is important because it's the only way to get perfect grilling marks. Tip: Don't move the food until you can see it's getting grill marks.
Marinating creates delicious flavors, but be wary of store-bought dressings and sauces. They can be loaded with sugar, bad oils, and other unhealthy ingredients. Instead, make your own simple blends with ingredients such as vinegar, citrus, and herbs. You may enjoy this 2-Minute Oil-Free Balsamic Dressing.
(Thanks to Tami of Vegan Appetite and Katie Simmons of Plants-Rule for help with these tips.)
Plant-Powered Versions of Your Summer Favorites (You'll Love These Healthy July 4th Recipes)
With the following recipes, you can enjoy traditional 4th of July food without the guilt.
4th of July Appetizers to Get the Party Started
Giving people something to snack on before the main food is served is always a good idea.
Here are some foods worth munching on: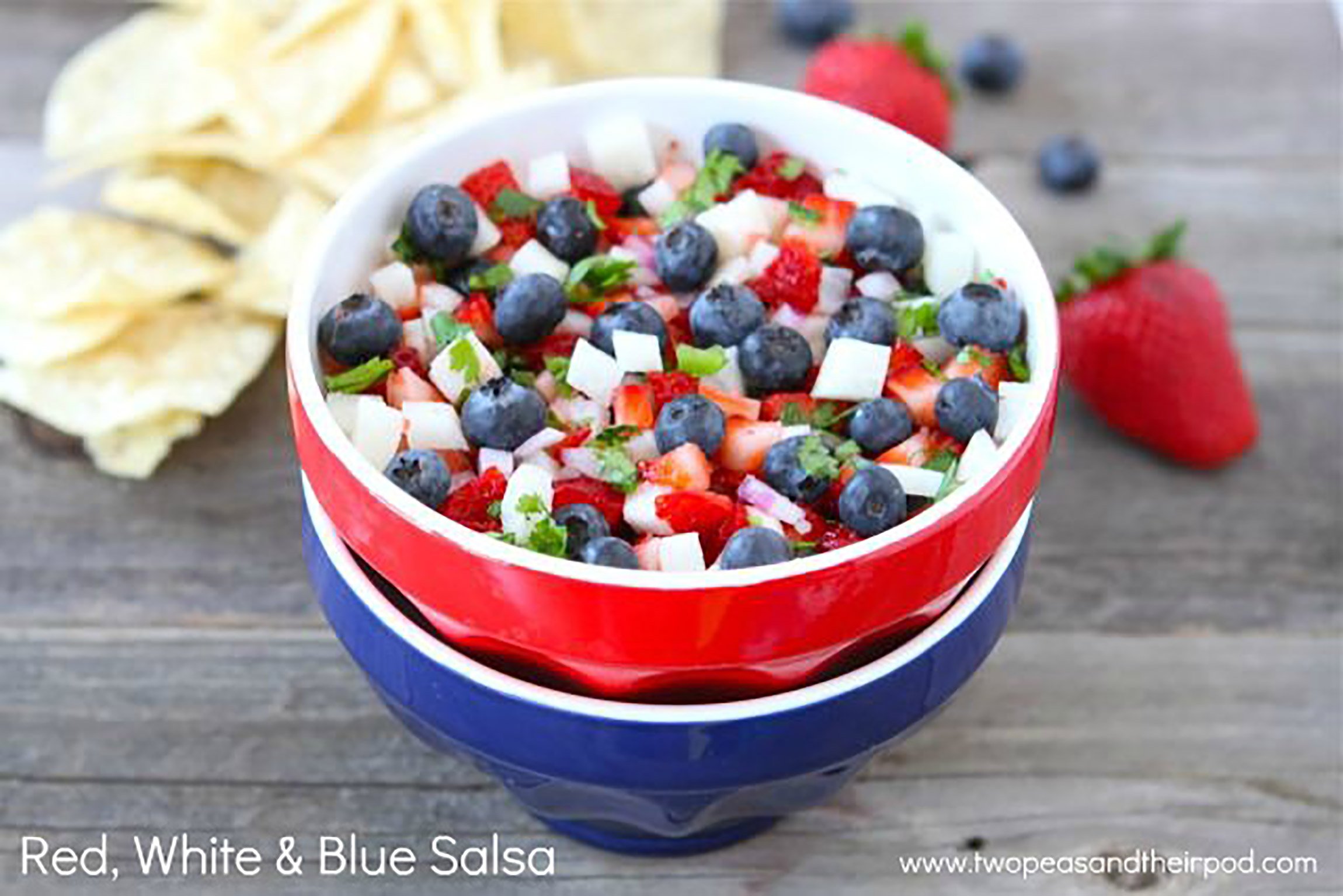 Veggies and dip. Cut up fresh, seasonal vegetables from your garden, farmers market, or grocery store and serve them with hummus or other dips. You can even get creative and arrange your veggies in the shape of a flag. For dipping, here's a flavorful 1-Minute White Bean and Artichoke Dip from Jessica Meyers of Garden Fresh Foodie. Or as an alternative to guacamole, try this easy, plant-powered Creamy Avocado Dip from Cookie and Kate.
Spice up your salsa. While standard salsas with tomatoes are delicious, why not serve something a little more unexpected? This festive and fresh Blueberry, Strawberry, and Jicama Salsa from Two Peas & Their Pod lets the beauty of bright, colorful food shine. Or your eyes and your mouth will enjoy this Fresh Mango Salsa from Cookie and Kate.
Healthier chips. Potato chips are a typical party food, but most store-bought ones aren't healthy choices. If you do want to serve chips, you can look for organic kinds with simple ingredients or try making your own (here's an easy oil-free chip recipe with a BBQ option from Diane at Plant-Based Cooking). Or make your own kale chips (like these crunchy, "cheesy" Sunrise Kale Chips from Blender Babes,) beet chips, zucchini chips (like these Raw Nacho "Cheese" Zucchini Chips from Janie Gianotsos of One Green Planet) or other veggie varieties.
Popcorn with dried blueberries and cranberries. Make your own air-popped popcorn and then add dried or fresh fruit for a festive creation. Skip the butter and loads of oil and salt. Instead, you can add lime juice and a dash of chile powder, with a sprinkle of salt if you like. Or keep it simple and add only the fruit.
Grilled avocados. A fun and easy idea. Try these "walking-guacamole" Grilled Avocados from Alyssa at Good + Simple. They are made in their skins and without oil. And each person can add their own toppings to their scoopable avocado bowls.
Colorful trail mixes with fresh fruits. Combine nuts (like cashews), seeds (like mood-boosting pumpkin seeds,) blueberries (for something blue) and cranberries or raspberries (for something red) with dried coconut.
Healthy Summer Salads and Sides for Parties and Potlucks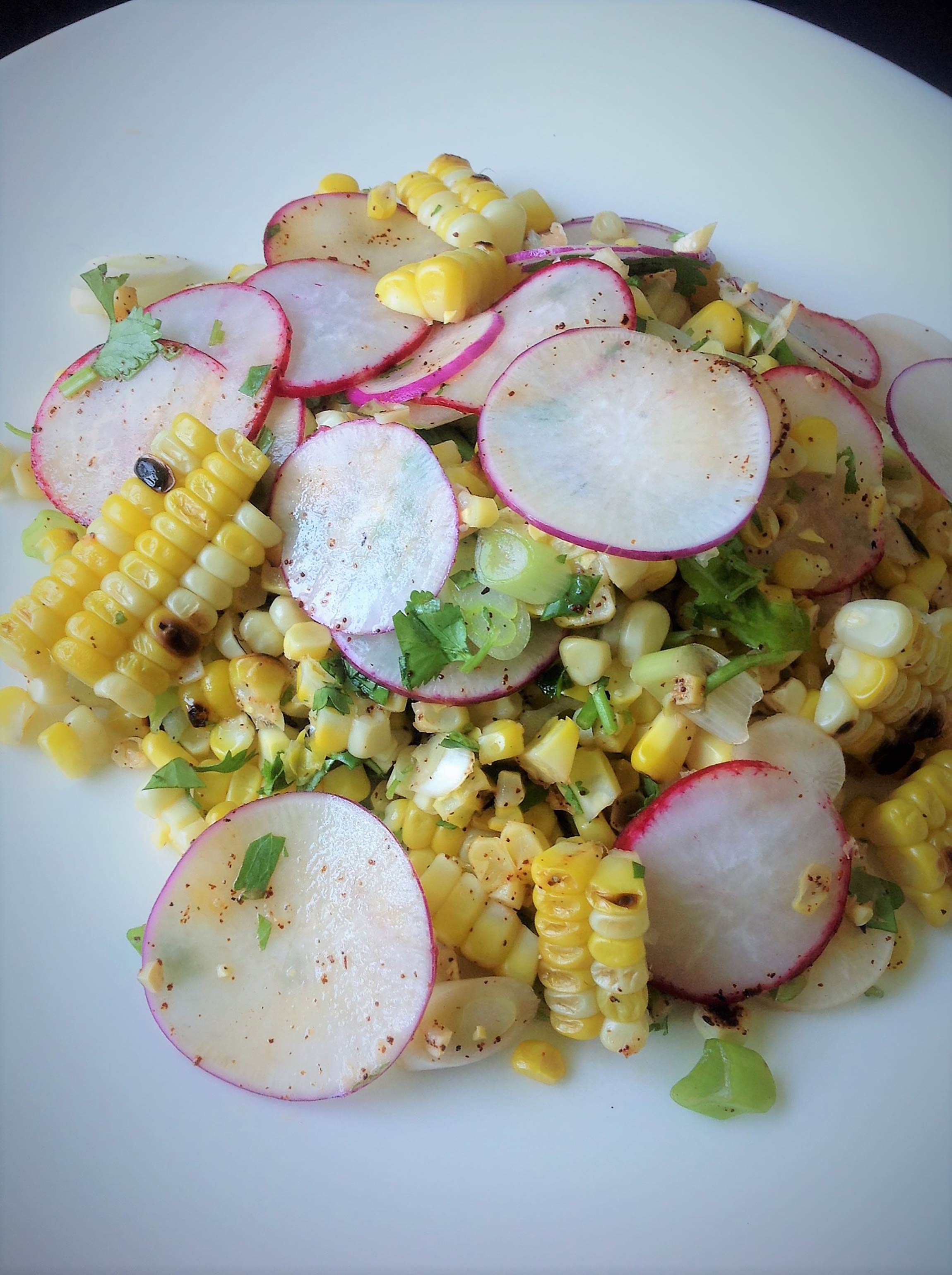 Give your guests options — with a variety of fresh fruits and veggies.
Coleslaw. Cold cabbage salad is great for potlucks and parties. This Creamy Coleslaw from Kathy Fisher at Straight Up Food is packed with nutrients, rather than traditional mayo.
Classic corn. Corn on the cob is a 4th of July food favorite. It's a rich source of many vitamins, minerals, and antioxidants, and is good for your eyes. Keep your corn fresh, whole and (to avoid pesticides and genetic engineering) organic. To grill your corn, peel back the husks and remove the silk. Cover them back up in the husks and soak in water for 10 minutes (to prevent burning). Shake off excess water and grill for 15 minutes on medium-high heat. Sprinkle with fresh lemon juice and pepper. You can also try this fresh and tasty Grilled Corn and Radish Salad from Plants-Rule.
Potato salad. This fancy Purple Potato Salad from Katie Simmons at Plants-Rule uses purple potatoes — which have four times as many antioxidants as Russet potatoes. Or this classic-looking Potato Salad from Chef Del Sroufe at Forks Over Knives uses silken tofu (make sure it's organic to avoid GMO soy) for a creamy protein boost.
Cold bean salad. Quick and healthy, cold bean salads are a summer party favorite because they taste good at any temperature. Try this colorful Italian Three Bean Salad from Plants-Rule (you can leave out the honey without sacrificing flavor).
Baked beans. This classic summer BBQ dish can be made without meat and loads of sugar. Try these Chipotle Baked Beans from Plants-Rule (the molasses can be omitted. Or if you want a little sweetness, you can instead add two to four dates into the sauce while it simmers. And then, puree it all together before combining with the beans).
Grilled asparagus. You can throw raw asparagus on the grill for about 5 minutes (if using a grill, spike spears with a skewer) and then toss with lemon juice, salt, and pepper — an easy and nutritious side made in 10 minutes!
Grilled pineapple. Simply slice pineapples into thick rings, grill them, and serve as is or slather them with BBQ sauce. Make your own barbecue sauce, which you can sweeten with applesauce, dates (or date paste), or a small amount of molasses or maple syrup. Try this low-sugar Barbecue Sauce from Lindsay Nixon at Happy Herbivore.
Plant-Powered Burgers and Hot Dogs for Easy Summer Eating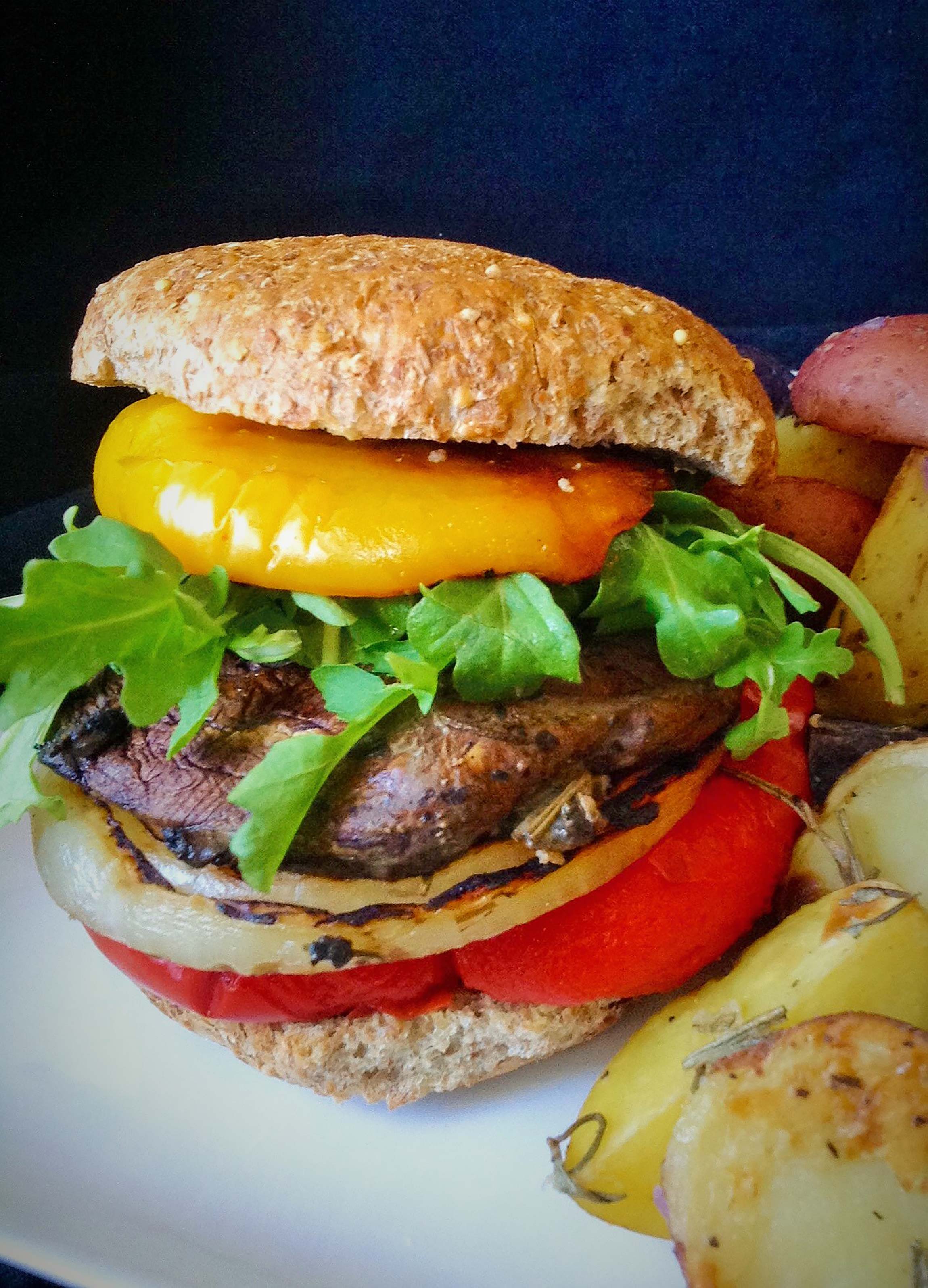 Burgers are a staple 4th of July food or summer party food. While grass-fed beef has its advantages over traditional beef, the healthiest and most sustainable burger choice just might be a plant-based burger.
Some people worry that veggie burgers will be flavorless and boring. But they can also be delightful!
Products, such as The Beyond Burger, are becoming available in more places. They smell, taste, and cook similar to meat. These products are a quick and easy option for avoiding animals and pleasing your guests. However, while they are cruelty-free, these burger products are processed and contain high amounts of sodium and saturated fat — so they aren't the healthiest choice.
Taking the time to make your own veggie burgers is a healthy and delicious decision. Try these recipes:
These Healthy World Burgers from Caryn Hartglass at Responsible Eating and Living are fabulous and hearty and might even impress carnivores.
Or try this Real-Deal Veggie Burger from the Garden Fresh Foodie, which is less traditional in flavor and look, but packed with a variety of vegetables and no added oil or fillers.
Most veggie burgers won't hold up on a grill, so they're best baked and then heated on the grill just before serving if you want.
Time-saving tip: You can easily make veggie burgers ahead of time and cook or reheat them on the day of the party.
Or make impressive veggie burgers with grilled portobello mushrooms — because mushrooms are one of the most health-promoting foods on the planet, and you may want to eat them regularly, if not daily.
Try these Ultimate Vegan Portobello Mushroom Burgers from Plants-Rule for a healthy and satisfying non-traditional burger.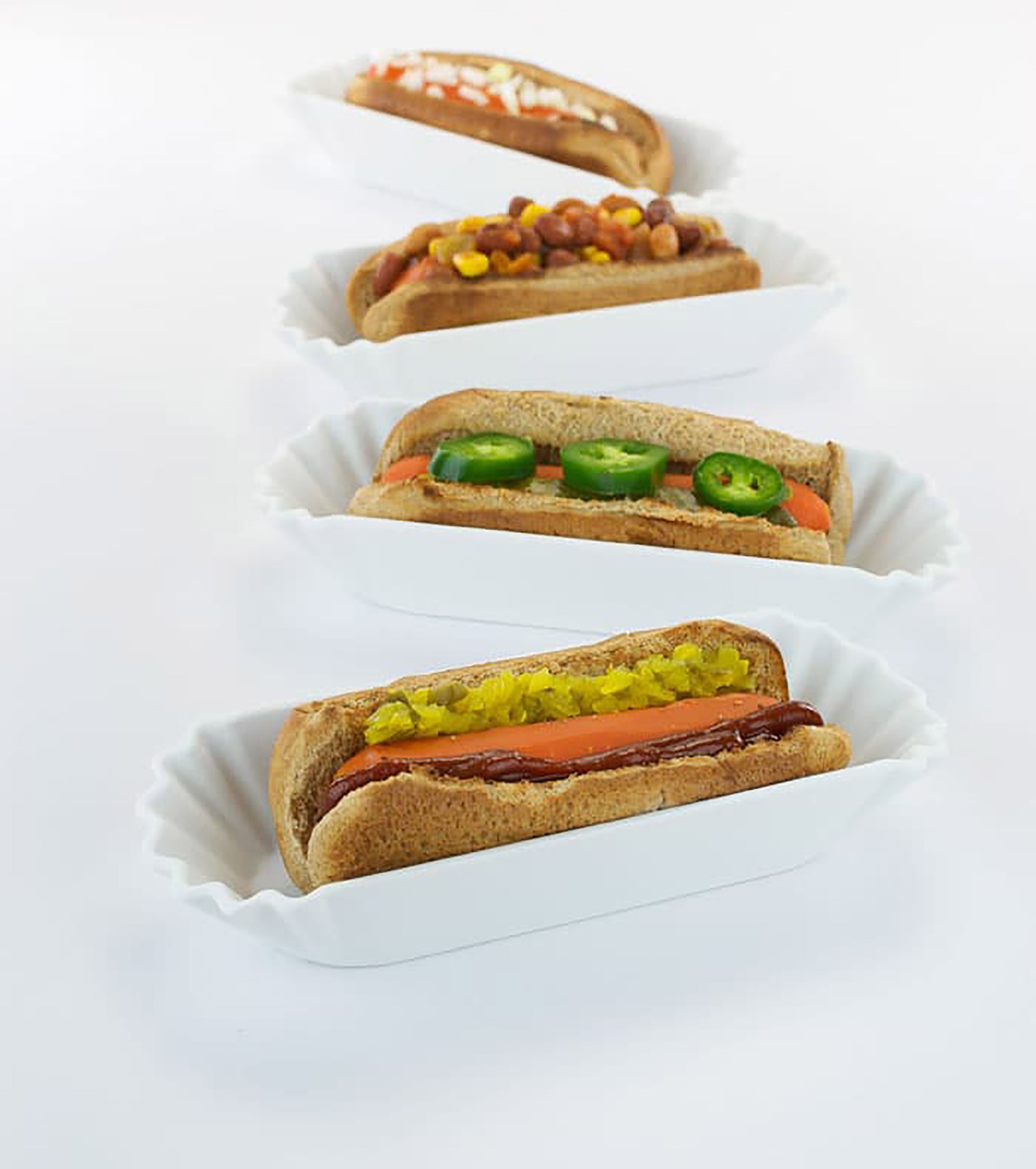 And when it comes to homemade veggie dogs, carrot dogs are fun and unexpected.
You cut and marinate carrots and then cook them in the oven or on the grill, which creates a unique flavor and texture. Try these All Natural Carrot Dogs from Kathy Hester at Healthy Slow Cooking.
(And in case you're wondering, this anatomy of a conventional hot dog will show why they aren't a healthy choice.)
Healthy topping ideas for veggie burgers and dogs:
And remember: You can serve burgers on top of leafy greens or in a veggie "bun" — wrapped in lettuce or blanched collard greens.
Another Exciting Main Dish Option: Grilled Cauliflower "Steaks"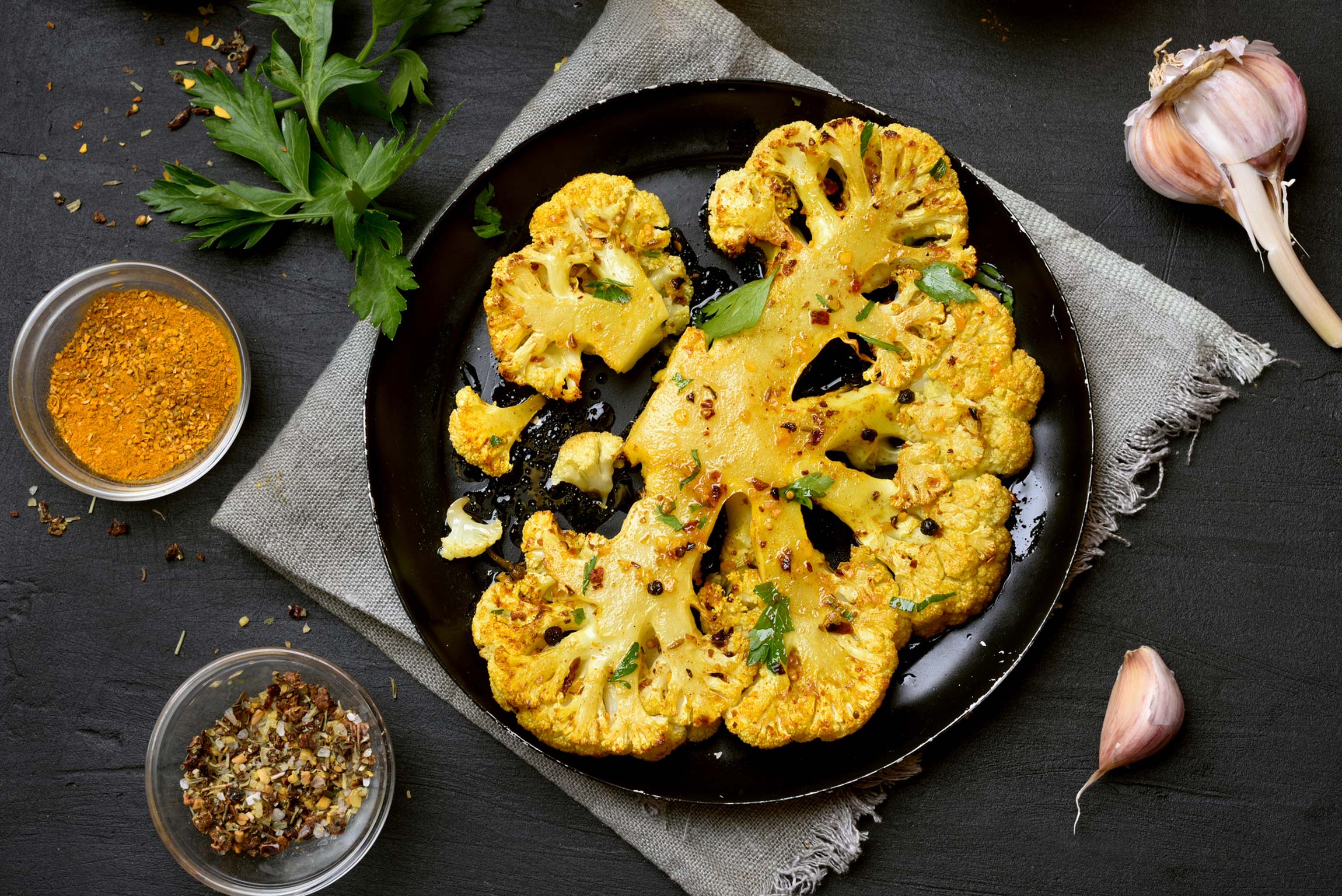 Though it might not be at every summer party, cauliflower is one food worth considering adding to your healthy BBQ menu.
Cauliflower is a cruciferous vegetable — and cruciferous vegetables have extraordinary anti-cancer and antidepressant benefits, as well as being cardioprotective and packed with antioxidants.
Grilled cauliflower "steaks" are an impressive and appetizing main or side dish.
To make cauliflower "steaks":
Cut the cauliflower by slicing the entire head, from top to bottom (one head of cauliflower will yield three thin or two thicker pieces).
Marinate with ingredients, such as za'atar spices, garlic, and lemon juice, for at least one to two hours.
And then, cook over medium heat on each side for five to seven minutes and sprinkle with fresh herbs to serve.
The result is tender and slightly sweet, with a hint of smokiness.
You can also try these Grilled Cauliflower "Steaks" with Spicy Lentil Sauce from Rebecca Mastoris from Live Earth Farm.
One important note: Cauliflower is nutritious and can be yummy, but it doesn't have a lot of protein and won't be filling on its own. So if you do serve this as a main dish, make sure to serve protein-packed sides with ingredients, such as lentils, beans, nuts and seeds, and quinoa.
Fresh, Festive Beverages That Are Beautiful and Enjoyable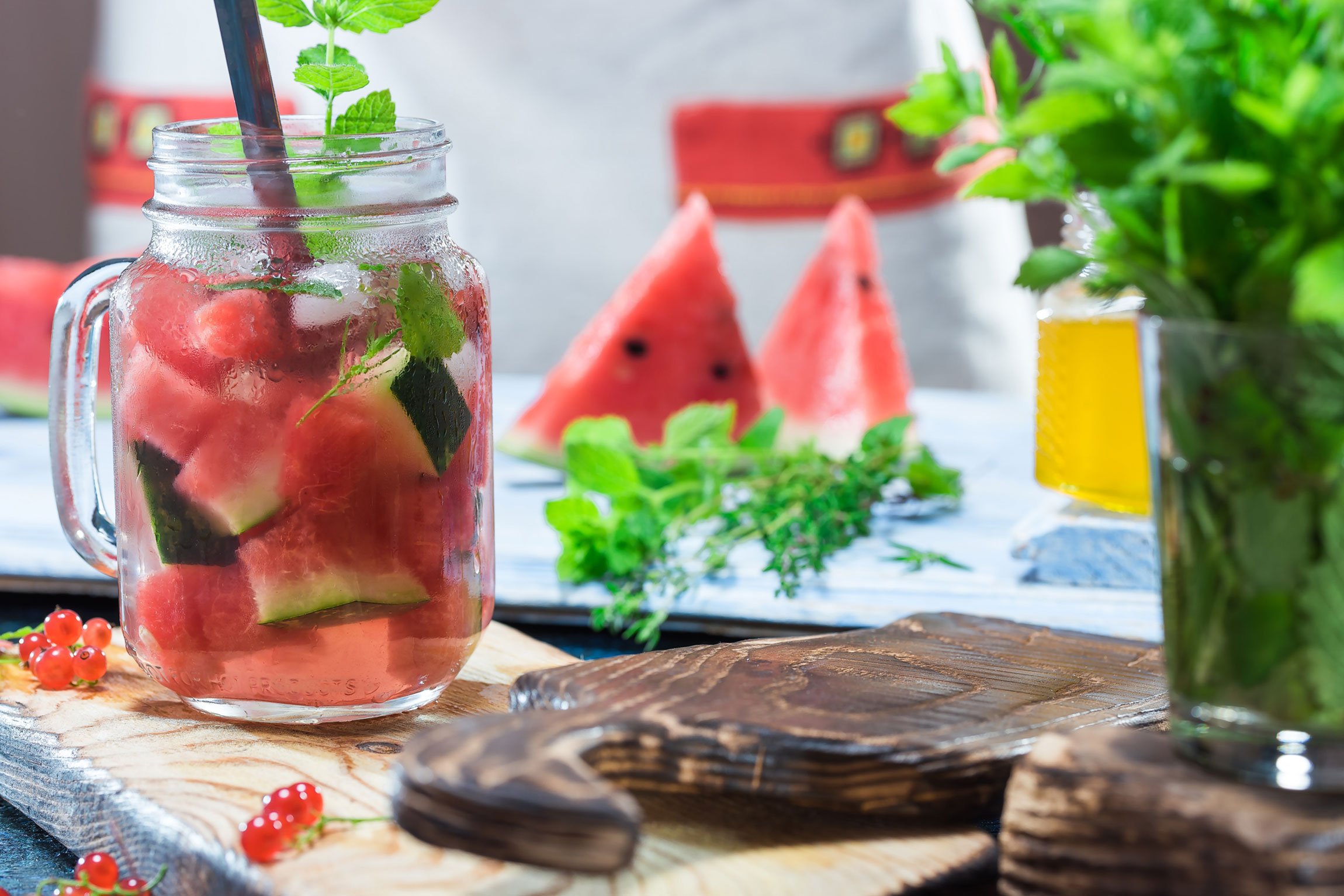 Keeping you and your guests hydrated is important, especially if you have an outdoor gathering. Iced cold water is great — but even better, you can infuse water with fresh fruits for an easy, beautiful, and flavorful party drink.
All you need to do is add the fruit or herbs to a water pitcher and let it infuse for at least an hour (3-4 hours is best) or overnight. You can slice the fruit and chop (or muddle) the herbs to release their flavors. And then add ice to serve or store in the fridge.
Here are some tasty, summery flavored water ideas:
Cherry and lime (made with fresh cherries)
Watermelon, basil, and lemon
Strawberry and raspberry
Pineapple and mint
Cucumber and mint
Lemon and lime
Watermelon, with its bright red color, is almost a must for a healthy 4th of July or other summer parties. And watermelon juice is easy to make, nutritious, and perfect for keeping you cool and quenching your thirst on a hot day. (Bonus: Watermelons are a skin-healthy food, which can help protect your skin from sun damage.)
To make watermelon juice cut up watermelon into chunks and then blend with filtered water or coconut water. If you want, add mint leaves for extra freshness and a squeeze of lime juice for a little zing. You can strain or drink the juice as is. Serve with a lime wedge and mint leaf.
You can also make other fresh, beautiful juices. Try these colorful Gold Juice and Green Juice recipes from Reboot with Joe. Or this zesty Spicy Sweetie Juice from Kris Carr.
And here's another light and refreshing summer drink: an easy yet impressive Rosewater Galia Melon Healthy Mint Fresca from Plants-Rule.
Desserts That Delight Without Weighing You Down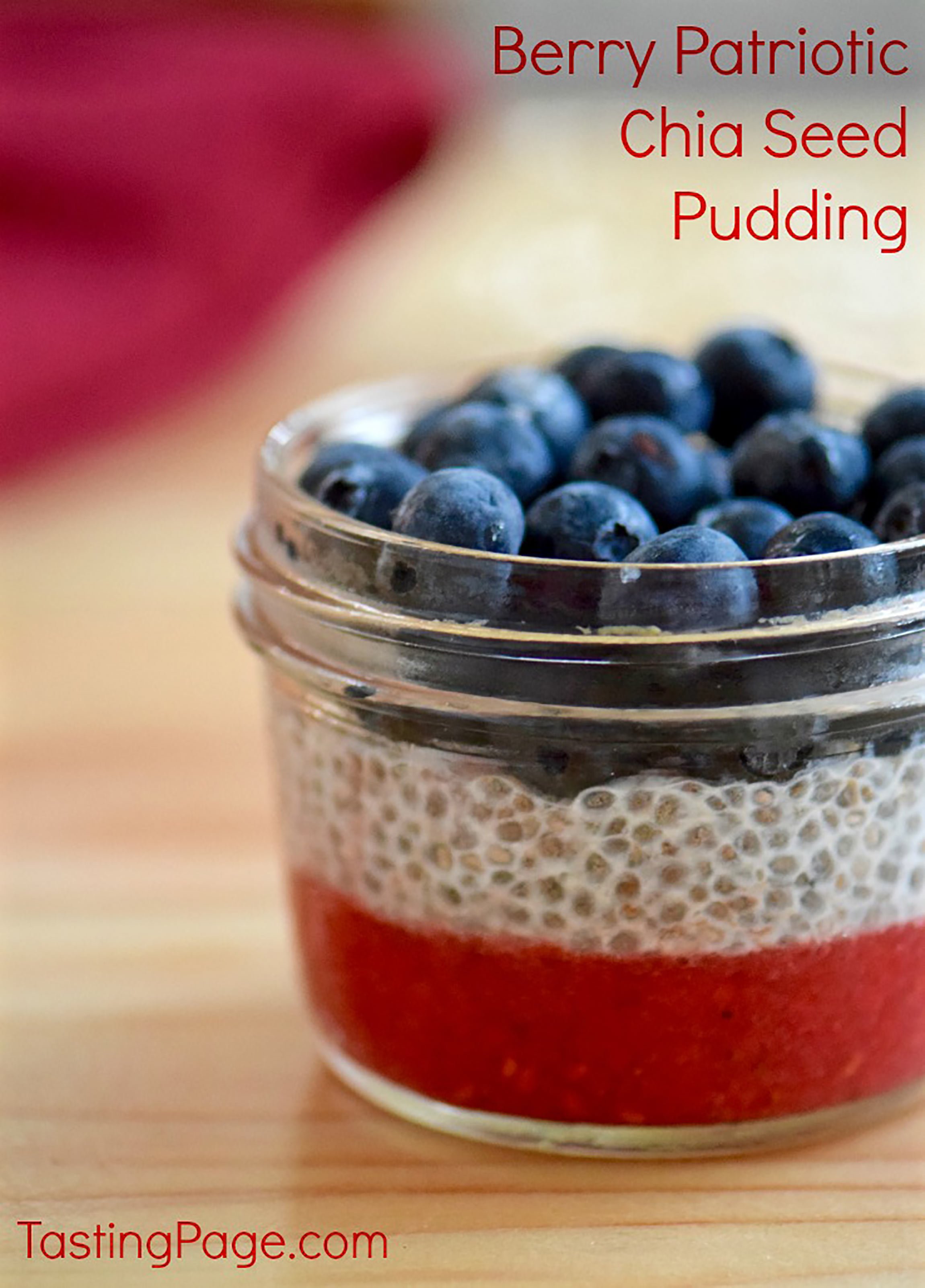 Light, refreshing desserts are perfect for outdoor summer parties. Make fresh, seasonal fruits the highlight because they are naturally sweet without needing to add sugar.
You can simply slice a watermelon and serve. Or grill slices brushed with lemon juice, cayenne pepper, and salt for two minutes on each side.
For a healthy fruit salad, mix cut up fruit with lemon or lime juice. Or make a red-white-and-blue 4th of July Fruit Salad like this one from Sina at Vegan Heaven.
Another idea is to create a Berry Patriotic Chia Seed Pudding (from Kelly Page at Tasting Page) with layers of red berries, white chia seed pudding, and blueberries.
Or for a seemingly indulgent yet healthy treat, try these Broiled Peaches and Plums with Cinnamon Cashew Cream from Plants-Rule.
Tips for Hosting (or Attending) A Successful Summer Party
If you know you're going to a traditional, unhealthy get-together, go for the company and camaraderie, not the food. Bring snacks and eat before or after.
When taking a dish, the simplest way is to store, transport, and serve in the same container.
If you're attending a party that may not have the healthiest options, make and bring at least two dishes including filling options, like a quinoa salad (try this International Quinoa Salad from Susan Voisin at Fat Free Vegan Kitchen).
Swap hummus for creamy dressings and egg-based mayo. In your potato and pasta salad recipes, you can easily swap hummus instead of heavy dressings. Or use hummus on veggie burgers. Or as a salad dressing by adding 1-2 tablespoons of water for a thinner consistency. Try this oil-free Hummus from Engine 2 Plant-Strong. (thanks to Katie from Plants-Rule for this tip)
If you're sharing a grill with meat-eaters and you don't want to eat any meat-fat drippings, you may want to agree on a no-meat area.
If you're at a party with unhealthy options and you didn't bring anything to eat, try filling up on salads and healthier sides so you're less likely to be tempted by unhealthy food options.
As Ocean Robbins says, "If you do choose to eat something that doesn't align with your values, there's no health benefit in carrying guilt." So enjoy it, forgive yourself, and make your next choice a healthy one.
The Key to Healthy Summer Parties
Summer parties are a wonderful time to enjoy time in the sun with friends and family.
Food is often the focus — but instead of fueling your festivities with dishes that lead to chronic disease, why not make fresh, whole, seasonal vegetables and fruits the stars (and stripes) of your gathering?
After eating, you and your guests will feel lighter and more energized. And you might want to go on a hike or dance, instead of sitting around feeling tired.
Whatever you eat, make sure to remember that sharing fun and loving connection with people you cherish is the real goal of any holiday gathering. Bon Appétit!
Tell us in the comments:
Do you have any other tips or healthy July 4th recipes to share?
What are your experiences with food at summer parties?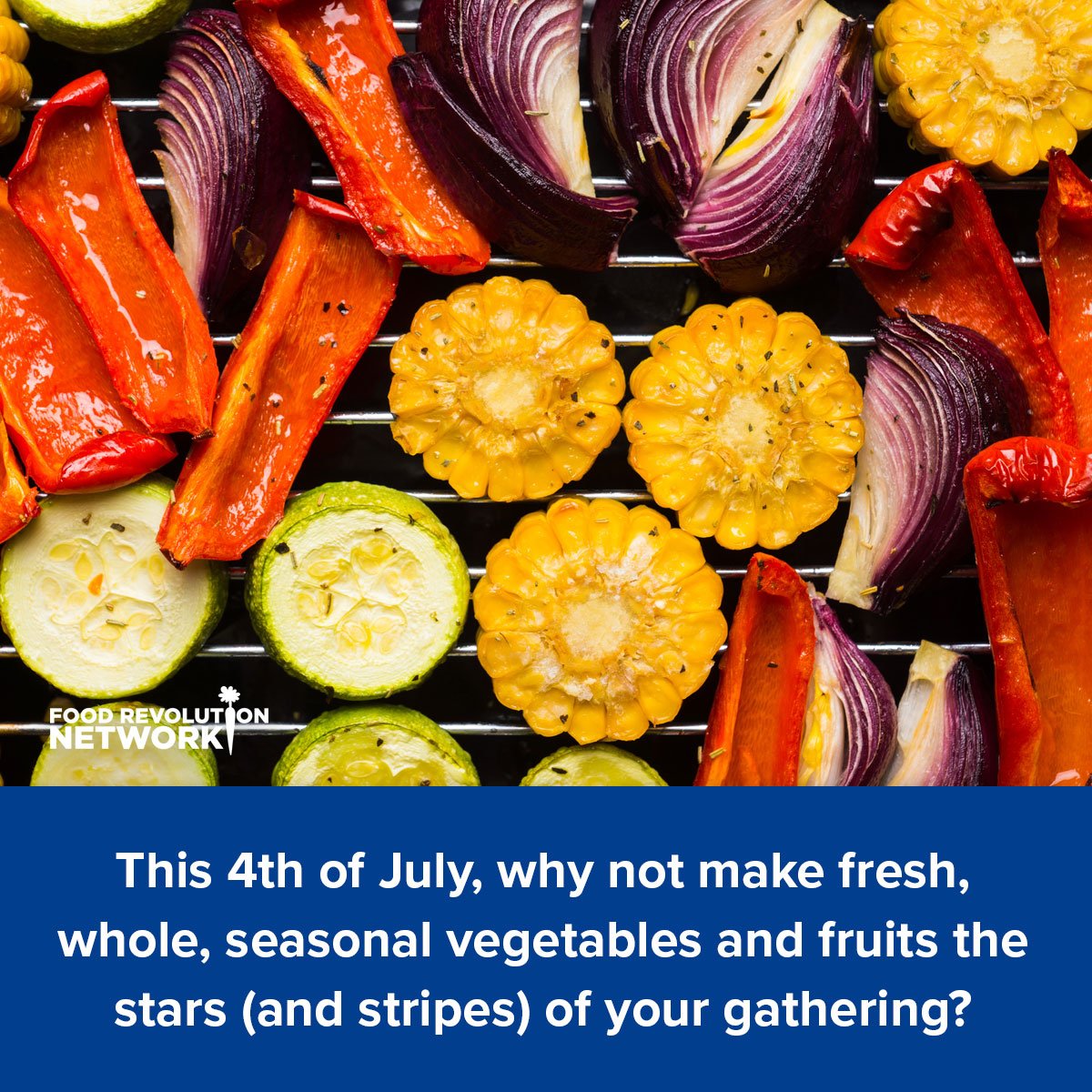 And if you're inspired, please LIKE and SHARE this article. Together, we can work for healthy, ethical, sustainable food for all!