Springtime gives us an abundance of yummy plants. Make use of seasonal produce with these healthy spring recipes that are guaranteed to boost your nutrient intake and your mood.
---
Outside the sun is shining, the birds are singing, and the flowers are blooming — it must be spring!
The spring months are the perfect time to get together with loved ones and celebrate over brunch or to celebrate one of the many spring holidays.
It's also an excellent time to take advantage of all the spring produce that's popping up. When you prepare and cook food that's in season, it's fresher and more nutritious. Not to mention it's usually cheaper than out of season produce.
As you prepare your potlucks and brunches this season, consider these plant-powered spring recipes to adorn your table and fill your belly.
8 Healthy Spring Recipes to Add Beauty and Delight to Your Meals
Celebrate the fresh and colorful flavors of the season with these healthy spring recipes, which feature spring veggies and fruits, including arugula, carrots, radishes, asparagus, peas, and more.
Easy Vegan Quiche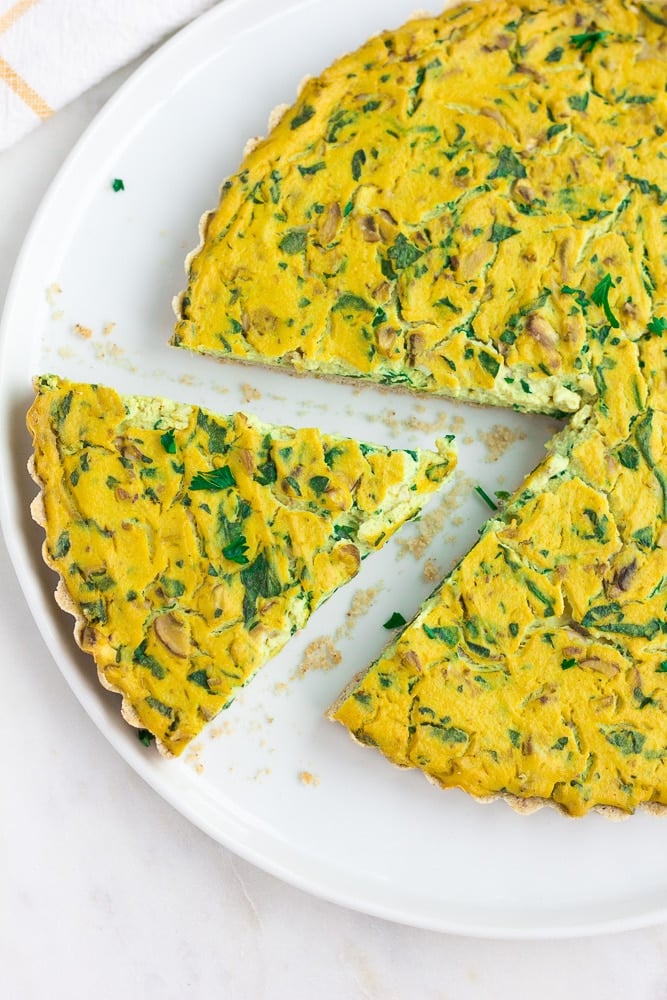 The perfect centerpiece for an Easter, Mother's Day, or anytime brunch, this Easy Vegan Quiche recipe from Nora Cooks features a handmade crust and an egg-less filling.
This version uses garlic, mushrooms, and spinach in the filling, but you could use just about any leftover veggies in your fridge (about two cups worth) to create a healthy, flavorful meal that's great for breakfast, lunch, or dinner!
Note: The crust is not gluten-free. You can use certified gluten-free oat flour instead of white or wheat flour, or just go-crustless and turn it into a frittata. To make this recipe oil-free, omit the oil in the crust and use more water.
Vibrant Spring Broccoli Buddha Bowl
Lunch bowls — or Buddha bowls as they're often called — combine everything you need for a hearty and nutritious meal: grains, veggies, protein, nuts or seeds, and sometimes a little fruit.
Half Baked Harvest created this Vibrant Spring Broccoli Buddha Bowl that's packed full of vitamin C just in time for the weather change. Don't forget to drizzle some of the Turmeric Ginger Vinaigrette on top to boost the flavor and anti-inflammatory content of the dish.
Because Buddha Bowls don't have specific ingredients, feel free to get creative and throw in whatever seasonal fruits and veggies you already have on hand.
Arugula Spring Salad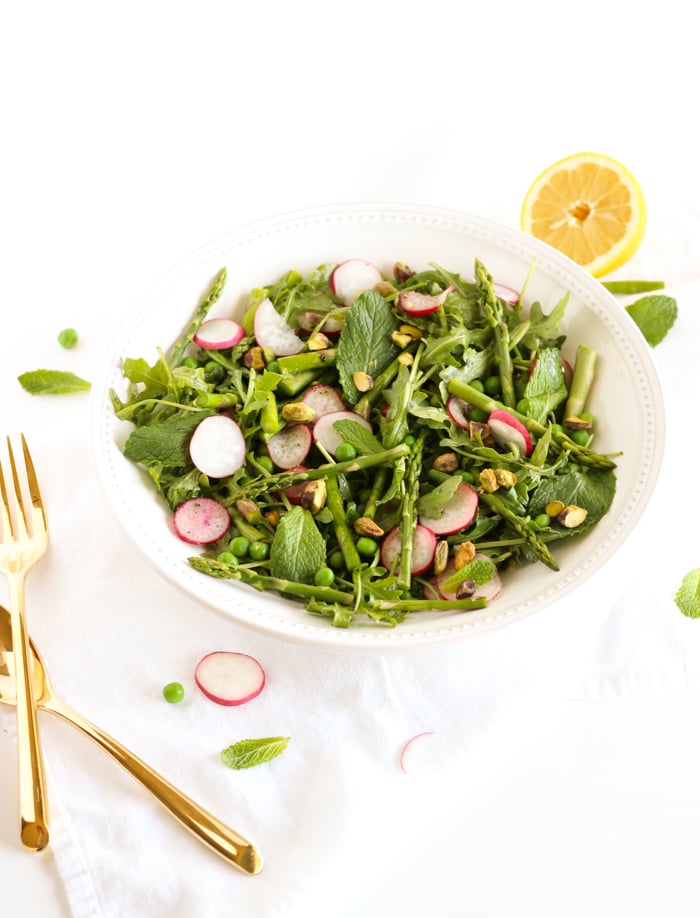 Get a healthy dose of spring flavors with this Arugula Spring Salad recipe from Lively Table. Head to your grocery store, farmer's market, or even your own backyard to source the ingredients for this seasonal, spring salad.
Asparagus, peas, radishes, and mint decorate a bed of arugula leaves, giving you a crunchy texture packed with greens. And you can easily make this recipe oil-free by squeezing a lemon over this beautiful salad.
Avocado Toast with Radishes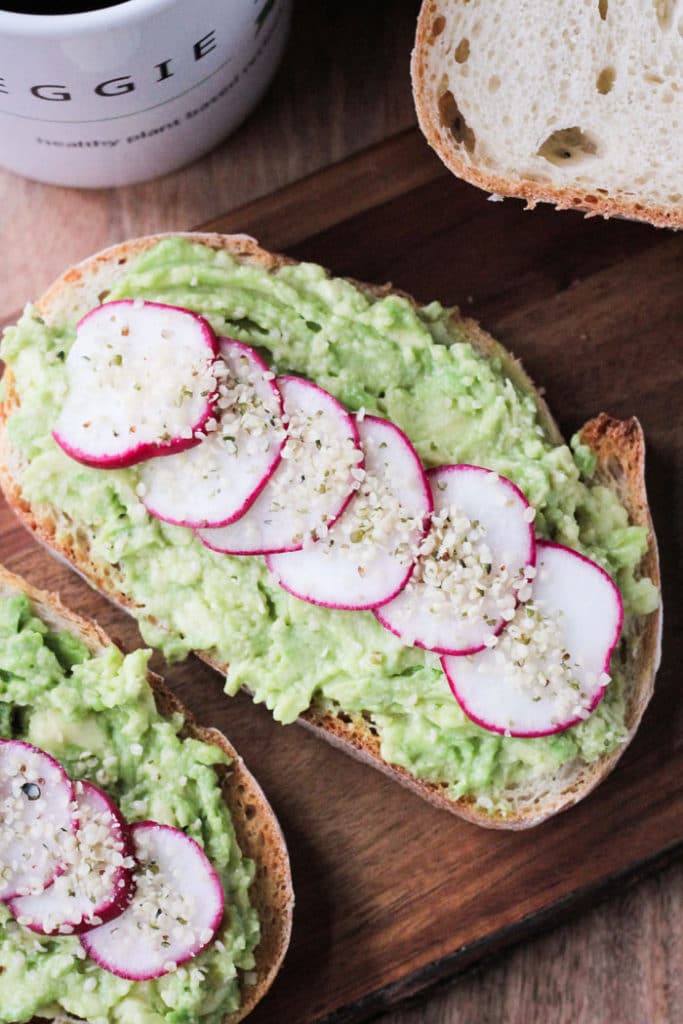 Thanks to their popularity and evergreen nature, avocados are available almost year-round in most places, which is great news for avocado toast lovers!
Packing a dose of fiber, potassium, and healthy fats (both mono and polyunsaturated fats) and topped with radishes and hemp hearts, this Avocado Toast recipe from Veggie Inspired makes a fabulous breakfast or brunch, especially if paired with some fresh, in-season fruits, such as strawberries, mango, or pineapple on the side.
For even more of a fiber boost, use a sprouted bread. For a gluten-free version, spread the avocado and toppings on collard leaves instead of bread.
Carrot Gazpacho
As the days start to warm up, now's the perfect time to enjoy a cold soup or gazpacho. With origins in Spain, gazpacho usually blends a variety of vegetables, herbs, and spices with a large amount of oil.
But this Carrot Gazpacho from Loving it Vegan includes carrots, avocado, ginger, and herbs for a springtime twist on the Mediterranean favorite.
This recipe only includes one tablespoon of olive oil. You can easily omit it without impacting the overall flavor and nutritional content of the soup. Still a little chilly where you live? Heat it up and fill your belly with blended veggies!
Easy Deviled Potatoes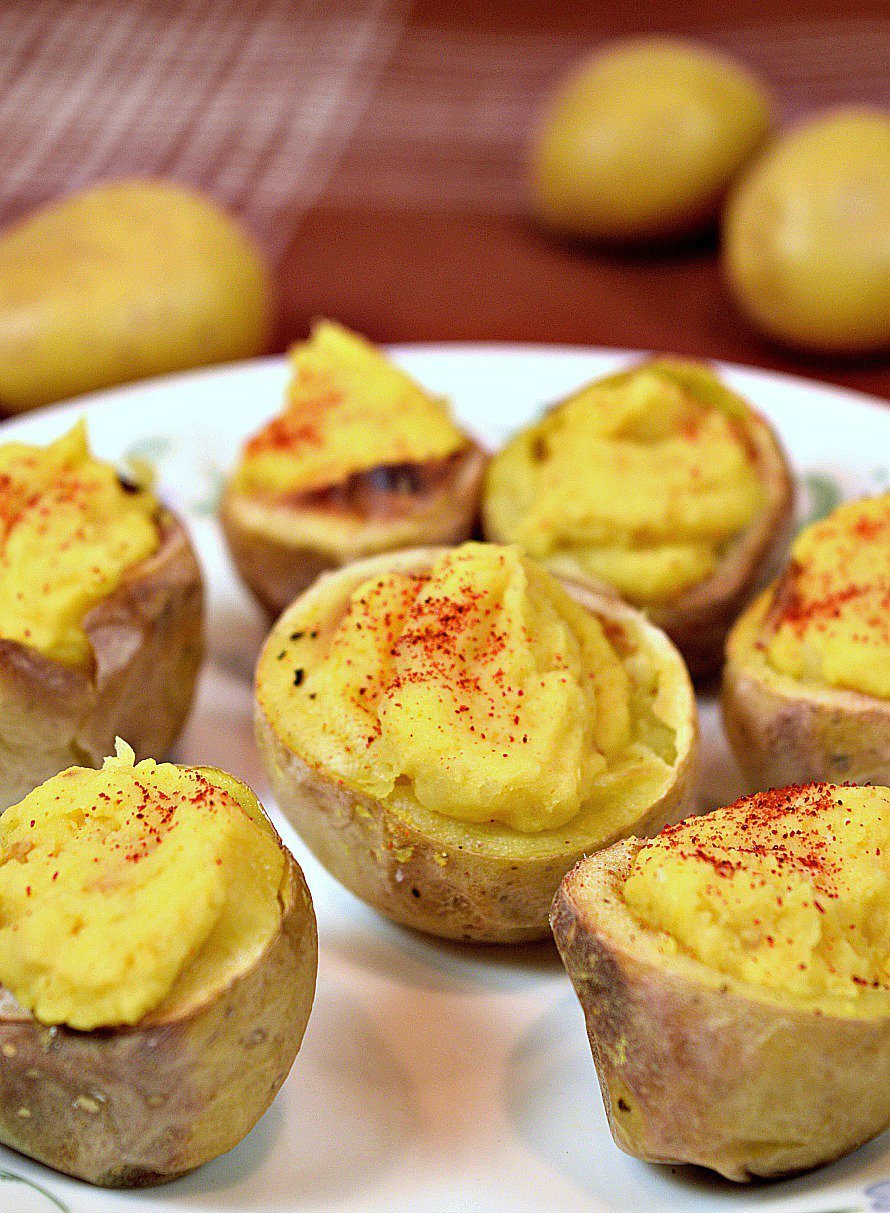 A classic spring recipe, deviled eggs get a healthy and ethical makeover using potatoes as stand-ins.
Brand New Vegan came up with these Easy Deviled Potatoes that mimic the bite-sized look of deviled eggs using hollowed out baby gold potatoes and aquafaba and chickpeas as the egg-substitute filling base.
With the inclusion of garlic, black pepper, and turmeric (for coloring) you'll also get a boost of spices that are good for your heart.
Artichoke White Bean Dip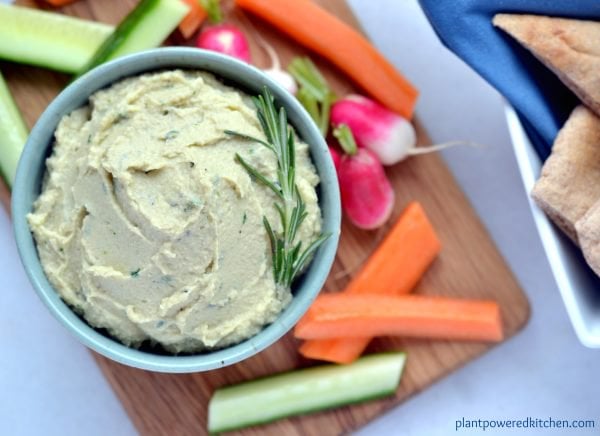 Looking for a tasty dip to serve with a spring vegetable crudites platter?
Dreena Burton has come up with a light and delicious Artichoke White Bean Dip that's satisfying hot or cold.
Normally, cooking and preparing artichokes can be time-consuming and labor intensive. But you can save time and enjoy these unique veggies by using frozen or canned varieties. (Make sure they come packed in water, not oil.)
Aside from using this recipe as a dip, you can also use it as a spread in wraps or as a dairy-free filling in stuffed pasta dishes.
Carrot Cake Bites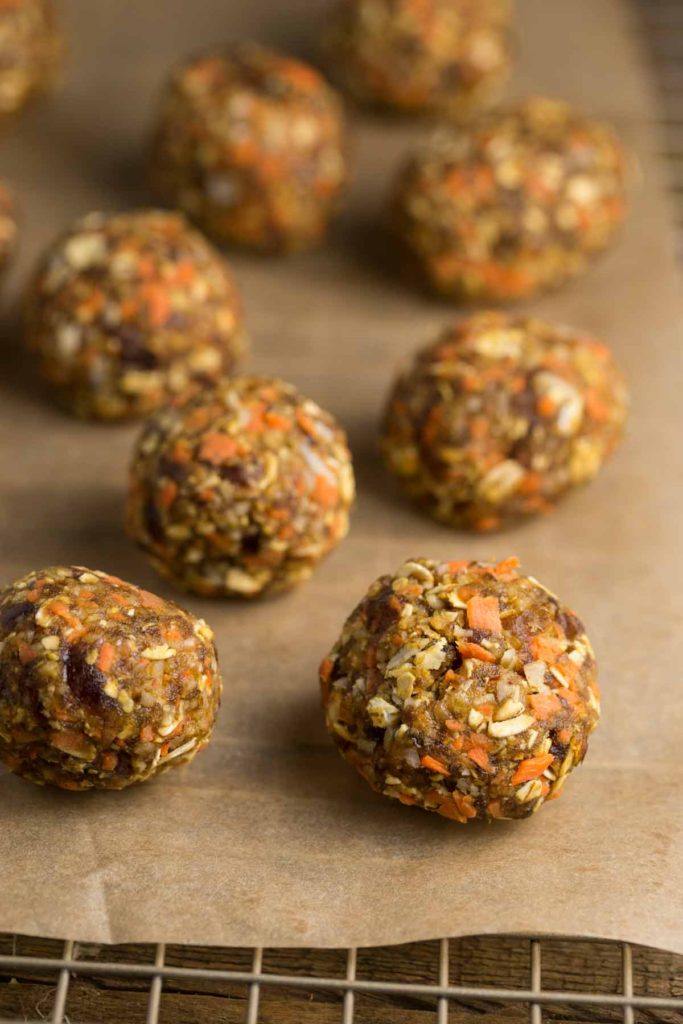 Want a yummy, spring-inspired dessert without all the added sugar and fat?
You can have your cake and eat it too with these easy Carrot Cake Bites by Veggie Chick. Naturally sweetened with dates, these bite-sized treats taste just like carrot cake but with all raw ingredients including carrots, coconut flakes, walnuts, nutmeg, and cinnamon.
All you need is a food processor or a blender to make these portable goodies — no baking necessary. Enjoy them as a mid-day snack, for breakfast, or as the perfect end to a plant-powered meal.
Tell us in the comments below:
Do you cook with seasonal produce in the spring?

What do you think of these healthy spring recipes?

Do you have any favorite, plant-based spring recipes to share?
Featured Image: iStock.com/PeopleImages
Read Next: