Whole grains are a major food source in the diets of populations all around the globe. They're among the healthiest foods we can eat and are an important part of a well-planned, whole foods plant-based diet since they provide essential nutrients like fiber, including prebiotic fiber, B vitamins, essential minerals, and phytonutrients.
A few things have happened in the modern, industrialized world, however, to turn people away from them:
Manufacturers of consumer products have processed whole grains to their refined state, stripping them of their nutrition and selling them as convenience foods.
Whole (healthy) grains have been lumped into the demonized "carb" category along with refined grains.
If you've been staying away from whole grains, I hope that this article and video will persuade you to give them at least a couple more chances. Think of them as a part of a Whole Grains 101 class.
First, I'm going to offer a recap of why you might want to consider cooking and eating them. Then, in the video, I'll show you how to cook three types of grains to foster your newfound or newly rekindled love for them. Finally, you'll find three delicious and easy-to-prepare whole grain recipes that incorporate a variety of nutritious grains.
Why Learn to Cook Whole Grains?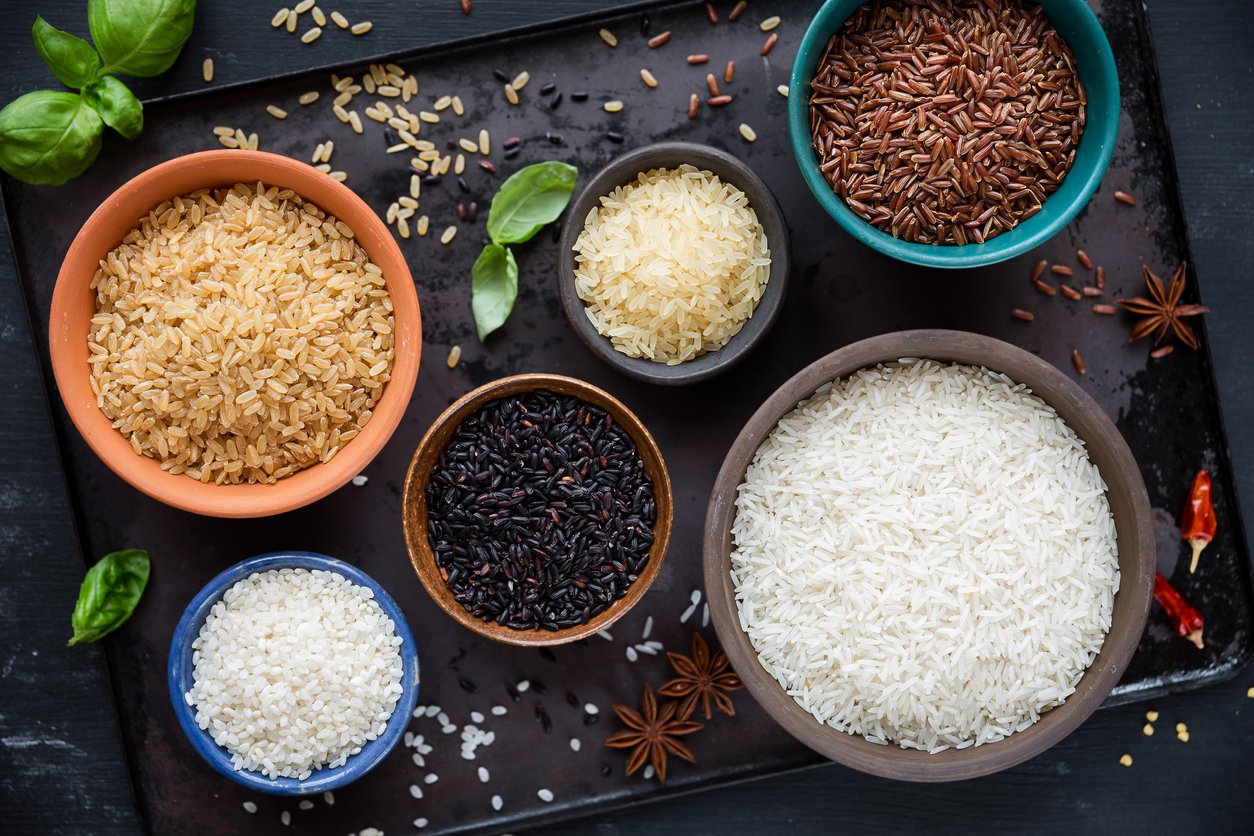 Are grains good for you? The emphatic answer is, yes!
Convenience foods with processed grains are unhealthy for us and contribute to inflammation and lifestyle diseases, like diabetes and heart disease. However, whole grains are quite different — they contribute to overall health. Studies show that whole grains are associated with:
Reduced risk of cardiovascular disease
Improved weight management
Lower inflammation
Reduced risk of type 2 diabetes
Reduced risk of certain types of cancer
Researchers say this may in part be due to whole grains' effects on gut health.
Experts also suggest that consuming a variety of whole grains is key for optimal health. However, as a result of grains' negative reputation, many of us have limited experience cooking a variety of whole grains. We either end up consuming less than optimal amounts (at least three servings a day has been shown to decrease the risk of heart disease) or we eat only one or two types of grains as part of our regular diet (when, according to the Whole Grains Council, there are 22 varieties!).
Whole grains offer impressive culinary benefits, as well. They make a great "base" for many dishes.
Use them in:
Bowls
Chilies and soups
Stir-fries
Salads
Burritos and wraps
Hot cereal
Side dishes
Grains are also versatile and can often be used interchangeably. For example, if a recipe calls for quinoa, you can easily substitute brown rice, millet, or buckwheat in its place. Talk about flexibility!
How to Cook Whole Grains — What You'll Learn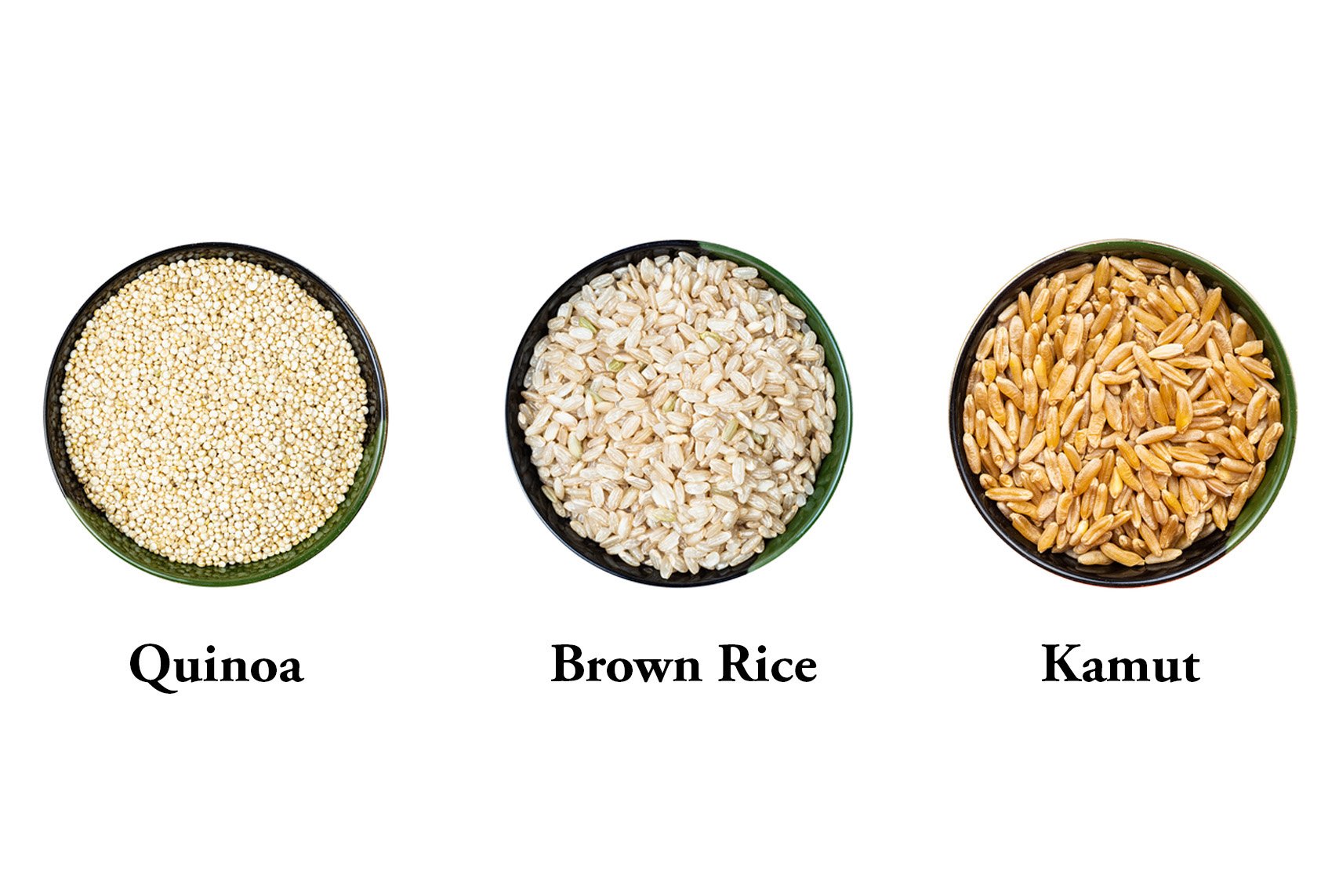 In the "How to Cook: Whole Grains" video below, you'll learn how to cook three types of whole grains:
Quinoa — a quick-cooking, no-soaking-needed pseudo-grain
Brown rice — a longer-cooking grain using a special technique
Kamut — a hardy grain that requires both soaking before cooking and a longer cooking time
When purchasing whole grains, try to choose organic to minimize your pesticide exposure, in general, and avoid glyphosate, in particular.
Watch the video here:
https://www.youtube.com/watch?v=LZZw6fYuO-k
For a printable list of whole grain and water amounts, soaking times, cooking times, and yield, check out our whole grains cooking guide.
3 Recipes to Practice Cooking Whole Grains
One of the beautiful things about grains is that they can be enjoyed any time of day and for any type of meal, be it breakfast, lunch, or dinner. Please your tastebuds and your belly with a variety of whole grain goodness in the Overnight Three-Grain Breakfast Porridge. It's got breakfast in its title, but the scrumptiously savory Harvest Grain Breakfast Bowl also makes a nourishing lunch (or dinner). And the Vibrant Bulgur, Kale, and Chickpea Salad uses quick-cooking bulgur wheat for a hearty and satisfying main or side salad that takes only 35 minutes to prep and cook. No matter which recipe, or recipes, you choose to try, have fun experimenting with whole grains!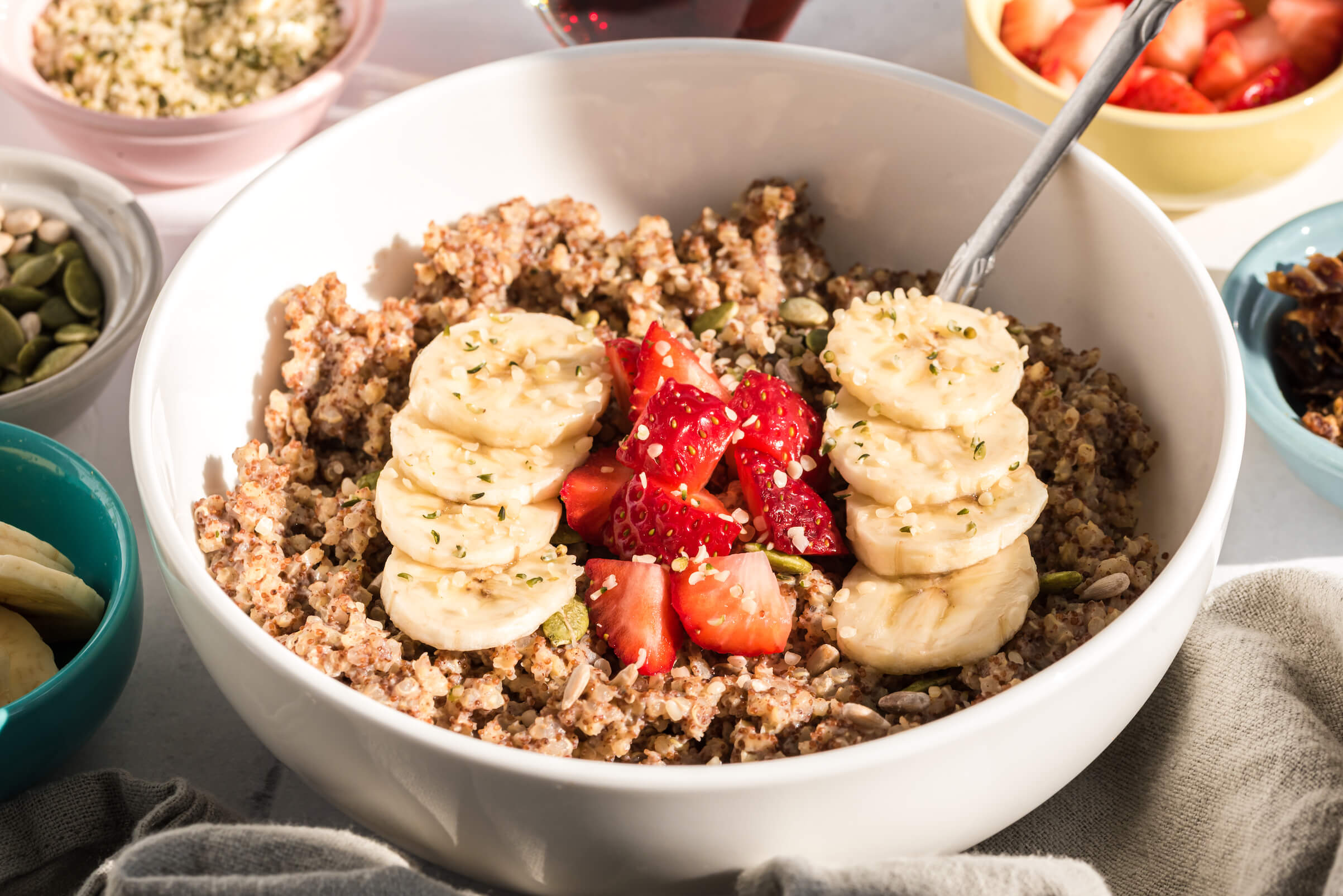 Typically, quick-cooking grains like millet, quinoa, and teff don't need to be soaked before cooking. However, they can certainly be soaked to lessen the cooking time even further. Soak these three nutritious grains overnight, while you sleep, so that cooking time in the morning is only 10 minutes! Add banana and berries, or any fruit of your choice, plus nuts or seeds, for a delightful and comforting meal to kickstart your day.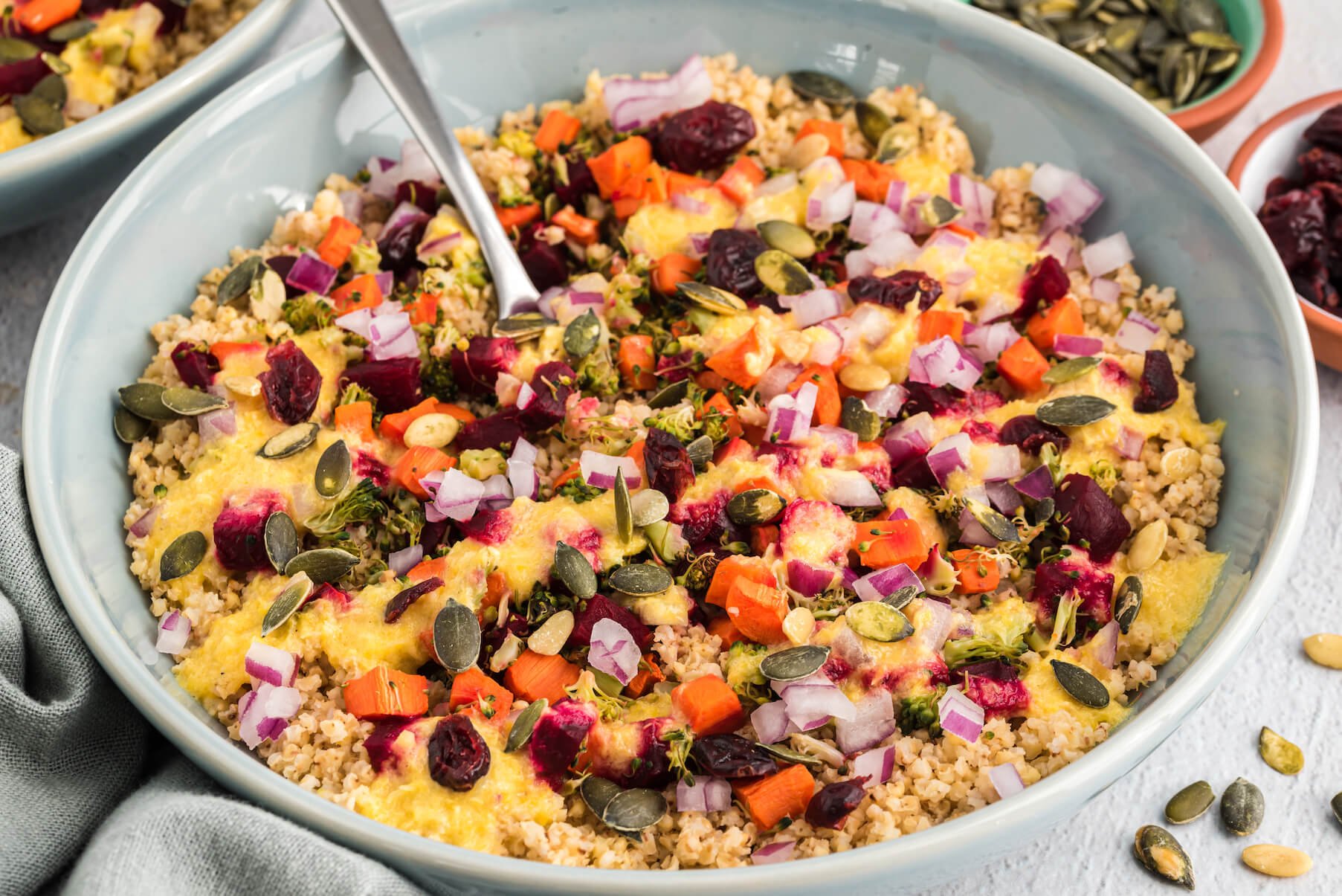 Starting your day with a hearty bowl of breakfast grains can help to keep you satisfied throughout the morning. However, this savory bowl can truly be consumed any time of the day! Harvest Grain Breakfast Bowl calls for millet, but feel free to experiment with any organic whole grain you like. It's packed with fiber, protein, vitamins, minerals, and phytonutrients from the grains and variety of colorful vegetables. It's almost too pretty to eat! Tip: Prepare it the night before so the dressing has time to marinate the grains and veggies, creating even more delicious flavors (it's great hot or cold!).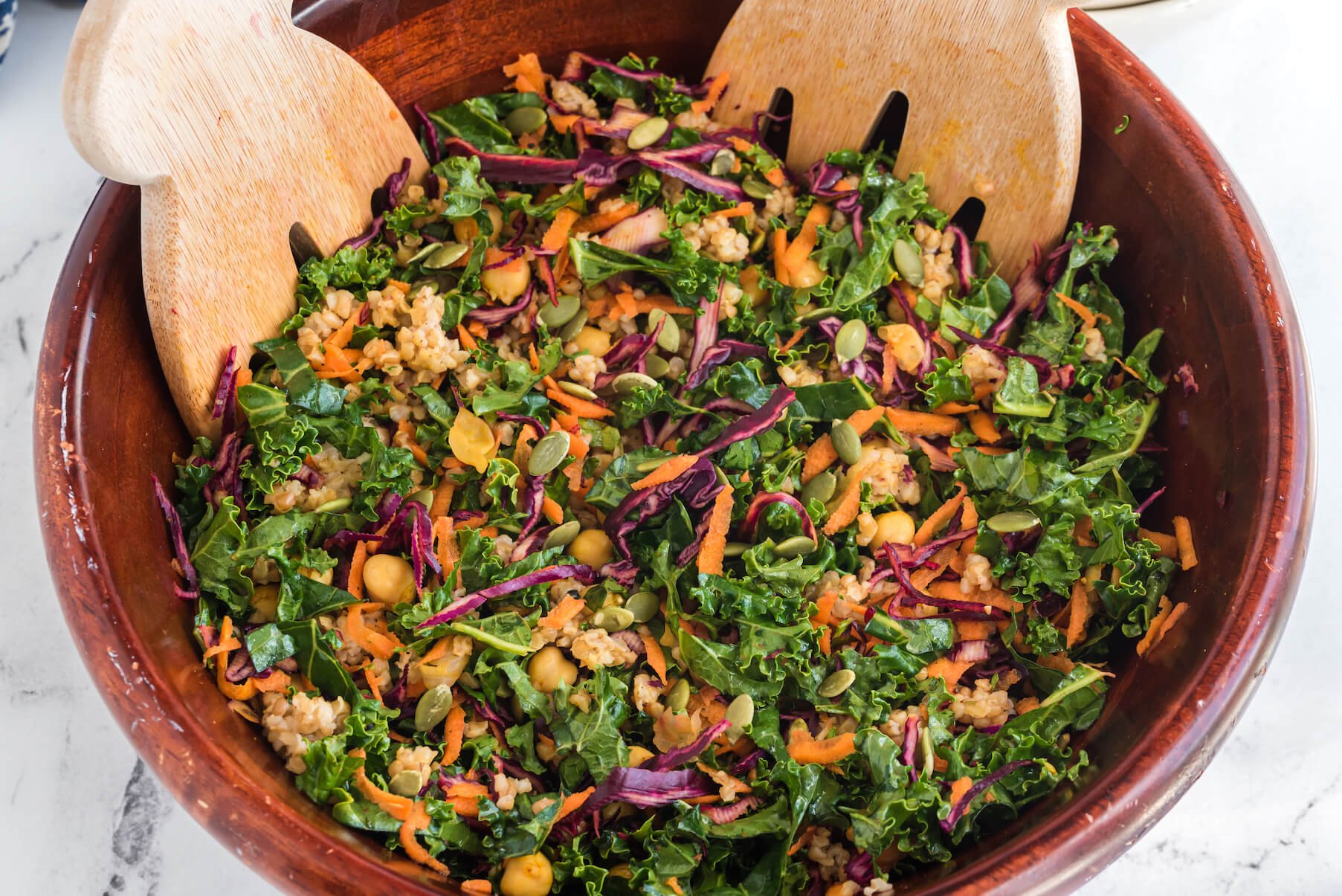 Grains might not be the first ingredient that comes to mind when thinking about creating a satisfying salad, but they deserve to top the list! Whole grains add texture, nutrition, and flavor, and give a salad hearty deliciousness. As the name implies (vibrant!), this salad includes an array of radiant vegetables including kale, carrots, cabbage, and avocado, as well as bulgur wheat and pumpkin seeds, which make excellent additions to the colorful veggies. We can't wait for you to try it — Vibrant Bulgur, Kale, and Chickpea Salad is magical!
Cook Grains to Add Texture & Nutrition to Meals!
Whole grains are a valuable part of a whole food, plant-based diet due to their nutritional value, culinary versatility, and contribution to optimal health. They're used in every type of cuisine from Mexican to Italian to Middle Eastern and can be easily swapped between recipes. Whether quick-cooking, par-boiled, or pre-soaked, whole grains are easy to prepare.
Tell us in the comments:
Which whole grain will you try first?
After reading the article and watching the video, which new whole grain will you add to your pantry?
What's one new thing about whole grains that you learned after watching the video?
Feature Image: iStock.com/
Read Next in Our How to Cook Series: