What you eat for breakfast can set the tone for the entire day. But what should a healthy, nutritious breakfast look like? We asked nine Food Revolution Summit speakers to tell us what they eat for breakfast. Check out their healthy breakfast ideas below!
---
Let's face it, mornings can be hectic — getting out of bed, getting dressed, and getting yourself (and maybe kids) ready for the day.
And then, there's breakfast. This meal often becomes an afterthought. And even if you try to eat healthfully, you might turn to convenience foods, like sugary cereals, a hasty slice of toast, or breakfast pastries from your local coffee shop, to get by.
Maybe you do have time to make something more, but you're not sure what to do. Or you venture out for breakfast, and you're met with tons of flour, sugar, and factory-farmed meat and dairy.
So what's a good breakfast when you want to eat foods that nourish your body — without contributing to negative outcomes, like mood disorders and chronic disease?
9 Healthy Breakfast Ideas from Plant-Powered Health Revolutionaries
We asked some of our 2020 Food Revolution Summit speakers what they eat for breakfast.
Put some of these healthy breakfast ideas into practice while listening to the interviews during the Summit, or enjoy them anytime you want to start your day off right.
The Fruit-Packed Breakfast Dr. Joel Fuhrman Eats
Joel Fuhrman, MD, is a board-certified family physician, a nutritional researcher, a six-time New York Times best-selling author, and the host of numerous wildly popular PBS specials. He serves as president of the Nutritional Research Foundation and a member of The Dr. Oz Show Medical Advisory Board. He says:
"[For breakfast] I eat berries, cherries, or citrus fruits, including Meiwa kumquats, which I grow myself. I eat avocado, steel cut oats, chia, hemp, or flaxseeds, and I drink homemade plant milk, such as hemp-almond. Also, I may have an Ezekiel multigrain bread with berries and almond butter.
Did you know that eating the skin of citrus fruits (such as kumquats — the Meiwa kumquat tastes the best and is easiest to grow) protects our skin from skin cancer almost better than anything else?
Eating skins protect our skin — how cool! You can grow your own kumquat tree right in your living room, in the winter, if you do not live in a warm climate."
Get fancy with your toast by making this recipe for Quick-Pickled Kumquat Avocado Toast by Floating Kitchen.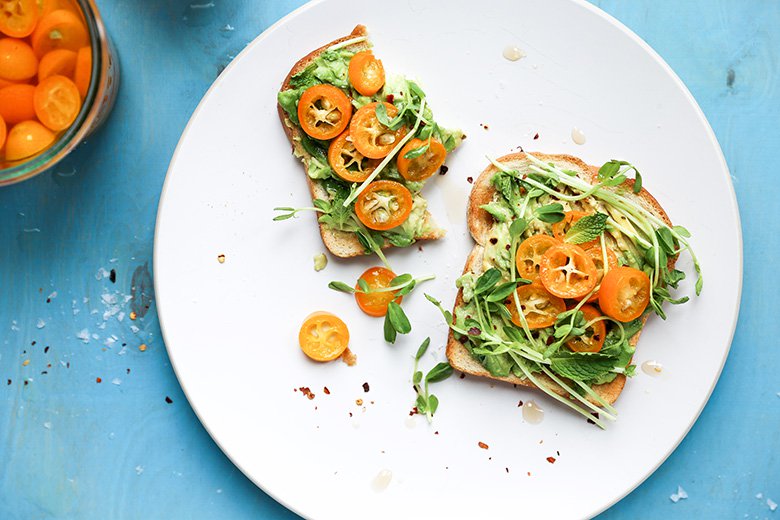 The Cancer-Fighting Smoothie Dr. Kristi Funk Eats for Breakfast
Kristi Funk, MD, is a board-certified breast cancer surgeon and an expert in using innovative and minimally invasive treatments that work.
She's the co-founder of the Pink Lotus Breast Center and author of the bestseller, Breasts: The Owner's Manual. Dr. Funk's work and research have led her to become a powerful advocate for using a healthy diet to reduce cancer risk and thrive. She says:
"My go-to breakfast is my Antioxidant Smoothie. I am pretty sure it contains the most cancer-kicking compounds found in one single glass of goodness on Earth!
This blended drink combines delicious mixed berries and banana with leafy green vegetables and touches of plant-based health secrets, like flaxseed, aloe vera, amla (Indian gooseberries), and cinnamon. You can almost hear the cancer cells crying out, 'Oh no, not more turmeric and blueberries!'"
Download the free Antioxidant Smoothie recipe at Dr. Funk's website: breastmanual.com. (Scroll down on the page to find the link to download it.)
Dr. Neal Barnard's Healthy Breakfast Ideas — For at Home or on the Go
Neal Barnard, MD, is a leader in nutrition and research. He's the founder and president of the Physicians Committee for Responsible Medicine.
Dr. Barnard has written more than 80 scientific publications and 20 books, including the New York Times bestseller, Power Foods for the Brain, and his latest, Your Body in Balance: The New Science of Food, Hormones, and Health. He says:
"My favorite breakfast is grilled tofu topped with ginger, nutritional yeast, and soy sauce; steamed broccoli topped with Bragg Liquid Aminos (like soy sauce); and a papaya. Nutritionally, this breakfast packs a high-protein starter (tofu), a mineral-packed vegetable (broccoli), and a vitamin-rich fruit (papaya).
If I'm traveling and the choices are Denny's or IHOP, I ask the cook to put some mushrooms, tomatoes, onions, and spinach or asparagus on the grill, along with some unbuttered rye toast. It's like an omelet without the egg; I call it a Nomelet. It is a wonderful taste combination."
Get Dr. Barnard's Grilled Breakfast Tofu recipe, here.
The Nutrient-Packed Way Brenda Davis, RD Starts Her Day
Brenda Davis, RD, is a leader in her field and an internationally acclaimed speaker. As a prolific nutrition and health writer, she has co-authored 11 books with over 750,000 copies in print in 13 languages. Her most recent works include Kick Diabetes: Essential Diet and Lifestyle Guide, The Kick Diabetes Cookbook, and Becoming Vegan.
Brenda eats what she calls a "Big Breakfast Bowl" for breakfast. According to her it includes:
"Whole grains (e.g. sprouted black barley and cooked kamut), lentils (usually small brown) – this is optional, but I add to my grains to boost nutrition) – fresh seasonal fruit (berries, apples, bananas, peaches, etc.), something creamy (chia pudding, cashew-pear cream or non-dairy yogurt), stewed blueberries or Italian prune plums, nut and seed mix (chia, flax, hemp, and pumpkin seeds, Brazil nuts, walnuts), dehydrated granola (for crunch on top), and an unsweetened non-dairy milk.
I know that the bowl sounds complicated, but when everything is made ahead, it is super simple to assemble. I make enough grains/lentils to last 4-5 days, enough seed mix to last about a month (stored in the freezer), enough stewed fruits to last several months (stored in the freezer), and enough granola to last 2 months (stored in the freezer). Also, I make chia pudding and pear cream on an ongoing basis, so there is always some in the fridge. A batch lasts about 4-5 days (for 2 people)."
Check out Brenda's blog for a version of her Big Breakfast Bowl using sprouted grains. Get the recipe, here.
Marco Borges' Quick and Easy Breakfast
Marco Borges is an exercise physiologist whose innovative exercise and nutrition programs are helping guide hundreds of thousands of people to a healthier lifestyle.
He's the author of the New York Times best-selling The 22 Day Revolution and The Greenprint: Plant-Based Diet, Best Body, Better World. Marco has helped thousands adopt healthier and more plant-powered lifestyles, including many celebrities, such as Jay-Z, Beyonce, and Jennifer Lopez.
"I typically begin my day with a large glass of room temperature lemon water (yes, just lemon and water).
My favorite breakfast (which usually happens after my workout) is a big bowl of berries with oats cooked in water and with a spoonful of almond butter over the top. It's loaded with vitamins, nutrients, fiber, protein, and is quick and easy to make.
My second favorite is avocado toast on gluten-free, vegan bread, topped with sprouts, lemon juice, and smoked paprika."
Eat breakfast like Marco with this Berry Bliss Oats Bowl from Pao's Fit World.
Dr. Michael Greger's Gut-Friendly Breakfast
Michael Greger, MD FACLM is a physician, New York Times best-selling author, and internationally recognized speaker on nutrition, food safety, and public health issues. He is a founding member and Fellow of the American College of Lifestyle Medicine and author of the bestsellers How Not to Die and How Not to Diet. He has videos on more than 2,000 health topics freely available at NutritionFacts.org, with new videos and articles uploaded every day.
For breakfast, Dr. Greger has:
"My prebiotic mix (pressure-cooked sorghum, finger millet, hull-less purple barley, beluga lentils, oat groats, and rye berries) mixed with fresh or frozen berries, cocoa powder, a blackberry-ginger balsamic, dried barberries, ground flax seeds, pumpkin seeds, and walnuts. Check out the recipe in my upcoming How Not to Diet Cookbook, out December 2020."
This Cracked Freekeh Porridge with Quinoa recipe from Sweet Potato Soul also uses prebiotic-rich grains as the base for a hearty, nutritious breakfast bowl.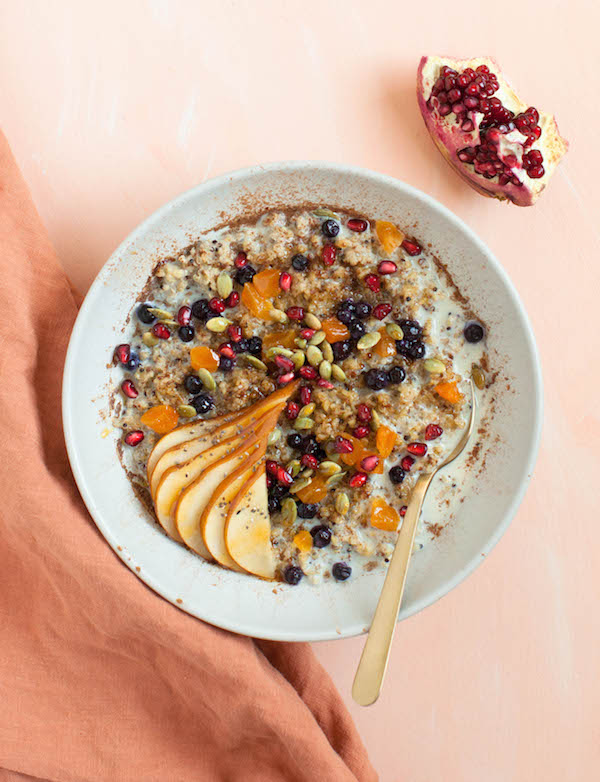 Chris Wark's Antioxidant-Packed Breakfast Ideas
In the morning, Summit speaker and best-selling Chris Beat Cancer author, Chris Wark, will have either his Green Light drink or a big bowl of oatmeal.
"The Green Light drink contains a teaspoon of PHresh Greens (Superfood Powder), a teaspoon of moringa (drumstick tree), half a teaspoon of matcha green tea powder, a teaspoon of amla, and I squeeze an entire lemon or lime into it. Then a little splash of apple cider vinegar.
Oatmeal is oats, flax, chia, hemp seed. I do a teaspoon of turmeric powder, cinnamon, and allspice. Chopped dried apricots or figs. Fresh blueberries, blackberries, raspberries. Blackstrap molasses, date sugar, or ground dates. That's breakfast. It's a big bowl.
One dry cup of oatmeal, plus all these superfood fixings, has 29 grams of protein, 25 grams of fiber, about 70% of your daily magnesium, 110% of your manganese, 29% of your calcium, 48% of your iron, 20% of your potassium, 20% of your zinc, and 18% of your B6.
And with the addition of berries and spices, this little breakfast will give you more antioxidants than most people get in a week on the standard American diet."
Check out Chris' tricks to supercharge your oatmeal, here.
John Robbins' Fruit and Veggie-Packed Breakfast
Here's how 2-million-copy best-selling author and Food Revolution Network co-founder and president, John Robbins, likes to start the day:
"I don't generally eat when I first get up. I'll typically have a glass of water, or maybe freshly squeezed grapefruit juice, and then wait an hour or so for my first real food of the day. And most days, particularly if I'm home, that's a smoothie.
We have a Vita-Mix, which is a very high-powered blender. To make the smoothie, I'll typically put into it some kale and arugula leaves, some celery or broccoli, and plenty of frozen berries (always wild blueberries, and often raspberries or strawberries or blackberries). If apples are in season, I might add an apple, too. Or a banana. And enough water so the concoction will blend easily.
Then, after blending, I'll add freshly ground flax and chia seeds (which I grind each day in a dedicated coffee grinder) and blend the whole thing a bit more, and then it's ready to drink! You have to be careful though, with the ground flax and chia seeds. Once they've been blended into the smoothie, it will thicken pretty quickly. So I blend them in at the end, just before drinking.
The ingredients in my breakfast smoothies vary from season to season, but there are always greens, frozen wild blueberries, freshly ground flax and chia seeds — and some other fresh fruits and veggies that are in season, that we have around, and that I enjoy."
Drink your fruits and veggies like John Robbins with this Kale, Blueberry, and Flax Superfood Smoothie from Becca's Green Kitchen.
Ocean Robbins' Super Simple Breakfast (+ Recipe)
Best-selling 31-Day Food Revolution author and Food Revolution Network co-founder and CEO, Ocean Robbins tells us:
"Some people need a filling meal by 7 a.m. in order to have clarity to meet their day. Others don't start to get hungry until noon. Every one of us has a unique metabolism, and sometimes what feels right on one day will feel very different on another day.
If you engage in a lot of sports or physical activity, you're more likely to need a good dose of calories in the morning. But if your body starts the day slowly, or at a desk, then you might feel better if you eat lightly.
When I eat late at night, I don't usually wake up hungry the next morning. My stomach seems to gravitate toward having at least 12 hours off, and the clock starts ticking whenever I close up the culinary shop at night."
Ocean varies his breakfasts a lot, but one of his favorite ways to start the day is with a blueberry chia porridge.
This refreshing porridge is rich in Omega-3 fatty acids, protein, fiber, probiotics, and antioxidants. It's portable. And it's delicious!
Blueberry Chia Porridge Recipe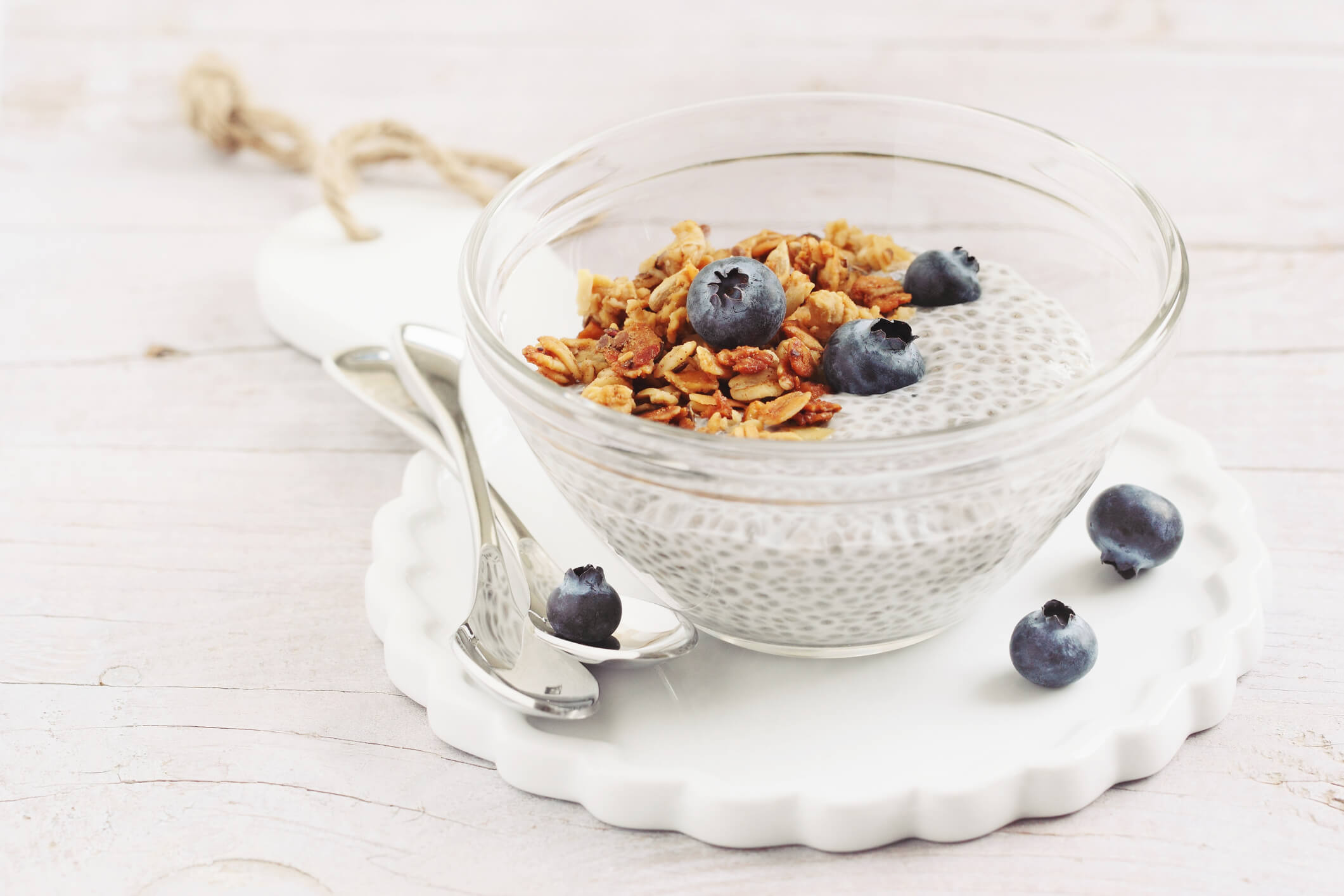 Prep Time: 20 minutes, plus 6 hours to set up
Serves 2 to 4
Ingredients:
6 tablespoons whole chia seeds
3 cups cold non-dairy milk or yogurt
2 tablespoons maple syrup or other sweetener (optional)
1 teaspoon vanilla extract
2–3 cups fresh or frozen blueberries
Directions:
Place chia seeds in a large, glass food storage container with a lid (mason jars work great), and pour in milk, syrup, and vanilla. Shake or stir well and let sit for 15 minutes.
Add blueberries and stir again.
Put mixture in the refrigerator for at least 6 hours, preferably overnight.
Remove porridge from the refrigerator, stir well, and spoon into serving containers. Remember to chew the chia seeds well so your body absorbs their nutrients.
(Recipe excerpted from 31-Day Food Revolution: Heal Your Body, Feel Great, & Transform Your World.)
Tell us in the comments:
What are your favorite healthy breakfast ideas?

Which of these speakers' breakfasts sound best to you?

Will you try these healthy breakfast ideas while you listen to the Food Revolution Summit?
Featured Image: iStock.com/Arx0nt
Read Next: