Let's face it, mornings can be hectic — getting out of bed, getting dressed, and getting yourself (and maybe your kids) ready for the day.
And then, there's breakfast. This meal often becomes an afterthought. And even if you try to eat healthfully, you might turn to convenience foods, like sugary cereals, a hasty slice of toast, or breakfast pastries from your local coffee shop, to get by.
Maybe you do have time to make something more, but you're not sure what to do. Or you venture out for breakfast, and you're met with tons of flour, sugar, and factory-farmed meat and dairy.
So what's a good breakfast when you want to eat foods that nourish your body — without contributing to negative outcomes, like mood disorders and chronic disease?
9 Healthy Breakfast Ideas from Plant-Powered Health Revolutionaries
We asked some of our 2022 Food Revolution Summit speakers what they eat for breakfast.
Put some of these healthy breakfast ideas into practice while listening to the interviews during the Summit, or enjoy them anytime you want to start your day off right.
The Cancer-Fighting Smoothie Dr. Kristi Funk Eats for Breakfast
Kristi Funk, MD, is a board-certified breast cancer surgeon and an expert in using innovative and minimally invasive treatments that work.
She's the co-founder of the Pink Lotus Breast Center and author of the bestseller, Breasts: The Owner's Manual. Dr. Funk's work and research have led her to become a powerful advocate for using a healthy diet to reduce cancer risk and thrive. She says:
"My go-to breakfast is my Antioxidant Smoothie. I am pretty sure it contains the most cancer-kicking compounds found in one single glass of goodness on Earth!
This blended drink combines delicious mixed berries and banana with leafy green vegetables and touches of plant-based health secrets, like flaxseed, aloe vera, amla (Indian gooseberries), and cinnamon. You can almost hear the cancer cells crying out, 'Oh no, not more turmeric and blueberries!'"
Download the free Antioxidant Smoothie recipe at Dr. Funk's website: breastmanual.com. (Scroll down on the page to find the link to download it.)
Dr. Neal Barnard's Healthy Breakfast Ideas — At Home or on the Go
Neal Barnard, MD, is a leader in nutrition and research. He's the founder and president of the Physicians Committee for Responsible Medicine.
Dr. Barnard has written more than 80 scientific publications and 20 books, including the New York Times bestseller, Power Foods for the Brain, and his latest, The Vegan Starter Kit. He says:
"My favorite breakfast is grilled tofu topped with ginger, nutritional yeast, and soy sauce; steamed broccoli topped with Bragg Liquid Aminos (like soy sauce); and a papaya. Nutritionally, this breakfast packs a high-protein starter (tofu), a mineral-packed vegetable (broccoli), and a vitamin-rich fruit (papaya).
If I'm traveling and the choices are Denny's or IHOP, I ask the cook to put some mushrooms, tomatoes, onions, and spinach or asparagus on the grill, along with some unbuttered rye toast. It's like an omelet without the egg; I call it a Nomelet. It is a wonderful taste combination."
Get Dr. Barnard's Grilled Breakfast Tofu recipe, here.
The Fruit-Packed Breakfast Dr. Joel Fuhrman Eats
Joel Fuhrman, MD, is a board-certified family physician, a nutritional researcher, a six-time New York Times best-selling author, and the host of numerous wildly popular PBS specials. He serves as president of the Nutritional Research Foundation and a member of The Dr. Oz Show Medical Advisory Board. He says:
"[For breakfast] I eat berries, cherries, or citrus fruits, including Meiwa kumquats, which I grow myself. I eat avocado, steel-cut oats, chia, hemp, or flaxseeds, and I eat homemade plant milk, such as hemp-almond. I also may have an Ezekiel multigrain bread with berries and almond butter.
Did you know that eating the skin of citrus fruits (such as kumquats — the Meiwa kumquat tastes the best and is easiest to grow) protects our skin from skin cancer almost better than anything else?
Eating skins protect our skin — how cool! You can grow your own kumquat tree right in your living room, in the winter, if you do not live in a warm climate."
Get fancy with your toast by making this recipe for Quick-Pickled Kumquat Avocado Toast by Floating Kitchen.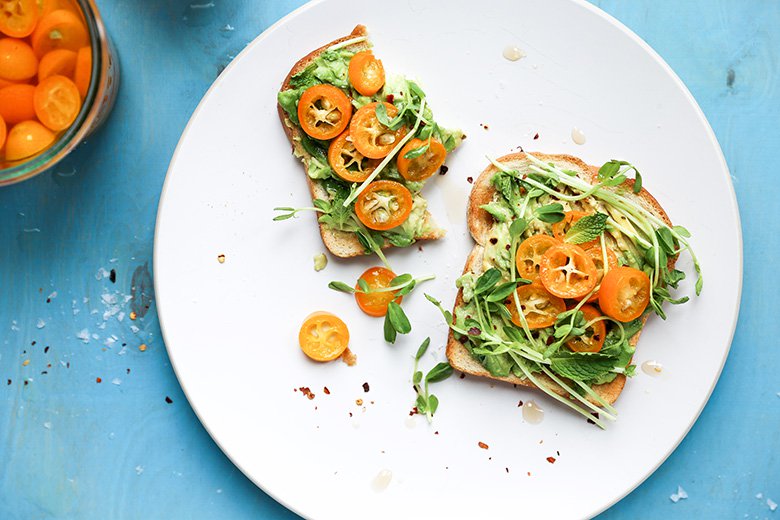 Dr. Reshma Shah's Healthy Whole Grain Breakfast Choices
Dr. Reshma Shah is a board-certified pediatrician and coauthor of Nourish: The Definitive Plant-Based Nutrition Guide for Families. She is passionate about healthy food, healthy families, and a healthy world.
Dr. Shah serves as an instructor for Stanford's Healthy Living program and oversees the nutrition curriculum for the Stanford University Pediatric Integrative Medicine Fellowship. She has also received teaching awards from Rainbow Babies and Children's Hospital at Case Western Reserve University School of Medicine and from the Stanford University School of Medicine.
Despite (or perhaps, in spite of) a sometimes chaotic schedule she tells us: "I like to keep things fairly simple for breakfast!"
Dr. Shah's go-to favorite is sprouted bread, like Ezekial, Dave's Killer, or Alvarado St. Bakery, toasted and then spread with a nut butter. She also ensures a healthy dose of disease-fighting antioxidants with a side of fruit or a topping of berries on her toast.
On other days, Dr. Shah might also go for overnight oats, soaking them in a plant-based milk like almond milk, oat milk, or organic soy milk. For toppings and seasonings, she usually adds a bit of zing with some cinnamon and a pinch of cardamom, as well as hemp seeds (rich in healthy omega fats), nut butters drizzled on top or mixed in (for some plant-powered protein), and a handful of berries (more of those fabulous antioxidants!). If you like a little bit of extra sweetness, she recommends a whole-food sweetener like maple syrup or date paste.
Eat breakfast like pediatrician Dr. Reshma Shah with her Simple Overnight Oats recipe.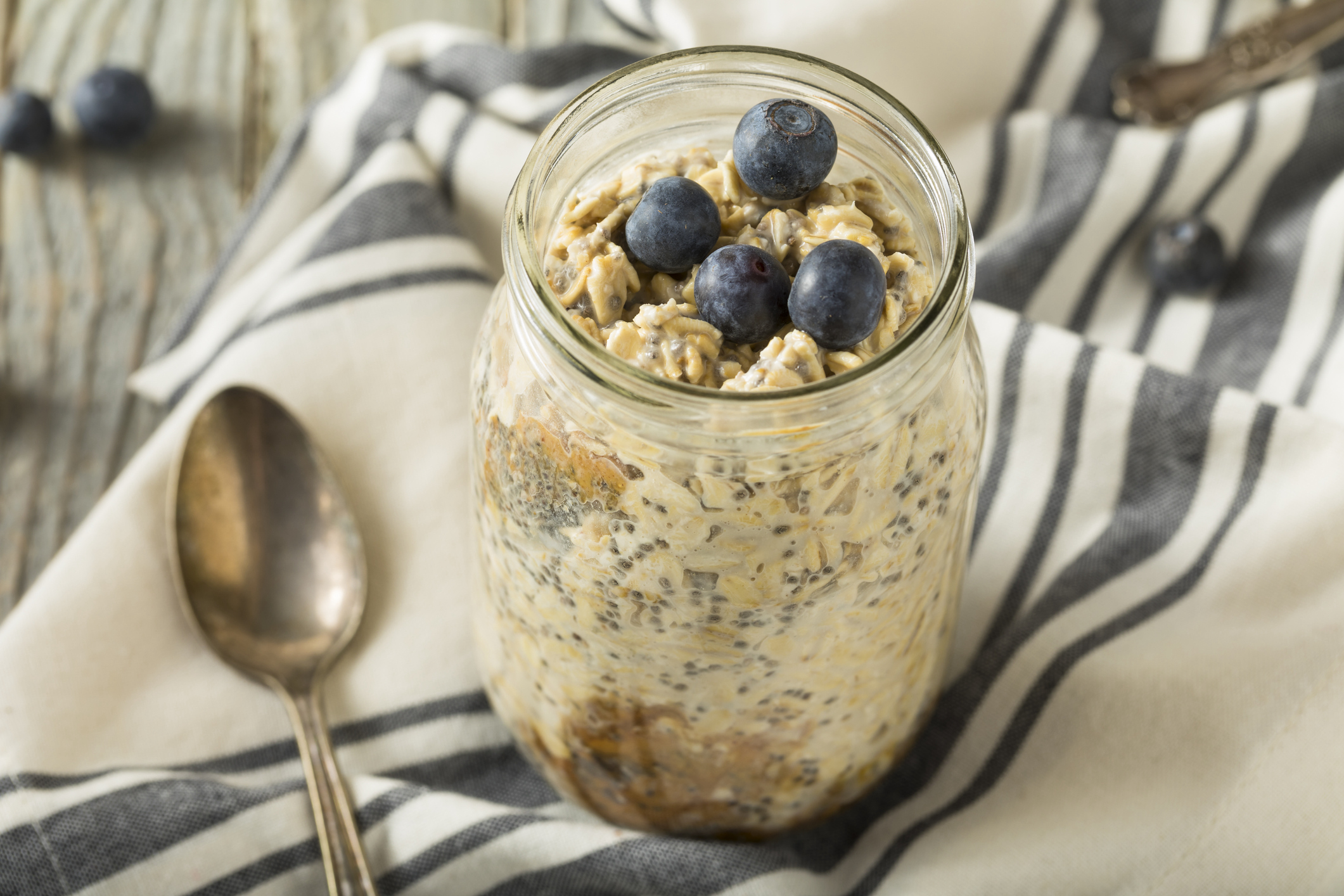 The Superfoods (and Super Beverages) Dr. William Li Has for Breakfast
William Li, MD is a renowned doctor, scientist, and angiogenesis expert, and the New York Times best-selling author of Eat to Beat Disease: The New Science of How Your Body Can Heal Itself. His groundbreaking work has impacted more than 70 diseases, including cancer, type 2 diabetes, blindness, heart disease, and obesity.
Dr Li's breakfast is light and full of superfoods and super beverages.
"For breakfast, I love to have something easy, fresh, and healthy to eat alongside my cup of green tea. I usually grab a handful of blueberries from the fridge or take a dark chocolate breakfast bar I've prepared the night before. Blueberries activate immunity, and a breakfast bar made from ingredients that improve your microbiome and activate stem cells are a great way to start my day.
"I also enjoy pomegranate juice in the morning. Pomegranates are high in ellagitannins, a natural bioactive that has immune-stimulating and cancer-starving activity. When shopping for pomegranate juice, make sure you check the label to ensure that there is no added sugar."
Download the free recipe for the dark chocolate breakfast bars from Dr. Li's website.
Susan Peirce Thompson's Go-To Oatmeal Breakfast
In the morning, Summit speaker and Bright Line Eating founder, Susan Peirce Thompson, PhD, keeps her breakfast simple.
"Prior to getting healthy, I almost never ate breakfast. I was still full from all the junk food I'd eaten late the night before. But in 2003, I eliminated processed foods from my diet and started eating three, abundant, plant-strong, whole foods meals per day. Now, I ALWAYS eat breakfast, and it's my favorite meal of the day.
"In all these years, there is one breakfast that I've eaten more than any other, by far. It's my go-to.
"I start by weighing one and a half ounces of organic oats in a bowl. I add some sea salt and about six ounces of water and microwave it up for four minutes. On top of that, I add eight ounces of homemade soy yogurt (made from scratch weekly with just unsweetened vanilla soy milk and vegan yogurt starter in a yogurt maker), six ounces of organic blueberries, and one ounce of ground golden flaxseeds. I top it with some cinnamon and voila! Delicious breakfast goodness.
"From a health perspective, of course, this breakfast is packed with fiber, vitamins, minerals, phytonutrients, and a beautiful balance of proteins, carbohydrates, and healthy fats. My body seems to love soy, plus the isoflavones have a protective effect against breast cancer, which runs in my family. But what I appreciate most about this breakfast is how simple it is. Research shows that simple foods allow the brain to keep the adiposity set point low. And as a formerly obese woman who has managed to live in a slender body now for nearly two decades, that's really important to me. Simplicity is key."
Check out a berry-full oatmeal recipe similar to Susan's over at Plant-Based Cooking.
The Hyper-Nourishing Green Smoothie Dr. Brooke Goldner Has for Breakfast
What does Goodbye Lupus and Goodbye Autoimmune Disease author and physician, Dr. Brooke Goldner, have for breakfast?
"My go-to breakfast every morning is my hyper-nourishing green smoothie.
"I am a medical doctor specializing in disease-reversal using supermarket foods, so my approach to health and healing is focused on nourishment that optimizes cellular repair, the anti-inflammatory immune system, and metabolism. I call this high level of nutrition — hyper-nourishment.
"Every cell in your body is programmed to repair itself, but it needs the right ingredients to do so: dark leafy greens, omega-3 fatty acids (found in chia and flax seeds), and water. When you are malnourished and lacking these nutrients, you develop poor health, a slow metabolism, and will have a slower recovery from injuries and infections.
"While you can chew all of these ingredients through foods like salads and chia pudding, I find green smoothies to be the simplest, easiest, and most enjoyable way to hyper-nourish and enjoy great health.
"Hyper-nourishment reversed my chronic health issues: Lupus, blood clots and mini-strokes, and chronic kidney disease over 15 years ago. I was sick with these illnesses for 12 years of my life, since the age of 16. I battled pain and disease while working through high school, college, and medical school.
"Hyper-nourishment on a plant-based diet diet rapidly reversed all of my medical problems, and I have been completely healthy, pain-free, lupus-free with normal kidney function and normal laboratory tests, off all medications for over 15 years and counting! My amazing recovery drives my dedication to create the same results in my patients and wellness clients, and the incredible results fill me with joy and excitement every day.
"So, while I don't need to reverse illnesses in my own body anymore, I don't skip my daily dose of hyper-nourishment to continue my winning streak of extraordinary health and the high levels of energy that fuel my work reversing disease in my patients and wellness clients."
Here is Dr. Goldner's favorite smoothie recipe.
John Robbins' Fruit and Veggie-Packed Breakfast
Here's how 2-million-copy best-selling author and Food Revolution Network co-founder and president, John Robbins, likes to start the day:
"I don't generally eat when I first get up. I'll typically have a glass of water, or maybe freshly squeezed grapefruit juice, and then wait an hour or so for my first real food of the day. And most days, particularly if I'm home, that's a smoothie.
We have a Vitamix, which is a very high-powered blender. To make the smoothie, I'll typically put into it some kale and arugula leaves, some celery or broccoli, and plenty of frozen berries (always wild blueberries, and often raspberries or strawberries or blackberries). If apples are in season, I might add an apple, too. Or a banana. And enough water so the concoction will blend easily.
Then, after blending, I'll add freshly ground flax and chia seeds (which I grind each day in a dedicated coffee grinder) and blend the whole thing a bit more, and then it's ready to drink! You have to be careful though, with the ground flax and chia seeds. Once they've been blended into the smoothie, it will thicken pretty quickly. So I blend them in at the end, just before drinking.
The ingredients in my breakfast smoothies vary from season to season, but there are always greens, frozen wild blueberries, freshly ground flax and chia seeds — and some other fresh fruits and veggies that are in season, we have around, and that I enjoy."
Drink your fruits and veggies like John Robbins with the Where to Get Your Protein Blue Smoothie.
Ocean Robbins' Super Simple Breakfast (+ Recipe)
Best-selling 31-Day Food Revolution author and Food Revolution Network co-founder and CEO, Ocean Robbins tells us:
"Some people need a filling meal by 7 am in order to have the clarity to meet their day. Others don't start to get hungry until noon. Every one of us has a unique metabolism. And sometimes, what feels right on one day will feel very different on another day.
If you engage in a lot of sports or physical activity, you're more likely to need a good dose of calories in the morning. But if your body starts the day slowly, or at a desk, then you might feel better if you eat lightly.
When I eat late at night, I don't usually wake up hungry the next morning. My stomach seems to gravitate toward having at least 12 hours off, and the clock starts ticking whenever I close up the culinary shop at night."
Ocean varies his breakfasts a lot, but one of his favorite ways to start the day is with a blueberry chia porridge.
This refreshing porridge is rich in omega-3 fatty acids, protein, fiber, probiotics, and antioxidants. It's portable. And it's delicious!
Blueberry Chia Porridge Recipe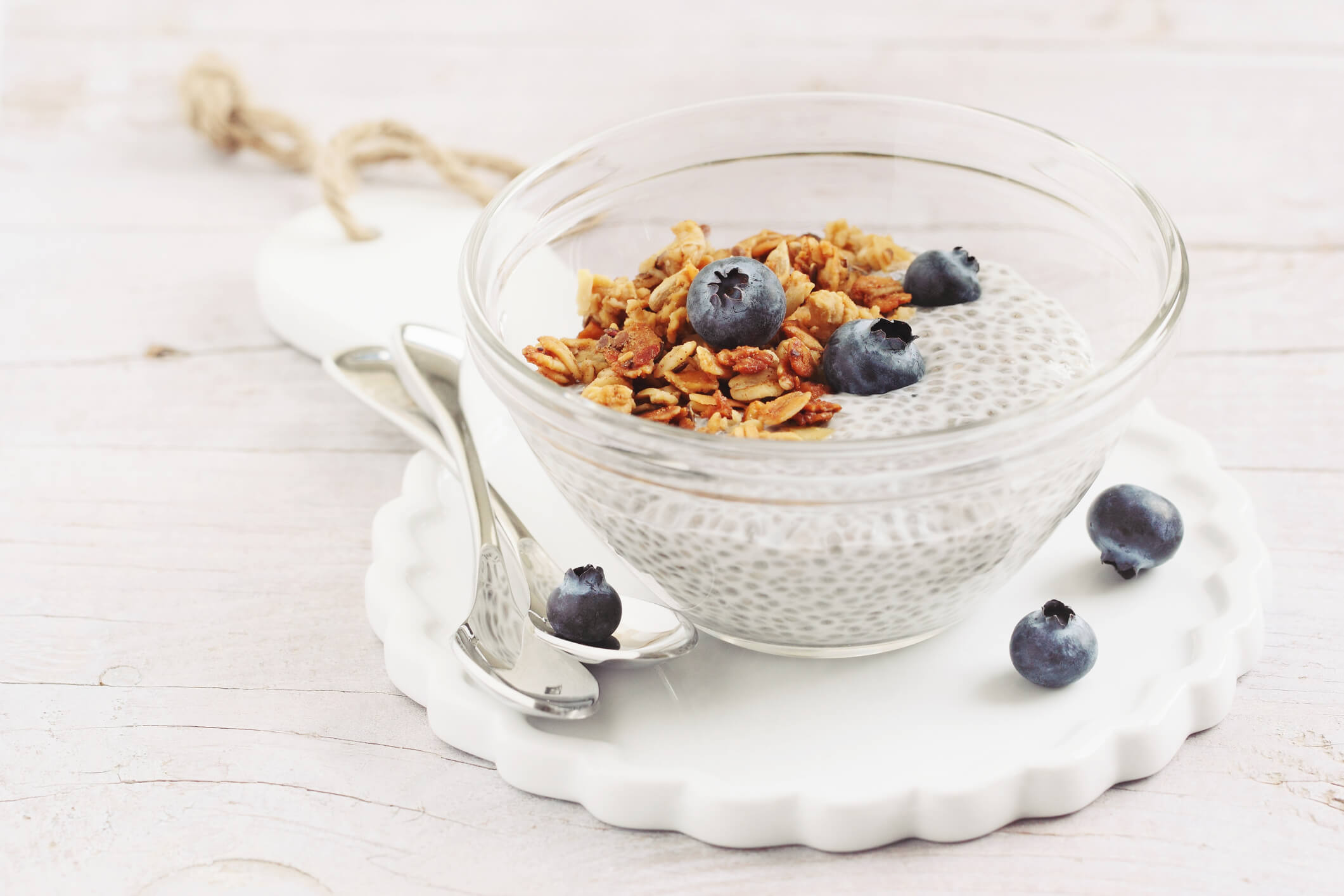 Prep Time: 20 minutes, plus 6 hours to set up
Serves 2 to 4
Ingredients:
6 tablespoons whole chia seeds
3 cups cold non-dairy milk or yogurt
2 tablespoons maple syrup or other sweetener (optional)
1 teaspoon vanilla extract
2–3 cups fresh or frozen blueberries
Directions:
Place chia seeds in a large, glass food storage container with a lid (mason jars work great), and pour in milk, syrup, and vanilla. Shake or stir well and let sit for 15 minutes.
Add blueberries and stir again.
Put the mixture in the refrigerator for at least 6 hours, preferably overnight.
Remove porridge from the refrigerator, stir well, and spoon into serving containers. Remember to chew the chia seeds well so your body absorbs their nutrients.
(Recipe excerpted from 31-Day Food Revolution: Heal Your Body, Feel Great, & Transform Your World.)
Tell us in the comments:
What are your favorite healthy breakfast ideas?
Which of these speakers' breakfasts sound best to you?
Will you try these healthy breakfast ideas while you listen to the Food Revolution Summit?
Featured Image: iStock.com/Arx0nt
Want to Hear Game-Changing Health Insights from these Health Revolutionaries and More?
The 2022 Food Revolution Summit is happening from April 23rd to May 1st.
This is an opportunity to hear from some of the most brilliant minds in food and health — all in one place. You'll get credible, actionable information you can use to confidently take control of your health.
Join the 2022 Food Revolution Summit here now to claim your spot in this informative, inspiring, and empowering experience.