When it comes to breakfast, we're all a little different. Some people need a filling meal by 7 am in order to have the clarity to meet their day. Others don't start to get hungry until noon. Every one of us has a unique metabolism, and sometimes what feels right on one day will feel very different on another day.
If you engage in a lot of sports or physical activity, you're more likely to need a good dose of calories in the morning. However, if your body starts the day slowly, or at a desk, then you might feel better if you eat lightly.
Unfortunately, there's a problem with most breakfast foods. They're just plain unhealthy. Most breakfast foods in the industrialized world are primarily based on convenience, but at what cost? Instead of providing you with nutritious, whole foods, most of them are full of factory-farmed (and fiber-deprived) animal products, processed ingredients, sugary beverages, cereals, and pastries — all of which can contribute to diseases like type 2 diabetes, cardiovascular disease, high blood pressure, and obesity.
In this article, we'll discuss what qualifies as actual, healthy breakfast foods and give you 10 healthy breakfast recipes to try.
Should You Eat Breakfast?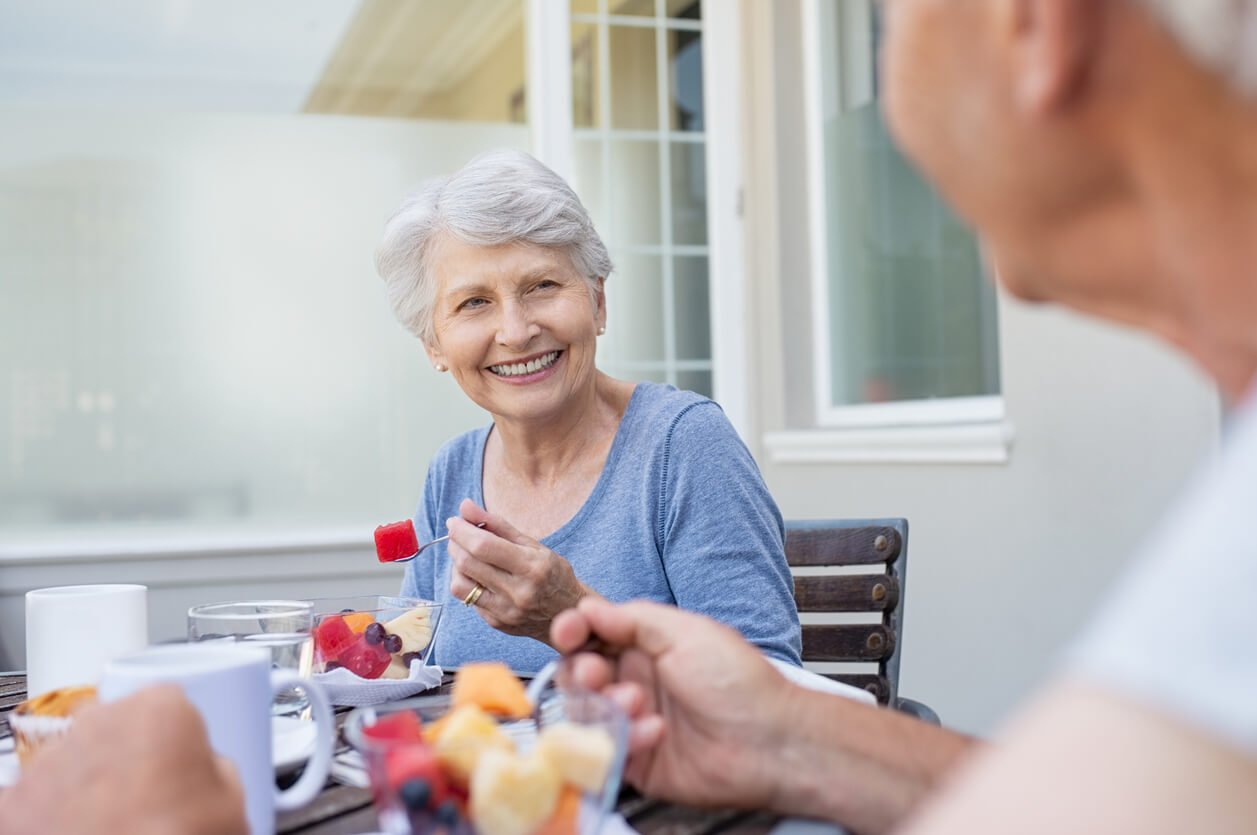 Of course, not everyone eats breakfast. In fact, nearly one-quarter of adults skip it altogether. But research has shown that skipping breakfast can increase your risk of cardiovascular-related death. And, as counterintuitive as it might sound, it can also lead to a higher risk of obesity. A study that was published in Obesity Science & Practice found that skipping breakfast can cause excessive weight gain in the long-term, and an increase in BMI.
It turns out that when you fill up on healthy foods in the morning, your body has all day to digest and burn calories. As a result, you experience increased satiety throughout the day, which can reduce your overall daily calorie intake.
A healthy breakfast recipe that's full of fiber from fruits, veggies, and legumes can also improve insulin sensitivity; since the fiber slows down digestion, there's no spike in blood sugar. And since many people in the western world don't consume nearly enough fiber, eating a healthy, plant-based breakfast can get things moving in the morning (if you know what I mean).
Ways to Eat a Healthy Breakfast
If you're not sure where to start, try concocting a healthier version of a classic breakfast. You might sweeten oatmeal or pancakes with fruit or berries, eat 100% whole-grain bagels or toast, or include a few vegetables as a main or side dish.
Smoothies are another great option and a quick and easy way to get extra fruits, veggies, and plant-based protein into your day. It's easy to make a green smoothie: simply combine green vegetables, nuts or seeds, and some lemon, tamarind, and/or ginger for extra flavor. Use just enough fruit to make it tasty. (Hint: When it comes to adding sweetness to a smoothie, bananas and frozen mango are especially potent.)
Or you could always think outside the box and try a "regular meal" option. It might sound weird, but seriously, give it a try! See what happens if you eat a nice plate of vegetables with some spicy beans and greens, a piece of leftover lentil-walnut loaf, or a warm bowl of fragrant Indian dal over yesterday's quinoa (steamed to warm it up). If it doesn't work out, at least you gave it a fair try! And if it does, your concept of breakfast might expand in a way you love.
Get Your Morning Started with These 10 Plant-Powered & Healthy Breakfast Recipes
Here's the good news: a healthy breakfast can also be totally delicious. And you don't even have to sacrifice speed or convenience! With these 10 nourishing breakfast ideas, you'll always have a plant-powered recipe to fall back on — even during the most time-pressed mornings.
Apple Cinnamon Overnight Oats
Overnight oats are some of the quickest and easiest breakfasts you can make. All they take is five minutes of prep the night before, and in the morning, your breakfast is waiting for you.
This particular overnight oats recipe comes from Jessica in the Kitchen. And it only requires five ingredients: almond milk (or the plant-based milk of your choice), oats, maple syrup, apples, and cinnamon. Combine them all in a jar, and when you wake up, you'll have an oatmeal mixture that you can heat or eat cold. Yummy!
Tip: For a more natural sweetener, you can add more fruit and omit the maple syrup. You can also try nut butter instead for a savory alternative. Choose organic oats to avoid glyphosate exposure, and if you avoid gluten, choose certified gluten-free oats.
Southwest Tofu Scramble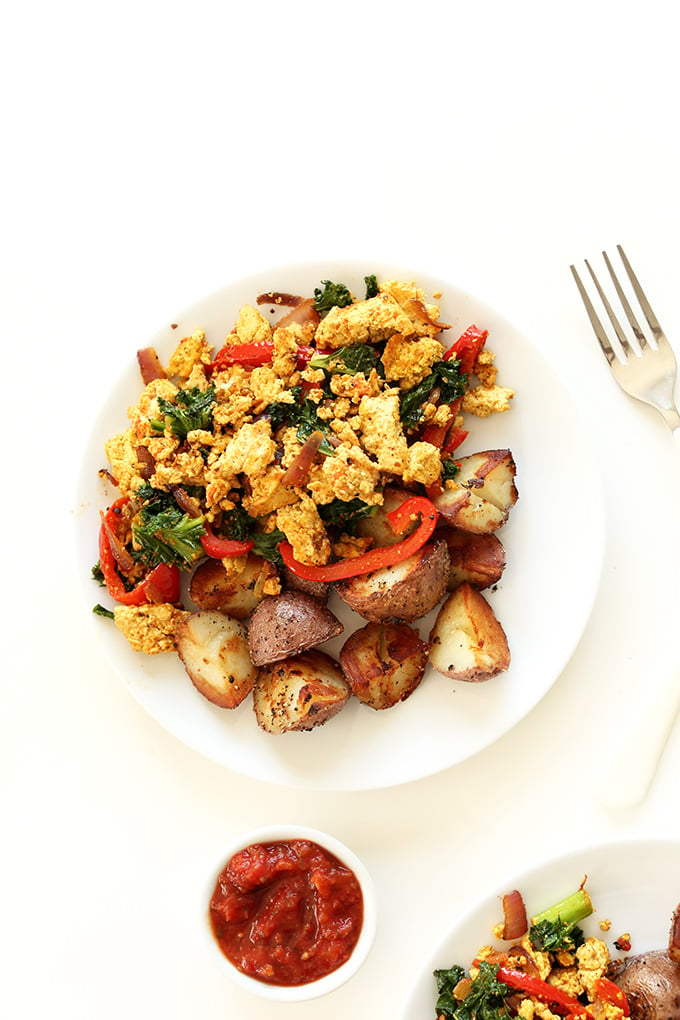 For a restaurant-quality breakfast scramble that's actually good for you, look no further than this Southwest Tofu Scramble from Minimalist Baker. The highlight of this recipe is the sauce, which features healthy spices like garlic, chili powder, and turmeric. It's also a great way to get some veggies in the morning with the addition of kale, red bell pepper, and onions. Serve with a side of potatoes or some fruit for a nutritious, balanced meal.
Tip: Choose organic tofu to avoid GMOs.
Breakfast Green Smoothie
Green smoothies are a delicious way to sneak in some extra veggies in the morning. I Heart Umami's Breakfast Green Smoothie uses kale and spinach and packs in some protein-packed seeds and fresh fruit as well. Filled with vitamins, minerals, and electrolytes, this smoothie is also the perfect refresher after a morning workout.
Tip: Strawberries, spinach, and kale are all on the Environmental Working Group's Dirty Dozen list of the most pesticide-contaminated produce. Go organic if possible or at the very least, wash produce using the method in this article.
Grain-Free Vegan Pancakes
Fluffy, tasty pancakes without the use of eggs or dairy? The Real Food Dieticians have created the ultimate plant-based pancakes that are also grain-free. This recipe uses almond and tapioca flour, which means they're fair game for gluten-free folks too. You can mix up the ingredients in a blender and have a batch of pancakes ready in just minutes. Top with your favorite fruit or some nut butter for a delectable breakfast treat.
Tip: Omit the oil to go oil-free. However, the batter might stick to your griddle or pan unless you use a good non-stick one. You might try a safer non-stick option like the enameled cast iron pans mentioned here.
Garlic Mushroom Avocado Toast
Up your avocado toast game with this easy Garlic Mushroom Avocado Toast recipe from The Wholesome Fork. White button mushrooms are the most common mushroom sold in the U.S. And they're also remarkably healthy. They contain a ton of antioxidants and are potent cancer-fighters too. Depending on the type of bread you use, you'll also get a decent amount of fiber and protein from this nutritious breakfast.
Tip: To go oil-free, water sauté the mushrooms.
Breakfast Quinoa Bowl
Quinoa for breakfast? It's actually not as weird as it sounds. In this Breakfast Quinoa recipe from Emilie Eats, the sweet ingredients give it an oatmeal-like flavor profile. Non-dairy milk, dates, cinnamon, and vanilla combine to make a yummy and satisfying breakfast bowl. Top with the ingredients of your choice like fresh fruit, coconut flakes, and nut butters for even more plant-powered nutrition.
Breakfast Kale Salad with Creamy Cashew-Carrot Sauce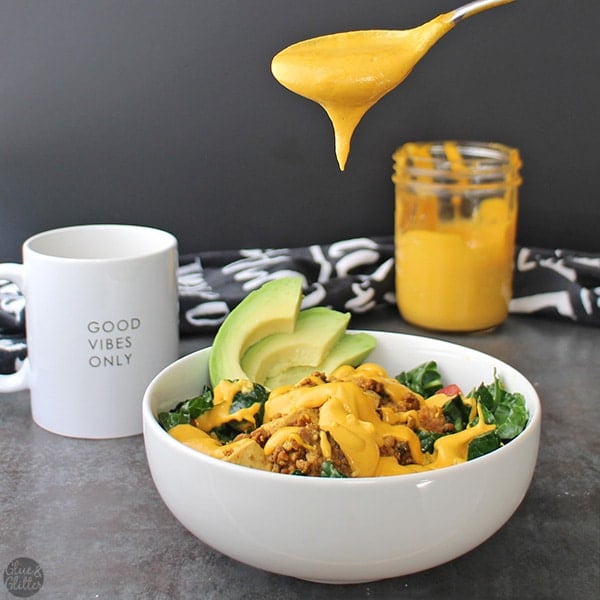 This Breakfast Kale Salad with Creamy Cashew-Carrot Sauce from Glue & Glitter is like a healthy breakfast sandwich without the bread. You'll get a bowl full of greens to perk up your morning along with tofu and tempeh bacon seasoned with soy sauce and onion and garlic powder. Best of all is the cheezy carrot cashew sauce drizzled on top with a bit of green onion and avocado for garnish. Delish!
Easy Chia Seed Pudding
Chia seeds are packed full of nutrition, including omega-3 fatty acids, fiber, and protein. And in pudding form, they make for a healthy start to your morning. With only four ingredients, this Chia Seed Pudding from Eating Bird Food can be made the night before and ready for an on-the-go breakfast if necessary. Top with your favorite whole food, breakfast toppings like fresh or frozen fruit, dried coconut flakes, cinnamon, granola, or nut butters to amp up the nutrients.
Breakfast Stuffed Sweet Potatoes
They may not be the first food that comes to mind when you think "breakfast," but these Breakfast Stuffed Sweet Potatoes from Paleo Gluten Free Eats may change your mind. Warm, baked sweet potatoes form the perfect base for sweet and savory toppings. Try some fresh sliced fruit or berries, nut butters, and seeds. A single sweet potato contains over double your vitamin A needs for the day, which helps your vision, immune system, and organs work properly.
Baked Vegan Zucchini Fritters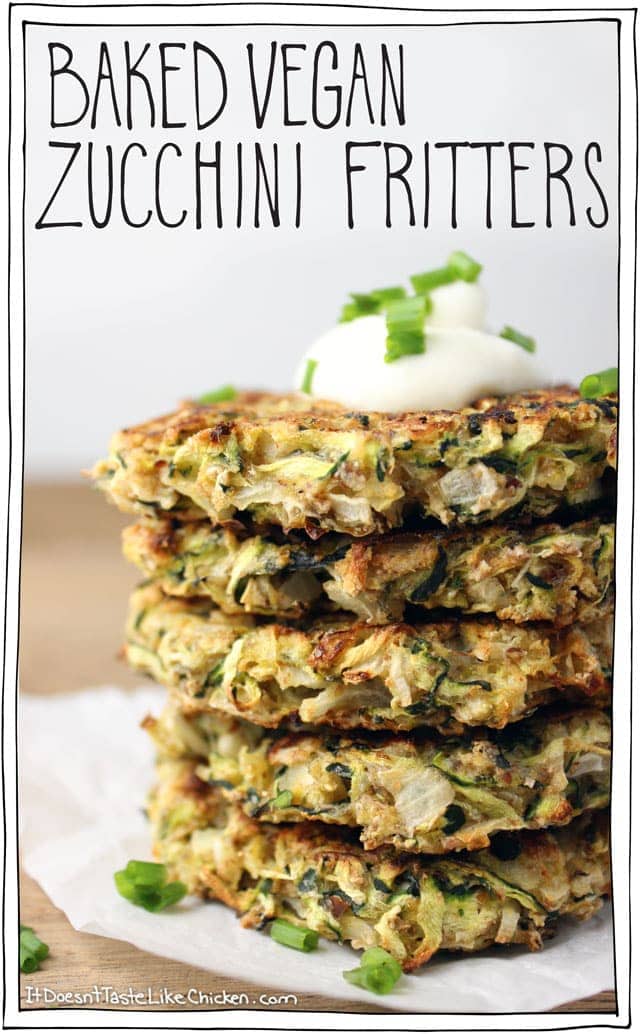 Baked Vegan Zucchini Fritters from It Doesn't Taste Like Chicken make for a light, but fancy breakfast. You can pair them with a plant-based yogurt, applesauce, or with some greens on the side. Zucchinis are particularly nutrient-dense and can help balance blood sugar and improve digestion making them beneficial for those with type 2 diabetes or digestive disorders.
Tell us in the comments:
What do you like to eat for breakfast?
What do you think of these healthy breakfast ideas?
Featured Image: iStock.com/GMVozd
Read Next: