In most parts of the world, summer means hot weather and plenty of sunshine. As sweat beads our brows and our core temperatures rise, we look for ways to cool off. Maybe that means a trip to the beach or pool. Or chilling in the shade during a cookout or BBQ, or perhaps downing a refreshing ice-cold beverage, water droplets seductively rolling down the sides of the glass. But what about delicious, refreshing desserts?
Many favorite summertime desserts are frozen or chilled treats like ice cream, popsicles, cheesecake, and pudding. But most of these desserts aren't exactly what we'd call healthy.
Take a look at the ingredients of a popular popsicle brand, and you'll be greeted with high fructose corn syrup, natural and artificial flavors, additives, and food dyes that are known to cause or increase hyperactivity in children. Boxed baking mixes aren't much better. Many include dairy and refined oils. And then, of course, there's ice cream. Whether dairy-based or not, ice creams have sugar, chemicals, and in most cases, unhealthy fats.
So, what can you eat if you want a little sweet and crispy cold treat after a healthy summer meal?
Luckily, just as there are whole food, plant-based alternatives to your favorite breakfast, lunch, and dinner recipes — there are also healthful, plant-powered summer desserts. And many of them taste pretty darn good! So, whether you have a bit of a sweet tooth or just want a fun and healthy way to eat more whole foods, try out some of these nourishing summer dessert recipes.
8 Healthy Summer Desserts that are Powered by Plants
Punctuate a plant-powered meal with these healthy summer desserts. They're full of whole foods like nuts, seeds, fruit, spices — and even legumes!
Creamy Chia Pudding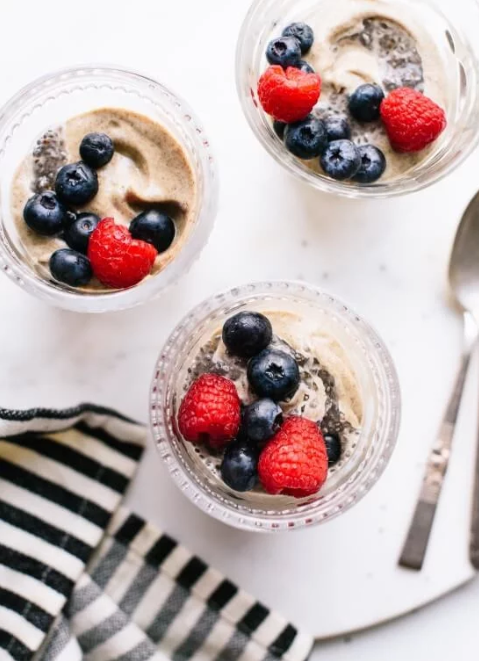 This satisfying Creamy Chia Pudding from Cookie + Kate is full of fiber, protein, and brain-healthy Omega-3s. Sweetened with dates and pureed with cashews, chia seeds, vanilla extract, and cinnamon, this recipe gives you a healthy summer dessert in a mere 20 minutes.
Tip: Top with fresh fruit. Or stir in some organic fair trade cocoa powder to add new flavor varieties every time you make it.
Chocolate Covered Bananas
A frozen, summer treat often found along beach boardwalks, these Chocolate Covered Bananas from Downshiftology hold all the nostalgia without the dairy. And with much less (or no) sugar.
The trick to these healthy summer desserts-on-a-stick is using high-quality, dark chocolate (at least 70% cocoa or higher). Go for brands that are organic, dairy-free, and fair trade. After melting the chocolate, simply dip the bananas in, and then sprinkle with your favorite whole food toppings. Try toppings like crumbled nuts, seeds, nut or seed butters, coconut flakes, or dried fruit.
Raw Raspberry Key Lime Tarts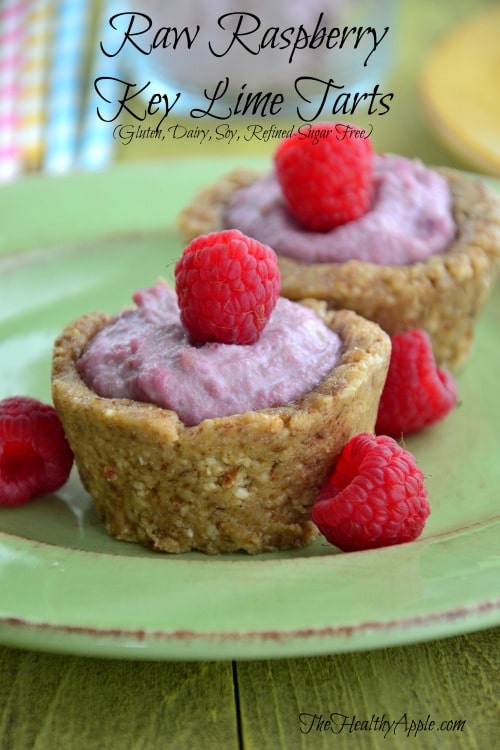 If a key lime pie, cheesecake, and fruit tart had a raw, whole foods, plant-based dessert baby, it would be these Raw Raspberry Key Lime Tarts from The Healthy Apple. Completely dairy- and gluten-free, this recipe primarily uses fruit and nuts to form the tart crust and pureed filling. And with 12 servings per batch, they're the perfect, healthy summer dessert to share with family and friends.
Boost Your Health: Omit the salt if watching your blood pressure. For a healthier liquid-based sweetener, try stevia glycerite or yacon syrup. And to go oil-free, substitute avocado for the coconut oil. (You can sub for either all or half of the oil, but if doing the latter, you may need to increase your wet ingredients slightly to compensate.)
Anti-Inflammatory Tropical Turmeric Popsicles
Store-bought popsicles often have a long list of ingredients with seriously concerning ingredients like added sugars, food colorings, and so-called "natural" flavors. And many contain no fruit, despite their fruity names!
But now you can avoid harmful additives and still enjoy a refreshing summer popsicle with these Anti-Inflammatory Tropical Turmeric Popsicles from Abra's Kitchen. Made with pureed pineapples and kiwi, these popsicles rely on fruit's natural sweetness. And with the addition of turmeric and black pepper (to boost bioavailability), you can fight chronic disease while also enjoying this healthy summer dessert.
Boost Your Health: Omit the coconut oil to go oil-free. You can also substitute with raw coconut meat or unsweetened coconut flakes to keep the coconut flavor.
Strawberry Ice Cream
Plant-based ice cream might sound like an oxymoron, but it's not! You can quickly and easily make a healthy frozen treat using your favorite fruits.
Plant-Based Cooking's Strawberry Ice Cream recipe uses just five ingredients: bananas, frozen organic strawberries, raw cashews, Medjool dates, and homemade almond milk. Simply blend together — serving immediately or freezing for later.
Healthy Black Bean Brownies
Delicious and decadent brownies that are dairy-free, gluten-free, and oil-free? Yes, they do exist! Flora and Vino's Black Bean Blender Brownies check off all the boxes and are the perfect dessert for sharing at a summer potluck or cookout.
This recipe uses natural, plant-based, whole foods like black beans, Medjool dates, and bananas to create a fudgy texture full of fiber.
Boost Your Health: Choose certified gluten-free, organic oat flour if you avoid gluten (due to allergy or preference) and to prevent glyphosate exposure. And use organic, fair trade, non-alkalized cacao powder to maximize its health benefits.
Easy Peach Crisp with Oats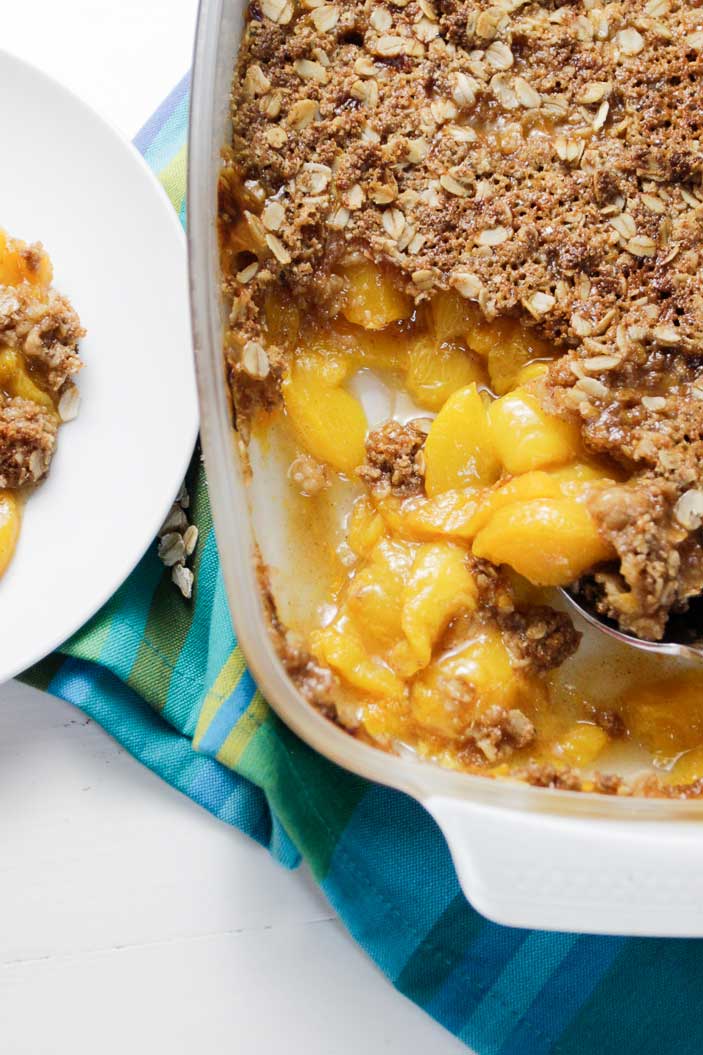 Ripe peaches can make a delicious snack or healthy summer dessert on their own. But why not try making a warm, baked recipe like Plant-Based Cooking's Easy Peach Crisp with Oats?
Date sugar is the primary sugar substitute used in this plant-based dessert (with a little bit of maple syrup added in). And you'll even get a fragrant blend of anti-inflammatory spices like cinnamon and nutmeg to sweeten the deal. Plus, aside from getting an essential serving of fruit with your dessert, this recipe is an excellent source of fiber and protein.
Boost Your Health: Choose certified gluten-free, organic oats if you avoid gluten and to prevent glyphosate exposure. Omit the maple syrup and reduce the amount of date sugar (which is pretty high!) to rely more on the natural sweetness of the peaches.
Lemon Bars
A traditional American dessert bar, lemon bars are usually made with dairy and added sugars. But with From My Bowl's dairy-free Lemon Bars, you can enjoy a healthier take.
Made with real lemons and a crust of almonds, flax "egg," rolled oats, maple syrup, and a little salt, you'll get a satisfying balance of tart, sweet, and savory flavors all rolled up into one healthy summer dessert.
Boost Your Health: Omit the salt if watching your blood pressure. For a healthier, liquid-based sweetener, try stevia glycerite or yacon syrup.
Of course, for the healthiest summer dessert of all, you can simply reach for a few pieces of fruit. Try mixed berries in a bowl, watermelon and fresh mint, or sliced apples with a bit of nut butter.
Or grab some frozen slices of peach or mango right out of the freezer, and munch away!
Enjoying nature's candy also has the benefit of giving you a belly full of fiber. And evidence suggests fiber aids weight loss and control, prevents chronic disease, and assists with overall mental and physical wellness.
So, don't desert these healthy summer desserts!
Tell us in the comments:
What do you think of these healthy summer desserts?

What are some of your favorite summer desserts?

Which fruits or fruit-filled desserts will you enjoy next?
Featured Image: iStock.com/wmaster890
Read Next: