There's something immensely satisfying about healthy vegan dishes like lentil stew and bean-based sloppy joes. They're comforting, filling, inexpensive, hard to mess up, and on-point healthy. But there are downsides to dishes like those, too: they're decidedly unfancy and generally unphotogenic. There's only so much you can do to pretty up brown mush in a bowl. And these days, when eating out is a distant memory for some of us, it's nice to spend some time not just on taste and health, but a visually pleasing presentation as well. Not to mention that some of us also want to get likes, ooh, and ahs on our Instagram and Facebook posts of our latest culinary creations. And so enters the vegan charcuterie board.
Charcuterie (pronounced "shar-koo-tuh-ree," with the "koo" and "ree" accented) boards are a popular food trend at the moment. They're aesthetically pleasing and constructing them can be a kind of design meditation, calling for creativity and focus in equal measure. And unlike scrapbooking or calligraphy, you get to eat your artwork when you're done. Thanks to social media, you can also share your talent and vision with your friends, too.
Grazing Boards
Charcuterie boards became extra popular during the pandemic because they allow people to feel elegant and sophisticated while preparing food at home. Typically a staple of large gatherings, the boards conjure up fancy soirees and sumptuous banquets, while providing a snack or meal for a few family members, or just yourself. And thanks to Zoom and Facetime, you can even coordinate mealtimes and enjoy your board while chatting with loved ones and feasting your eyes on their virtual ones.
Charcuterie boards are also known as "grazing boards," since you interact with them as if they are mini-buffets: have a bite of this, a nibble of that, and well, since you insist, a couple more of these. Think of them as "party platters" with a design budget.
This article will introduce you to charcuterie boards if you're new to the concept, explain why you might want to make one, and give you ideas for delicious and beautiful plant-based versions.
What Is a Charcuterie Board?
Traditionally, a charcuterie board meant a presentation of cured meats, aged cheese, and other bite-sized food and snack pairings presented on a wooden board. If there ever was a word whose etymology screamed, "OK, vegans, nothing to see here; keep moving," it's charcuterie. The word is French for "pig butcher," and derives from the French chair (meat) and cuit (cooked).
Rather than an extravagance, these foods were a way to preserve meat and cheese in an era before electrified refrigeration. Other preserved items also claim their space on the board, including pickled vegetables, canned fruit, and jams and preserves.
In modern times, the charcuterie board came to symbolize a kind of rustic elegance. Typically paired with wine, the boards receive cordon bleu treatment at fancy restaurants and wine bars. In France, there are actually shops called charcuteries that specialize in — you guessed it — charcuterie.
Is Plant-Based or Vegan Charcuterie Really Possible?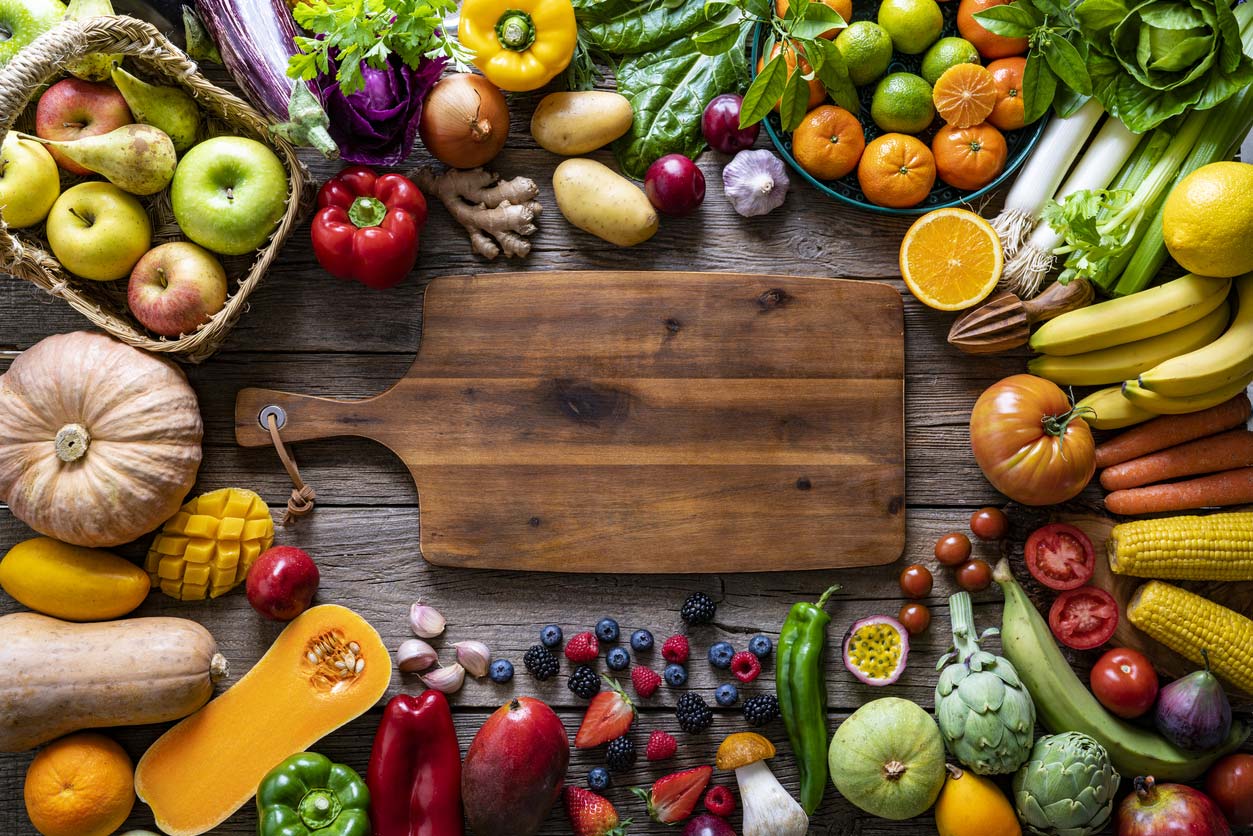 Although charcuterie boards traditionally highlight animal products, vegans can join in on the fun too. If we can buy plant milks, plant-based cheeses, and plant-based meats that increasingly rival the originals, then why, the thinking goes, shouldn't anyone be able to also enjoy a lovely and yummy plant-based grazing plate? After all, if the linguistic origins of charcuterie are meat-based, then I feel compelled to point out that the etymological root of "grazing" is plant-based: the Middle High German grasen, meaning grass.)
A Google Image search for "vegan charcuterie board" will instantly convince you that this is now a thing. As I gazed at image after image, I was struck by their beauty and variety. Forget about salami and gouda squares; grazing boards and plant-based tidbits are a match made in culinary heaven! They really showcase the colors and textures of plant foods. And they provide a perfect pallet for creativity and abundance in the absence of animal products.
To be fair, modern charcuterie boards — even non-vegan versions — are now much more than their traditional cured meat and cheese predecessors. Now, these boards can feature any combination of snack-sized food items; grapes, olives, melon cubes, nuts, crackers, crudités. Add some tasty plant-based meats and cheeses, and you've got a grazing board that any pig butcher could envy.
Benefits of Making a Vegan Grazing Board
If you like the idea of a charcuterie board, but don't fancy the health and environmental impacts of eating animal products, you can make it vegan or plant-based, thereby keeping the baby while throwing out the bathwater (to borrow a really weird expression when you think about it).
1. No cooking is required.
Also, the boards don't require any cooking, as they're typically served at room temperature. And unlike meats, you can eat most plant-based ingredients raw. If you're pressed for time, skipping the cooking part can also help get yummy food on the table in a jiffy.
2. They're fun to put together.
Not that speed has to be the key factor here — you can also have fun putting together your boards by thinking of them as crafts projects. Check out this Instagram for inspiration. And hey, if you're very artsy (or crafty), why not aim high, and render the Mona Lisa, Starry Night, or The Scream in carrots, celery, olives, almonds, and hummus? Your social media followers will love it!
3. They're aesthetically pleasing.
Even if you weren't a fine arts major, you can still derive great pleasure from the aesthetic qualities of plant-based grazing boards. I mean, the colors! The textures! The variety! Even a simple board, with sliced yellow and red peppers, carrots, and some nuts and dried fruit can spark creativity and joy in both maker and eater alike. And the extra effort communicates that this meal is special, and so are the people gathered around the table — even if they're the same people as always.
4. They're family-friendly.
Grazing board construction is a great family activity. And unlike Scrabble, there's no dictionary required. As long as an adult retains control over knives and peelers, young children can participate fully. You can even aim for group enlightenment through contemplation of impermanence by creating a unique work of art, and then eating it, a la Tibetan sand mandalas.
5. They're versatile.
Another nice thing about boards is their versatility. They work as appetizers, snacks and small meals, potluck offerings at gatherings, and, if you pack the ingredients in separate containers (here are some nifty, plastic-free container options), throw-together-on-the-go picnic dishes. Depending on how fast you drive and take curves, I suppose you could put the board together at home, and then carefully transport it to the picnic site.
6. They encourage food exploration.
And thanks to the elegance and novelty of the boards, you have a certain freedom to introduce new foods and food pairings into your life. Where else would you see cherry tomatoes, clementines, pickles, and pistachios on the same plate? Boards are a great way to get family and friends to experience plant-based foods that are unfamiliar to them, whether it's uncommon fruits and veggies like pomelos and endive, or meat and cheese analogues that look and taste like the original articles (or better!).
How to Make a DIY Vegan Charcuterie Board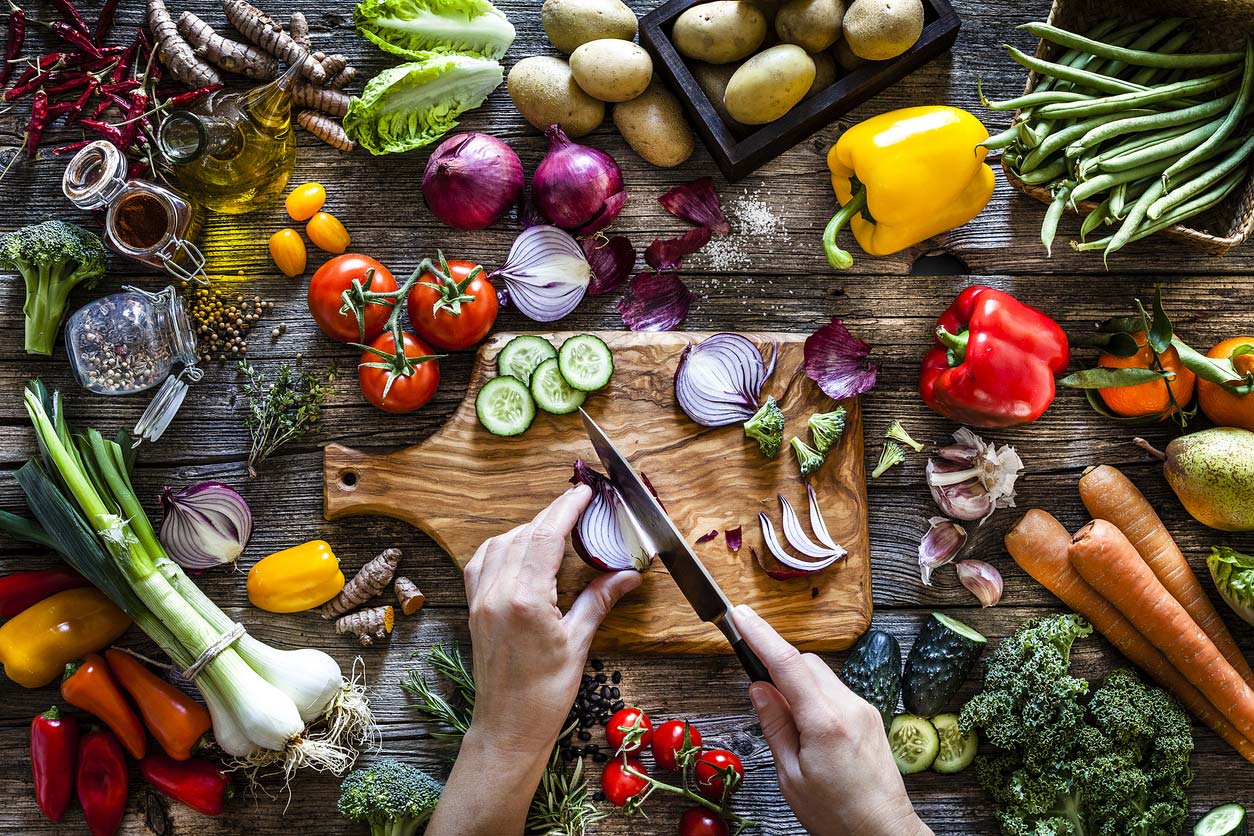 Charcuterie boards typically tilt toward savory with a little bit of sweet mixed in. But you should feel free to experiment with different flavor pairings. If you're completely overwhelmed by the blank canvas (that's a metaphor; I strongly recommend a wooden board, and not an actual stretched canvas from an art supply store) and the virtually unlimited variety of things to paint it with (again, metaphor), you might start by choosing a constraint to reduce your choices.
Start with a Theme
Consider starting with a theme. For example, all the produce is local and sourced from a nearby farmers market. Or you could go with all food you can only get in season. During May in the Northern hemisphere, that might look like asparagus, spring greens, radishes, snap peas, sugar peas, and strawberries.
You can also guide your choices by sticking to a particular cuisine: Mediterranean (olives, hummus, almonds, figs, flatbread, and grapes); Japanese (pickled cucumber, veggie sushi, edamame, papaya, wasabi peas); and so on.
Or you can just use color as your guide. Aim for the rainbow (red strawberries, orange carrot sticks, yellow squash rounds, green broccoli spears, handfuls of blueberries, indigo plums, and violet cabbage). Or limit yourself to one or two colors. On game days, you can root for Michigan with a blue and yellow-themed board, or cheer on the Mets through blues and oranges. Even if you're a Browns fan, cauliflower and carrots can signal your devotion.
What to Include on Your Vegan Charcuterie Board
In terms of balancing the various elements, you can do whatever you want, of course. But if you're looking for guidelines as a beginner, here are some typical form factors: something pre-sliced (cucumber rounds, tempeh "bacon," plant-based cheese slices), something that needs slicing (a round of whole-grain sourdough bread, or a wheel of plant-based cheese), something to spread (hummus, baba ghanouj, or soft "cheeze"), and accents (nuts, cubed veggies, small fresh and dried fruits).
Meat Analogues
If you want to pay homage to the charcuterie board's meaty origins, you can feature plant-based meats as well. These can range from grilled mushrooms, which can approximate the texture and umami flavor of meat, to marinated and baked tofu or tempeh, plant-based sausages, and even quite convincing sliced, deli-style plant meats.
Dairy Analogues
For dairy equivalents, you can make your own nut- or seed-based versions, or find commercial versions, of just about every kind of cheese or cheese spread. At a natural foods store the other day, I passed a display of non-dairy smoked gouda slices, feta cubes, brie wheels, and a chunk of pepper jack, along with several different varieties of cream cheese. All of them were, remarkably enough, cow-free.
Fruits, Vegetables & Nuts
To fruitify your board, you can mix and match fresh and dried fruit, as well as add some spreadable sweetness and tanginess with natural fruit jams. Think red and green grapes, and maybe apple and pear slices. Get your veggies on with raw or pickled vegetables. And don't forget the gut-loving fermented foods like sauerkraut, kimchi, and pickles. Olives are great, too. And a decent deli or supermarket may carry dozens of different kinds. Just make sure to alert your guests if they need to watch out for pits. And as long as no one is allergic, nuts and seeds can provide crunch and a lovely dose of omega-3s, too.
Dips & Condiments
You can also go to town with various dips and condiments. Bean-based dips and spreads range from classic hummus to Southwestern bean dip to jaunty white bean and miso sauce. Veggie-based dips, including cheeze sauces made from root veggies like potatoes, carrots, or winter squash, can lend both color and nutritional excellence to your boards. You can add herbs and spices, either fresh (chopped parsley and basil, for example) or as a seasoning to sprinkle on top. And optionally, offer bread or crackers as "boats" for delivering the dips and finger foods to your mouth.
Consider a Beverage Pairing
Since fancy charcuterie boards are traditionally paired with wines, you may want to get in on the fun in a flavorful and non-alcoholic way. Think about pairing your grazing board with different kombucha varieties, mocktails, sparkling water with lemon or lime, or ice teas.
Have Fun Arranging & Eating Your Food!
Once you've chosen the elements for your board, it's time to tap into your inner artist and start arranging them. You can use a regular wooden cutting board, or a platter, or even splurge on a designated charcuterie board. Here's a simple wooden board with a handle, and a fancy set that includes an expandable cheese board, round platter, dipping bowls, and cheese knives. You can also complement the main board with small dishes or bowls, either on the board or to the side, for accents and dips. Here's a 6-piece ceramic set to consider.
In the interest of hygiene and elegant manners, I suggest including utensils so you don't have to touch all the food with your fingers. These can include tongs, adorable little utensils, and even eco-friendly toothpicks.
5 Delectable Recipes to Make for Your Grazing Board
Ready to tap into your creativity and start your piece of plant-based charcuterie art? We have the basics to get you started — a creamy spread (Herbed Cashew Cheeze), a crispy cracker to carry the spread (Crispy Rosemary Cracker Thins), pickled veggies (Pickled Carrots and Cauliflower), pre-sliced plant "meat" (Tempeh Bacon) and a crunchy accent (Sesame Coated Almonds). From there, we invite you to make it more colorful and vibrant with your own additions like delicate herbs from your garden, fresh cut vegetables from your local market, or homemade fruit preserves from your kitchen.
And, most importantly, snap a photo of your art and share it with us below or tag @foodrevolutionnetwork on social media!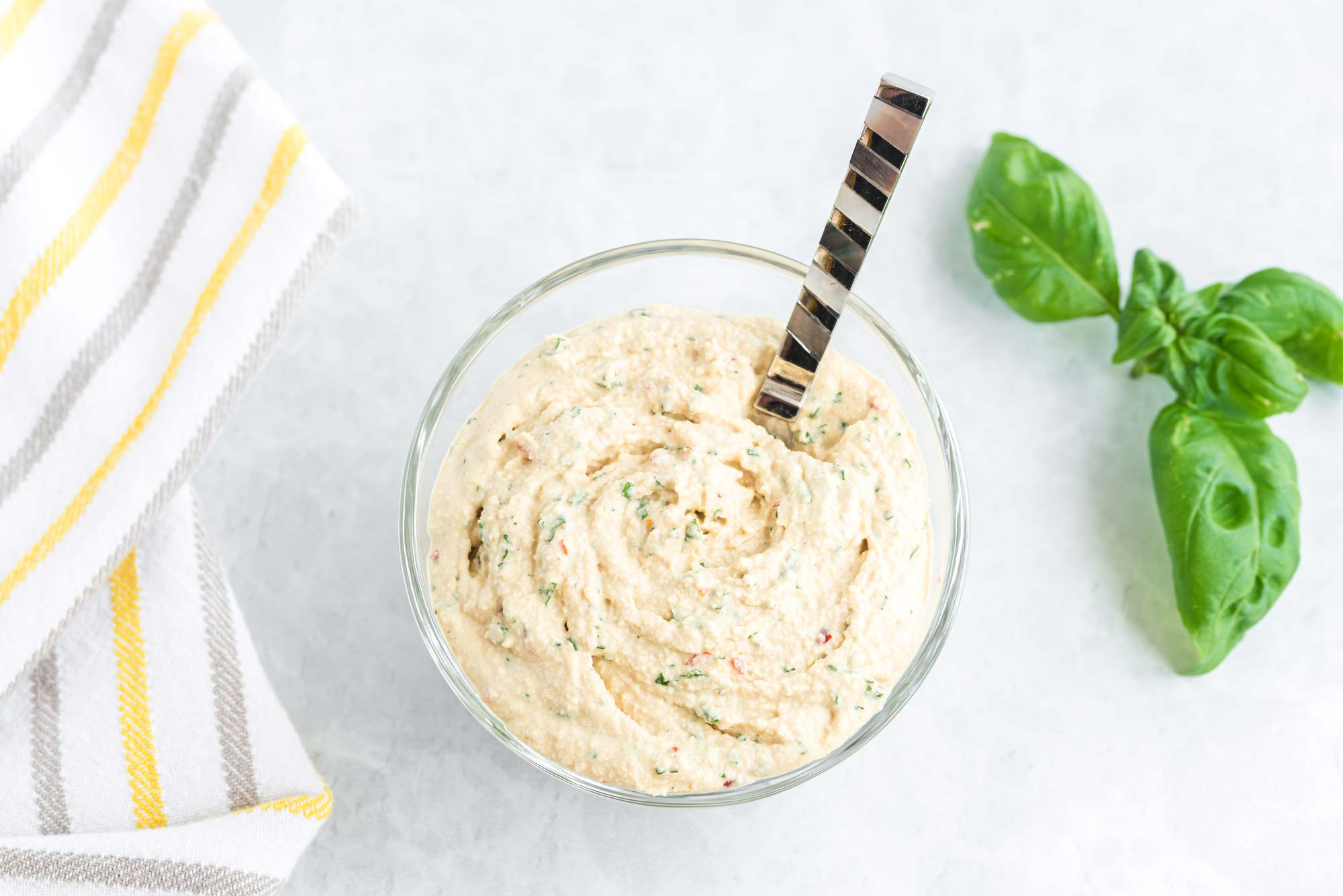 What's a charcuterie board without a creamy, rich, and flavorful (plant-based) spread? Herbed Cashew Cheeze is simple to make as long as you have a blender (even a hand-held immersion blender works!). What's really cool about this cheeze is that you can swap the herbs depending on your board's theme. Add rosemary and oregano for an Italian-theme, Thai basil, and cilantro for an Asian-theme, or parsley and dill for a Mediterranean-theme. The options are endless!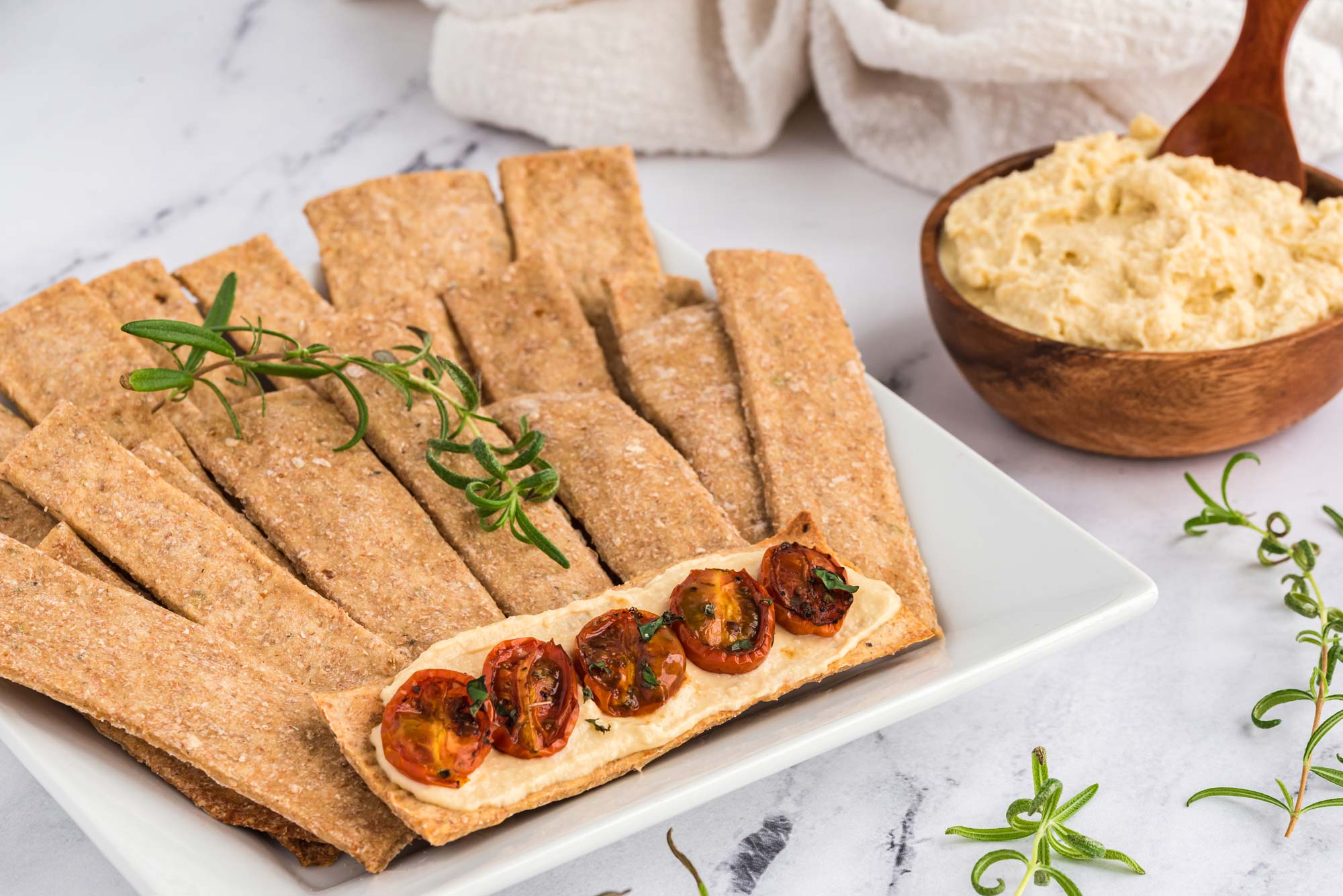 Cracker-making in your own kitchen has never been easier! Make these crispy thins ahead of time and store them in an airtight container in your cupboard until you're ready to create your charcuterie board. Use rosemary and oregano as the Saveur du jour. Or select other herbs to fit the charcuterie theme of your choice. Add spreads like plant-based cheese, hummus, and bean dip to the board so that your guests have spreadable options for their crispy crackers.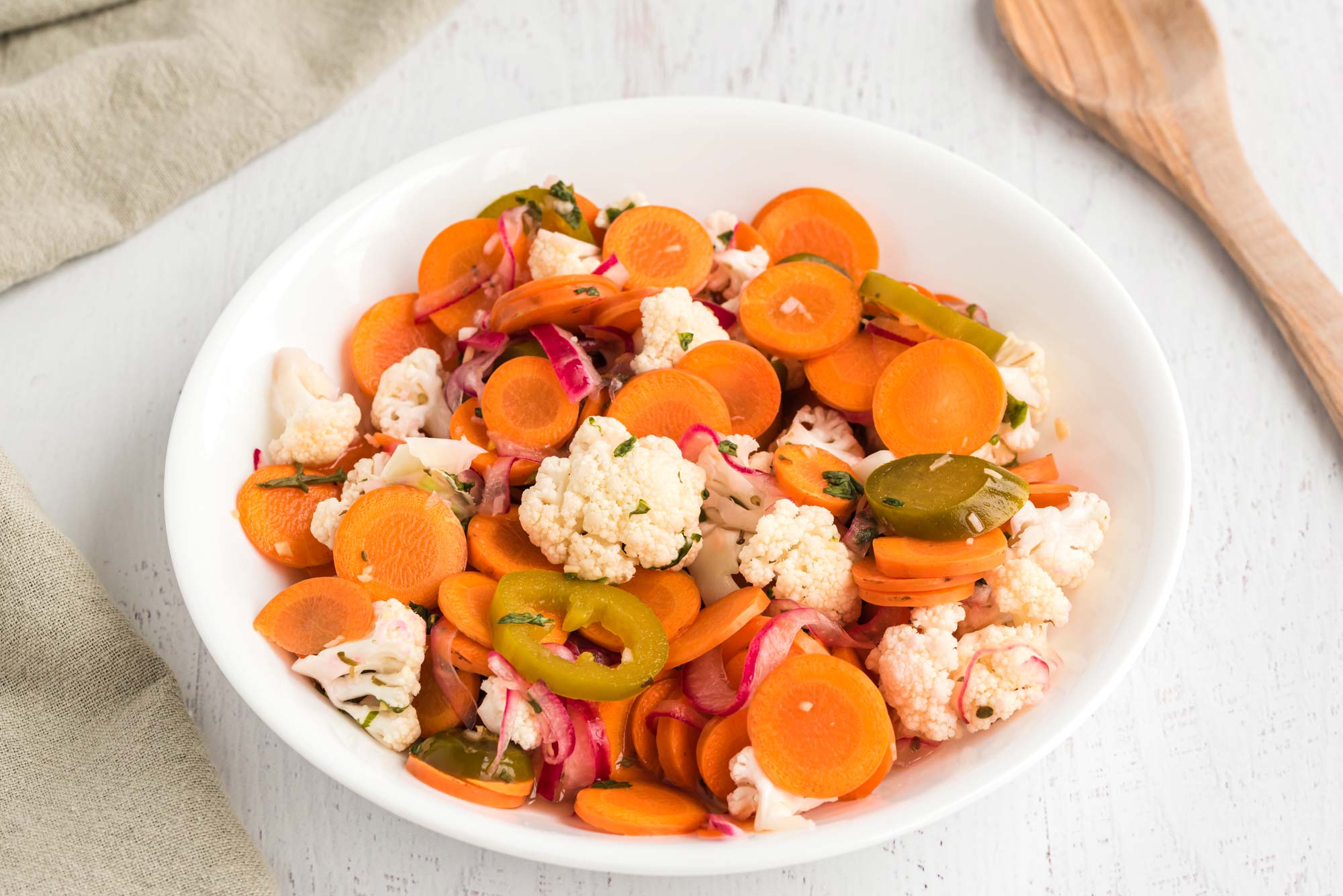 Every charcuterie board deserves a tasty pickled item. Use the marinade in this recipe to create a variety of pickled vegetables. If you don't have carrots and cauliflower on hand, try radishes, beets, or peppers. Or, if you're creating an Asian-themed board, opt for fresh ginger slices. Your guests will think you labored over these crunchy and tasty delights for hours when actually it only takes 10 minutes to prep!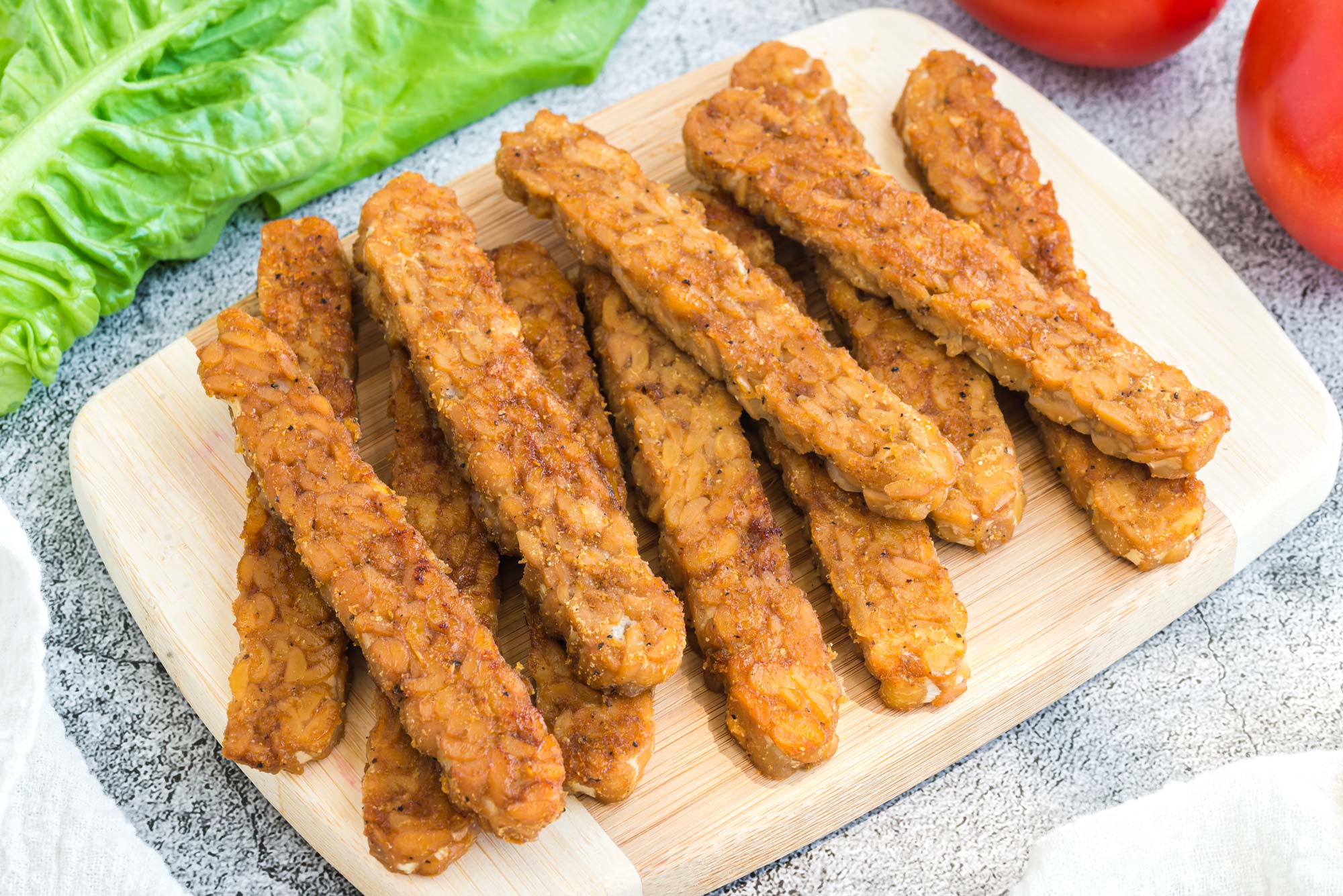 This environmentally-friendly and healthy, protein-rich, plant food is everything you could ever want in a plant-based appetizer — savory, smoky, and satisfying — complementing the other board items perfectly. The trick for getting tempeh to absorb all of the delicious marinade flavors is to steam or boil it first for about 15 minutes, which softens the tempeh and allows the marinade to fully absorb. After that, making this recipe is a piece of (tempeh) cake!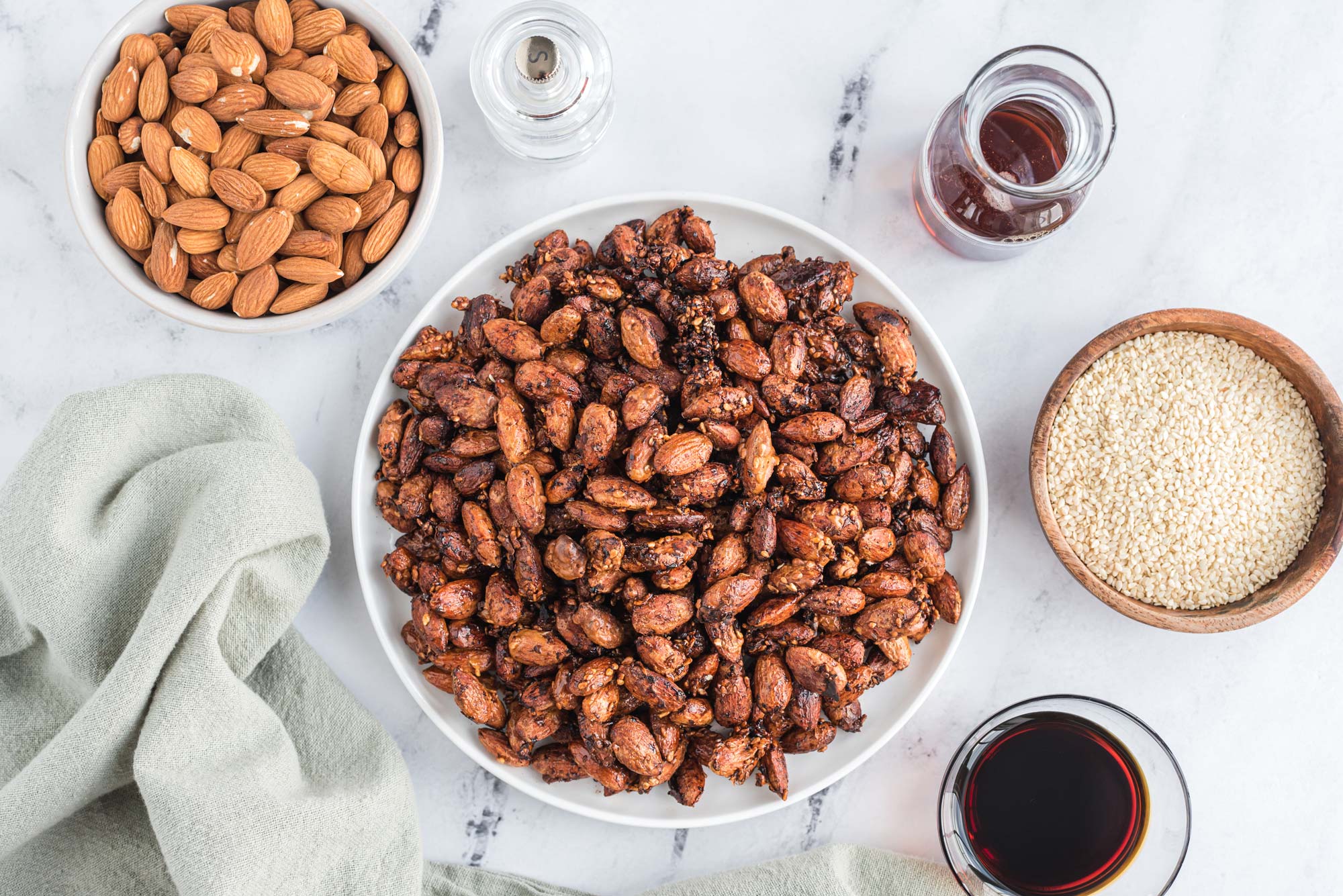 Who doesn't love crunchy nuts as part of their healthy snacking? (Nut-allergic friends, we have a substitute for you that is just as good as almonds!) Soft raw almonds become snacking delights when roasted or, if you're lucky enough to have a dehydrator, dehydrated. Scatter them across the board as a part of your art creation. Or place them neatly in a bowl with a spoon for serving. Pro tip: double the batch because they'll go fast!
Graze Away!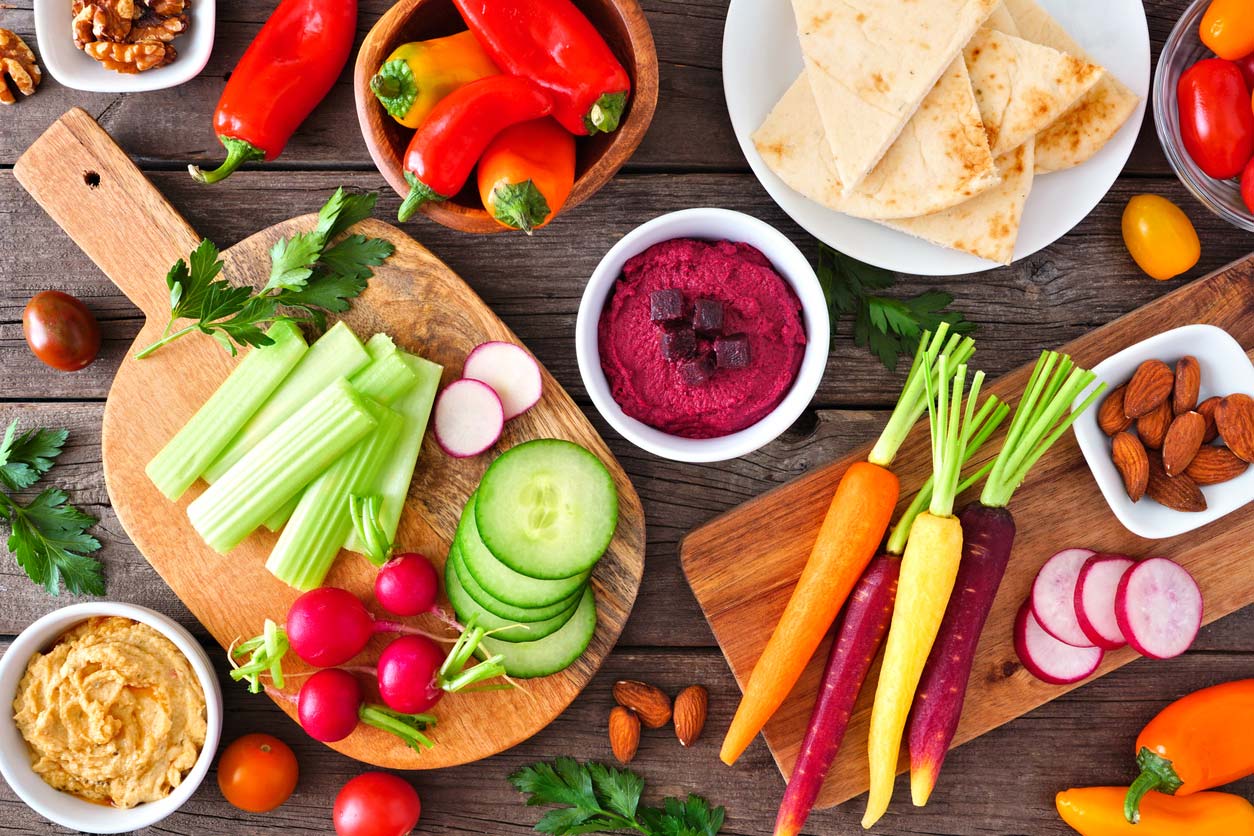 Charcuterie boards are a fun way to add a vibrant touch to your culinary life. And they aren't just for meat and cheese eaters anymore. Plant-based eaters can partake as well. Now, you can whip up a vegan charcuterie board for yourself at home and share your creation online. Or make one to impress your next small gathering with a tasty, creative, aesthetically pleasing, and healthy, culinary experience.
Tell us in the comments:
What are your favorite plant-based grazing board items?
Which ingredients will you experiment with in your next grazing board?
What are your favorite presentation-centric ways to share appetizers and small plates?
Feature image: iStock.com/jenifoto
Read Next: