Thousands of years ago, early cooks tossed grains and veggies into the cavity left when an animal's organs were removed prior to cooking. It was an efficient way to cook lots of things at once, and it also added flavor and texture to the animal.
The first recorded history of stuffing food comes from Apicius, de re Coquinaria (which translates to "Apicius, on the Matter of Cooking"), a Roman collection of popular recipes from the first century CE. The Apicius in question, Marcus Gavius Apicius, was far more interested in novelty and extravagance than practicality. A famous gourmand and epicure, Apicius threw such lavish and frequent parties that he went bankrupt.
For the most part, though, stuffing dishes were far more modest and plain. Romans typically combined spelt (a type of early wheat) with spices, herbs, and vegetables and stuffed the mixture into a variety of animals. In the absence of a whole animal, meats were cut or ground into the stuffing and baked in flour crusts, producing early pies and pastries.
Today, we can honor this tradition without using meat or refined grains. It turns out that many cultures also mastered the art of stuffing vegetables with herbs, spices, grains, nuts, seeds, and other vegetables. In this article, we'll look at a bunch of ways you can create flavorful, nutritious, and filling stuffed vegetables.
By the end, you'll definitely know your stuff(ing)!
Why Stuff Vegetables?
Stuffing vegetables is a great way to use up leftovers if you don't have enough for a full meal. You can also stretch a single meal into multiple ones by adding the leftover food scraps to a stuffing mixture, which is much better than letting it go to waste.
This can work even if you only have a small amount of food left, depending on what size vegetable you're going to stuff. Button mushrooms with the caps removed or baby jalapeños can make a lovely stuffed vegetable side dish or appetizer and don't require a large quantity of stuffing.
Stuffing larger vegetables allows them to stand on their own, as self-contained meals. I love it when the food itself serves as the bowl or plate — fewer dishes to wash! Some kinds of stuffed vegetables also make good finger food, which you can eat in a few bites without the need for utensils — something you can take to a potluck party or picnic.
And stuffing veggies can also make them seem fun. Kids love stuffed vegetables, as do some grown-ups who used to be kids. If you're looking for ways to "sneak" more veggies into a picky eater's diet, stuffed veggies can be just the ticket. And since stuffing is so universal, you can experiment with lots of different flavor profiles and varied textures, from chunky to pureed stuffings.
Best Vegetables to Stuff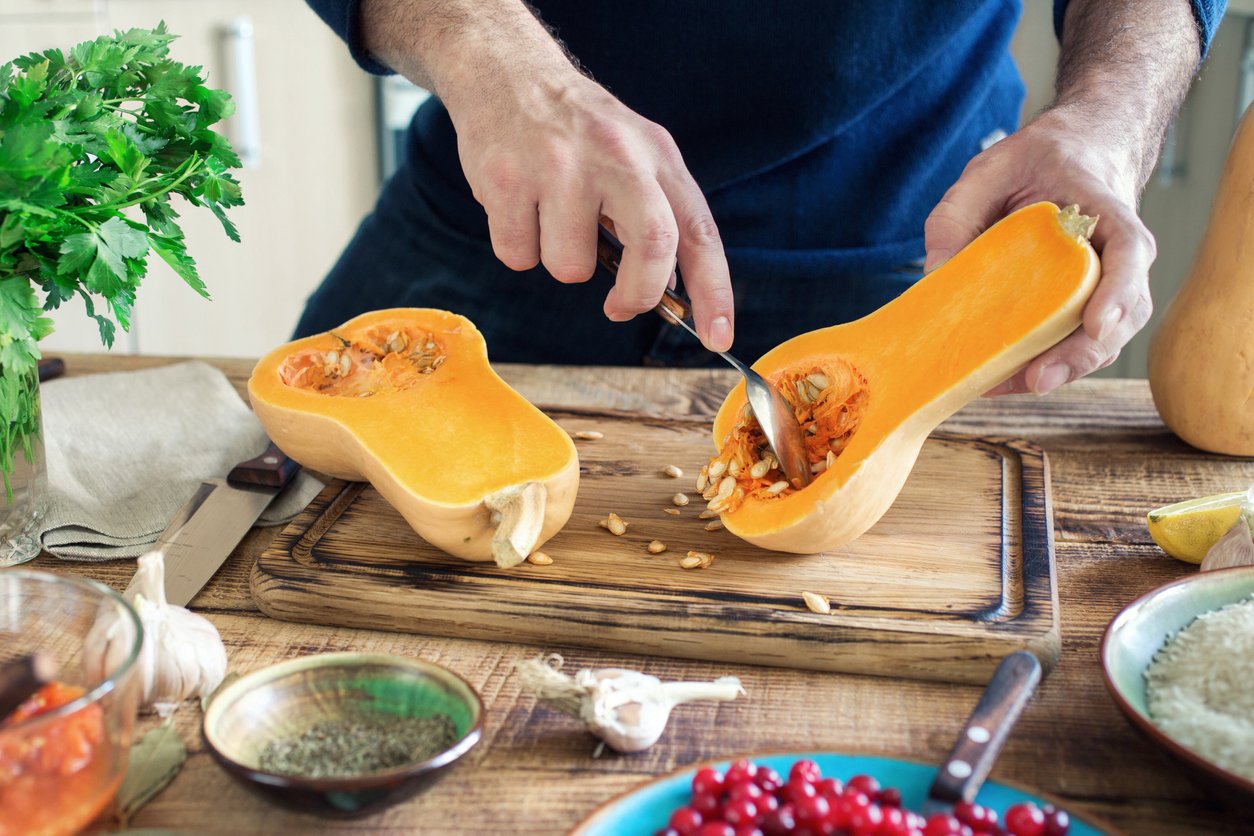 Some veggies are naturally hollow or contain concavities into which you can put stuffing. The classic examples are bell and hot peppers, which are hollow except for a bunch of easily removable seeds in the middle. Squash blossom, the flower that precedes the squash fruit, is another edible with a ready-made pocket practically begging to be filled with something delicious.
With other veggies, you can make space by removing unwanted bits, like stems, pits, and seeds. Snap the stem off a button or portobello mushroom and you've got a small bowl into which you can spoon some stuffing, as well as let it overflow onto the upside-down cap. And when you remove the seeds from summer or winter squash (acorn, butternut, and kabocha come to mind), or a big and juicy tomato, you end up with a decent-sized chamber that can accommodate a fair amount of yummy stuffing.
Some veggies also have skins that make great containers. With potatoes, sweet potatoes, eggplant, and avocados, you can mix their flesh into the stuffing and then put it back into their skins.
And you can also put stuffing into veggie wraps by using cabbage, collard greens, Swiss chard, or even grape leaves as the stuffed vegetable.
What to Stuff Vegetables With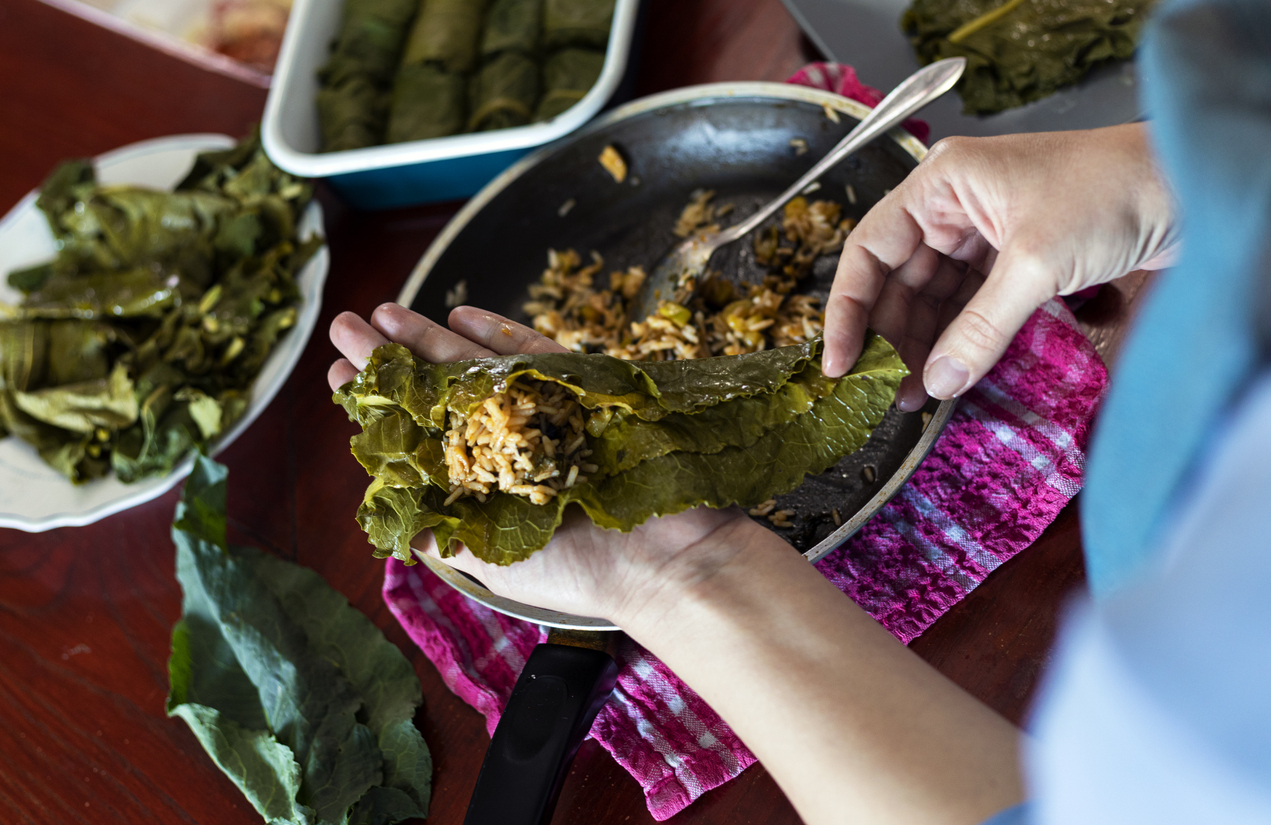 Stuffing Vegetables with Grains and Beans
Here's where you can really get creative. Just about any plant food can make up a stuffing. Grains commonly go into stuffed peppers, cabbage, and squash. Some types of grains that make good stuffing fillings include rice, corn, quinoa, farro, millet, couscous, teff, and more.
Beans and lentils also go well in stuffed peppers, squash, zucchini, eggplant, or potatoes. You can use them whole or mashed.
Stuffing Vegetables with Dips, Spreads, and Sauces
For flavoring your stuffed vegetable recipes, you can include various sauces, spreads, and dips, either cold or warmed up. Italian stuffed vegetable recipes often have a tomato sauce base, for example. Jalapeño poppers typically come stuffed with a cream cheese-based spread. Below, we'll share a recipe that uses a plant-based nut cheese in place of a dairy-based cream cheese stuffing. Spinach artichoke dip also pairs well stuffed into mushrooms.
Seeds and Nuts in Stuffing
Nuts and seeds can add flavor, fat, and texture to stuffing recipes. They're traditionally part of fall or winter stuffed vegetable dishes, like stuffed squash.
Stuffed Vegetable Seasoning
And the sky's the limit on herbs and spices. Depending on the cuisine you're drawing upon for inspiration, you can use traditional spice blends. For example, Italian stuffed veggie dishes typically feature herbs like parsley, basil, and oregano. Paprika and onion provide zip to Hungarian stuffed peppers. Middle Eastern-inspired stuffed grape leaves may highlight cinnamon, nutmeg, coriander, and sumac.
Vegetables in Stuffing
You can also use vegetables in your stuffing, as they can taste great inside other vegetables. You can chop up yellow squash and use it in a stuffed tomato or eggplant, for example. Or, if you want to go full plant-based Marcus Gavius Apicius on a budget, finely chop a mushroom, stuff it into a small zucchini boat, and stick that in a large eggplant. You have your very own turducken-like monstrosity, an eggzuchshroom, which my spell checker has absolutely no idea what to do with.
Using Fruit in Stuffed Vegetables
If you're feeling really adventurous, try mixing in some dried fruit, such as apricots, cherries, raisins, dates, or cranberries. This is common in Middle Eastern and North African recipes, as well as fall holiday recipes that are traditional in Europe and the US.
Going Meatless & Dairyless in Stuffed Vegetable Recipes
Finally, you can also "meat" traditional stuffing recipes halfway by using plant-based meat and cheese analogues. Many traditional stuffed vegetable recipes include meat and dairy products. But you can prepare your own meat- and dairy-free homemade versions using whole foods or (in moderation) with store-bought analogues.
Some whole plant foods that can substitute for meat in many recipes like stuffed peppers include jackfruit (which makes a great pulled not-pork), oyster mushrooms (they've got a chicken-like look and texture), and tempeh (which you can marinate to make a wonderful bacon alternative).
In place of dairy, you can use a nut cheese or vegetable-based cheese made from cauliflower or butternut squash for a stuffing spread or creamy topping. And for that parmesan flourish, sprinkle a walnut-nutritional yeast blend on top.
To Cook or Not to Cook Stuffed Vegetables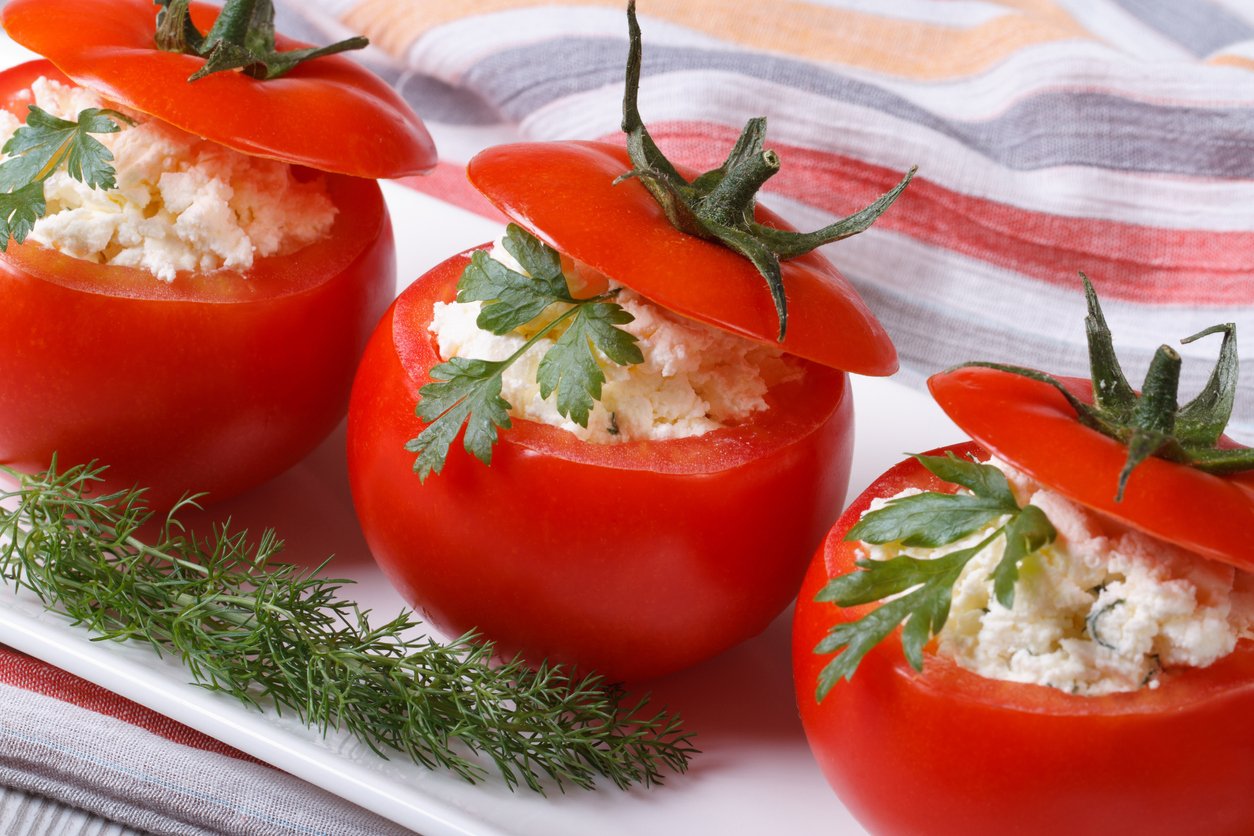 The world of stuffing has few rules. (One might be, don't pack popping corn into a Tofurkey unless you want your oven to explode, but that's not what I'm talking about.) You can cook your stuffed veggies or eat them and their fillings raw, depending on the ingredients.
If you typically eat veggies raw, such as tomatoes or peppers, you can stuff them raw. In those cases, I recommend stuffing your vegetables with a cold mixture such as a dip, spread, sauce, or other raw vegetables. For example, stuff raw tomatoes with herbed cashew cheese, or stuff a raw yellow bell pepper with salad ingredients, such as chopped lettuce, tomato, carrot, and red onion.
Just remember that if you're going for the comfort food vibe, you'll probably want to use cooked vegetables and stuffings. Also, if you're stuffing mushrooms, it's always a good idea to cook them in order to break down the toxin agaratine.
Stuffed Vegetable Recipes
Get ready for one of our most delicious recipe roundups yet! Super Stuffed Mushrooms are a tasty and nourishing stuffed appetizer that any mushroom fan would love. Speaking of appetizers, the Jalapeño Poppers are truly a flavor to savor. And Southwest Stuffed Sweet Potatoes are the real MVP of stuffed vegetable recipes thanks to their bountiful ingredients and diversity of textures and nutrition.
Since we often eat with our eyes, Quinoa, Lentil, and Mushroom-Stuffed Acorn Squash creates a beautiful presentation for a festive plant-based meal and is the perfect dish to share with family and friends. And the Bean Chili in Delicata Squash Boats is the stuffed vegetable version of sweet potato chili. If delicata squash is new to you, we highly recommend you try this comforting and tasty recipe.
Finally, Lentil and Quinoa Stuffed Peppers are one of our favorite ways to use sweet and crunchy bell peppers. After all, they do make the perfect vehicle for stuffing. And the Sprouted Mediterranean Crunch Avocado Bowl may be last on this list, but it's certainly not least. These adorable stuffed bowls use the skin of the avocado to house the creamy flesh of the fruit, mixed together with crunchy vegetables and bright citrus for stuffing that is absolutely scrumptious. We hope you enjoy exploring the delicious world of vegan stuffed vegetables!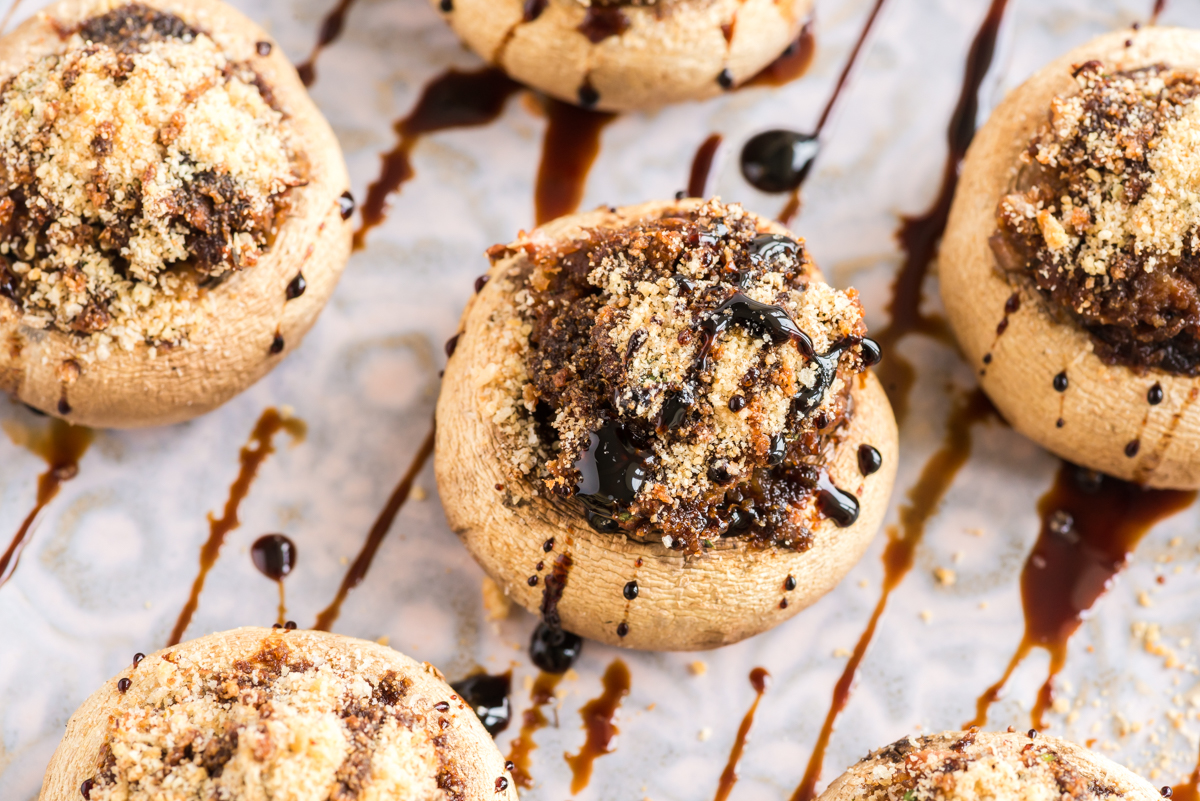 The plant-based options for stuffing savory mushrooms are endless, but fresh herbs, shallots, and nutritional yeast truly take the (plant-based) cake. They add lots of flavor, satisfying texture, and plenty of nutrition. Did we mention flavor? These umami beauties are the perfect vessel for stuffing with an array of vegetables. Make them for the whole family as an appetizer or enjoy them solo as a meal (with a side of organic leafy greens, of course!).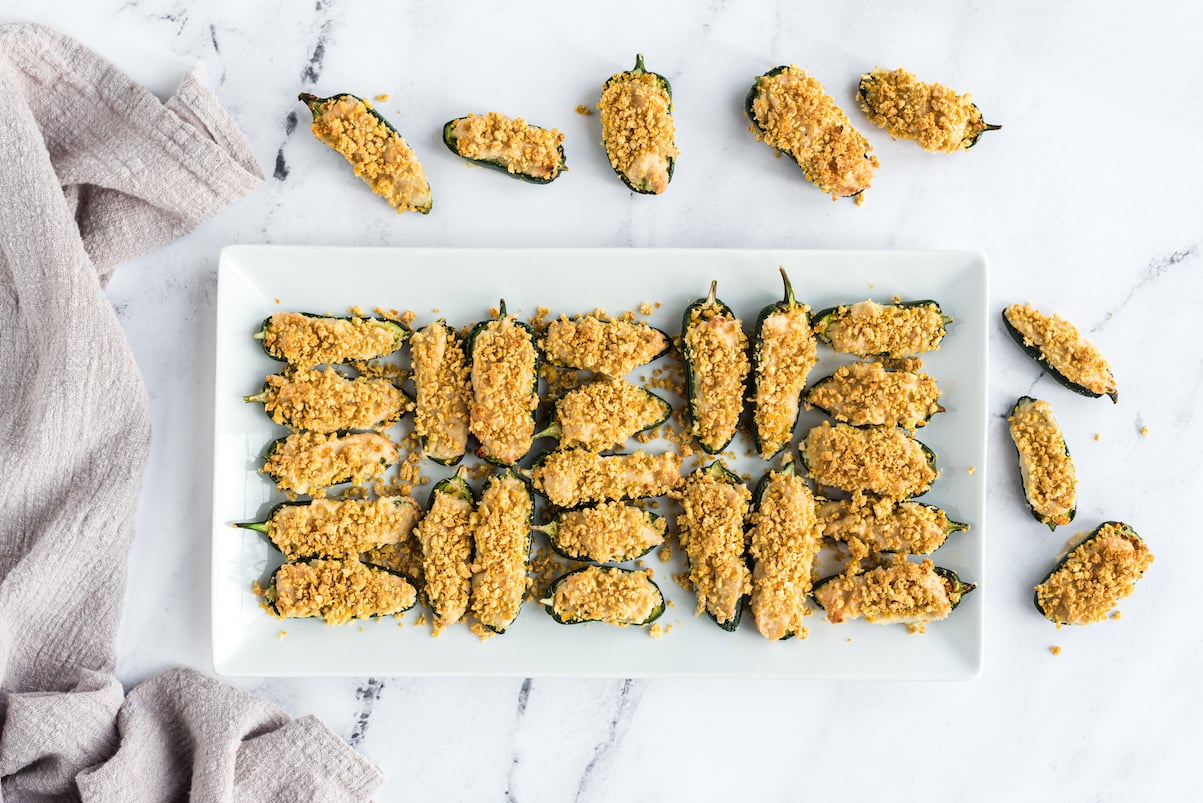 You may know Jalapeño Poppers as the classic, fried, US restaurant appetizer, but they can be a healthy and unfried stuffed veggie, too. And what better way to fill up the hollow space of spicy jalapeños than with creamy, cooling Cashew Cream Cheese and savory chickpea breadcrumbs! The next time someone asks about the magic of plant-based eating, be sure to mention this recipe!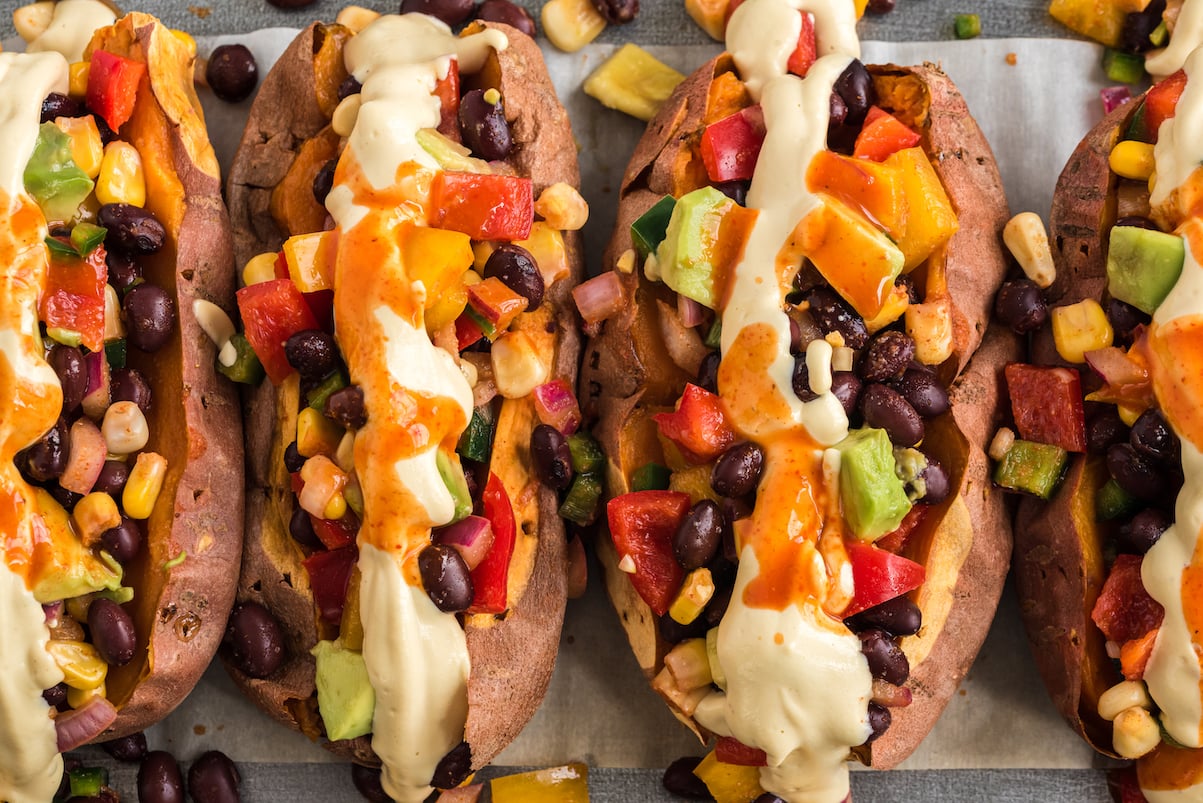 If the name of the game is plants stuffed with plants and topped with even more plants, then Southwest Stuffed Sweet Potatoes are the MVP of stuffed vegetable recipes. These naturally sweet orange vessels are power-packed with carotenes and fiber plus a whole lot of surface area for adding more wholesome nutrition, like a protein-packed and phytonutrient-rich black bean and sweet corn medley, delightfully creamy avocado, and flavorful herbs and spices. To make it even more delicious, this savory filling then gets topped with a delicious cashew cheese sauce.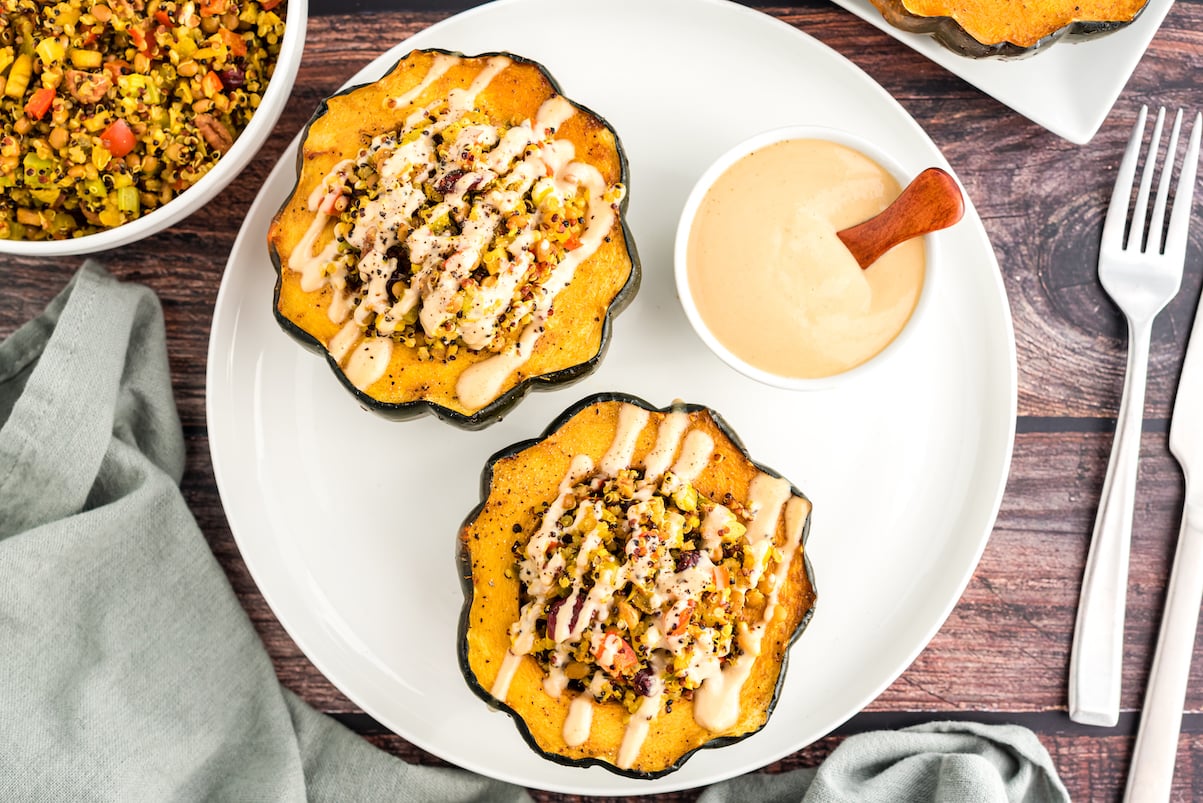 Stuffed squash is arguably the most elegant way to present a vegan stuffed vegetable. There's something about filling a beautifully shaped acorn squash with other seasonal delights that says festive feast (at least we think so). Quinoa, lentils, squash, bell pepper, and mushrooms are a tasty combination that provides plenty of nutrients like protein, carotenoids, and vitamin C. This recipe might spark your creativity, so feel free to improvise with the ingredients and experiment with a variety of veggies to see where your taste buds take you — after all, stuffing veggies is a fun way to prep (and then enjoy) them!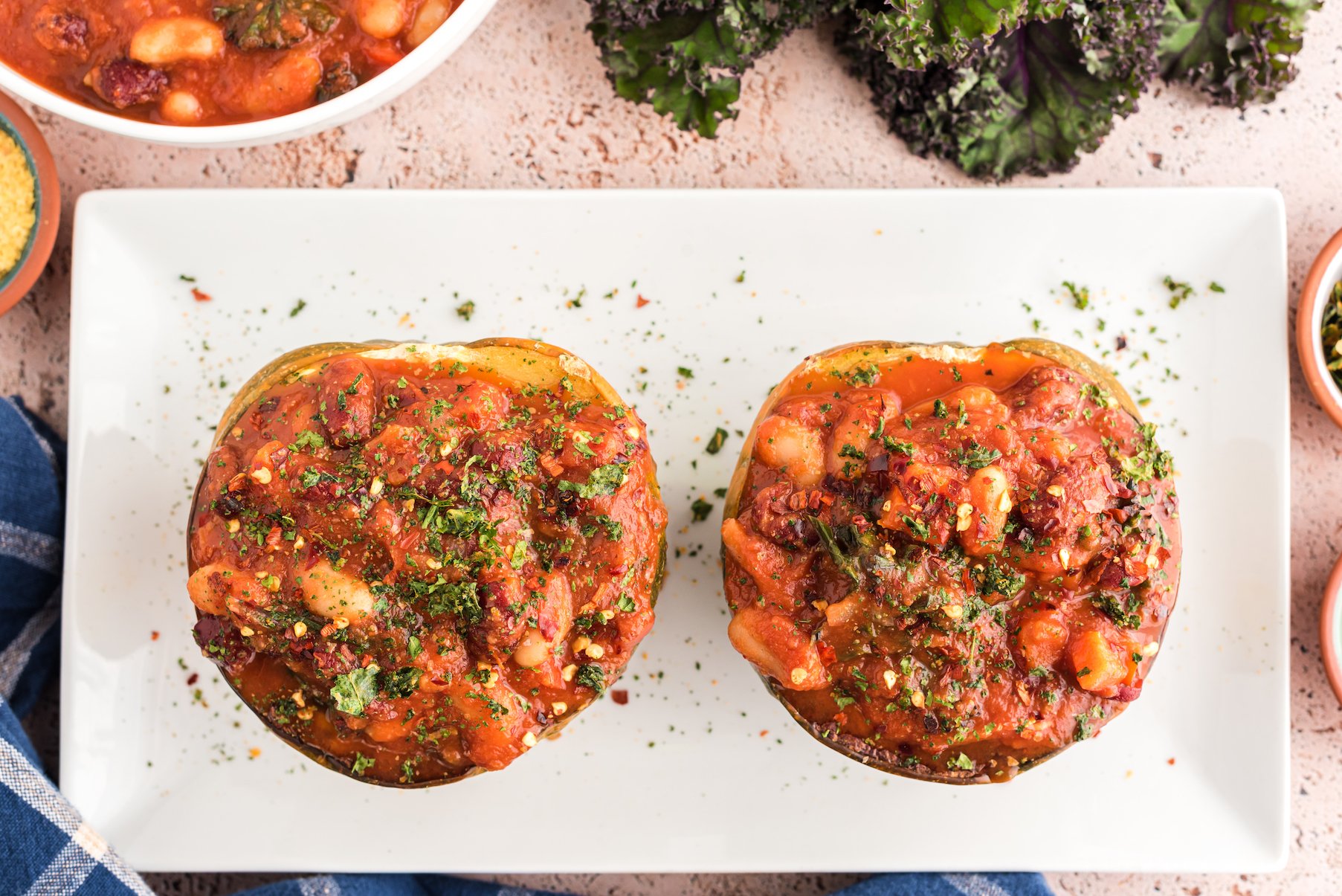 Bean chili served in delicata squash halves is a fun and tasty way to add "boat" loads of nutrition to your plate. If delicata squash is new to you, you're in for a treat! It has a sweet and creamy flesh, sort of like sweet potato, and takes on a slight caramel flavor when roasted in the oven. When you fill the squash boats (when sliced in half they look like a canoe!) with hearty and savory bean chili, you get a showstopper of a meal that will be a crowd favorite!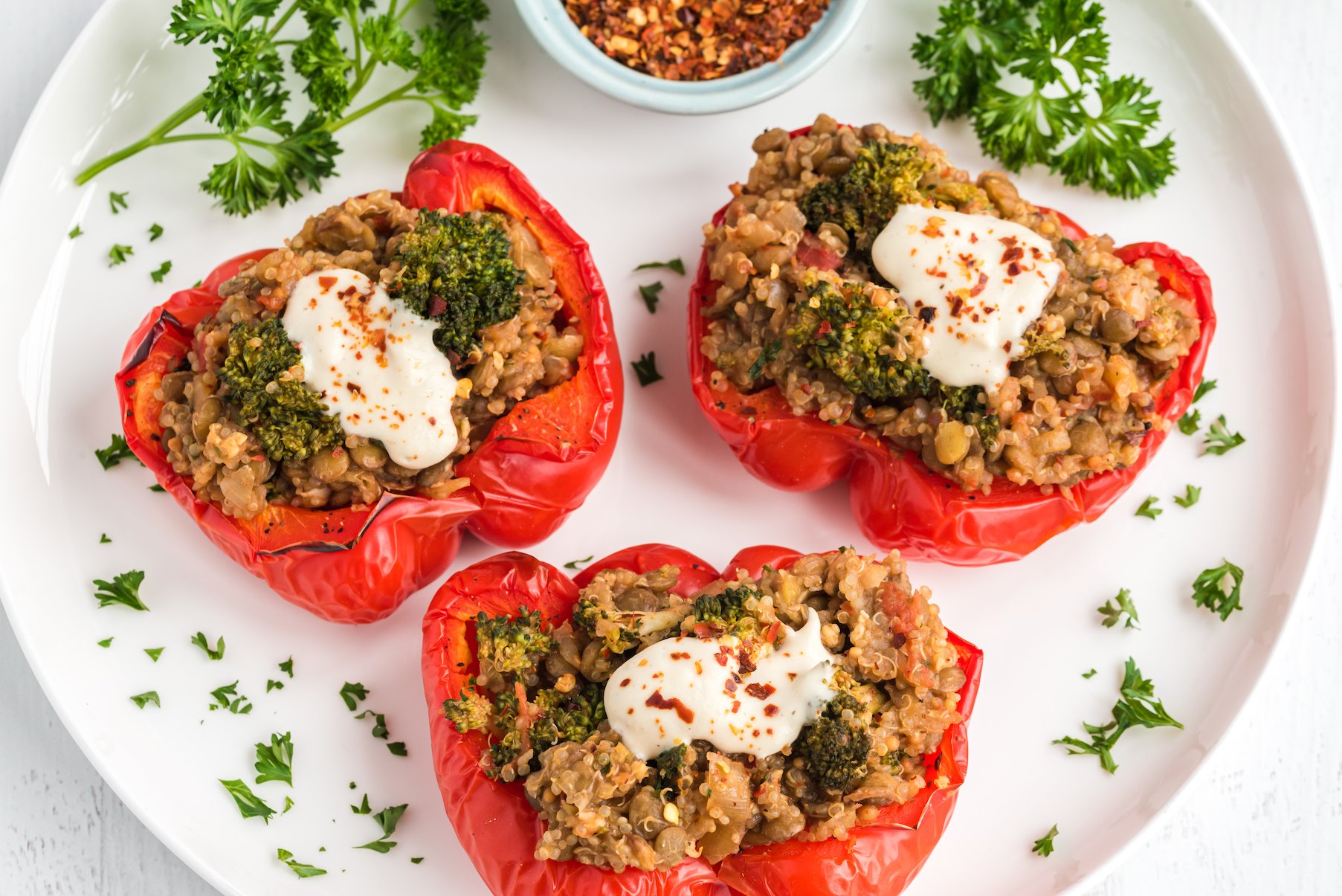 This wouldn't be a stuffed vegetable recipe roundup without a bell pepper as the container. Stuffing bell peppers can take on lots of iterations, and this flavor combination is by far one of our favorites. This easy, anytime meal has plenty of fiber, protein, and phytonutrients from the lentils, quinoa, and vegetables. Plus, this stuffed pepper dish has a generous amount of vitamin C from the broccoli, tomatoes, and peppers. We can't think of a better way to enjoy this classic stuffed veggie!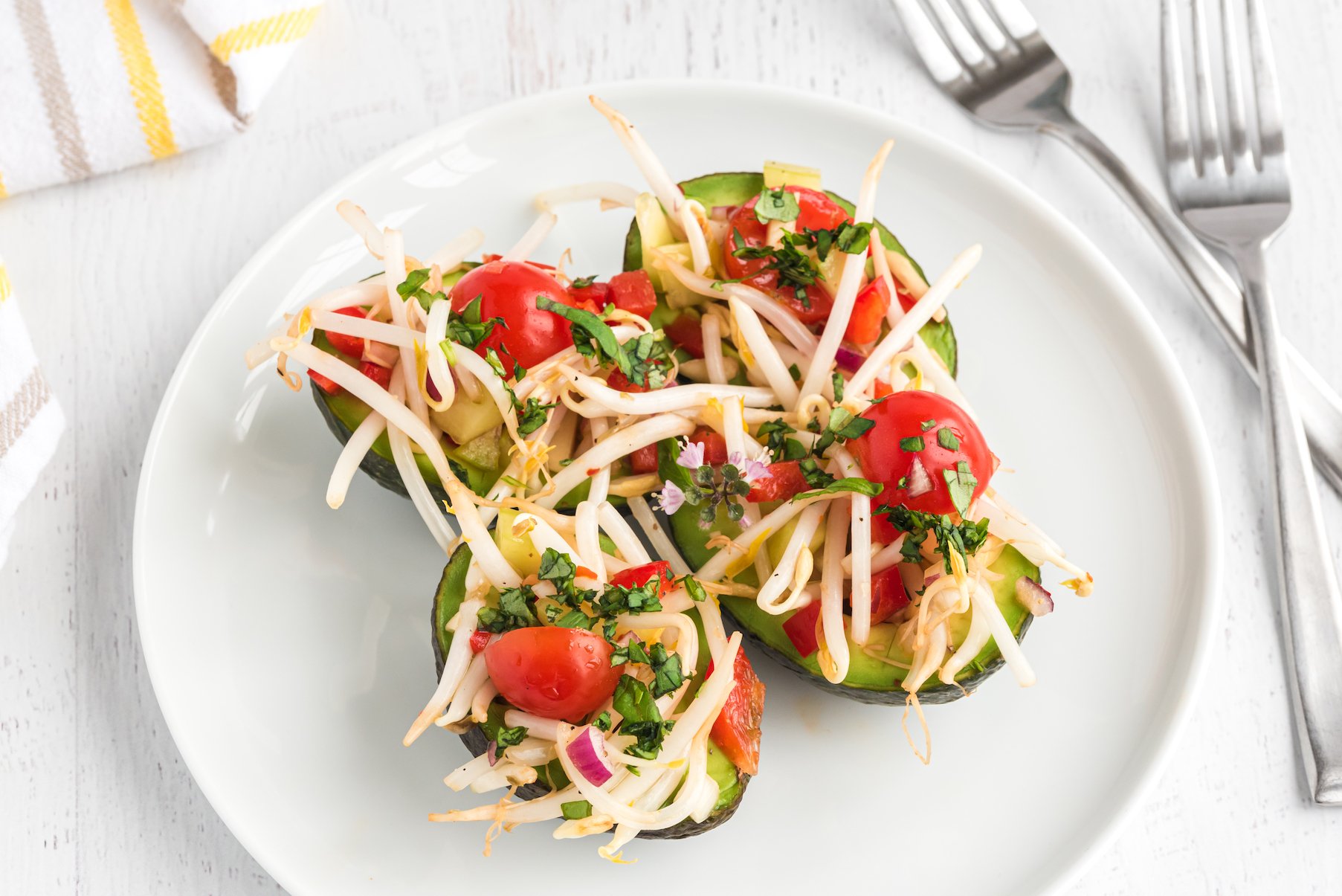 This is one of the few occasions in a stuffed vegetable recipe where the vehicle for all of your plant-based deliciousness isn't technically a vegetable, or even edible. These adorable stuffed avocado bowls use the skin of the avocado to house the creamy flesh of the fruit, mixed together with crunchy sprouts, briny olives, tangy tomatoes, and freshly squeezed orange juice, which offers a little acidity mixed with some sweetness. If you love a variety of textures in your meals for that oh-so-satisfying creamy and crunchy mouthfeel then you're going to love these nourishing avocado bowls.
Stuff Your Veggies!
Stuffed vegetables are an ancient tradition that's found in many different cuisines. You can stuff all kinds of vegetables, particularly ones you can hollow out or use as a wrapper. You can stuff vegetables with practically anything you want, or you can lean on classic foods and flavors. Stuffing vegetables can be a fun way to break up a monotonous menu and maybe even play with your food a little!
Tell us in the comments:
Did you eat stuffed veggies as a kid? If so, what were your favorite dishes?
What veggie have you never stuffed that you'd like to experiment with?
What stuffed vegetable recipe will you try next?