Do you typically walk into your kitchen after a long day of work and think, "Gee, I'm really looking forward to a long, complicated, and tiring evening of meal prep?"
Let's face it, full-on cooking every day can become a drag, especially if you're dealing with time constraints brought on by your work schedule, commute, or other responsibilities. If you want dinner on the table at a reasonable hour, you may have to rely on meal prep and batch cooking, so all you have to do in the evening is combine and heat the various elements of the meal.
Sometimes, though, prepping isn't possible. Or you're tired of defrosting meals you've eaten too many times in a row. Or you just want to flex a little creative muscle without spending hours chopping and stirring. Is it possible to prepare quick and easy meals that satisfy both your urge to cook and your family's taste buds?
Introducing sheet pan meals. It's both an old idea and a new Internet craze. Basically, you just throw all the ingredients onto a sheet pan and put it in the oven until everything is cooked.
Search for #sheetpandinner on Instagram, and you'll encounter tens of thousands of color saturated photos of veggies, fruits, grains, and meats arranged on baking sheet pans like so many Jackson Pollack canvases. In case you're not yet hip to this corner of the cyber-kitchen, allow me to be your guide. In this article, we'll cover the following key questions:
What is a sheet pan meal anyway?
What are the benefits of the sheet pan approach?
And how can you make them?
Plus, of course… you'll get some healthy and delicious recipes.
While you may not end up composing the culinary equivalent of "Rhapsody in Blue," you can still produce a regular stream of gustatory hits that will have your fans clamoring for more.
What Is a Sheet Pan Meal?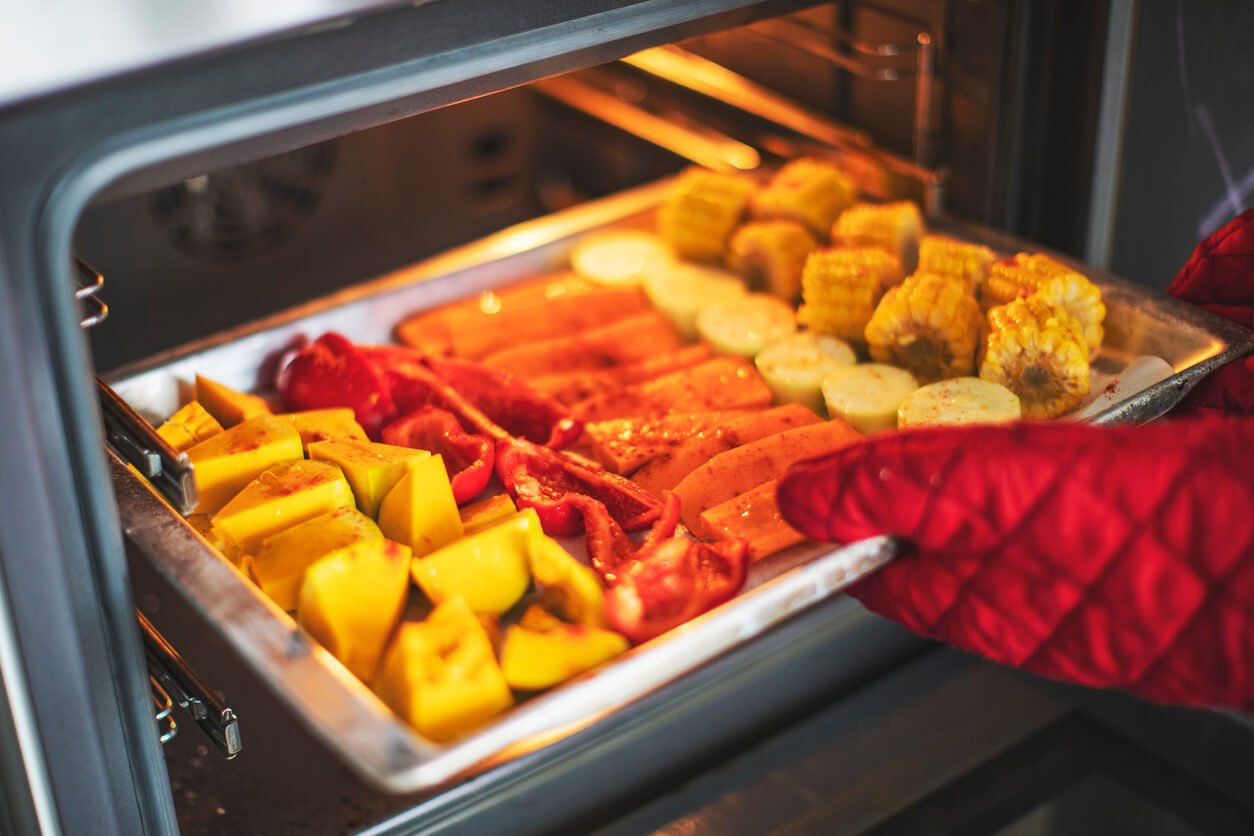 A sheet pan meal is typically an entire meal that's cooked together on one baking sheet in the oven. Typically reserved for dinners, sheet pans can make other meals as well. For example, we've got a breakfast recipe below.
So if you take a sweet potato and bake it on a sheet pan, is that a sheet pan meal? Not to nitpick, but we've got our standards here. I hereby declare (and many snobbish foodies will back me up) that in order to be a sheet pan meal, you must have more than one type of food on the baking sheet. Add a sprig of parsley to that sweet potato? Well, you're still pushing it, but you're starting to get the idea.
The point of the sheet pan meal is variety combined with simplicity. You take a bunch of different elements and heat them on one sheet pan until they're all perfectly cooked. Realistically, you can cook multiple foods on different sheet pans and that's still a sheet pan meal. Depending on the size of your oven and pans, and the number of servings you need to prepare, you may not be able to get away with a single sheet pan because some ingredients will be overcooked and others undercooked if everything is piled on top of everything else.
And, of course, you can combine your sheet pan dishes with other pre-prepped foods. The point is not to please the judges, but to create convenient, low-involvement, and delicious meals. If you're familiar with one-pot meals, like those made in a slow cooker or pressure cooker, you can think of sheet pan meals as similar, with everything thrown into one place to cook. The difference here is, the food is laid out horizontally and baked in an oven.
Benefits of Making Sheet Pan Meals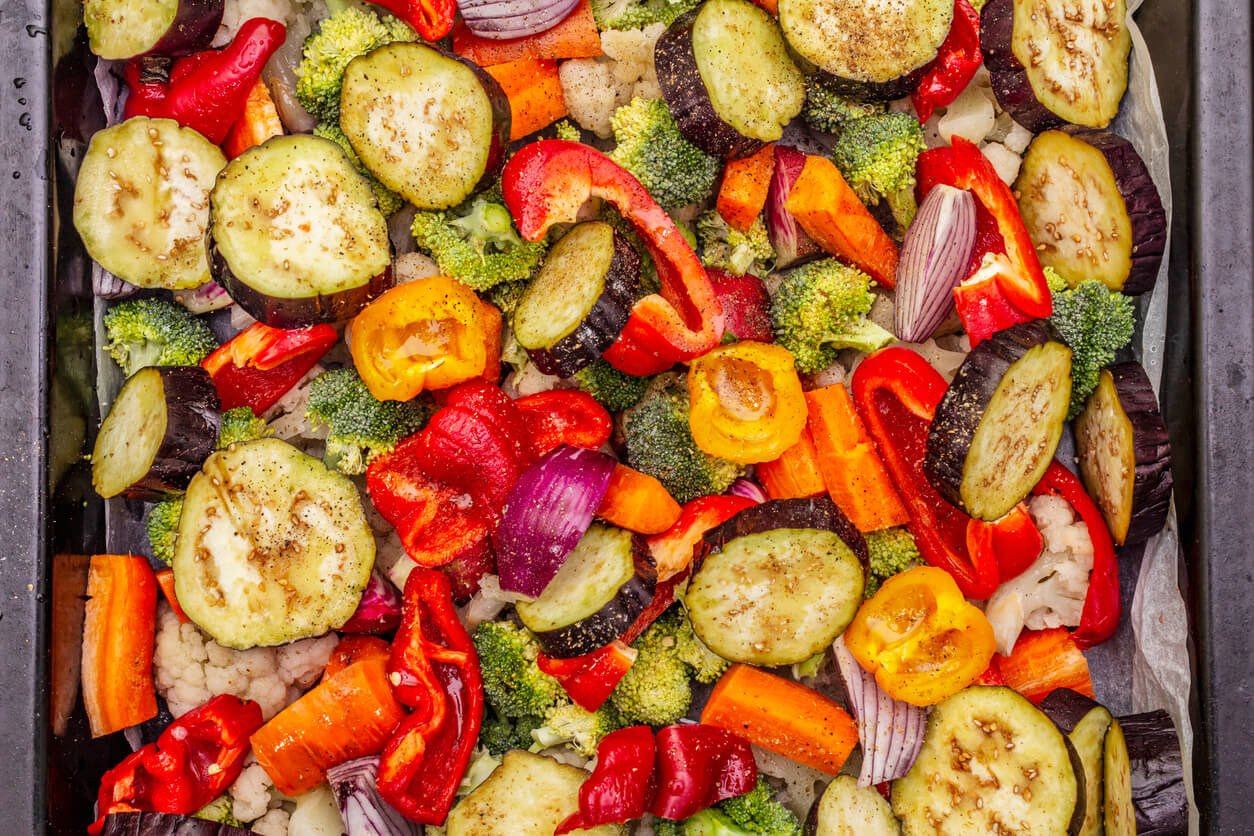 Sheet pan meals are easy and convenient to throw together. You can keep the prep and ingredients simple. Just chop, season, and spread the food out on your sheet pan. It's a fun way to use up foods you have on hand whose biological clocks are ticking. Five or 10 minutes should get everything peeled (if required), chopped, and arranged.
Because you're chopping the ingredients and exposing so much food surface area to heat, the meals can cook relatively quickly. Most sheet pan meals, especially those that don't include meat, can fully cook in under 30 minutes.
And during those 30 minutes, you don't have to babysit the food. You can just check on it occasionally. Oven cooking, unlike stove top cooking, doesn't require constant stirring and adjusting of temperature. Place your pan in the center of the oven to take advantage of convection cooking, which uses heated air and is less likely to burn the food. This frees you up to do all sorts of other things, like perfect your origami, take a relaxing bath, or wash your toddler's graffiti off the dining room walls.
Sheet pan meals are a good way to get more veggies into your diet. Many veggies come out great with this type of cooking, especially the starchy ones like potatoes, beets, carrots, and squashes. You can get creative with seasonings, marinades, and combinations of veggies.
Slow cookers and pressure cookers depend on a certain amount of moisture to keep foods from burning (think potato stew). Sheet pan meals, on the other hand, are cooked in a dry oven, which tends to dry them out (think grilled potatoes). This makes for more concentrated flavors, and more nutrient-dense meals.
And finally, cleanup is a breeze. Instead of having to wash a bunch of bowls and pans, you just have to clean a baking sheet or two. And isn't that a welcome after a busy day?!
Sheet Pan Challenges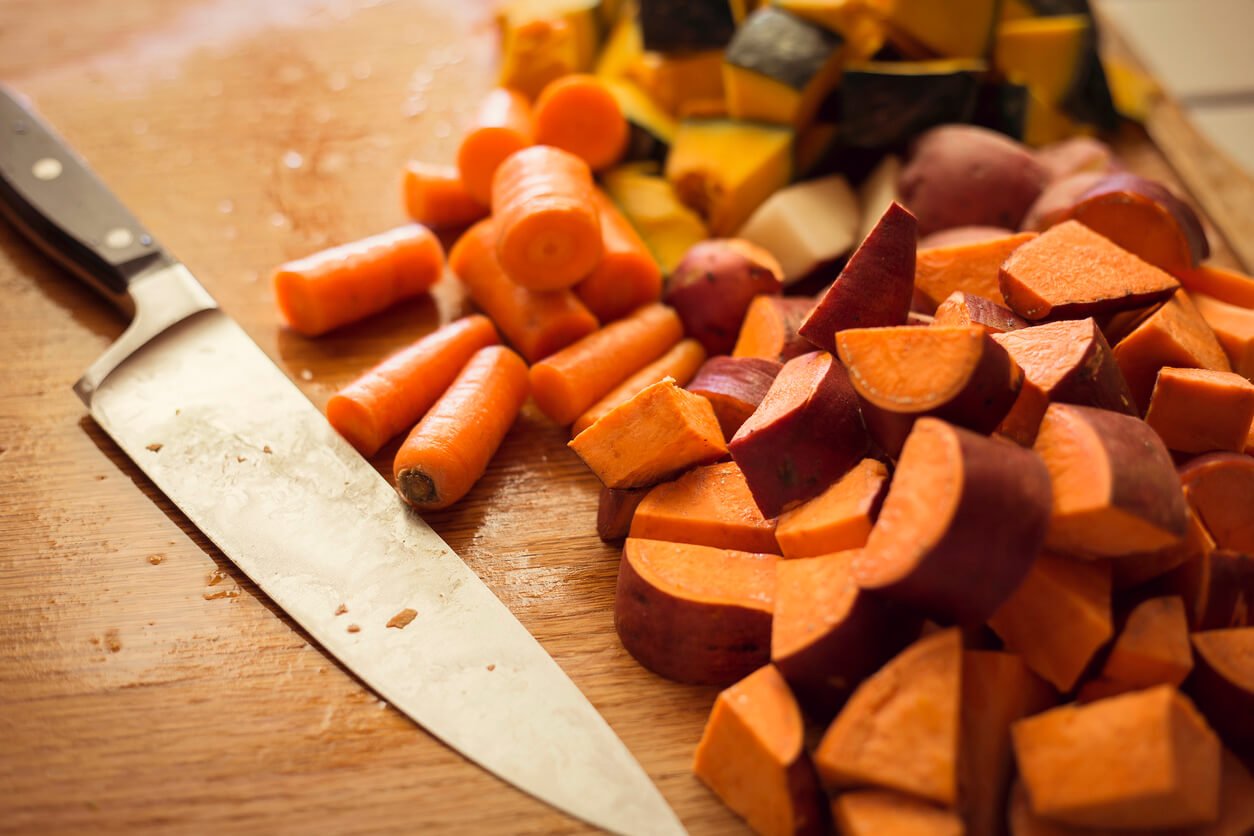 Not to burst the fantasy, but sheet pan meals come with certain challenges, too. For one thing, if you crowd the pan, the food may not cook evenly. As you fill the pan, think dominos rather than Toyko subway system at rush hour. Allow air to circulate between the elements.
Depending on your oven, you may find that some spots are hotter than others. A common pattern is known as the "ring of fire" (not to be confused with the June Carter/Merle Kilgore hit song for Johnny Cash, about the transformative power of love), which just means the food on the outer edge of the pan burns while the interior food isn't fully cooked. You can avoid this fate (the burnt food, not the transformative power of love) by placing larger or slower cooking items on the outsides of the pan.
Your mission, should you choose to accept it (and no, this article will not self-destruct in five seconds) is to set up ingredients that will cook perfectly at the same temperature and in the same amount of time. This may require some trial and error in terms of how large or small you chop the food (small pieces cook, and therefore burn, more quickly), what shapes you end up with, and where you place them on the pan.
Another wrinkle: foods with higher water content may release that water during cooking, which can affect neighboring ingredients. Rather than getting a crispy roasted or broiled texture, you may end up with a mushy, steamed experience.
None of this is to dissuade you from making sheet pan meals, since in the grand scheme of things these issues are relatively minor and easily addressed. And with the guidance from the recipes below, you've got a head start on awesome technique!
What to Include in Your Sheet Pan Meal
OK, enough talking. Let's get cooking.
Sheet pans
To start, you need a sheet pan or two. There are several standard sizes, from full sheet size (18" x 26", which is too large for many home ovens, and is usually reserved for restaurant use) to half sheet (13" x 18"), jelly roll (15.5" x 10.5"), and quarter sheet (13" x 9").
Looking to buy your first sheets? Caraway Cookware makes high quality sheets (half and jelly roll) with ceramic coating and stainless steel handles. All-Clad offers nonstick half sheets, jelly rolls, and quarter sheets. And casaWare sells less expensive commercial weight nonstick pans in jelly roll and quarter sheets.
If you line the sheet with unbleached parchment paper (which I like to do), the surface coating is less important since the food won't be touching it.
Meal elements
Now that you've got the pans, it's time to load them up with yummy and healthy food.
Vegetables
Veggies are going to be the centerpiece of your healthiest sheet pan meals. You're looking for vegetables that roast well, such as root vegetables with their own natural sugars, cruciferous veggies like cauliflower and broccoli, and flavorful veggies like tomatoes and mushrooms that hold their own in complex dishes.
Slice them evenly and avoid crowding the pan. These veggies are your prima donnas, and they don't like to share the spotlight when they're on stage. Most veggies do well at around 400° F (200° C), but that depends on how quickly you want the food to cook, as well as the final color and texture you prefer. High heat cooks food faster and gives a browner, crispier finish. To roast without oil, use your oven's broiler for the last minute or two to generate exterior crispiness
A word of caution, however: High heat cooking can lead to the formation of acrylamides, which may, in sufficient quantity, increase the risk of cancer. Acrylamides are formed when vegetables that contain the amino acid asparagine, such as potatoes, are heated to high temperatures in the presence of certain sugars. Keeping the temperature to 400° F or lower, and making sure not to char your foods, can help reduce any risk.
Fruit
If the veggies are the lead singers, then some fruits can serve as background harmony and colorful voices. Stone fruits like peaches, nectarines, and plums do well, in addition to apples, pineapple, citrus fruits, and berries.
The issue with fruit is its high water content. You may need to cut the fruit and allow it to dry a bit, or or to use a towel to absorb moisture, so the steam it produces doesn't make the meal all mushy. (Hint: using a convection oven helps too because the fan has a natural drying effect.)
Plant-based Protein
You can get your protein without meat by adding some pre-cooked beans, marinated organic tofu or tempeh, or even a small amount of a plant-based meat analog.
Seasonings/Sauces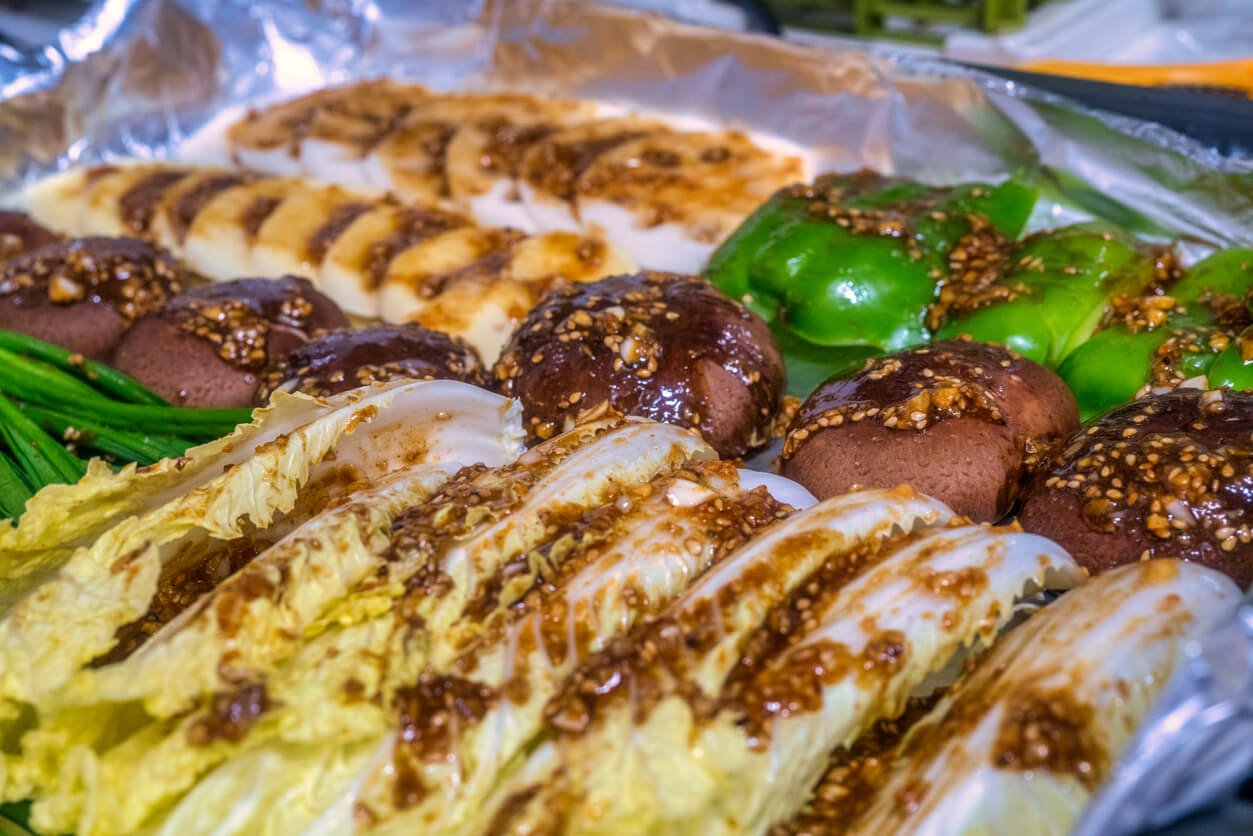 One of the best parts of sheet pan meals is how much you can vary the flavoring by using different seasonings, marinades, sauces, herbs, and spices. You can marinate different foods before throwing them on the sheet pan, and add more sauce or seasoning to the whole dish before and during the cooking process. Or, enable "diner's choice" by putting out some healthy condiments that they can drizzle on top or use on the side as a dip.
Now that we've covered the basics of sheet pan dinners, in theory, let's roll up our sleeves and start making music! Here are seven sheet pan recipes, including a breakfast (told you!), a big salad, and a bunch of mains. If you're missing an ingredient, feel free to substitute, and let your creativity lead you on a journey of simple and easy culinary discovery!
Sheet Pan Recipes
The sheet pan approach can help you create flavorful and satisfying meals quickly and efficiently. It's also an awesome way to sneak in lots of veggies!
Start your day with an easy-to-prepare Tofu Breakfast Burrito. Create a hearty and satisfying salad by roasting sweet potatoes and Brussels sprouts before mixing them with your salad ingredients, which includes a generous drizzle of delicious dressing (someone here sure likes alliteration). Make the One-Sheet Veggie Bowl when you want to maximize your daily veggie intake in the most scrumptious of ways. Invite friends and family over for the Black Bean Tostadas with Sweet Potatoes and Poblano Peppers — they'll likely invite themselves back for more. Feel like you're dining out when you dive into the One Sheet Spicy Almond Tofu and Green Beans. And, if you could only choose one main dish to make, you wouldn't go wrong with the Harissa Roasted Cauliflower and Chickpeas with Cucumber Yogurt (just saying). Finally, finish any of these delicious meals off with the simple-to-make Sheet Pan Strawberry Rhubarb Crisp.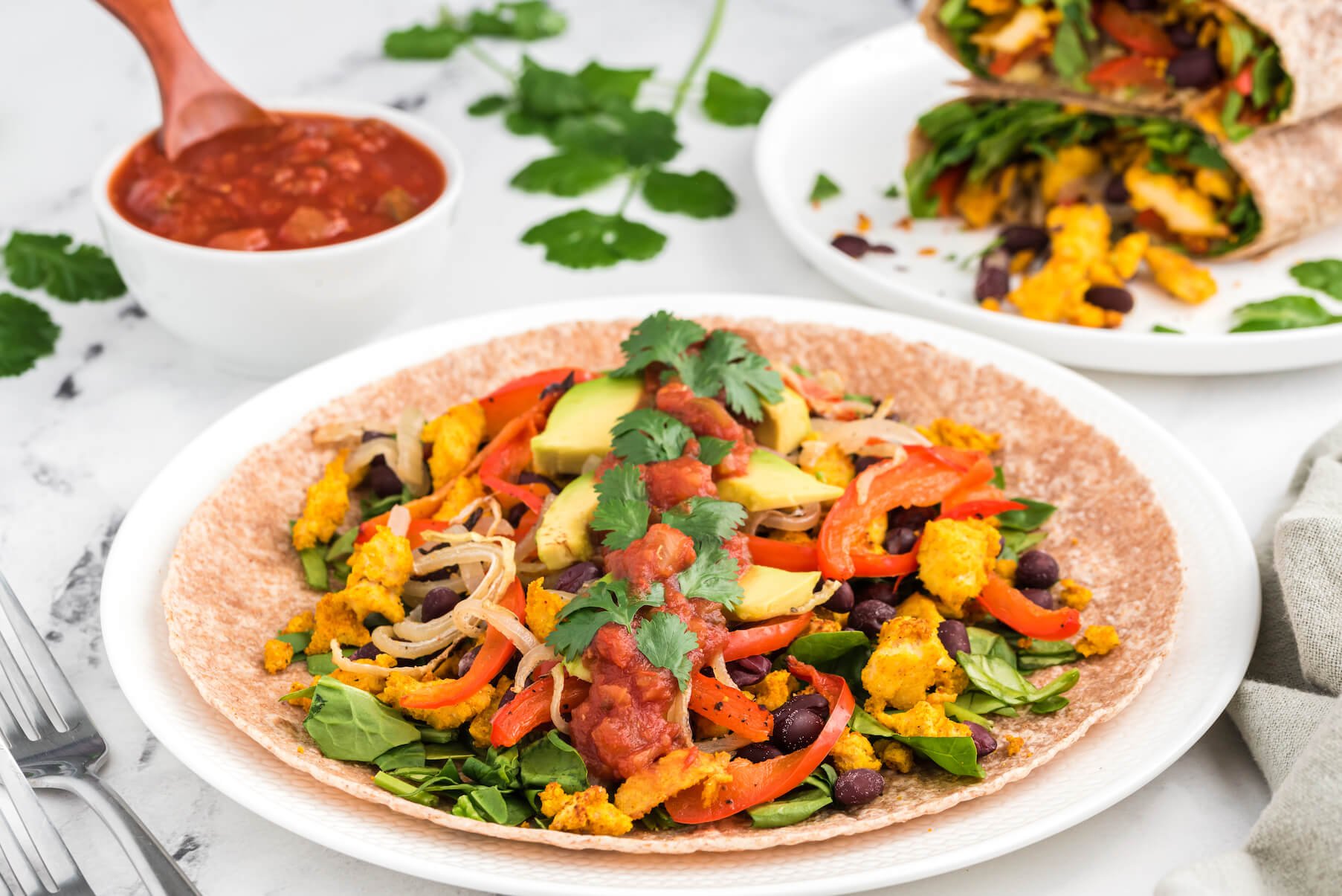 Whether tofu is new to you or it's a staple in your diet, this one sheet breakfast burrito is a simple and fun way to prepare it alongside onions and peppers. Make kitchen prep even more efficient by preparing your burrito ingredients while the tofu and veggies bake in the oven. The final outcome is a satisfying, energizing, and comforting breakfast burrito that's easy to make!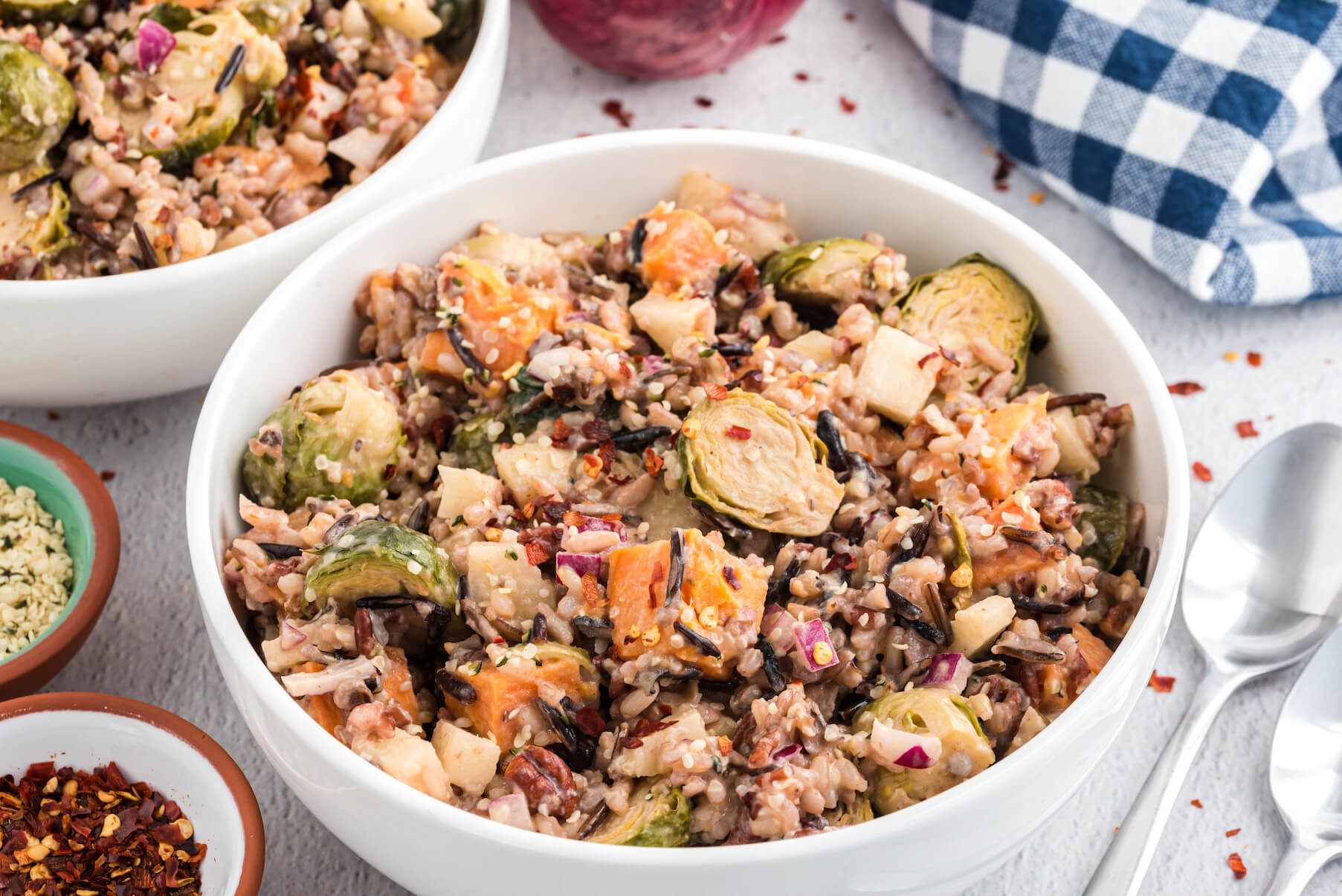 Create a fulfilling, nutritious, and energizing salad by using one sheet pan to roast veggies before tossing them with other vegetables then drizzling a yummy dressing on top. Make it a warm salad by transferring the Brussels sprouts and sweet potatoes directly to the salad bowl from the oven. Or, roast the veggies ahead of time and store them in the refrigerator until you're ready to serve your salad. This hearty salad may redefine salads as you know them!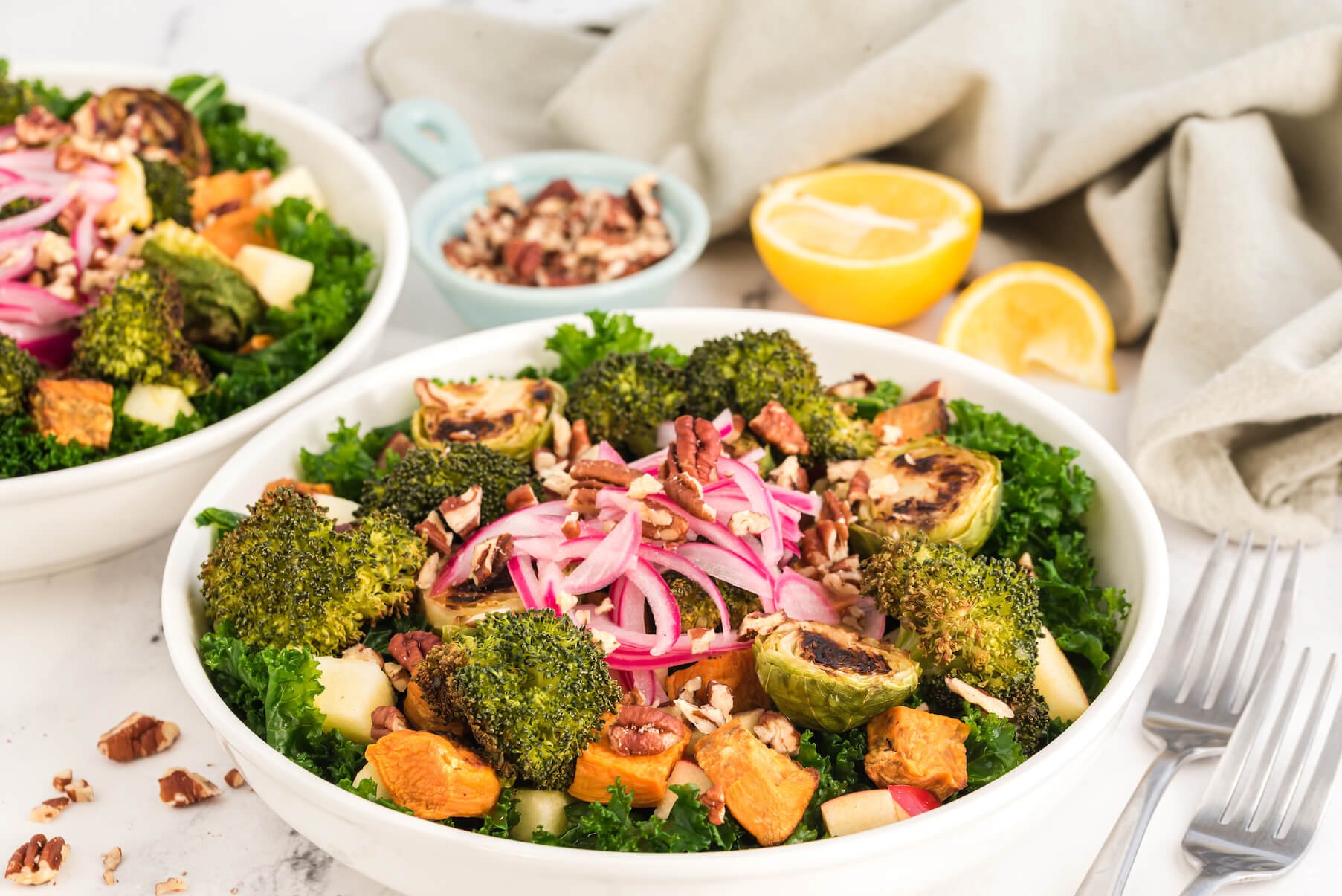 Is it possible for meal prep to be simple, delicious, and nourishing? The resounding answer is yes! You can absolutely have it all when you create one-sheet meals. This one makes recipe creation simple by placing the squash, broccoli, and Brussels sprouts on one baking sheet since they take the same amount of time to cook. While the veggies roast, prepare your bowl ingredients so that you can add the warm roasted veggies to the bowl straight from the oven. It's a special, comforting treat!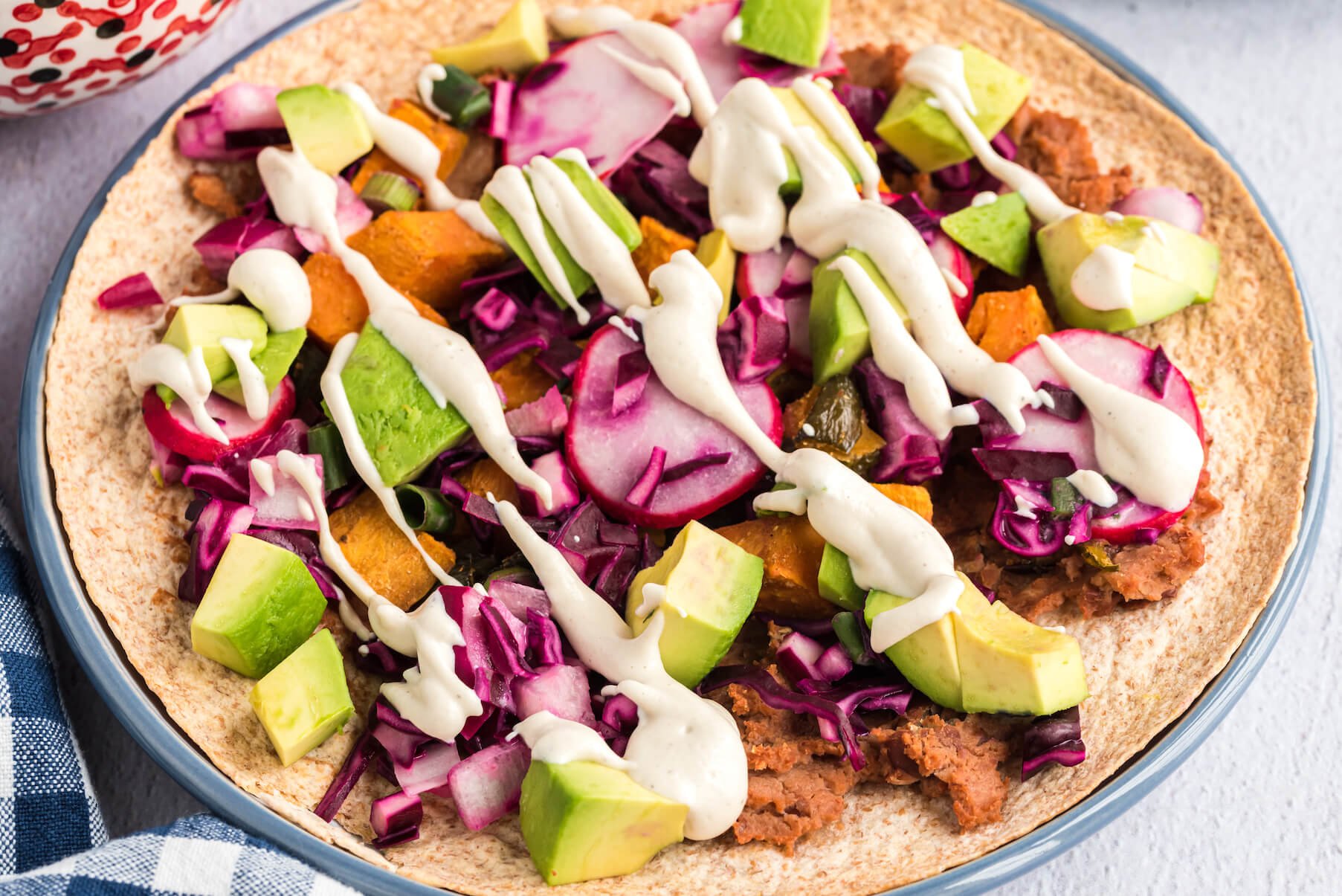 Sweet potatoes and poblano peppers share the roasting pan here. The combination of cabbage slaw, refried beans, and roasted veggies make this one magnificent meal that you'll want to share with your family and friends. Add your favorite plant-based cheese sauce to take it to the next level! And, if you want to skip the heat, then use your favorite colorful bell peppers in place of the poblanos — it will still be super scrumptious.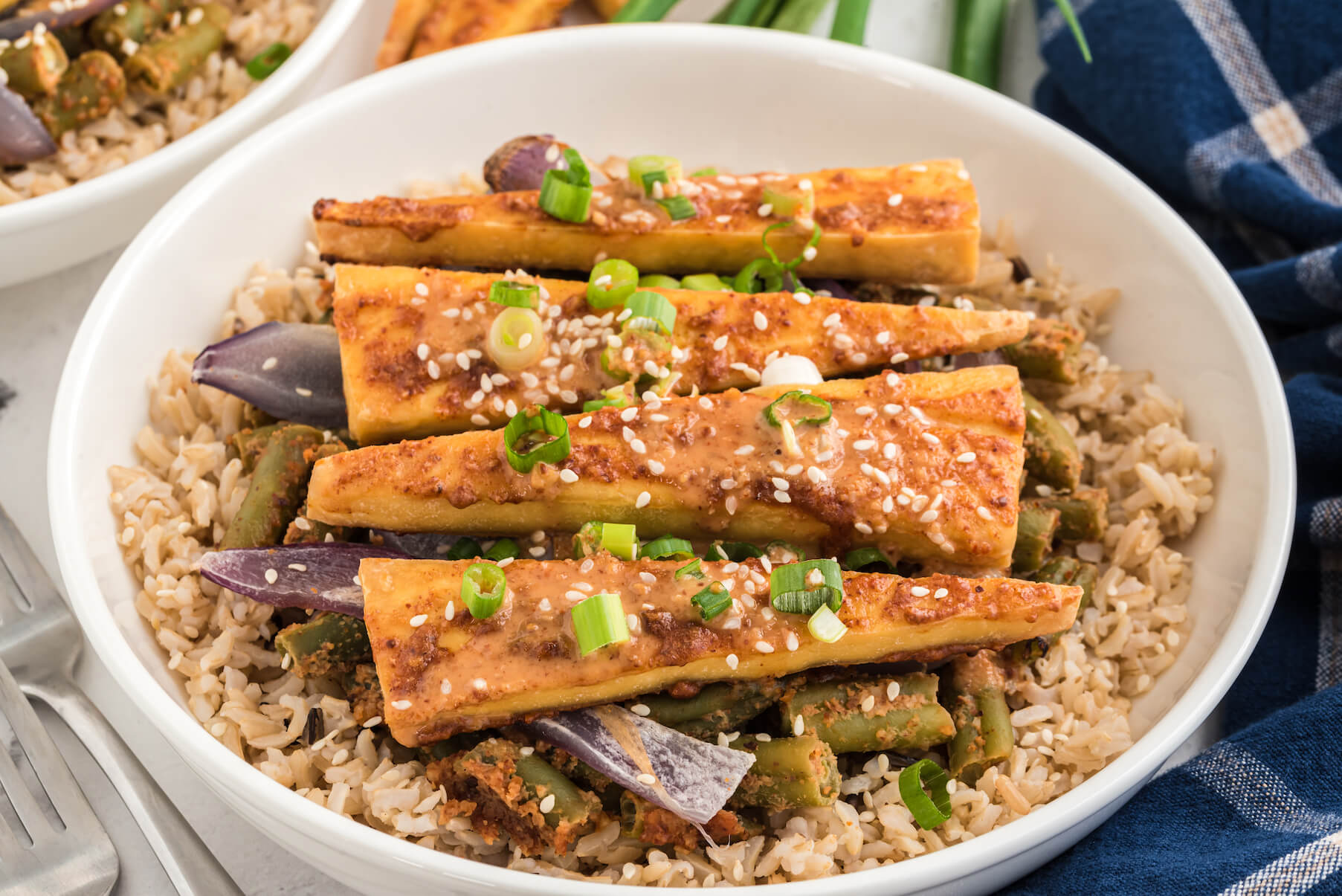 This very simple meal requires just a brief intermission to flip the tofu halfway through. After that you'll return the tofu, and add a second baking sheet with the veggies to the oven. The rest is a piece of (plant-based) cake! Once the tofu, onions, and green beans are done baking, pile them high on a bed of rice (or your favorite whole grain), drizzle more sauce on top and garnish with more flavors and textures for a restaurant-worthy sheet pan meal!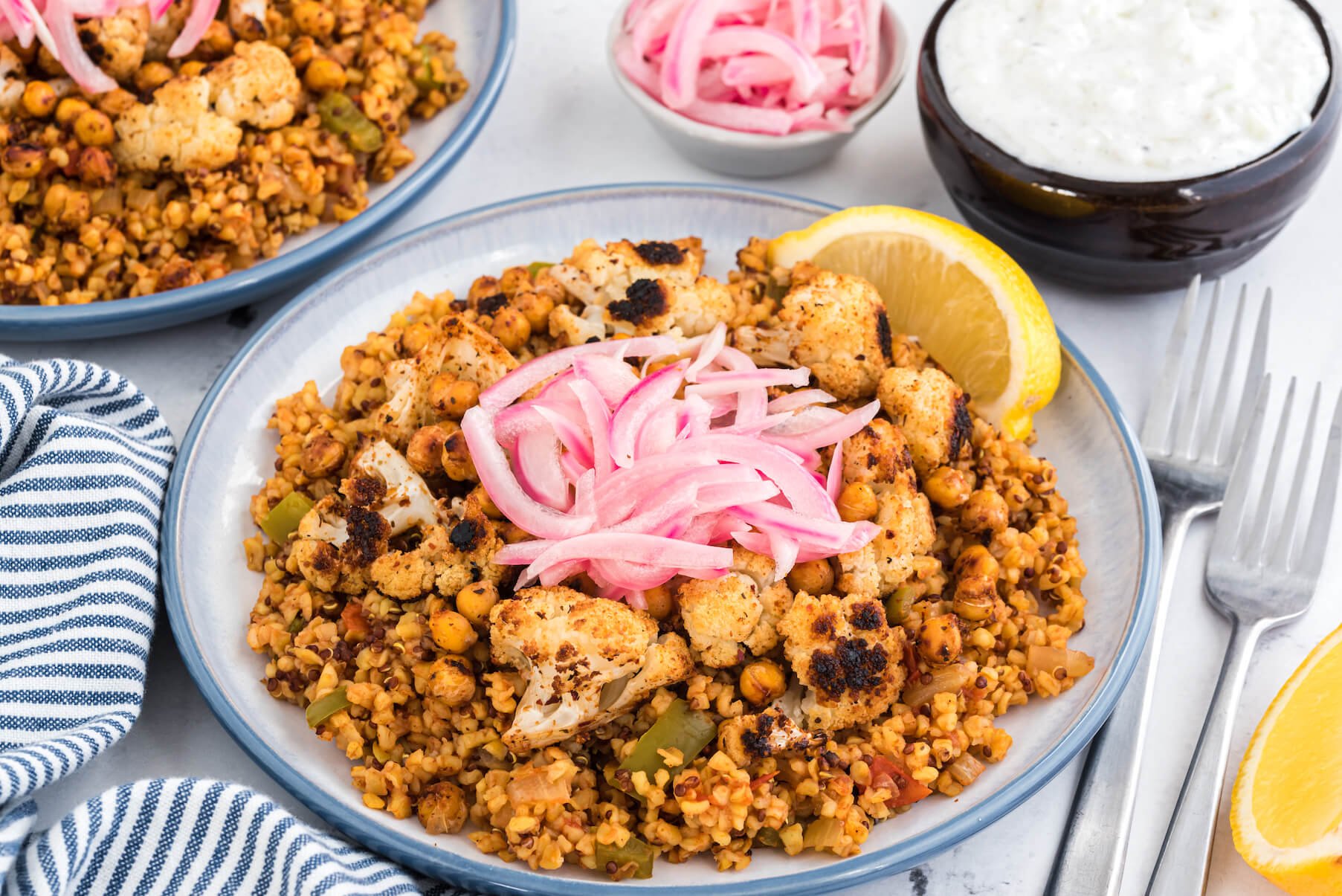 This dish comes together easily with a little planning. Tip: Scan the recipe ahead of time to see what you can prep in advance, and this sheet-pan recipe will come together in a snap. Spiced and roasted cauliflower and chickpeas combined with plant-based cucumber yogurt and pickled red onions is a delightful combination that will make your taste buds sing. If you have a little extra time, we highly recommend making the bulgur pilaf to go along with this meal!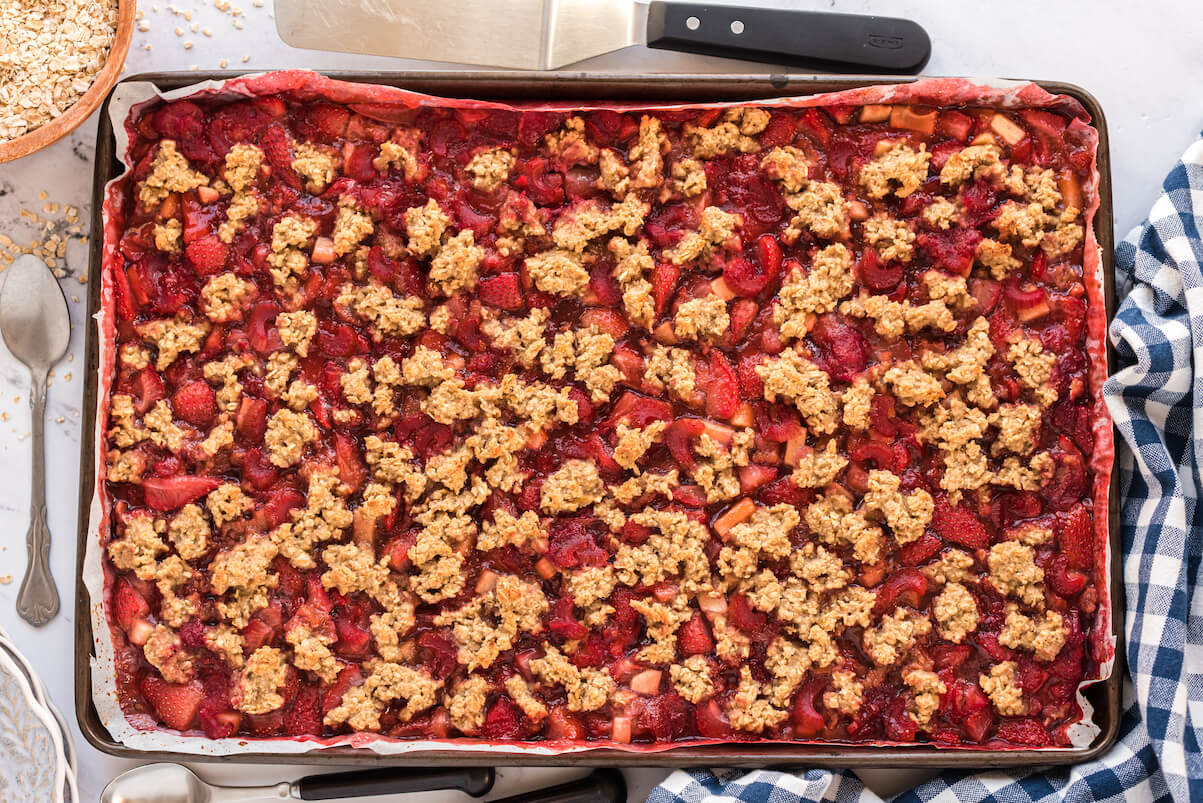 If you're a fan of strawberry rhubarb pie then you're going to love this glorious Sheet Pan Strawberry Rhubarb Crisp. All you need are two bowls, a baking sheet, some mixing utensils and a hungry belly ready to taste test as soon as it comes out of the oven! Pair it with vanilla nice cream for an extra special treat.
It's a Treat to Cook on a Sheet!
Sheet pan meals can be a quick and easy way to get a healthy meal together when you don't want to spend the time or effort on cooking a bunch of things separately. They're a great way to get in more vegetables and create delicious, warm, and home-cooked plant-based meals. Since they can turn older produce into crisp and delicious meals, they can help prevent food waste. While cooking them may entail some trial and error at the beginning, sheet pan meals are a simple cooking technique that can take a lot of the hassle out of preparing something from scratch.
Tell us in the comments:
What's your favorite veggie to roast?
Do you already cook sheet pan dinners? If so, what's one tip you can share for beginners?
Which sheet pan meal recipe will you try next?
Feature Image: iStock.com/TatianaVolgutova
Read Next: