Imagine you're a peasant in medieval Europe. You toil from dawn to dusk, and when you come home at the end of the day, you have no energy to prepare a hearty, filling meal. On top of that, you're really poor. And there are no drive-thrus to stop by on your way home. You don't have a microwave or a pizza takeout magnet on your fridge. And you don't even have an oven. So what do you do?
For many peasants, the answer was simple: take the cheapest food they could find (usually dried beans of some kind, root vegetables, or old bread), flavor it with herbs and whatever meat they could scrounge up, toss in a hunk of cheese if they had it, and throw it all into a clay or earthenware pan known as a "casserole." Then, they would bring it to the town baker, who would pop it in the oven until it was cooked to taste.
The modern casserole dish fills many of the same needs. It can be easy to make, very forgiving of variance in recipe and ingredients, a great use of leftovers, inexpensive, and very hearty and filling. And even though casseroles have been looked down upon by chefs and foodies for the past 70 years, they've never gone out of fashion because they are so economical and satisfying.
Of course, we might not want to make casserole recipes with ground meat, covered in cheese, or topped with crushed potato chips or Ritz crackers. Luckily, there are many ways to make vegan casseroles and fortify them with healthy, plant-rich, and nutrient-dense foods.
What Is a Casserole?
Casseroles are so common, I never stopped to think about an actual definition until I started working on this article. But here's what I've come up with: casseroles are one-dish, oven-baked meals.
That simple definition means that lots of our most popular heritage dishes are casseroles (and comfort food): lasagna, potato and noodle kugel, stuffed peppers, mac n' cheese, zucchini gratin, and on and on. Clearly, there's something very primal and satisfying about tossing a bunch of ingredients into a deep-sided pan and letting the magic happen slowly in a hot oven.
The origin of the word "casserole" is one of the most contentious issues in the field of gastronomic etymology. I will spare you the painstakingly researched and defended opinions of the linguistic experts who have weighed in on the topic, except to say that they appear to be burning a lot of calories asserting and embellishing their claims. So I hope they eat as many casseroles as they argue over.
For our purposes, let's just go with the assumption that "casserole" is French for "saucepan." And the name of the pan transferred to the name of the food cooked in it. (Apparently, it can also refer to a lousy singer, as in Quelle casserole! — what a lousy singer!) "Casserole" is also related to the French word cassoulet, which refers to a traditional dish consisting of meat and white beans that is cooked and served in a cassole — a wide-mouthed ceramic baking dish.
A Brief History of the Modern Casserole
Casserole historians — yes, that's an actual profession, although admittedly not a huge job market — point out that while casserole dishes have been prepared and eaten since humans figured out the whole fireproof and waterproof cookware thing, the modern history of the casserole began with a technological breakthrough in the early 20th century.
The story goes that way back in 1913, Bessie Littleton wanted to bake a cake, but couldn't because she had dropped and broken her clay casserole pan. Luckily, Bessie's husband worked as a scientist at Corning Glass Works. She had the bright idea to ask him to bring home the sawed-off bottom of a battery jar, which turned out to produce a wonderful cake. And that was the origin of the Pyrex company, which still makes casserole pans and lids that many of us use to this day.
While Pyrex was a huge leap forward for casseroles (heat-absorbing, imparting no flavor to the food, easy to clean, and able to go from oven to freezer and every temperature in between), you might argue that the food innovations that popularized the American casserole were less wonderful. In 1940, Jay's Potato Chips published the first casserole recipe printed on food packaging, a tuna casserole topped with (of course) crushed Jay's Potato Chips.
The biggest casserole recipe marketer was (and still is) Campbell's Soup. In 1955, they unleashed the green bean casserole recipe on cans of cream of mushroom soup. While millions enjoyed this and similar recipes inspired by industrial foods, the culinary elites looked on with horror at the debasing of the American palate by what they saw as "instant leftovers." The aesthetic of convenience over quality meant that casseroles were suffering the same fate that was to befall much of Western cuisine since the second half of the 20th century: poor-quality ingredients hidden by the addition of huge amounts of salt, fat, and refined sugar. What had been healthy "peasant food" was turned into disease-producing, industrial cuisine for the masses.
The good news is, we can reclaim the casserole as a utilitarian, delicious, and nutritious meal. We can ditch the hyper-processed ingredients in favor of fresh ones. And we can even upgrade the quality of the original dishes by making them plant-based and nutrient-rich.
Casserole Dishes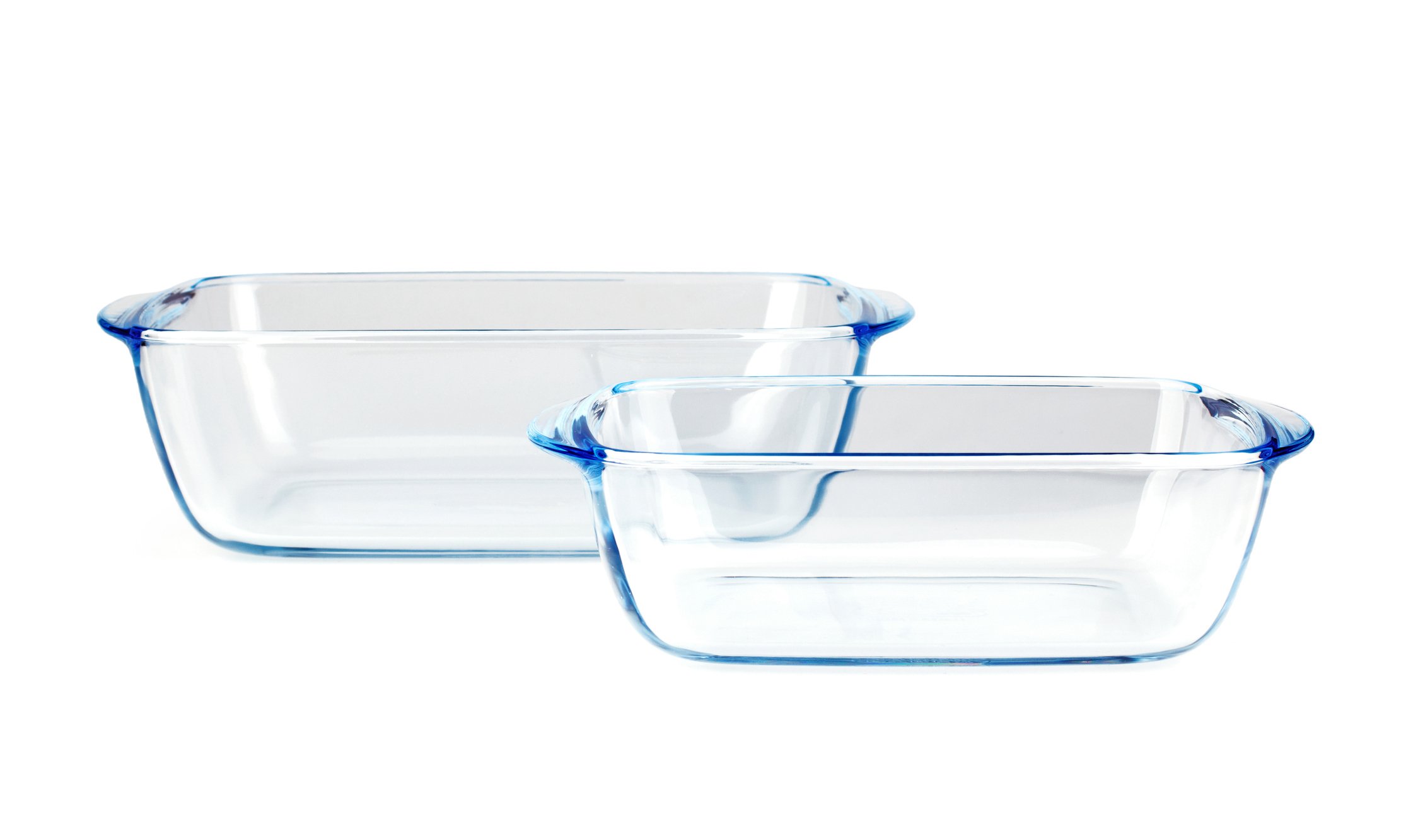 To make a casserole, you need a casserole dish. There are several common sizes and shapes, which is useful because cookbook authors and bloggers can indicate a particular size for each recipe. You want your casserole to be the "right" depth, which means using an appropriate casserole dish for the volume you're preparing.
Typical casserole dish sizes are 9"x13" rectangles (Pyrex calls them "oblongs" because of their rounded edges), and 8"x8" and 9"x9" squares. Fancier casserole dishes can be fully oblong, or even round.
In addition to the glass dishes invented by Pyrex (and also sold by Anchor Hocking), you can get casserole dishes made of ceramic, stoneware, and enameled cast iron. All have different advantages and disadvantages, like weight, evenness of cooking, ease of cleaning, and aesthetics. To find out more about the differences in cookware materials, be sure to check out our article on safe and healthy cookware.
If you're just beginning to explore the world of casseroles, I recommend starting out with something simple and inexpensive, like this classic, glass Pyrex two-piece set. When you're ready for fancier and higher quality casserole dishes, treat yourself to this one: Xtrema Rectangular Baking Dish.
Why Try Vegan Casseroles?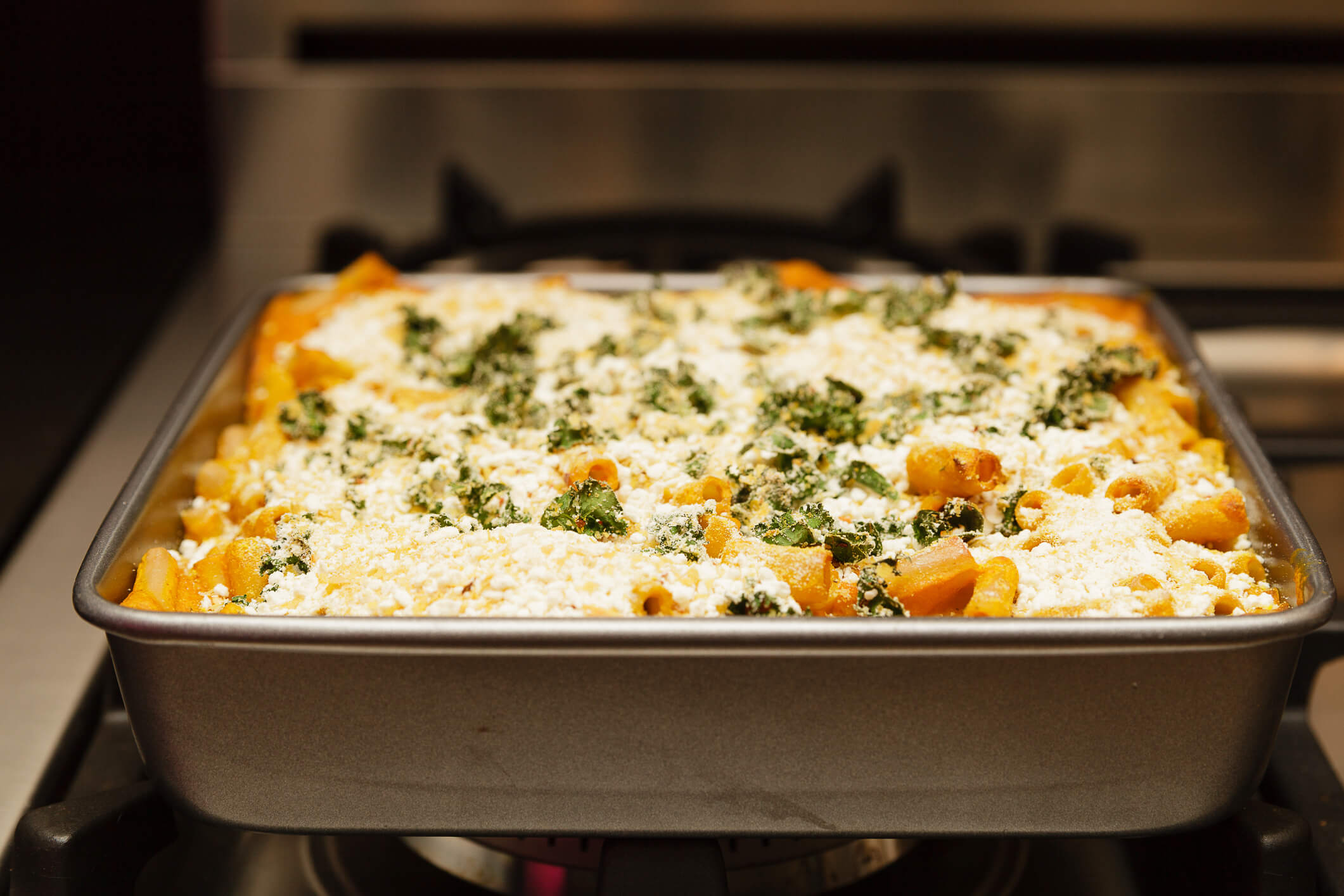 As we've seen, casseroles have been well-loved culinary creations for centuries. And we can bring that same enthusiasm to the creation of vegan casserole recipes as well. Here are just a few reasons why you should give casserole creation a try.
1. Casseroles save time.
Just like our medieval counterparts, we make casseroles today because they save us time. And not just cooking time, either. Depending on the size and ingredients, a family-sized casserole can cook for 45–60 minutes in the oven, or even longer, but you can save on prep time, too, since throwing in all the ingredients at once saves multiple steps.
2. Casseroles save money.
Casseroles are and have always been great ways to stretch a food dollar. The base ingredient — beans or a starch — can be very inexpensive. And when combined with flavorings and binders, these staple ingredients can go a long way to satisfying a crowd. Vegan casseroles are also a great way to use up leftovers, avoiding food waste.
3. Casseroles are full of flavor.
Casseroles often taste much better than you would predict based solely on their ingredient list. That's because all that time in the oven turns them into a literal melting pot, where all the flavors can develop, mature, and interact to produce a dish that's greater than the sum of its parts. And since they're also often served warm, they also make for flavorful comfort food.
4. You can have breakfast, lunch, or dinner casseroles.
Casseroles are versatile. In addition to the rich and heavy casserole mains, you can serve a casserole as an appetizer or a side dish. You can also render various breakfast casseroles and even desserts in casserole form, which can turn a long process of short-order cooking into a one-and-done affair that everyone can enjoy at once, hot out of the oven.
5. Casseroles are creative.
Since casseroles are the ultimate destination for leftovers, they're also stomping grounds for creativity. You can invent new plant-based casserole recipes simply by seeing what's left in your fridge, which may not have been eaten on its own. For more ideas on reducing kitchen waste, check out our article on how to use food scraps.
6. You can make casseroles for large groups (or have leftovers).
Another great thing about casseroles is how crowd-friendly they are. A single 9"x13" oblong casserole pan holds over three quarts of food, which can feed a lot of people. Even if you aren't charged with cooking for a group, if you make a large casserole, you'll have delicious and easy-to-transport leftovers for the next few days. Nothing like rolling up to work with a spinach artichoke pasta bake that you can microwave for three minutes and enjoy while your coworkers are eating their sad bagged lunches.
7. Casseroles are simple to make.
Most casseroles are easy to make, only utilizing a few simple ingredients. Of course, you can get as fancy as you want when cooking a casserole, but that's an option, not a requirement. As with any food of peasant origin, casseroles were created to make our lives easier, not more complicated — so go casserole crazy!
The Anatomy of a Vegan Casserole
An easy approach to constructing a vegan casserole is to think of three main components: a base, an extender, and a binder. The base of a casserole recipe is traditionally a meat or grain, like tempeh in an enchilada and wide noodles in lasagna. The extender serves to add volume and thicken the dish; potatoes and breadcrumbs are typical examples. Finally, there's a binder, generally a sauce or a liquid, that holds the whole thing together.
To this trinity, I'd like to add a fourth staple component: vegetables! Whether you toss in chunks of summer squash in a summer casserole with a tomato-sauce binder, or add broccoli or cauliflower florets to a winter casserole with potatoes and a cashew-cream binder, there's always a way to get more veggies into your casserole for health and flavor.
7 Healthy Vegan Casserole Recipes
This recipe roundup may just be one of our tastiest collections of oven-baked recipes yet. As you've learned, casseroles are one of the easiest and most versatile ways to serve up delicious, satisfying meals with complex flavors, a variety of ingredients, and minimal effort. Whether you're in the mood for a casserole at breakfast, lunch, or dinner, we've got you covered. What's more, any of these recipes can be made ahead of time for a meal that simply requires heating before serving. Prepare them at the start of your week, and bake them whenever you're ready to enjoy a warm, filling, and nourishing meal.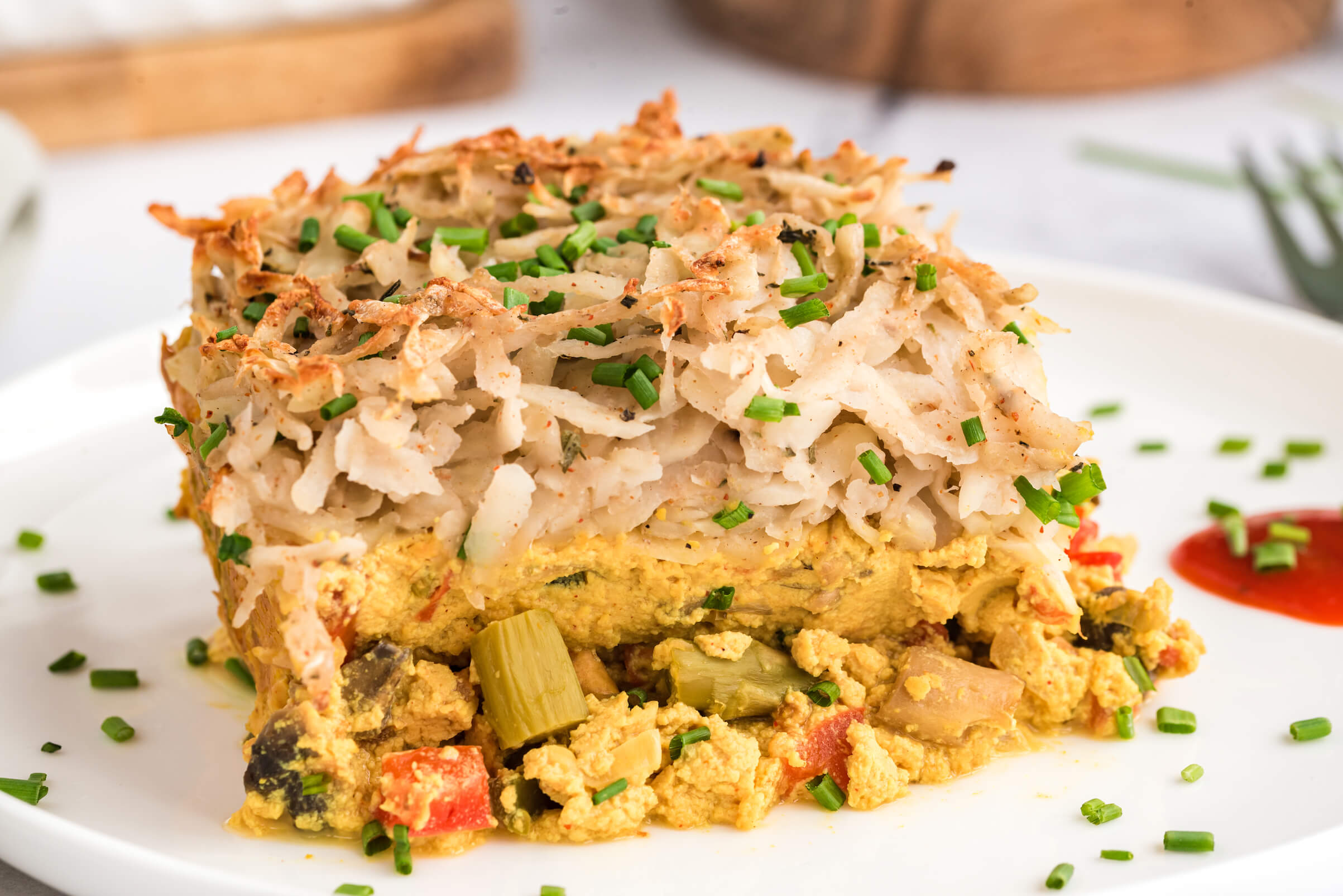 A veggie casserole for breakfast just makes sense — what better way to start the day than with health-giving vegetables? This Vegetable Breakfast Casserole uses filling and savory hash browns as the base, followed by vine-ripe tomatoes, red bell peppers, aromatic onions, umami mushrooms, crunchy asparagus, and protein-rich tofu. Boost the flavor with fresh rosemary and thyme (or your favorite herbs) to tie it all together, and bake until golden and crisp. Finish it with creamy avocado, chives, and a dash of hot sauce before diving into a deliciously savory breakfast that supplies a hearty morning dose of plant-powered nutrition!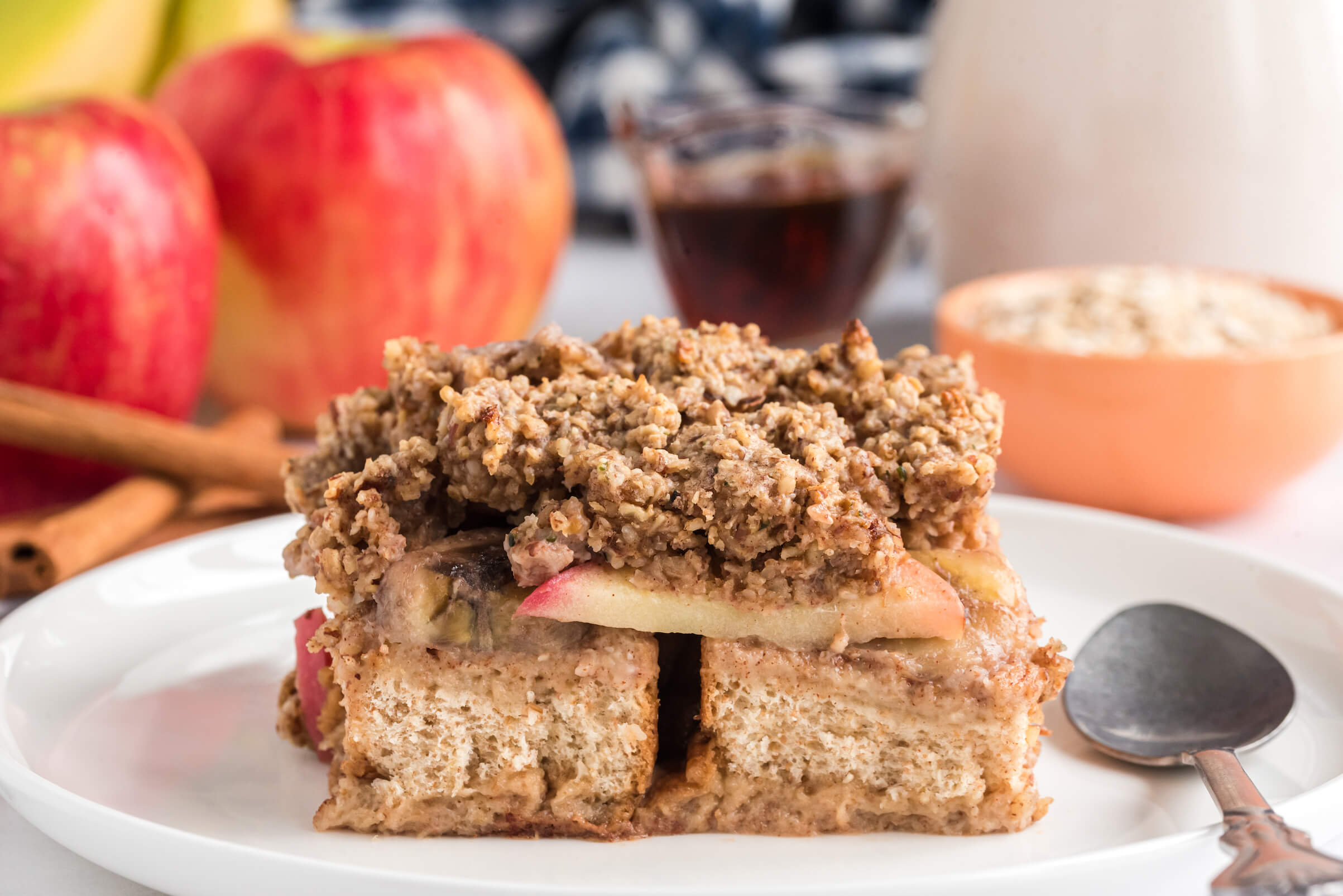 The heavenly and sweet aroma of freshly baked apples will permeate your kitchen in the most delightful way! Crisp apples transform into an ooey gooey naturally sweet Cinnamon Apple French Toast delight that is brimming with comforting aromas, satisfying textures, and enchanting flavors. Serve this scrumptious breakfast casserole with your favorite morning latte for a sweet and satisfying meal that is equal parts nourishing and comforting.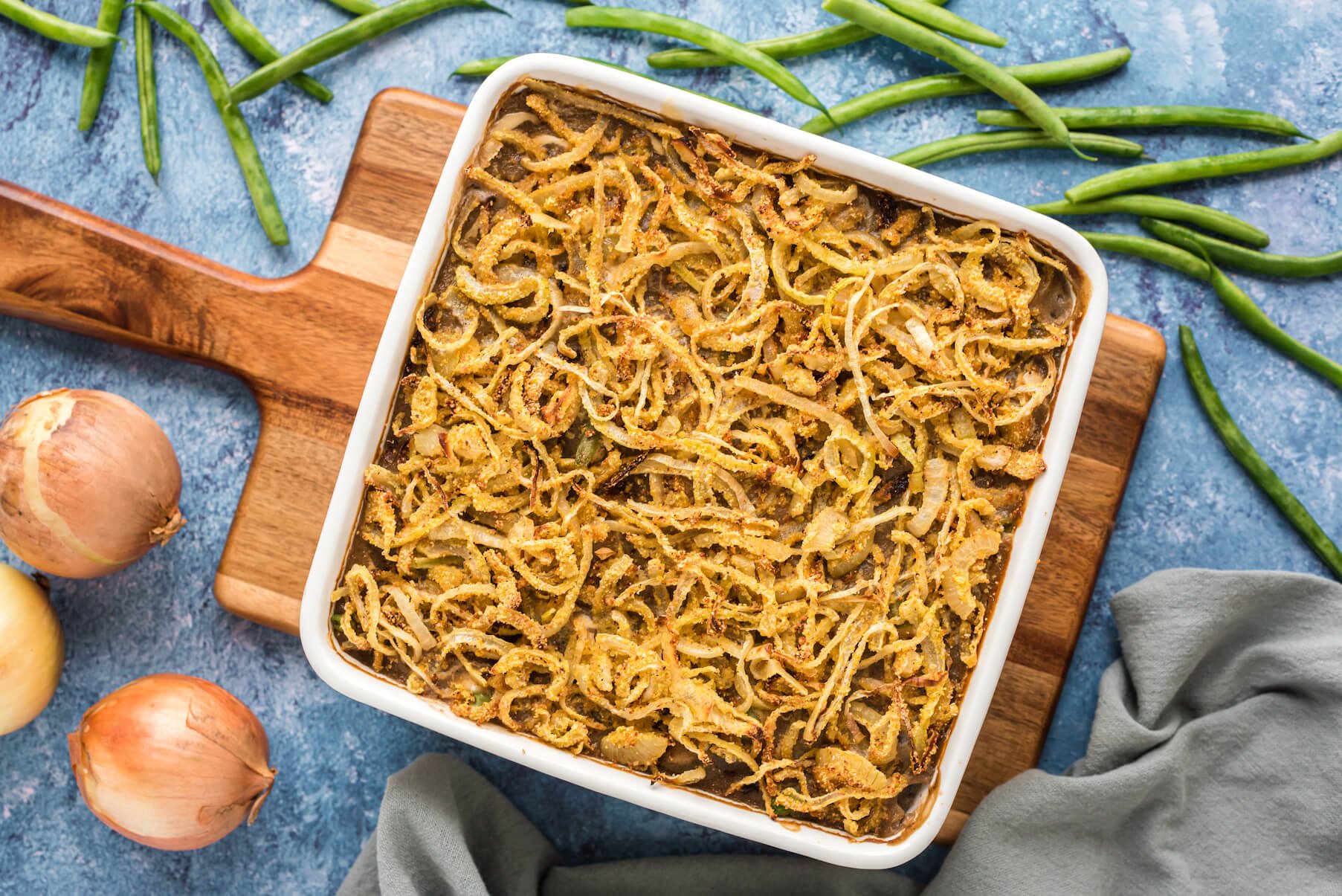 Can we get a round of applause for the undisputed icon of plant-forward casseroles? Our version of Green Bean Casserole is seemingly indulgent, but loaded with nutrition thanks to the Mushroom Gravy, Cashew Sour Cream, and baked (not fried!) crispy onions. Oh, and let's not forget about the green beans! So whether you're preparing this dish for a festive celebration or looking for a cozy and comforting meal during the week, this creamy casserole will not disappoint!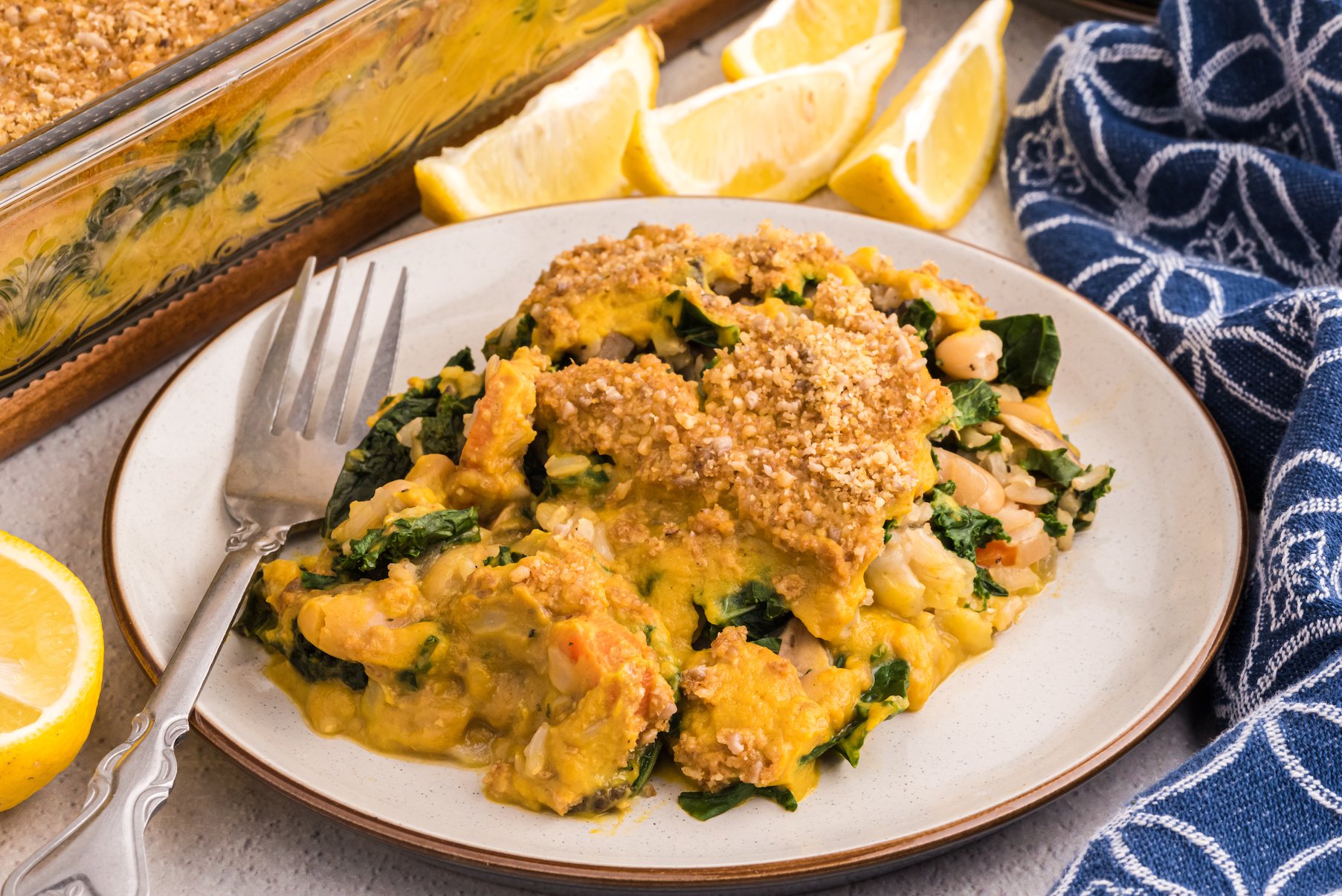 Comforting Mushroom Casserole — three little words that pack a big plant-based punch! This wonderful bake delivers satisfying cheesy vegan goodness, creamy textures, and plenty of nutrition. Cauliflower Squash Cheese Sauce and Vegan Walnut Parmesan give this yummy casserole two remarkably cheesy flavors that will really hit the spot. The umami flavors of the mushrooms, garlic, and dairy-free cheese sauce are elevated as the casserole bakes, and the end result is a seemingly indulgent meal that will leave your heart singing!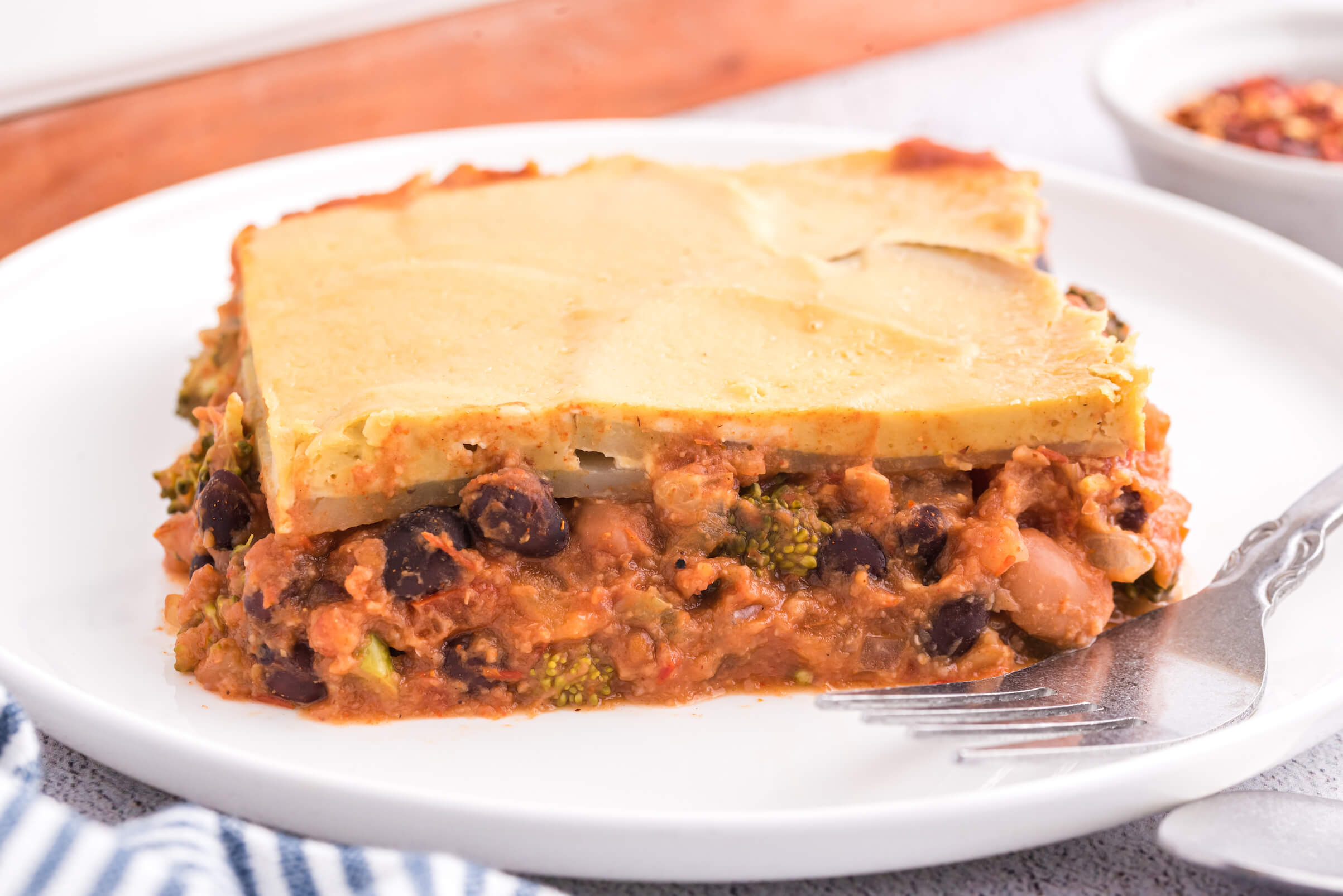 You can't go wrong when plant-based chili, sautéed broccoli, and creamy potatoes are baked to bubbly golden perfection. This veggie casserole hits all the right comforting and robust flavor notes and is packed with plant protein and fiber from the black beans and plenty of phytonutrients from the veggies. Spoon a generous layer of silky cashew cheese sauce over top, and you'll have yourself a comforting, nutrient-rich, and explosively tasty casserole ready for the week!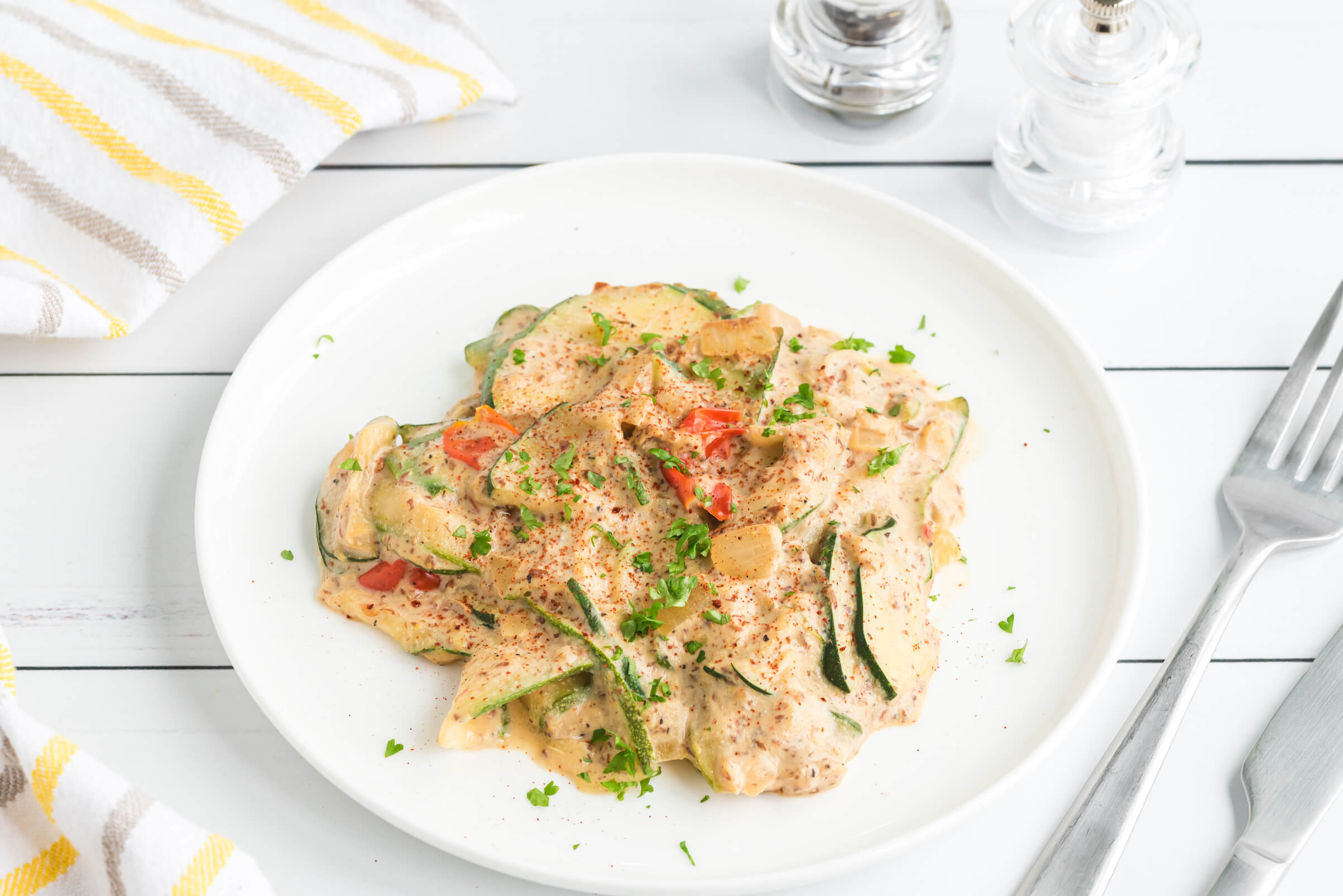 There's no hiding it, veggie casseroles are arguably the best one-dish meal with their ease of preparation, exquisite flavors, and nourishing plant-based ingredients. Here, squash, cherry tomatoes, cashew cheese, and fresh herbs create a nourishing delight that is easy to throw together. The best part is, when this delectable casserole spends some time getting warm and bubbly in the oven, it transforms into a melting pot of flavor and heavenly, dairy-free cheesy goodness. If simple and tasty casseroles are your idea of a dream meal, this one is sure to rank top of your list!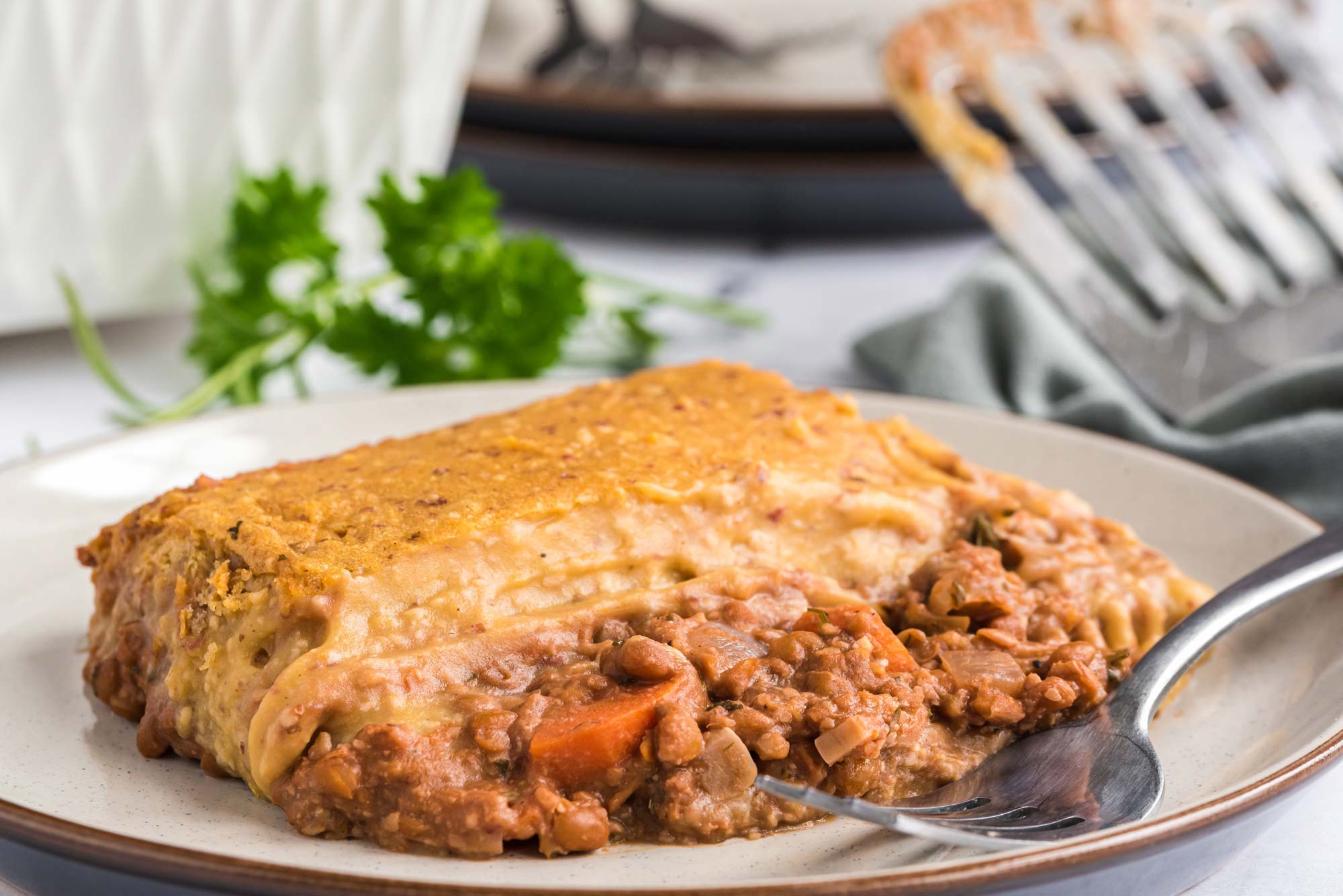 If it doesn't include casserole in the name, can it count as a casserole? You bet! If you're following the formula, base + extender + binder, then Shepherd's Pie fits the bill! The hearty lentil walnut base hits the spot along with the robust and savory flavors from the tomato sauce and earthy herbs and spices. Crowned with a creamy mashed potato and butternut squash topping, this Shepherd's Pie is super satisfying, healthfully indulgent, and a plant-nutrient superstar!
Are You Ready to Embrace the Humble Casserole and Give it New Life?
Casseroles are among the most egalitarian of dishes, providing inexpensive nourishment in a form that can feed dozens. And once you understand the basic building blocks of a casserole, you can construct your own healthy, plant-based version from whatever you've got in the kitchen and pantry. Here's to your next hearty, one-dish bake!
Tell us in the comments:
Do you like casseroles?
What's your favorite casserole from childhood? Have you ever tried making a healthy version of it?
What vegan casserole recipe will you try next? Where will you be serving it?
Featured Image: iStock.com/vkuslandia
Read Next: