As modern lives get busier, the appeal of all-in-one meals becomes greater. Casseroles are one such dish that has all the makings of a hearty, convenience dish. And believe it or not, despite the cheese and meat-filled casseroles of old, you can actually find a myriad of plant-based and vegan casserole recipes.
Why Casseroles?
Imagine that you're a peasant in Medieval Europe. You toil from dawn to dusk, and when you come home at the end of the day, you have no energy to prepare a hearty, filling meal. On top of that, you're really poor. And there are no drive-thrus to stop by on your way home. You don't have a microwave or a pizza takeout magnet on your fridge. And you don't even have an oven. So what do you do?
For many peasants, the answer was simple: take the cheapest food they could find (usually dried beans of some kind, root vegetables, or old bread), flavor it with herbs and whatever meat they could scrounge up, toss in a hunk of cheese if they had it, and throw it all into a clay or earthenware pan known as a "casserole." Then, they would bring it to the town baker, who would pop it in the oven until it was cooked to taste.
The modern casserole fills many of the same needs. It can be easy to make, very forgiving of variance in recipe and ingredients, a great use of leftovers, inexpensive, and very hearty and filling. And even though casseroles have been looked down upon by chefs and foodies for the past 70 years, they've never gone out of fashion because they are so economical and satisfying.
Of course, we might not want to make casseroles featuring ground meat, dripping with cheese, and topped by crushed potato chips. Luckily, there are many ways to healthify casseroles and make them plant-rich and nutrient-dense.
What is a Casserole?
Casseroles are so common, I never stopped to think about an actual definition until I started working on this article. But here's what I've come up with: a one-dish, oven-baked meal.
That simple definition means that lots of our most popular heritage dishes are casseroles: lasagna, potato and noodle kugel, stuffed peppers, mac n' cheese, zucchini gratin. Clearly, there's something very primal and satisfying about tossing a bunch of ingredients into a deep-sided pan and letting the magic happen slowly in a hot oven.
The origin of the word "casserole" is one of the most contentious issues in the field of gastronomic etymology. I will spare you the painstakingly researched and defended opinions of the linguistic experts who have weighed in on the topic, except to say that they appear to be burning a lot of calories asserting and embellishing their claims. So I hope they eat as many casseroles as they argue over. For our purposes, let's just assume that "casserole" is French for saucepan. And the name of the pan then transferred to the name of the dish cooked in it. It's related to the French word cassoulet, which refers to a traditional dish consisting of meat and white beans that is cooked and served in a small dish known as a ramekin.
A Brief History of the Modern Casserole
Casserole historians — yes, that's an actual profession, although admittedly not a huge job market — point out that while casserole dishes have been prepared and eaten since humans figured out the whole fireproof and waterproof cookware thing, the modern history of the casserole began with a technological breakthrough in the early 20th century.
The story goes that way back in 1913, Bessy Littleton wanted to bake a cake, but couldn't because she had dropped and broken her clay casserole pan. Luckily, Bessy's husband worked as a scientist at Corning Glass Works. She had the bright idea to ask him to bring home the sawed-off bottom of a battery jar, which turned out to produce a wonderful cake. And that was the origin of the Pyrex company, which makes casserole pans and lids that many of us use to this day.
While Pyrex was a huge leap forward for casseroles (heat-absorbing, imparting no flavor to the food, easy to clean, and able to go from oven to freezer and every temperature in between), you might argue that the food innovations that popularized the American casserole were less wonderful. In 1940, Jay's Potato Chips published the first casserole recipe printed on food packaging, a tuna casserole topped with (of course) crushed Jay's Potato Chips.
The biggest casserole recipe marketer was (and still is) Campbell's Soup. In 1955, they unleashed the green bean casserole recipe on cans of Cream of Mushroom soup. While millions enjoyed this and similar recipes inspired by industrial foods, the culinary elites looked on with horror at the debasing of the American palate by what they saw as "instant leftovers." The aesthetic of convenience over quality meant that casseroles were suffering the same fate that was to befall much of Western cuisine since the second half of the 20th century: poor-quality ingredients hidden by the addition of huge amounts of salt, fat, and sugar. What had been healthy "peasant food" was turned into disease-producing, industrial cuisine for the masses.
The good news is, we can reclaim the casserole as a utilitarian, delicious, and nutritious meal. We can ditch the hyper-processed ingredients in favor of fresh ones. And even upgrade the quality of the original dishes by making them plant-based and nutrient-rich.
Casserole Dishes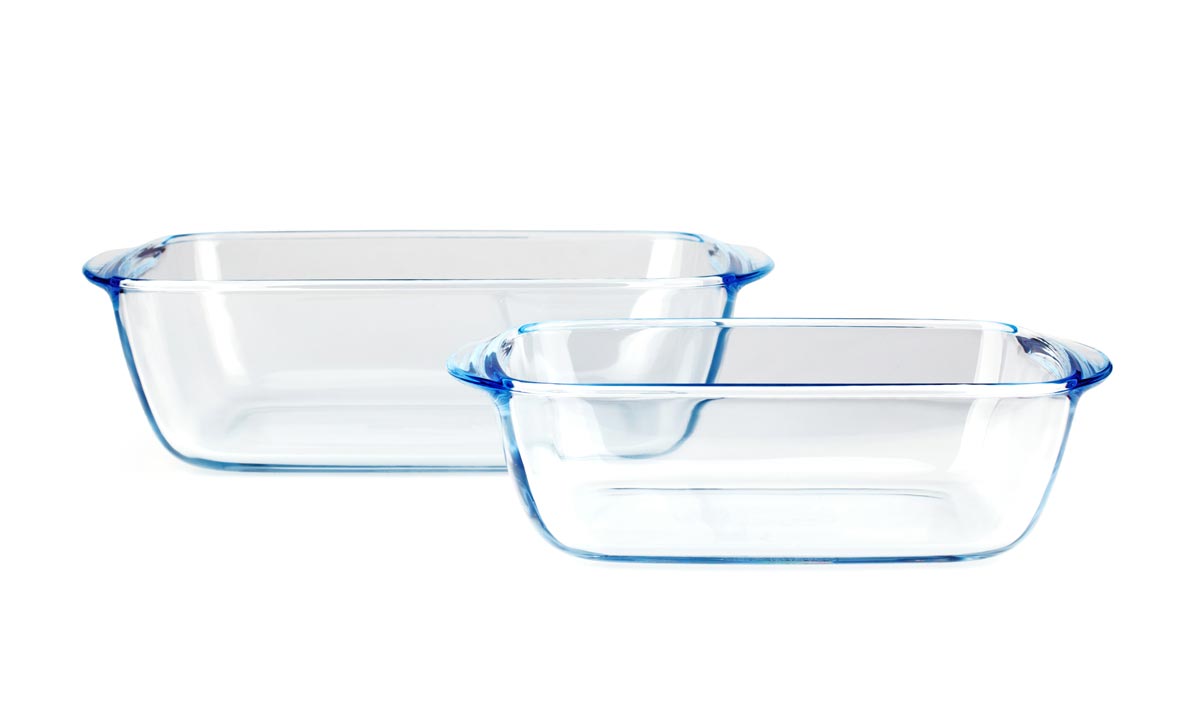 To make a casserole, you need a casserole dish. There are several common sizes and shapes, which is useful because cookbook authors and bloggers can indicate a particular size for each recipe. You want your casserole to be the "right" depth, which means using an appropriate casserole dish for the volume you're preparing.
Typical sizes are 9"x13" rectangles (Pyrex calls them "oblongs" because of their rounded edges), and 8"x8" and 9"x9" squares. Fancier dishes can be fully oblong, or even round.
In addition to the glass dishes invented by Pyrex (and also sold by Anchor Hocking), you can get casserole dishes made of ceramic, stoneware, and enameled cast iron. All have different advantages and disadvantages, like weight, evenness of cooking, ease of cleaning, and aesthetics. If you're just starting out exploring the world of casseroles, I recommend starting simple and inexpensive, with this classic, glass two-piece set: Pyrex Basics Clear Oblong Glass Baking Dishes, 2 Piece Value Plus Pack Set. When you're ready for fancier and higher quality, along with a heavy lid to seal in heat and juices, and if you have a little money to spend, treat yourself to this one: Staub Ceramics Square Covered Baking Dish, 9×9-inch, Dark Blue.
What's So Great About Casseroles?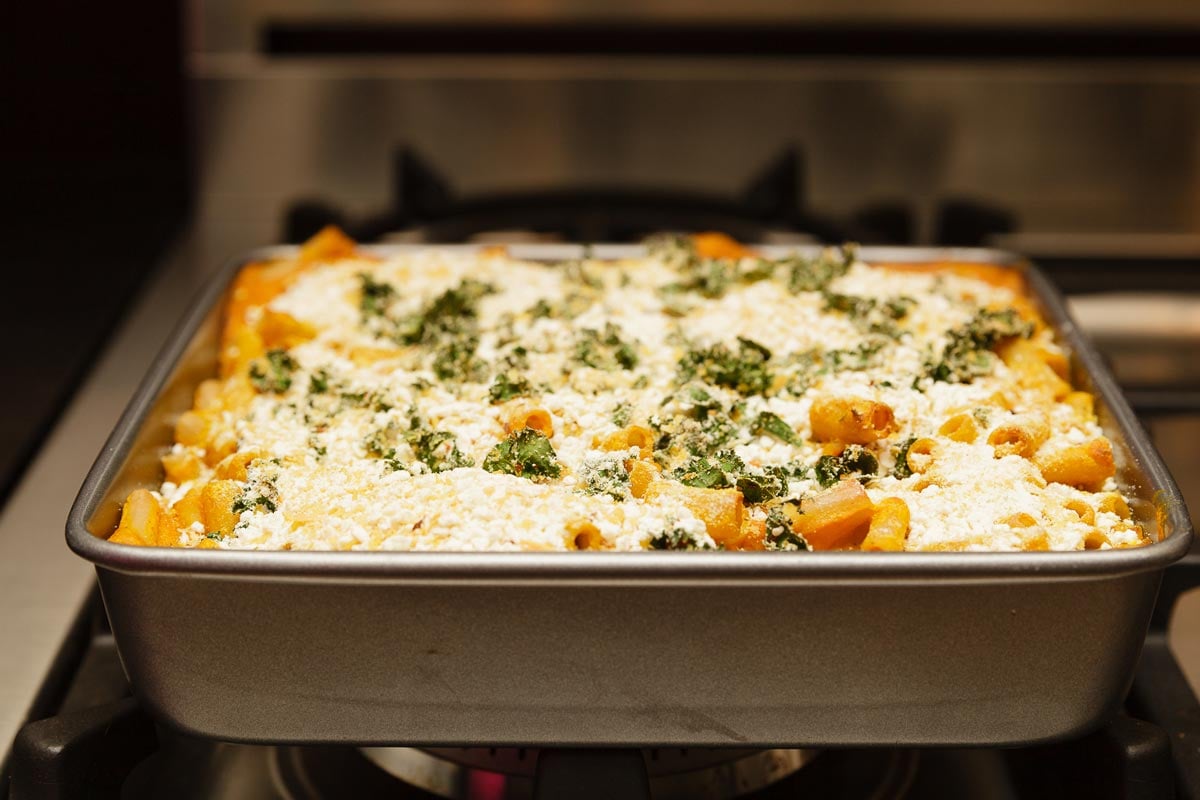 1.  They're time-savers
Just like our medieval counterparts, we make casseroles today because they save us time. Not necessarily cooking time, depending on the size and ingredients. A family-sized casserole can cook for 45-60 minutes in the oven, or even longer, but prep time, since throwing in all the ingredients all at once saves multiple steps.
2. They're inexpensive
Casseroles are and have always been great ways to stretch a food dollar. The base ingredient — beans or a starch — can be very inexpensive. And when combined with flavorings and binders, can go a long way to satisfying a crowd. And they're a great way to use up leftovers, avoiding food waste.
3. They're flavorful
Casseroles often taste much better than you would predict based solely on their ingredient list. That's because all that time in the oven turns them into a literal melting pot, where all the flavors can develop, mature, and interact to produce a dish that's greater than the sum of its parts.
4. You can eat them any time
Casseroles are versatile. In addition to the rich and heavy meal types, you can serve a casserole as an appetizer or a side dish. You can also render various breakfast and dessert foods in casserole form, which can turn a long process of short-order cooking into a one-and-done affair that everyone can enjoy at once, hot out of the oven.
5. They allow for creativity
Since casseroles are the ultimate destination for leftovers, they're also stomping grounds for creativity. You can invent new casserole recipes simply by seeing what's left in your fridge, which probably won't get eaten on its own.
6. They can feed a crowd (or provide leftovers)
Another great thing about casseroles is how crowd-friendly they are. A single 9"x13" oblong casserole pan holds over three quarts of food, which can feed a lot of people. Even if you aren't charged with cooking for a group, if you make a large casserole, you'll have delicious and easy-to-transport leftovers for the next few days. Nothing like rolling up to work with a spinach artichoke pasta bake (recipe link below) that you can microwave for three minutes and enjoy while your coworkers are eating sad desk lunches.
7. They're easy to make
Most casseroles are easy to make, with just a few simple ingredients. Of course, you can get as fancy as you want, but that's an option, not a requirement. As with any food of peasant origin, casseroles are here to make our lives easier, not more complicated.
The Anatomy of a Casserole
An easy approach to constructing a casserole is to think of three main components: a base, an extender, and a binder. The base is traditionally a meat or grain, like beef or tempeh in an enchilada and wide noodles in lasagna. The extender serves to add volume and thicken the dish; potatoes and breadcrumbs are typical examples. Finally, there's a binder, generally a sauce or a liquid, that holds the whole thing together.
To this trinity, I'd like to add a fourth staple component: vegetables! Whether you toss in chunks of summer squash in a summer casserole with a tomato-sauce binder, or add broccoli or cauliflower florets to a winter casserole with potatoes and a cashew-cream binder, there's always a way to get more veggies into your casserole for health and flavor.
7 Healthy Plant-Based/Vegan Casserole Recipes
If you're hankering for a delicious plant-based or vegan casserole recipe to try, you have seven different ones with very different flavors to choose from. No matter what you're in the mood for, one of these vegan casserole recipes are sure to satisfy your craving for a quick, easy, and healthy, all-in-one meal.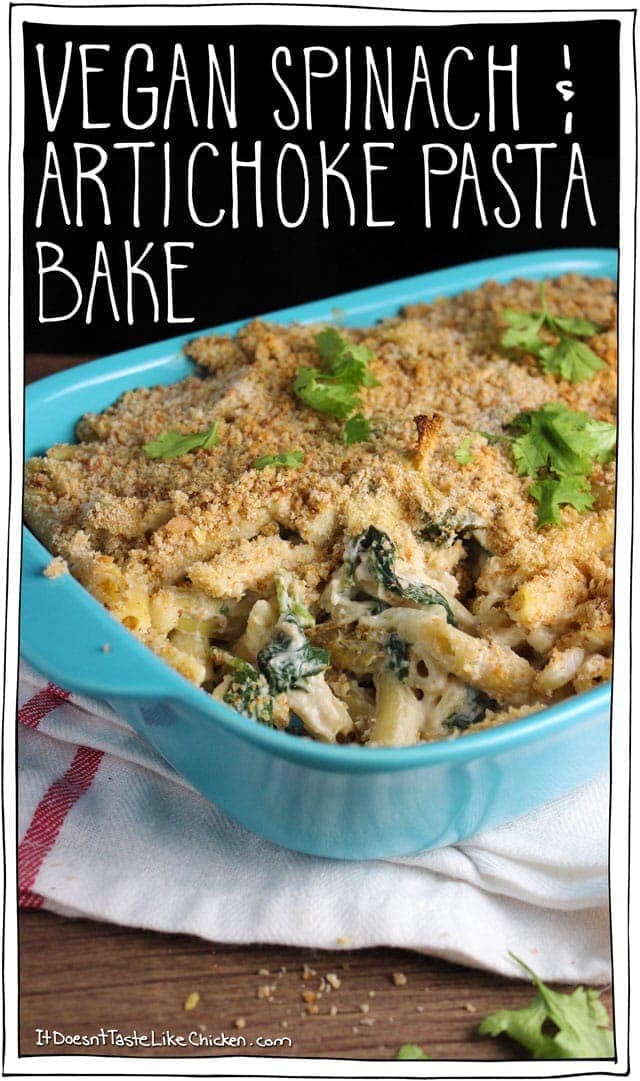 This recipe is what happens to mac n' cheese when it grows up. The spinach and artichoke lend nutrition, color, and sophistication. And the cheesy flavor gets sophisticated through a combo of lemon juice, nutritional yeast, chili powder, and garlic. Plant-based milk and raw cashews serve as a healthy binder with creaminess to spare.
Enchilada casserole turns out to be easy to make, thanks to this recipe and tutorial. Tortillas drenched in sauce form the layers, just as noodles do in lasagna. And corn and beans join in to create a filling base. The enchilada sauce is essentially tomato sauce cooked with Mexican spices. The requisite cheesiness comes from their healthy and dairy-free Chipotle Cheddar Cheese Sauce.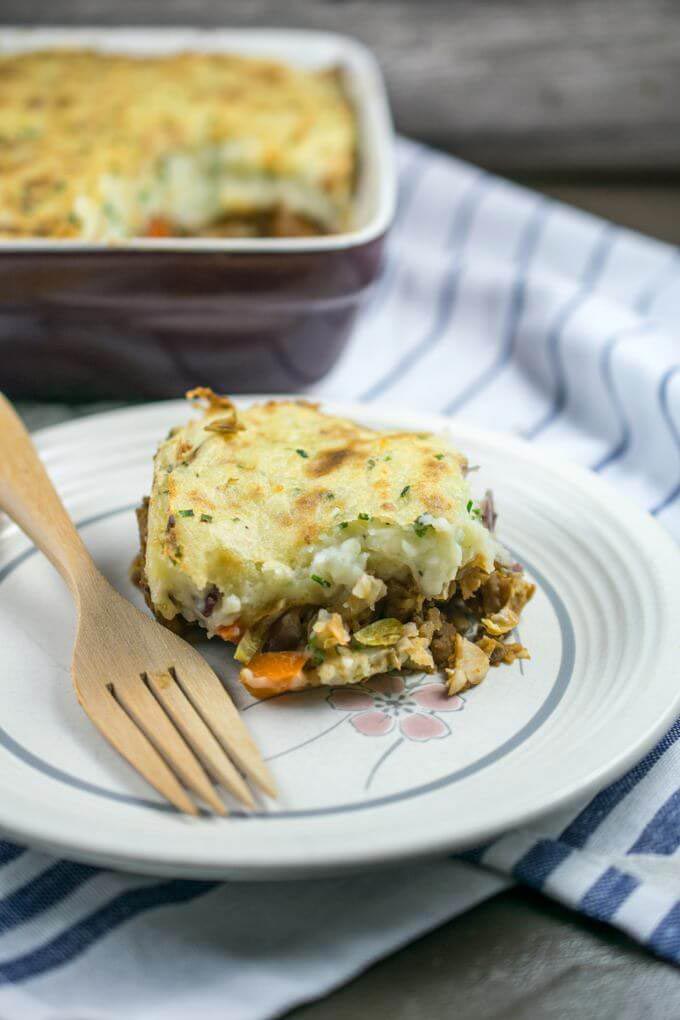 If you ever wondered what a plant-based Thanksgiving dinner would look like as a single casserole, wonder no more. This shepherd's pie breaks the mold through the substitution of meat with lentils. And once your serving utensil breaks the crusty top layer of garlic-chive mashed potatoes, you'll discover additional layers of carrots, apples, shallots mixed in with the lentils.
This is mac n' cheese's elegant second cousin, with quinoa serving as the base, and a creamy vegan cheese sauce holding it all together. Broccoli and chickpeas add phytonutrients and protein galore, and the gluten-free "bread crumb" mixture on top adds fun and crunch.
Oh She Glows created this recipe in order to deal with leftover chili sauce. Eggplant and zucchini join forces with spinach and navy beans to create a simple peasant dish that smacks of eggplant parmesan minus the cheeses. The trick to getting the texture right is to pre-bake the eggplant rounds until they get kind of shriveled. That way, they absorb all the tomatoey goodness of the chili or pasta sauce (whatever you have left over).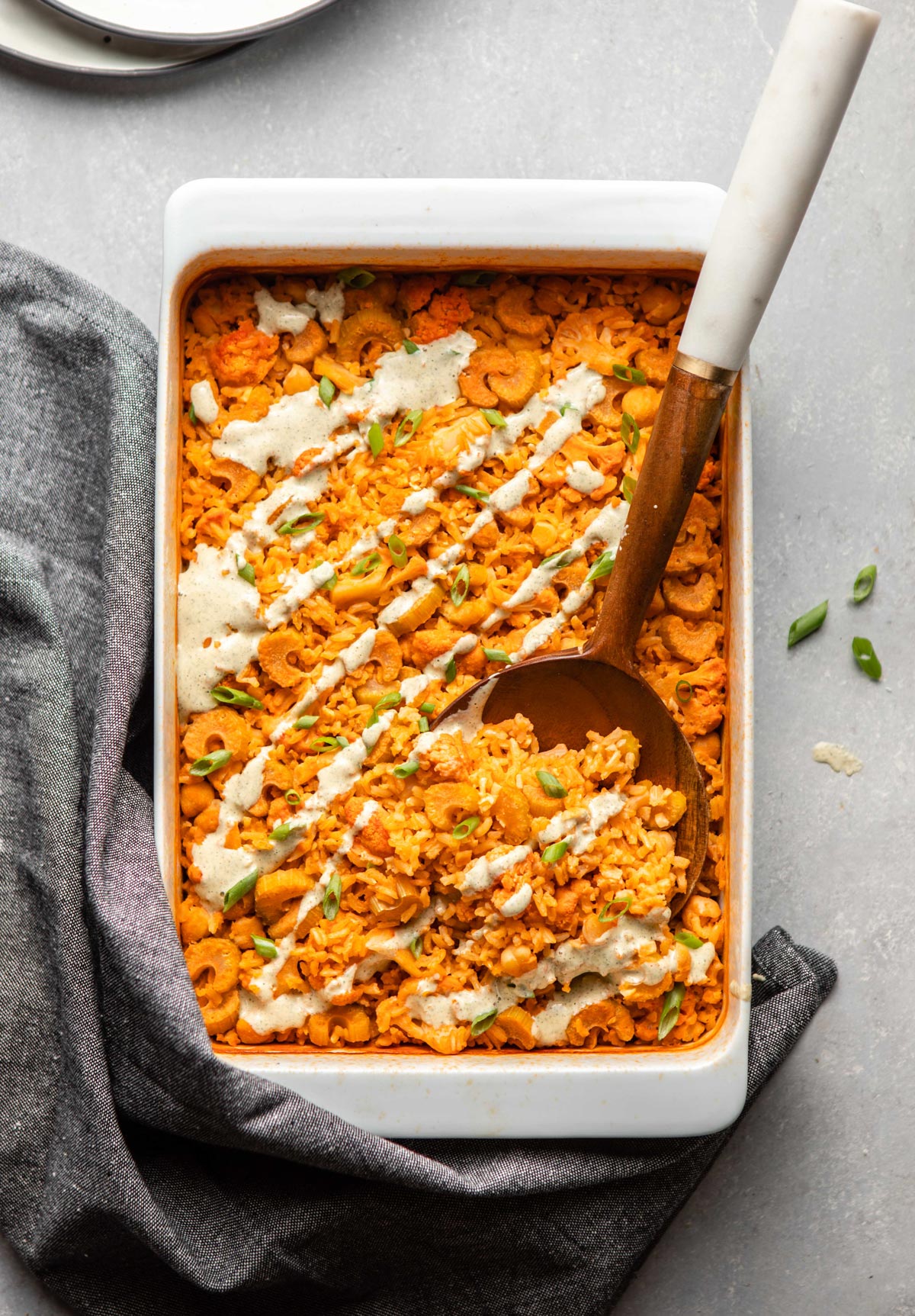 This recipe sounds fancy, and it is, but it's also almost embarrassingly simple to put together. In fact, Caitlin of From My Bowl, touts this feature in her description of the dish: "Dump and Bake." Basically, this means that you layer chickpeas, veggies, and uncooked brown rice one on top of the other, and then add the liquid to the whole thing and bake. The buffalo hot sauce, nutritional yeast, and garlic powder give the dish a game-day vibe.
This dish stuffs the essence of Thai food into a casserole. The coconut milk anchors the binder, and sweet potato serves as the extender for the quinoa. Green and red peppers, onions, and sweet peas are the vegetable stars of this show. Green curry paste and green dragon or sriracha sauce (kind and amount depend on how many alarms you want to set off with this recipe) transport you to Bangkok (or your local Thai restaurant) with every bite.
Are You Ready to Embrace the Humble Casserole and Give It New Life?
Casseroles are among the most egalitarian of dishes, providing inexpensive nourishment in a form that can feed dozens. And once you understand the basic building blocks of a casserole, you can construct your own healthy, plant-based version from whatever you've got in the kitchen and pantry. Here's to your next hearty one-dish bake!
Tell us in the comments:
Do you like casseroles?
What's your favorite casserole from childhood? Have you ever tried making a healthy version of it?
What vegan casserole recipe will you try next? Where will you be serving it?
Featured Image: iStock.com/vkuslandia
Read Next: